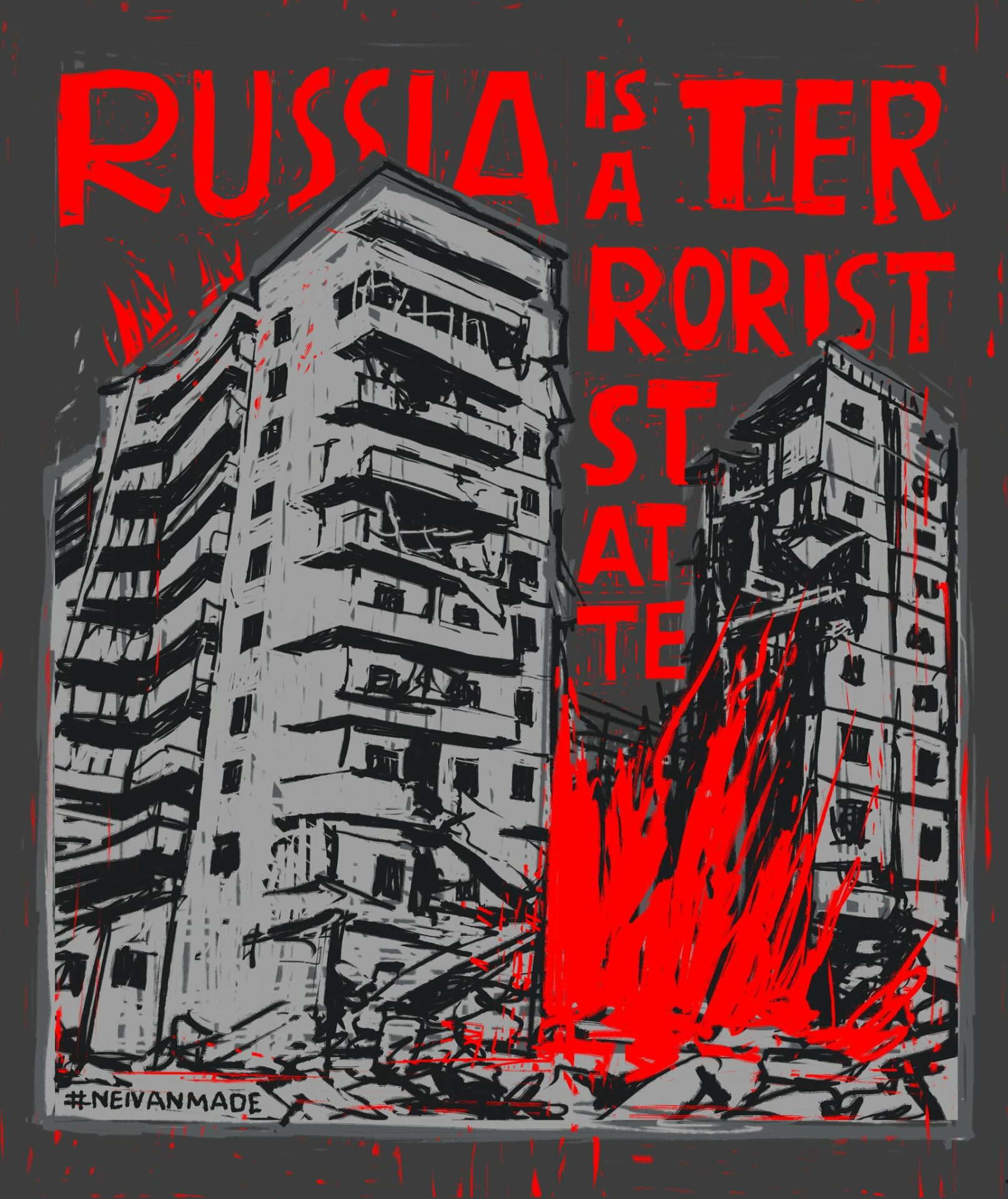 If you like NEIVANMADE's art, well you can get it in a calendar:
Неймовірний календар від @BackAndAlive . Стікери з ілюстраціями на кожен день 2023 року! Маю честь опинитись в чудовій компанії українських ілюстраторів. Хто хоче стікери від #NEIVANMADE, то їх там двадцять чотири 🙂 pic.twitter.com/WAkfSWCy7t

— NEIVANMADE (@neivanmade) January 16, 2023
NEIVENMADE's tweet machine translates as:
An incredible calendar from @BackAndAlive. Stickers with illustrations for every day of 2023! I am honored to be in the wonderful company of Ukrainian illustrators. If you want stickers from #NEIVANMADE , there are twenty-four of them 🙂
The big news today is that Britain is actually sending tanks to Ukraine.
The Challenger 2 is the latest piece of military equipment the UK is donating to support Ukraine. Read more about it here 👇 pic.twitter.com/Ejg1hnkiuq

— Ministry of Defence 🇬🇧 (@DefenceHQ) January 16, 2023
The statement of Ben Wallace, the British Minister of Defence, will be after the jump.
Here is President Zelenskyy's address from earlier today. Video below, English transcript after the jump: (emphasis mine)
Fellow Ukrainians!

The debris of the house destroyed by the Russian missile is still being dismantled in Dnipro. I thank everyone who is carrying out this rescue operation! Every employee of the State Emergency Service and police, every doctor, every volunteer! Everyone who is involved!

As of now, 39 people, including 6 children, have been rescued from under the rubble. 

In total, 47 reports were received about those who could have been in the house at the time of the strike and whose fate was unknown. The information about 22 people has been clarified. It is known about 40 dead, including 3 children. My condolences to all whose loved ones were killed by this strike!

The Security Service of Ukraine has already started to gather information about those Russian military who prepared and carried out this strike. There is no doubt: every person guilty of this war crime will be identified and brought to justice.

This strike at Dnipro, as well as other similar strikes, falls, in particular, under the jurisdiction of the International Criminal Court. And we will use all available opportunities – both national and international – to ensure that all Russian murderers, everyone who gives and executes orders on missile terror against our people, face legal sentences. And to ensure that they serve their punishment.

This is a fundamental task for Ukraine and for our partners. I thank everyone who supports our country on the path to justice.

Today, by the way, I spoke with Prime Minister of the Netherlands Mark Rutte – he is one of those who help Ukraine the most, particularly in the issue of justice.

It was our third conversation with Mr. Prime Minister in four weeks.

I am grateful to Mark and all Dutch people for their continued support and clear understanding that Ukrainians must defeat Russian aggression.

Today we discussed protection against Russian missiles and Iranian drones – we are doing everything to strengthen our air defense as much as possible.

It is very important that our conversation took place on the eve of the visit of the Prime Minister of the Netherlands to the United States.

What happened in Dnipro, the fact that Russia is preparing a new attempt to seize the initiative in the war, the fact that the nature of hostilities at the front requires new decisions in the defense supply – all this only emphasizes how important it is to coordinate our efforts – efforts  of all members of the coalition to defend Ukraine and freedom. And to speed up decision-making.

Today, there is a good example from the UK. A new package of defense assistance has been announced – exactly what we need. Tanks, other armored vehicles, artillery. 

What we discussed with Prime Minister Sunak. I thank you, Rishi, I thank every Briton for the tangible and timely support!

I held a regular meeting of the Staff. The questions are as follows. Interaction with our partners. Counteraction to missile terror. Possible scenarios of enemy actions and our response to each of the probable scenarios.

There were reports of commanders, intelligence chiefs. There were also necessary decisions.

The situation in the Donetsk direction was considered separately and in detail. Soledar, Bakhmut and other cities against which Russia has concentrated its last most prepared forces.

We also reviewed the situation on the southern front. We see what Russia is preparing.

Every day and night we work to reduce the enemy's potential: every day and night we subtract their warehouses, headquarters, communications.

Today, the OSCE Chairman-in-Office, Minister of Foreign Affairs of North Macedonia visited Kyiv.

Of course, we discussed first of all how to make the OSCE effective.

This is one of those international organizations that have significant potential, but for various reasons in critical situations have a great lack of concrete actions, a great lack of determination.

The OSCE can significantly increase attention and act accordingly regarding the deportation of our people from the occupied territory to Russia. And regarding the situation with Ukrainian prisoners. No international organization has found the strength to gain access to the places of detention of our prisoners in Russia yet. This must be corrected.

I hope that the OSCE presidency of North Macedonia will contribute to this.

Starting tomorrow, this week will be even more active in terms of our diplomacy.

The Davos Forum will start its work – Ukraine will be heard at this globally important platform.

At the end of the week, a regular meeting in the Ramstein format will be held. We expect fundamental decisions from the coalition of our partners.

Important bilateral negotiations are also planned.

Every day of our diplomatic marathon brings Ukraine quite specific defensive results. And I thank everyone who helps our state! I thank everyone who works for the victory of Ukraine!

Glory to each of our warriors! Glory to all who have been fighting since February 24 and since 2014!

This week, on January 20, we will mark the Day of Honoring the Defenders of the Donetsk airport.

Today we have already started to recall that defense, that heroism of our people. The fight started in May 2014. The last defender left the DAP on January 23, 2015. And it was such a defense that the whole world should have seen back then already what Ukrainian invincibility means.

I am confident that the Ukrainian flag will return to the Donetsk airport, Donetsk and other cities and villages of our Donbas and other temporarily occupied territories. Temporarily is the key word.

Ukraine will return its people and what belongs to it.

Glory to Ukraine!
Here is the British Minister of Defence's statement: (emphasis mine)
Oral statement to Parliament
Defence Secretary oral statement on war in Ukraine
The Defence Secretary made a statement to Parliament updating members on the UK's continued programme of military aid to Ukraine, including Challenger 2 tanks.

From: Ministry of Defence and The Rt Hon Ben Wallace MP
Published 16 January 2023

Mr Speaker, it's been a month since I last updated the House on the situation in Ukraine. Over the last four weeks, extremely heavy and attritional fighting has continued, especially around the Donetsk Oblast town of Bakhmut, and in the less reported-on sector of Kremina, in Luhansk. Over Christmas, Russia has continued its assault on Ukraine's civilian infrastructure.

But no matter how cruel or how much loss of life accompanies it, Russia has singularly failed to break the will of the Ukrainian people or change the policy of its leaders. We continue to closely monitor how Russia's long range strike campaign will evolve, as it eats deeper into its strategic reserves of modern missiles. It is notable that Russia are now using the forced labour of convicts to manufacture weaponry. Ukraine, however, continues using its internationally provided long-range artillery to successful effect.

Mr Speaker, throughout the war, Russia has managed to lose significant numbers of generals and commanding officers. But last week's announcement that their commander in Ukraine, General Sergei Surovikin, had been unceremoniously bypassed, with Chief of the General Staff General Gerasimov personally taking over field-command, is certainly significant. It is the visible tip of an iceberg of factionalism within the Russian command. Putin apparently remains bullish, and with Gerasimov's deference to the President never in doubt, we now would expect a trend back towards a Russian offensive – no matter how much loss of life accompanies it.

Mr Speaker, in 2023 there is no loss of momentum from the international community, quite the opposite. President Putin believed the West would get tired, bored and fragment. Ukraine is continuing to fight and, far from fragmenting, the West is accelerating its efforts.

The United States has invested approximately $24.2 billion in support for Ukraine since the beginning of Russia's invasion on the 24th February last year. It has delivered thousands of anti-aircraft and anti-armour systems and has recently stepped up that support – delivering Patriot air defence battery and munitions and 45 refurbished T-72B tanks as well as donating 50 Bradley infantry fighting vehicles to assist with the counter offensive.

We also welcome the decision of the French government to provide Ukraine with their AMX-10 light, highly mobile, tank. This has been used, very recently in reconnaissance missions by the French army and was deployed as recently as the Barkhane mission in West Africa.

Mr Speaker, important as these contributions are in and of themselves, what matters more is that they represent part of an international effort that collectively conveys a force multiplier effect. None of this is happening unilaterally. No one is doing this on their own.

Soon, I shall be announcing the first round of bids to the joint-chaired Danish/UK International Fund for Ukraine. I am grateful to Sweden for adding to the pot of money donated. That now includes Sweden, Denmark, Norway, Netherlands, Iceland, Lithuania and others have donated to that fund.

Meanwhile Russia, isolated and without such support, has now lost over 1,600 main battle tanks in Ukraine since the start of the invasion. But if we're to continue helping Ukraine seize the upper hand in the next phase of this conflict, we must accelerate our collective efforts diplomatically, economically and militarily to keep the pressure on Putin.

In December I told the House that I was "developing options" to respond to Russia's continued aggression in a "calibrated and determined manner". Today I can announce the most significant package of combat power to date to accelerate Ukrainian success.

This includes:

A squadron of Challenger 2 tanks with armoured recovery and repair vehicles.
We will donate AS90 guns to Ukraine. This comprises a battery of eight guns at high readiness and two further batteries at varying states of readiness. This donation will not impact our existing AS90 commitment to Estonia.
Hundreds more armoured and protected vehicles will also be sent including Bulldog.
A manoeuvre support package, including minefield breaching and bridging capabilities worth £28 million.
Dozens more uncrewed aerial systems worth £20 million to support Ukrainian artillery.
Another 100,000 artillery rounds; on top of the 100,000 rounds already delivered.
Hundreds more sophisticated missiles including GMLRS rockets, Starstreak air defence missiles, and medium range air defence missiles.
An equipment support package of spares to refurbish up to a hundred Ukrainian tanks and infantry fighting vehicles.

While the tanks and the AS90s will come from our stocks, along with their associated ammunition, a significant number of the other donations are being purchased from the open market or from supportive third-party countries.

Today's package is an important increase in Ukraine's capabilities. It means they can go from resisting to expelling Russian forces from Ukrainian soil.  President Putin cannot win but he is equally certain to continue inflicting this wanton violence and human suffering until his forces are ejected from their defensive positions and expelled from the country.

That requires a new level of support – the combat power only achieved by combinations of main battle tank squadrons, operating alongside divisional artillery groups, and further deep precision fires enabling targeting of Russian logistics and command nodes at greater distance.

Mr Speaker, we will be the first country to donate Western main battle tanks. And, we will be bringing a further squadron of our own Challenger tanks to higher readiness in place of the squadron sent.

Even as we gift Challenger 2 Tanks, I shall, at the same time, be reviewing the number of Challenger 3 conversions to consider whether the lessons of Ukraine suggest that we need a larger tank fleet.

We will also build on the Army's modernisation programme – at pace. Specifically on artillery, I am accelerating our Mobile Fires Programme. So instead of delivering in the 2030s it will do this earlier this decade. I have also directed that, subject to commercial negotiation, an interim artillery capability is to be delivered.

After discussion with the United States and our European allies it is hoped that the example set by the French and us will allow those countries holding Leopard tanks to donate as well. I know there are a number of countries wanting to do the same. No-one is going it alone, as I have said.

Mr Speaker, it's worth reiterating why we are doing this. Because in 2023 the international community will not let Russia wait us out while inflicting terrible suffering on Ukrainian civilians. The international community recognises that equipping Ukraine to push Russia out of its territory is as important as equipping them to defend what they already have.

This week dozens of nations will meet in Ramstein, Germany, to progress further donations and international coordination. The Kremlin will be in no doubt that we are resolved to stand by Ukraine in her fight.

Doubling down on the success of our basic training of Ukrainian military in 2022 in the United Kingdom, we are also now increasing this number this year to a further 20,000. Canada, Denmark, Finland, Sweden, Lithuania, Norway, New Zealand, the Netherlands have already joined this effort and I'm pleased to say we are now going to be joined by a group of Australian military to train in this country as well. Leaving their summer to join our winter.

Our decision today is a calibrated response to Russia's growing aggression and indiscriminate bombing. The Kremlin must recognise that is it their behaviour that is solidifying the international resolve and that despite the propaganda Ukraine and her partners are focused on the defence of Ukraine. None of the international support is an attack on Russia, or NATO-orchestrated aggression, let alone a Proxy War.

At its heart it is about helping Ukraine defend itself, upholding international law and restoring its sovereignty. We believe that in 2023, increased supplies, improved training, and strengthening diplomatic resolve will enable Ukraine to be successful against Russia's poorly led and now badly equipped Armed Forces.

From the outset President Putin believed his forces would be welcomed with open arms, that Ukrainians wouldn't fight and that Western support would crumble. He has been proved wrong on all counts. Today's package will help accelerate the conclusion of Putin's occupation and all its brutality and ensure that in 2023 and beyond if necessary, Ukraine maintains its momentum, supported by an international community that is determined more than ever that Putin's illegal and unprovoked invasion will fail.

Published 16 January 2023
Thank you to 🇬🇧 for another strong security assistance package.
Tanks, artillery, vehicles, drones, ammo will strengthen our capacity to drive occupiers out of 🇺🇦. These are the tools that will help to build our victory.
Thank you to @RishiSunak @BWallaceMP and the 🇬🇧 people.

— Oleksii Reznikov (@oleksiireznikov) January 16, 2023
Here's what Shashank Joshi, The Economist's defense correspondent, thinks about today's announcement:
I'd estimate 70% chance of Leopard tanks being in Ukrainian hands by end of spring. https://t.co/fOuun86IFW

— Shashank Joshi (@shashj) January 16, 2023
Here's former NAVDEVGRU Squadron Leader Chuck Pfarrer's most recent assessment of the situation in Kremenna:
KREMINNA AXIS /1320 UTC 16 JAN/ RU forces conducted fire missions on Kuzmyne, indicating the presence of UKR forces. The Forward Edge of the Battle Area (FEBA) is assessed to extend from the center of Kreminna in a southern direction to the banks of the Sievro-Donets River. pic.twitter.com/DA8iNmrxuI

— Chuck Pfarrer | Indications & Warnings | (@ChuckPfarrer) January 16, 2023
Dnipro:
Please remember that a lot of the reporting and statements are now hours old.
The bodies of 40 dead, including 3 children, were found at the house in Dnipro destroyed by a russian missile.
How many Ukrainians must be killed by the terrorist state before the world finally understands that that inaction and hesitancy is equivalent to siding with the killer? pic.twitter.com/HY3b0JRNvF

— Defense of Ukraine (@DefenceU) January 16, 2023
Journalists from iStories called one of the perpetrators of the Dnipro missile strike – Dmitry Golenkov, the chief of staff of an aviation squadron of the Shaikovka aviation group. The man dismisses the accusations, his friends in the background attack and insult the journalist. pic.twitter.com/7Cb7dauInB

— Dmitri (@wartranslated) January 16, 2023
Bakhmut & Soledar:
Update from Bakhmut/Soledar, 16 January – Kiyanyn. pic.twitter.com/zuuSAxMqLo

— Dmitri (@wartranslated) January 16, 2023
I know everyone is still raw in regards to the news and imagery coming out of Dnipro and, as such, I think it is important to make sure we take note of the below here:
Did you know there are some good russians? We have 3 battalions of them fighting on our side. Freedom of Russia Legion's sworn goal is to defend Ukraine, restore Ukraine's 1991 borders including Crimea, Donetsk & Luhansk and to topple putin's regime👍 pic.twitter.com/uzV1IPSmpY

— Sofia Ukraini (@SlavaUk30722777) January 16, 2023
Obviously, this is just one video from somewhere and doesn't prove anything apart from that some people are getting fed up.

— Dmitri (@wartranslated) January 15, 2023
Those people are very brave, choosing to oppose, even knowing that they will lose everything.
Even after 22 years in Putin's regime, there are people standing up and saying that he is not right. Many have not survived this, yet every time there are people standing up.

— Dmitri (@wartranslated) January 15, 2023
Boom today!
Commandant Col. Curtis King of the U.S. Army Air Defense Artillery school tells @WestfallAustin training will consist of operator and maintainer task. This training is expected to take several months, according to DOD pic.twitter.com/n77uWfWlQB

— Liz Friden (@Liz_Friden) January 16, 2023
Obligatory:
Some more about Poludnytsyahttps://t.co/BpzpGFU0aO

— Sofia Ukraini (@SlavaUk30722777) January 15, 2023
There were two children from Kherson, who were heavily injured by russians' shelling. The story of brave Artem, who lost his hand, is in the video. I'll share 6 year old Alisa's story soon.

— Maria Drutska 🇺🇦 (@maria_drutska) January 16, 2023
That's enough for tonight.
Your daily Patron!
The caption machine translates as:
I'm a dork. I just wanted you to smile! 💓 #песпатрон
Open thread!