This is part 4 of looking back at our fundraising and GOTV efforts in 2022.  Next up?
Balloon Juice efforts in Georgia and Wisconsin!
In both of these states, we focused almost entirely on boots on the ground organizations.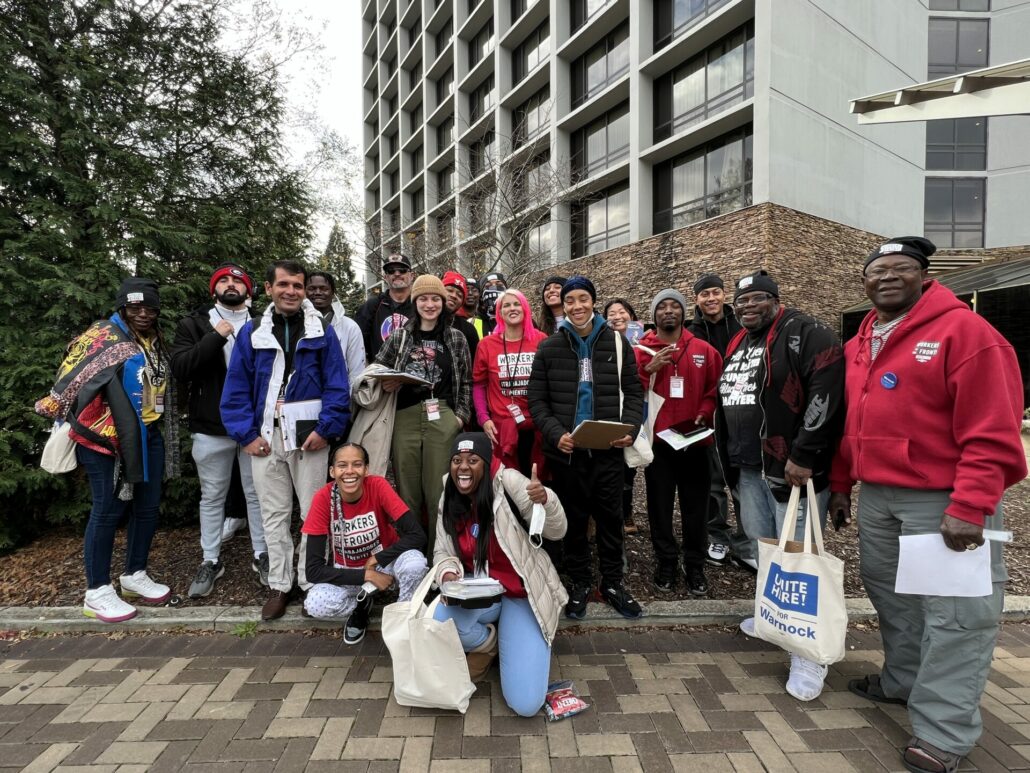 ---
Georgia on my mind!
Georgia may have had the most impactful election of this cycle, with a nail biter of a run-off and control of the Senate at stake.
A bit of background.
Georgia is (maybe) trending blue.  Would it be over the top to say that Georgia has twice saved Democracy by electing two awesome Democratic Senators?  I think not!  In spite of our love for Stacey Abrams and the strong desire to oust the awful governor and replace him with Stacey, who would have been great, we resisted the urge to respond to the siren call to fund Stacey Abrams.  She had plenty of funding without our help, and anything that might keep her out of office would not be funding-related.
Georgia has 16 electoral votes.  If we can keep GA in the blue column in 2024, it could offset Ohio's 17 electoral votes, which, sadly, appear to be gone for good.  Or at least for a good long while.  As in the other states we've discussed this week, in Georgia we focused on boots on the ground and candidates with direct impact on voting rights.
So what did we do for Georgia?
Four Directions, was in GA for the runoff in Jan 2021, where the Native vote was more than the margin of victory.  We raised  money for Four Directions several times in 2021-22.  The first fundraising in May 2021 was just for Four Directions generally, with out a focus on a specific state, where we raised $24,287 + $30,000 match, that isn't included in the GA total.  Then…
$26,910 + $50,000 (Aug 2021) + $40,285 (GA runoff Dec 2022) = $117,195
Worker Power, which was in GA for the runoff in Jan 2021, quickly moved to put boots on the ground again for the runoff on Dec 6.  Worker Power had the plan and the personnel; they just needed funds to pay volunteers and cover the travel and lodging expenses of out of state pre-trained staff.
$35,846 
Candidate: Rev. Warnock:  Reverend Warnock was not hurting for funds, which is why we focused more on organizations driving turnout.  Nevertheless, we put up a link for BJers who wanted to donate directly to the campaign.  As the whole world knows, he won.
$7,400
Candidate Bee Nyugen for Secretary of State, who was the first Asian-American to run for statewide office in Georgia, running against Brad Raffensperger of "I just want to find 11,780 votes" fame.  We went into this one with our eyes open.  She was unlikely to win.  But she deserved our support for challenging Raffensperger, who may have done the right thing in 2021 but then turned around and started purging voter rolls and reducing early voting to suppress Democratic turnout.  We don't have the % for 2022, but Asian-American turnout was at amazingly high levels in 2020, with the percentage turning out for Dems something like 98%, if I recall correctly.
Candidate Jen Jordan for Attorney General, who lost her race for Attorney General.
$1,503
What do we have to show for our efforts?
Rafael Warnock won!   We kept the senate!  We are now 51-49, which changes the power dynamic significantly in our favor, and it gives us some breathing room.  Not to mention that a certain AZ senator can't threaten to turn the senate leadership over to the other party, if she chose to switch.
Voter turnout was good.  GA is going to be a key state for the foreseeable future, and all the voter registrations and GOTV efforts clearly made a difference.  All the major groups need to catch their breath after an election like this, so we haven't pressed for specific information.  But we'll be talking with both Four Directions  and Worker Power in the next month or so to get more details on the measurable outcomes related to their efforts.
Unlike Arizona and Nevada, Trump's hand-picked election-denying villains for state offices lost to more "mainstream" Republicans.  Sadly, the Republicans swept the top state-level races.
Closing thoughts?
Georgia is a cautionary tale.  We are not surprised that – with the extreme levels of Democratic voter suppression in GA – Republicans were able to take/keep all the top offices where they can continue to gerrymander in favor or Republicans and continue to suppress the Democratic vote.
An eminently qualified Senator won by a distressingly narrow margin, against a total loon who was absolutely unfit to hold public office, let alone be a senator in GA!
There is much work to be done in Georgia.
---
On Wisconsin!
We had high hopes for Wisconsin.  We didn't get everything we wanted, but we got enough.  For now.
A bit of background.
Wisconsin shocked the nation when it narrowly went for Donald Trump in 2016, the first Republican Presidential candidate to win the state since Reagan in 1984. Despite the Republicans' best effort to suppress the vote, Biden narrowly won Wisconsin by a margin of only 20,000 votes in 2020. Is the state trending red? It's hard to tell, because the Republicans have their fingers on the scale, as discussed below. But we did our part to keep Wisconsin on the list of sane states with its neighbors, Michigan, Illinois and Minnesota (we won't talk about Iowa).
So what did we do for Wisconsin?
Four Directions:  Once again, we helped underwrite the Four Directions expansion into Wisconsin, which has one of the largest Native American populations east of the Mississippi River.
$29,935 + $60,000 match = 89,935
Voces de la Frontera.  We raised funds in May 2022 for the first Voces field organizer, and then raised more funds for election efforts in 2022.
$27,500 $43,261 + $27,500 match (in 2021) + $15,761 (2022) = $70,761
Wisconsin Democratic Party:  The Wisconsin Democratic Party is well-organized and well-regarded nationally.
$7,801
Candidate: Josh Kaul, who was the incumbent Attorney General in Wisconsin.  Unlike most states, responsibility for election oversight rests with the AG and not the Secretary of State.  He won.
$1,074
Brad Pfaff, a Wisconsin State Senator, ran for an open Congressional seat.  He was narrowly defeated, but appears to be an up-and-comer in Wisconsin Democratic politics.  It was a close race, and as we got close to November and his campaign needed a funding boost, we supported him directly.
$2,435 
What do we have to show for our efforts?
We supported turnout in the Native American and Latino communities, which together make up over 8% of the population of the State.  While the loss of an open Democratic seat was disappointing, the ground was laid for a potential pick up in 2024.  And Governor Evers won big!   With the AG win we get protection of voting rights and reproductive freedom. Also huge!  But gerrymandering remains a huge hurdle, so the fight continues!
Closing thoughts?
Wisconsin could and should be a blue state, but for Republican chicanery.  Wisconsin is considered by many to be one of the most gerrymandered states in the country:
https://pbswisconsin.org/news-item/wisconsins-assembly-maps-are-more-skewed-than-ever-what-happens-in-2023/
We're not done with Wisconsin.  Not by a long shot!
As we mentioned in the first post, we hope that Wisconsin can go the way of Michigan, particularly by expanding voting rights and eliminating gerrymandering.  First up in the very near future is an election in April for an open seat on the Wisconsin Supreme Court.  There's a five-four Republican majority, and one of the Republicans is stepping down.  Securing a Democratic majority will be a welcome first step in protecting voting rights and assisting Wisconsin Democrats in their efforts to redraw an unfair map!
There's also another key election coming up on the same ballot as the WI Supreme Court race,  It's much less well-known than  the supreme court battle, and I'll put up a post next week to explain more about the race and why it matters so much.
Great work, everyone!
This completes the reporting on the 5 key states where we funded boots on the ground.  Michigan.  Arizona.  Nevada.  Georgia.  Wisconsin.
Open thread.