On the Road is a weekday feature spotlighting reader photo submissions.
From the exotic to the familiar, whether you're traveling or in your own backyard, we would love to see the world through your eyes.
JanieM
When I started submitting posts to OTR in the fall of 2020, I offered sets of pictures organized around themes – lighthouses, state parks, fall color, reflections. I was a words and ideas person, and it would never have occurred to me to select pictures based on visual qualities, other than "That's pretty."
Working with Steve from Mendocino changed all that. I still organize some posts around themes (the field, weeds, redwood trees), but more often I just pick a bunch of pictures that I like at any given moment and that seem to fit together. Then I enlist Steve's help in winnowing them to a set of ten and putting them in some kind of order. Finally I weave a story or topic loosely around the selected pictures, or just comment on some aspect of each one.
Steve's sequencing is always visual first and foremost, and I'm learning to understand how and why he does what he does. A rough accounting of our conversation about this set, cleaned up for coherence, follows.
Steve: If you were to define our selection, why these particular photos have been put together, how would you describe it?
Janie: I had no conscious notion beyond the visual (geometry, color – variation), but interestingly, there's no summertime in this set, and with a couple of exceptions it's a collection of images that have a bleak beauty.
Steve: But I chose these ten out of your group of twenty. What did I select?
Janie: The geometry of all of them seems pretty sharply defined, and they start off bleak/gray/not that colorful, and progress subtly to more color, ending in the splash of #10. Before you sequenced them I thought they were … not flashy? — all understated except the ones that are now at the end. Now it seems to me to be a sequence of increasingly less … stillness.
Steve: I looked at the overall group and said to myself that the parking structure will always be the ugly duckling while still being beautiful in its own way. So I wanted to surround it with flash friends in a sequence that developed continuously from that initial rawness.
Janie: "In the bleak midwinter…" — the title of a mystery I once read, but taken from a poem, I remember not which one. [It's a Christmas carol. – Ed.]
Steve: As a visual unit I think this is really good, but I could be wrong.  It can take a while for my opinion to gel.
Janie: Leafing through them in order, each one seems to follow, and yet be a surprise.
Steve: Consider it in a larger framework than BJ, what if you had a 10-piece exhibit in a gallery. You'd want it to have a personality, a unity.  I think this group and sequence has a strong identity.
…
Steve: Have fun making sense of all this in your write up. 😛
…
Steve: Feel free to gather up all my silly comments and use them as poetic quotes to illustrate the visual journey we are trying to create here: "Steve described this descent through a sterile underground and emerging into a magical blah blah blah – then he spoke further about feeling the winter in 2 – and how it's expressed differently in 3" – but I'm failing to express how I imagine myself standing in each of these settings one after another and they all contribute a mood of bleak serenity.
Steve: On the other side of that underground portal
Steve: They're lonely
Steve: Not in a bad way
Janie: My pics are mostly about the beauty of Maine, and it's indisputably beautiful, but I haven't paid much attention to the beauty of the bleak side of it.
Janie: And now — here we are…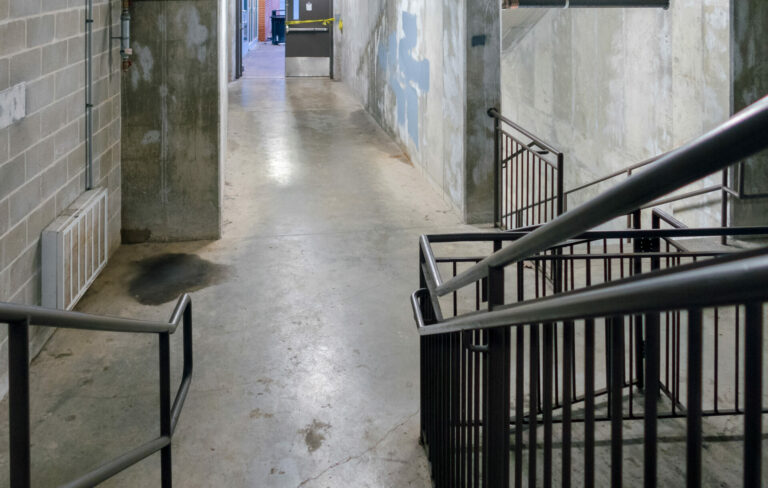 Freeport: The basement of one of the parking garage / retail store buildings. Or the entrance to the underworld, as your mood dictates.
Steve: At one point I thought of #1 as a secret entrance to the wonders of what follows. I see this as a visual journey with not a little fantasy. And the weaknesses of some of the photos are bolstered by their neighbors.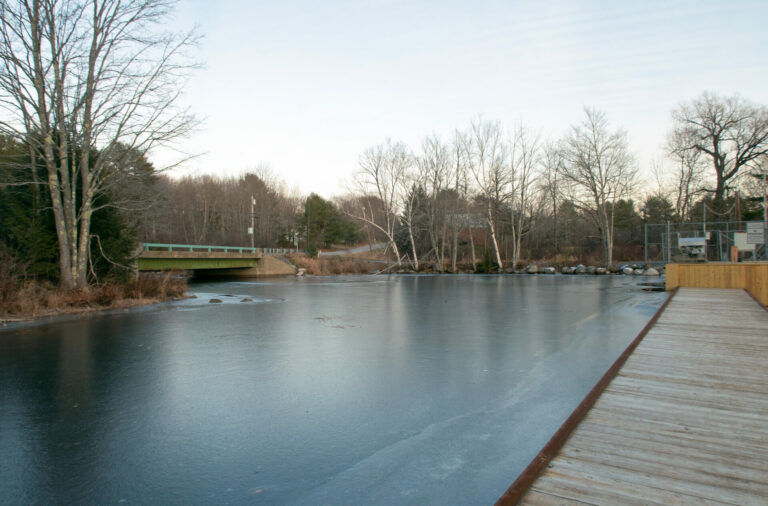 Mount Vernon: Just above the Mill Stream dam, new ice unsullied by snow.
Steve: The colors of 2 and 4 are more harmonious but the geometry is too similar and needed splitting up.

Readfield: The back field on a frosty morning in November.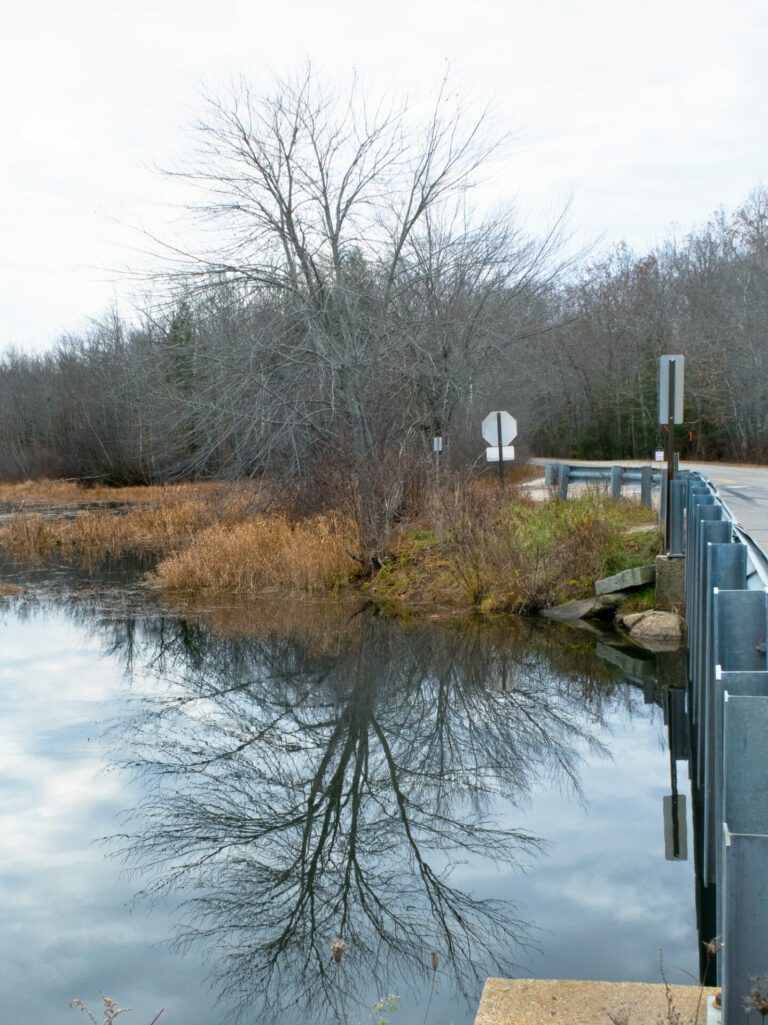 Monmouth: One reflected tree at the one-lane bridge, also early November.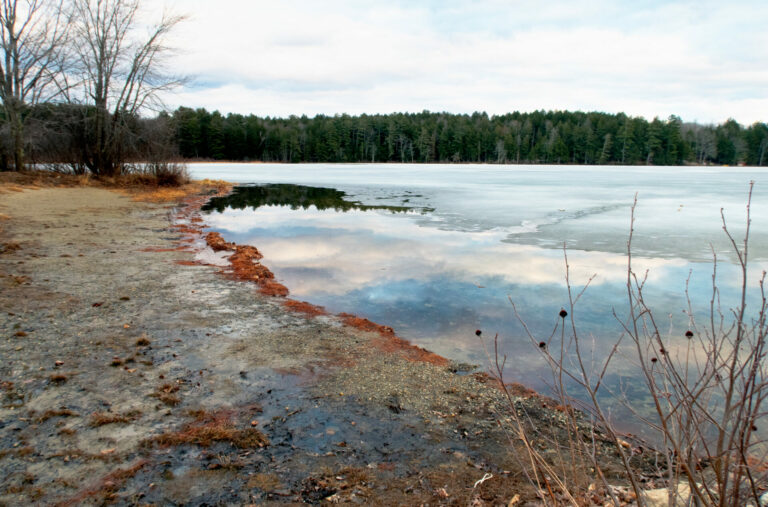 Readfield: The town beach in March with the detritus of winter defining the landscape.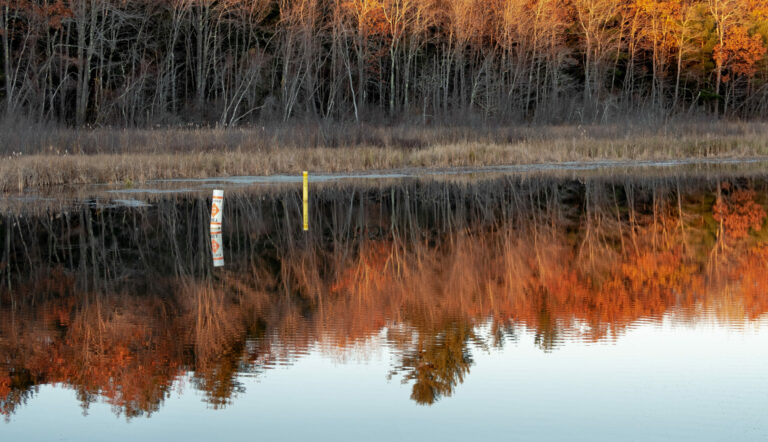 Monmouth: At the one-lane bridge again, with November's monotone palette.
Janie: #6 — I have been back and forth on that picture since it joined the club. Sometimes I think it's lovely and sometimes I think wtf, kinda boring.
Steve: The hints of bright red in 5 are too much for that picture but it works as a prelude to 6. The hard geometry of 6 carries forward in the cityscape that follows.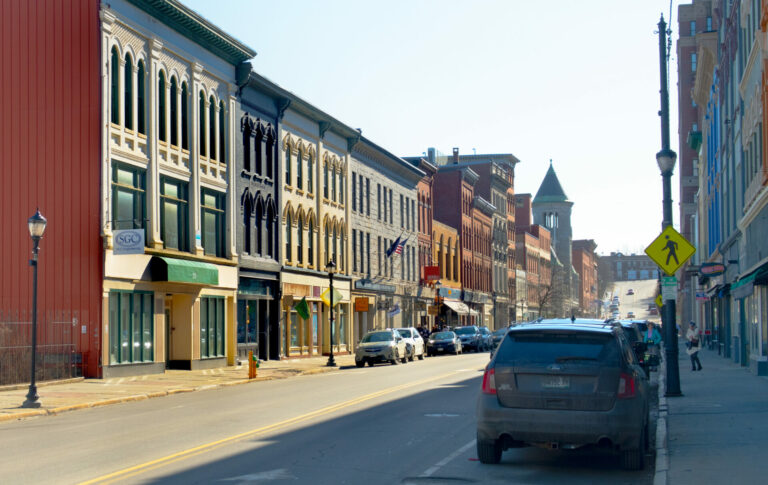 Augusta: Downtown in the stillness of February.
Steve: 6 and 7 are nice to each other.
Janie: But they're flipped (in a good way) — sky at the bottom in 6 and at the top in 7 — I like that.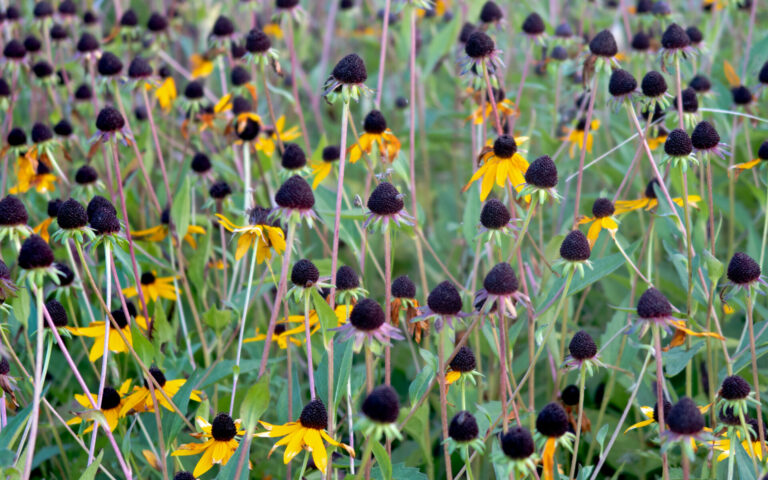 Readfield: Black-Eyed Susans gone to seed (this was a replacement for one of the original ten)
Janie: The one with the flowers gone to seed doesn't really fit with the rest…….
Steve: I see the opposite; it has that bleak beauty that runs through these, and I like that. You've got a series of hard geometry and then 8 just explodes in chaos while being faithful to the color and feel of its neighbors.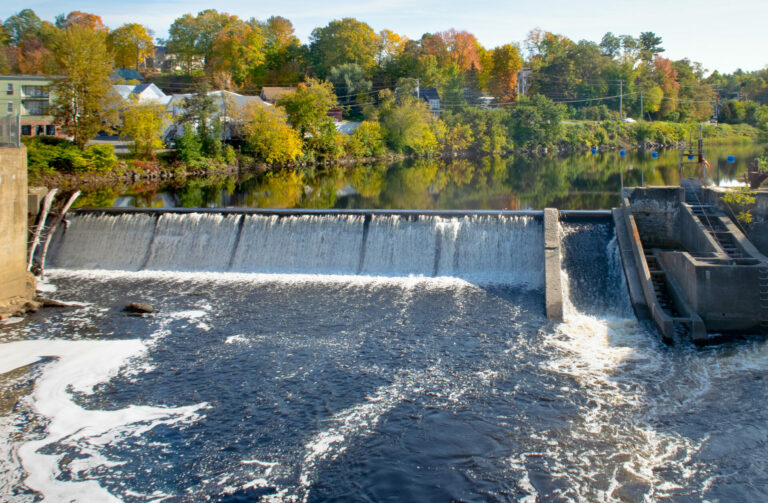 Dover-Foxcroft: The power of moving water.
Steve: #8 transitions nicely into 9 and distracts from the weaknesses of the latter.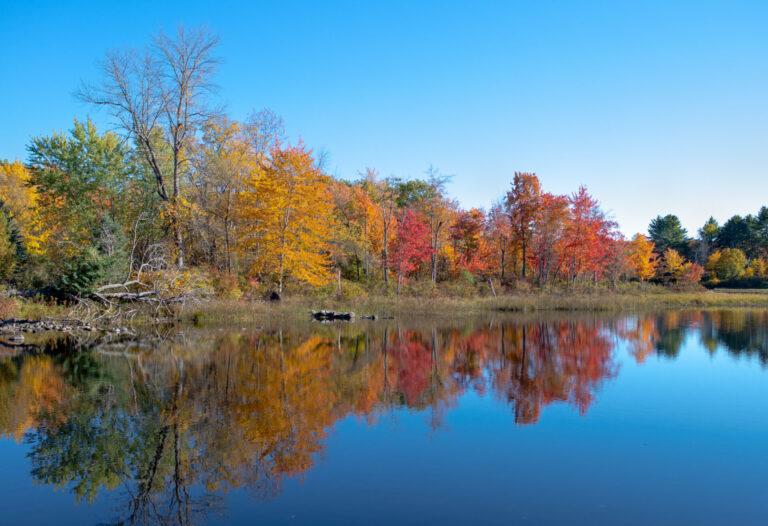 Mount Vernon: Downstream from the Mill Stream dam.
Steve: #10 recalls the strengths of 9. The whole point of 10, btw, was to end on a less bleak note but still with an echo of it.
Janie: Even the glorious fall color at the end is … fall color … which is an ending presaging four months of harsh times. Fall color counts as "pretty," but it also holds the promise of what comes after.