Another delightful day in West Palm Beach, where everyone is so wealthy or totally checked out on vacation that they don't realize what a fecal sore their governor and congressmen are, with low humidity, lots of sunshine, and temps in the upper 70's and low 80's. We started our day with a jaunt to the Jupiter lighthouse. I informed the ladies that I was not that interested in seeing a lighthouse, having seen a bunch of super impressive ones in Maine and elsewhere and being terrified of heights, so I dropped them off to go get a coffee. Got almost out of the parking lot when Joelle called to inform that the place was full and they could not get in, so turned around the car. They took some selfies of the lighthouse that go photobombed by someone's shitty plague carrying kid, so the only picture worth posting is this: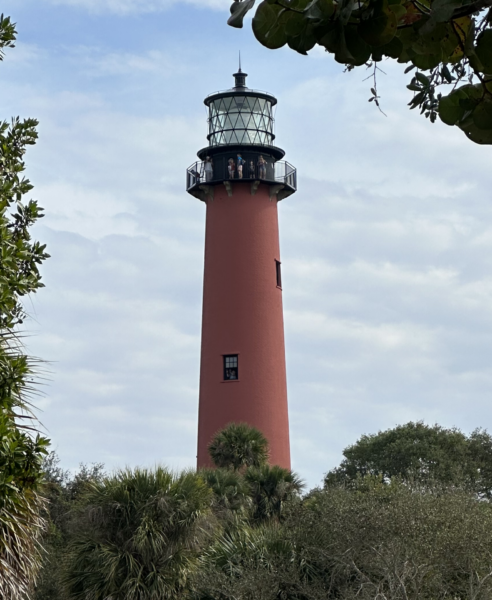 There. Now you have seen a lighthouse. I am sure you are as thrilled as I was. Loaded up the family truckster and it was off to stop number two, that Panther Ridge Conservation Center to see some danger kitties, and that was the highlight of the trip for me so far (EXCEPT FOR THE DELIGHTFUL COMPANY OF JOELLE AND KRISTEN AND I AM WRITING THIS BECAUSE SHE NOW READS THE BLOG AND WILL THROW SOMETHING AT MY PLANETARY SIZED HEAD IF I DO NOT INCLUDE THIS).
At any rate, we had a delightful young lady named Hannah who was about 5'5″ and not very big and absolutely fearless as our tour guide, and she so clearly loved her job that it was a real pleasure having her take us around to all the different animals. She was just beaming like a proud mom at every enclosure and her joy was infectious. I really enjoyed meeting her- I like it when I see young happy people who love what they do.
There were a lot of different cats, but here were some of my favorites. First up were the Jaguars, Onyx and Mateo, a mated couple: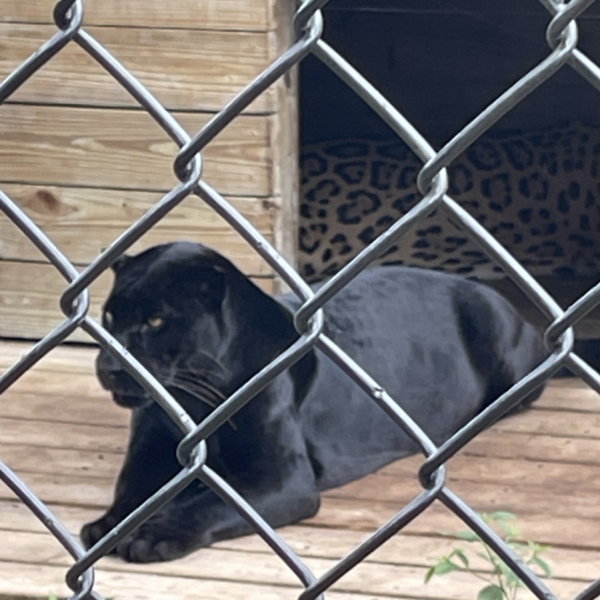 Onyx is the one featured prominently, in the background you can see her man, Mateo. FYI- panther is a generic term, and there is no species of panther. The two of them got along swell, and they are separated at night because the breeding is highly controlled, but Hannah was quick to note that by the end of the day Mateo is tired of Onyx's shit. Just as she said that, Onyx went and started fucking with Mateo.
I'm skipping the Servals and the Caracels, although I will note that Karl the male caracel has to be in a separate cage from the female caracel because Hannah informed us he would repopulate the entire continent if allowed. They do share a fenceline so they can interact, though. All the men in the tour gave Karl a head nod "atta boy" and a fist bump as we moved on to the fishing cat.
The fishing cat we spent the most time with was Minnow, and he was super amazing. The handlers can not go into the cage with them because this animal can not fully retract its claws, and those is walking around with fish hooks. He loved diving into the pool, and she through fish into the pool and he would leap and do belly flops. He was extraordinarily agile. This is Finley, another fishing cat that I got a better picture of: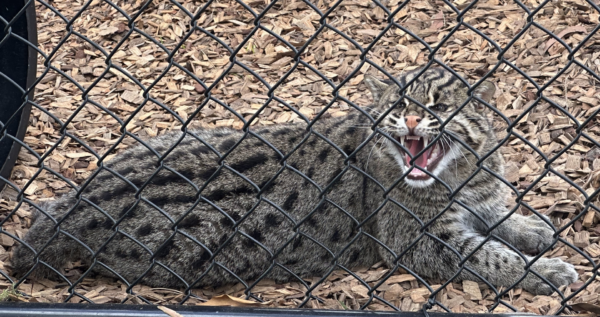 Up next was the Cheetahs, and they are VERY impressive. Just walking up to the cage and watching their long, effortless, but slow stride as they loped along you could tell they were the Ferrari's of the cats. Learned a few things, first of which was that we all know they can reach amazing speeds of 50-80 mph, but they can do it in 2.3 seconds. Car people will understand what a BFD that is. Also, they can only sustain that for a brief while, and then they have to shut down for 20 minutes to get rid of the lactic acid buildup in their muscles. Additionally, they have very long tails, which normally is found in the tree dwelling cats (for balance- jumping cats have short tails), that they can use with all four feet off the ground as a sort of air rudder, and can even turn 180 degrees while in the air using just their tail. They also have the most docile (around humans, temperament), and she just walked right into the cage and played with them: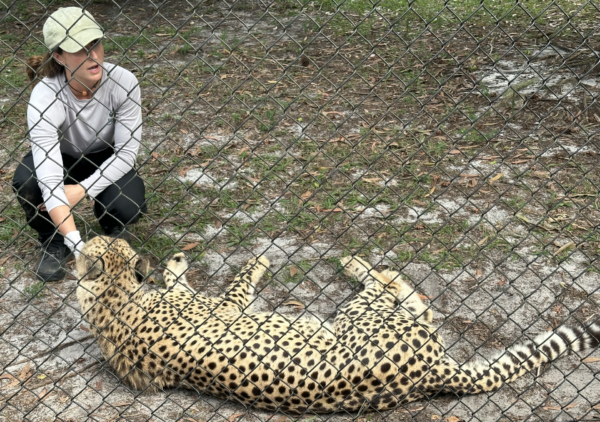 Up next is an exceedingly rare cat, Mischa, a melanistic (black) Amur Leopard. I don't remember much of what was said because I thought she was so beautiful: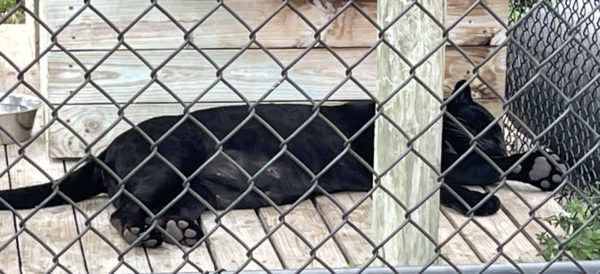 Finally, we saw a puma named Mika, who was just fucking amazing. They can apparently jump 20 feet straight up, and I don't know if this picture will do it justice, but look at the size of those paws: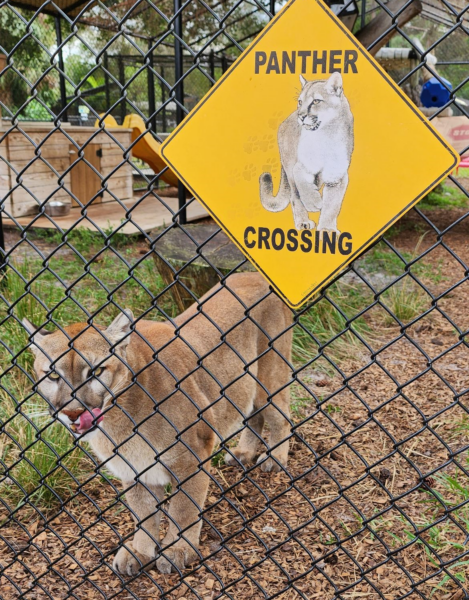 I even blurted out "look at those paws" and Hannah laughed and said "yes, we call her murder mittens."
So that was the cat sanctuary. If you are ever around here, I highly recommend it. I really liked this place because the staff was great, the animals were clearly in absolutely perfect condition and well cared for and loved, they were given tons of stimulation and attention and fed the right amount of the right foods, receive scent stimulation every day, etc. The cages were immaculate, the water was clean, there was not an overbearing stench of spray or urine, and I just really felt this was a well run operation. Some places I have been I have felt guilty- "I can't believe I just spent money to help keep these animals caged," but not here. They were leading happy, fulfilled, good lives, and it showed.
The three of us went home, freshened up, and hit an early reservation at an upscale pizza joint named Grato. In a day full of wild animals, there was a rare sighting of a grizzly bear and a cougar in close proximity: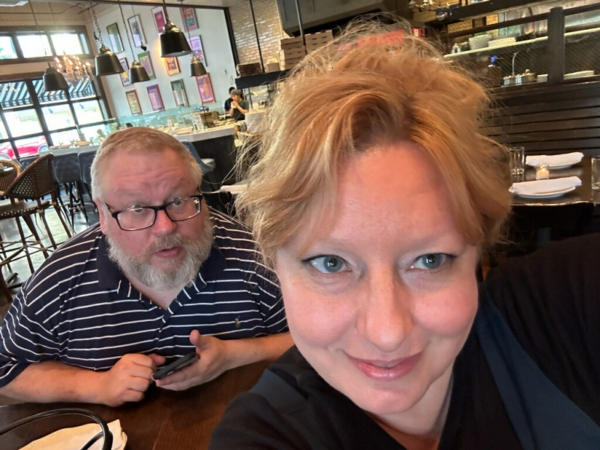 The ladies were all dressed up: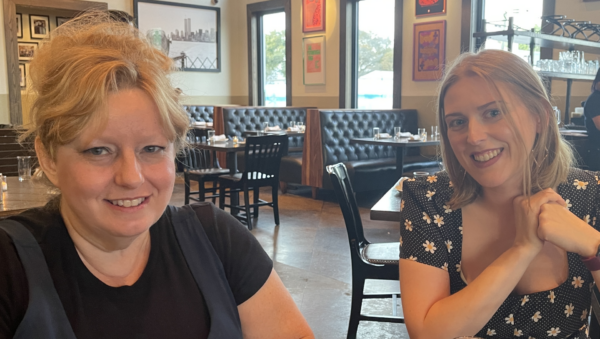 We shared a large beet, rocket, and goat cheese appetizer, then ordered three pizzas- a mushroom beschemel with truffle oil, a margherita with pepperoni, and I ordered a four cheese pizza with pickled tomatoes and spinach: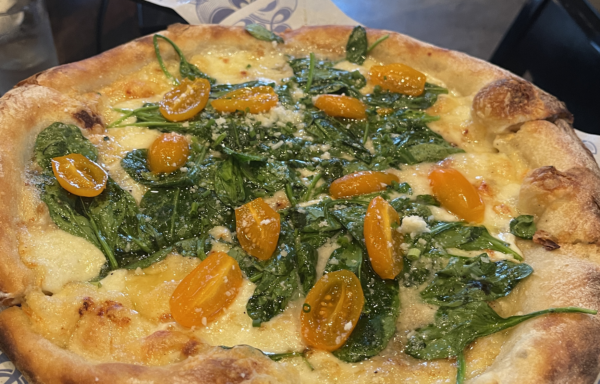 Very rich-we only finished 1/3 to a half of what we ordered and got the rest to go. I'm pooped. I've spent more time in the last three days in social settings than I like to in a half a year, but it has been fun. Beach tomorrow.