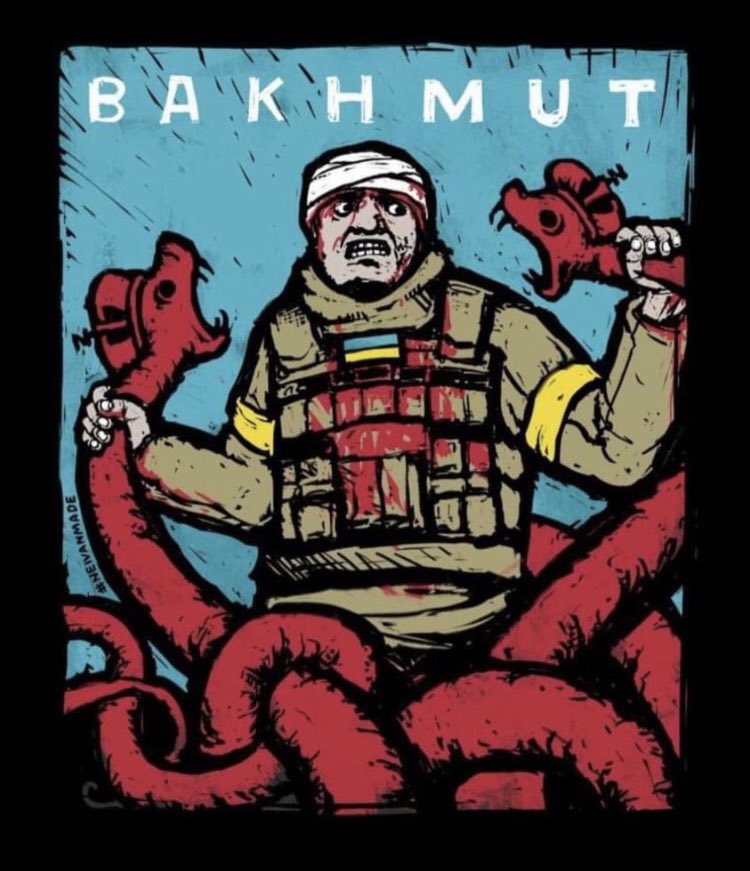 (Image by NEIVANMADE)
I was offline almost all day, so this will be a brief post. I will say that it sort of feels to me like we're at something of a pause point, like when you know you have to sneeze, but it hasn't happened yet. The new military aid packages have been announced, but they won't even begin to ship for days or weeks. The Ukrainian Armed Forces are doing yeoman's work under difficult conditions dealing with the meat grinders that Wagner and the Russian military have created at several points along the line of contact that snakes all the way around Russian occupied Ukraine by just wantonly throwing bodies into combat.
Estonian Prime Minister Kallas shared her understanding of the strategic problem set that is Russia:
There is war in #Ukraine because Russia started it, not because Ukraine is defending itself. Russia's goals haven't changed, it wants to continue its war of aggression.

This means we all need to do more. Give many more weapons to Ukraine, faster. We're in it for the long haul. pic.twitter.com/O2AKWLHqqd

— Kaja Kallas (@kajakallas) January 21, 2023
Here is President Zelenskyy's address from earlier today. Video below, English transcript after the jump:
Ukrainians! Ukrainian women!

Today was a long day – operational decisions, international communication, and various issues that deserve attention and response.

But now I want to say only one thing.

I don't want to talk for a long time.

Today, we said farewell to those whose lives were taken by the helicopter crash in Brovary.

Denys Monastyrsky, his colleagues from the ministry: Yevhen Yenin, Yuriy Lubkovych, Tetiana Shutiak, Mykhailo Pavlushko, Mykola Anatsky, Andriy Marynchenko… Guys from the crew: Oleksandr Vasylenko, Kostiantyn Kovalenko, Ivan Kasianov… A woman and a child who were just going to kindergarten in the morning… Mother Olena Ponomarenko and her daughter Milana Ponomarenko…

My condolences to all relatives and friends… It hurts to think about it, it hurts to say about it.

Denys was a professional, genuine person, exactly what the Minister of Internal Affairs should be. Every day we lose people, whom we will always remember and regret that they're not coming back.

You cannot bring back Ukrainians, patriots, and people who are professional and simply loyal to themselves and the state.

I wish we could all feel that today. Feel how many lives, how many bright people have been taken by wartime. I would like us all to honor their memory today…

Great tribute to all those, whose lives were taken away by the war! Great tribute to all those, who gave their lives for Ukraine!

We are doing everything to remove this war from our land.

Glory to Ukraine!
Afterword to global indecision…
You'll help Ukraine with the necessary weapons anyway and realize that there is no other option to end the war except the defeat of🇷🇺
But today's indecision is killing more of our people. Every day of delay is the death of Ukrainians. Think faster

— Михайло Подоляк (@Podolyak_M) January 21, 2023
Here is former NAVDEVGRU Squadron Leader Chuck Pfarrer's most recent assessments of the situations in Kremenna and Bakhmut:
UPDATES COMING: 1600 UTC 21 JAN Late breaking information indicates that UKR forces are now in contact at Novomykhailivka, indicating another RU sally across the P-66 HWY. An updated TACMAP will be published this afternoon. Baby thanks to sources and contributors.

— Chuck Pfarrer | Indications & Warnings | (@ChuckPfarrer) January 21, 2023
BAKHMUT AXIS /0030 UTC 22 JAN/ A RU probe crossed the rail line N of Blahodatne and was broken up by UKR forces. Efforts by RU to cut the T-05-13 HWY continued at Krasna Hora and Pidhorodne. UKR defends H-32 at Ivanivske. pic.twitter.com/o8SxFsM6YZ

— Chuck Pfarrer | Indications & Warnings | (@ChuckPfarrer) January 22, 2023
Finland:
KIITOS HELSINKI! Finland will send a new 400 million euro military aid package to Ukraine. The total value of all defence assistance shipped from Finland to Ukraine is now 590 million euros. For operational security, Details are confidential for now. https://t.co/sIef83bau3 pic.twitter.com/HT9fuECoP4

— Chuck Pfarrer | Indications & Warnings | (@ChuckPfarrer) January 21, 2023
Estonia, Latvia, and Lithuania:
We, 🇱🇻 🇪🇪 🇱🇹 Foreign Ministers, call on Germany to provide Leopard tanks to Ukraine now. This is needed to stop Russian aggression, help Ukraine and restore peace in Europe quickly. Germany as the leading European power has special responsibility in this regard.

— Edgars Rinkēvičs (@edgarsrinkevics) January 21, 2023
What's striking and revealing is that a decision not (yet?) to supply Ukraine with Leopards was made at the meeting where other headlines were: a new Russian large-scale offensive,short window of opportunity to boost 🇺🇦 and Ukraine's reportedly three-digit daily losses in Bakhmut

— Olga Tokariuk (@olgatokariuk) January 20, 2023
The decision not to give Ukraine tanks just as the war is entering its crucial phase, after Ukrainian forces were capable to inflict several crushing defeats on Russia, is incomprehensible. It's hard to see it as anything else than an attempt to prolong the war and help Russia

— Olga Tokariuk (@olgatokariuk) January 20, 2023
Ukraine is grateful for all the help. We are alive thanks to our partners. But what we hear when you say "no Leopards":
– UKR offense postponed, RU has more time to kill our people
– RU has time to bring 100 000 to the frontline
– When they come, UKR will need even more tanks.

— Kostiantyn Korobov (@Korobov_K) January 20, 2023
Arming Ukraine in order to repel the Russian aggression is not some kind of decision-making exercise. Ukrainian blood is shed for real. This is the price of hesitation over Leopard deliveries. We need action, now.

— Zbigniew Rau (@RauZbigniew) January 20, 2023
Here's a thread on tanks:
1/ While 🇩🇪 defence minister did not say no yesterday, rather not yet, I think the #Leopard Plan as we conceived it in September 4 @ecfr is dead.

Why? A longer thread.https://t.co/2798lmtF1x

— Gustav C. Gressel (@GresselGustav) January 21, 2023
2/ 

The 

#Leopard2

 is arguably the most prolific tank in Europe. However surplus and reserve tanks make up only a small part of the force.

They could be used to start training and introduce the tank into 🇺🇦 services, but to achieve a real effect in a long war, more …

3/ 

… deliveries over the long run would be necessary.

This is still possible as the Leoprd is still in production, theoretically 3 sites (🇩🇪🇬🇷🇪🇦) could produce it and there are 🇪🇺 funds for joint procurement, hence states could replace donated vehicles.

But will they? 

4/ 

1️⃣ trust:

if you stard procuring new 2A7 to replace existing vehicles donated to 🇺🇦, you make a commitment to operate a 🇩🇪 tank for another 30 years.

After recent escapades there will be much greater reluctance to do so.

In an existential security crisis, 🇩🇪 acted irrationally 

5/ 

Public mood in many countries shift against 🇩🇪 and it will be a hard time to convince taxpayers to put down ~€8 million each for new 🇩🇪 vehicles.

2️⃣ coordination:
Yes, 🐆2 is in production, mut that production is stretched to 3 years per tank to maintain production … 

6/ 

… at minimal orders. To shorten delivery times and decrease costs, larger "en bulk" orders would be necessary.

Such en bulk orders would need to be coordinated amongst user nations, if there were a clear plan for deliveries and replacement. 

7/ 

Somebody needs to do that and it is pretty clear that 

@Bundeskanzler

 is both unwilling and incapable to do so, even if he finally would allow countries to donate tanks.

Will other leaders coordinate procurement for a defence good not manufactured in their country? I doubt. 

8/ 

3️⃣ time:

Allthough this is a long war, unlikely to end in 2023, 🇪🇺 politicians are very reluctant to commit to measuures that take more than a few months to implement.

I remember the debate about Marder IFV, where rennovating older phased out vehicles that would … 

9/ 

… have taken till 2023 was seen as useless, because "the war will have ended then" (🤪🤡 I told you then it won't).

Refurbishing a some of old surplus Leopard 2A4 will take equal time, meaning politicians will not even try because they think it won't pay off. 

10/ 

and then of course miss these vehicles later.

Still, there will be Leopards in 🇺🇦, but their effect on the war will not be that big.

For some time, 🇺🇲 will work around that problem, searching for T72 and ammo in the rest of the world as long as they find them. 

11/ 

Then proceeding to deliver M1 

#Abrahams

.

This takes more time and greater costs than Leopards, but is still feasable. A lot of the arguments against Abrahams are not all too convincing, especially if you regard this as a long war. 

12/ 

But beware of a new burden sharing debate.

MBT could well be provided by 🇪🇺.

🇺🇲 is hard pressed to deliver 

#ATACMSforUkraine

, 

#F16

 etc.

Republicans will say 🇪🇺 again consumes security at 🇺🇲 expense, and Biden will have few convincing arguments against. 

13/ 

This of course will fall on all our heads, not just Olaf's. But … I can't change that now. 
And another one:
Woke up this morning to find a thread from someone claiming I posted things that are "100% untrue" about the "M1."

I hesitate to respond to @secretsqrl123 – especially since he posted an insulting tweet (violating my rule #1) – but providing tank insight is important to me. 1/20 https://t.co/qQoE8sIMz1

— MarkHertling (@MarkHertling) January 21, 2023
"David" is a "former ADA 16/14R & 96B/P (an air defense soldier & intel analyst w/ airborne experience). He is a "master driver & a 22 yr combat vet." To which I say "thanks for ur service."

Don't know how much tank experience he has, but he gets some things right in his 🧵2/ 

He also gets things wrong.

Since he gives his creds, here are mine:
-37 years in armor.
-served on M60, M60A1, M60A2,M1, M1A1, M1A2
-tank platoon leader, company commander (x2), cav sqdn S3 (in combat), cav squadron Cdr at Armor School (teaching M1 Tank Commanders Course) 3/ 

-Squadron commander, ran the M1 tank commander's course (while also providing tanks to all leaders who trained at Ft Knox).

-Our squadron trained all soldier/NCOs/Officers (LTs-LTCs) who had never been on an M1/M1A1 tank before while maintaining 120 M1/M1A1/M1A2 tanks. 

4/

 

-tank brigade commander, with the mission to deploy to Korea (helped me understand the challenges of moving tanks & establishing logistics flow across oceans).

-Commander Ops Groups at the National Training Center (helped me see how diff units employ tanks on a "battlefield"). 

5/

 

-Asst Div Commander/Support for a Tank Division in Combat (learned how tough to supply a division w/ tanks when supply lines were long & cut by the enemy).
-Tank Division Commander in combat.
-Commander US Army, Europe, where we partnered w/ & trained Ukraine's army.6/ 

Here's what I learned about tanks:
-The M1-series, in my view, is the best in the world.
-Training of tank crews/units is critical, and can't be hand-waved (if you do w/ an M1, you'll be ineffective while breaking lots of stuff).
-Everyone is an M1 expert, until they break it.7/ 

-There's a reason tankers are called "DATs" (dumb-ass-tankers). It's because they break things in their tanks & then rely on maintainers/master gunners/loggies to fix it.

-Older tanks break more often (the M1 was fielded in the 1980's)

8/

 

-Having fired T-72s, Chieftains, Challengers, Leo IIs & Abrams, the M1 requires the most turret training.

-Same true for the engine. The pack "blows" when drivers aren't trained. A FUPP (the combined engine/trans) is expensive (about $1.5 million) & then must be replaced. 9/ 

*Some* M1 repairs require part replacements (requiring many high tech spare parts to be in a PLL).

Other replacements require pulling things (like FUPPs, sights, etc) to a log center/depot w/ new one being sent forward.

It's a 500 mile supply line from Poland to the Donbas. 10/ 

Having serviced 250 tanks in 1st Armored when I was ADC-S, you don't just "put parts on an DHL/C17 or a MI-17 and hop to the front lines."

(I'm also curious about the "warehouses" David names in "Pirmasens," "Hohenfels" (the correct spellings) that can turn these parts?…11/ 

…that's because US Army, Europe hasn't had permanently stationed tanks since 2013, and the ones there are part of the rotational unit).

While we're on that point, I'm wondering where the 300 Abrams tanks would immediately that David would deliver to Ukraine? 12/ 

Here are some of David's other assertions:
-UA got experience with T64s, so it'll be easy to switch to M1A1s. (I vehemently disagree).
-"the M1 is one of the easiest tanks in the world to keep running with a motivated crew." (you need crew + an entire support system)….13/ 

-the "motor" is a "jet engine" & can be fixed by Ukrainian jet experts in Ukraine or General Dynamic techs in Poland (first, it's a *turbine engine* & fixing it requires knowing it, which takes training & certification).

(BTW, it's a *multi-fuel turbine engine*) 14/ 

-"if the Iraqi's, Saudi's, Egypt troops can use the M1, the UKR will have no issues."

Iraqis paid billions for M1s w/ a permanent GD maintenance contract & a 5-year training period.

Saudis bought M1A2s w/ a 7 year training program, with maintenance contract still in place.15/ 

David points out "there are politics and costs involved in this decision."

To which I respond "yeah, no kidding."

That's sometimes, unfortunately, what happens when you're in an alliance.

16/ 

I'll add one last important point:

@SecDef has repeatedly said the *GOAL* is to provide UKR with equipment that they can immediately put to use & which they can easily sustain.

UKR's army is getting LOTS of different equipment from many different nations. Here are some: 17/ 

Brad's, Strykers, M777, HIMARS, MRAPs, HMMWVs, Gephards, Patriots, AMX10s, M106's, NASAMs, HAWK, Caesers…etc, etc, etc.

UKR Army Commanders who I talk with want tanks, but have admitted they struggle w logistics, repair parts getting to the right places, and resupply. 18/ 

So reducing the burden must be a key consideration…and in my professional opinion, the Abrams would cause more of a burden due to training & resupply to a force that's in a tough fight.

Also in my view, LEO II's would mean less of a burden.
19/ 

But the decision involves politics, and funding, and decisions.

So, no @secretsqrl123, I won't "debate" you on these issues.

I would recommend in the future you not insult people w/o knowing their background and goals. 20/20 
For full disclosure: I know LTG (ret) Hertling.
That's enough for tonight.
Still no new Patron tweets or videos. I'm sure its because he and his human are busy doing their day jobs. So here's some Ukrainian Army cats and dogs material to hold you till we get Patron updates.
Selfie .#uaarmy #Ukraine️ #RussiaisATerroistState #RussiaUkraineWar #CatsOfTwitter #CatsOnTwitter #Bakhmut #Donetsk
#NewYork #Kyiv #StandWithUkraine pic.twitter.com/RibG4oaNOj

— UkrARMY cats & dogs (@UAarmy_animals) January 21, 2023
Friends.#uaarmy #Ukraine️ #RussiaisATerroistState #RussiaUkraineWar #CatsOfTwitter #CatsOnTwitter #Bakhmut #Donetsk
#NewYork #Kyiv #StandWithUkraine pic.twitter.com/QReubHSNuT

— UkrARMY cats & dogs (@UAarmy_animals) January 21, 2023
It's love. #uaarmy #Ukraine️ #RussiaisATerroistState #RussiaUkraineWar #CatsOfTwitter #CatsOnTwitter #Bakhmut #Donetsk
#NewYork #Kyiv #StandWithUkraine pic.twitter.com/lzLtHpK1iB

— UkrARMY cats & dogs (@UAarmy_animals) January 21, 2023
Open thread!