On the Road is a weekday feature spotlighting reader photo submissions.
From the exotic to the familiar, whether you're traveling or in your own backyard, we would love to see the world through your eyes.
MollyS
In October, I went back to Paris to visit my daughter and son-in-law. While working on her Ph.D. in French literature, my daughter spent several summers and a few semesters in Paris. She met and married a terrific young Frenchman and they now live in the 17th arrondissement, north of the world-famous attractions along the Seine.
For this visit, she and I decided to spend the weekend in Lyon, France's second-largest metro area, some 245 miles southeast of Paris. Lyon was established by the Romans in 43 BC, where the Rhône and Saône rivers meet. The city became the capital of the Gauls during the Roman Empire. Today Lyon is a UNESCO World Heritage site and the gastronomic capital of France. Once a world center for the production of silk, Lyon is also the home of the Lumière brothers, inventors of the modern cinemascope.
We spent most of our two days in Vieux Lyon, the city's oldest section, located in the Fourvière district, across the Saôme. At the time we were there, 1 US dollar was about equal to 1 euro, which made shopping, eating, etc., a very good deal.
 On Saturday, we walked around the old city. A friendly saleswoman told us to look for Lyon's traboules, many of which were built in the Middle Ages. Map in hand, we found one of the most famous, hidden behind Door No. 8.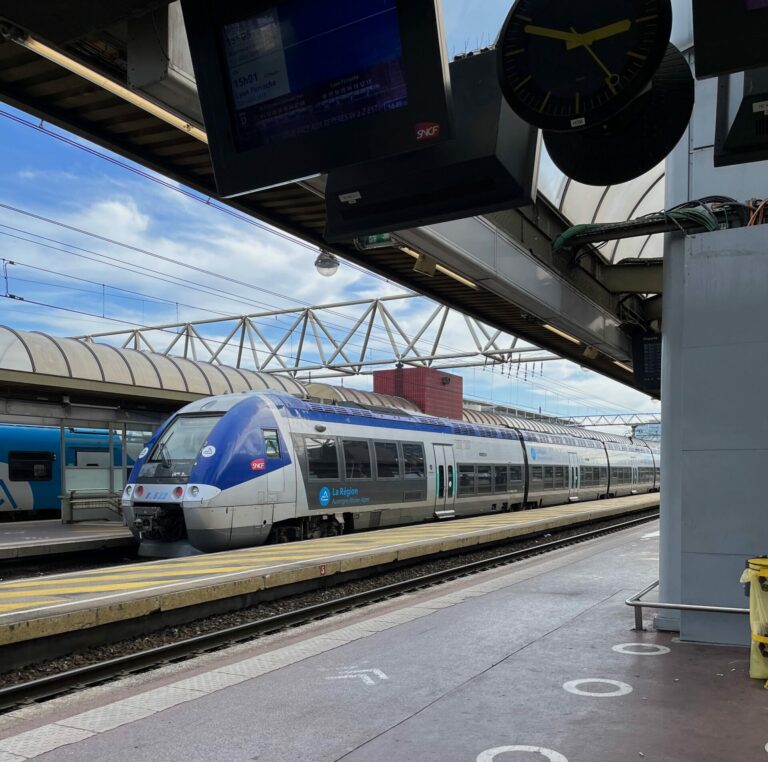 Lyon Part Dieu (Property of God) train station, central Lyon
October 10, 2022
We took the bullet train from Paris to Lyon. The TVG, or Train à Grande Vitesse, is France's high-speed train network. The first line, from Paris to Lyon, began service in 1981. Today the TVG network connects major cities across France (with about 110 million passengers a year) and into neighboring countries. The regular 6-hour train trip took 2 hours, as our train reached speeds of 190 mph. We left Paris from the Gare de Lyon, on first-class reserved tickets that were 20 euros each way. This picture was taken at the Lyon station, the day we zipped back to Paris.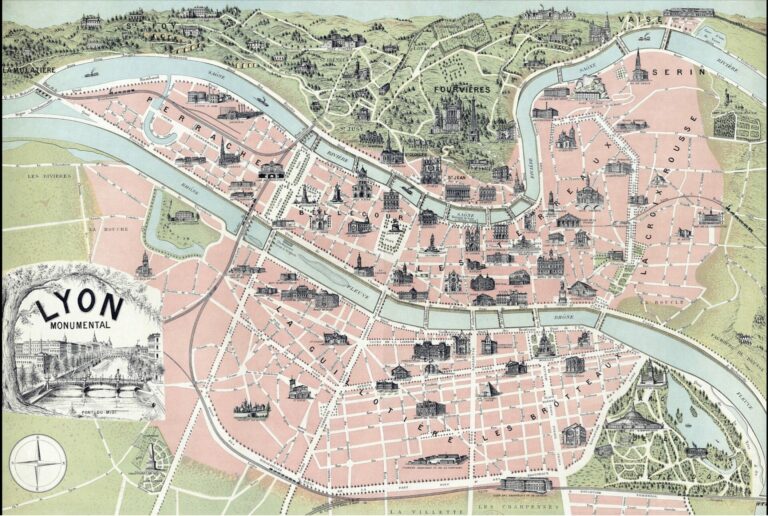 This public-domain map shows Lyon as it was in 1894. Located northwest of the French Alps, Lyon was built where the Rhône and Saône rivers converge around a peninsula, le Presqu'île, that lies between two large hills. The northern hill, la Croix-Rousse, was the traditional home to Lyon's small silk workshops. The western hill, Fourvière, is dominated by the Basilica of Notre-Dame de Fourvière. Fourvière, as well as part of the Presqu'île and much of la Croix-Rousse, are part of the Lyon UNESCO World Heritage Site. Vieux Lyon, or the old city, is also in Fourvière. Modern Lyon and most of its population are located in the large flat area east of the Rhône. If you look in the map's lower left corner, you'll see that North is actually where we would expect to find East. For the correct N-S orientation, tip your laptop, phone, or iPad to the left!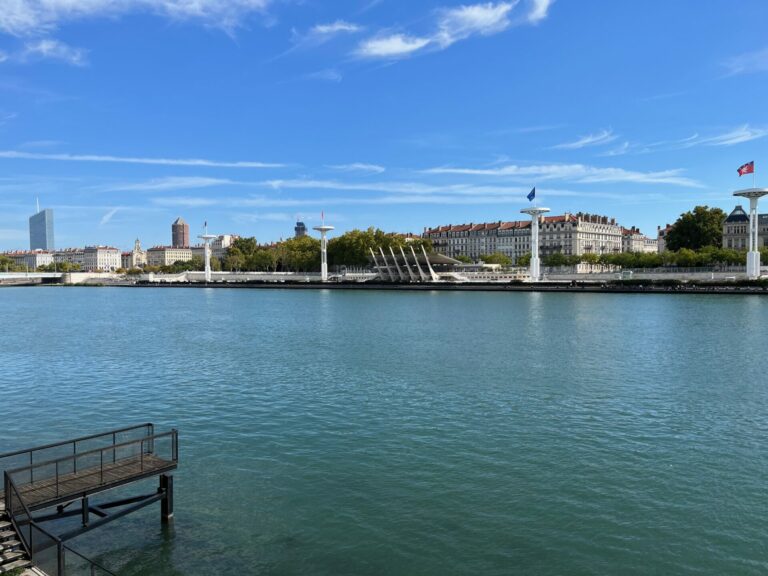 the Rhône river, Lyon, France
October 10, 2022
The Rhône begins 6,000 feet upstream from Lake Geneva, Switzerland, and runs some 500 miles to the Mediterranean Sea. At Lyon, the river's flow is 22,600 cubic feet of water per second, although it certainly didn't look that turbulent!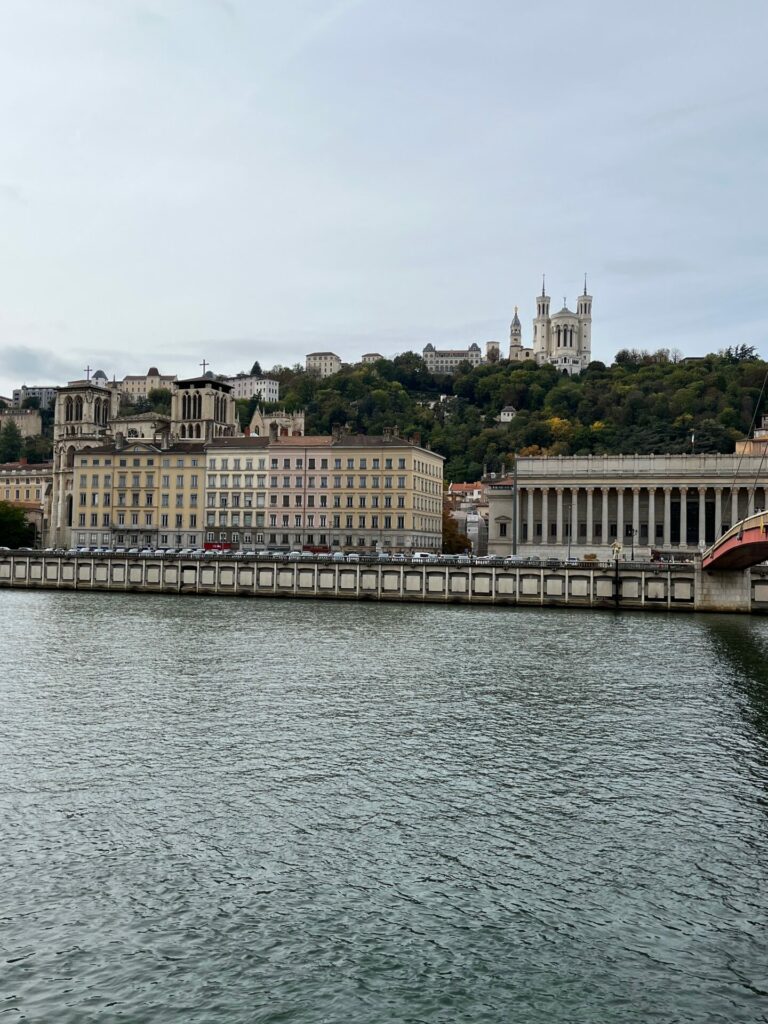 the Saône river, Lyon France
October 9, 2022
The Saône originates in eastern France, flowing south for about 300 miles until it meets the Rhône at Lyon.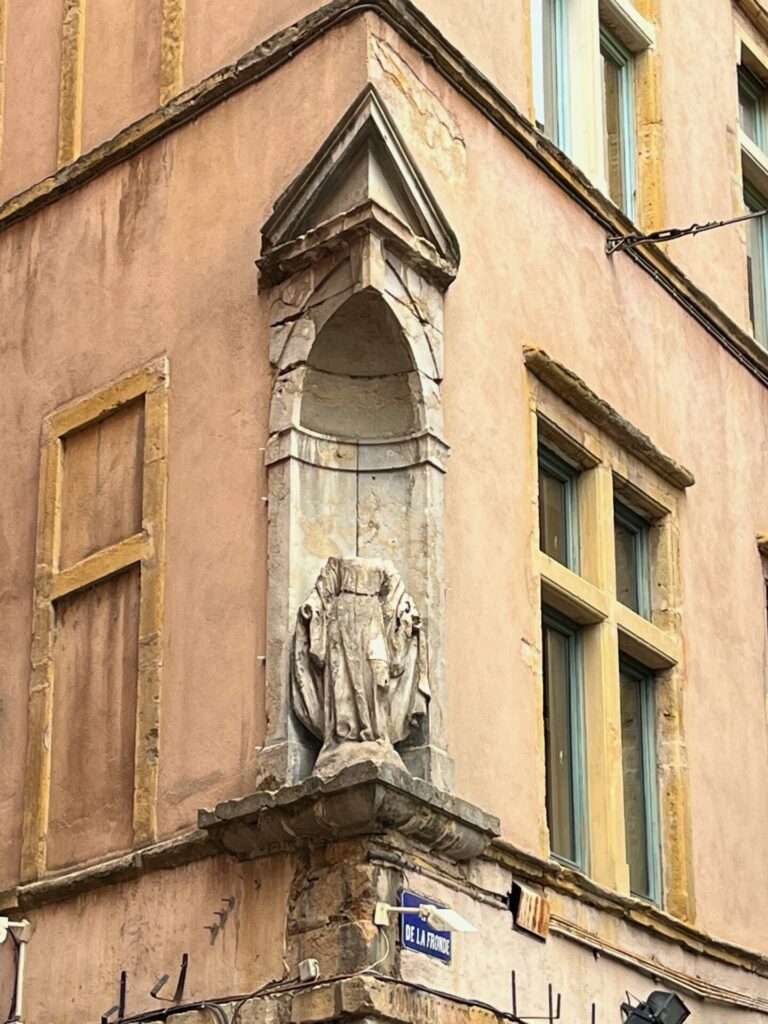 rue de la Fronde, Lyon France
October 9, 2022
Participants in the French Revolution were determined to establish a secular state, and in their zeal, they were particularly tough on religious statues. Many saints and holy men and women lost their heads … along with much of the human populace.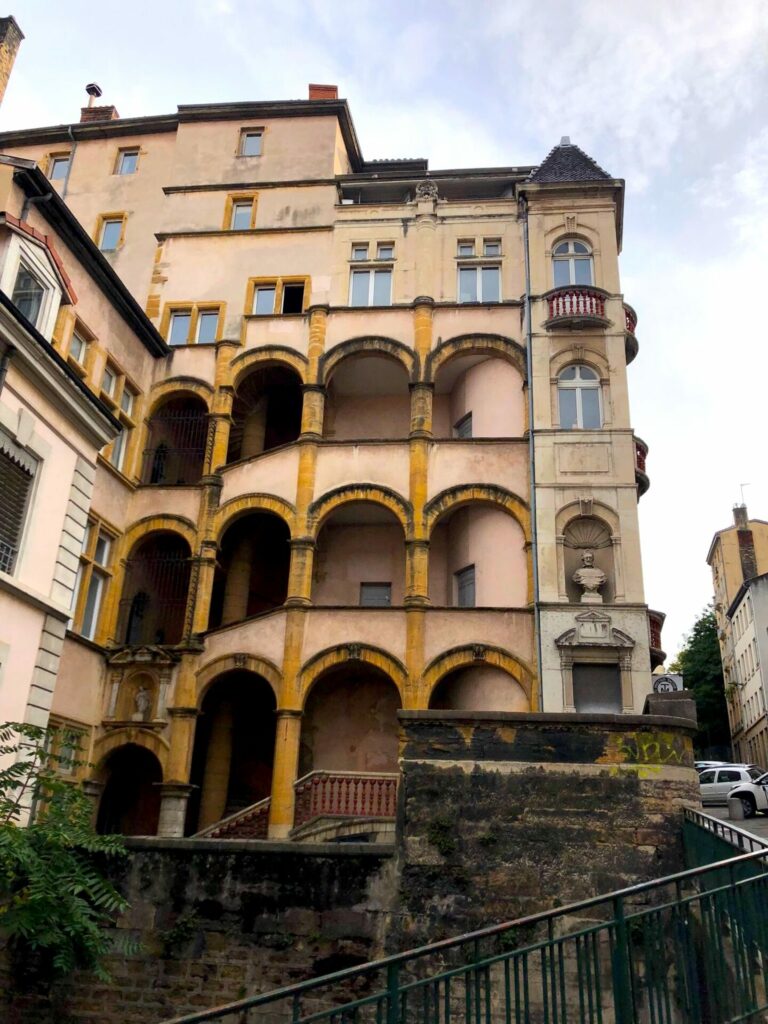 Lyon France
October 9, 2022
Lyon's buildings are quite different from Paris's Haussmann-era, pale-gray limestone and wrought-iron-railing construction. Many Lyonnaise buildings have terra-cotta roof tiles and are painted a soft pink or orange. You'll see a lot of curved arches, but few streetside railings or balconies.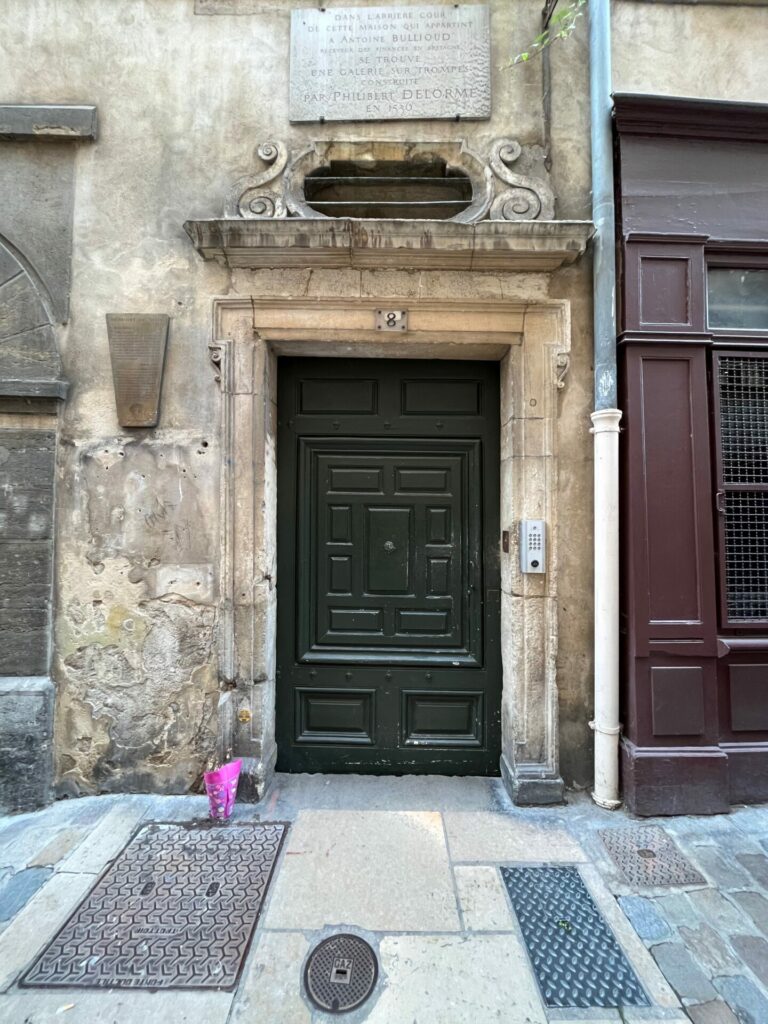 rue Juiverie, Lyon France
October 9, 2022
The No. 8 door opens into one of Lyon's traboules, secret passageways that go through buildings and courtyards, up and down staircases, and out to other streets. They are hidden shortcuts, hundreds of years old, that allowed citizens to bypass the hills and winding streets. No. 8 dates to 1530. There may be as many as 400 traboules but only 40 are open to the public. Traboule comes from the Latin for trans-ambulare or to pass through.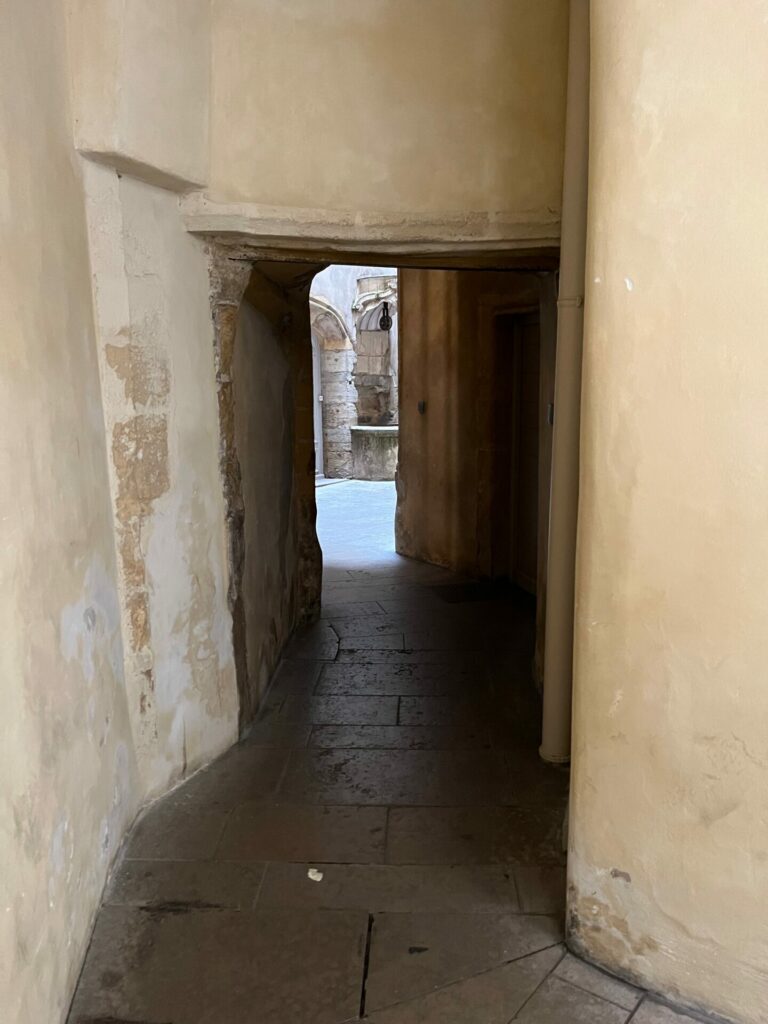 No. 8 traboule, rue Juiverie, Lyon France
October 9, 2022
Going through the door, into the passageway.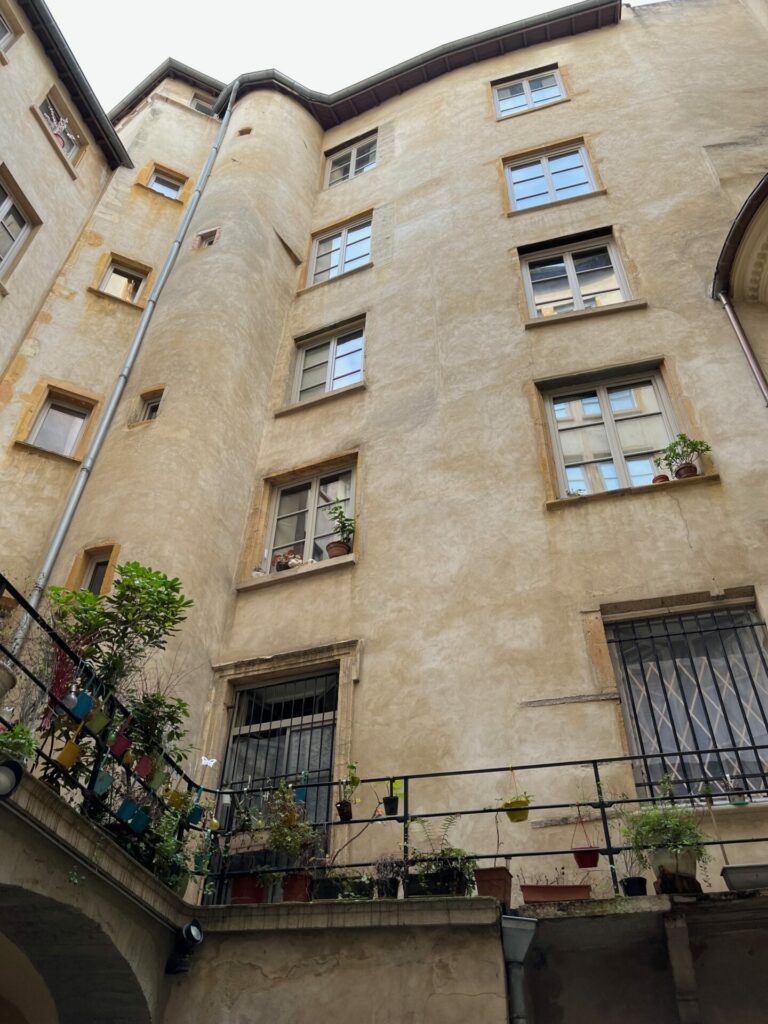 No. 8 traboule, rue Juiverie, Lyon France
October 9, 2022
No. 8's interior courtyard, for a number of apartments. These apartments are not visible or accessible from the street.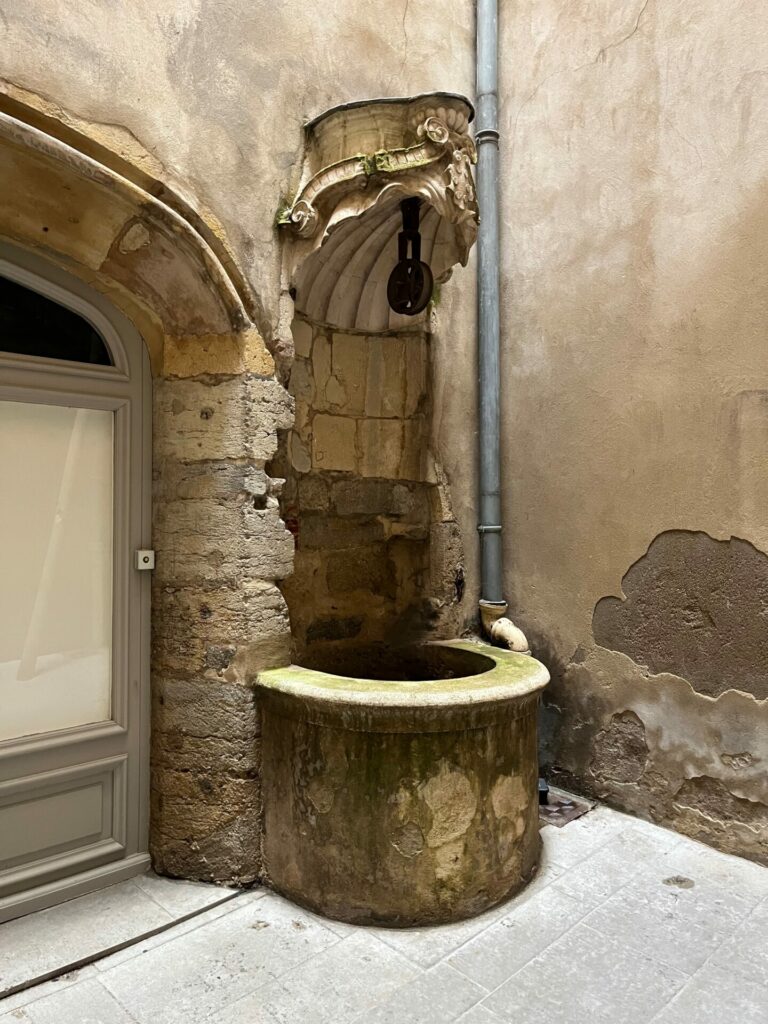 No. 8 traboule, rue Juiverie, Lyon France
October 9, 2022
A very old, not-in-use well, inside the No. 8 courtyard.