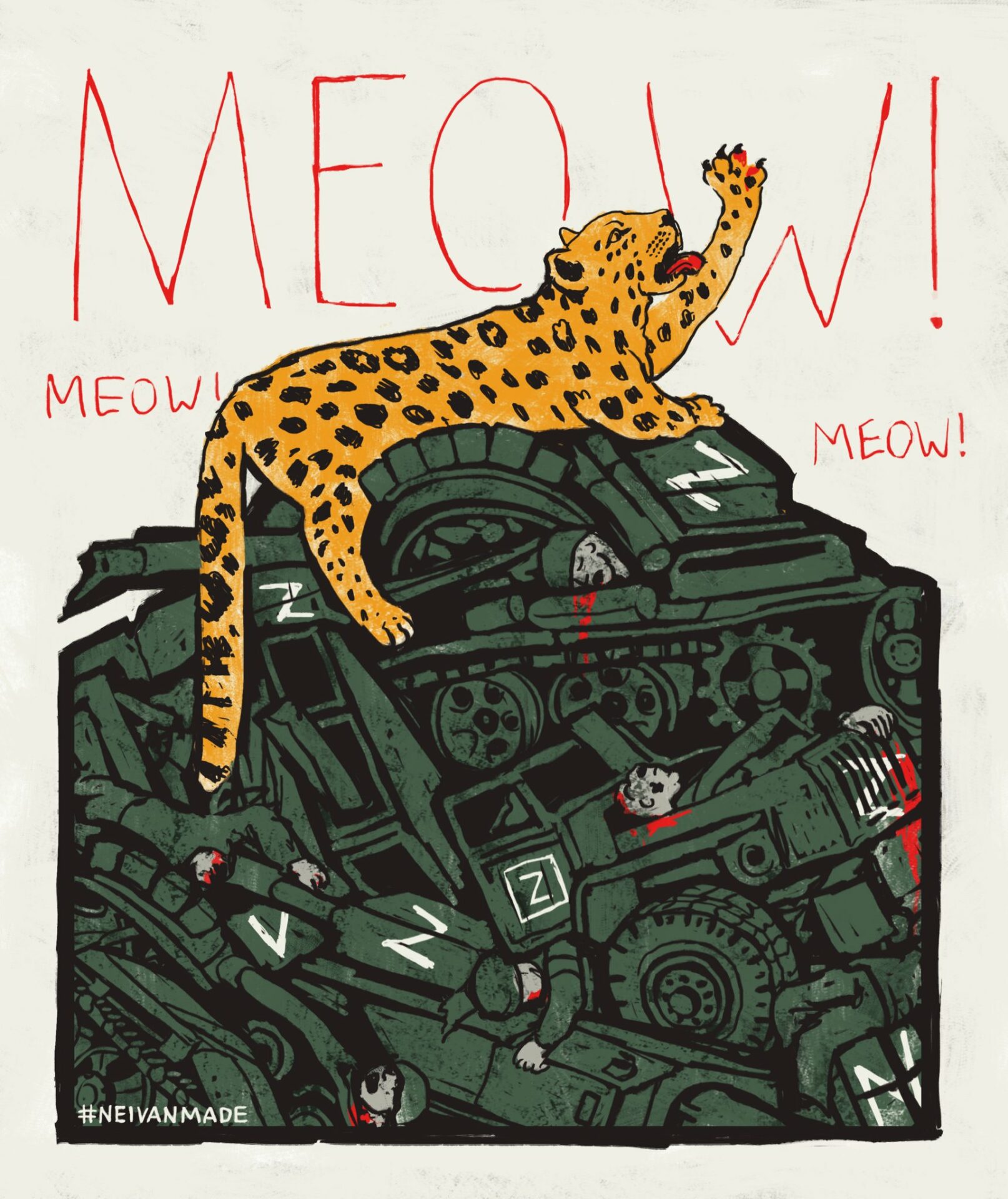 (Image by NEIVANMADE)
And here's the link to purchase NEIVANMADE's calendar.
Here is President Zelenskyy's address from earlier today. Video below, English transcript after the jump:
Good health to you, fellow Ukrainians!

Today we have continued our diplomatic marathon and have new concrete results for our defense, which are very important.

Today I had extensive negotiations with President of France Macron. We discussed many topics.

I thank Mr. President for his willingness to strengthen Ukraine's air defense and expand our armored cooperation. This armored element is becoming increasingly important for the situation at the front. So is the artillery element.

I thank France and Emmanuel personally for the much-needed decisions to strengthen Ukraine's artillery. I am also grateful for the respective leadership within our anti-war coalition.

Russia is preparing for a new wave of aggression with the forces it can mobilize. The occupiers are already increasing pressure in the Bakhmut, Vuhledar and other directions. And they want to increase pressure on a larger scale. In order not to recognize the mistake of aggression, the masters of Russia want to throw more of their people and equipment into the fighting.

This means that all of us in the free world must step up our cooperation to not only respond to Russia's regular crimes. Although this will happen, of course. There will be a response. But to prevent new Russian criminal actions as much as possible.

Our forces must retain the initiative in the war.

And I heard today a full understanding of the situation both in a conversation with Mr. President Macron and in a conversation with Mr. President of Finland, who was on a visit to Kyiv today.

There is a new package of support from Finland, including defense support. There is a willingness to strengthen sanctions against Russia and to join our diplomatic initiatives. We have a vision of how we can use this year to our countries' advantage to cooperate within European and Euro-Atlantic institutions.

That is, today, thanks to the French and Finnish stages of our diplomatic marathon, we have significantly strengthened Ukraine's defense.

The main thing now is the speed of implementation of everything we agreed upon.

Today I discussed in great detail the points of our Peace Formula – what can be done together with France, what can be done together with Finland.

It is very important for European leadership in these diplomatic efforts to be tangible. And today, in particular in my conversation with Emmanuel, I was pleased to hear his leadership initiatives.

I am also grateful to Finland for the vision of the role of this country in guaranteeing our common security under the Peace Formula.

I signed several decrees on awarding the defenders of our country.

Today is the Day of the Foreign Intelligence of Ukraine. So today I have specially honored intelligence officers with awards. Of course, I can't publicly say the names and specific reasons for the awards, but this is for the work that allows our state to see and understand more.

And I want to congratulate all our intelligence officers – those who expand Ukraine's capabilities and significantly reduce the enemy's capabilities. Thank you for your service!

I also signed decrees on awarding the warriors of our army, in particular the 93rd separate mechanized brigade, for their personal bravery and heroism. As well as warriors of the National Guard, in particular the 3rd and 4th operational brigades of the National Guard.

I am thankful for the strength and resilience to each of our warriors and to each family of such warriors!

Today, I also awarded the Air Forces for their much-needed results. And territorial defense warriors – for heroism and exemplary performance of combat missions.

Such decrees are always a special honor for me.

So is another decree signed today. The capital of Lithuania, Vilnius, starts celebrating the 700th anniversary of its foundation. All this time, the histories of our nations have been closely intertwined. And we actually share a common destiny of our freedom: the more protected one nation is, the more protected the other is. Perhaps this is understood more clearly now than ever before in our history.

Ukraine will always be grateful to Lithuania, to Mr. President Nausėda, to all Lithuanian leaders, to all Lithuanian families who perceived the Russian aggression against Ukraine as an attack on their freedom. Who help us protect our common future in a free and peaceful Europe.

Today, I signed a decree awarding Vilnius the honorary distinction of a "Rescuer City" for everything that the city and Lithuania as a whole have done to help us in the fight against Russian terror.

I thank each and every one who fights and works to protect freedom!

I thank everyone who helps!

By the way, there is a lot of talk about tanks now. About the modern tanks we need. And about how to fill this deficit. A lot of effort, words, and promises.

But it is important to see the reality: it is not about five, or ten, or fifteen tanks. The need is greater. Every day we are doing everything necessary to fill the deficit. And I am grateful to everyone who supports us in this.

However, discussions need to end with decisions. Decisions to really strengthen our defense against terrorists. Our allies have the necessary number of tanks. When the necessary weight of decisions is reached, we will be happy to express gratitude for every weighty decision.

We are still working on this.

And one more thing.

Today, society has seen yet another set of personnel decisions that have been made. I emphasize the phrase – "yet another". We will continue to take appropriate steps – the public will see each of them and, I am sure, will support them.

Any internal issues that hinder the state are being removed and will continue to be removed. It is fair, it is necessary for our defense, and it helps our rapprochement with European institutions.

We need a strong state, and Ukraine will be just that.

And today, by my decree, I put into effect another decision of the National Security and Defense Council. Details will follow later.

Glory to Ukraine!
The BBC has more details on the anti-corruption shake ups in the Ukrainian government:
Several senior Ukrainian officials have resigned as President Volodymyr Zelensky begins a shake-up of personnel across his government.

A top adviser, four deputy ministers and five regional governors left their posts on Tuesday.

Their departures come as Ukraine launches a broad anti-corruption drive.

Recently, authorities have seen bribery claims, reports of officials buying food at inflated prices and one figure accused of living a lavish lifestyle.

Senior aide Mykhailo Podolyak said Mr Zelensky was responding to a "key public demand" that justice should apply to everyone.

The president has already banned state officials from leaving the country unless on authorised business.

The first to resign on Tuesday was Kyrylo Tymoshenko, the president's deputy head of office, who oversaw regional policy and had earlier worked on Mr Zelensky's election campaign.

After Russia launched its invasion of Ukraine last February he became a frequent spokesperson for the government.

He was accused by Ukrainian investigative journalists of using several expensive sports cars throughout the war – though denies any wrongdoing.

In a Telegram post, he thanked Mr Zelensky for "the opportunity to do good deeds every day and every minute".

Deputy Defence Minister Vyacheslav Shapovalov also resigned, following reports he oversaw the purchase of military food supplies at inflated prices from a relatively unknown firm. The department called this a "technical mistake" and claimed no money had changed hands.

The defence minister himself – Oleksii Reznikov – has been under scrutiny for the same reason.

A host of other top officials were dismissed on Tuesday, including:

Deputy Prosecutor General Oleskiy Symonenko
Deputy Minister for Development of Communities and Territories Ivan Lukerya
Deputy Minister for Development of Communities and Territories Vyacheslav Negoda
Deputy Minister for Social Policy Vitaliy Muzychenko
And the regional governors of Dnipropetrovsk, Zaporizhzhia, Kyiv, Sumy and Kherson

A crackdown is one of the EU's key demands if the country is to advance its application to join the bloc.

In an address on Sunday, Mr Zelensky promised there would be "no return to what used to be in the past, to the way various people close to state institutions" used to live.

His comments followed the arrest of Ukraine's Deputy Infrastructure Minister Vasyl Lozinskyi on Saturday on suspicion of accepting a bribe worth over $350,000 (£285,000) over the supply of electricity generators. He has denied the charges.

David Arakhamia, the head of Mr Zelensky's Servant of the People party, has said that corrupt officials could face jail.

"Officials at all levels have been constantly warned through official and unofficial channels: focus on the war, help the victims, reduce bureaucracy and stop doing dubious business.

"Many of them have actually listened, but some, unfortunately, did not," he said in a Telegram statement.
More at the link!
Zelensky's govt shakeup is ongoing. "Any internal problems that prevent the state from strengthening are being cleaned up… We need a strong state and Ukraine will be just that. Today, by decree, I put into effect another decision of the National Security Council. Details later." pic.twitter.com/i55Gk7lhNx

— Christopher Miller (@ChristopherJM) January 24, 2023
This is how you set a proper example:
The head of #Ukraine's armed forces Valery Zaluzhny inherited $1 million from a Ukrainian American, Gregory Stepanets. Zaluzhny donated this money to the Ukrainian military. pic.twitter.com/setAsO9sJp

— Ostap Yarysh (@OstapYarysh) January 24, 2023
Here is former NAVDEVGRU Squadron Leader Chuck Pfarrer's most recent assessment of the situations in Kremenna and Bakhmut:
KREMINNA /2000 UTC 24 JAN/ UKR forces are reported to be advancing NE of Dibrova, pushing the line of contact eastward. UKR air defense reports the downing of an Orlan-10 recon UAV as well as 2 Russian Su-25 aircraft and a Ka-52 attack helicopter. pic.twitter.com/FgWNthZP6G

— Chuck Pfarrer | Indications & Warnings | (@ChuckPfarrer) January 24, 2023
BAKHMUT /1310 UTC 24 UTC/ N of Bakhmut, UKR troops are engaged within the urban limits of Krasna Hora, defending the T-05-13 HWY. In the eastern industrial districts of the Bakhmut, fighting continues along the Patrice Lumumba Blvd axis. pic.twitter.com/8c64BWz428

— Chuck Pfarrer | Indications & Warnings | (@ChuckPfarrer) January 24, 2023
Nova Kakhovka:
Insane footage of a daring Ukrainian GUR assault of the Russian positions at Nova Kakhovka to locate personnel, equipment, and command post. Group successfully completed the mission and returned having destroyed the post and 12 invaders. pic.twitter.com/SOIEqCFHIE

— Dmitri (@wartranslated) January 24, 2023
Photos showing the destroyed of targets pic.twitter.com/6HctmCgR3d

— Dmitri (@wartranslated) January 24, 2023
Novoselivske:
Russian troops using thermobaric weapons against Ukrainian positions in Novoselivske, near Svatove, in the Luhansk region.

The Ukrainians liberated the village a few weeks ago.pic.twitter.com/uWbInLavMe

— Visegrád 24 (@visegrad24) January 23, 2023
Eastern Ukraine:
Last night, Ukrainian air defenders shot down THREE russian Ka-52 helicopters in the East of our country.
Another reminder: Alligators should not fly.

— Defense of Ukraine (@DefenceU) January 24, 2023
Crimea:
SLENDER THREADS: General Ben Hodges @general_ben points out the vulnerabilities of RU's 'colony' of Crimea. Only 2 Lines of Communication (LOC) connect Crimea Ukraine. Only one, the Kerch Bridge, connects it to Russia. UKR's long-range precision weapons can hit them all. https://t.co/987uZ3fGZp pic.twitter.com/8hV201vUEA

— Chuck Pfarrer | Indications & Warnings | (@ChuckPfarrer) January 24, 2023
"German magazine Spiegel also reported Tuesday evening that the chancellor had decided to supply Ukraine with Leopard tanks, saying that Germany would send "at least one company of Leopard 2A6s" as part of a broader coalition" https://t.co/XbBZRZRyGc

— Shashank Joshi (@shashj) January 24, 2023
It worked!
BERLIN — German Chancellor Olaf Scholz is set to announce the delivery of German Leopard 2 tanks to Ukraine on Wednesday, two officials with knowledge of the matter told POLITICO.

That decision is a significant U-turn and potentially a decisive moment in the war as it should pave the way for a broader coalition of countries to send battle tanks to the frontlines against the Russian invaders. As Leopard 2 tanks are made in Germany, Berlin has to give its permission for their re-export.

Berlin has long resisted sending the Leopard 2s, wanting Washington to take the first step in sending heavy armor. That kind of joint action finally appeared to be imminent on Tuesday, with two U.S. officials saying the administration of President Joe Biden was leaning toward sending "a significant number" of M1 Abrams tanks to Ukraine. An announcement on the U.S. tanks could come as early as this week.

Scholz's announcement is expected to be made official on Wednesday in an address to the German parliament at 1 p.m. According to one of the officials, Germany will also confirm that it will allow other countries such as Poland to send their Leopard tanks to Ukraine. Warsaw on Tuesday said it submitted a long-awaited official request to re-export its Leopards.

Leading lawmakers from the two coalition partners of Scholz's Social Democratic Party, the Greens and the Free Democratic Party (FDP), welcomed the volte-face by the chancellor.

The FDP's Marie-Agnes Strack-Zimmermann told POLITICO that "the decision was tough and took far too long" but had ultimately become "inevitable."

"That Germany is allowing its partner countries to deliver the Leopard 2 tanks and is also delivering its own tanks is redemptive news for the battered and brave Ukrainian people."

Strack-Zimmermann, who chairs the German parliament's defense committee, added that Scholz's decision "signifies an important step in pushing back Russia's brutal assault on an innocent people. With the very substantial assistance that Germany has already provided in recent months and will continue to provide with its partner, a decisive step has been taken today on the road back to peace and freedom."

The Greens' Anton Hofreiter, the chair of the German parliament's European Affairs Committee, said that "the decision to support Ukraine with Leopard 2 is the right one."

Still, he also complained "it would have been better for Germany's international reputation to decide more quickly. In particular, many countries in Europe were annoyed to make the delivery dependent on the United States. But better late than never. Putin will only be ready to negotiate seriously when he realizes that he cannot win the war even in the long run."

Katja Leikert, a lawmaker from the Christian Democratic Union (CDU), the main German opposition party, said: "Once again, we have to be thankful for the Americans and the role they played in unlocking this."
More at the link!
Congratulations my dear @Bundeskanzler.
Let' have a beer and comment all this once the final details are known. https://t.co/NG89NkOW3Q @derspiegel

— Gustav C. Gressel (@GresselGustav) January 24, 2023
This drives me up the wall: "He [Scholz] has also stressed that Germany would never go it alone when it came to tanks." Poland & others had sent lots of T-72s. UK had pledged Challenger 2s. France had committed AMX-RC10s. Abrams charade was bullshit. https://t.co/1z5s3nNbLb

— Shashank Joshi (@shashj) January 24, 2023
We now check in and see how the news is going over in Moscow:
Solovyov reacts to media reports that Olaf Scholz has decided to send Leopard 2 tanks to Ukraine

He urges Russia to carry out strikes on Germany so that Germans "know which new Nazi leaders they've raised and brought to power"

"You European Pharisees, you Nazi scumbags!" pic.twitter.com/FmSBTAkyY1

— Francis Scarr (@francis_scarr) January 24, 2023
He seems nice…
This is gonna do some damage!
Arguably more strategically important story for Ukraine than even the tank fight here, but US just announced it'll expand its 155mm artillery production by 6-fold(!) over 2 years. https://t.co/lyMrBVit2Y

— @[email protected] (@pwnallthethings) January 24, 2023
A little militarized Keynesianism for the win!
That's enough for tonight.
Your daily Patron!
Here's a new video from Patron's official TikTok!
@patron__dsns

Слова, від яких мурахи по шкірі🤭 P.s. Любі, багато хто з вас писав, що сир шкідливий для собак. Тож, хочу вас заспокоїти! Мені не дозволяють їсти сир у великій кількості, бо також турбуються про моє здоров'я. Дають лиш у якості смаколика – за хороші справи, ну або на свята ;) #песпатрон
The caption machine translates as:
Words that give you goosebumps 🤭 P.s. Dear friends, many of you wrote that cheese is bad for dogs. So, I want to reassure you! I'm not allowed to eat large amounts of cheese because they also care about my health. They give it to me only as a treat – for good deeds, or on holidays ;) #pespatron
Open thread!