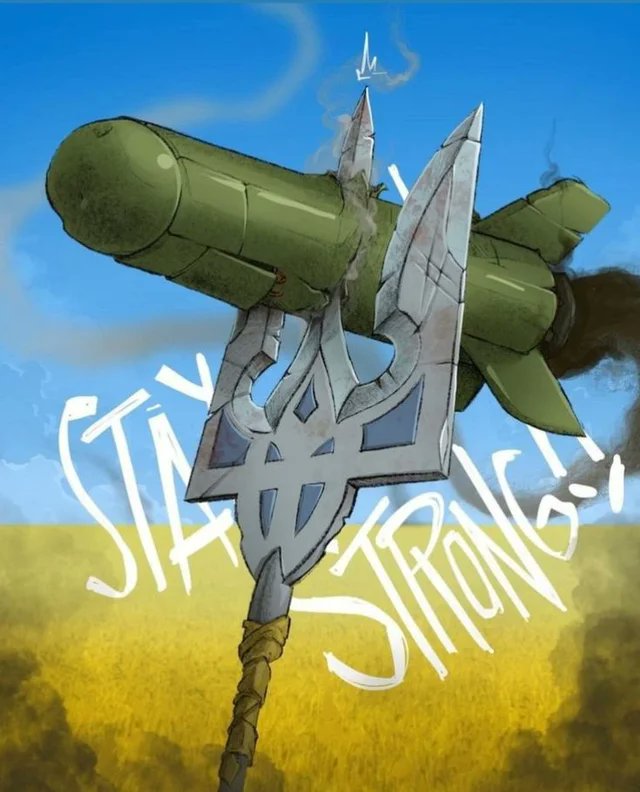 First off, my official Ukraine national team hockey jersey has arrived! Looks great, fits great, I'm thrilled. I cannot recommend the Ukrainian Music and Gift Shop, as well as its owner Andrey, enough! Click across and do some shopping if you're interested.
I just want to deal with a couple of things in the comments from last night/this morning before we get into the meat of the update. First up Wvng:
As a member of Clan McPherson I say " Meow!"
My housemate when I was doing my first masters in Scotland was a Lees, which is part of Clan McPherson. Which is why I knew the clan motto and used it last night.
Next up some guy named Carlo:
Meanwhile UA officers are getting lectured by the academic stars of the US Army War College—the modern counterpart of the Prussian/German General Staff pros—on combined-arms operations and tactics, weapons, logistics, intelligence, etc.
I am sorry to have to disabuse you of this lovely notion, but no one at US Army War College is lecturing anyone on any of those things except, maybe, logistics and intelligence at the strategic level. It is not what is done there. The US Army War College is the Senior Leader College (SLC) that focuses on the strategic application of landpower. While I'm sure there have been curricular changes since my assignment there ended, the core resident course is Theories of War and Strategy, National Security Strategy and Policy, Strategic Leadership, Theater Strategy and Campaigning, Defense Management, and a Regional Studies elective. They may or may not have put Strategic Thinking or something equivalent back into the curriculum rather than distribute the lessons throughout the rest of the core. Everyone has to take a regional study course, the elective is the students get to pick which one they're interested in. And then the students all take several electives. And they do a strategy research project (SRP), which is sort of equivalent to a masters thesis. The curriculum is directed via the Chairman of the Joint Chiefs of Staff Instruction 1800.01f/The Officers' Professional Military Education Policy (OPMEP). The Senior Leader Colleges provide Joint Professional Military Education Level 2 (JPME2) education. You can find the requirements for what must be taught in Enclosure A pages A1 through the top of A6 of the OPMEP. Some of the commanders of the US military elements that are training Ukrainian personnel are US Army War College graduates or the graduates of the other Senior Leader Colleges. I taught Theories of War and Strategy, National Security Policy and Strategy, did lesson blocks covering my specialty in several of the Regional Studies electives, taught my own elective on culture for strategy and policy, and did lesson blocks in other electives, as well as the specialty Advanced Strategic Arts Program and National Security and Strategy Program courses.
Here is President Zelesnkyy's address from earlier today. Video below, English transcript after the jump:
Good health to you, fellow Ukrainians!

Today is a day of extremely good news for Ukraine. There is a tank coalition. There is a decision to launch the supply of tanks for our defense. Modern tanks.

I started this day with a conversation with Chancellor Scholz, primarily about Leopards for Ukraine. And this is exactly the kind of conversation we expected.

I thank Mr. Chancellor, all German politicians and public figures for their willingness to strengthen the defense of Europe!

There is a very powerful step by the United States – this is how the day begins in America. Ukraine will receive Abrams, thank you for this decision.

I personally thank Mr. President Biden, I thank the Congress, I thank every American family for the tangible strength of American global leadership!

I am grateful to all our allies for their willingness to provide us with modern and much-needed tanks.

All this proves the most important fact for the world today – the fact that freedom is only getting stronger. And the way we are all working together to strengthen freedom, to defend Ukraine and Europe, is a historic achievement of the leaders who are working now.

The key thing now is speed and volume. The speed of training of our military, the speed of supplying tanks to Ukraine. The volume of tank support.

We must form a tank fist, a fist of freedom whose hits will not let tyranny stand up again.

We can do it. Together and only in the same way as we are making decisions today. Important decisions.

It is very important that there is progress in other aspects of our defense cooperation as well.

Today I spoke with NATO Secretary General Jens Stoltenberg. We have to unlock the supply of long-range missiles to Ukraine, it is important for us to expand our cooperation in artillery, we have to achieve the supply of aircraft to Ukraine. And this is a dream. And this is a task. An important task for all of us.

The more defense support our heroes at the front receive from the world, the sooner Russia's aggression will end and the more reliable the security guarantees for Ukraine and all our partners will be after the war.

The terrorist state must lose. The right to life must be protected. And it will be so.

There are two more important decisions today. The first is from the ECHR. The second is from UNESCO.

The European Court of Human Rights has announced its decision on the admissibility of the case concerning Russia's seizure of the territories of the east of Ukraine in 2014 and the occupiers' large-scale violation of human rights.

This is still an interim legal decision. But thanks to this decision, we have become closer to the day when Russia will be held accountable for its aggression, and on the same scale from a legal point of view as Russia has invested in this evil.

UNESCO has inscribed the historic center of Odesa on the World Heritage List. Moreover, on the List of World Heritage in Danger. Danger because of the war unleashed by Russia.

This international step will help us defend our Odesa. Ukraine and the world give protection. Russia can give nothing but terror and strikes. These are facts.

Today I had a meeting with the UN High Commissioner for Refugees. The conversation was primarily about our people who were forcibly deported to Russia by the occupiers. These are both adults and our children. The world needs a global mechanism of influence in such situations.

We need a mechanism to protect and return such people, to bring to justice all those responsible for deportation.

I am confident that the UN institutions can show their leadership in resolving this issue.

Today I would like to praise our units that continue to hold back the occupier's attacks in the Donetsk region. This is where Russia is constantly trying to break our defense. Dozens of enemy attacks every day. And at least hundreds of examples of heroism of our warriors every day.

I thank the warriors of the 110th separate mechanized brigade, 79th separate air assault brigade, 35th separate marine brigade and 55th separate artillery brigade. Thank you, warriors, for your resilience and courage, which inspire the world to provide more and more assistance to Ukraine!

And one more thing. I would like to express gratitude for the very touching words of support and congratulations that I have heard and seen from so many different people. From the military. From the leaders and ordinary people. From all Ukrainians and foreigners. From colleagues now and colleagues before. Thank you all!

I think we have the same wish, in fact. A common wish. This is victory. We will do it. We are doing everything for the sake of Ukraine's victory. And it will happen. I know it will.

Glory to Ukraine!
Ukraine is to receive 80 battle tanks from Europe

12 countries (Poland, Germany, Portugal, Spain, Norway, Finland, Netherlands, Canada,&others) expressed willingness to transfer Leopard2 tanks. Coalition plans to form 2 full tank battalions (80 vehicles) https://t.co/lYOZtc1dnJ pic.twitter.com/VUMJfrcWYF

— Euromaidan Press (@EuromaidanPress) January 25, 2023
So, we apparently get 31 M1s.
Of course, that's a longer-term perspective.

— Illia Ponomarenko 🇺🇦 (@IAPonomarenko) January 25, 2023
Today is, or was in Ukraine as it is tomorrow there already, President Zelenskyy's birthday. First Lady Zelenska had some birthday thoughts:
I wish you to have more reasons for smiling. And you know what it takes. We all do.
You are stubborn enough. But the main thing is to have enough health. So please, be healthy! I want to smile near you forever. Give me this opportunity! 2/2

— Олена Зеленська (@ZelenskaUA) January 25, 2023
President Zelenskyy has to be the first person to get tanks for his birthday.
Thank you @POTUS for another powerful decision to provide Abrams to 🇺🇦. Grateful to 🇺🇸 people for leadership support! It's an important step on the path to victory. Today the free world is united as never before for a common goal – liberation of 🇺🇦. We're moving forward

— Володимир Зеленський (@ZelenskyyUa) January 25, 2023
Had a 📞 call with @SecDef Lloyd James Austin III
Discussed the results of #Ramstein 8, further strengthening of #UAarmy, including tanks supplies&maintenance of the new armament.
More good news to be announced soon.
We have full trust&strong support of 🇺🇸
Together until victory! pic.twitter.com/XaoRv1EGVn

— Oleksii Reznikov (@oleksiireznikov) January 25, 2023
Putin, of course, did not take the day off to celebrate:
Air strike alert in all regions of #Ukraine pic.twitter.com/Basm269YKm

— Ukraine Front Lines (@EuromaidanPR) January 25, 2023
Here is former NAVDEVGRU Squadron Leader Chuck Pfarrer's most recent assessments of the situations in Kremenna and Bakhmut:
KREMINNA /1350 UTC 25 JAN/ UKR forces are advancing NE of Dibrova. During 23-24 JAN, RU increased close air support / aviation strike missions. UKR reports that air defense downed a Su-25 strike aircraft, 3 Ka-52 attack helicopters, 4 recon UAVs, and 1 Lancet loitering munition. pic.twitter.com/3AlSIA3imD

— Chuck Pfarrer | Indications & Warnings | (@ChuckPfarrer) January 25, 2023
BAKHMUT / 1310 UTC 25 JAN / RU troops press offensive operations on the Bakhmut Area of Operation (AO). An increase in RU Close Air Support Sorties has resulted in a number of kills for UKR air deference. UKR shot down a Su-25 strike aircraft and 3 RU Ka-52 attack helicopters. pic.twitter.com/ft5JfPE9za

— Chuck Pfarrer | Indications & Warnings | (@ChuckPfarrer) January 25, 2023
Berdiansk via the Military Center:
Around 4:00 p.m. on January 24, a car was blown up in Berdiansk. It belongs to Valentyna Mamai, an ex-city council member from the Opposition Platform – For Life political party.

Ivan Fedorov, Mayor of Melitopol, reported on this.

"A warm greeting in the form of the exploded car was received by a local lover of the Russian world, Valentyna Mamai. She gladly welcomed the invaders, held a pseudo-referendum, and betrayed the patriots of Berdiansk," he wrote.

Valentyna Mamai was in the car at the time of the explosion. Her current condition is unknown.
Here's video of the car after the explosion.
Switzerland via Reuters republished at YahooNews:
GENEVA (Reuters) – A Swiss parliamentary body proposed on Tuesday waiving a re-export ban that prevents ammunition it manufactures from being re-exported from another country to Ukraine.

The recommendation passed with 14 in favour and 11 against and will require later approval from parliament.

"The majority of the commission deems that Switzerland should make a contribution to European security, which includes providing more aid to Ukraine," a Swiss parliamentary committee said in a press release late on Tuesday.

Switzerland has previously rejected appeals from Germany to allow it to re-export Swiss-made ammunition to Ukraine, saying such a move would violate its neutrality. But pressure has been rising for Bern to review its policies, including at the World Economic Forum it hosted in Davos last week.

The committee added in the statement that its proposals did not violate Swiss neutrality rules since the arms would go via another country and not directly to a conflict zone.
Regardless of the justification and rationalization, this is an encouraging development.
Morocco:
Morocco donates more than 20 tanks to Ukraine https://t.co/YaA6fU91Br

— Steven Chase (@stevenchase) January 25, 2023
Interfax-Ukraine has the details:
The Moroccan army has handed over to Ukraine about 20 T-72B tanks that have been upgraded in the Czech Republic at the repair line of the Excalibur workshops, MENA Defense, an information magazine on military issues of the Maghreb countries, reported on Sunday.

"About twenty units were sent to the battlefield a week ago and they were visible during the visit of Czech Prime Minister Petr Fiala to the workshops of the Excalibur Army company in Sternberk, which had carried out their refurbishment," the publication reported.

The exact number of units of transferred equipment is unknown. According to the publication, the Moroccan army had 148 T-72s, 136 T-72Bs and 12 T-72BKs, which the country purchased in two batches in 1999 and 2000.

"Morocco's decision to deliver arms to Ukraine was taken, almost under duress, during the Rammstein summit for Ukraine which took place on April 26, 2022 and which was hosted by the United States. At this summit, Tunisia and Morocco were the only two countries to represent North Africa. Tunis had dispatched at the time two cargo planes to Rzeszow airport in Poland, which centralizes logistical aid to Ukraine and there Morocco seems to have followed suit by sending not humanitarian aid but outright weapons," the publication said.
Israel, once again never missing an opportunity to miss an opportunity, via Axios:
The Biden administration asked Israel for the old Hawk anti-aircraft missiles it has in storage in order to transfer them to Ukraine, three Israeli and U.S. officials told Axios.

Why it matters: Israel has so far rejected most U.S. and Ukrainian requests to provide advanced and defensive weaponry to Ukraine over concerns that such a move could create tensions with Russia and harm Israeli security interests in Syria.

Ukraine has repeatedly asked Western countries for such weapons to help it defend itself against Russian strikes.

A U.S. official said similar requests were made to several other countries that had the system in active service or in storage.
The senior Israeli official said an Israeli Defense Ministry official told their U.S. counterparts there is no change in Israel's policy not to provide weapons systems to Ukraine.
According to the Israeli official, the Defense Ministry official said Israel's Hawk systems are "obsolete" and can't function because of how long they've been in storage without maintenance.
But the Israeli officials say that the response wasn't accurate. They stressed that while the launchers might be completely dysfunctional, the hundreds of Hawk interceptors Israel has in storage can be refurbished and used.
The Israeli Defense Ministry reiterated to Axios in a statement that the "position of the Israel security establishment [on giving military aid to Ukraine] hasn't changed. Every request is being reviewed on a case-by-case basis."Between the lines: Russia holds enormous influence in Syria but allows Israel to operate freely against Iranian activity there.Behind the scenes: Senior Israeli and U.S. officials said the Pentagon reached out to the Israeli Defense Ministry two weeks ago and requested the Hawk systems that are in storage in order to transfer them to Ukraine.
More at the link!
For those of you interested in logistics and acquisition, the Center for Strategic and International Studies (CSIS) did a recent exercise to examine how the US defense industrial base would be able to respond in support of Taiwan if the PRC invaded. Here's the summary:
The U.S. defense industrial base is not adequately prepared for the international security environment that now exists. In a major regional conflict—such as a war with China in the Taiwan Strait—the U.S. use of munitions would likely exceed the current stockpiles of the U.S. Department of Defense. According to the results of a series of CSIS war games, the United States would likely run out of some munitions—such as long-range, precision-guided munitions—in less than one week in a Taiwan Strait conflict. The war in Ukraine has also exposed serious deficiencies in the U.S. defense industrial base and serves as a stark reminder that a protracted conflict is likely to be an industrial war that requires a defense industry able to manufacture enough munitions, weapons systems, and matériel to replace depleted stockpiles.

As timelines for a possible conflict in Asia shrink, the goal should be to support the production capacity required to enable the United States and its allies and partners to deter and, if deterrence fails, fight and win at least one major theater war—if not two. "Just in time" and lean manufacturing operations must be balanced with carrying added capacity. The U.S. Department of Defense, in coordination with Congress, should develop a plan now that involves taking steps to streamline and improve production, acquisitions, replenishment, Foreign Military Sales, ITAR, and other policies and procedures. A revitalization of the defense industrial base will not happen overnight for the United States or its allies and partners. It is time to prepare for the era of competition that now exists.
Here's the video about the simulation:
And here's the link to the pdf report that presents the exercise and the results.
That's enough for tonight.
Your daily Patron!
Patron the dog in a duet with Artem Pyvovarov have already earned UAH 258 000!! 🤯

They will raise half a million hryvnias to save animals from the liberated territories.

You can also support them and join this great cause! 😉♥️
https://t.co/yyrRODg4er pic.twitter.com/fPgqwGPAkJ

— UAnimals.ENG 🇺🇦 (@UAnimalsENG) January 25, 2023
Here's a new video from Patron's official TikTok:
The caption machine translates as:
No Patrons (cartridges) were damaged during the video shooting 🙃 #песпатрон
That does not sound like revelry to me. It does sound like:
Open thread!