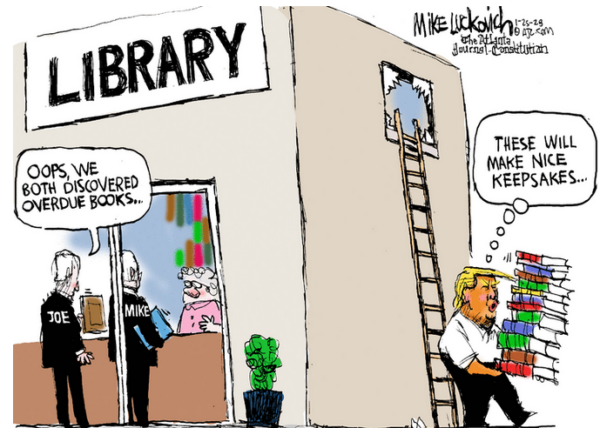 News: NARA weighing whether to ask all living former presidents & VPs to review their personal records to verify that no classified materials are inadvertently outstanding > https://t.co/9xlbOw8LT8

— Jacqueline Alemany (@JaxAlemany) January 25, 2023
… The list of former presidents and vice presidents could include former presidents Barack Obama, George W. Bush, Bill Clinton and Jimmy Carter, and former vice presidents Dick Cheney, Al Gore and Dan Quayle.

An adviser to Obama's office, who spoke on the condition of anonymity because they were not authorized to speak on the record, told The Washington Post on Tuesday that all classified records from his time in the White House had been submitted to the National Archives upon his leaving office and that the agency continues to assume physical and legal custody of Obama's materials.

The recent discoveries underscore the limitations of the Presidential Records Act, which governs how documents of former presidents and vice presidents are handled. Under the act, the Archives takes ownership of millions of presidential papers from the outgoing president as soon as a new president is sworn in, while items deemed personal go home with the former president. Classified materials are all considered government property, but compliance can be an issue because of the massive volume of materials.

Both Biden and Pence officials have stressed their cooperation and compliance with the Archives and the FBI in recent public statements, while Trump has continued to fume over Jack Smith, the special counsel appointed to oversee the investigation into his mishandling of classified documents. Attorney General Merrick Garland has also appointed a special counsel to investigate Biden's handling of classified materials…
CNN poll: classified documents story is having no impact on Biden approval rating, but is doing damage to Trump among Republicans. pic.twitter.com/ruVUNP8LfG

— Sarah Reese Jones (@PoliticusSarah) January 25, 2023
Conservative / ex-Republican experienced user, for some of you to side-eye:
I can remember cases of secret material being with us on official travel, with people being deputized to keep track and collect it after use. I can totally see people messing that up. (My first few months on the job in the Senate, we had a mishandled info moment.) /1 https://t.co/zB7musdLv3

— Tom Nichols (@RadioFreeTom) January 25, 2023
I can see people mixing files and then putting them in boxes or binders. I bet Biden and Pence did that.

None of this is relevant to Trump, who said "This is mine, and the DOJ can go f*** itself."

One is a mistake. The other is lawless arrogance. /2

The GOP attempt to excuse Trump for his complete contempt for the law is appalling, but now par for the course. /3x
And also, unlike most folks who deal with classified, politicals have those docs move around with them. The docs go to them, not the other way around. If I wanted stuff in the Senate, I didn't go to a place to read it, I called up and a courier delivered it.

— Tom Nichols (@RadioFreeTom) January 25, 2023
Are drones really *that* super-secret?
No really, drones are considered classified-at-birth, so they're classified no matter what source they're from. A Super Bowl commercial about drones would be classified.

— Franklin Stove Expropriator (@agraybee) January 25, 2023
Of course, the FTFNYTimes' own Peter Baker is *thrilled* to have new hateclick-bait that doesn't involve 'just asking questions' about 'concerned' conservative parents looking for an excuse to abuse their non-traditional offspring…
New York Times says that it will make a major issue of Biden's classified documents, regardless of the evidence, just like Clinton's e-mails https://t.co/lVChbpDRXw

— Dean Baker (@DeanBaker13) January 25, 2023
Actual journalist: explain to the public why the two situations are "markedly different" and what that means for the respective cases

NYT political journos: wankfest about their prediction of the optics of it, which they will work hard to make a self-fulfilling prophecy

— Centrism Fan Acct ?? (@Wilson__Valdez) January 24, 2023
Opportunity cost is an economics term. The opportunity cost of any decision is the benefit of the next best thing that you had to give up to do the thing you decided to do. The opportunity cost of hiring Peter Baker was not hiring an actual journalist to write for the NYT.

— Allan Lane (@AllanCLane) January 24, 2023
I mean… If we want to take his "opportunity cost" analysis seriously, it's as if he's saying Biden should've kept his mouth shut about his own documents and let Trump take all the heat. I guess that's a political "win" for the NYT.

— Ryan (@rycentennial) January 24, 2023
Meanwhile, the GOP's theme-setters:
Watters: I mean Pence, seriously. We have this great thing going with Joe. Come on man! pic.twitter.com/EyLZsGq6iL

— Acyn (@Acyn) January 24, 2023
Lest we forget (IOKIYAR)…
The worst handler of confidential documents? The Supreme Court, @JRubinBlogger writes. https://t.co/0Tjrw6O4mM

— Washington Post Opinions (@PostOpinions) January 25, 2023