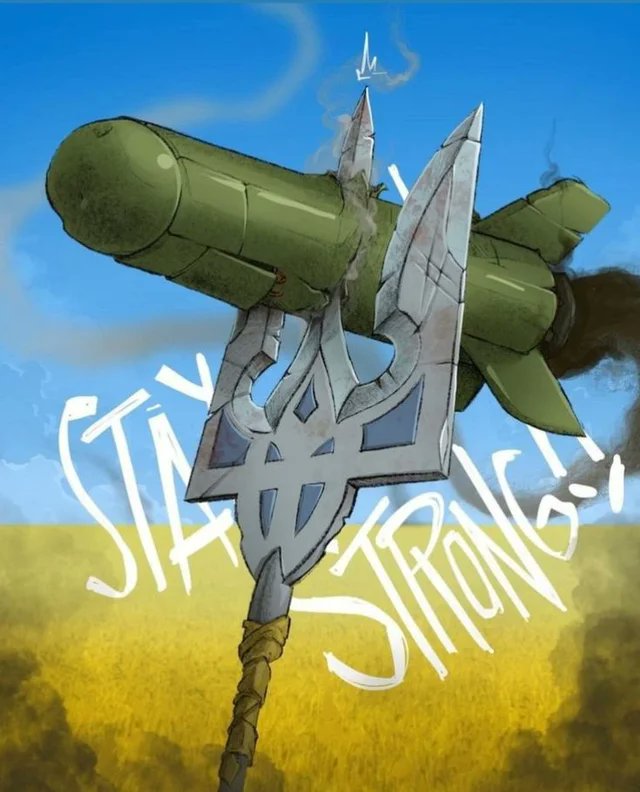 As seems to be the case every time Ukraine regains occupied ground or the allies and partners supporting Ukraine increase their support, Russia has once again renewed its bombardment of civilian targets today.
Terrorist state🇷🇺 launched a massive missile strike on 🇺🇦.
The enemy fired 55 air & sea-based missiles (Kh-101/555, Kh-47 Kinzhal, Kalibr, Kh-59).
47 cruise missiles were shot down by the assets of 🇺🇦Air Defence, 20 of them in the area of Kyiv.
We can't be broken! pic.twitter.com/UogcRyfbTl

— Commander-in-Chief of the Armed Forces of Ukraine (@CinC_AFU) January 26, 2023
11 people were killed and 11 wounded in today's Russian missile strikes on Ukraine, according to the state emergency service. More than ten Ukrainian regions were affected by the attacks

— Olga Tokariuk (@olgatokariuk) January 26, 2023
Here's President Zelenskyy's address from earlier today. Video below, English transcript after the jump:
Good health to you, fellow Ukrainians!

Today, we withstood another massive missile strike by terrorists.

A strike that fully confirms everything we have been talking about with our partners both yesterday and since the beginning of our diplomatic marathon.

This evil, this Russian aggression can and should be stopped only with adequate weapons. The terrorist state will not understand anything else.

Weapons on the battlefield. Weapons that protect our skies.

New sanctions against Russia, i.e. political and economic weapons. And legal weapons – we need to work even harder to establish a tribunal for the crime of Russian aggression against Ukraine and to compensate for all the damage caused by this war at the expense of Russian assets.

Every Russian missile against our cities, every Iranian drone used by terrorists is an argument why we need more weapons. Only weapons neutralize terrorists.

And I am grateful to everyone in the world who is really fighting terror together with us.

Who is speeding up the supply of necessary defense equipment to Ukraine and who is willing to increase sanctions pressure on the terrorist state.

In particular, we are expanding our tank coalition – there is a corresponding decision of Canada, and I am grateful for it. We already have 12 countries in our tank coalition.

Today, thanks to the air defense systems provided to Ukraine and the professionalism of our warriors, we managed to shoot down most of the Russian missiles and Shaheds.

These are at least hundreds of lives saved and dozens of infrastructure facilities preserved.

And I thank our Air Forces, each and every one who last night, this morning and afternoon ensured the defense of Ukraine against terrorists' missiles and drones.

I would like to especially praise the warriors of the 96th Kyiv, 160th Odesa and 208th Kherson anti-aircraft missile brigades.

Unfortunately, it is difficult to provide 100% protection with air defense alone. Especially when terrorists use ballistic missiles.

Today there were missile hits. Unfortunately, there are wounded and dead. My condolences to all the families and friends…

This Russian terror requires asymmetrical responses. We need a new movement of our forces at the front. We need to ensure the defeat of the terrorists' ground forces.

Whatever the Russian occupiers are planning, our preparation must be stronger.

We talk about it with our partners. And we discuss it at the meetings of the Staff.

Today was just such a meeting.

Details about the situation in the Donetsk region. Bakhmut, Vuhledar and the battle for Donbas in general.

I am grateful to all our units who demonstrate the resilience Ukraine needs, exhausting the occupier and destroying it.

The more Russia loses in this battle for Donbas, the less its overall potential will be.

At the meeting of the Staff we also discussed in detail what we should prepare for in the coming months. We know what the occupiers are planning. We are countering it.

This applies both to the supply of weapons and ammunition and to the overall strengthening of our defense forces.

Today, I held operational meetings on the situation in the energy sector – on existing deficits and recovery from terrorist attacks. Repair crews are working in all locations of the hits.

As of now, there are electricity supply restrictions in most of our regions. The most difficult situation is in Odesa, Lviv, Vinnytsia, Kyiv, Sumy and Poltava regions.

Power engineers, utility workers and everyone involved in stabilizing the energy system will do everything necessary to restore generation and technical supply capacity. I thank everyone involved in this work.

I also thank everyone in the world who has helped and is helping Ukraine with energy equipment. To every country, every company and every person – to those millions of our friends who, through United24 or other support tools, prove that Russian terror must lose.

And one more thing.

Unfortunately, I have to repeat this for those who did not hear it well.

Any trip abroad by government officials, MPs, representatives of local authorities and other persons authorized to perform the functions of the state or local self-government, any of their trips abroad must comply with the relevant decision of the National Security and Defense Council, which you have all seen.

There will be no other trips abroad by officials or MPs in wartime.

I think this is fair.

I thank everyone who is fighting for Ukraine! I thank everyone who is working for our country and society!

Eternal memory to everyone whose life was taken by Russian terrorists!

Russia will be held accountable for terror.

Glory to Ukraine!
Here is former NAVDEVGRU Squadron Leader Chuck Pfarrer's most recent assessments of the situations in Soledar and Bakhmut:
SOLEDAR AXIS /2200 UTC 26 JAN/ RU Wagner PMC units have consolidated control of Soledar and are now attempting to cut the T-05-13 HWY north of Bakhmut. It is assessed that RU units have reached the banks of the Bakhmutse River north and south of Blahodatne. pic.twitter.com/r4IONO0wHm

— Chuck Pfarrer | Indications & Warnings | (@ChuckPfarrer) January 26, 2023
BAKHMUT AXIS /1330 UTC 26 JAN/ RU forces continue attempts to cut Bakhmut's Lines of Communications and Supply (LOCS). RU forces at Soledar have reached positions near the T-05-13 HWY, other RU units have advanced northwest of Myika Pond in an attempt to sever the vital H-32 HWY pic.twitter.com/YbDOdslC7T

— Chuck Pfarrer | Indications & Warnings | (@ChuckPfarrer) January 26, 2023
Today, Ukraine's citizens are yet again forced to start the day by finding shelter from Russia's missiles as air raid sirens sound across the country. #StandWithUkraine https://t.co/53MHT1bpFY pic.twitter.com/pnGLE3qffM

— Michael Carpenter, U.S. Ambassador to the OSCE (@USAmbOSCE) January 26, 2023
Kyiv:
Conference "Children and the war" in the bomb shelter in Kyiv. Doctors, psychologists are speaking now about children and their traumas. Outside- sounds of explosions #Ukraine pic.twitter.com/zShSCsZ3Sx

— Kristina Berdynskykh (@berdynskykh_k) January 26, 2023
The conference "Children and the war" in the bomb shelter in Kyiv. National Anthem of Ukraine #Ukraine pic.twitter.com/KK2nzEfPwv

— Kristina Berdynskykh (@berdynskykh_k) January 26, 2023
Kherson, details from Ukrinform:
Russian invaders shelled the Kherson region 36 times on January 25, killing two civilians and wounding five others.

That's according to the Kherson Regional Military Administration, Ukrinform reports.

"In the past 24 hours, the Russian army killed two civilians. Five people were injured," the report said.

According to the report, the Russian invaders used artillery, MLRS, mortars, and tanks. They also launched a missile attack against the region.

The Russian army shelled the city of Kherson five times, targeting residential areas of the city. Enemy projectiles hit the houses of Kherson residents.

Earlier reports said that Russian forces had hit the Turkish-owned ship Tuzla at the port of Kherson.
Tanks! Politico has the details:
The U.S. is planning to send Kyiv the Abrams main battle tank in its more advanced M1A2 configuration, rather than the older A1 version that the military has in storage, according to three people with knowledge of the deliberations.

But the 31 tanks slated for Ukraine will not include the secret armor mix that makes the Army's newest version so lethal, said the people, who spoke on condition of anonymity to discuss sensitive conversations.

The A2 version has more sophisticated optics and controls than the older A1 version, which the Army intends to retire in the next few years. Outwardly similar to the A1, the A2 has a redesigned commander's weapon station with improved optics for targeting, and an independent thermal viewer that allows the commander to independently scan for targets in all weather and battlefield conditions.

The most radical changes are on the inside, which has been redesigned to take advantage of new technology. The control mechanisms are digitized, most notably a new inter-vehicle information system that allows vehicles to exchange information continuously and automatically. Using the new technology, commanders can rapidly track the location of friendly vehicles, identify enemy positions and process artillery requests.

But federal policy forbids the export of Abrams with classified armor packages used by the U.S. military, which includes depleted uranium, according to a fourth person with knowledge of the policy. The U.S. strips the vehicles of this secret armor "recipe" before selling them to other countries. There are other armor packages the U.S. can provide for foreign military sales customers.
Coming. Soon.
Be. Fearful. Enemy. pic.twitter.com/cyEf7UkfQA

— Defense of Ukraine (@DefenceU) January 26, 2023
Norway:
#Norway will provide Ukrainian soldiers with professional training as medical specialists, junior officers and snipers. The training will take place in Norway this spring and will continue throughout 2023. Norway will continue to support #Ukraine as long as necessary. pic.twitter.com/B6OHaSax4X

— Norwegian Armed Forces | Forsvaret (@Forsvaret_no) January 26, 2023
The US Departments of State and Treasury have designated Wagner PMC a transnational criminal organization and leveled added sanctions on Prigozhin. Here's the transcript of Secretary Blinken's remarks:
Countering the Wagner Group and Degrading Russia's War Efforts in Ukraine
PRESS STATEMENT

ANTONY J. BLINKEN, SECRETARY OF STATE

JANUARY 26, 2023

The United States is sanctioning individuals and entities linked to Russia's para-military Wagner Group and its head, Yevgeniy Prigozhin – including its key infrastructure and associated front companies, its battlefield operations in Ukraine, producers of Russia's weapons, and those administering Russia-occupied areas of Ukraine. This action supports our goal to degrade Moscow's capacity to wage war against Ukraine, to promote accountability for those responsible for Russia's war of aggression and associated abuses, and to place further pressure on Russia's defense sector.

In November 2022, the Department of State designated the Wagner Group pursuant to E.O. 14024 for operating in the defense and related materiel sector of the Russian economy. It was previously designated by OFAC in June 2017 under E.O. 13660 for being responsible for or complicit in, or having engaged in, directly or indirectly, actions or policies that threaten the peace, security, stability, sovereignty, or territorial integrity of Ukraine.

Today, the U.S. Department of the Treasury's Office of Foreign Assets Control (OFAC) is designating the Wagner Group as a significant transnational criminal organization pursuant to Executive Order (E.O.) 13581, as amended by E.O. 13863. The Wagner Group's pattern of serious criminal behavior includes violent harassment of journalists, aid workers, and members of minority groups and harassment, obstruction, and intimidation of UN peacekeepers in the Central African Republic (CAR), as well as rape and killings in Mali.

Concurrently, OFAC is designating Wagner pursuant to E.O. 13667 for being responsible for or complicit in, or having engaged in, the targeting of women, children, or any civilians through the commission of acts of violence, or abduction, forced displacement, or attacks on schools, hospitals, religious sites, or locations where civilians are seeking refuge, or through conduct that would constitute a serious abuse or violation of human rights or a violation of international humanitarian law in relation to CAR.

Further, the Department of State is designating today five entities and one individual linked to the Wagner Group and Prigozhin. These designations target a range of Wagner's key infrastructure – including an aviation firm used by Wagner, a Wagner propaganda organization, and Wagner front companies. OFAC is also designating persons and entities based in CAR, the People's Republic of China, Luxembourg, and the United Arab Emirates that are connected to Wagner's operations around the world.

The Department is also designating under E.O. 14024 three individuals for their roles as heads of the Russian Federal Penitentiary Service, which has been reported to facilitate the recruitment of Russian prisoners into the Wagner Group. The Department is also designating a Deputy Prime Minister who also serves as the Minister of Industry and Trade and the Chairman of the Election Commission of the Rostov Region.

The Department is further designating under E.O. 14024 one individual and four entities associated with Russian Oligarch Vladimir Potanin, who was sanctioned pursuant to E.O. 14024 in December 2022. Similarly, the Department is designating Sergei Adonev, a financier of Russian President Putin, alongside several associated entities and individuals. The Department is also identifying two yachts and one aircraft associated with Adonev as blocked property.

Additionally, the Department is designating under E.O. 14024 Aktsionernoye Obshchestvo Dalnevostochnyy TsentrSudostroyeniya i Sudoremonta (AO DTSSS) alongside eight subsidiaries. AO DTSSS and its subsidiaries are known for building and servicing Russia's military, including its Pacific Fleet.

Finally, the Department is announcing steps to impose visa restrictions on 531 members of the Russian military for actions that threaten or violate the sovereignty, territorial integrity, or political independence of Ukraine pursuant to Section 212(a)(3)(C) of the Immigration and Nationality Act.

These actions also advance President Biden's plan to promote accountability for conflict-related sexual violence, which calls for federal agencies to leverage existing sanctions authorities to pursue its perpetrators.

The United States is steadfast in our resolve against Russia's aggression and other destabilizing behavior worldwide. Today's designations will further impede the Kremlin's ability to arm its war-machine that is engaged in a war of aggression against Ukraine, and which has caused unconscionable death and destruction.

For more information on today's action, please see the Department of State's fact sheet, the Department of the Treasury's press release, and the White House Presidential Memorandum.
In other Wagner news, Reuters published a long form deep dive into Wagner KIAs in Ukraine:
Late last summer, a plot of land on the edge of a small farming community in southern Russia began to fill with scores of newly dug graves of fighters killed in Ukraine. The resting places were adorned with simple wooden crosses and brightly coloured wreaths that bore the insignia of Russia's Wagner Group – a feared and secretive private army.

There were around 200 graves at the site on the outskirts of Bakinskaya village in Krasnodar region when Reuters visited in late January. The news agency matched the names of at least 39 of the dead here and at three other nearby cemeteries to Russian court records, publicly available databases and social media accounts. Reuters also spoke to family, friends and lawyers of some of the dead.

Many of the men buried at Bakinskaya were convicts who were recruited by Wagner last year after its founder, Yevgeny Prigozhin, promised a pardon if prisoners survived six months at the front, this reporting showed. They included a contract killer, murderers, career criminals and people with alcohol problems.

For months, Wagner has been locked in a bloody battle of attrition to take the towns of Bakhmut and Soledar in Ukraine's eastern Donetsk region. Western and Ukrainian officials have said it is using convicts as cannon fodder to overwhelm Ukraine's defences. Toughening sanctions on Wagner this month, White House national security spokesman John Kirby branded the group "a criminal organisation that is committing widespread atrocities and human rights abuses." In a short open reply to the U.S. government, Prigozhin asked Kirby to "please clarify what crime was committed" by Wagner.

Videos and photographs of the graves first appeared on social media channels in the Krasnodar region in December. Reuters geolocated these images to the Bakinskaya cemetery and reviewed satellite imagery of the site from Maxar Technologies and Capella Space. Satellite pictures show that the Wagner plot was empty in the summer, had three rows of graves by the end of November and was three-quarters full by early January. Virtually the entire plot was used by Jan. 24.

Local activist Vitaly Votanovsky, who took the first pictures and has documented soldiers killed in Ukraine and buried in Krasnodar region graveyards, told Reuters he observed a truck delivering bodies to the cemetery. He said gravediggers told him the bodies had come from the Russian city of Rostov-on-Don, close to Russia's border with Donetsk region. When Reuters visited the cemetery in January, fences and security cameras were being installed around the plot and another burial was underway.

Russian state-owned news agency RIA Novosti published footage in early January of Prigozhin visiting the cemetery, crossing himself and laying flowers on one grave. He told local media that the men buried there had expressed a wish to be laid to rest at a Wagner chapel outside the nearby town of Goryachiy Klyuch, rather than having their bodies returned to relatives. The Bakinskaya plot was provided by the local authorities, he said, after the chapel ran out of space. In 2019, Reuters reported on the existence of a Wagner training camp in the village of Molkino, around 5 miles (9 km) from Bakinskaya.

Of the 39 convicts Reuters identified, 10 had been imprisoned for murder or manslaughter, 24 for robbery and two for grievous bodily harm. Other crimes included manufacturing or dealing in drugs and blackmail. Among the convicts were citizens of Ukraine, Moldova, and the Russian-backed breakaway Georgian region of Abkhazia. Wooden markers on their graves at Bakinskaya and three nearby cemeteries show the men perished between July and December 2022, at the height of the battle for Bakhmut.

One of the youngest, buried at the nearby Martanskaya cemetery, is Vadim Pushnya. He was just 25 years old when he died on Nov. 19. Pushnya was imprisoned in 2020 for burgling garages, a beer shop and a cement factory in his hometown of Goryachiy Klyuch, close to the Wagner chapel. The birthdate on Pushnya's grave matches the date given on his social media accounts and in court records.

The oldest, Fail Nabiev, was serving one-and-a-half years for burglary in Ivanovo region's Penal Colony No. 2, 200 miles northeast of Moscow, at least his second such prison spell. He had been convicted in May 2022 by a court in the picturesque tourist town of Suzdal of stealing a string trimmer and a sanding machine valued at a total of 5,500 roubles ($80) from a garage. According to his simple wooden grave marker, emblazoned with an Islamic crescent moon, Nabiev died in October, less than five months after being sentenced. He was 60.
Much, much, much more at the link. Including imagery.
Here's some imagery from a much larger thread:
Why? It may be because the Wagner chapel is located next to the Psekups River, actively used by households along the stream, @kavkaz_realii reporting suggests. Not good to put a burial ground next to it, local environmentalists warned. https://t.co/qde1qg2pKG 📸:@bloknot_krd pic.twitter.com/cAVpQHbP8d

— Christiaan Triebert (@trbrtc) January 25, 2023
This is an interesting thread:
Putin's remark today about "Ukrainian nationalists" shooting 🇺🇦 soldiers in the back in order to prevent them from defecting captures the challenge Kyiv and the West are facing: a reckless, emotional leader who has boxed himself into a terrible information bubble.
A short 🧵 pic.twitter.com/xNmiFtI0nm

— Alexander Gabuev 陳寒士 (@AlexGabuev) January 25, 2023
2/ 

When asked today about the situation on the frontline, Putin said that Kyiv has created retreat-blocking detachments (заградотряды) staffed with "🇺🇦 nationalists." According to Putin, he learned about it a week ago while meeting "our boys" (ребята). 

3/ 

Of course, there is no credible information about such units in 🇺🇦. Putin knows the practice from 🇷🇺 history, with Stalin's July 1942 decree №227 being the most famous example. So was Putin consciously lying? We can't know for sure, but it might be that he believes it. 

4/ Needless to say, Putin's and the Kremlin's relationship with truth is…well…complicated, to put it mildly, as my @CarnegieEndow colleague @ChristopherJBor documents in this excellent piece.

5/ 

But this statement by Putin sounds not as his usual lie, but as information that he's picked up from someone he trusts. Since 2020 Putin, who had one of the worst work-from-home experiences, has developed a habit of talking to low ranked people directly involved in issues. 

6/ 

For example, in 2021 he claimed that, according to his conversations with people in the know, many Europeans travel to Russia to get 

@sputnikvaccine

, and then allegedly buy fake 

@pfizer

 vaccination certificates in EU because they have more trust in 🇷🇺 vaccines 🤦‍♂️ 

7/ 

Today's remark is not dissimilar, and the likely source of Putin's knowledge are either soldiers from the frontlines in Ukraine, or so called "war correspondents" (in fact, 🇷🇺 military propagandists) whom Putin, distrustful of his generals, meets now on a regular basis. 

8/ In this piece for @CEIP_Politika Andrey Pertsev documents some of these meetings and the impact they have on Putin's grasp of the war dynamics:

9/ This well-researched story by @WSJ (@evangershkovich, @tggrove, @drewhinshaw, @JoeWSJ) provides some additional context on Putin's isolation and his attempts to work around the chain of command to find out "truth" from "ordinary people" on the ground:

10/ 

Why is this important? Because some crucial decisions the Kremlin makes about the war may be based on same quality "information" like Putin has shared today. The fact that there is no dispassionate interagency process in 🇷🇺, but an emotional and misinformed leader is chilling 

12/ 

There is a risk of overestimating Putin's rationality and neglecting his growing detachment from reality when trying to redraw Moscow's red lines. So far the West managed to do it in a firm, but careful manner avoiding doomsday scenarios. END
That's enough for today.
Your daily Patron!
A new video from Patron's official TikTok:
The caption machine translates as:
My three main modes are 🤪 #песпатрон#патрондснс
Open thread!