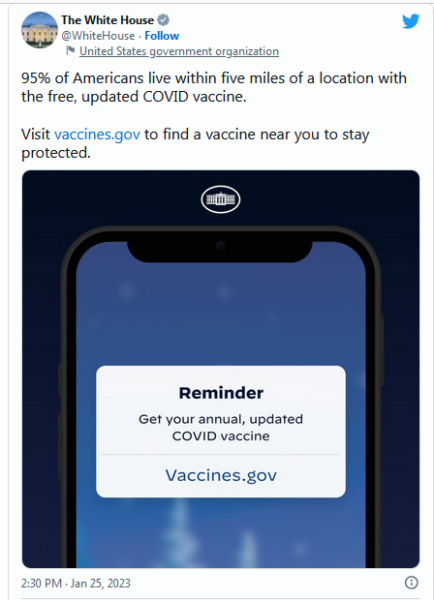 (link)
Advisers to the U.S. Food and Drug Administration on Thursday unanimously voted in favor of using the same coronavirus strain for the initial COVID-19 vaccine doses and the boosters, to simplify the vaccination regimen in the United States. https://t.co/Hrxq2VlTpd

— Reuters Health (@Reuters_Health) January 27, 2023
True numbers of #COVID19 cases in USA are GROSSLY understated due to home testing — perhaps by 80%https://t.co/0CNMo9yVQi

— Laurie Garrett (@Laurie_Garrett) January 26, 2023
Good to see: the US has passed through its peak of the XBB.1.5 wave with a >30% reduction of hospitalizations in the past 2 weekshttps://t.co/OYKQV32gvz
This reflects a high level of infection and vaccine-induced immunity relative to a troublesome variant pic.twitter.com/j21ful3M9i

— Eric Topol (@EricTopol) January 25, 2023
======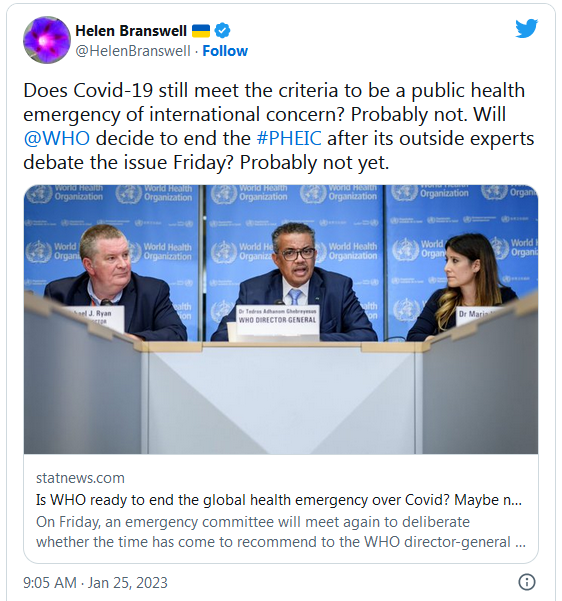 (link)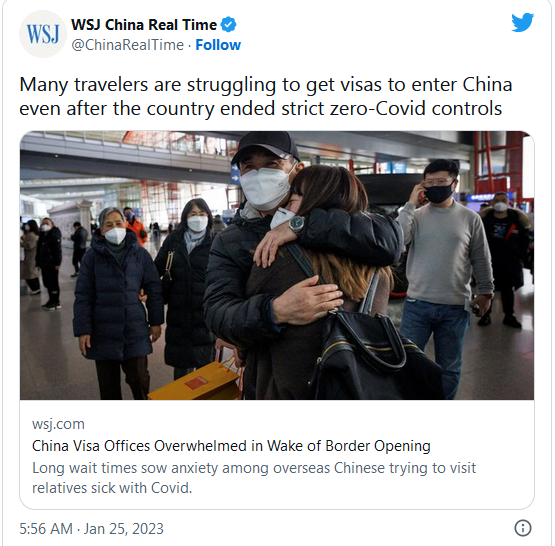 (link)
Trust me, older people are massively dying in China, especially in rural areas. Nobody knows how this most populous country and world's second largest economy is really doing, not even that guy in Beijing, because nobody dares to tell him the truth.https://t.co/Yg7WNNVqQD

— Yaqiu Wang 王亚秋 (@Yaqiu) January 25, 2023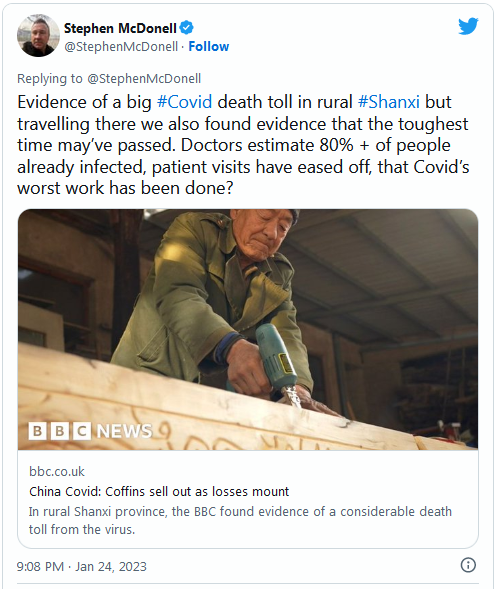 (link)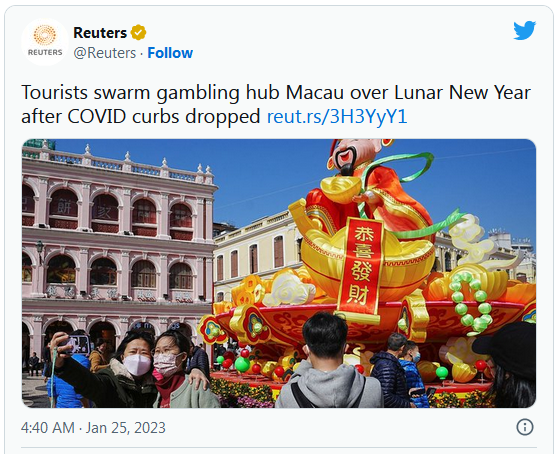 (link)
North Korea, back in pandemic news…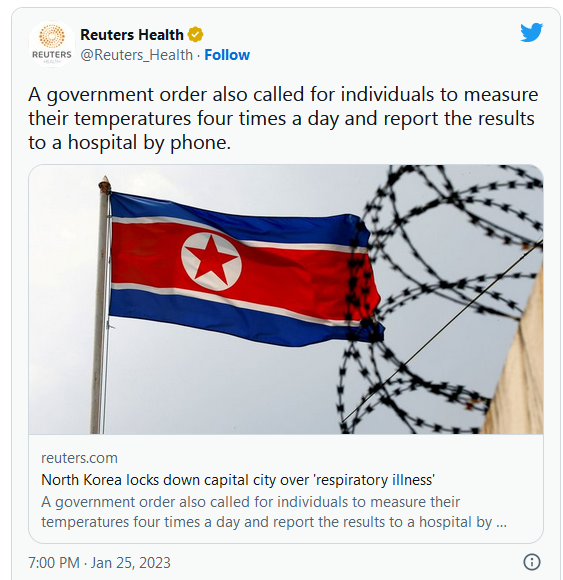 (link)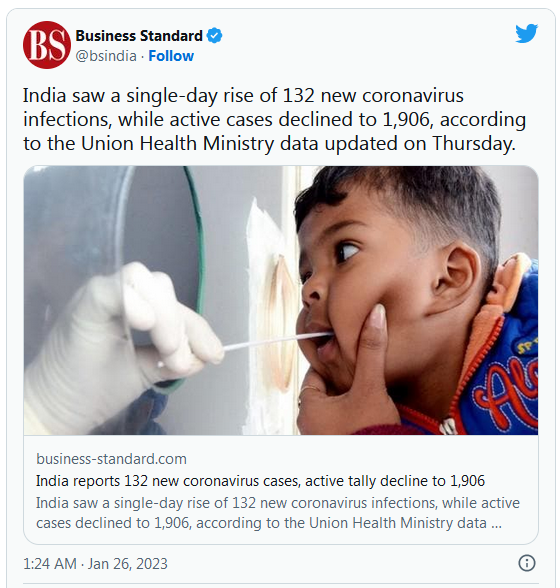 (link)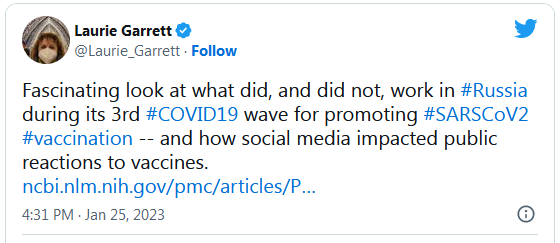 (link)
SARS-CoV-2 variant update for the United Kingdom:

XBB.1.5 "Kraken" lineage (9%) is rising rapidly, challenging the incumbents CH.1.1 "Orthrus" (20%) and BQ.1.1 "Cerebrus" (16%).

Growth predicts XBB.1.5 taking over in late Jan. Faster in Scotland.https://t.co/jgbM0TG87f pic.twitter.com/eSpYB1b3EF

— Mike Honey (@Mike_Honey_) January 25, 2023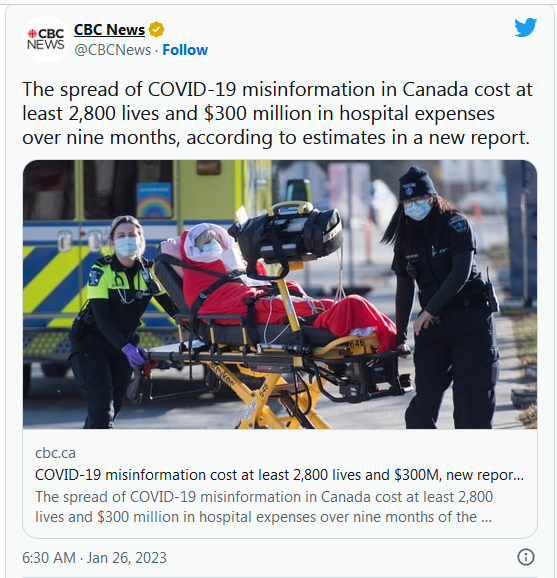 (link)
======
CDC: Bivalent #Covid vaccination stops illness caused by the Kraken variant, XBB.1.5. Both Pfizer & Moderna produce bivalent Covid booster vaccines. Pfizer lab data show better antibody neutralization of the latest variants after the bivalent shot https://t.co/DZEGsWCPZ5

— delthia ricks 🔬 (@DelthiaRicks) January 26, 2023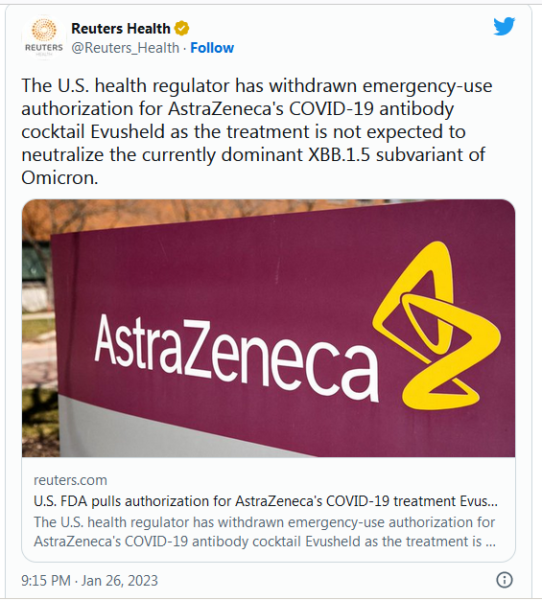 (link)
A major study finds that having COVID-19 makes you much likelier to suffer over twenty different heart conditions, including heart failure and strokes.

"It doesn't matter if you are young or old, diabetic or not, obese or not, if you smoked, or didn't." https://t.co/5eAF4ym2WH

— Shailja Patel (@shailjapatel) January 24, 2023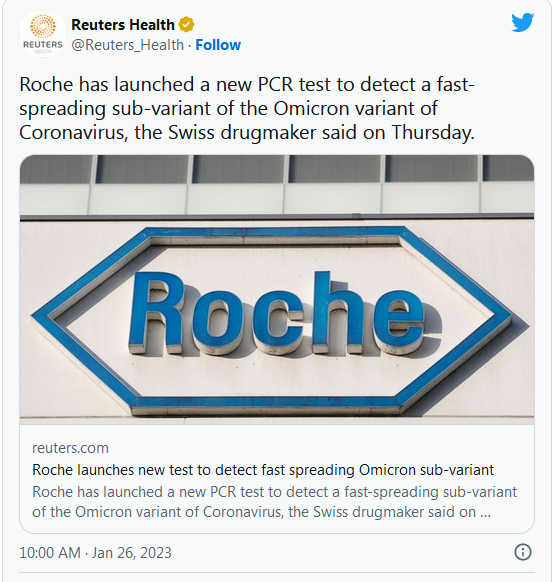 (link)
Real airborne mitigation guidance from an engineering org in a layperson-friendly format, nicely done👍🏻

Via @OhCasavant https://t.co/IG2Q2YQK90

— Naomi Wu 机械妖姬 (@RealSexyCyborg) January 26, 2023

From the .pdf: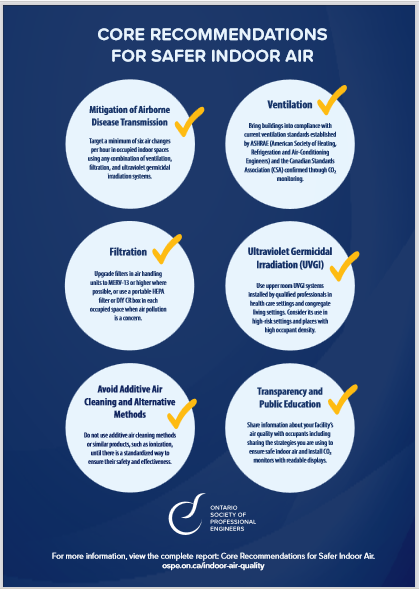 (link)
======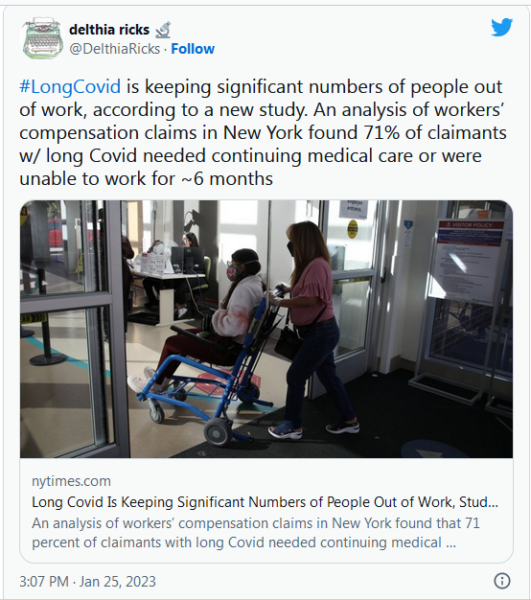 (link)
Vaccination with booster was associated with nearly half the frequency of #LongCovid compared with unvaccinated or 2-shots, without a booster pic.twitter.com/9TLe76NNKJ

— Eric Topol (@EricTopol) January 26, 2023
Some people are conspiracy junkies…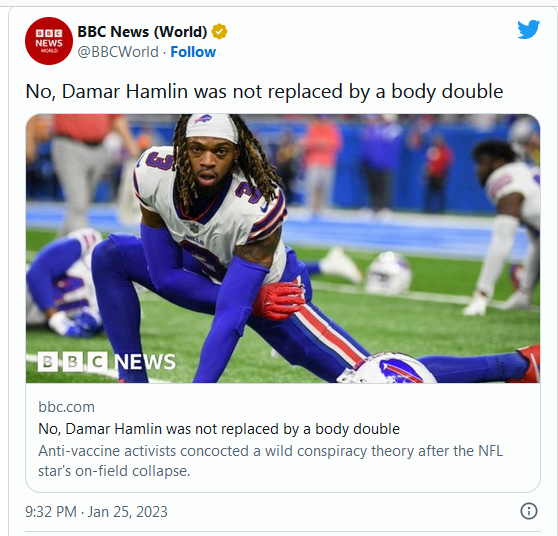 (link)
… while others, like Emerald Robinson, are grifters.
Antivaxxers are convinced Damar Hamlin is being hidden away by Pfizer, and most believe recent public appearances by him are actually a body double.

They're demanding he personally reassure them with a video that he's not being played by an actor.

I'm serious, by the way. pic.twitter.com/QnNxgzPGjw

— Ben Collins (@oneunderscore__) January 25, 2023
You probably know everything in the argument below, but remember: Sharing is caring!
On conspiracy theories pic.twitter.com/iF6IWVlE8h

— ‏ًً (@politicalplayer) January 25, 2023
Reader Interactions