Earlier this week, AHIP had a tweet stating that more growth on the ACA marketplaces was related to more choices.  I'm not sure.
The story that more insurers and more choice leads to more enrollment likely goes something like this:
People have varying preferences.  They will buy a plan if there is an option on the option surface that is pretty close to their optimal point.  If there is not an option near their optimal point of price, quality, brand, cost-sharing,  network etc then they won't buy.  More insurers increases the number of points occupied on any choice surface which decreases the average distance from any person's preference point to their first option.  This reduced distance between each individual's optimal point and the first available option leads  to more people buying plans than if there were fewer insurers offering fewer options.
And that make sense.
Except that adding more insurers to a county changes the prices subsidized buyers see. We need to remember that subsidized buyers are premium spread sensitive and not premium level sensitive.   More insurers in a given market tends to compress the premium spread.  Compressed premium spreads means that all plans that are priced below the benchmark second cheapest silver plan are relatively more expensive.
Below is a dot plot of premium spreads by county on Healthcare.gov from 2014-2021 for the cheapest silver relative to the benchmark silver plan for a single 40 year old non-smoker stratified by the number of insurers in the county.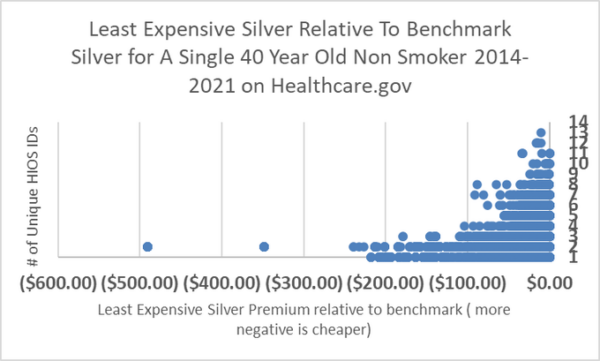 Generally, as more insurers are in a county, the discounts for below benchmark plans for subsidized buyers shrink!
This is not a hard and fast rule but it is a trend.  I would want to add state and year effects to a model, but in general, subsidized prices go up as competition increases.  That is weird.
And if we think that marginal enrollees are mostly buying on price, more competition likely leads to one of the most salient features (premium) to become less attractive.
So this is a good empirical question — does adding insurers lead to more enrollment?  Or more simply, does pricing dominate choice space density for subsidized and price sensitive buyers?