When I first got down here and settled in, I really needed a massage from months of pent up stress, the drive, etc. So I asked Joelle to do her google-fu and find the right place because I didn't want to choose the wrong place and end up in a jail cell next to Patriots owner Robert Kraft. So she found as place called the Natural Wellness Massage Therapy, and there our story begins.
I went to the place, and the massage was scheduled for 6 pm, and it was a strip mall sort of place with nothing but office spaces. I went to the door, and it was locked, and there was no sign for Natural Wellness, so I was confused, but I called and she came out and opened the door. We went through a labyrinth of little offices for other businesses until we got to her room, and we were the ONLY ones in the building, so of course I naturally thought I was going to get hit over the head and robbed.
My nerves were calmed when I saw a massage table, so we chatted for a little bit (as much as we could, she is a citizen but her english is about 60/40, and I could tell at times she did not understand me), and then she told me to get ready. She's a very pleasant Chinese American, rail thin, and only about 5'3 if that. Now at other massage places, the masseuse leaves the room and I strip down to my drawers and get on the table. This did not happen here. She just sat there and watched me, and when I got down to my boxers, she gestured to take them off- "I have towel."
So I said fuck it, yolo, yanked off my knickers, and hopped up on the table as only a morbidly obese man in his 50's with a bad shoulder can- visual reference: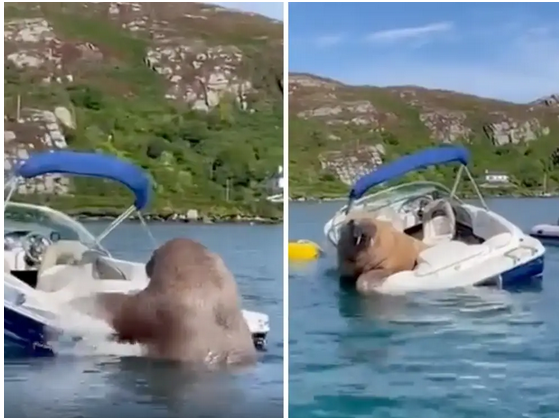 And she was not lying. She did have a towel. A tea towel, which covered about I'd estimate about 3-4% of my body mass. So there I am, naked as the day I was born in a back room of a strip mall in a strange city with an unknown, blind because it is dark and my glasses are off. And then the pain started.
Before I knew it, she was on the table with me, positioning me and in my lower back with hands of fucking titanium with the body strength of some freakish X-Men spinoff. "Relax," she said, slapping the body part that would tense up (this including my man ass, I will note). "Breathe deep will hurt less," she lied. But breathing deeply did allow me to focus on my breathing and not the excruciating pain. It hurt so good that I even forgot about my testicles, allegedly covered by a towel, flapping around in the breeze.
I have never had a massage like this before. I was almost in tears, at one point. I got dizzy and had to stop. At one point I begged for a break, and she gave me a minute to compose myself.
And I am here to tell you that this was the best fucking massage I have ever had in my entire life. I made her work on my bad shoulder and lower back the most, and I am not kidding when I could hear and feel the scar tissue in my shoulder breaking up with this crunching like sound. It was amazing.
The next day, on the other hand, I could not walk and was hunched over for two days, but I had a range of motion in my shoulder that I have not had since before my surgery in 2010 from the accident. It's unbelievable. I called my regular massage lady and she said I just had delayed muscle pain, and to just stretch and it will be gone soon. And it did indeed go away.
So you all know where this is going, right? Of course you do. I went back two more times the past two weeks, giving myself five days in between, and today I had my last one. The range of movement in my arm is so dramatically different and better than it was before that I can now actually lift my right arm over my head. She gave me stretching exercises and showed me where to massage myself, and Nancy Hao is now basically my personal saviour. The massages still hurt when I go, but the aftermath is bliss. Today she beat up my arm so bad that she said "feel how hot" and made me feel my upper arm near my shoulder and said "blood flowing now this is good" and then iced it down.
I'm telling you, this woman is a miracle worker. She's so good that I didn't do a couple things I wanted to do down here because I would rather pay for another session (this town is fucking expensive and I'll be paying for this trip for months), and man is it worth it. And I look like I have been mugged when the sessions are over: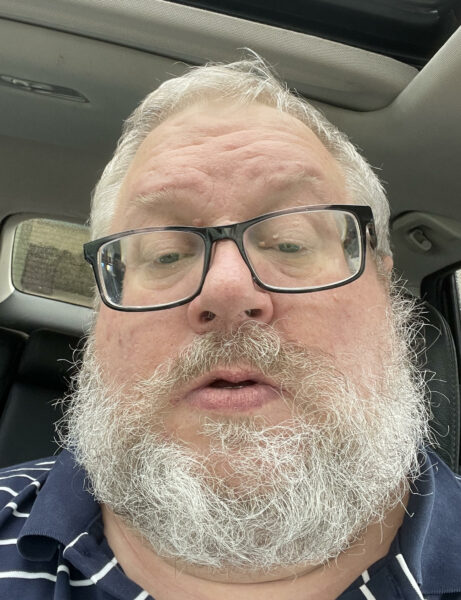 Beard going every direction, hair standing up, glasses all akimbo, can barely keep my eyes open.
But I am telling you. If you have pain and are within a couple hundred miles of West Palm Beach, go here. It's amazing.