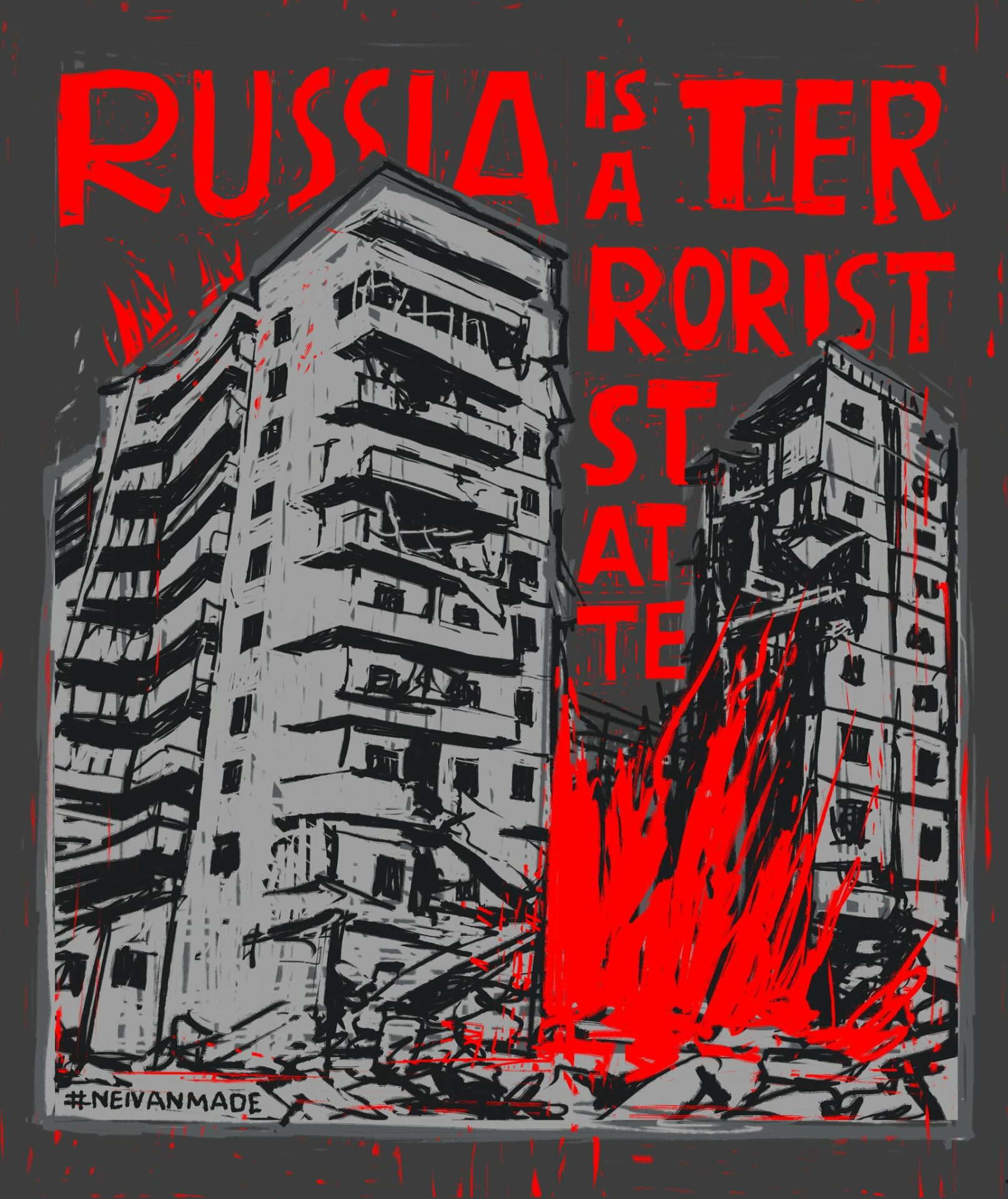 (Image by NEIVANMADE)
Today is International Holocaust Remembrance Day and the anniversary of the Liberation of Auschwitz:
For the world #Auschwitz is a symbol of the #Holocaust & crimes of WW2, a painful reminder of what ideologies of hatred may lead humanity to.
In 2005 @UN declared 27 January – the date of the liberation of #Auschwitz – as the International #HolocaustRemembranceDay pic.twitter.com/hZUy4auQ6f

— Auschwitz Memorial (@AuschwitzMuseum) January 27, 2023
And it occurs just a little over three weeks before we hit the one year mark in the newest genocidal war in Europe.
Here is President Zelenskyy's address from earlier today. Video below, English transcript after the jump:
Dear Ukrainians, I wish you health!

Today we are starting a marathon of honesty, which will be aimed at clearing the leadership of international Olympic structures of hypocrisy and any attempts to bring representatives of the terrorist state into world sports.

One cannot but be disappointed by the statements of the current President of the International Olympic Committee, Thomas Bach. I spoke with him several times. And I never heard how he is going to protect sports from war propaganda if he returns Russian athletes to international competitions.

There is no such thing as neutrality when a war like this is going on. And we know how often tyrannies try to use sports for their ideological interests. It is obvious that any neutral flag of Russian athletes is stained with blood.

I do not want to get into what exactly motivated Mr. Bach to promote such an initiative. But we will do everything so that the world will protect sports from political and any other influence of the terrorist state, which is simply inevitable if Russian athletes participate in competitions. And especially – at the Paris Olympics.

Ukrainian athletes are forced to defend the lives of their loved ones and the freedom of our people from Russian aggression. Russian strikes took the lives of hundreds of Ukrainian men and women who could have brought their talents to world sports.

Russia must stop aggression and terror, and only after that it will be possible to talk about Russian participation in the context of the Olympic movement. Olympic principles and war are fundamentally opposed to each other.

The situation at the front, and in particular in Donetsk region – near Bakhmut and Vuhledar, remains extremely acute. The occupiers are not just storming our positions – they are deliberately and methodically destroying these towns and villages around them. Artillery, aviation, missiles. The Russian army has no shortage of means of destruction. And it can be stopped only by force.

Our soldiers, who are defending the areas in Donetsk region, are real heroes. I thank each of you guys for your bravery!

And, by the way, I invite Mr. Bach to Bakhmut. So that he could see with his own eyes that neutrality does not exist.

I spoke today with students, teachers and graduates of the College of Europe in Natolin and Bruges. This is a special educational institution that prepares specialists to work in and with European structures. It is precisely such specialists that we need, in particular, for the full integration of our state with the European Union.

Ukrainians are already studying under the programs of the College of Europe. And we have already started creating such a college in Ukraine. And this underlines our desire to fully and as soon as possible integrate with the EU. And also, I am sure, it will enable Ukrainians to help protect freedom and European values both in our region and throughout Europe.

I heard from the rector of the college in Natolin that free Europe now has a Ukrainian face. And such words mean a lot.

We will always do everything to increase our potential in relations with the EU, in particular, personnel potential. That is why we need our own Ukrainian College of Europe. And it will be.

Today we have important news from Belgium – the country where the governing structures of the European Union are located. There is a decision by the Belgian government on a package of support for our defense. It is that will strengthen our air defense. It is that will increase the mobility of our troops on the battlefield. I thank you for this support. I thank all the countries, all the leaders, who this week proved with their decisions that Russian aggression will be defeated.

And one more.

A ceremony honoring the memory of all victims of the Holocaust was held this morning in Kyiv near the Menorah memorial sign in Babyn Yar. Today is International Holocaust Remembrance Day. And even at such a time, during the full-scale war, Ukraine, together with the entire civilized world, feels and shares the pain that still remains in the world from the crimes of Nazism.

We remember. And so we resist the evil's attempts to return.

I thank everyone who protects humanity together with Ukraine!

I thank all our soldiers!

Glory to Ukraine!
Defeating Russia? Plausible. Defeating the International Olympic Committee? I'm not sure there's enough weapons platforms and ammo for that.
Here is former NAVDEVGRU Squadron Leader Chuck Pfarrer's most recent assessment of the situation in Svatove:
SVATOVE AXIS /1410 UTC 29 JAN/ Intel reveals a significant & growing concentration of RU forces around Kreminna; an assembly of units and capabilities far in excess of the the defensive requirements of this sector of the front. A pending RU offensive cannot be ruled out. pic.twitter.com/4N8rdMI1A5

— Chuck Pfarrer | Indications & Warnings | (@ChuckPfarrer) January 27, 2023
Vuhledar:
2/4 The enemy is demoralized by losses, which is why they are bringing additional reinforcements, but we will see in the nearest days if they will be able to throw them for another large assault.

— Tatarigami_UA (@Tatarigami_UA) January 27, 2023
4/4 The situation is still difficult but more stable: the enemy continues to replenish their losses with additional manpower. They have lost advantages that they were able to get during the first two days

— Tatarigami_UA (@Tatarigami_UA) January 27, 2023
I think this is an interesting and thought provoking thread from NPR's Melissa Chan:
One of my frustrations the past year is how many people have been shocked that enough Russians buy Putin's propaganda and believe in the war. We want so badly to imagine every citizen in an autocracy is a dissident struggling to break free. But autocracy requires complicity.

— Melissa Chan (@melissakchan) January 27, 2023
Until we acknowledge that enough people in Russia and China buy the propaganda to sustain the autocracy — regardless of the A4 protests, etc. — we are failing to understand these societies as they are, but rather approaching them as we wish them to be.

— Melissa Chan (@melissakchan) January 27, 2023
Most folks are not cut out to fight autocracy. Most understandably want to focus on family, get a paycheck. The path of least resistance. But it does mean ethical compromises. We need to recognize this. Also, how much is democracy a miracle therefore if you think about it?!

— Melissa Chan (@melissakchan) January 27, 2023
Like with Germany, it was collective responsibility and ordinary people were complicit but hey, with Russia or China or whatever it's suddenly aw shucks these folks are just trying to get on with their lives and keep their heads low. And that just seems intellectually dishonest.

— Melissa Chan (@melissakchan) January 27, 2023
Here's more on that Russian defector from Wagner:
"You have to handle defectors with skepticism, in an effort to reveal whether they're double agents or part of a diversion strategy. "

False defectors have been a favored op method of Soviet CI since the 1920s. Genuine defectors always had a tough time. https://t.co/B3Sxh14Avt

— Filip Kovacevic (@ChekistMonitor) January 27, 2023
From News In English Norway:
UPDATED: A Russian deserter who was picked up by Norwegian soldiers on patrol along Norway's border earlier this month is now facing lots of questions from police and security officials in Oslo. Skepticism has risen around his story of a dramatic escape from Russia, and some even wonder whether he may be a double agent sent into Norway by Russian officials.

Police confirmed on Monday that the young man, named Andrei Medvedev, had been arrested the day before and moved from an undisclosed location in Oslo. He was confined at an internment center near Oslo's main airport at Gardermoen that's normally used to detain illegal immigrants before they're sent out of the country, until being released on Wednesday. He remains under restrictions, however, regarding his location for security reasons.

State police agency KRIPOS confirmed he had undergone questioning, but wouldn't reveal what was discussed. Newspaper Aftenposten reported on Tuesday that the human rights organization Gulaga.net, through which Medvedev has channeled his communication since fleeing over the border, claimed he had been handcuffed and told he'd be deported.

His defense attorney in Oslo, Brynjulf Risnes, denied that to newspaper VG and state broadcaster NRK. "Deportation hasn't been a theme now and it's unthinkable because he has sought asylum," Risnes told VG. Risnes added that "there are good reasons to believe what he says" regarding his alleged escape from the Wagner mercenary group that's fighting for Russia in Ukraine. Medvedev has also claimed he'd be willing to testify about alleged war crimes committed by the Wagner group.Aftenposten has noted that Medvedev's story about fleeing Wagner and Russia has only been told through videos published on Gulaga.net by its leader, the Russian activist Vladimir Osechkin. Others question how Medvedev, as a military deserter, could have managed to travel from Ukraine through Russia to the northern city of Murmansk and then through various Russian checkpoints from Murmansk to the heavily guarded border area aound Nikel. Medvedev and Osechkin claim he did have help from undisclosed sources. His story of running across the frozen Pasvik River that separates Russia and Norway in the middle of the night, while being chased by dogs and shot at, has puzzled residents of the area.

"I think someone must have been looking the other way in order for that to be possible," Rolf Randa, a former border patrol office in Sør-Varanger, the region of Northern Norway that extends ot the border, told Aftenposten. Several others in the area also told the paper that they were skeptical because the area is under strict surveillance at all times, year 'round. When the ice melts, the river is also patrolled by boat.

Randa noted that documentation is needed in order to even be allowed to enter the border area on the Russia side. There also are many fences with control posts to go through before arriving at the border, the first one fully 40 kilometers away. The last fence is said to be three meters high and covered with barbed wire on both sides, with sandtraps below to help track anyone getting over it. A signal system mounted on the fence also sets off alarms if anyone comes in contact with it.

"It's extremely difficult to cross the border illegally," agreed Tom Røseth, an intelligence expert and instructor at Norway's militarty college. He told Aftenposten that Medvedev "must have had help on the Russian side, which he says himself. That could have given him the necessary lead time he needed to cross."
More at the link!
New thread from "Karl," the Estonian military analyst, on where we stand in Ukraine. With @holger_r:

— Michael Weiss (@michaeldweiss) January 27, 2023
Here's the rest from the Thread Reader app:
"The amount and types of armor that Western countries have promised to send to Ukraine is noteworthy. We can presume that some countries will send a bit more than announced. It fulfills one criteria that will allow Ukraine to start a counteroffensive in the south this spring."
"The terrain there is bare, it's a steppe. It wouldn't be possible to advance there without armor."
"It is difficult to comprehend Germany's (and partly America's) fears of taking the decision to send tanks. In Germany's case it must be a combination of historical fears, the Russian lobby especially inside Germany's business sector and the indecisiveness of Scholz."
"This combination caused the delayed decision. It was evident that Germany would not escape that decision. The pressure on them was so strong. Their resistance just didn't make sense…"
"Among other things, it deepens the wounds that the Baltic countries and especially Poland have toward them. It is regrettable that Germany's leadership role took another serious hit in our region."
"Germany made another mistake when they announced sending the Leopards. They added a new public 'red line' about not giving Ukraine fighter jets. Why would you need to say out loud what you will not give?"
"Biden made the same mistake before the war. We have seen so many times how such 'red lines' have been erased soon afterwards."
"From a military perspective Ukraine still needs two things. First, longer-range missile systems. Russia has taken its ammunition depots further away from the frontline. They are now 90-120 km away and out of HIMARS' range."
"Yes, it hampers their logistics but it also hinders Ukraine's countering. It is more difficult to hit the trucks carrying ammunition than to hit a depot."
"Secondly, Ukraine still needs fighter jets. If they sufficiently have all three types of weapons [tanks, long-range missiles, jets], it would allow them to break through the frontline at least in the south in late spring/early summer."
"Ukraine says they'd need 350-400 tanks, but by the time of their spring offensive they will have around 200-250 including the modernized Soviet tanks given by some European countries."
"It is a really remarkable number. Most experts agree that 1 Leopard is worth 2.5-4 Russian tanks due to superior firepower and maneuvering ability."
"The delayed announcement about sending the tanks can postpone the start of the spring offensive by some weeks. The terrain would allow the offensive to start at least in the south in early April. Now it's difficult to see it happen before May."
"It's worth noting that Germany has sent Ukraine 3.5 times more military aid than France but France has largely escaped similar levels of criticism. If you compare the two countries' military capabilities, France is clearly better equipped."
"Most Western European countries are well supplied with fighter jets. It's one of the few areas where European militaries are good. A critical issue is how much ammunition can be produced and how fast can Ukraine do maintenance and repair works."
"People are talking about an upcoming large-scale Russian offensive. I am moderately confident that Russia itself already thinks it is conducting one. It's just that none of the others see it as large."
"I am doubtful how good a picture Putin has about the status and readiness of its units."
"Besides Bakhmut and Soledar, Russia is trying something near Vuhledar and Pavlivka about 30km southwest of Donetsk. Also, they have been conducting offensives north of Vasylivka (where the Dnipro river turns straight north and where there would be direct route to Zaporizhzhia)."
"But all of this seems to be largely resultless."
"Last time they tried in Vuhledar was 2-3 months ago and they had 2 battalions worth of their marines killed in 3 days. They are also without any success in Kreminna and, if anything, Ukraine is really slowly advancing there."
"As long as there will be no large and visible loss for Russia, Putin will try to avoid the next level of mobilization. Last time he announced it after the epic defeat in Kharkiv. Mobilization is one of the few things that actually decreases the popularity of war in Russia."
"Putin's instinct is not to do it. Let's hope that he keeps on delaying it."
"Ukraine has suffered a lot of casualties and their situation in Bakhmut is still very difficult. If Russia advances a few more kilometers in the south of Bakhmut, one of the most significant supply routes will be in a critical situation." /END
The Guardian reports on a somewhat different anti-corruption effort in Ukraine.
The arrest of a high-ranking Ukrainian intelligence agent accused of spying for Russia has highlighted the urgent need for a cleanout of the country's key security service, a former deputy head of the agency has said.

The Ukrainian security service (SBU) reported on Thursday that they arrested a lieutenant colonel in their ranks on suspicion of "high treason" and published a photograph of bundles of cash found in his home.

The unnamed man is said to have used his mobile phone to photograph documents detailing the location of military checkpoints in Zaporizhzhia, a frontline region in the south-east of the country, and sending the information via an email account registered on a Russian domain.

A photo issued alongside the official statement showed sim cards issued by Russian mobile carriers, bundles of foreign currency, a knuckle duster, two knives and a Russian language guide to learning English.

"Evidence of permanent connections with representatives of law enforcement and state bodies of the Russian Federation was also established," the statement said. "In particular, close relatives of the traitor are among them."

Maj Gen Viktor Yahun, who was deputy head of the SBU until, 2015, said there needed to a thorough cleanout of the service, which he said had long had an overly close relationship with its Russian counterpart, the FSB.

Following Russia's invasion on 24 February last year, more than 60 members of the SBU and the prosecutor general's office had remained in occupied territory and collaborated with the Russian forces, highlighting the scale of the infiltration of Ukrainian law enforcement by the Kremlin.

As late as 2010, Yahun said the SBU had internally celebrated KGB Day, marking the establishment of the communist-era Russian secret service, and there remained pro-Russian agents through the ranks of the service.

Yahun claimed that the biggest attack on a military site near Lviv in western Ukraine last year had been enabled by a 77-year-old former SBU agent who had passed on the coordinate details and that he feared many in the service still considered themselves Russian.

While the generation that worked for the Soviet security services had retired, Yahun added, the recruitment practices of the SBU meant that their sons and daughters were now in the agency.

"They grew up with the same values as their fathers," he said. "Ukraine made a major mistake in not following the lead of the Baltic nations following independence in reforming the security services from ground zero."

"Of course there were always patriots in the SBU, but they have been in the minority," he said. "It is getting better and since 24 February President Zelenskiy has cleaned the top ranks, so I do not believe any vital strategic information has been passed to Russia. Now they are moving their way down the ranks."
More at the link.
I want to highlight, again, why it is important that the Ukrainian authorities are not just trying to run this stuff to ground despite defending against the Russian invasion, but that they're doing so publicly and/or not trying to use the war as a pretext to stifle reporting on the problem. There is not a state or a society on the planet that doesn't have some form of public corruption problem. If I started listing just the different examples in the US, we'd be here for several hours. Unfortunately, we've legalized a lot of ours in the US. And the ones we haven't we've just decided to either not prosecute at all or somehow treat differently because its committed by people in executive suites. It isn't like we don't have our own oligarch and kleptocracy problem, it's just that very few of our elected officials or the news media that covers politics, finance, and business dare to use the terms to describe what is actually happening. And if you're waiting for anyone in Federal law enforcement to take this seriously, I've got some lovely beach front property to sell you. The DOJ under Democratic appointed leadership won't take action because it would look political and they don't want to be accused of criminalizing politics and business. The DOJ under Republican appointed leadership actually aids and abets the corruption along because they could care less about whether they appear to be politicizing anything.
Anyhow, as states and societies seek to transition from authoritarian systems they actually become more susceptible to corruption. The transition creates opportunity. Because of the attempts by Russia to keep Ukraine within its orbit, first by coercion and the use of economic power and then, after 2014, by force, Ukraine's transition has progressed in fits and starts. This too is not unusual. So taking these anti-corruption moves and doing so out in the open is a very positive sign.
Bellincat brings us an in depth investigation into the shelling of Mykolaiv from last April:
On April 4, 2022, Russian rocket artillery struck the Ukrainian city of Mykolaiv with cluster munitions. On the night of April 3, the Furshet shopping centre and nearby city hospital were attacked. Local media had published images to their Telegram channels at around midnight. At 8:03 in the morning of April 4, eyewitnesses told the Ukrainian website Prestupnosti.Net of damage to residential areas in the Zavodskyi District. Later, on the afternoon of April 4, a second attack followed in which a shopping precinct and a children's hospital were attacked. Both were located in densely populated residential areas. According to the Mykolaiv regional prosecutor, 12 people died and 41 were injured from the attacks.

Videos of rocket launches began to appear on social media after the attacks, with the uploaders claiming that they were firing towards Mykolaiv. A close inspection of one of these videos has allowed Bellingcat to verify the location of the rocket launches likely behind the afternoon attack on the shopping precinct and children's hospital. It is as yet unclear whether the same location and rocket launchers were implicated in the early morning attack that day.

Our geolocation suggests that the strike was launched by Russian forces from a location near the Inhulets River in the north of Russian-occupied Kherson Region; a chronolocation of the same videos indicates that one launch likely took place just minutes before the afternoon's explosions at the shopping precinct and children's hospital occurred.

This attack was one of dozens launched against the port city throughout the spring and summer of 2022, after Russian forces from occupied Crimea swept through Ukraine's south and were held back by the Ukrainian army just outside Mykolaiv city. It came just days after a Russian cruise missile destroyed the regional government office on March 29, which Ukrainian officials say killed 12 people.
Mykolaiv's Regional Governor Vitaly Kim narrowly avoided that attack on his workplace. By the time Ukraine's army retook Kherson in November, Kim estimated that around 200,000 of Mykolaiv's 470,000 residents remained in the city.

The Aftermath

As soon as news of the April 4 attacks broke, imagery emerged showing the scale of destruction. Locals shared videos and images on social media. These sources indicate that most casualties that day appeared to be concentrated in the commercial area where people had been working and shopping. There was also a public transit stop at this location.

The paediatric hospital shown in this surveillance footage is about 800m from another attack in Mykolaiv yesterday that killed multiple people near a shopping strip at 46.943047, 32.055330: https://t.co/iV07BMbjYY https://t.co/4hAqMu4hGO pic.twitter.com/dsJnk61MMy

— Jake Godin (@JakeGodin) April 5, 2022

Security footage from the paediatric hospital first appeared online the day after the attack on the Telegram channel of Governor Vitaly Kim, who shared it at 13:58 (local time). It was then widely amplified by the channel of the local branch of Suspilne, a Ukrainian media network. The video showed that the submunitions, which detach from the launch rocket close to impact and spray over a target area, hit the hospital at around 15:30, according to the timestamp of the CCTV camera. On April 8 Chief Doctor Oleksandr Plitkin told reporters for the TPK channel that nobody at the hospital was harmed physically, but that the hospital building did take exterior damage, of which photojournalists from NPR also published photographs.

This video, with a date and timestamp consistent with the @MSF_Ukraine report, shows an impact at the paediatric hospital.https://t.co/iz9XqOpMzK https://t.co/kO0MYUvRms pic.twitter.com/ea3ckTphGj

— Eliot Higgins (@EliotHiggins) April 5, 2022

The timing of these video clips offered clues as to when precisely the projectiles hit downtown Mykolaiv that afternoon. But where did they originate from?
Much, much, much more at the link
Spain:
Spain! pic.twitter.com/hByDVoUycn

— Paul Massaro (@apmassaro3) January 27, 2023
Poland:
Poland will hand over 60 tanks to #Ukraine. The famous Leopard-2 and PT-91 Twardy will strengthen 🇺🇦 Armed Forces. I'm grateful to @MorawieckiM and all the 🇵🇱 people for their strong support for 🇺🇦 on the way to victory.

— Denys Shmyhal (@Denys_Shmyhal) January 27, 2023
Kharkiv via Canada:
🇺🇦This is Bruce Perry, a 75 year old former military pilot from 🇨🇦Canada. He now takes care of rescued animals in Kharkiv #Ukraine. We love you Bruce❤️ pic.twitter.com/5twK9m3CeI

— Sofia Ukraini (@SlavaUk30722777) January 27, 2023
That's enough for tonight.
Your daily Patron!
A new video from Patron's official TikTok!
The caption machine translates as:
Eternal memory to all victims of the Holocaust…
Open thread!