Steeplejack sent this to me last week on a day I really needed the reminder of the goodness in the world:
her bags and she was happy to let me..

She was taking bagels to her son who lived in a group home. Robert had menengits as a boy and it left him severely handicapped and unable to speak. He lived with 8 others and she took the bus to see him every day. And they like bagels. pic.twitter.com/3BX3IUmKWi

— Kiersten Warren (@KierstenWarren) January 14, 2023
I confirmed what she already knew and that was how her husband was quite the looker. He had been in SEVEN concentration camps. The last being Dachau. He had survived by being a strapping teen who was able to work.

I loved her instantly. The way she cried whenever she mentioned pic.twitter.com/A2xFx8xLCp

— Kiersten Warren (@KierstenWarren) January 14, 2023
Thread reader is not working, so I'm going to try and add the remainder here. If you can, click on the tweet and read her entire thread and the beautiful replies.
Her son Harry's name. A fresh wound that. Six months is not a long time. But it was done with no extra fuss. Like a teacup spilling over. Tears just happen and you wipe at the weepage and continue your nice conversation. Cracked eggs to make an omelet sort of thing. Her son had been the head docent at the Holocaust museum here in town. She worried her bags of bagels were inconveniencing me and I laughed.

She appreciated my Russian and the accent was good enough that she launched into a story that I caught about half of before strategically steering us back to English. I can't argue politics in Russian. And she wanted to talk politics. We got to her house and she invited me to come in to show me her things. She'd been a teacher at a Jewish school. She told me about all her famous students.

Authors who'd invited their grade school teacher to their book release party. I know about this because I read the publisher's personal invitation. Out loud for her to hear again while she smiled at the memory. Kirk FaceTimed me and there was my face and Barbara's grinning over my shoulder to greet

him. So they happily met. When I left her I wandered all the way to Sweet Lady Jane to get a coffee and ogle their beautiful pastries. Yay, I finally had cell. I looked at the smart phone and laughed.

Last time I'll let Apple tell me I have "connectivity issues." Because that's just not true. I'll call on her tomorrow. But I'll introduce you all tonight. Everyone, this is Barbara. My new best friend. I'll leave you with this type written wisdom from Barbara's refrigerator.
============================
O. Felix Culpa sent this to me, and I had actually meant to bookmark it when I saw it last Sunday, so I'm happy for the reminder.
==================
Steeplejack sent this gift link to NYT:
His talent for creating realistic documents helped children, their parents and others escape deportation to concentration camps, and in many cases to flee Nazi-occupied territory.
Worth a read for sure.
==========================
And we all should have this much joy. You go Sebastian:
I know lots of you have been sending me Kindness, and it's much appreciated. May still be a while before I get back to regularly posting them. Between tax season and my newest book heading to the publisher in the next week or so (still finalizing the cover and how best to format the recipes), I'm going all out these days.
Gonna be sub-zero this weekend and you know what that means! Ducks in the bathtub. I'll post some video or photos if I'm not running on empty by then.
On the cooking blog, I've been focusing on meal shortcuts lately. Tonight I'm going to do frozen spinach ravioli lasagna. Last week it was Air Frying Frozen Potstickers. Not everything has to be a gourmet meal, but it does have to be tasty.
Meanwhile, here's Trixie being Trixie and poor Scout.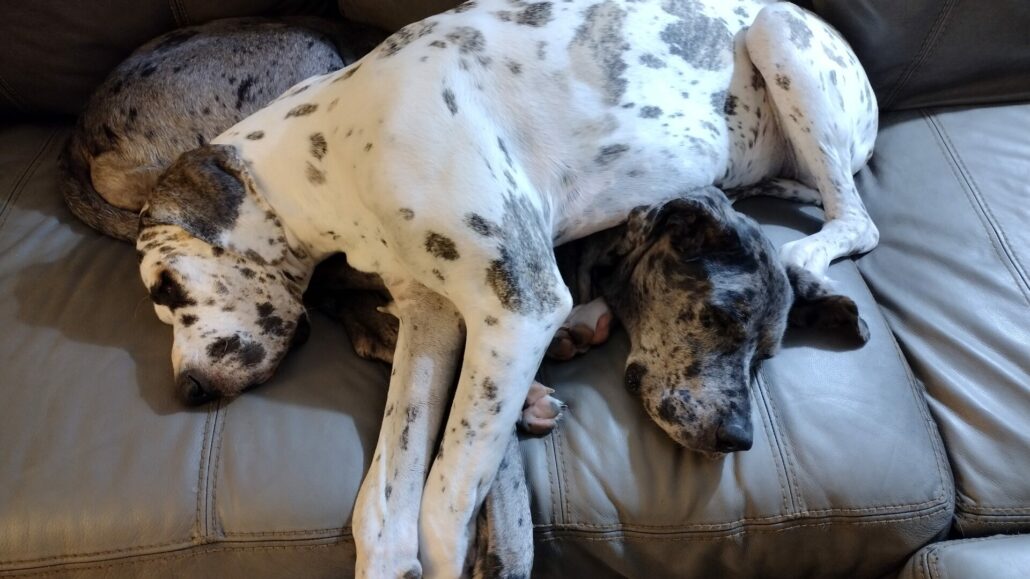 Remember to be kind to yourself.
Tell us about some of the good news in your world…