Good new rundown on bivalent booster benefithttps://t.co/mGmGjb0e3s by @SmithDanaG @NYTHealth pic.twitter.com/s4Cofcsxsk

— Eric Topol (@EricTopol) February 2, 2023
What the end of the #Covid public health emergency could mean for you. The emergency expires in May and it will complicate access to tests & treatment in the U.S. https://t.co/XFEvFb630x

— delthia ricks 🔬 (@DelthiaRicks) February 3, 2023
(link)
One response: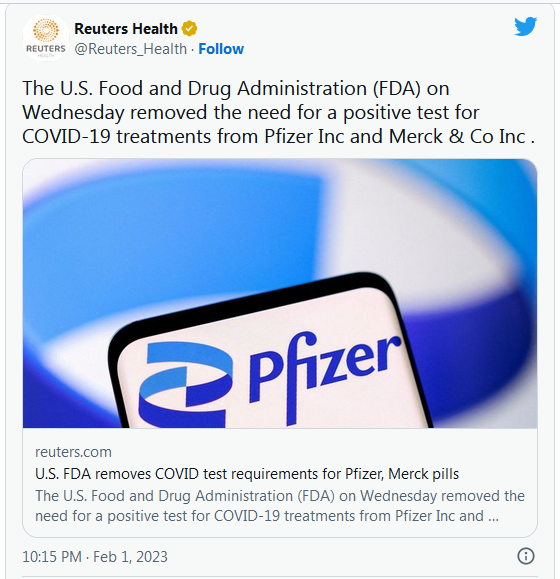 (link)
======
Vaccine makers kept $1.4 billion in prepayments for canceled #Covid shots for the world's poor. Separate from that, Johnson & Johnson is demanding additional payment for unwanted shots, confidential documents show https://t.co/OM56doSxEl

— delthia ricks 🔬 (@DelthiaRicks) February 1, 2023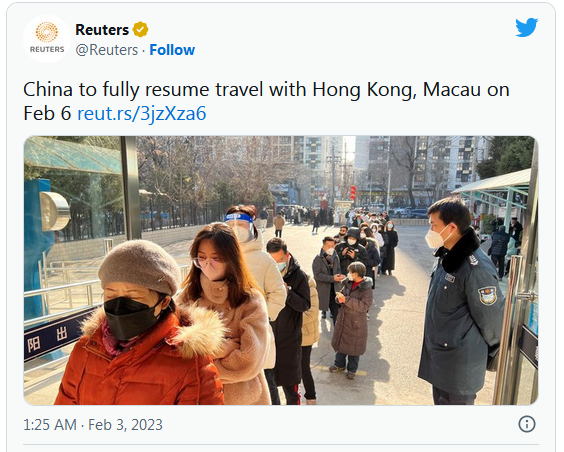 (link)
Coronavirus: 3 more border crossings between Hong Kong, mainland China set to reopen, mandatory tests, quota system to be axed, sources say https://t.co/DPTvSaGehn @SCMPNews

— Jim Stevenson (@VOAStevenson) February 3, 2023
#TheCOVIDVoices : The costs of ignoring expert advice around public health measures.@consulting_pi @FINDdx @COVID19Tracking @COVIDNewsByMIB @SATB1231 @CovidindiaO@MoHFW_INDIA
#COVID19India #Coronavirus #PublicHealth pic.twitter.com/pX36pFgvWc

— Covid Voices (@TheCOVIDvoices) January 30, 2023

Both sides!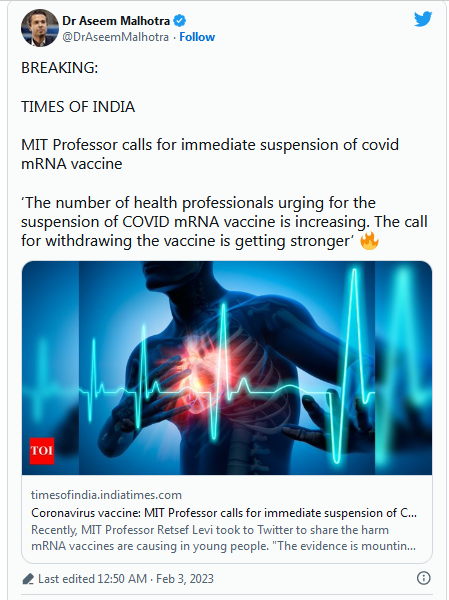 (link)
Following a deadly surge of the virus this winter, Japan is no longer the best-performing wealthy nation when it comes to avoiding COVID-19 deaths. https://t.co/gUzZta3dQY @japantimes

— Jim Stevenson (@VOAStevenson) February 3, 2023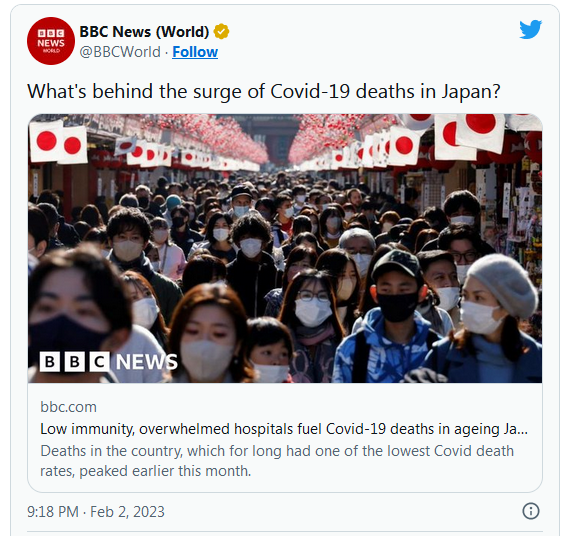 (link)
Great to see how covid is getting so much more mild now that everyone has been infected so many times:#auspol #covid pic.twitter.com/lxmilz17Ht

— Dominic Meagher (@dom_ma) February 1, 2023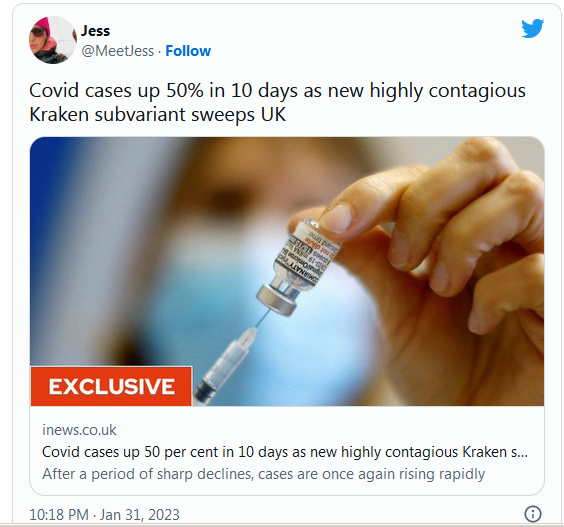 (link)
Seems like next wave has started in England – Covid hospital admissions definitely up (and across all regions).
Zoe app also shows cases increasing.
Combo of CH.1.1 & XBB.1.5 sub variants now at around 40%. pic.twitter.com/pPT4zhjAmQ

— Prof. Christina Pagel 🇺🇦 (@chrischirp) February 2, 2023
there doesn't seem to be a conversation about how much worse Covid is for population and NHS than flu if it's 4-5 Covid waves a year vs 1 flu wave.
Or that measures to reduce transmission of Covid (clean indoor air, masks in hosps/pharmacies/transport) would work against flu too

— Prof. Christina Pagel 🇺🇦 (@chrischirp) February 2, 2023
======
The future of Covid vaccines that we need now, a new feature @Nature by @ewencallaway, including nasal, for mucosal immunity, and universal, more durable, variant-proof ones with less side effectshttps://t.co/9U5xO2Ve1B pic.twitter.com/Mb8mHtDSVW

— Eric Topol (@EricTopol) February 1, 2023
For nasal vaccines we got the first results from a large, randomized trial yesterday which were encouraging for inducing better immunity and less side-effects vs shotshttps://t.co/ufxF2r04wQ pic.twitter.com/P28GNuXW0G

— Eric Topol (@EricTopol) February 1, 2023
The first reports of the presence of coronavirus in the central nervous system in COVID-19 pediatric patients, emphasizing the neurotropism and neuroinvasion characteristics of the virus.https://t.co/ox1ny6whus pic.twitter.com/HIPyV8uBgw

— Vipin M. Vashishtha (@vipintukur) February 2, 2023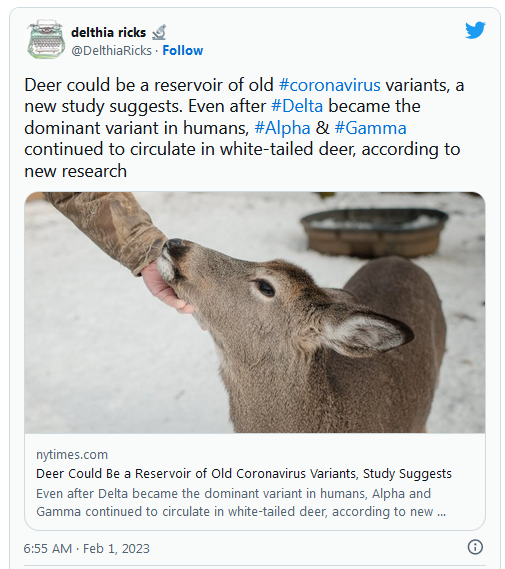 (link)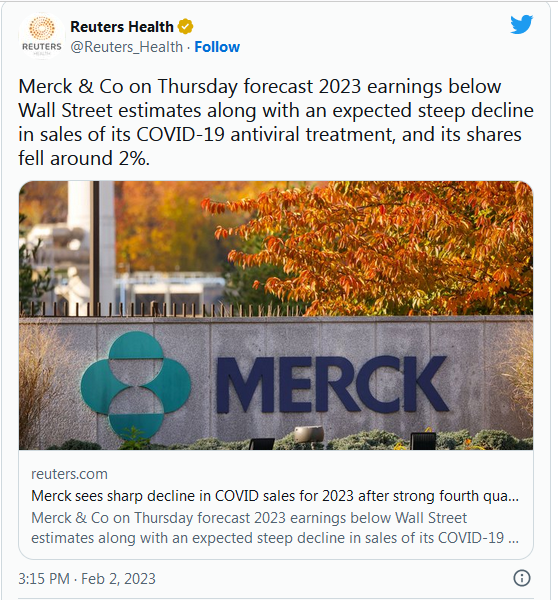 (link)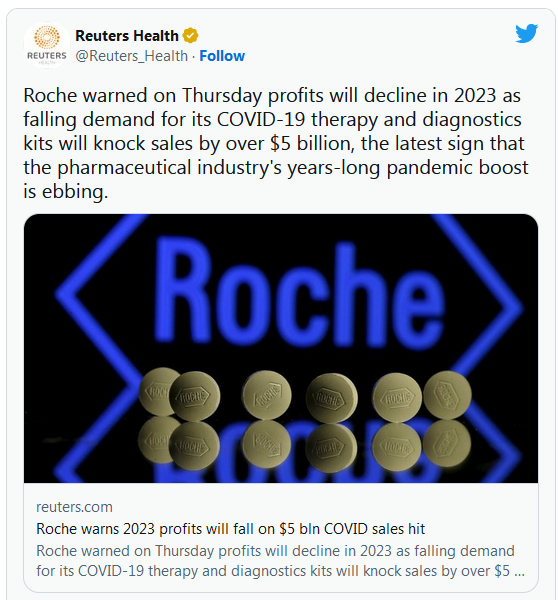 (link)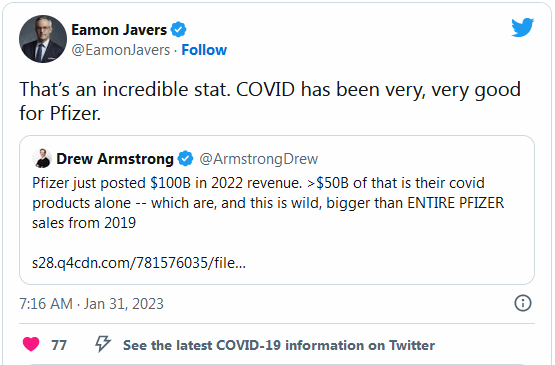 (link)
======
Insert *multiple* snark emojis…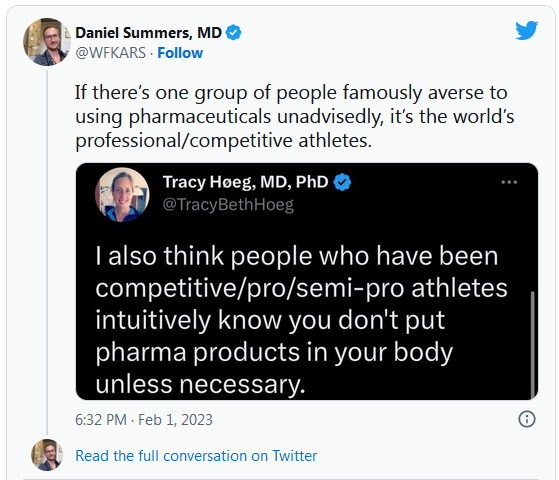 (link)
In this interview, Comer claims @RepJamesClyburn "never bothered to really dive in" to COVID aid fraud "to try to stop it"

In Sept 2020, Clyburn literally released a 4,000+ word report warning about fraud due to Trump Admin's flawed program implementation https://t.co/j8Ktt1o0vL https://t.co/podMFMcSX3

— Ian Sams (@IanSams46) February 2, 2023
Leaving aside the truth of this, the more depressing aspect is reading the moronic drivel of anti-vaxxers in the responses. https://t.co/uUFJRznASm

— Panda Bernstein (@J4Years) February 1, 2023
Narcississtic injury: Medical personnel routinely ask about blood thinner use by people over the age of 50, Dr. (of literature) Wolf: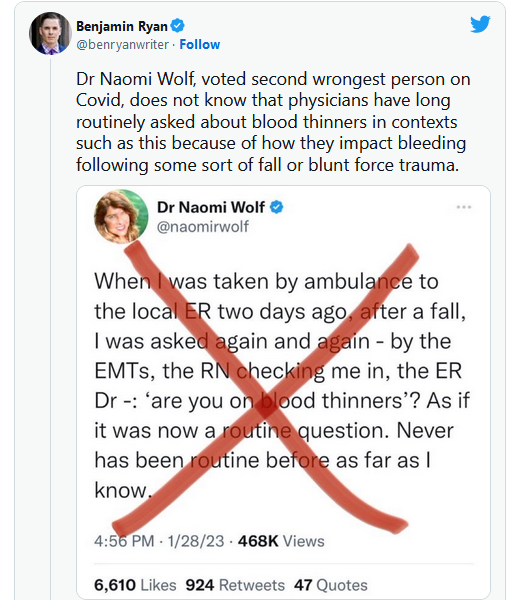 (link)
Reader Interactions