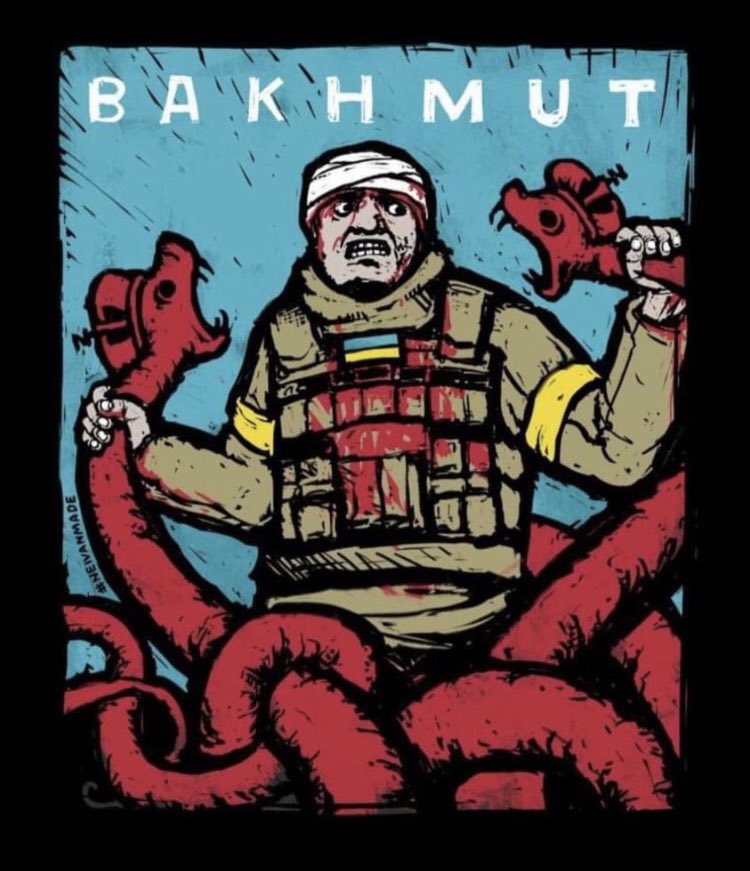 (Image by NEIVANMADE)
THREAD: I spent last week in #Bakhmut, reporting for @unherd. This video was shot in the centre of the city, 200m from the Russian🇷🇺 positions. Listen with sound UP.

I was fortunate to embed with Ukrainian🇺🇦 special forces, here are my thoughts (& photos) from the front here. pic.twitter.com/RURNJV09f5

— David Patrikarakos (@dpatrikarakos) February 3, 2023
We'll have the rest of David Patrikarakos's reporting after the jump.
Here is President Zelenskyy's address from earlier today. Video below, English transcript after the jump:
Dear Ukrainians, I wish you health!

Today, we have good news. Another 116 Ukrainians were released from Russian captivity.

Of them, 114 are privates and sergeants, and two are officers. Soldiers of our army, the National Guard, territorial defense, Navy, border guards, and the State Emergency Service.

We are constantly working to bring home all our people held in Russian captivity. And I'm happy every time it succeeds.

I thank our entire team that prepares exchanges, the Coordinating Staff of the Defense Intelligence. Budanov, Usov, Yermak, Klymenko, Maliuk, Lubinets – I thank everyone! Thanks to everyone who helped.

Of course, it is worth mentioning Denys Monastyrsky… He participated in preparing this exchange. And his death is really a big loss for our country.

Since February 24, our team has managed to return totally 1,762 Ukrainian men and women from Russian captivity.

I also thank all those involved in helping these people after their return.

Everyone who treats, restores documents, helps solve problematic issues of those released from captivity. It reflects the basic meaning of what we do. We restore and protect the normality of life for our people in a free country.

I spoke today with Rishi Sunak, Mr. Prime Minister of the UK. A very important conversation. We prepare pivotal things with him.

I thanked the Prime Minister and all the British people for helping our country. Now, in the UK, our guys have already started training on Challenger tanks. It's a good vehicle. And it will be a big thing on the battlefield.

Together with our partners, we do everything daily to ensure that our soldiers have sufficient strength to defend against the terrorist state.

We also discussed other promising things that can strengthen our defense.

The issue of the threat to the international Olympic movement, which arose due to the weakness of the international sports bureaucracy, due to those who are trying to actually allow Russia to use sports for propaganda, was separately touched upon.

I am glad that the world hears our position that the Olympic principles must be unequivocally protected from the terrorist state.

Today, I signed the relevant documents to take another step to protect and cleanse our state from those on the side of the aggressor.

There is a request from the Security Service regarding persons with records that they have Russian citizenship. Tomorrow, another legal step will be taken to implement the sanctions decisions of the NSDC.

And we are working to synchronize our sanctions decisions with partner jurisdictions. The enemies of the free world have no right to use the free world for their own interests.

And one more thing.

During the 346 days of this war, I often had to say that the situation at the front was tough. And that the situation is getting tougher.

Now is that time again. A time when the occupier throws more and more of its forces to break our defenses. Now, it is very difficult in Bakhmut, Vuhledar, near Lyman, and other directions.

But now, as every day of these 346, the resilience of our soldiers decides everything. Our resilience!

It's not about the efforts and plans of Russia. It's about the courage and determination of our soldiers. The effectiveness and speed of all who support and help to support our defense forces. The attentiveness and persuasiveness of all those who defend Ukraine's international positions. The strength and unity of our people – all those who work for our victory, and all those who support our heroes and the Ukrainian state.

To preserve all elements of our resilience is to guarantee victory.

Glory to all our soldiers! Thanks to everyone who helps!

Glory to Ukraine!
Another prisoner swap has occurred:
Another large exchange of prisoners took place: 116 Ukrainians returned home, including the defenders of Mariupol and Kherson partisanshttps://t.co/EoZwhvijYJ pic.twitter.com/CvbsmMPcgs

— Special Kherson Cat 🐈🇺🇦 (@bayraktar_1love) February 4, 2023
Here is former NAVDEVGRU Squadron Leader Chuck Pfarrer's most recent assessments of the situations in Kreminna, Bakhmut, and Vuhledar:
KREMINNA AXIS /1245 UTC 4 FEB/ RU continues determined offensive efforts in the Kreminna Area of Operations (AO). During the period 3-4 FEB, RU forces resumed serial offensives & armed reconnaissance across the P-66 HWY. UKR artillery and air strikes hit RU troops. pic.twitter.com/tSCa9UC3os

— Chuck Pfarrer | Indications & Warnings | (@ChuckPfarrer) February 4, 2023
BAKHMUT AXIS /1310 UTC 4 FEB/ RU forces continue offensive operations against Krasna Hora. UKR has maintained a disruptive lodgment near Klischiivka. UKR missiles, artillery and strike aviation targeted RU troop concentrations and HQ elements in heavy fighting. pic.twitter.com/Pl603PDDua

— Chuck Pfarrer | Indications & Warnings | (@ChuckPfarrer) February 4, 2023
VUHLEDAR /1510 UTC 4 FEB/ RU troops continue piecemeal offensive operations against Vuhledar. RU ground attacks are impeded by flat, open terrain and a river perpendicular to the axis of advance. Russian attacks in the Vuhledar Area of Operations AO may be diversionary. pic.twitter.com/S1ByWcvpvA

— Chuck Pfarrer | Indications & Warnings | (@ChuckPfarrer) February 4, 2023
Bakhmut:
Update on Bakhmut, 4 February: the situation is as difficult as it was, but the Cossacks are holding the defence. In Kiyanyn's personal opinion, Bakhmut may be the breaking point for the Russians, who are not having an easy time they're trying to demonstrate. pic.twitter.com/WTWhb13Bbd

— Dmitri (@wartranslated) February 4, 2023
And the rest of David Patrikarakos's reporting from the Thread Reader App:
Here's the video from the seventh tweet. It seems to have gotten scrubbed between Twitter, the Thread Reader App, and WordPress:
The #Ukraine 🇺🇦soldiers here always keen to show their appreciation – mainly to 🇺🇸 & 🇬🇧 – for all the help they have received. Here, @posoh_Strannika makes his feelings known. pic.twitter.com/GXAT2OGCwd

— David Patrikarakos (@dpatrikarakos) February 3, 2023
Vuldehar:
2/4 The enemy attacks mostly during the daytime and reduces night-time combats, except for artillery shelling and brief tank shoot-and-scoot attacks: armed with thermal scopes(including French ones) tanks make 3-5 shots and then retreat.

— Tatarigami_UA (@Tatarigami_UA) February 3, 2023
4/4 While I do not have information as to why they are in the area, it seems like they were hoping to enter Vuhledar right after the 155th and 40th brigades. Publicity stunt to market Shoigu's creation amidst growing popularity of the "Wagner" has failed.

— Tatarigami_UA (@Tatarigami_UA) February 3, 2023
4/4 You can also see how the enemy attempted to outflank Vuhledar from the East, but sustained losses and had to retreat to Mykil's'ke.

Overall the situation remains dangerous due to increasing numbers of enemy infantry and artillery. pic.twitter.com/ObF0QWUBIK

— Tatarigami_UA (@Tatarigami_UA) February 4, 2023
Belgorod!
The Ukrainian Army has struck a giant oil depot near Belgorod, Russia.

A nearby metal factory providing material for the reconstruction of the Crimean Bridge has also caught on fire.

The fire is only growing larger and larger. pic.twitter.com/0RSvaPnmOO

— Visegrád 24 (@visegrad24) February 4, 2023
A severe fire is reported in Borisovka, Belgorod Region, presumably a local oil storage facility is on fire. Russians are again clumsily handling cigarette butts. pic.twitter.com/BipHUBlJfz

— Special Kherson Cat 🐈🇺🇦 (@bayraktar_1love) February 3, 2023
Additional footage of a fire at an oil storage facility in the Borisovka, Belgorod region this night.
It is also interesting that, according to the information from the website of the factory, where this incident occurred, this plant also manufactured parts for Crimean bridge. pic.twitter.com/hY2RWQQ81O

— Special Kherson Cat 🐈🇺🇦 (@bayraktar_1love) February 4, 2023
The Guardian brings us reporting that I think is illuminating of the news that key infrastructure in Belgorod, Russia is burning:
If the worst happens, Taras, 23, Vladyslav, 21, and their commander, Olexiy, 39, are well aware that the Ukrainian government will deny any knowledge of them. In western capitals, there is a collective shudder at the very thought of them.

They are members of the Bratstvo battalion, a volunteer group of Ukrainian special forces, taking the fight against Vladimir Putin beyond the frontlines of the war in Ukraine, past the occupied areas of their country – and deep into Russia.

Their work ranges from the kidnapping of senior Kremlin officials, to the destruction of key military infrastructure and the downing of enemy aircraft on Russian territory.

It might seem odd for a battalion such as theirs to allow their stories to be heard in public. But that is to misunderstand their purpose. In everything they do, there is a single message they want to send. "It is very easy for us to cross the Russian border," says Vladyslav, the youngest of the three, with a smile.

The volunteers of the Bratstvo, Ukrainian for brotherhood, have a peculiar status, technically independent from Ukraine's army but operating side by side with the official forces. Their arm's-length status offers deniability.

Olexiy is in "intelligence", he says, but the battalion recruits mainly civilians, or plucks the brightest from other voluntary battalions. He says he understands why their work must remain apart. The reasoning is nevertheless hard for them all to swallow.

It comes down to the west's nervousness at the thought of Ukraine having the capacity to hit Russia in Russia, as highlighted by the protracted debate over Germany's provision of Leopard 2 tanks, and the refusal of the US and others to supply F16 fighter jets.

Much of that anxiety is probably linked to the Kremlin's threat to use nuclear weapons if the "very existence of the state is put under threat".

"It turns out that Russians can go to Ukrainian territory, but Ukrainians cannot go into Russia," Olexiy says.

The Bratstvo volunteers are not deterred. They insist it is vital for the Russian high command to feel the heat of battle on their own territory.

Wearing jeans, jumpers and hoodies, they are drinking coffee in Kyiv's Taras Shevchenko Park as they tell of their adventures, while on a break from training, planning and missions. The only hint of who they are is the handgun on Vladyslav's hip.

Because of their unofficial status, their stories could not be independently verified but they are convincing and credible. They are also extraordinary in their daring.

The second eldest of the three men, Taras, says he returned two weeks ago from what he described as a straightforward operation. "Our group needed to bring a certain amount of explosives to the territory of Russia and leave them in a certain place," he says. "I don't know for what and whom this explosive was intended. But I know for sure that some people in Russia are ready to help Ukrainians."

The small taskforces, often just four or five soldiers, work out where the safe routes lie into Russia by examining the movement of livestock, or taking the advice of those who smuggled contraband before the war.

Vladyslav and his fellow fighters were tasked with "capturing or killing one of the high-ranking officers of the FSB", the Russian security services.

"He worked close to the border with Ukraine, but on the territory of Russia," says Vladyslav. "We had the route of this Russian officer's car and we decided to set up an ambush."

They were in position for hours but the car did not arrive, and the primary goal had to be abandoned as day broke. They needed to get out but they faced the challenge of breaking back into Ukraine, past the watching Russian forces gathered at the border.

"We met a border post of Russian border guards," Vladyslav recalls. "We engaged, we were four on four. We killed three Russians and slightly wounded one. We captured him, took him to Ukrainian territory and handed him over to the Ukrainian military."

The Ukrainians had survived another day with just one of their group suffering a gunshot wound to his arm.

Taras adds: "Our operations are actually twice as safe as those performed by the Ukrainian armed forces. It seems that this is a very dangerous job, but we are very seriously preparing for it."

The importance of their role, for all that it is denied by the government in Kyiv and disliked by western capitals, is clear to them.

"[Western readers] may expect from us that we are going to blow up the Kremlin, but so far this is not the case," says Taras. "My opinion is that you should start with small tasks and then move on to more complex ones. A friend of mine has a saying: 'To destroy an enemy military base, you must first blow up the doghouse.'"
Much, much more at the link!
And some more good news:
Mangushev wasn't just some Russian merc, but a political technologist/propagandist with a reputed connection to Wagner boss and all-round-Kremlin-businessthug Prigozhin, through the latter's media and consulting empires 2/https://t.co/zXLnksOk4c

— Mark Galeotti (@MarkGaleotti) February 4, 2023
Here's the rest from the Thread Reader App:
He wasn't in Wagner, but instead, operating with the callsign 'Bereg,' served as a captain in the 4th brigade of the 2nd Army Corps of the 8th Army. However, all was not quite as it seemed

In many ways it is a reflection of the way Russian warfighting has become a public-private partnership that his unit, which seemed to be a specialist anti-drone one, was dogged with suggestions that it was privately funded/run even if formally army 

/4

Mangushev himself had apparently fought in the Donbas in the ENOT PMC in 2014 and consorted with local proxy-politicians and neo-Nazis 

5/

In between, he has been a political technologist/political hitman affiliated with Prigozhin's Patriot news network, especially targeting liberals like Lyubov Sobol, who was closely affiliated with Alexei Navalny 

6/

Then he turns up in the ranks, not least with his ghastly skull stunt, having – by his claim to Meduza – been the originator of the now-infamous 'Z' (although one needs to take the claims of self-publicists with some caution) 

7/

A persistent suggestion has been that this humble 'captain' in the army is actually not only one of Prigozhin's people but operating near-autonomously, and perhaps being groomed as a future 'hero' precisely for PR benefit 

8/

 

And now suddenly he has been shot in the head. In battle? "Doctors say that he was wounded as a result of a shot from a short-barreled gun at close range in the occipito-parietal region downwards at an angle of 45 degrees." 

9/

Now, I may be the wrong sort of doctor, but that sounds like a 'control shot' execution from a pistol. According to the same report, he is currently alive but unlikely to survive. I think we can safely describe this as a hit. 

10/

 

Was this about him or a proxy attack on Prigozhin? Obviously at this stage, impossible to say. However, it is worth noting that Prigozhin may have somewhat over-extended himself of late. 

11/

 

Putin pretty much closed down his attacks on St P governor Beglov. Having watched Wagner burn through its zek-mercs in Wagner, the MOD now seems to be stepping in. The FSB, which for so long was happy to be on sidelines, may be getting fed up of him. 

12/

 

So this could be a warning, or taking a pawn off the board, or a sign that Prigozhin's more thuggish rivals feel he is weakened enough that they can move. Either way, it demonstrates how, under the pressure of war (and Putin's apparent inability to control elite conflicts)… 

13/

Russia is sliding back towards (aspects of) the 'wild 90s,' when murder was a business tactic, and the lines between politics, business, crime and war became near-meaningless. 14/end
And now we turn to the most recent news regarding the wayward Chinese spy balloon.
Obligatory: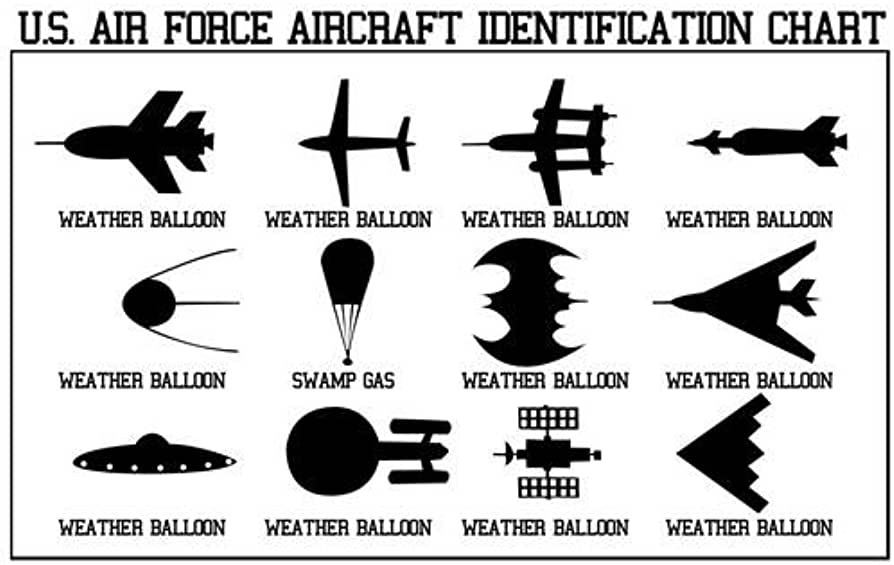 Notable: US officials say they were able to block the balloon from gathering intel during its overflight of the US, while the US military was able to turn the tables, so to speak, to gather intel on the balloon itself and its equipment.

— Jim Sciutto (@jimsciutto) February 4, 2023
The Associated Press has more details: (emphasis mine)
The massive white orb that drifted across U.S. airspace this week and was shot down by the Air Force over the Atlantic on live television Saturday triggered a diplomatic maelstrom and blew up on social media.

China insists the balloon was just an errant civilian airship used mainly for meteorological research that went off course due to winds and had only limited "self-steering" capabilities.

The United States says it was a Chinese spy balloon without a doubt. Its presence prompted Secretary of State Antony Blinken to cancel a weekend trip to China that was aimed at dialing down tensions that were already high between the countries.

The Pentagon says the balloon, which was carrying sensors and surveillance equipment, was maneuverable and showed it could change course. It loitered over sensitive areas of Montana where nuclear warheads are siloed, leading the military to take actions to prevent it from collecting intelligence.

A U.S. Air Force fighter jet shot down the balloon Saturday afternoon off the Carolina coast. Television footage showed a small explosion, followed by the balloon slowly drifting toward the water. An operation is underway to recover the remnants.

The Pentagon and other U.S. officials say it was a Chinese spy balloon — about the size of three school buses — that moved east over America at an altitude of about 60,000 feet (18,600 meters). The U.S. says it was being used for surveillance and intelligence collection, but officials have provided few details.

U.S. defense and military officials said Saturday that the balloon entered the U.S. air defense zone north of the Aleutian Islands on Jan. 28 and moved over land across Alaska and into Canadian airspace in the Northwest Territories on Jan. 30. The next day it crossed back into U.S. territory over northern Idaho. U.S. officials spoke on condition of anonymity to discuss the sensitive topic.

The White House said Biden was first briefed on the balloon on Tuesday. The State Department said Blinken and Deputy Secretary Wendy Sherman spoke with China's senior Washington-based official on Wednesday evening about the matter.

In the first public U.S. statement, Brig. Gen. Pat Ryder, the Pentagon press secretary, said Thursday evening that the balloon was not a military or physical threat — an acknowledgement that it was not carrying weapons. He said that "once the balloon was detected, the U.S. government acted immediately to protect against the collection of sensitive information."

As for intelligence value, the U.S. officials said the balloon's voyage across the U.S. gave experts several days to analyze it, gather technical data, and learn a lot about what it was doing, how it was doing it and why China may be using things like this. They declined to provide details, but said they expect to learn more as they gather and scrutinize the debris.

U.S. officials said Saturday that similar Chinese balloons transited the continental United States briefly at least three times during the Trump administration and once that they know about earlier in the Biden administration. But none of those incidents lasted this length of time.
Well imagine that. There is a reason that the government doesn't just disclose certain information. Largely because while the Chinese use these things to try to collect information on us, we are collecting information on their capabilities to collect information on us. Had a reporter not been looking up at exactly the right moment, we wouldn't know about this week's incursion. Also, for everyone freaking out that the PRC was using this to collect their personal data, I'd like to just take a moment to introduce them to their smart phones! And for those freaking out that the PRC were using this to infect us with a bio-weapon – and the venn diagram on these two groups is almost a perfect circle – I'd like to just take a moment that you all consider COVID to be a PRC bio-weapon and yet, despite all your claims of patriotism, you couldn't be bothered to get vaccinated, let alone vaccinated and boosted, let alone vaccinated, boosted, and wear a mask to help fend off what you believe is an act of war.
— a ghostly fella (@mr_gh0stly) February 4, 2023
BAWWOON NO 😭 pic.twitter.com/QkaBz5EEQi

— a ghostly fella (@mr_gh0stly) February 4, 2023
That's enough for tonight.
Your daily Patron!
Every dog is a herrro.
Herrro isn't only someone who demands to survive and fight but also one who extends his paw to help him (or her). And I've created a HERRRO collection for dogs worldwide to show their support to Ukrainian-tailed friends. I made HERRRO to help UA animals⬇️ pic.twitter.com/dPKgsRgTZM

— Patron (@PatronDsns) February 4, 2023
Sorry, Tom shout that cats can be HERRRO too. Just choose size S pic.twitter.com/M9GPzwHhj5

— Patron (@PatronDsns) February 4, 2023
Here's the link to all the items under Patron's HERRRO brand for your four footed friends.
Or your two footed ones if you're into that… And everyone is consenting… Just remember, the safe word should be one syllable only!
Open thread!