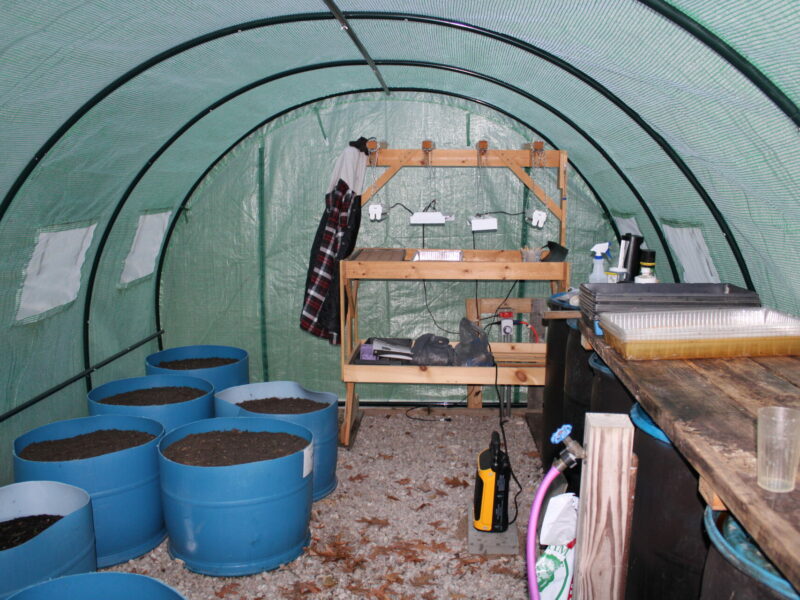 Another epic adventure tale from our beloved Ozark Hillbilly:
Before GH: I first built this raised platform in 2016 or 2017. I had dreams of building the greatest and most luxurious greenhouse the world has ever seen, but my eyes were bigger than my budget. Every time I was getting close to having the money for phase one, something would happen and I'd have to use that money for something else. sigh…

This past fall I was in one our farm supply stores in town and I espied some greenhouse kits and the price for the 10×16 one was a very reasonable $170, Probably too reasonable, so I wondered how long the fabric and frame would last. Looking at the price again I took the plunge. Nothing ventured, nothing gained and I wanted my fresh greens in winter, not what they sell at Wally world.

Getting started: The first thing I had to do was rake the gravel level as it had settled quite a bit more on the high side than it had on the low. It was a real pain because the 1/2 barrel planters had to be moved around so I could access the whole platform one section at a time. Once that was done I went about setting the front and right side beams to build the frame atop of. To set them in place I drove 2 2′ long 1/2″ rebar at an angle every 2′. The rebar went into the gravel with very little resistance and I thought to myself, "Hope we don't have a Derecho any time soon."

Hoopty Do: The frame went up fairly easily with only a glitch or three.

Coming Together: Getting the fabric over the frame by myself was a pain, especially as the wind was variable and it got partially blown off a time or two. I could have waited for a calmer day but I was impatient and really wanted to see it all put together.
That being done, I moved the half barrel planters to their final locations along the southern side and set the full barrels along the northern side for a heat sink.

A Visitor: One day while working on this project I had a visitor to my lumber pile. She was every bit of 6′ long and somewhat torpid from the meal she was digesting (the 2 lumps about midway down her body).

I had known she was around as I had found a skin she had shed, and from it I knew she was a long one, but couldn't say how long. She's the longest black snake I have ever found. May she live long and prosper on my many varmints.

GH After:The finished project. To hold the sides in place, I ended up screwing 1x2s into the beams over the plastic to hold the sides and West end in place. On the East end I used sandbags, so I could pull them out of the way to enter.

Top photo: The mostly finished interior with the planters on the left, the heat sink on the right with 3 2x8s for a counter top, and my starter table at the far end. I have a space heater in their that I only use during extended periods of below freezing weather and so far I have only found a thin layer of ice in the water barrel once. The heat sink does the job 90% of the time. I am not yet done fine tuning the arranging of things and I probably never will be.

Spinach: Spinach was the first thing to come up. I now have many lechugas [lettuces] and cabbages growing, and have just started some radishes and carrots as well as some basil. Nothing like fresh basil.
***********
I'm trying to order some seedling plugs from Select Seeds, but their order form is not cooperating. Murphy grant this isn't an omen of the upcoming season!
What's going on in your garden (planning / memories / indoor), this week?