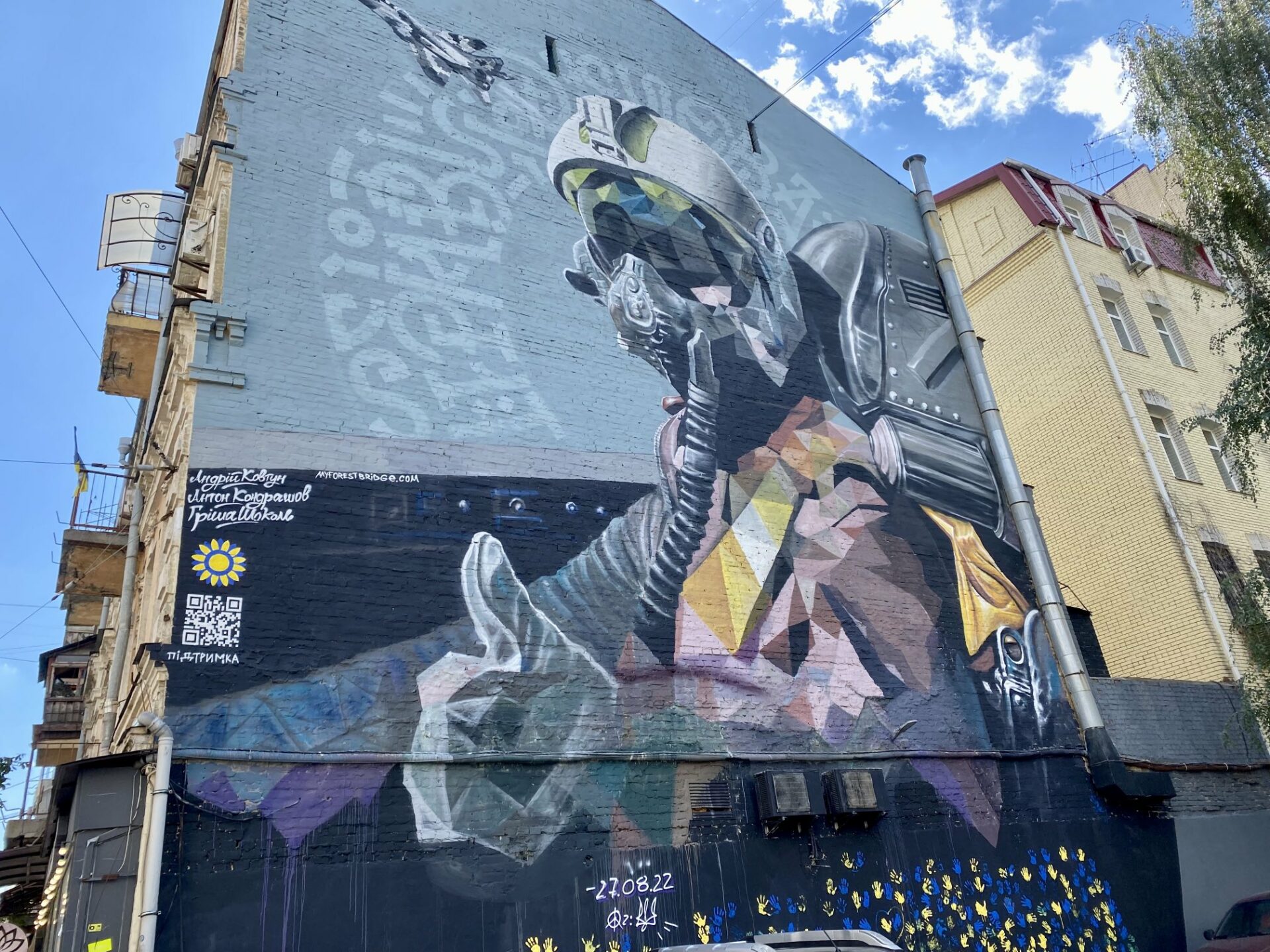 Just a quick post for tonight.
Here is President Zelenskyy's address from earlier today. Video below, English transcript after the jump:
Good health to you, fellow Ukrainians!

Today we have another sanctions step by our country against the terrorist state. The NSDC decision on sanctions against Russia's nuclear industry has been put into effect. This is not the last decision regarding this industry of theirs. The point of our steps is also to bolster the efforts of our diplomats to extend global sanctions to this part of the Russian aggression machine.

Russia is the only country in the world that allows its military to shell nuclear power plants and use NPPs as a cover for shelling. Russian missiles have repeatedly followed trajectories over Ukraine's nuclear facilities. The terrorist state uses the nuclear industry as one of the elements of foreign expansion. To put pressure on other states. To create respective threats to the sovereignty of other states.

All of these are sufficient reasons for Russia's nuclear industry to be subject to global sanctions. And we are working on this with our partners.

We also continue our diplomatic marathon to prevent the Kremlin from using world sports and the Olympic movement for its propaganda. Representatives of a terrorist state should have no place at the Olympics and international tournaments.

Ukraine has sent respective letters to the companies that support the International Olympic Committee the most. These are large international companies that are definitely interested in ensuring that their reputation and support are not used for war propaganda.

We have already begun preparing for the events of the coming week, which could become quite significant. We are preparing decisions and negotiations that should strengthen our warriors, provide Ukraine with more international support and more weapons. Both public and non-public formats of work are planned.

I would like to express my special gratitude to those involved in the recovery from the power accident in the Odesa region. Restoration works are ongoing around the clock. As of today, hundreds of thousands of people in the Odesa region are without electricity supply.

And of course, before the Russian terror, there were no such problems with electricity in Odesa and other regions of the country. Now, extraordinary efforts are needed to ensure the normal operation of the energy system.

I am grateful to the power engineers, repairmen, officials – each and every one who is working to restore normal technical capabilities of electricity supply and to preserve our generation.

By the way, this week we have reached some important agreements with our partners regarding our energy sector. In particular, the European Union is willing to support Ukraine with electricity supplies. I thank our partners for this. We are also stepping up cooperation in the supply of energy equipment. We also have extremely successful examples of energy saving initiatives.

For example, just this week alone, people have already received the first million of LED lamps in exchange for energy-consuming incandescent lamps. More than 800 thousand applications under this program are already in Diia, which means it is as convenient as possible.

When we fully implement the program – which is 30 million LED lamps – it will result in significant savings in consumption. I am thankful to Mrs. Ursula von der Leyen, President of the European Commission, for supporting this initiative.

Separately about the frontline.

There are already many reports that the occupiers want to do something symbolic in February. To try to avenge their last year's defeats. We see this increased pressure in various areas of the frontline, as well as pressure in the information field.

It is very difficult in the Donetsk region – there are fierce battles. But no matter how hard it is and no matter how much pressure there is, we have to withstand it. We have to use and we do use every day and every week to reinforce our defense at the front, to strengthen our international position, to increase pressure on Russia and to give our people new opportunities to get through this difficult time.

We have no alternative but to defend ourselves and win.

I am grateful to each and everyone who is focused on strengthening the state!

Thank you to everyone who fights for Ukraine! 

Thank you to everyone who helps our state!

Glory to Ukraine!
Soledar from Hromedaske. Here is their description of their video reporting:
Feb 2, 2023
Ukrainian artillery near Soledar is trying to hold back the Russian military, including fighters from the private military campaign Wagner, who are advancing on this section of the front. The situation here is getting more complicated for the Ukrainian defense forces every day. The main roads to the town of Bakhmut are already being shelled by enemy artillery, which has also intensified its activity in the last week. Ukrainian artillery is working mainly to accumulate manpower, preventing Wagner's forces from occupying key villages so that they can get closer to the main roads leading to Bakhmut. If they succeed, access to the city for the defense forces will be more difficult, as well as supply.

Hromadske visited the positions of rocket artillery of one of the tank brigades. The unit has been working in the Donetsk sector for a month now, having moved here after the liberation of the right bank of the Kherson region, having previously defended its native Kryvbas from the enemy's offensive.

Now the tank's hails are helping the infantry of their own brigade, which is holding positions near Soledar to prevent Russians from reaching the main roads to Bakhmut.

The artillerymen are saving shells for hailstones, so they have to hit the target. Although this is not the main task of the grenade launchers.
Vuhledar:
2/4 Kyrylivka is located approximately 14 kilometers southeast of Vuhledar. The central part of the town – educational and administrative buildings was turned into an assembly area where enemy forces gathered before dispatching to the frontline. pic.twitter.com/vp6vsBGbPR

— Tatarigami_UA (@Tatarigami_UA) February 5, 2023
4/4 The estimate varies between 30 and 200 killed.

While russians pretend that nothing happened and even didn't bother to mention it, make sure to retweet this, so we can help them to find out what happened.

— Tatarigami_UA (@Tatarigami_UA) February 5, 2023
Damage control from the ruzzian propaganda playbook:
Step 1: Fail an offensive
Step 2: Claim that the enemy is planning to attack
Step 3: Wait a few days
Step 4: Claim that the enemy offensive failed due to your pre-emptive strike that thwarted enemy plans to launch an offensive. https://t.co/OarIHHrIOV

— Tatarigami_UA (@Tatarigami_UA) February 5, 2023
For anyone wondering, this is what service looks like:
Absolutely devastating news today about US marine and volunteer medic Pete Reed being killed in #Bakhmut. His ambulance was apparently hit by #Russian shelling as he evacuated civilians. Pete was one of the most remarkable humans I have ever met in my years on the road. #petereed pic.twitter.com/sbr8kSV8k2

— Jane Ferguson (@JaneFerguson5) February 3, 2023
3. Pete ended up offering triage to many Iraqi soldiers who had poor medivac facilities for troops, training many of them too. In one day on the front with him I saw him treat several children. Him and his team saved dozens, perhaps hundreds of lives. pic.twitter.com/hv8nB25DYu

— Jane Ferguson (@JaneFerguson5) February 3, 2023
5. Pete also treated this little boy. His father brought him in after they made it out of ISIS territory. pic.twitter.com/CyMCyDSVqf

— Jane Ferguson (@JaneFerguson5) February 3, 2023
Pete in his own words on how the work impacted him…. pic.twitter.com/AOOP1pgxSw

— Jane Ferguson (@JaneFerguson5) February 3, 2023
Rest in Peace.
If we could have more people like him, the world would be a much better place. pic.twitter.com/rsHw9iOjtR

— Illia Ponomarenko 🇺🇦 (@IAPonomarenko) February 5, 2023
This too:
Via Google Translate and Facebook: ❤️❤️❤️ pic.twitter.com/NsbVcwfSzA

— 🇺🇦🇺🇦🇺🇦 Рейні Буйзен 🇺🇦🇺🇦🇺🇦 (@reiniebooysen) February 4, 2023
Here's a screengrab of the machine translated obit: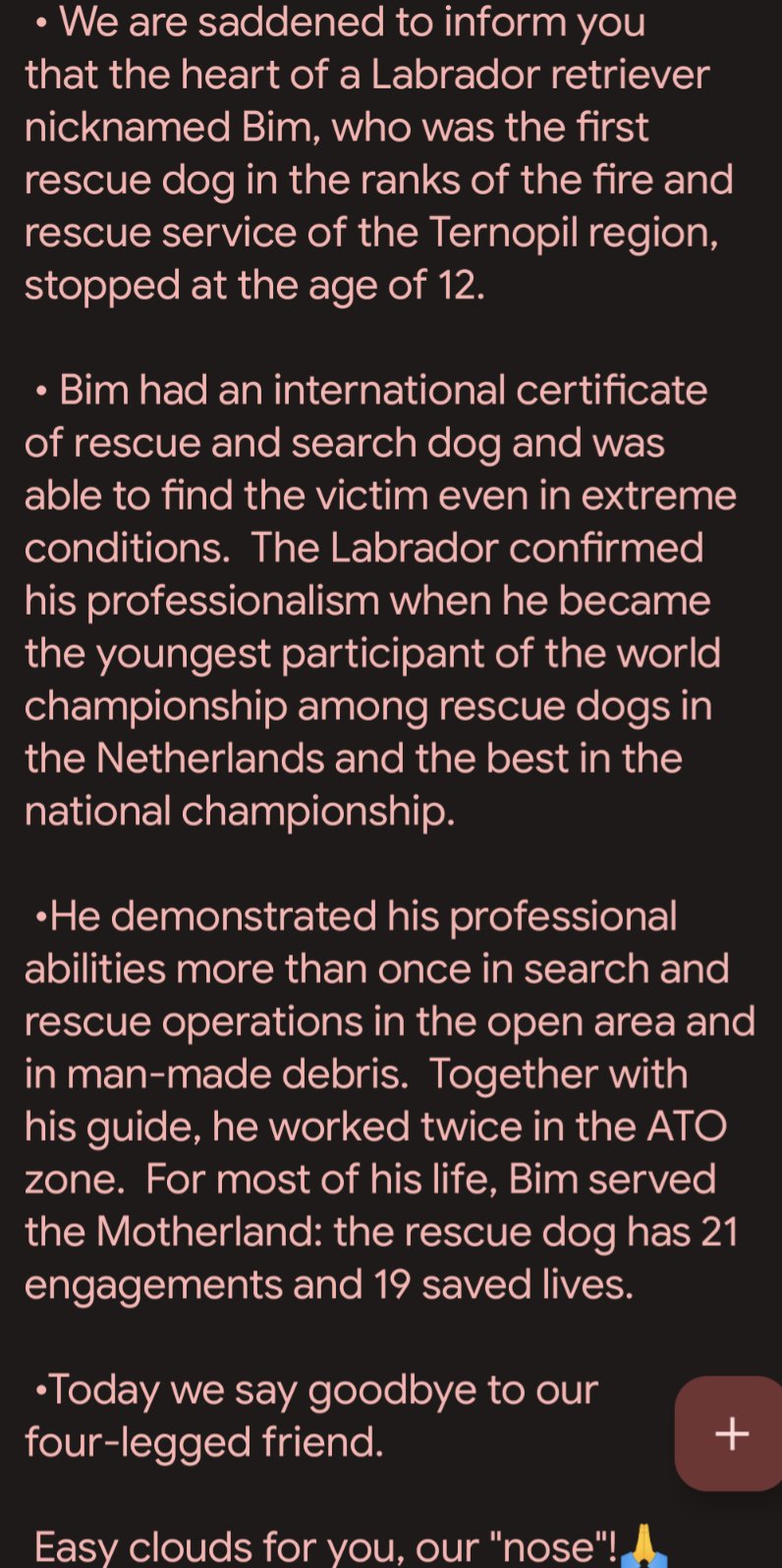 The best doggo!
The Organized Crime and Corruption Reporting Project brings us a deep dive into Russian influence operations in Europe:
For years, a secret organization run from inside Russia's parliament successfully interfered with European policies on occupied Ukraine. Leaked emails give a new overview of the operation and show how European Union politicians who helped push Moscow's agenda were offered cash and perks.

Key Findings

Leaked emails show how a Duma insider built a network of analysts, journalists, and others who helped him push the Kremlin's interests abroad.
His group offered cash to European politicians to propose pro-Russian motions in their local legislatures, and paid far-right activists to publish pro-Kremlin articles in European media outlets.
The network arranged trips to occupied Crimea for European politicians and businessmen, with travel and accommodation covered by Russian state-funded organizations and honoraria apparently offered to some individuals.
It also helped bring European political figures to Russia to act as election observers, with a 68,000-euro budget allocated to the project.

Since Russia launched its brutal invasion of Ukraine in February 2022, condemnation of Vladimir Putin's overseas aggression has reached a fever pitch. Yet Russia can still rely on the occasional friendly voice in Europe: Last November, for example, far-right Italian local legislator Stefano Valdegamberi penned an op-ed decrying the EU's decision to designate Russia a terrorist state as "a serious mistake" that "foments conflict by denying historical truth."

But what Valdegamberi didn't mention was that he had long been collaborating with a secretive Russian lobbying group with a direct link to the Kremlin. Since at least 2014, that group had designed plans to channel cash to European politicians to help it legitimize Russia's occupation of Crimea and promote pro-Moscow policies inside EU countries.

Details of the group's activities have come to light via hacked and leaked emails belonging to its coordinator, Russian parliamentary staffer Sargis Mirzakhanian, who ran the "International Agency for Current Policy" in the years following the annexation of Crimea.

The emails suggest his group paid politicians thousands of euros to put forward pro-Russian resolutions in European legislatures, a new investigation by Eesti Ekspress, in partnership with OCCRP, IrpiMedia, iStories, and Profil, has found.

It also helped arrange for political figures from countries including Germany, Austria, Italy, the Czech Republic and Poland to be flown on expensive junkets to pro-Russia events in occupied Crimea, and paid honoraria for their presence.

The lobbying group also flew several European political figures to Russia to act as official election observers.

The emails, which were leaked by a group of Ukrainian hacktivists, reveal especially close ties between Mirzakhanian's operation and officials in Italy and Cyprus. These ties paved the way for pro-Russian motions to be passed in both countries, with both the Cypriot parliament and multiple Italian regional councils calling for an end to sanctions against Russia over its invasion of Crimea.

Previous media reports have shown links between EU politicians and Kremlin propagandists, but this is the first comprehensive insight into how this campaign was run from Russia. The emails show that Mirzakhanian, a well-connected staffer and adviser in Russia's parliament, the Duma, built a network of political analysts, journalists, activists, and academics who helped him push the Kremlin's interests abroad.

Anton Shekhovtsov, chair of the pro-democracy non-profit Centre for Democratic Integrity, said the leaked emails "represent one of the most important sources of our knowledge of how particular engines of the Russian political war machine works."

Most significantly, Shekhovtsov said, they showed Mirzakhanian's role coordinating protests, placing media articles, and preparing parliamentary resolutions across Europe, while organizing "fake" election observation missions as he and his associates sought to legitimize the annexation of Crimea and "advance Russian domestic and foreign policy interests."

The emails run from March 2007 until September 2017, and it's unclear whether the International Agency for Current Policy is still at work today, although those linked to the network like Valdegamberi continue to make pro-Russian statements.

The International Agency for Current Policy is described in one PowerPoint presentation found within the leaked emails as a "closed association of professionals" that aimed to "cooperate with leading EU parliamentary parties and individual politicians." Other presentations and draft presentations named Austria, Germany, Italy, Bulgaria, Greece, Cyprus, Latvia, Romania and Turkey as target countries.

The organization appeared to have a direct link to the Kremlin: Mirzakhanyan exchanged more than 1,000 emails between 2014 and 2017 with Inal Ardzinba, a department head in the Russian presidential administration who worked under Vladislav Surkov, a key adviser to President Vladimir Putin at the time.

The activities of the International Agency for Current Policy are made clear in a series of presentations attached to emails in the leak, as well as details in the emails themselves. They ranged from organizing anti-NATO street protests to peddling influence with European lawmakers.

The documents also discuss bringing European delegations to Moscow and Crimea, and targeting "national parliaments of the EU" with pro-Russian resolutions. The latter included resolutions to end anti-Russian sanctions and recognize Russia's claim to Crimea.

The emails show how Mirzakhanian's group arranged to make considerable payments to ensure that EU politicians pushed favorable motions in their home countries. Mirzakhanyan bluntly described these payments as the "price tag of the vote" in an email that contained project outlines for Italy and Austria.
Much, much more at the link!
The Wall Street Journal brings us reporting on the developing munitions industry relationship between Russian and Iran:
Moscow and Tehran are moving ahead with plans to build a new factory in Russia that could make at least 6,000 Iranian-designed drones for the war in Ukraine, the latest sign of deepening cooperation between the two nations, said officials from a country aligned with the U.S.

As part of their emerging military alliance, the officials said, a high-level Iranian delegation flew to Russia in early January to visit the planned site for the factory and hammer out details to get the project up-and-running. The two countries are aiming to build a faster drone that could pose new challenges for Ukrainian air defenses, the officials said.

Tehran has already provided Moscow with hundreds of drones it has used to hit military and civilian targets in Ukraine, U.S. officials have said. And the Biden administration has warned that Russia and Iran are developing a "full-fledged defense partnership." The White House says Moscow was training Iranian pilots to fly Russian jet fighters, with the intent of sending Tehran those jets by year's end.

In December, the White House warned that Moscow and Tehran were considering whether to build a joint drone-production line in Russia.

Now, the U.S.-aligned officials said, the talks have morphed into concrete plans with the Jan. 5 visit to the Russian town of Yelabuga, about 600 miles east of Moscow. They toured the empty site where leaders from the two nations are planning to build a new factory that can produce at least 6,000 drones in the coming years, they said.

The officials said the Iranian delegation was led by Brig. Gen. Abdollah Mehrabi, head of the Islamic Revolutionary Guard Corps Aerospace Force Research and Self-Sufficiency Jihad Organization, and Ghassem Damavandian, the chief executive of Iran's Quds Aviation Industry, a key defense manufacturer that the U.S. says is central to developing and building the country's drones.

Russian and Iranian officials didn't respond to requests for comment.
Much, much more at the link!
The Guardian reports that President Zelenskyy may shake up his cabinet as part of the anti-corruption initiative:
Ukraine's defence minister, under pressure from a corruption scandal, is to be reshuffled into another government job as Russian forces close in on Bakhmut amid heavy fighting, a close ally of President Volodymyr Zelenskiy has announced.

The position of Oleksii Reznikov, one of Ukraine's better-known figures internationally, has been under threat after it emerged the defence ministry paid twice or three times the supermarket price of food to supply troops on the frontline.

On Sunday night, David Arakhamia, chief of Zelenskiy's Servant of the People parliamentary bloc, said the defence ministry would be headed up by Kyrylo Budanov, head of Ukraine's military intelligence

Reznikov, he added, would become minister of strategic industries, tasked with strengthening military-industrial cooperation, after a day of speculation about the defence minister's future in Kyiv.

"War dictates changes in personnel policy," Arakhamia said on his Telegram channel. "Times and circumstances require strengthening and regrouping. This is what is happening now and will happen in the future"

After Arakhamia's statement there was no immediate comment from Reznikov, but earlier he had given a press conference, in which he suggested that his tenure as defence minister may not last much longer.

"No one is in the chair for his whole life," Reznikov had said earlier on Sunday amid speculation that he would be forced to resign or be reshuffled, and stressed that his position as defence minister "was up to President Volodymyr Zelenskiy of Ukraine in accordance with the constitution".

The minister also highlighted the weapons that Ukraine has gradually obtained from the west over the past year, from 155mm artillery to tanks, and argued that "therefore we can say today we are de facto a Nato country".

Last week, the Ukrainian minister met the French president, Emmanuel Macron, in Paris, which had appeared to underline his seniority in Kyiv's government.

But Reznikov faced a string of questions about corruption in the ministry from Ukrainian journalists, at a time when Zelenskiy has instituted a fresh anti-corruption drive to show the country can be ready for EU membership. Efforts to tackle corruption in his ministry needed to be "fully reloaded", he admitted.
More at the link!
Before we finish, a final thought on the Chinese spy balloon:
"Intelligence analysts are considering the possibility that the Chinese military or hard-line elements within the leadership deliberately sought to sabotage the Blinken visit, the chief goal of which was to explore strategic stability measures" https://t.co/BySc1vBM8B

— Shashank Joshi (@shashj) February 5, 2023
This has basically been about 50% of my thinking on this whole canine and equine extravaganza. The hardliners within both the PLA leadership and within the PRC's overall leadership appear, from the outside looking in, to be high on their own hardline supply. So this would make sense. The other 50% of my thinking is that this was an accident. The PRC never meant for it to do much more than maybe stray into and then back out of US airspace, which appears to be the case in past incidents that didn't get any publicity and coverage, but it hit a current and the limited ability to steer it by adjusting its altitude got overwhelmed by how the air layer it was in was actually flowing. The truth is we may never know. But I expect the hardliners to use the fact that we brought it down to further push their agenda both domestically within China and internationally.
That's enough for tonight.
Your daily Patron!
A new video from Patron's official TikTok!
The caption machine translates as:
It could have been a real horror)) #песпатрон
Open thread!