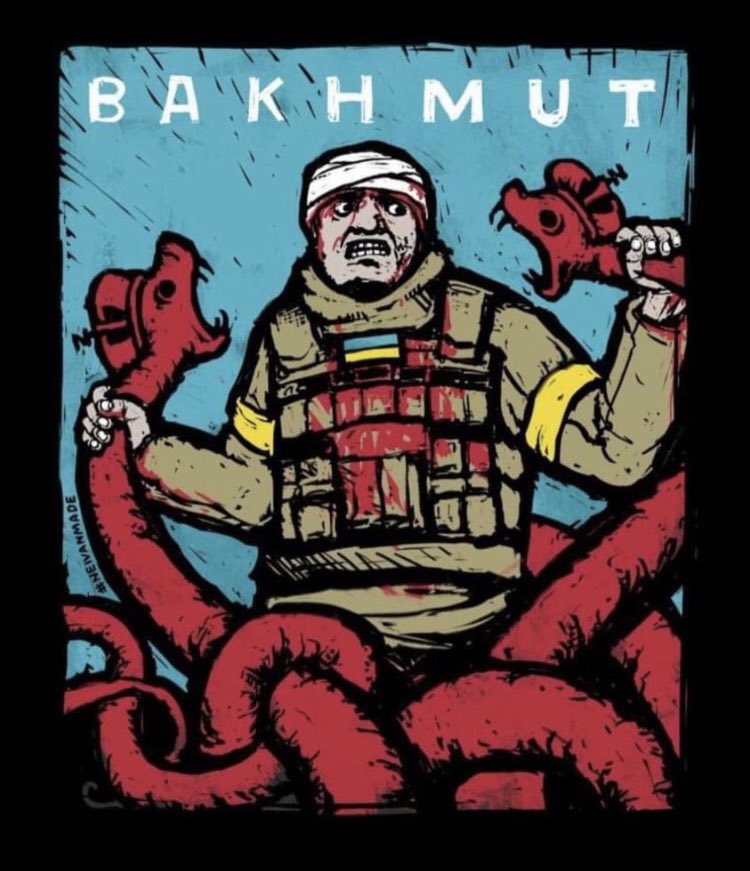 (Image by NEIVANMADE)
Here is President Zelenskyy's address from earlier today. Video below, English transcript after the jump:
Good health to you, fellow Ukrainians!

Today, I held a regular meeting of the Staff. There are many issues. The key is actions on the frontline. In the Donetsk region and other directions. Particular attention is paid to Bakhmut. To our defense. To the occupier's attempts to surround the city and break the defense there. We are countering them.

I am grateful to every warrior who ensures counteraction with his resilience!

Today, I would like to commend the warriors of the 54th and 93rd separate mechanized brigades, the 15th separate battalion of the 128th mountain assault brigade. Thank you, warriors, for your bravery and steadfastness! For the resilience Ukraine needs so much.

Today at the meeting of the Staff we also discussed the supply of ammunition to our warriors. Artillery is one of the key factors. As always, the Commander-in-Chief and the commanders of the directions delivered reports. The head of intelligence reported on the occupier's current plans.

We are also strengthening our management positions. In a number of regions – especially in the border and frontline regions – we are appointing managers with military experience. Those who can prove themselves in the most effective way in the defense against the current threats. I will inform you about each such decision.

In general, it is worth noting that we will combine the experience gained by our people in defending Ukraine – military experience – with specific managerial work in positions in local and central government.

Today I have heard reports on the situation in Odesa and the region – the one related to the liquidation of the consequences of the energy accident. All services, all officials are working, everyone is involved.

The repair work has already yielded part of the required result, and generators and power equipment are being delivered to the region and the city.

As of now, there are power outages in a large part of the Odesa region. We are doing everything we can to provide electricity to people. Once again, I thank each and every person involved in this work.

Today we have very tragic news from Türkiye and Syria. There was a powerful earthquake there. There are many casualties. Thousands of homes have been destroyed.

My sincere condolences to Mr. President of Türkiye Erdoğan, as well as to those in Syrian society who have lost loved ones, who have lost their homes.

Ukraine immediately responded and offered Türkiye support in the rescue operation.

And one more thing.

The formation of new brigades of the National Guard, police, and border guards – the Offensive Guard – continues. The beginning is powerful. The process will be continued. I thank everyone who has shown interest in the formation of brigades. I thank everyone who has applied!

Good motivation plus good training equals the ability of our defense and security forces to regain what belongs to Ukraine.

Glory to all who fight for Ukraine! Glory to each and every one who works for our country! Glory to everyone who helps!

Today, by the way, we have a very important decision from Norway – the five-year aid package for our country in the amount of NOK 75 billion.

This is an extremely significant contribution to our victory, which we are preparing. A joint victory of all those who really value freedom and value life.

I thank all Norwegians and Mr. Prime Minister personally!

Thank you to all our partners!

Thank you, people of Ukraine!

Glory to Ukraine!
Here is former NAVDEVGRU Squadron Leader Chuck Pfarrer's most recent assessment of the situation in Bakhmut:
BAKHMUT /1405 UTC 6 FEB/ UKR reports 'complete lack of coordination' between Wagner PMC & RU forces in the Bakhmut Area of Operations. UKR forces were again in contact S of the H-32 HWY at Ivanivske. UKR Gen'l Staff reports 9 aviation strike missions on RU troops & HQ elements. pic.twitter.com/b5PAsGkScJ

— Chuck Pfarrer | Indications & Warnings | (@ChuckPfarrer) February 6, 2023
Bakhmut:
"I'm not afraid of war, I'm worried for my relatives, for innocent civilians. And I don't want this war at all, that's why I'm fighting now so that it ends as soon as possible." , – National Guardsman Veles explains why and for what he is fighting in Bakhmut. pic.twitter.com/j5WrhVXJrq

— Dmitri (@wartranslated) February 6, 2023
Just keep in mind the video below is almost 20 hours old:
🇺🇦This is Roman who is in Bakhmut #Ukraine
He tells of an army that come like zombies pic.twitter.com/ExzDvEn74C

— Sofia Ukraini (@SlavaUk30722777) February 6, 2023
Vuhledar:
2/4 The enemy hasn't stopped moving additional forces in the Vuhledar area and has concentrated sizeable forces made of mixed units from different brigades and armies.

— Tatarigami_UA (@Tatarigami_UA) February 6, 2023
4/4 While the enemy continues to saturate the area with artillery and infantry, it's unclear whether the enemy is planning to develop another large-scale offensive with lower-quality troops or concentrate more troops to make small, tactical advancements.

— Tatarigami_UA (@Tatarigami_UA) February 6, 2023
Vuhledar 06.02 – 19:10 update: 🇺🇦
Great news. Throughout the day, the enemy attempted a series of assaults in Vuhledar's direction. Up to 30 armored vehicles of different types have been either damaged or completely destroyed. Hopefully videos will be released soon to public

— Tatarigami_UA (@Tatarigami_UA) February 6, 2023
The Washington Post has reporting on the battle for Vuhldehar, with a bit on Bakhmut:
BOHOYAVLENKA, Ukraine — Russian forces have launched a midwinter surge of attacks in Ukraine's hotly contested Donetsk region, probing Kyiv's defenses along a fresh stretch of the sprawling eastern front as President Vladimir Putin's commanders ready a new push to conquer all of southeast Ukraine.

The attacks in recent days have centered on Vuhledar, a mostly deserted coal-mining city 70 miles southwest of Bakhmut, where Russian fighters have made some of their first territorial gains in months. Plumes of smoke rise almost constantly from Vuhledar, and the dark woods and rolling fields surrounding the city ring with mortar and artillery volleys from each side.

"They have been pushing hard for last four days, but we have stopped them," said Dykanka, a Ukrainian fighter whom The Washington Post agreed to identify only by his call sign because of security risks.

Amid artillery blasts that shook snow from the bare tree branches, Dykanka, 43, was taking a break along a tank track cut through a forest outside of Vuhledar. An exposed cache of ready 155mm howitzer shells nearby was marked as "ordnance of the U.S. Army."

Vuhledar sits at a crucial bend in the battlefield near where the eastern front meets Russia's line of control to the south, which in turn forms Putin's much-coveted "land bridge" to Crimea from mainland Russia. It is close to a rail line connecting Crimea, a hub for Russian troops and supplies, and the Donbas region.

Dykanka and other fighters said Russian troops have made nearly daily attempts to overwhelm Ukrainian forces defending Vuhledar and to breach Ukrainian lines extending northwest and southeast of the city.

So far, the Ukrainians have held them off, punching back with artillery, much of it donated by Western allies, machine gun fire and improvised bombs dropped by drones.

But as the first anniversary of the invasion approaches, and Moscow deploys tens of thousands of reinforcements to the front, military analysts and soldiers on the battlefield say the momentum seized last autumn by Ukraine in two major counteroffensives has stalled.

And near Vuhledar, at least, the initiative has even shifted incrementally back to the enemy, they say.

"You can feel the intensity building in the last week," said Andrii, a machine-gunner who had just come off a five-day stint outside of Vuhledar where he slept in a log-covered trench when not keeping his mounted Browning trained on Russian positions.

"We are more in a defensive position," Andrii said. "We are not making gains from here."

Farther north near Bakhmut, a months-long onslaught led by Wagner mercenaries helped Russia capture the salt-mining town of Soledar, and the Kremlin's forces are now poised to seize control of the city. Near Vuhledar, they have gained no significant ground since November when Russian forces retook Pavlivka, a village just to the south, that has changed hands more than once since the invasion almost a year ago.

But in a recent interview with The Post, Ukraine's military intelligence chief, Maj. Gen. Kyrylo Budanov, said there are now over 320,000 Russian soldiers in Ukraine — more than double Moscow's estimated initial invasion force of 150,000. Ukraine, in turn, faces an acute need of more soldiers and weapons.

Ukrainian military officials, and outside military experts, however, say that Russia may not be able to capitalize on the advantage of its force size.

Troop shortages, command failures and, more recently, dwindling munitions have hampered the invaders from taking advantage of costly conquests early in the war, of cities like Lysychansk in the Luhansk region.

"At first, they had the equipment but they didn't have the men. Now they have the men, but they don't have the equipment," said Konrad Muzyka, a defense analyst and director at Rochan Consulting, based in Poland.

Western weapons have further disrupted Russia's usual military doctrine of massing a preponderance of troops and weapons to pierce the enemy line and then advance deeper into enemy territory, Muzyka said. The U.S.-supplied HIMARS (High Mobility Artillery Rocket System), which was deployed in Ukraine last summer and uses GPS-guided munitions, has proved particularly effective at targeting that kind of concentration of forces.

Muzyka and other military experts say a victory over Vuhledar and its environs, on its own, would have limited military value for Moscow — a point they have similarly made about Bakhmut. "If Vuhledar falls, it will be a minor tactical victory at best," he said.

But every captured city, large or small, represents a step toward Putin's goals. And in Moscow, where military officials have faced withering criticism from war hawks over its military defeats so far, there is mounting pressure for victories, even symbolic ones.

Many Ukrainians fighting here believe that is precisely what Russia is after.

"Vuhledar is not a strategic priority in military terms, but it is a strategic priority for Russian propaganda," said Oleksii Dmytrashkivskyi, the military spokesman for the Donetsk and Zaporizhzhia regions.
Much more at the link.
The Wall Street Journal has its own reporting about what may becoming in the late winter/early spring offensive in eastern Ukraine:
DNIPRO, Ukraine—Ukraine warned that Russia was completing preparations for a major new offensive this month as Kyiv signaled a reshuffle in its military leadership amid a corruption scandal that has rocked the Defense Ministry.

Serhiy Haidai, the governor of the Luhansk region in eastern Ukraine, said Russia was continuing to bolster its offensive capacity and bring in troops to front-line positions while decreasing its rate of fire in certain areas to save ammunition for the coming advance.

"We can see that more and more reserves are being brought in our direction, we're observing more military equipment that is being partly hidden in forested areas or dug in," Mr. Haidai said in a TV interview on Monday.

Russia has in recent months been training thousands of mobilized troops in Belarus and parts of western Russia in preparation for their deployment to Ukraine. Mr. Haidai said that signs indicate that this training is coming to an end and that Moscow has allocated two weeks for these new service members to enter Russian-held parts of Ukraine and take up positions.

"Starting from February 15 we can expect [a major offensive] at any time," he said.

Ukraine has been steeling itself for a big Russian offensive for weeks. The lines of control in the east and south of the country had been largely static for months until Russia began intensifying attacks last month and pushed to surround the city of Bakhmut in the Donetsk region and oust Ukrainian forces from the Luhansk region to the north.

"We are expecting this push. We are ready," Defense Minister Oleksiy Reznikov said in a press conference on Sunday.

Ukrainian President Volodymyr Zelensky acknowledged the threat to the Donetsk region.

"Particular attention is paid to Bakhmut. To our defense. To the occupier's attempts to surround the city and break the defense there," he said in his nightly address Monday. "We are countering them."
Much more at the link.
And not to be left out, The New York Times has its own reporting on the potential offensive:
NEVSKE, Ukraine — In a tiny village in eastern Ukraine at the epicenter of the next phase of the war, Lyudmila Degtyaryova measures the Russian advance by listening to the boom of incoming artillery shells.

There are more and more of them now. And they are coming more frequently, as Russian troops grind their way forward.

"You should see the fireworks here," said Ms. Degtyaryova, 61, as the sounds of artillery howled all around. "It is like New Year's."

Russia's military is preparing to launch a new offensive that could soon swallow Ms. Degtyaryova's village of Nevske, and perhaps much more in the eastern Ukrainian region known as the Donbas. But already the impact of Russia's stepped-up assault is being felt in the towns and villages along the hundreds of miles of undulating eastern front.

Exhausted Ukrainian troops complain they are already outnumbered and outgunned, even before Russia has committed the bulk of its roughly 200,000 newly mobilized soldiers. And doctors at hospitals speak of mounting losses as they struggle to care for fighters with gruesome injuries.

The civilians standing in the way of Russia's planned advance once again face the agonizing decision of whether to leave or to stay and wait out the coming calamity. This area in the northern Donbas was among the last to be liberated in a Ukrainian blitz offensive last fall that raised hopes among local residents that their months of trauma were over.

But the war has come back. Two weeks ago, a Russian shell landed in Ms. Degtyaryova's yard, and as she contemplated her future over the weekend, the remains of her barn still smoldered.

She has rabbits, ducks and three pregnant cows to care for. A chicken, its feathers partly burned off in the recent strike, lay recovering in a bed of hay, its small injured foot in a homemade cast.

When and where the new offensive will begin in earnest is still unclear, but Ukrainian officials are gravely concerned. Ukraine's military defied dire assessments before the war, thwarting Russia's early efforts to seize the capital, Kyiv, and eventually driving Russian forces back in the northeast and south.

But the Russian military just keeps coming. Right now, the newly mobilized troops are finishing their training and entering the field; the forces include as many soldiers as took part in the initial invasion last year.

They could be ready to fight in as little as two weeks, said Serhiy Haidai, the governor of the Luhansk Region, which includes Nevske — much sooner than new Western weapons, including tanks and heavy armored fighting vehicles, are expected to arrive in Ukraine.

"There are so many," Mr. Haidai said of the new recruits. "These are not professional soldiers, but it is still 200,000 people who are shooting in our direction."

Russia is expected to punch hard, looking to reverse nearly a year of cascading failure. While a renewed attack on Kyiv is now considered improbable, Russian forces will likely try to recover territories they lost last fall. as well as take full control of the Donbas, a key objective of Russia's president, Vladimir V. Putin.

Military analysts say that one likely scenario would be for Russian forces to swing down from the north and up from the south in an arc, creating a large claw that would cut off Ukrainian supply lines running east and west. That would put villages like Nevske in the direct path of Russia's likely advance.

For locals it would be a disaster. Out here at the far edge of Ukraine's offensive, people have not experienced the fruits of liberation the way Ukrainians farther west have. There is still no power or water and the fighting has never subsided. Fields of black unharvested sunflowers are pocked with snow-filled craters, and the area is littered with burned out tanks and unexploded ordinance and mines that frequently kill livestock. Passing through the region, one occasionally comes across their frozen bodies or bones.
Much more at the link.
Michael Kofman, the Director of Russia Studies at the Center for Naval Analysis, has posted his most recent assessment of where things stand in Ukraine's defense against Russia's re-invasion:
A few thoughts on the current course of the war. Although winter has proven a transitional phase, with both sides focusing on force reconstitution and positional fighting. The outlines of the coming months & likely offensive operations are steadily becoming clearer. Thread. 1/

— Michael Kofman (@KofmanMichael) February 6, 2023
Here's the rest from the Thread Reader App:
After Kharkiv & Kherson, the Russian military was at its most vulnerable going into the winter. Mobilization helped stabilize Russian lines, raise manning levels, and establish reserves. Consequently, Ukraine no longer enjoys a significant manpower advantage. 
2/
RU adopted a largely defensive strategy under Surovikin focused on force reconstitution, entrenchment, and a strike campaign against UA critical infrastructure. Bakhmut was not an exception, largely fought by Wagner PMCs from RU prison system. 
3/
When mobilization was launched I was wary of the uncertainty it introduced, and its potential to significantly extend the war. At the time, a reasonable timeline to assess what RU could make of mobilized personnel was 3-4 months. 4/
It's fair to say since October RU has likely doubled the force deployed in Ukraine, and significantly reduced the length of the front being defended after retreating from Kherson. Force density has therefore increased relative to territory being occupied. 
5/
The UA official figure on RU forces (320k) strikes me as a bit high, but 250k+ is probably fair. RU may have another 150,000 mobilized personnel still in Russia, not deployed. However, readiness level and quality of these units remains unclear. 6/ 
washingtonpost.com/world/2023/01/…
How strong the Russian defensive lines are in practice has yet to be truly tested. RU has manpower in quantity now & continues to pull equipment out of storage, but force quality appears relatively low. This limits offensive potential & force employment options. 
7/
In brief, mobilized units in aggregate do not appear as poor as anecdotes might lead one to believe, and RU can likely offer a stubborn defense, but are less liable to be suitable for offensive operations and represent weak replacements for lost regulars. 
8/
RU still depends on airborne and naval infantry at key points along the front as the reserve, for counter attacks, and the main assault force. These units backstop mobilized personnel, but seem to have lost some of their offensive edge due to replacements. 
9/
After Soledar, the situation around Bakhmut increasingly looks precarious for UA, and I wouldn't be surprised if they ultimately withdraw from the city. However, UA has strong defensive lines outside Slovyansk/Kramatorsk while RU looks ill positioned to sustain momentum. 
10/
Bakhmut is geographically important, but has developed a degree of sunk cost mentality for both sides. A fair bit of UA defense there seems to consist of TDF, NG, and foreign legion units suggesting UA is trying to manage the impact of attrition on its force availability. 
11/
Having lost Izyum and Lyman, RU has no supporting axis of attack into Donetsk from the north, nor have their forces been able to make breakthroughs in the south of Donetsk. Hence gaining Bakhmut, in my view, offers opportunities for RU that they're not positioned to exploit. 
12/
Since June I've been skeptical that RU could make break through to Slovyansk/Kramatorsk. They're still at Bakhmut 7 months later. That said, UA has ceded much of the initiative since October in Donetsk, and recently Luhansk. 13/
UA had made progress at Kreminna and Svatove, though now under counter-attack by the VDV's 76th GAAD. Kreminna is a gateway to Rubizhne. For UA, a breakthrough the Svatove-Kreminna line can eventually lead to the RU logistical hub of Starobilsk. 
14/
Hence the battle for Kreminna is arguably more significant than Bakhmut. That said there's been a fair amount of reorganization in RU logistics, and adaptation. I think the conversation on RU logistical problems in general suffers from too much anecdotalism & received wisdom. 
15/
In my view Donbas remains the primary goal of RU mil operations, hence RU offensives are likely to focus on seizing this territory. I'm skeptical of claims that Russian forces will attempt a much larger scope offensive involving the cities of Kharkiv, Sumy, Kyiv, etc. 
16/
I would consider a Russian attempt to advance Kreminna -> Lyman as likely, also Kupyansk, along with attacks across southern Donetsk, i.e. at Vuhledar. The fighting for Vuhledar, along with attacks elsewhere, suggest that this offensive has already begun in practice. 
17/
RU's better forces and kit, VDV and NI, have been trying to unsuccessfully press UA forces out of Vuhledar. The 155th couldn't do it under Surovikin at Pavlivka in November, so its unsurprising Gerasimov taking over has done nothing to improve RU offensive performance. 
18/
With respect to Belarus, a repeat assault on Kyiv makes little sense. An operation to sever supply lines in the west, or to seize the nuclear powerplant by Rivne, may be more feasible, but this would require a much larger force than what RU currently has deployed in Belarus. 
19/
How large of a RU offensive to expect is unclear, but I suspect it may prove underwhelming, focused largely on the Donbas. RU may not need another large mobilization wave, and instead could keep mobilization quietly rolling at a sustainable rate. 
20/
Arguably, UA is better served absorbing the RU attack & exhausting RU offensive potential, then taking the initiative later this spring. Having expended ammunition, better troops, and equipment it could leave RU defense overall weaker. 
21/
But, I suspect Kyiv does not believe that time is on Ukraine's side. Wary of Russian entrenchment and seeking to avoid the perception of a stalemate, UA is likely to move sooner than later. That's been the trend thus far. 
22/
Western equipment may not arrive in time to be relevant for a UA offensive, but more significant in that it will allow UA to launch operations this spring knowing they have replacements secured. Hence the likely losses entailed won't leave UA vulnerable later this year. 
23/
In general UA is still advantaged going into 2023, backed by countries with much greater GDP and defense industrial capacity. However, that depends on sustainability of external material support, and in the end potential is not predictive of outcomes. 
24/
The challenge is providing Ukraine with sufficient relative advantage to enable offensive operations under changed conditions in 2023. Unlikely to be solved by any single capability, but through a combination of means, organizational adaptations, and changes in force employment.
And here's a follow on Q&A:
UA wants to build out 3 corps with 3-4 brigades each. This requires additional manpower and equipment. I've seen signs that UA is still conducting mobilization to replace losses and generate additional units.

— Michael Kofman (@KofmanMichael) February 6, 2023
Ugh!
A pro-Kremlin Twitter account tweets a nonexistent Turkish newspaper, claiming "NATO soldiers" have been killed in Ukraine. @elonmusk, evidently very concerned about media corruption and fake news, takes the bait, then is asked by the account to "mediate." pic.twitter.com/lKbB7kP1E0

— Michael Weiss (@michaeldweiss) February 6, 2023
— Michael Weiss (@michaeldweiss) February 6, 2023
Not to mention the source of these numbers is the Russian MoD claiming to have shot down several times more aircraft than the Ukrainian military possesses. pic.twitter.com/e3mwEqQzVY

— Oliver Alexander (@OAlexanderDK) February 6, 2023
The UK MoD having to actually address this moronic claim because @elonmusk gave it so much traction. https://t.co/hSey8K6eOV

— Oliver Alexander (@OAlexanderDK) February 6, 2023
Obligatory!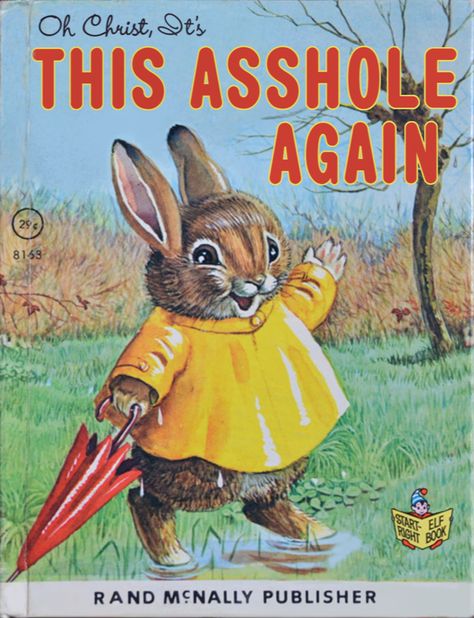 That's enough for tonight.
Your daily Patron!
To die under the rubble is one of the most terrible deaths.
I express my condolences to the families and friends who lost their loved ones in Turkey and Syria. Ukrainian rescuers will join their Turkish colleagues for help.

— Patron (@PatronDsns) February 6, 2023
And a new video from Patron's official TikTok:
Open thread!