On the Road is a weekday feature spotlighting reader photo submissions.
From the exotic to the familiar, whether you're traveling or in your own backyard, we would love to see the world through your eyes.
cope
Our next day trip was one I've done multiple times but never tire of.  From south of Grand Junction, we drove into and up Unaweep Canyon to the small hamlet of Gateway.  From Gateway, we drove John Brown Canyon Road west out of town and out of Colorado into Utah and the La Sal Mountains.  My other sister drove while her husband, my grandson and I rubbernecked the whole way.  We did a loop drive and came back by way of Castle Valley and, eventually, I-70 back to GJ.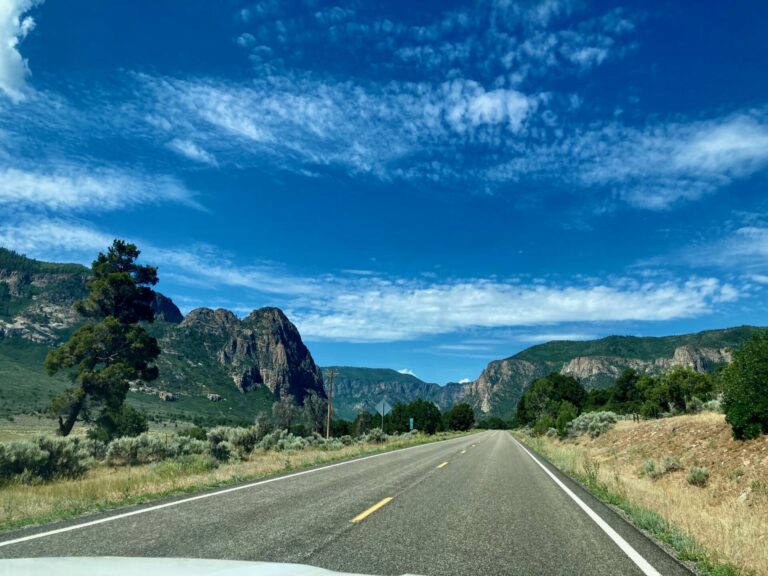 Unaweep Canyon
Unaweep Canyon is fairly unique in that there is a watershed halfway through it. A watershed is a topographic boundary at which water flows into one drainage basin on one side and a different drainage basin on the other. Think the Continental Divide. The canyon itself is very dramatic with high vertical walls and hundreds of feet of sediment filling the valley floor. The origin of the canyon is not settled though the most accepted interpretation is that it was carved as an ancient pathway of the Gunnison River.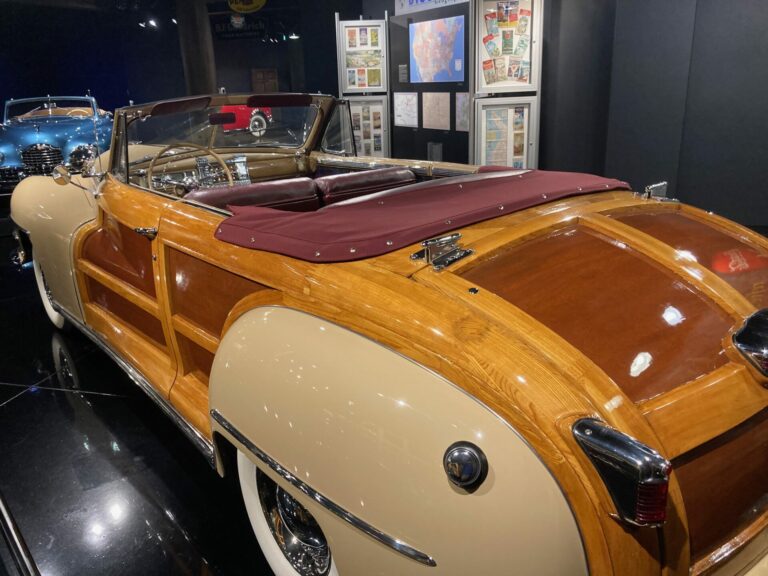 Gateway Colorado Automobile Museum
Much of the land around Gateway was bought up by the founder of The Discovery Channel. He built a swanky resort and some fancy homes and opened a museum for his collection of American cars. Who could resist? This is one of the sparkly, shiny vehicles, just don't ask me what make or model. That body trim is real wood.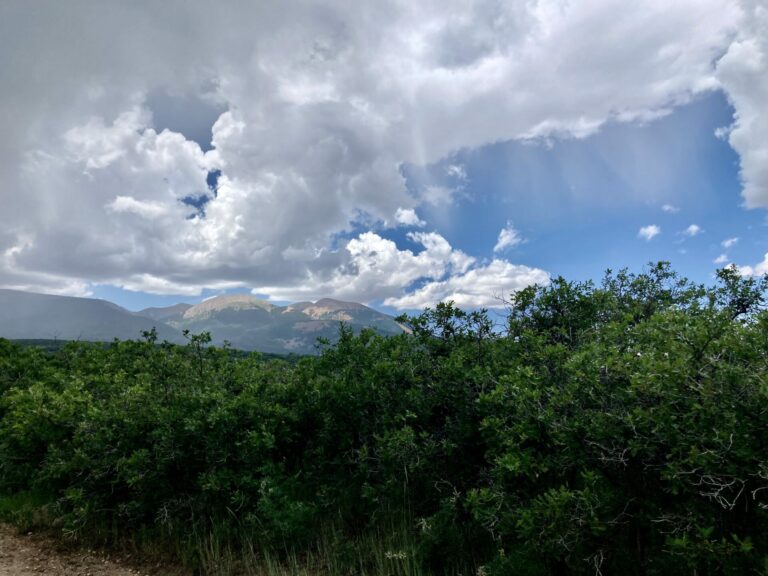 John Brown Canyon Road
John Brown Canyon road is unpaved and goes up and over a 9,000 foot pass into Utah and the La Sal Mountains. Here are the mountains, off in the distance. You can judge their height by the fact that in this part of the world, tree line is at 11,500 feet, give or take. On our way, we hit a bit of rain, visible ahead on the left. Also visible is an example of virga. Virga is rain that falls from a cloud but evaporates before hitting the ground. Those gauzy streaks below the clouds on the right are virga.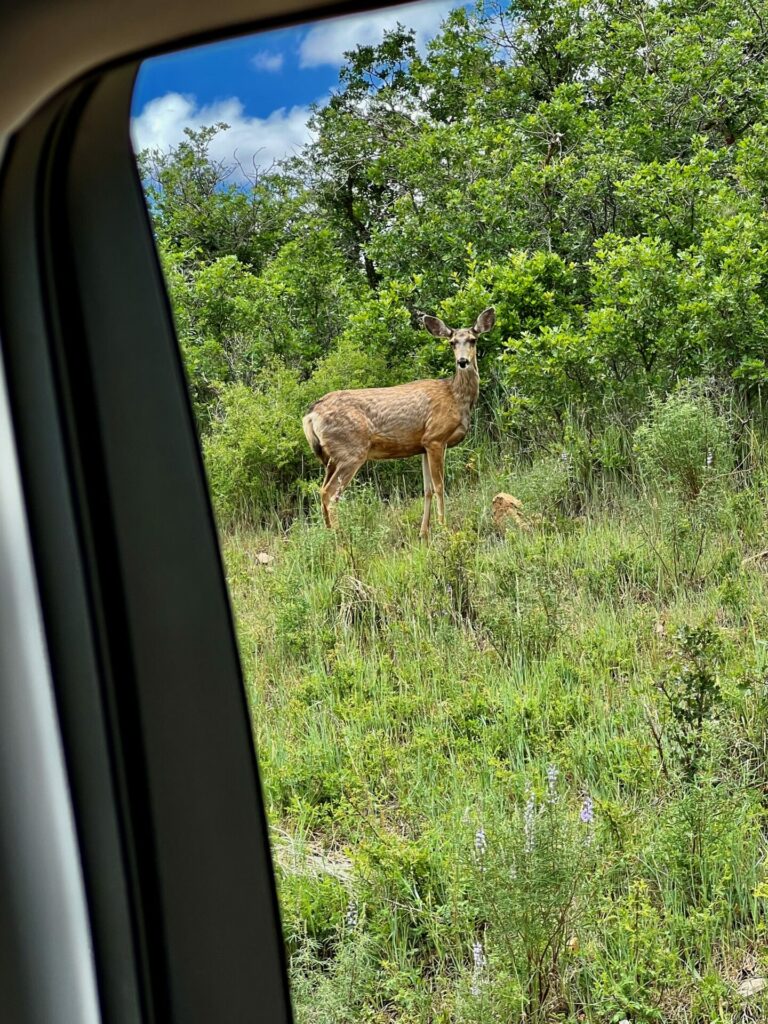 John Brown Canyon Road
Driving slowly, we passed a couple of deer. This being July, they did not seem too spooked by us though I suspect come September, they would likely not be seen anywhere close to the road.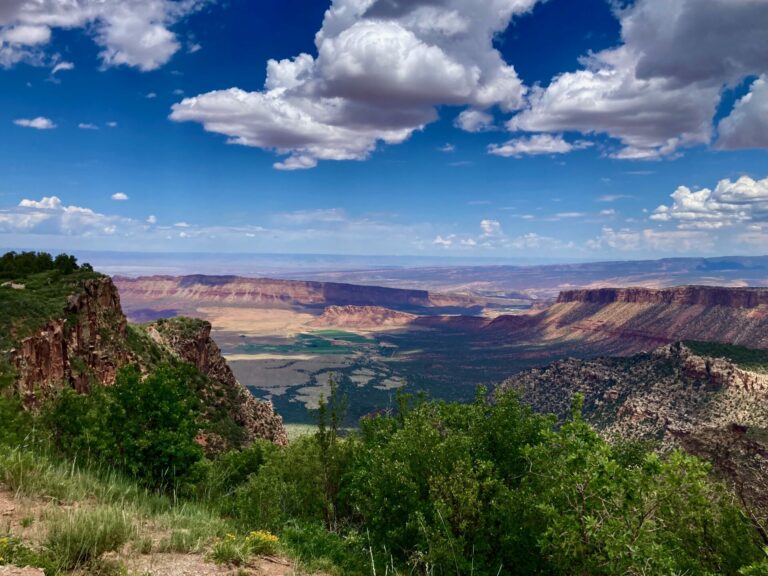 Above Castle Valley
Now into Utah (my sister's nav system unexpectedly said "Welcome to Utah" when we crossed the state line), we could look down into Castle Valley.  Castle Creek flows down the valley into the Colorado River. The distant most visible landforms are The Book Cliffs. With one end of The Book Cliffs at Grand Junction, they march about 200 miles off into eastern Utah. When I was an oilfield geologist, I had the great fortune to sit a well in the mouth of Castle Valley.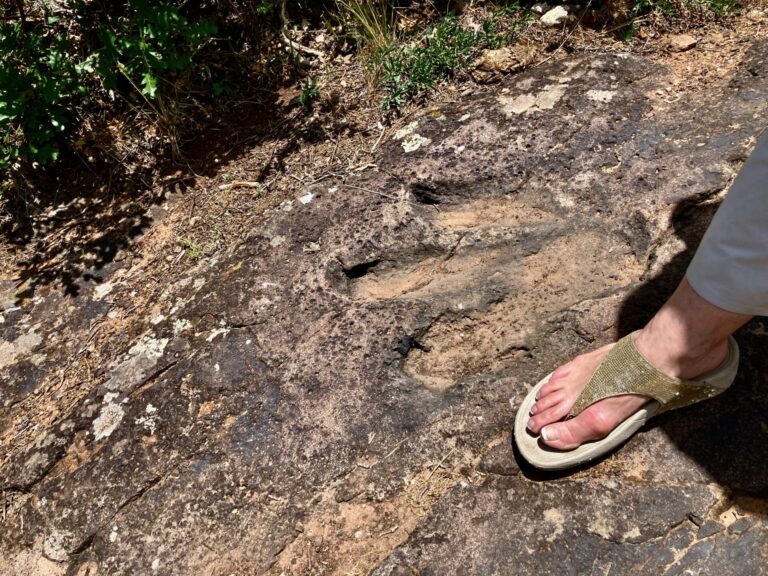 Bull Canyon Dinosaur Tracks Overlook
Near the top, we got out at the Bull Canyon Dinosaur Tracks Overlook. I had never been there and was quite surprised at how undeveloped it is. The top layer of the Jurassic age sandstone has dozens and dozens of dinosaur footprints belonging to different species of different sizes. There are no prohibitions about where you can walk which I found somewhat unique.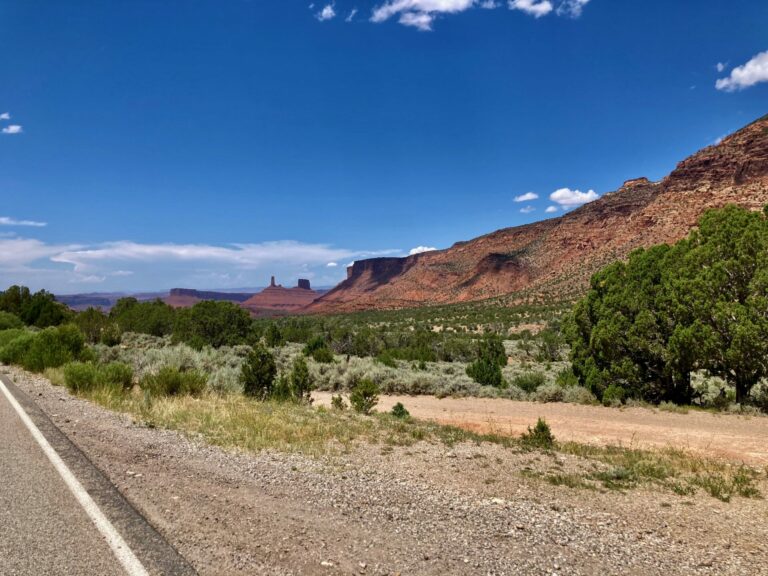 Castle Valley
Dropping down into Castle Valley, we began a gentle descent toward the Colorado River. The distant spire is Castleton Tower and the formation to the immediate right of it is called The Priests and Nuns. We were back on paved highway at this point and starting to get hungry.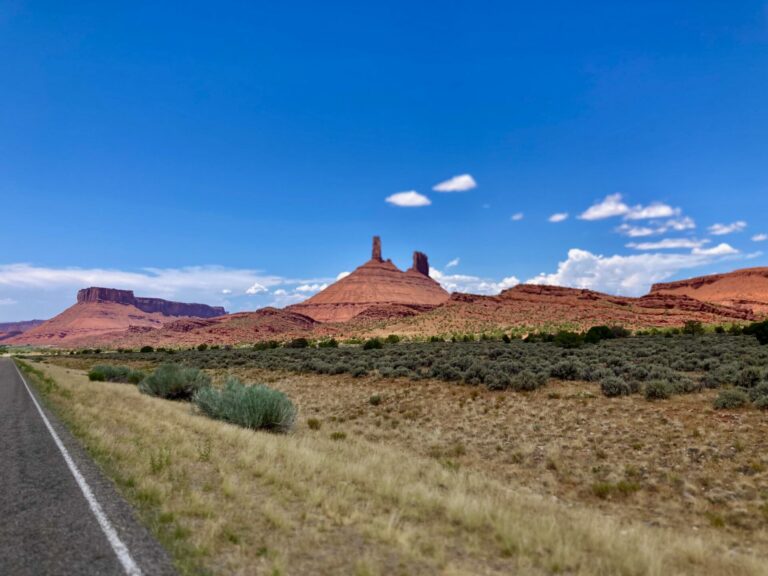 Castle Valley
Castle Valley is quite large and not formed in the classic way by running water but rather, it is the result of the collapse of an ancient salt dome caused when ground water dissolved away much of the salt deposit beneath and the rock layers above slowly collapsed to form the valley.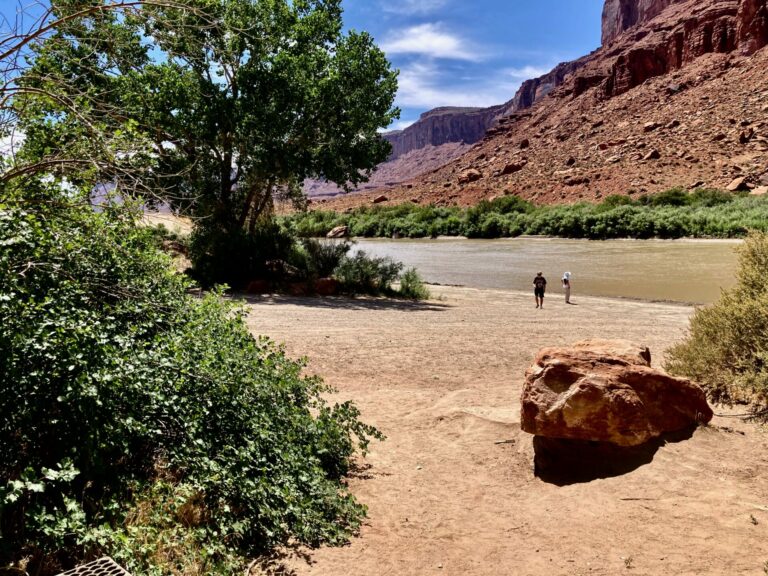 Hittle Bottom Campground
A bit upstream from where Castle Creek empties into the Colorado is Hittle Bottom Campground. It is a favorite put in/pull out site for rafters and our chosen destination for lunch. At this time in July, the river is pretty low and flowing fairly slowly. The foreground boulder, though, is testament to how high and fast the river can get at times.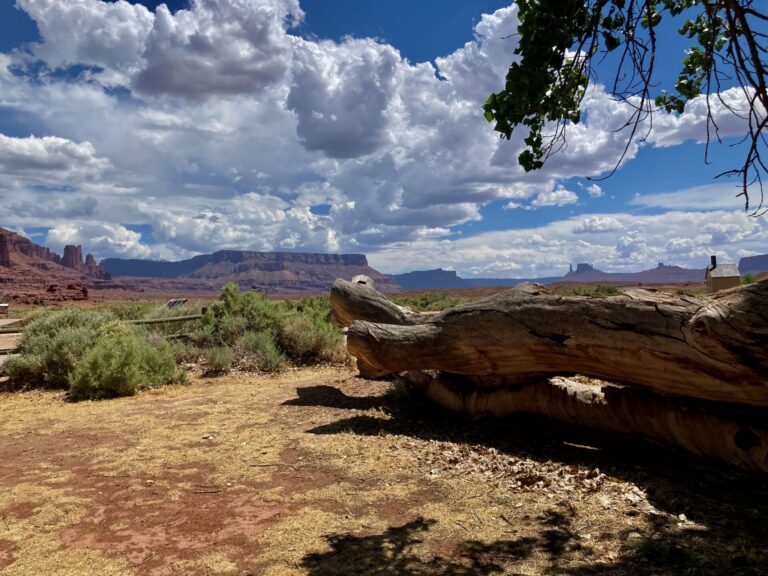 Hittle Bottom Campground
In this view from HIttle Bottom, you can see Castleton Tower and the Nuns and Priests above the cottonwood log on the right. Fisher Towers sit on the skyline toward the left. Castleton Tower gained national notice when a 1964 Chevrolet Impala Convertible was choppered to the top of it  in pieces (minus the heavy bits) and reassembled for a TV commercial. Supposedly, at one point, the plucky actress and several crew were stranded on top when winds prevented helicopter extraction.  
We stopped to look at some petroglyphs on the way home but some total fucking assholes have added their initials and dates to the rock face in "modern" times and it's just too depressing to look at.
Still to come, a visit to a unique location for thrill rides, Glenwood Caverns Adventure Park followed by a trip up to The Potholes, a flash flood, and a raft trip down the Colorado River.