When I said we would have a Postcard Writing & Music thread "next Tuesday" I didn't realize we would also have the State of the Union.
I am putting up the thread anyway because I said I would :-) and because not everyone watches the address.  Looking forward to some music and postcard conversation.
One of our Balloon Juice peeps let their Indivisible group know about our postcard effort for Voces de la Frontera, and they are writing with us!  All credit to the person who did that!   (Chime in below so I can use your nym to credit you!)  They have asked for 625 addresses to start, and they indicated that they may write up to 2,000!  They will mostly be writing for the general election for the Wisconsin Supreme Court rather than for the primary, but one of their peeps got a head start.  She asked for 25 addresses this morning, and she already has them done!  (image below)  Impressive!  I could not do that in an afternoon.
If anyone else has a postcard writing group, please let them know about this.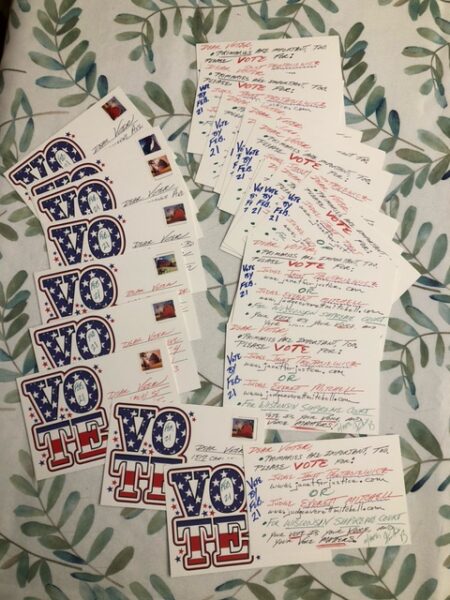 In other news,  another group of writers from Maryland contacted Voces about writing, and Voces sent them on to me, so they will be participating, too. They have asked for 2,400 addresses to start!  And may want thousands more.
Writing postcards and letters is a numbers game.  The latest research I have seen showed a 4% increase in the desired response.  4% of a small number is a very small number, but 4% of a big number can really make a difference.  It really does take a village.
Open thread