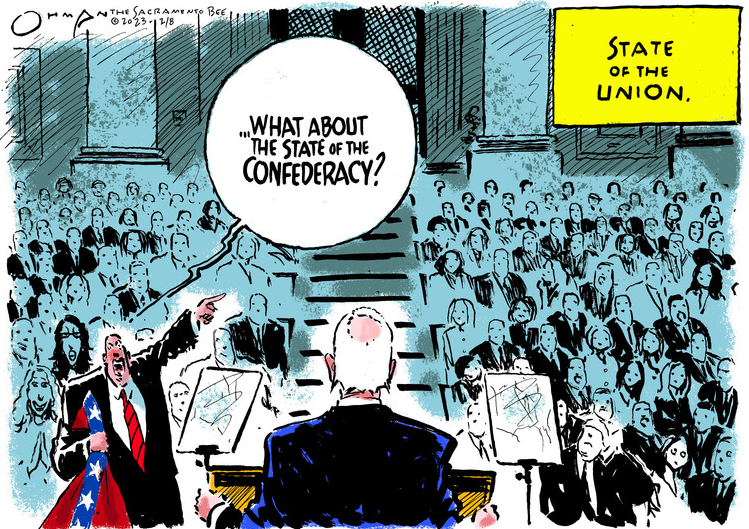 Biden intends to run and if he does, "I'll be running with him," @VP Kamala Harris says on CBS before taking off to Atlanta, Georgia to do post State of the Union messaging https://t.co/Zl44zrE83N

— Jennifer Jacobs (@JenniferJJacobs) February 8, 2023
And right now, the Republicans: *Not* happy!
Republicans at State of Union "seemed shocked when I raised the plans from some of their members and their caucus to cut Social Security. And Marjorie Taylor Greene and others stood up and said, 'liar, liar.' Reminds me of, 'liar, liar house on fire,'" Biden says in Wisconsin. pic.twitter.com/5BVc1kzuKu

— Jennifer Jacobs (@JenniferJJacobs) February 8, 2023
In speech in Wisconsin, Biden calling out Sens. Ron Johnson and Mike Lee over their statements on Medicare and Social Security

— Manu Raju (@mkraju) February 8, 2023
It helped dig him into an approval hole he was never able to get out of. It helped drive Democrats' big midterm victories in 2006. When asked when the Dems would release their competing SS plan, Pelosi responded "Never. Is never good enough for you?"

— The Fig Economy (@figgityfigs) February 8, 2023
.?@harrispolitico? >

"With boos, taunts, groans, and sarcastic chortles, the opposition party effectively turned themselves into prime-time props for President Joseph Biden." https://t.co/TBmR5VZG4o

— Jonathan Martin (@jmart) February 8, 2023

Even the clickbait-prioritizing 'Founder of Politico' was impressed!
… For the historical-minded, it was also evidence of how standards of decorum are highly fluid. Recall the big fuss in 2009 when Republican Joe Wilson of South Carolina interrupted President Obama's speech to Congress by shouting, "You lie." Even many Republicans were embarrassed, and Wilson apologized.

This time, Rep. Marjorie Taylor Greene shouted out at least nine times, by the count of a POLITICO reporter in the gallery, that Biden was a liar. No one was surprised — certainly not Biden, who recognized an opportunity when it is delivered gift-wrapped before a nationwide audience.
He took on hecklers like a veteran of a Catskills resort. He smiled, he laughed, he bellowed when it was called for. He had the only microphone in the room, and he used it like a hammer. https://t.co/p0DKuS3uhO

— Charles P. Pierce (@CharlesPPierce) February 8, 2023
… Predictably—and laughably—the Republican opposition walked right into every clout. Marjorie Taylor-Greene, dressed (as a friend of mine said) like the White Witch of Narnia, howled from the backbenches. Speaker Kevin McCarthy was on camera as often as the president was, and we could all watch as the vice grips got progressively tighter. As for the rest of the Angry Children's Caucus, they hit all their marks and delivered their lines perfectly as the president led them merrily over the falls…

The real party piece came when he dared to mention that the Republicans want to gut Social Security and Medicare—which in the case of Social Security has been a Republican goal since "The Shadow" was on the radio. He baited them and baited them, and they went for it like starving carp…

Then, right on cue, the Republicans launched into a tantrum. The president has not been in politics since god was a boy to miss an opportunity like that one.

Folks — so folks, as we all apparently agree, Social Security and Medicare is off the books now, right? They're not to be — all right. We've got unanimity…So tonight, let's all agree — and we apparently are — let's stand up for seniors. Stand up and show them we will not cut Social Security. We will not cut Medicare. Those benefits belong to the American people. They earned it. And if anyone tries to cut Social Security, which apparently no one's going to do, and if anyone tries to cut Medicare, I'll stop them. I'll veto it. And look, I'm not going to allow them to take away — be taken away. Not today. Not tomorrow. Not ever. But apparently it's not going to be a problem.

It was far from a conventional political address. There were very few oratorical bells and whistles. Instead, it was something akin to FDR's fireside chats: colloquial and intimate. So many sentences began with the word "look" and were addressed to "folks." More than anything else, its tone sounded like it had been drawn from a particularly energetic ward committee meeting down at the AOH Hall.

It was the best speech Joe Biden ever has given because it was the most Joe Biden speech anyone ever has given. It was all him, aimed right at all of us, addressed to all of us—you know, the folks.