New @CDCMMWR reviews the data above, age 12+https://t.co/03bkAOmvh4 pic.twitter.com/D7QbJi15IX

— Eric Topol (@EricTopol) February 9, 2023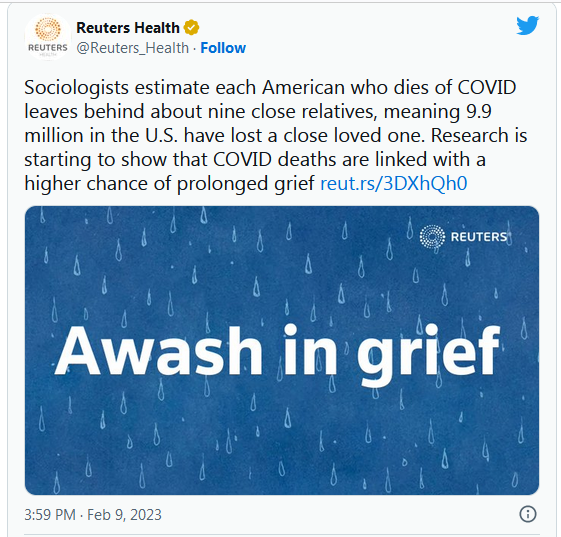 … For those who lost a loved one, the pandemic placed obstacle after obstacle along our paths towards healing. Researchers worried that, in more severe cases, the pandemic's challenges could lead to prolonged grief disorder – the newest disorder to be defined by the American Psychiatric Association, in March 2022.

When a person experiences prolonged grief, the original intensity following a loss persists and can interfere with day-to-day life for years afterward. So, for those of us still here, what does it mean to have confronted death in a time of unprecedented societal change?…

While everyone grieves in their own way, "acute grief", as termed by experts, typically lasts for six to 12 months following a death. In that time, the pain can be overwhelming as the bereaved adapts to life without the person they've lost. Grief stays with us but eventually becomes a more manageable part of daily life.

Research on how many people suffer from prolonged grief ranges widely from 4% to 20% because, until recently, there was no consistent way of measuring it. However, Dr. Katherine Shear, Director of the Center for Prolonged Grief at Columbia School of Social Work, said research is beginning to validate the predictions that COVID-19 deaths would be linked with a higher chance of prolonged grief disorder…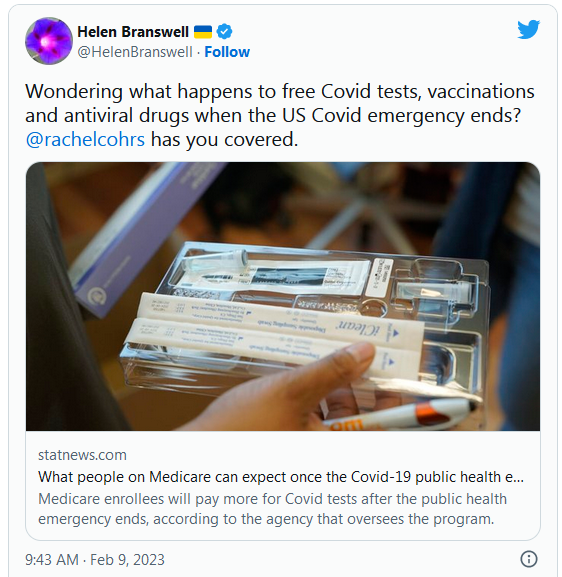 Because the GOP has blocked further funding:
… The Biden administration will end the federal Covid-19 public health emergency declaration on May 11, bringing an end to some of the free services that lawmakers had guaranteed patients in various Covid-19 relief laws.

Seniors will no longer get free over-the-counter Covid-19 tests, and they will eventually have to pay for Covid-19 treatments like Pfizer's Paxlovid antiviral. At least at first, however, the antivirals will continue to be free because current doses in circulation were provided by the U.S. government. When the products transition to the commercial market in the summer or early fall, there may be some cost-sharing, the agency said.

Some products and services will still be free, however. Medicare covers recommended vaccines for free, and lab tests and antigen tests ordered by a physician or other health care provider will still be free, a CMS spokesperson said.

Right now there are no authorized monoclonal antibody treatments that are effective against currently circulating Covid-19 variants, but if new ones are authorized, they will still be covered for free for patients through the end of December, the spokesperson said…

Patients with private insurance could have to pay for either over-the-counter Covid-19 tests, or those conducted in doctors' offices. Payment for Covid-19 treatments could move on a similar trajectory to Medicare, as the medicines are offered in the normal commercial channel instead of being purchased by the government. Insurers usually cover vaccines without cost-sharing as preventative services.

The Medicaid program will also see several changes — while vaccines will still be covered for free, cost protections on Covid-19 testing and treatment services will end in 2024. A Medicaid pathway that allowed states to cover testing, vaccinations, and treatments for uninsured patients using federal funds will end in May.
.@TheWHN 5 Pillars of COVID Protection, pass it on pic.twitter.com/e7jYOeB3Z7

— Dalia Hasan (@DaliaHasanMD) February 9, 2023
======
Apparently there's been a global decision that THE PANDEMIC IS OVER, DAMMIT!… whether or not the facts support our wishes.
After three years, the Johns Hopkins Coronavirus Resource Center is ceasing operations. Its data dashboards and maps became go-to sources for information from the early days of the pandemic. https://t.co/XTC1iUoP1a

— NPR (@NPR) February 10, 2023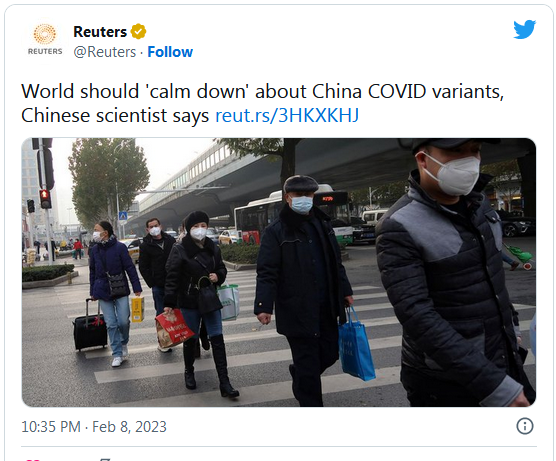 (link)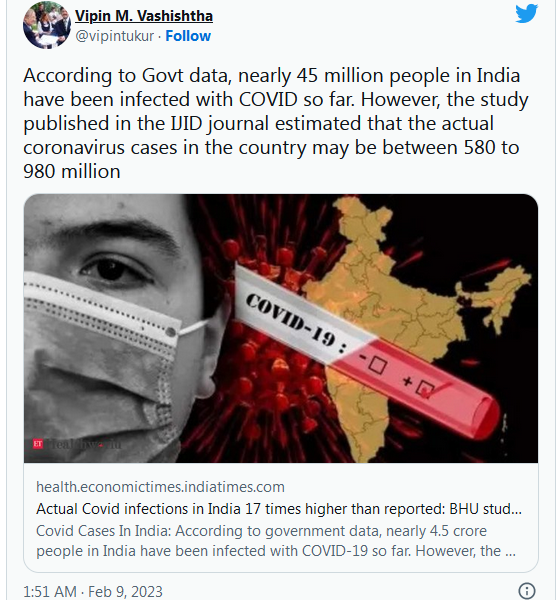 (link)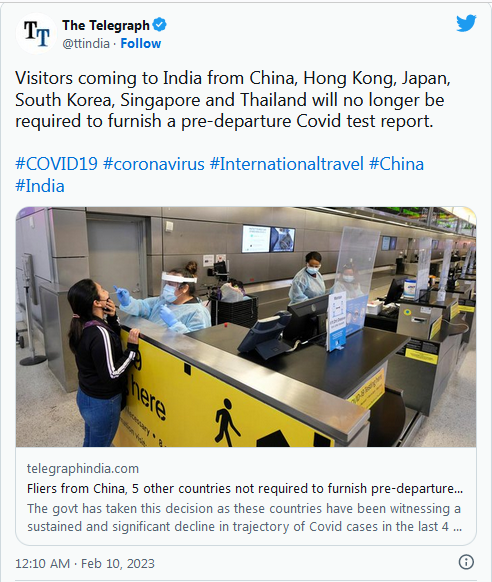 (link)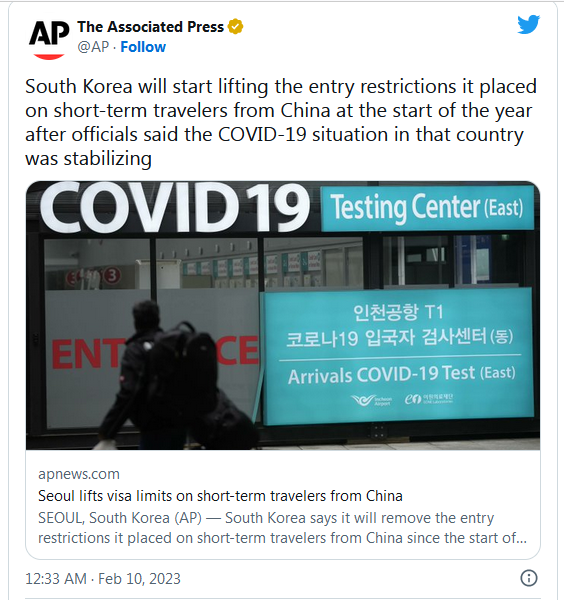 (link)
Japan 🇯🇵 Covid cases & deaths 10th February (Daily)

Number of newly confirmed cases
28,615 cases

Compared to the previous day
– 4,354 cases

+ 196 New Deaths #coronavirus #COVID19 #SARSCoV2 #Japan pic.twitter.com/wcqDwMdRHC

— Tigress (@tigresseleanor) February 10, 2023
Singapore: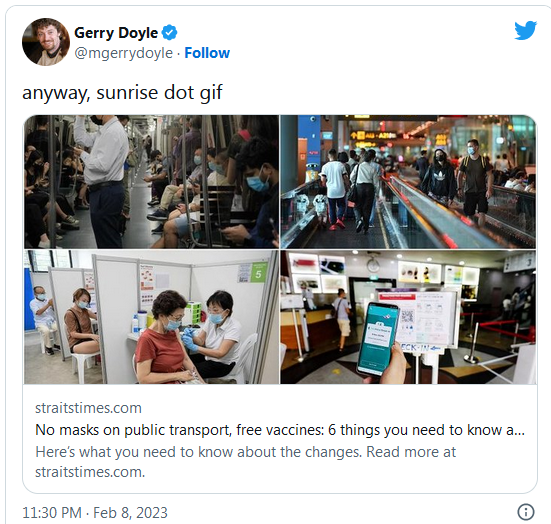 (link)
South Africa: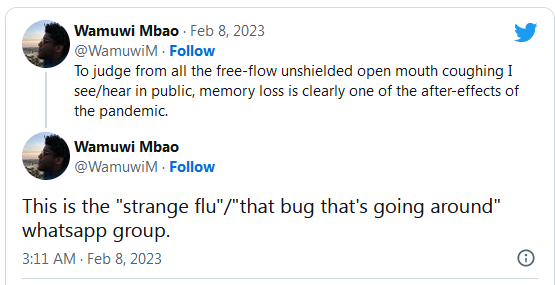 (link)
United Kingdom:
When we said we didn't want a "vaccine-only strategy", we didn't mean get rid of the vaccine! https://t.co/vhMbPx5g73

— Kit Yates (@Kit_Yates_Maths) February 8, 2023
======
Worldwide analysis of #COVID19 #vaccines and deaths in the #SARSCoV2 #pandemic shows far lower death rates in highly vaccinated populations. And 80% of deaths are in people over 60 years old.https://t.co/N1ezKpMzu9 pic.twitter.com/y15SS2gzwN

— Laurie Garrett (@Laurie_Garrett) February 8, 2023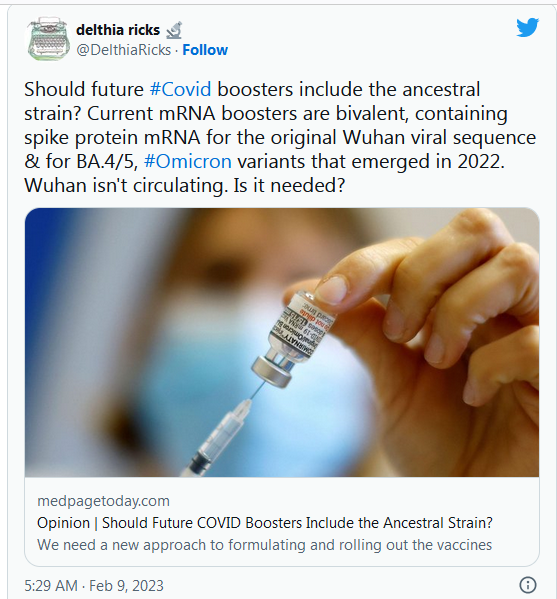 (link)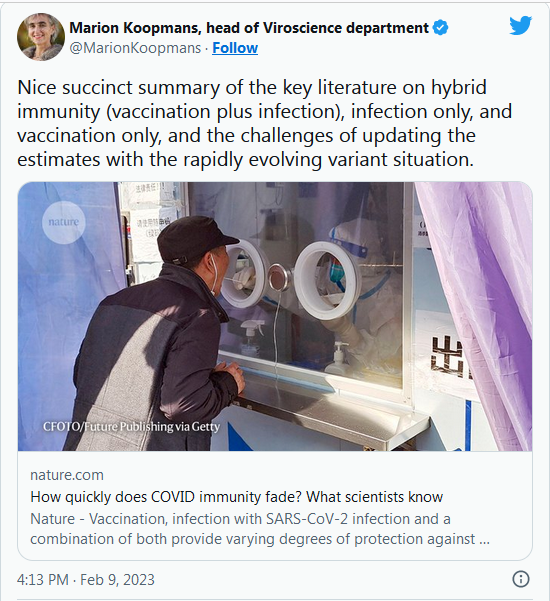 (link)
Doctors and researchers are beginning to see connection between COVID surges and heart attacks. @ErinNBCNews and Senior Medical Correspondent for @NBCNews @DrJohnTorres share more. pic.twitter.com/LoFzsUx6R8

— TODAY (@TODAYshow) February 9, 2023
Dutch researchers have identified a cycle of spread of #SARCoV2 between captive mink, bats, humans and birds.
Presumably, this could be a route for cross-species spread of #flu viruses, as well (ahem, #H5N1 ).https://t.co/ZbckCcGB0u pic.twitter.com/5X0sJdMiLi

— Laurie Garrett (@Laurie_Garrett) February 8, 2023
The odds are stacked against a promising new #Covid drug. It literally quashes all #Covid variants. But regulatory hurdles & a lack of funding make it unlikely to reach the US market anytime soon. The experimental drug is called pegylated interferon lambda https://t.co/qXtcSiFEhE

— delthia ricks 🔬 (@DelthiaRicks) February 9, 2023
======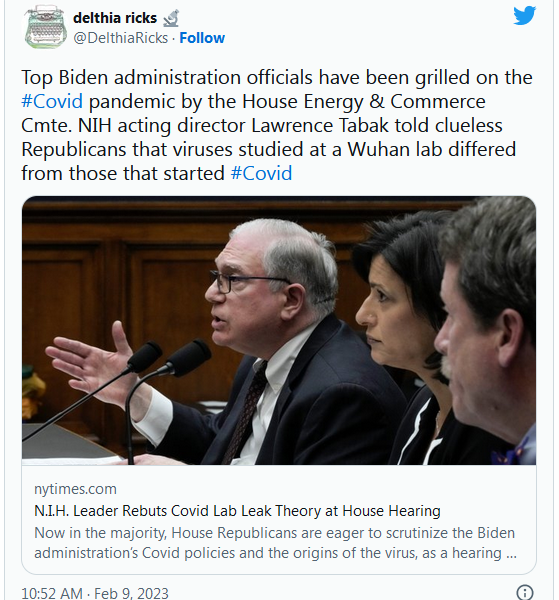 (link)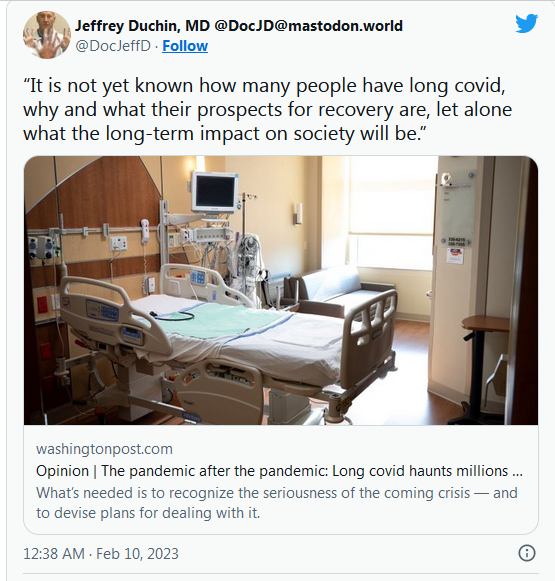 (link)
Why is NYS deciding to remove basic infection control precautions *now*?

In the last week alone (2023-02-02 – 2023-02-08), NYSDOH reported 2,215 COVID-19 hospital admissions and 143 COVID-19 deaths.

Data Source: Health Data NY

Attn: @GovKathyHochul https://t.co/R5C5tFJRCy

— Isaac Michaels (@Isaac_Michaels) February 10, 2023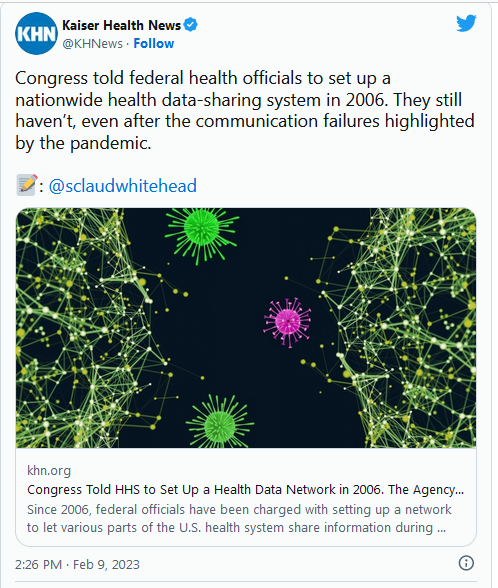 (link)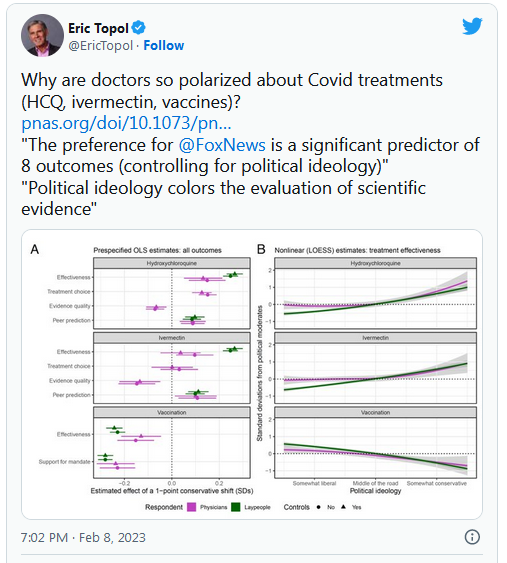 (link)
How to be better prepared for the next airborne viral pandemic: stop ignoring the current airborne viral pandemic.

— T. Ryan Gregory (@TRyanGregory) February 10, 2023
Reader Interactions