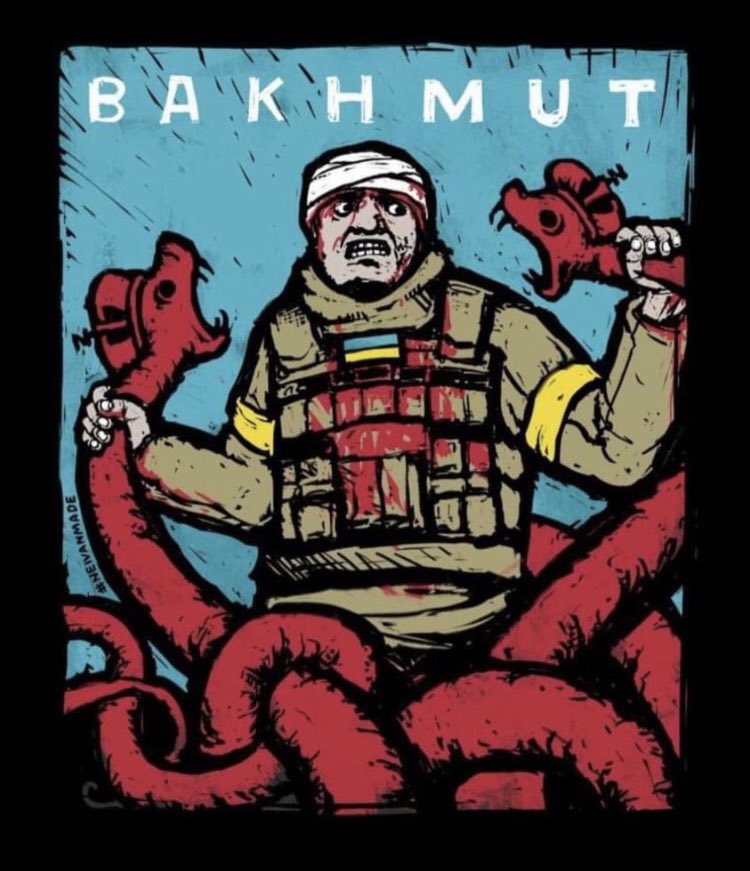 (Image by NEIVANMADE)
It has been a long week and I have something I have to do this evening. So tonight's update will be brief(er) than usual. We are also all corrected on what day it is in regards to Ukraine's defense against Russia's re-invasion thanks to lowtechcyclist.
Here's President Zelenskyy's address from earlier today. Video below, English transcript after the jump:
Dear Ukrainians, I wish you health!

The fifth day of this week is coming to an end. In some ways, a very hard week, but a very meaningful one for sure.

I want to emphasize a few things after the results of this week.

He held another meeting of the Staff of the Supreme Commander-in-Chief today. It was a busy meeting.

The situation on the front line was examined in detail, in particular in Donetsk region –Bakhmut and other hot spots. Tough areas.

We reviewed the situation with the supply of weapons, the general situation with the defense of the state at the Staff meeting.

We are already preparing for the new "Ramstein" – in particular, we talked about it. About new defense options that we should open for Ukraine together with our partners.

The second important thing this week is our diplomatic marathon.

London, Paris, Brussels – everywhere these days I spoke about how to strengthen our troops. There are very important agreements and we have received good signals.

This applies both to long-range missiles and tanks, and to the next level of our cooperation – combat aircraft. But we still need to work on this.

I was very pleased to hear and see that our boys in the UK are rapidly learning to drive the Challengers.

I was very happy to see how eager the British were for us to win. All this is inspiring.

I am grateful to the Prime Minister, the British Parliament and all British people. And, of course, His Majesty the King.

A fundamental meeting was held in France with President Macron and Chancellor Scholz. The three of us had a conversation, and it's the right conversation.

It's wrong to disclose its details, but we can say we heard each other. France – Ukraine, Germany – Ukraine. Partners have heard our position, our arguments.

There will be more support.

And I thank Mr. President and all the French, Mr. Chancellor and all Germans for that.

Understanding that the protection of Ukraine is the protection of the interests and our partners is felt.

Brussels. The meeting of the European Council and our special format of negotiations after the meeting. The negotiations with EU leaders not only within the framework of the European Council, but also within the framework of ad hoc meetings that took place after the summit. In general, I met with all the leaders of the European Union.

And now, our joint task is to take all that we talked about and agreed upon and transform it into concrete delivery, concrete documents, and concrete new lines of cooperation.

The third is the European Parliament.

It was not just my address as the President of Ukraine, but it was a symbolic moment. A certain valuable summary of the path we have taken in relations with the European Union. And the beginning of the new stage. When Ukraine is no longer a guest or partner from outside the EU in the European Parliament, the European Council and other institutions of the European Union. When Ukraine becomes a full part of the European Union.

This week I said many words of gratitude to our allies and partners – everyone who helps us. And now I want to say words of gratitude to you, Ukrainians.

It is always an honor for me to represent Ukraine, and I am proud of our beautiful and strong people.

You have heard and seen how Ukraine is welcomed. It's what we all did together. It's how you are welcomed.

I'm proud of Ukrainian courage. I'm proud of Ukrainian resilience. I'm proud of Ukrainian effectiveness.

I'm proud of all of you who fight and work for our country! Who supports the front and the state. Thanks to all of you!

Of course, today, I want to mention our pilots, all our Air Force fighters, everyone who defends the Ukrainian sky.

So far, unfortunately, we cannot shoot down all Russian missiles. But all those dozens of missiles that we shoot down every time during heavy airstrikes are hundreds of lives saved every time and it is saved infrastructure. That which gives life to the people.

I thank you, Air Force! And we will do everything to ensure that you have modern and efficient wings!

Historical results for Ukraine are always closer than they might seem.

Glory to our troops!

Glory to our beautiful people!

Glory to everyone in the world who is determined to fight for freedom together with us!

Glory to Ukraine!
Air raid warnings and Ukrainian air defense were active throughout the day:
Mayor of Kharkiv says Russians are hitting critical infrastructure and warns "there may be interruptions with electricity and other utility services".

Lights here have been flickering off until the generator kicks back in.

— Raf Sanchez (@rafsanchez) February 10, 2023
— Raf Sanchez (@rafsanchez) February 10, 2023
Air raid alert has ended. Klitschko reports Ukrainian air defenses shot down 10 missiles over Kyiv. But there is damage to electrical infrastructure. No casualties. Energy workers are working to restore networks, he said.

— Christopher Miller (@ChristopherJM) February 10, 2023
AIR DEFENSE WIN: RU bombers fired cruise missiles over the Caspian Sea, and RU surface ships launched Kalibr missiles from the Black Sea last night. UKR shot down 61 of 71 missiles, an intercept rate of 85.9%. Five Shahed-136s were also brought down. https://t.co/WhswNoDiWR pic.twitter.com/DxmaDN4pTk

— Chuck Pfarrer | Indications & Warnings | (@ChuckPfarrer) February 10, 2023
Zelensky says Russia launched at least 70 missiles in today's attack & echoes Zaluzhny's remark about some missiles entering the airspace of Moldova & Romania, even though Romania has said it didn't happen there. "Today's missiles are a challenge to NATO, collective security." pic.twitter.com/e12A3669MM

— Christopher Miller (@ChristopherJM) February 10, 2023
The Financial Times has the details:
Russia launched another mass aerial attack against electricity network targets across Ukraine, with one of its missiles flying through Moldovan airspace highlighting the risk of the conflict spilling over.

Russian forces fired 71 cruise missiles, 7 Iranian-supplied Shahed attack drones and 35 S-300 missiles, normally used for air defence, Valeriy Zaluzhnyi, the chief of Ukraine's general staff, said on Twitter. Ukrainian air defences shot down 61 of the cruise missiles and five of the drones, he added.

Zaluzhnyi said two Russian Kalibr cruise missiles launched from the Black Sea had crossed Moldovan and Romanian airspace before flying back into Ukraine. Ukraine's air defences could have shot down the Russian missiles but decided not to given the potential risk to residents in neighbouring countries, said air force spokesman Yuriy Ignat.

Two people were killed in Poland in November when a missile landed on a farm near the Polish border. Ukrainian initially claimed it was a Russian missile but it turned out to be a stray Ukrainian S-300 air defence interceptor.

The Moldovan ministry of defence on Friday confirmed that one missile had crossed its airspace before heading back into Ukraine.

President Volodymyr Zelenskyy said on his Telegram channel that the Russian missiles' flight path was a "challenge to Nato and collective security. This is terror that can and must be stopped."

However, Romania denied a Russian missile had flown over its territory. The Romanian defence ministry said its air force had monitored a missile launched from a Russian warship that crossed through Ukrainian and Moldovan airspace "without ever intersecting, at any given time, the Romanian airspace".

The nearest point on the projectile's trajectory was around 35km north-east of the Romanian border, it said. Unlike Moldova, Romania is a member of Nato. Two military jets under Nato command were scrambled to intercept the missile, in case it crossed the border, but they stood down after two minutes, the ministry said.

A Nato official confirmed the Romanian account.
Much more at the link.
The Associated Press has reported that Ukrainian intelligence has caught on to a Russian plan to attack Moldova:
BRUSSELS (AP) — Ukrainian President Volodymyr Zelenskyy said Thursday that his country has intercepted plans by Russian secret services to destroy Moldova, and Moldovan intelligence confirmed the claim.

Speaking to European Union leaders in Brussels, Zelenskyy said he recently told Moldovan President Maia Sandu about the alleged scheme.

"I have informed her that we have intercepted the plan of the destruction of Moldova by the Russian intelligence," Zelenskyy said through a translator. He said the documents showed "who, when and how" the plan would "break the democracy of Moldova and establish control over Moldova."

Zelenskyy said the plan was very similar to the one devised by Russia to take over Ukraine. He added that he did not know whether Moscow ultimately ordered the plan to be carried out.

After Zelenskyy's comments, Moldova's Intelligence and Security Service released a statement confirming it has received "respective information from our Ukrainian partners" and said it has also identified "subversive activities, aimed to undermine the Republic of Moldova, destabilize and violate public order."

"At the moment, we cannot provide more details as there is a risk of jeopardizing various ongoing operational activities," the statement read, adding that all of Moldova's state institutions "are working at full capacity and will not allow these challenges to happen."
Much more at the link!
Here is former NAVDEVGRU Squadron Leader Chuck Pfarrer's most recent assessments of the situations in Kreminna and Bakhmut:
KREMINNA /1910 UTC 10 FEB/ UKR forces report breaking up a desultory RU assault on the O-0528 HWY axis at Dibrova. RU maintains a strong presence in the area; despite the apparent lull, it's assessed RU is capable of large-scale maneuver operations from Kreminna on short notice. pic.twitter.com/pS4DOtHx2G

— Chuck Pfarrer | Indications & Warnings | (@ChuckPfarrer) February 10, 2023
BAKHMUT AXIS /1720 UTC 10 FEB/ Cutting UKR Lines of Communication & Supply (LOCS) remain a RU priority. RU has advanced North of Krasna Hora, threatening the M-03 HWY. UKR missiles, artillery and strike aviation targeted RU troop concentrations & HQ elements in heavy fighting. pic.twitter.com/9uuwEYybwU

— Chuck Pfarrer | Indications & Warnings | (@ChuckPfarrer) February 10, 2023
Someone fired up the Superbonker 9000!
⚡🇺🇦💪💥Destruction of a large number of #Russian invaders.#Ukraine️ #Ukrainian #UkraineWar #UkraineRussianWar #UkrainianArmy #ukrainecounteroffensive #Ukrainians #UkraineFrontLines #RussiaIsATerroristState pic.twitter.com/aHvA2sorXQ

— 🇺🇦UkraineNewsLive🇺🇦 (@UkraineNewsLive) February 10, 2023
Obligatory: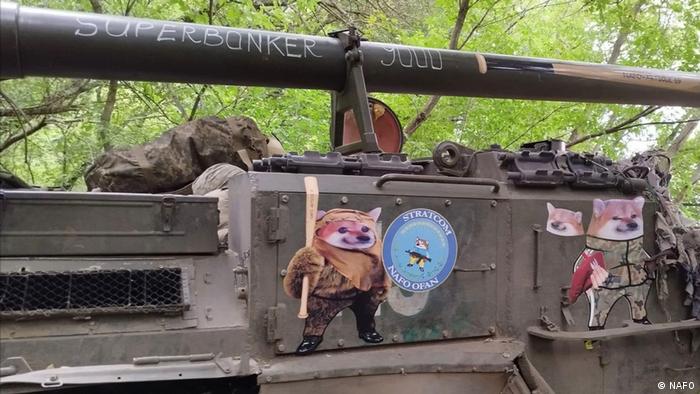 The F-22s are back on the hunt!
DoD spox: The aircraft that took down object was an F-22, flying out of Joint Base Elmendorf.

— Laura Rozen (@lrozen) February 10, 2023
Given fact that it was operating at an altitude that posed a reasonable threat to civilian air traffic

— Laura Rozen (@lrozen) February 10, 2023
Object was traveling in a northeasterly direction

— Laura Rozen (@lrozen) February 10, 2023
.@PentagonPresSec confirms "fighter aircraft…successfully took down a high altitude airborne object off the northern coast of Alaska at 1:45pm…the object was flying at an altitude of 40,000 ft. and posed a reasonable threat to the safety of civilian flight." pic.twitter.com/PB6Ndo6jQt

— CSPAN (@cspan) February 10, 2023
That's enough for today.
Your daily Patron!
Here's a new video from Patron's official TikTok!
The caption machine translates as:
Signed posters are already available in my official store! The quantity is limited 🤫💥 #песпатрон
Open thread!