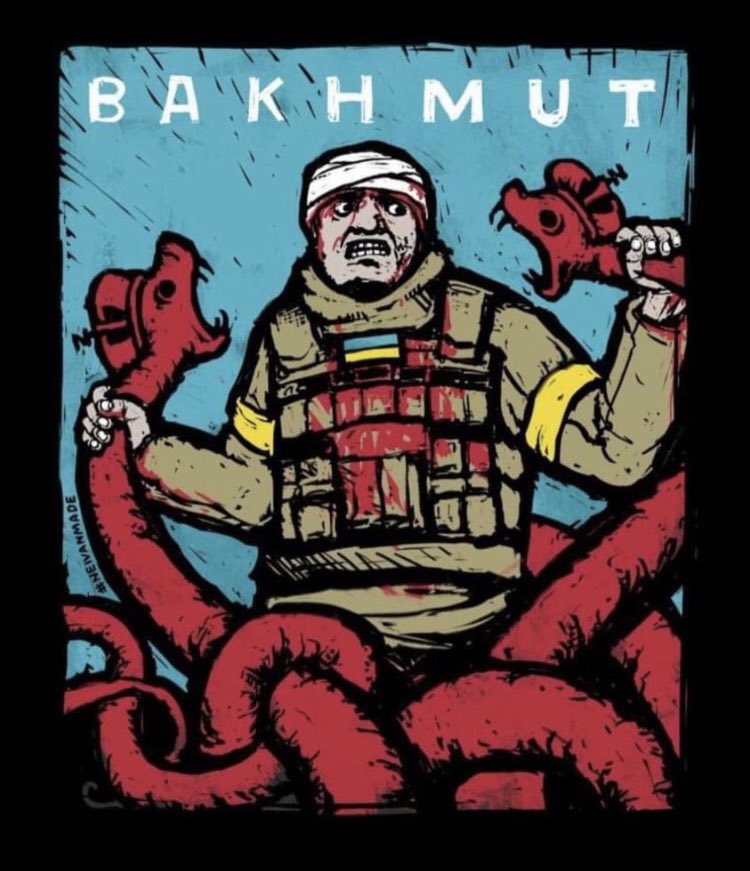 (Image by NEIVANMADE)
Here is President Zelenskyy's address from earlier today. Video below, English transcript after the jump:
Good health to you, fellow Ukrainians!

Today was a very busy day – both in terms of domestic issues, primarily defense and security, and foreign policy.

I held a meeting of the Staff. We heard reports from the direction commanders, the Commander-in-Chief, and intelligence chiefs. The defense of the Donetsk and Luhansk regions, the south of our country, Odesa and the region. Constant attention is paid to the supply of weapons, ammunition and everything that gives our warriors strength and resilience.

Today I introduced the new heads of the Security Service of Ukraine and the Ministry of Internal Affairs – Vasyl Malyuk and Ihor Klymenko. I am confident that both of them are in the right place. Where they are really useful for the state.

I thanked them for being at war from the first minutes of the war. Together with their colleagues. They have already achieved significant results in protecting the state, and they will definitely have even greater achievements in their new positions.

Today I spoke with the Prime Minister of Norway. This country is one of our largest partners. I expressed gratitude for the new defense package and for the new unprecedented support program from Norway, which is being prepared for approval and will last 5 years – 5 years of stable support for Ukraine.

Norway truly helps us strengthen ourselves on land, in the sky and at sea. Thousands of Ukrainian lives have been saved thanks to timely and powerful Norwegian assistance. But the energy, political and other support from our Norwegian friends is also important.

Thank you again for all this help!

I spoke with the President-elect of the Republic of Cyprus. I congratulated him on winning the election. We discussed the relations between our countries and agreed to work together for the sake of common security – of our countries and of the whole of Europe.

I spoke today with the President of the Philippines for the first time in the history of bilateral relations. I thanked him for the support in international organizations, and we agreed to develop our relations.

It is extremely important for Ukraine to have meaningful relations with the entire Southeast Asian region and with every country in the region. We will move on in this direction.

In general, Ukrainian diplomacy has a clear task: to reach all regions of the world where our position is not yet well represented, to make Ukraine and Ukrainian interests understandable to all those states and nations with whom we do not yet have stable ties.

This concerns Asian destinations, as well as Africa and Latin America.

Today, I held a meeting with the international bloc of the government and the Office to discuss the interim results of our diplomatic marathon.

Our activity is really high now. We reach new agreements almost every day. Last week was particularly intense. But the key thing is to ensure that each agreement reached turns into concrete supplies for our defense, concrete interaction between states and concrete signed documents as soon as possible.

We have reached an important mutual understanding with the UK on long-range weapons and the need to speed up the delivery of tanks. We have a good agreement on artillery and ammunition. We have a full understanding of each other's positions on modern fighter jets. And I thank all our British friends, I thank Mr. Prime Minister Sunak for the work that has been started, particularly in the aviation sector.

Our talks in Paris with President Macron and Chancellor Scholz were also significant. The three of us spoke very frankly, and this allowed us to find a common understanding of the prospects in this war. I think this will make it much easier to resolve defense issues. We have a common vision of the path to victory. I would also like to separately thank Mr. President and Mr. Chancellor for their consolidated support of our European integration.

The visit to Brussels was unprecedented for the history of our relations with the European Union. For the first time, there was such attention to Ukraine, for the first time, there was a meeting with all European leaders at once, and a series of conversations with European leaders that were as dynamic, meaningful, and free of excessive politicization as possible.

With each leader, we discussed only those things that are important for our relations and for the European community as a whole. There was not a single empty conversation. I thank all our partners for this.

I would also like to emphasize the negotiations with Poland. With President Duda, when I was returning to Ukraine. And I had a separate conversation with Prime Minister Morawiecki in Brussels.

We discussed tanks and other weapons for defense on the ground; aircraft and other means of defense in the sky. We discussed the situation in the region in general, the prospects for this year… As always, we have full understanding with our Polish brothers.

And it is very important that we enjoy clear support from European institutions and European leaders for our goal of preparing for and starting negotiations on Ukraine's membership in the EU this year already.

Now, more than ever, it feels like Ukraine's European goals are becoming a reality. Finally, there are more real achievements than political declarations. For decades, Ukraine and the European Union have been moving towards this.

These weeks, our diplomatic marathon continues. Tomorrow is another Ramstein. We are preparing for it. And we are working to ensure that all our negotiations are reflected in the defense decisions of our partners both at Ramstein and during the time period before February 24.

New bilateral talks and meetings are also planned. We are preparing.

And we are making this intensity of diplomatic work the new minimum standard for Ukraine.

I thank everyone who works for our country! I thank everyone who helps!

I thank everyone who is in combat! I thank all our warriors who prevent the occupier from surrounding Bakhmut, who destroy the enemy in the Vuhledar sector, leaving nothing but scorched marks on the ground, and who hold our other crucial frontline positions.

Following these days, I would like to praise the warriors of the 66th separate mechanized brigade, 95th separate air assault brigade and 81st airmobile brigade who are extremely steadfast in defending the Luhansk region. And also the warriors of the 5th separate assault regiment who are heroically defending the Donetsk region. Thank you all, guys!

Let's remember: every new result achieved for Ukraine means a shorter time to victory.

In the evening, I signed decrees awarding our warriors. 186 servicemen of the Armed Forces of Ukraine were awarded state decorations.

Glory to Ukraine!
Here's former NAVDEVGRU Squadron Leader Chuck Pfarrer's most recent assessments of the situations in Bakhmut and Vuhledar:
BAKHMUT AXIS /1320 UTC 13 FEB/ RU continues operations against the M-03/ T-05-13 JCT north of Bakhmut. Repeated claims that RU has captured Krasna Hora are false: UKR forces remain in contact within the urban center. Fighting continues along the H-32 HWY south of Chasiv Yar. pic.twitter.com/AQtHIKZOQW

— Chuck Pfarrer | Indications & Warnings | (@ChuckPfarrer) February 13, 2023
VUHLEDAR AXIS /1345 UTC 13 FEB/ RU forces have advanced north of Grafske and enveloped the UKR salient between the T-05-09 HWY in the west and the O-0531 road in the east. Outflanked, UKR forces in Blahodatne and Volodymvrivka withdrew in an orderly manner. pic.twitter.com/cLeXWamTMc

— Chuck Pfarrer | Indications & Warnings | (@ChuckPfarrer) February 13, 2023
Bakhmut:
Ukraine National Guard's Omega Force near Bakhmut pic.twitter.com/CKJ0smR9sD

— Illia Ponomarenko 🇺🇦 (@IAPonomarenko) February 13, 2023
Vuhledar (or Gettysburg Day 3):
Judging from that video Russians in Vuhledar have switched to human wave tactics. No armored vehicles are covering this attack. #Vuhledar #Donetsk #Ukraine pic.twitter.com/rDlONgfAjV

— (((Tendar))) (@Tendar) February 12, 2023
🇺🇦Vuhledar 13.02 – 22:15 update:

Brief update: the enemy continues occasional assaults in the Vuhledar area with no results. Reinforcements mostly comprised of mobilized continue to arrive in the area, and information about enemy successes west of Vuhledar is false.

— Tatarigami_UA (@Tatarigami_UA) February 13, 2023
Touch not the cat, bot a glove!
Major Vadim Khodak, 4th Tank Brigade, originally from Dnipro, describes his experience of training on Leopard tanks in Poland so far. pic.twitter.com/GVtWk5rHoa

— Dmitri (@wartranslated) February 13, 2023
Wagner/Prigozhin:
It almost seems that Prigozhyn is dead serious on taking over certain authority (not power (yet)) among the Russian army and the MoD is facing a major challenger in the face of Wagner, especially after catastrophes like in Vuhledar.

Source: https://t.co/lLgwHjoXL2

— Dmitri (@wartranslated) February 13, 2023
Here's the actual translated screen grabs: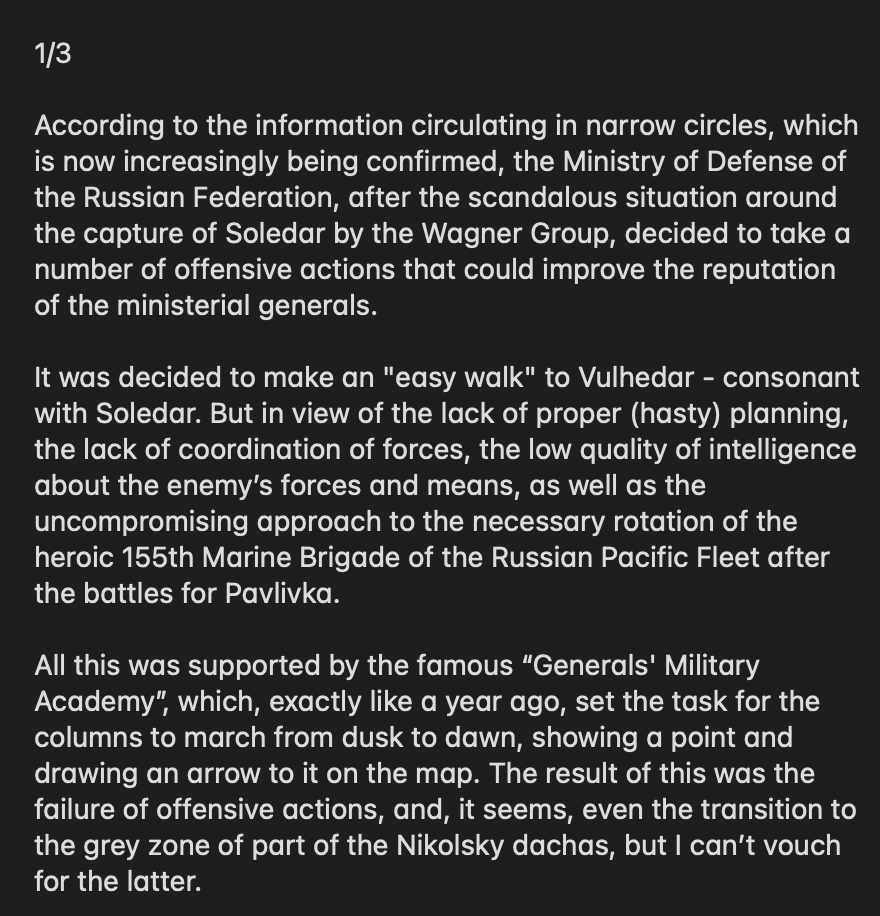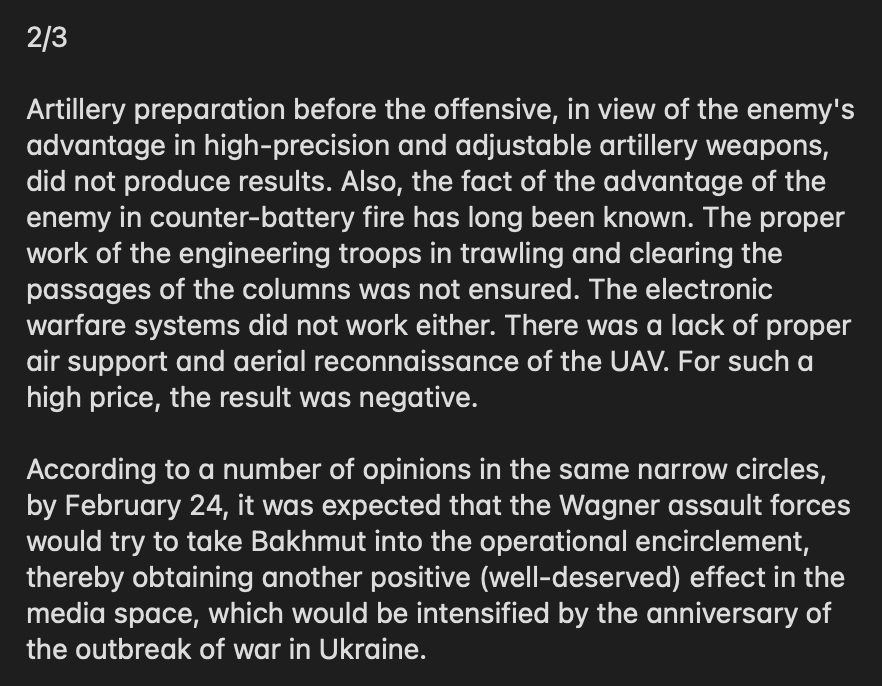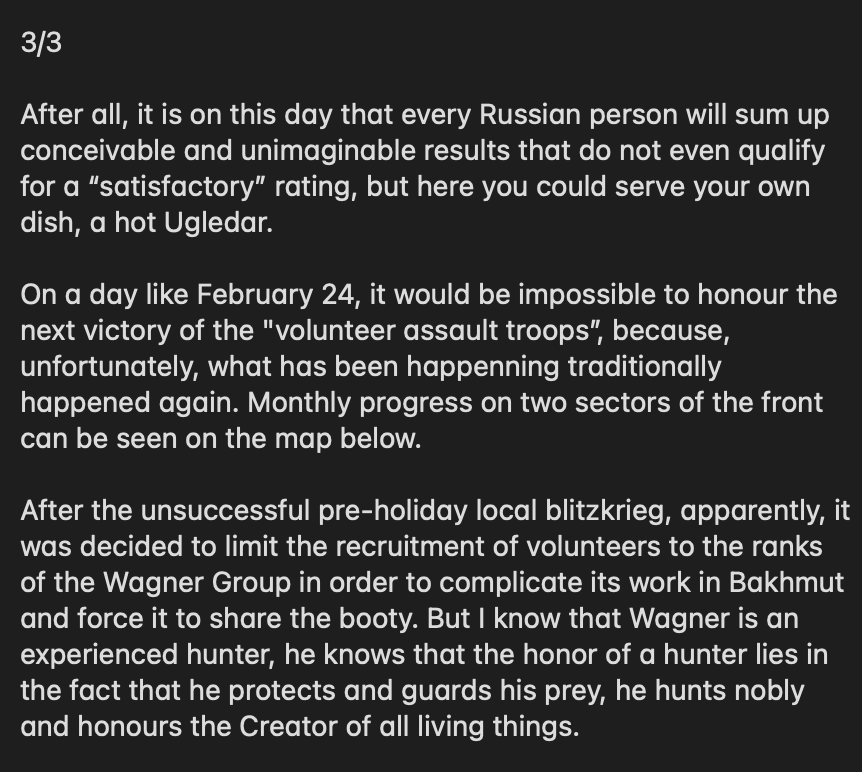 This is all playing out against reports, now from reputable sources, that the Kremlin has had enough and decided to freeze Prigozhin out.
Let's start with The New York Times:
He challenged Ukraine's president to a duel from the cockpit of a bomber. He threatened to urinate on the face of a critic. He declared his private army was fighting for "every street, every house, every stairwell" in the eastern Ukrainian city of Bakhmut.

And that was just the past couple of weeks in the still-nascent public life of Yevgeny V. Prigozhin, the St. Petersburg tycoon who is confounding Moscow's Kremlin-allied elite by starting to dabble in politics alongside waging war in Ukraine.

Mr. Prigozhin operated for years in secrecy, profiting from his personal ties to President Vladimir V. Putin to win lucrative catering and construction contracts with the Russian government while building up a mercenary force known as Wagner. After throwing his forces into Ukraine, their ranks swelled by prisoner recruits, Mr. Prigozhin has emerged as a public power player, using social media to turn tough talk and brutality into his personal brand.

Now Moscow, along with analysts trying to understand the changing dynamics of Mr. Putin's Russia, is puzzling over Mr. Prigozhin's next move. Some analysts believe he is poised to turn his new prominence into broader political influence, perhaps even to threaten Mr. Putin. Others see limits to Mr. Prigozhin's power base and public appeal.

"We don't understand what his political ambitions are," Oleg Matveychev, a member of Parliament for Mr. Putin's United Russia party and a longtime pro-Kremlin political operator, said in a phone interview. "No one understands whether he has them or not."

The emergence of Mr. Prigozhin after many years in the shadows has, in many ways, defined Russia's political transformation since its invasion of Ukraine began last February. Spewing vulgarities, disregarding the law and displaying loyalty to no one but Mr. Putin, Mr. Prigozhin is becoming a symbol of wartime Russia: ruthless, shameless and lawless, while his mercenary force takes thousands of casualties in one of the bloodiest battles of the war.

But there are obstacles to Mr. Prigozhin's rise. He is facing public blowback in St. Petersburg, his home base, as he tries to exert control over the politics of the city, Russia's second largest. Wagner has suffered heavy casualties in the battle for Bakhmut. And Mr. Prigozhin is dogged by open questions and criticism in Moscow, where analysts doubt that his recruitment of prisoners and endorsement of extrajudicial executions have broad appeal. On Thursday, Mr. Prigozhin said that he was no longer recruiting from Russian prisons.

Even the Kremlin appears to be trying to keep Mr. Prigozhin's political rise in check. Sergei Markov, a pro-Putin political analyst and former Kremlin adviser who appears frequently on Russian state television, said that officials had been transmitting an unusual directive to Moscow's talking heads in recent weeks: "Don't excessively promote Prigozhin and Wagner."

"It was a request from the leadership, and not just to me," Mr. Markov said in a phone interview, declining to specify who, exactly, had made the request. "They apparently don't want to bring him into the political sphere because he's so unpredictable — they fear him a little bit."
More at the link.
And let's jump over to Reuters:
His private army is pushing hard to give Russia a battlefield win in Ukraine, but mounting evidence suggests the Kremlin has moved to curb what it sees as the excessive political clout of Yevgeny Prigozhin, founder of Russia's Wagner mercenary group.

Prigozhin, a 61-year-old ex-convict, has grabbed headlines in recent months over his bloody role in Ukraine and is sometimes portrayed in the West as a real-life James Bond villain.

There is growing evidence now though that the Kremlin has moved to nip such speculation in the bud, ordering Prigozhin to halt his public criticism of the defence ministry while advising state media to stop mentioning him or Wagner by name.

Prigozhin confirmed last week he had also been stripped of the right to recruit convicts from prisons – a key pillar of his nascent political influence and one which has helped his forces make small but steady gains in eastern Ukraine where they appear to be inching closer to capturing the city of Bakhmut.

Olga Romanova, director of a prisoner rights group, said the Ministry of Defence had taken over convict recruitment earlier this year. The ministry has not confirmed that.

"The position of the (Kremlin) political bloc is not to let him into politics. They are a little afraid of him and find him an inconvenient person," Sergei Markov, a former Kremlin adviser who remains close to the authorities, told Reuters.

Tatiana Stanovaya, a veteran Kremlin scholar, wrote in a paper for the Carnegie Endowment for International Peace that, while Prigozhin's downfall did not appear imminent, his ties with the presidential administration were starting to crack.

"The domestic policy overseers don't like his political demagogy, his attacks on official institutions, or his attempts to troll Putin's staff by threatening to form a political party, which would be a headache for everyone in the Kremlin," she wrote.

"He hasn't just become a public figure; he is visibly transforming into a full-fledged politician with his own views."

According to Markov, the Kremlin has got a promise from Prigozhin that he would not create his own political movement or join a parliamentary party unless asked to do so by the Kremlin.

"(The message) is we will give you military resources, but do not get involved in politics for now," said Markov.

Markov, who described Prigozhin as extremely confrontational, said he believed Putin had told Prigozhin to halt public criticism of the top brass at a St Petersburg meeting around Jan. 14.

Markov said he did not know full details of who said what at the meeting and Reuters was not able to confirm the accuracy of his assertion.

Prigozhin has since moderated his criticism and made a point on Friday in a rare interview of looking into the camera to say he wasn't criticising anyone.

The St Petersburg meeting, which did not appear on the Kremlin website, was confirmed by at least one other attendee who posted about it on social media. The Kremlin says it does not comment on private meetings.
More at the link.
And here's a thread on this by Chris Owens. First tweet in the thread, then the rest from the Thread Reader App:
1/ Wagner Group head Yevgeny Prigozhin, Chechen leader Ramzan Kadyrov and recently demoted General Sergey Surovikin have been defeated in a bid to push out Russian Defence Minister Sergei Shoigu, according to a prominent Russian dissident. ⬇️ pic.twitter.com/JmtQpYOzVU

— ChrisO_wiki (@ChrisO_wiki) February 11, 2023
2/ 

According to Vladimir Osechkin, the founder of the 

Gulagu.net

 group, Prigozhin, Kadyrov and Surovikin formed a triumvirate last autumn in an unsuccessful attempt to take over the Russian Ministry of Defence and take control of the Russian war effort in Ukraine.

3/ 

Osechkin says that "Prigozhin was aiming for the post of first deputy head of the Ministry of Defence or for the post of defence minister. Kadyrov had plans to head the National Guard." Surovikin became the commander of all Russian forces in Ukraine on 8 October 2022. 

4/ 

However, Osechkin says, Russia's internal security agency, the FSB, found out about the plot. The trio got cold feet in a classic prisoner's dilemma. "Each of them was not prepared to risk his own well-being for the sake of a jointly successful bright future." 

5/ 

Surovikin was the first to fall on 11 January 2023 after only three months in his position as overall commander. He was replaced by General Valery Gerasimov, who was likely seen as much more loyal to the regime. 

6/ 

"Prigozhin used dirty methods, such as publicly insulting the generals, which did Surovikin a disservice," Osechkin says.

7/ 

"Prigozhin and Kadyrov have tried in every way to demonstrate their closeness to Putin, but apart from occasional meetings between Putin and Kadyrov nothing has happened. We can see that no [favourable] personnel decisions have been made." 

8/ 

Osechkin says that the FSB has for a long time been keeping a file on Prigozhin, who served a lengthy prison sentence for violent crimes in the 1980s. "And as long as there is such kompromat, there is no political future for Prigozhin," Osechkin predicts. 

9/ 

"It would be a great blessing for Prigozhin if he lived to see his trial. Judging by the methods Putin is using, he is likely to be 'cleaned up'. 

10/ 

Wagner's designation by the US as an international terrorist organisation may offer an excuse for the Russian government to wash its hands of the group and get rid of Prigozhin. A source tells the VChK-OGPU Telegram channel: 

11/ 

"Things have changed drastically with Prigozhin and he is in urgent need of strong support. It used to be that politicians were trying to get close to him, with Slutsky and Mironov lining up. 

12/ 

"Now, everything is changing before our eyes, and Prigozhin is trying to compensate for this with his media activity.

If he lets himself be forgotten now, then the Orchestra [Wagner] will be dropped from the agenda. 

13/ 

"The Kadyrovites don't give a damn about being thrown off the agenda, but the Musicians do. Wagner, under the guise of fighting international terrorism, may now be squeezed out of its sources of support abroad [in Africa]. 

14/ 

In Russia, Chief of the General Staff Gerasimov remembers old grievances and will not let Prigozhin forget them. No support from the top is in sight. Prigozhin is urgently looking for solutions". /end

Sources:
🔹 t.me/mozhemobyasnit…
More pissed off Mobiks!
News from the "large-scale offensive", this is the 4th mobik unit filming an appeal to the ministry of defence wondering why they were turned from the 3rd line defence forces into assault troops. They have not been provided adequate equipment. pic.twitter.com/OMnhL6iwi2

— Dmitri (@wartranslated) February 13, 2023
That's enough for tonight.
Your daily Patron!
Here's a new video from Patron's official TikTok:
The caption needs no translation.
Open thread!