(link)
Vaccines work.
Despite what thousands of paid Twitter blue checks might want you to believe, vaccines work. https://t.co/fwsHmsOjam pic.twitter.com/orQXjdYZKO

— Elisabeth Bik (@MicrobiomDigest) February 12, 2023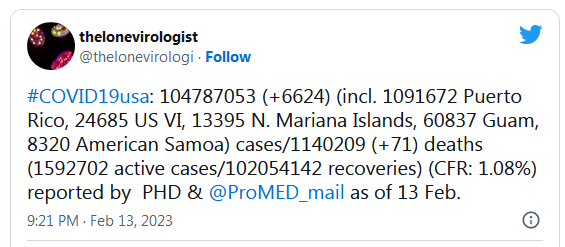 (link)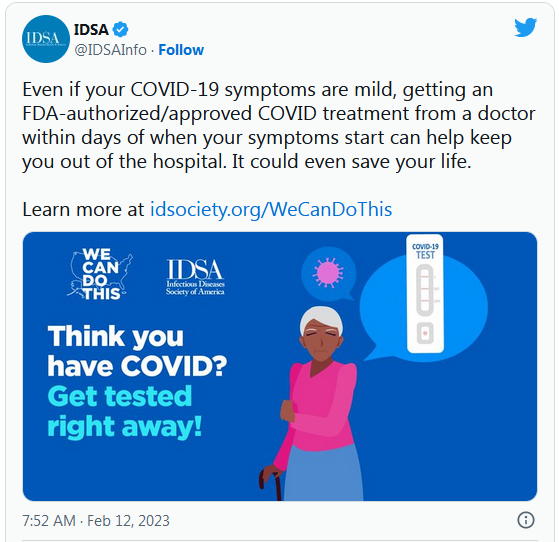 ======
'This is an account that should be heard of an important struggle: the struggle of a large group of experts who came together at the beginning of the Covid-19 pandemic to warn the world about the risk of airborne transmission and the consequences of ignoring it.' https://t.co/uHTlgiKqEv

— Thomas (@tom___green) February 12, 2023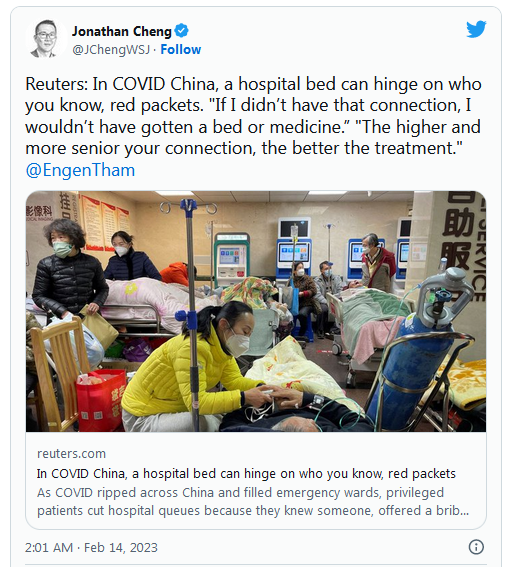 … As COVID ripped across China and filled emergency wards, privileged patients cut hospital queues because they knew someone, offered a bribe or paid people with connections, said three people who accessed care through such means and seven doctors in six cities.

The practice has long been commonplace in navigating an under-resourced Chinese health system that was severely stretched after Beijing abruptly ended its zero-COVID restrictions in early December, with widespread reports of packed hospitals and mortuaries.

China had only 4.37 ICU beds per 100,000 people in 2021, compared with 34.2 in the United States as of 2015, according to a paper by Shanghai's Fudan School of Public Health.

Connections can take the form of the patient being a government official, connected to one, or being related to a medical worker, the doctors said.

"The higher and more senior your connection, the better the treatment, or the easier the queue-jump. If you know the head of the hospital, then there won't be trouble getting a bed," a Shanghai doctor said…

China keeps the cost of medical care low to make it accessible, meaning many doctors are chronically underpaid and the profession struggles to attract staff, which leads to longer queues for care, experts and doctors say.

In 2020, 546,657 new medical workers joined the system, according to the National Bureau of Statistics, the fewest since 2017.

"You get 10,000 yuan ($1,463.70) to 15,000 yuan a month; what kind of money is that for the long hours and the expertise?" said a trainee doctor in wealthy Shanghai, adding that physicians are often in their mid-30s by the time they qualify for such a salary. "It's humiliating."

In smaller cities, new doctors can earn as little as 3,000 yuan to 5,000 yuan a month, said two doctors in a city in Sichuan province…

Access-granting gifts such as expensive tea and red packets with money are often given to the lead doctor, but also sometimes to the head nurse and the person who made the connection. That can lead to a total care bill that is double the official medical cost, said two people who recently made under-the-table offerings.

"For many of the doctors in hospitals, their main income is not from their basic salary, it's from grey income, the red envelopes they receive from the patients, despite the crackdown on corruption in the healthcare sector," Huang said.

For those without connections, payments to middlemen, known as "yellow cows", can help.

During China's recent COVID surge, social media was abuzz with talk of agents asking 4,000 yuan to 5,000 yuan to arrange a hospital bed, with comments on whether payment had been worth it and also on the fairness of such access.

Doctor appointments are cheaper.

One agent who claimed in an advertisement to be able to access any doctor in any Shanghai hospital said it would cost 400 yuan to jump the queue for an appointment with a leading physician in a top-ranking hospital.

Reuters was not able to confirm whether the agent would have delivered that result.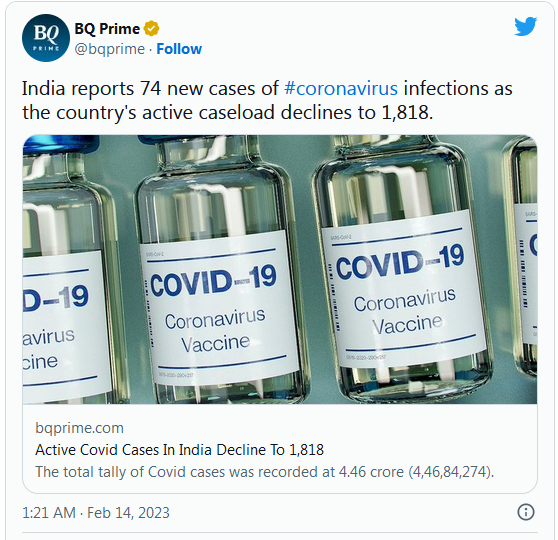 (link)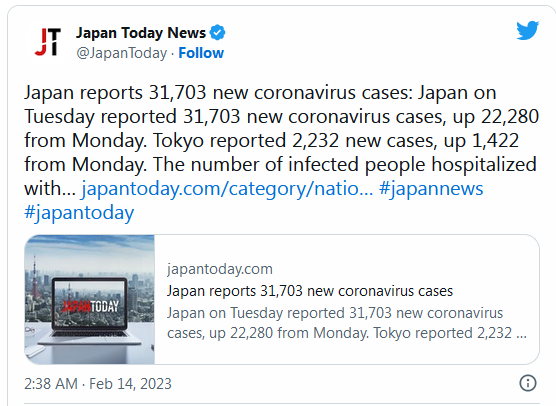 (link)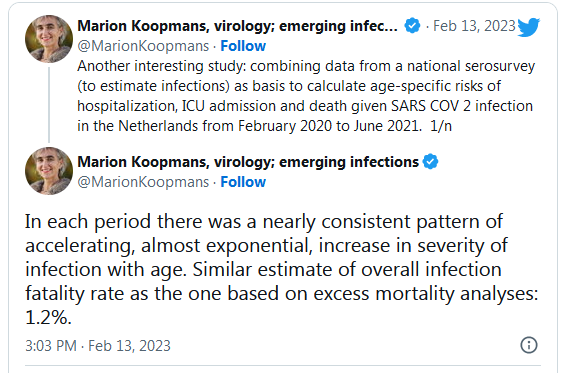 but very much age dependent. Sky-high in elderly, already 4-5% in 70-79 year olds. And effect very visible of start vaccination campaign (right before / at the start of the third period)https://t.co/n22BnineCR I am glad we put the breaks on this virus, even if it was hard…. pic.twitter.com/ks1R9WQvbC

— Marion Koopmans, virology; emerging infections (@MarionKoopmans) February 13, 2023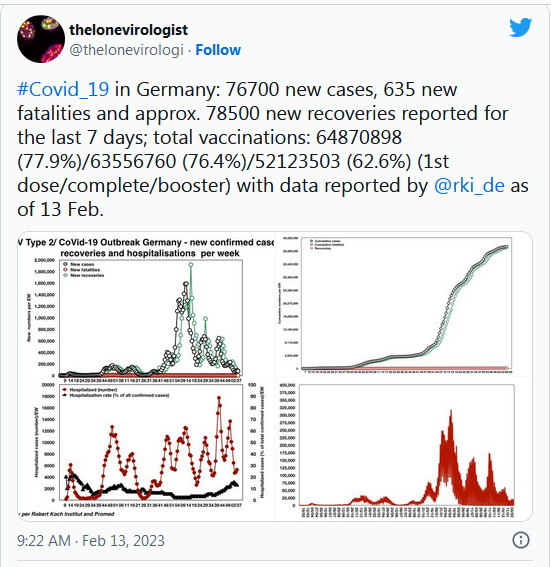 (link)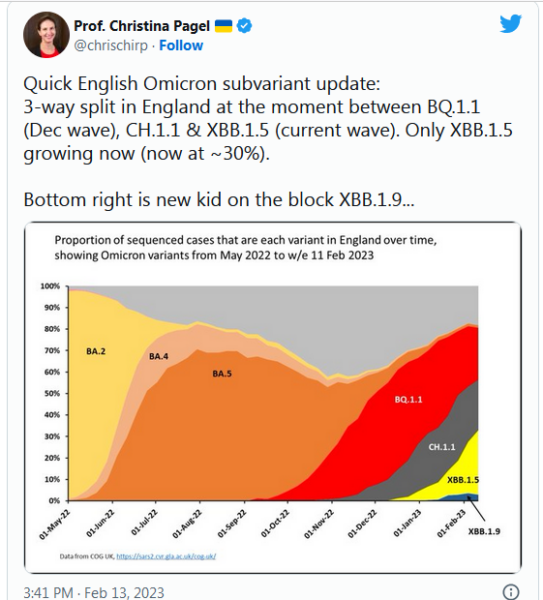 (link)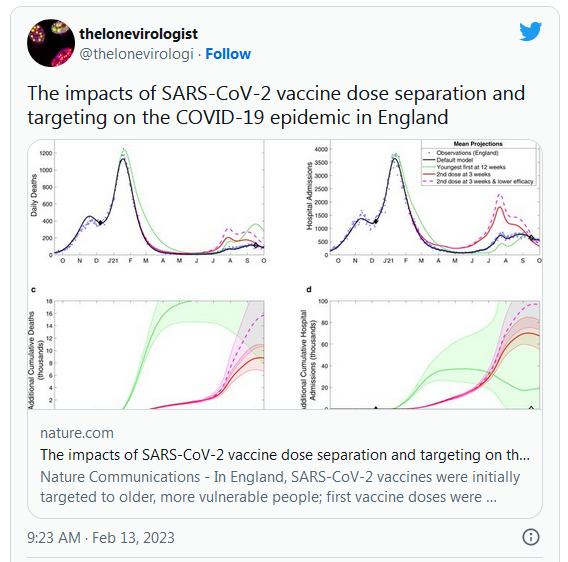 (link)
Increased excess deaths were caused mostly by COVID-19 not vaccines!!!

Look at the graph. If vaccines were the cause, why do COVID-19 deaths and excess deaths match perfectly?!!!

And before you cry "corrupt CDC" this is data from South Africa🇿🇦…https://t.co/JvLRrWtcdw pic.twitter.com/083w1Ebj9Y

— Dr. Ian Copeland (PhD) (@IanCopeland5) February 11, 2023
======
A review of 68 vaccine effectiveness studies:
Preserved protection vs hospitalizations and deaths out to 6 months, substantial waning vs infections, especially Omicron; similar pattern with boostershttps://t.co/Ny1HYIBNyF @LancetRespirMed @sbacon20 @CIUSSSnmtl @Concordia pic.twitter.com/pWrjKBl6v8

— Eric Topol (@EricTopol) February 11, 2023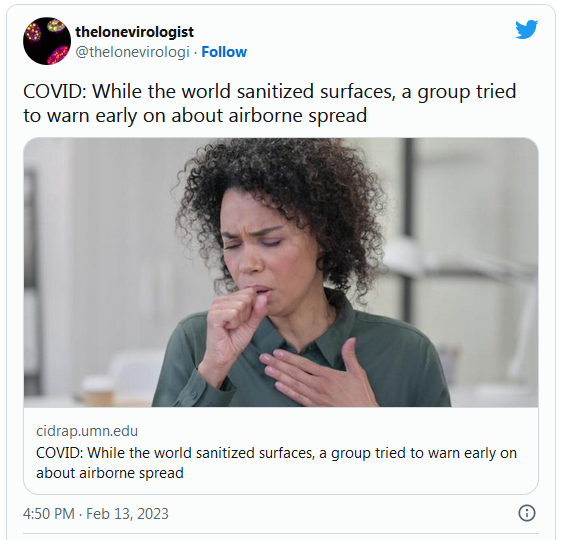 (link)
New Ontario, Canada report of Paxlovid effectiveness shows 44% reduction of hospitalizations, 51% reduction of deaths (point estimates) without being significantly affected by age (67% age 70+) or vaccination statushttps://t.co/b3AQq8tmax @CMAJ pic.twitter.com/3xej0K2xIm

— Eric Topol (@EricTopol) February 14, 2023
Startling: 10% of lung transplants in America are performed because of permanent, massive #COVID19 damage. This means people who need lungs for other reasons are competing against an even larger burden of need for the precious few lungs available.https://t.co/fOkazCa3M5

— Laurie Garrett (@Laurie_Garrett) February 14, 2023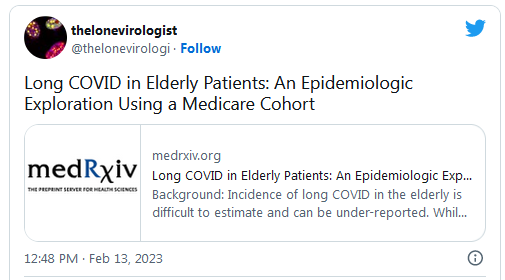 (link)
prioritising the younger persons first (18+) led to less hospitalisations. These were deliberations that needed to be done. Additional factor: the 18+ group is much bigger, therefore would be delayed. https://t.co/vGjL7uPXOz Important studies for evaluations, many more needed.

— Marion Koopmans, virology; emerging infections (@MarionKoopmans) February 13, 2023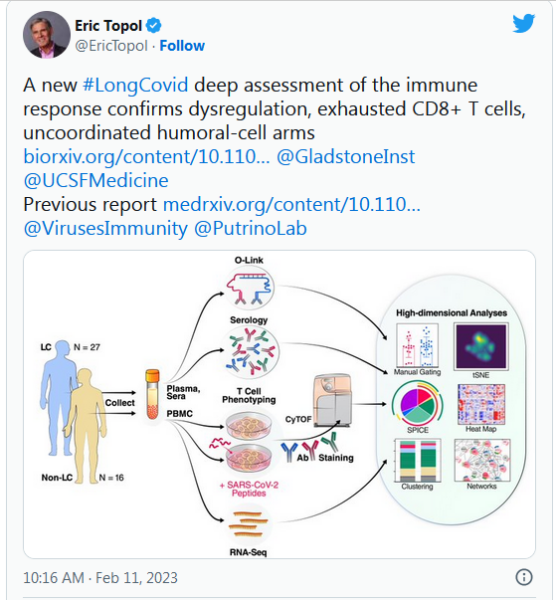 (link)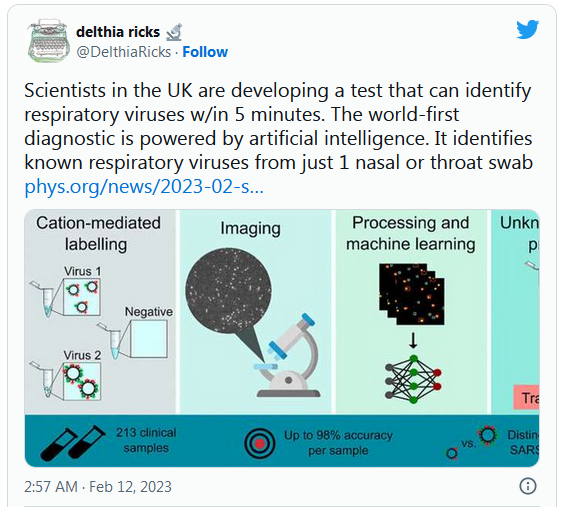 (link)
With millions of people daily shedding #SARSCoV2 in their waste, researchers in Alaska asked what the impact might be on wastewater exposure for marine mammals, & found, "the potential for reverse zoonotic transmission of #COVID19 ."https://t.co/uwBMr7WUc8 pic.twitter.com/6b84ZjrqtW

— Laurie Garrett (@Laurie_Garrett) February 10, 2023
Men apparently are at higher risk of #Covid-related problems than women. A team in Japan has uncovered sex-specific differences in a type of immune cell called regulatory T's, or T-regs. Team found a key subset of T-regs are lost at a faster pace in men https://t.co/q45k6GNPhD

— delthia ricks 🔬 (@DelthiaRicks) February 13, 2023
======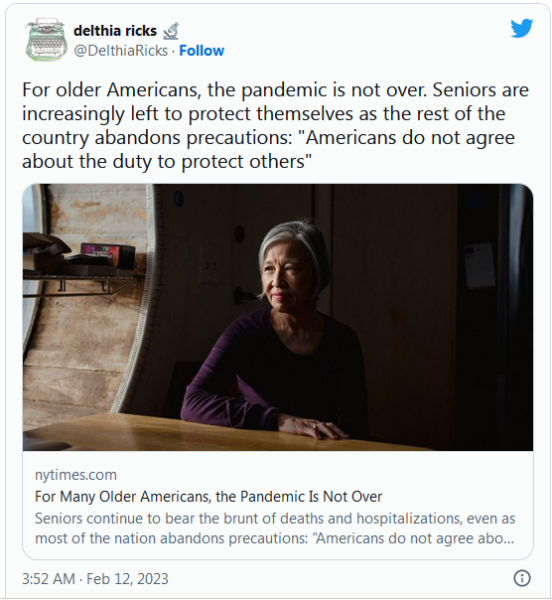 (link)
The study that examined doctors attitudes on fringe treatments, also explored views of laypeople on Covid. The report documents how political ideology has spilled into areas unrelated to the principles of liberalism or conservatism. Rightwingers equate vaccination w/ "liberalism" pic.twitter.com/XP8P5VPZhz

— delthia ricks 🔬 (@DelthiaRicks) February 11, 2023
It's Tuesday, so it must be a bioweapon. Tomorrow it will be fake again.

— Patrick Chovanec (@prchovanec) February 12, 2023
Reader Interactions