Thirty-three years ago today, Carl Sagan convinced NASA to rotate the Voyager 1 probe and take one final photograph. The result, seen here in a recent reprocessing, is, to me, one of the most beautiful images ever captured. I know I wrote about it last Christmas, but it just springs to mind whenever there's a holiday about love and togetherness and all that other mushy stuff. It's important to remember where we all came from, where we all live our lives, and where we will all probably die: on a mote of dust suspended in a sunbeam.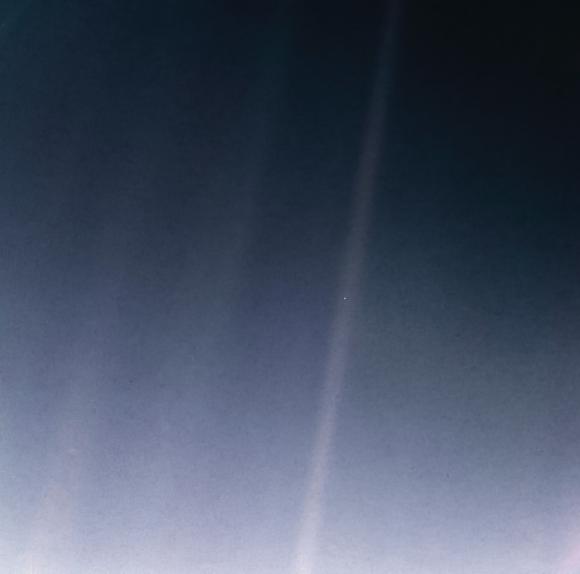 In the day-to-day there are things that matter more, like civil rights and payroll taxes, but perspective matters too. What do we fight for? Who do we struggle against? It's all right here in this picture. You'd lose your mind if you thought about this stuff all the time, but the there's nothing wrong with the occasional reminder. We forget, at our own peril, that there are greater concerns than what's right under our noses–and greater concerns than those–and, and…
Humility. Probably not the essence of love, if there is such a thing, but an important part of any mature attempt at the enterprise. On my better days I won't claim to know much, but I always know that. We're all stuck here whether we like it or not, and we're all stuck here with everybody else, so maybe we could all use some more love. Yes, this is a politics blog, and yes, many of our opponents are bad people, and no, they would not extend us this courtesy. But that's one of the things that makes us us, and them them. And hey–if more love isn't on offer, as a way of improving conditions on that pale blue dot, I'd certainly settle for more Democrats.
Open thread!