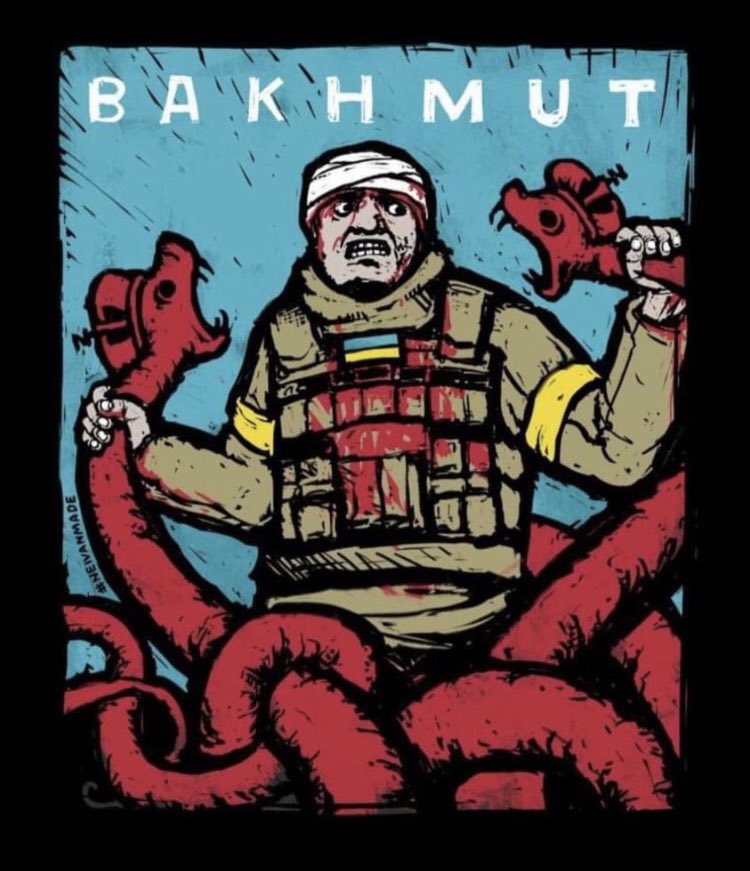 (Image by NEIVANMADE)
Another briefer update tonight.
Here is President Zelenskyy's address from earlier this evening. Video below, English transcript after the jump:
Good health to you, fellow Ukrainians!

Today we had a day that can be called preparatory.

Preparatory for international events that will take place tomorrow and the day after. These days. As always, Ukraine's position must be heard. Hence, we are preparing our position so that it is guaranteed to be heard.

This day was also preparatory for a longer-term perspective. Defense issues, economic issues – both with an eye to the spring of this year.

We have to ensure that this spring it is truly felt that Ukraine is moving towards victory. This applies to the training of our defense forces, the supply of weapons for our country and our strategic initiative in the war.

Any attempts by Russia to retake the initiative must be thwarted. And I am confident that we will do so.

The enemy is already losing so many of its people, so many of its forces, that it will soon be difficult to find, for example, a "marine" throughout Russia.

And our task is to make sure that there is less and less desire there to keep Ukrainian territories under occupation.

The liberation of our land is the goal we are working on every day.

Today I held an economic meeting, also to prepare for spring. We discussed many issues. All of them relate to the economic recovery of Ukraine, creating economic opportunities for our people and industries.

The agricultural sector – there is a very acute issue of humanitarian land demining. An interagency working group has been set up at the Cabinet of Ministers level to ensure that this activity is intensified – the clearing of soil from mines and unexploded ordnance.

The government is preparing new significant steps to deregulate the Ukrainian economy. Business will benefit from simplification in dozens of areas, including the abolition of various bureaucratic permits and licenses.

Steps are also being prepared to create jobs. Every job in our country now is a contribution to our resilience. And it is a way to bring our people back to Ukraine. The relevant details will be presented at the government level.

Of course, we also had a very meaningful conversation today about European integration. We are doing everything to prepare the start of negotiations on EU membership.

In particular, this was discussed during the visit of the Prime Minister of Sweden.

It is Sweden that currently holds the EU Presidency, and we have both the necessary leadership and the necessary will to start membership negotiations this year. Ukraine feels the support of its partners in this, and I am grateful for it.

Today we also spoke in great detail with Mr. Prime Minister of Sweden about further defense assistance, about weapons for us, for Ukraine. Our defenders are very much looking forward to the Swedish Archers, one of the most powerful artillery systems. And Archers will definitely help our warriors.

Today I spoke with the President of Azerbaijan. I thanked him for the sincere desire for peace for Ukraine, for the humanitarian support for our country and for his wise view on the protection of international law. We agreed to cooperate in global institutions.

And, as it has become a tradition every evening… I want to thank our warriors. To each and every one of them, who with their resilience and bravery on the frontline enable us to prepare our next defense steps.

The 54th separate mechanized brigade named after Hetman Ivan Mazepa, the 10th separate assault brigade "Edelweiss" – thank you guys for the effective defense of the Donetsk region!

The 25th separate airborne Sicheslav brigade, the 81st separate airmobile brigade and the 95th air assault brigade – thank you guys for defending the Luhansk region!

Every day of your defense now allows us to prepare the future liberation of our cities and communities.

We cannot leave a single chance to all the occupiers. And we will not.

I thank everyone who helps our country! 

Glory to each and every one who is in combat!

Glory to Ukraine!
Here's former NAVDEVGRU Squadron Leader Chuck Pfarrer's most recent assessments of the situations in Kreminna and Bakhmut:
KREMINNA /0030 UTC 16 FEB/ A 14 FEB Russian surge west of Kreminna has been halted and reversed by UKR counter-attacks. RU probes were broken up by Ukrainian forces at Novosadove and Zarichne, with RU units withdrawing back across the P-66 highway. pic.twitter.com/ex8yX8dEZO

— Chuck Pfarrer | Indications & Warnings | (@ChuckPfarrer) February 16, 2023
BAKHMUT /1430 UTC 15 FEB/ On 14 FEB, UKR conducted offensive actions against at Krasna Hora & Chasiv Yar. At present, the Forward Edge of the Battle Area (FEBA) is unclear; these two operations may be described as raids. pic.twitter.com/GfC7D1SVeC

— Chuck Pfarrer | Indications & Warnings | (@ChuckPfarrer) February 15, 2023
Bakhmut:
🤡Prigozhyn declares Russians shouldn't downplay the enemy by saying Bakhmut is "surrounded", his best guess is encircelemnt will happen in March-April now, although new weapon deliveries will have a significant impact in this estimation. pic.twitter.com/G52ePria5o

— Dmitri (@wartranslated) February 15, 2023
Just a quick warning on this one as I haven't had a chance to watch it. Madyar has a tendency to use what in the US would be a no longer acceptable slur for homosexual men to refer to the Russians he and his people are fighting. I try to screen the videos with him and if he uses it I don't include it. I don't have the time to do so, so I'm winging it and hoping this is one where he doesn't. If he does, someone let me know in the comments and I'll pull it.
Update from Bakhmut, 15 February – while routes to Bakhmut are not safe, in areas such as Konstantinivka highway, the enemy is being pushed back. Wagner is not getting reinforcements and is being replaced with Russian army. The city is holding as before – Magyar. pic.twitter.com/lwSZzLj1DQ

— Dmitri (@wartranslated) February 15, 2023
Kyiv:
Air Forces detected balloons with reflectors, used for radar reconnaissance in Kyiv region. Three days ago Russia launched reconnaissance drone and same balloons over Dnipro. Russia is trying to find where Ukrainian air defense is located and is preparing for attack.

— Maria Avdeeva (@maria_avdv) February 15, 2023
Balloon with reflectors downed today around Kyiv. Six of them were detected earlier. pic.twitter.com/V8qyeQObGS

— Maria Avdeeva (@maria_avdv) February 15, 2023
I'm sure some of you have seen the Institute for the Study of War's (ISW) latest assessment. As you all know, I'm not really a fan of that place. Regardless, I think this is the right take on that assessment:
Strongly disagree with this assessment. The Ukrainians are staying on the defensive because they can, better gear is still arriving, and it's the smart move while Russian forces are desperate to achieve anything. https://t.co/0Cv419CgAw

— B. A. Friedman (@BA_Friedman) February 14, 2023
Ukraine knows this, and can choose where and when to defend, where and when to counter-attack. They have the choice, they have the initiative.

— B. A. Friedman (@BA_Friedman) February 14, 2023
And this reporting from The Guardian is part of the reason I'm in agreement:
Ukraine's military have given little ground in fight that underscores Moscow's tactical limitation.

Crunching through the snow, a few miles from the Russian frontline, there are few visible signs of the activity going on below. At ground level, where the temperature is -6C, the background noise of artillery fire is constant: the pops of outgoing shells and the crumps of incoming ones, as the Russians attack the nearby town of Vuhledar, a fight that has already been going on for three weeks.

The military escort turns off into an ordinary dacha, and heads not for the house, but towards a nearby cellar, pushing past a dirty hanging drape. It reveals a flight of steps leading to a heavy metal door and beyond that a hi-tech command post. Inside a stove-warmed room, half a dozen soldiers from Ukraine's 68th Jaeger infantry brigade monitor the frontline.

Here, the soldiers are armed with laptops. One constantly eyes camera footage, which can come from drones, another the Russians' radio communications – both gathering intelligence. The frozen fields on the central screen appear quiet at that moment, but the fighting has been intense nearby, around a small coal mining town that the Ukrainians are desperate to hold.

Viacheslav (Ukraine's military only allows first names to be used), a major, is the local commander. He explained that Vuhledar matters because it is on an elevated position, and that if the Russians capture it they will have "fire control" on villages to the north. Losing it could force a retreat closer to Kurakhove, 15 miles (24km) behind the current frontline. "No matter how good our defence line, it is going to become pointless" if the village is lost, he said.

Russian assaults on Vuhledar typically "start at 4am to 5am" and have been taking place daily, according to another commander, a senior lieutenant aged only 23, who goes by the call sign of Tykhyi. The young officer is from Ukraine's 72nd mechanised brigade, an armoured unit that has been leading the defence of the town, with the 68th assisting, since the battle began on 24 January.

Despite day after day of attacks, Ukraine's military have only given a little ground in a fight that has – so far at least – underscored familiar Russian tactical limitations and a low regard for the value of its soldiers' lives. If it is the start of the Russian spring offensive, it has been a disaster.

"We can see very clearly that they're poorly trained," Tykhyi said. The Russian troops are from the 155th naval infantry brigade, comprised of newly mobilised soldiers. The novices, he said, often "gather in one pile of people" making them easier targets. "They don't have any tactics. It's as if they were told, you have this task, go and do it, but they were not told how to do it. So they just improvise."

Videos of the fighting, taken from overhead drones, back up the Ukrainian's point. One shows an exposed Russian tank being struck in the area, an easy target for the defenders. Britain's Ministry of Defence said on Friday it believed that Russian troops abandoned "at least 30 mostly intact armoured vehicles" after a single "failed assault" as confirmed in a string of pictures.

According to Tykhyi the Russians initially made heavy use of tanks and fighting vehicles but as the days have worn on, have thrown forward an increasing proportion of infantry. It suggests that the attackers were running short on armour in the Vuhledar sector, at least for now.

Critical to Ukraine's defence is to spot and attack the Russians from a distance, before they get to what is left of Vuhledar, where it is estimated that only 300 people still live. A video released at the beginning of February depicts a shattered town.
Much, much, much more at the link!
Vive le France!
The first tranche of French 14 AMX-10RC light tanks/armoured reconnaissance vehicles are on route to Ukraine and will arrive by the end of February. 🇫🇷🤝🇺🇦 https://t.co/26E763qPHP

— Jimmy Rushton (@JimmySecUK) February 15, 2023
No matter what Putin does or thinks he can do, the Eurointegration peanization of Ukraine is not going to be stopped:
Ukraine's de facto full integration into the Single Market takes shape. Whether Ukraine becomes a full member of the EU or not, none of this Switzerland or Norway-level access to the EU system is getting rolled back after the war. https://t.co/YmzSlUXgtW

— Alexander Clarkson (@APHClarkson) February 15, 2023
The Humanitarian Research Lab at Yale's School of Public Health has released their new report on how Russia has stolen over 6,000 Ukrainian children.
Russia has held more than 6,000 children from Ukraine in at least 43 camps and other facilities, according to a new report by researchers at @HRL_YaleSPH, a partner of the @StateDept funded @ObserveConflict. (1/3) pic.twitter.com/QcASut3Jlu

— Yale School of Public Health (@YaleSPH) February 15, 2023
Read the full @HRL_YaleSPH report ⬇️ (3/3) https://t.co/6jinT22xxk

— Yale School of Public Health (@YaleSPH) February 15, 2023
!NEW REPORT!: Russia has held more than 6,000 children from Ukraine in 43+ camps and other facilities for systematic re-education, and in some cases foster/adoption from Black Sea to Russia's Far East finds @HRL_YaleSPH in @ObserveConflict @StateCSO https://t.co/x7WoSnH5Ia pic.twitter.com/yT5urd5Bcb

— Humanitarian Research Lab (HRL) at YSPH (@HRL_YaleSPH) February 14, 2023
Here's the network chart from the tweet above: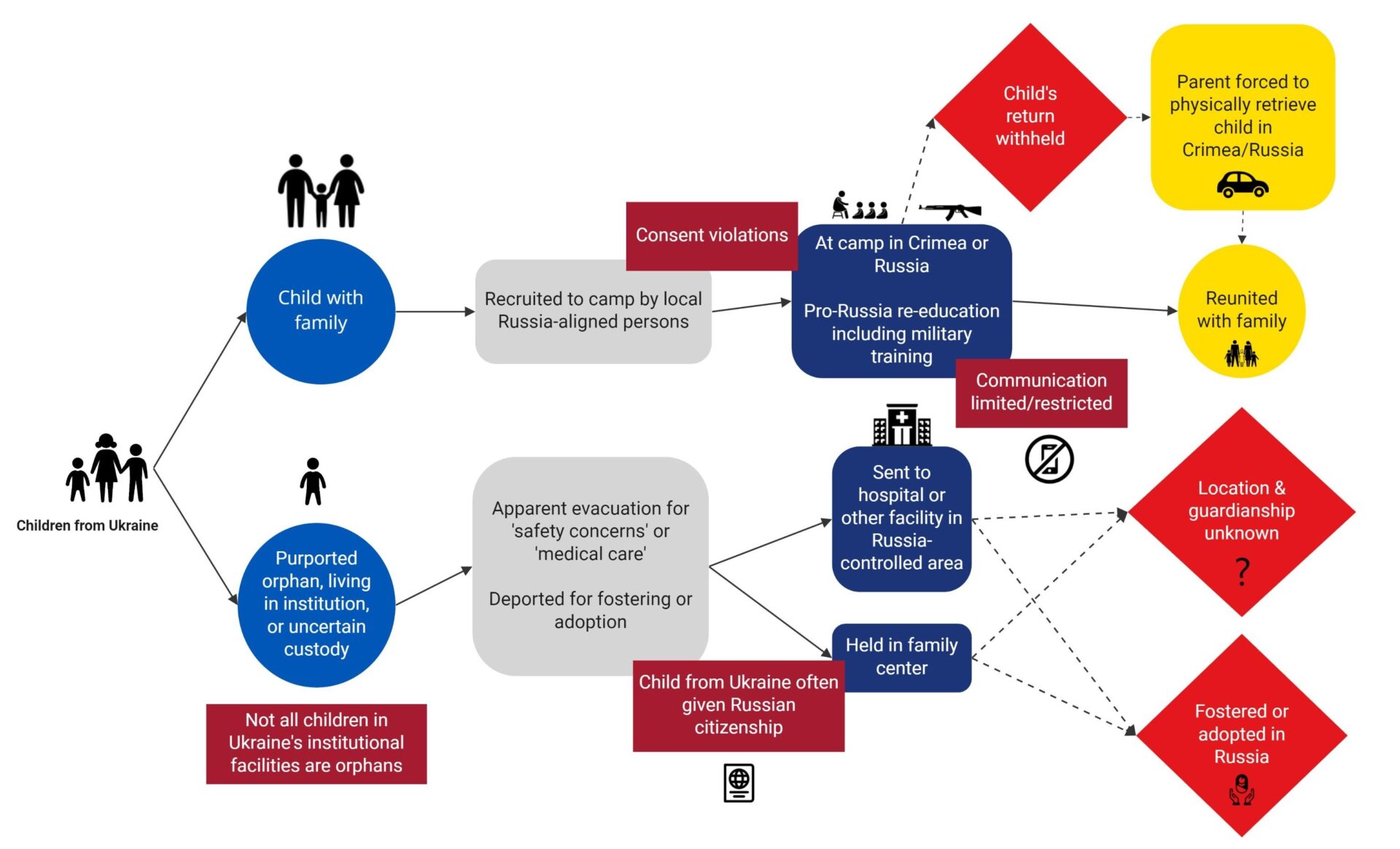 Here's the summary of the report and the key findings:
14 February 2023

Russia's Systematic Program for the Re-education and Adoption of Ukraine's Children

Introduction
Russia's federal government has systematically relocated at least 6,000 children from Ukraine to a network of re-education and adoption facilities in Russia-occupied Crimea and mainland Russia. The Yale School of Public Health's Humanitarian Research Lab (HRL) identified 43 facilities involved in holding children from Ukraine since Russia's 24 February 2022 invasion of Ukraine. The majority are recreational camps where children are taken for ostensible vacations, while others are facilities used to house children put up for foster care or adoption in Russia. These findings indicate the majority of camps have engaged in pro-Russia re-education efforts and some camps have provided military training to children or suspended the children's return to their parents in Ukraine.

Produced as part of the Conflict Observatory, this report documents the widespread nature of these facilities and their intended purposes. The report also explores the vast network of people responsible for facilitating the transfer of Ukrainian children to Russia.

Key Findings

More than 6,000 children in Russia's custody: Yale HRL has collected information about at least 6,000 children from Ukraine ages four months to 17 years who have been held at camps and other facilities since the full-scale invasion of Ukraine on 24 February 2022. Arrivals to these facilities began in February 2022; the most recent transfers occurred in January 2023. The total number of children is not known and is likely significantly higher than 6,000.
At least 43 facilities in network: The network spans at least 43 facilities identified by Yale HRL, 41 of which are pre-existing summer camps in Russia-occupied Crimea and Russia. Among the camps, 12 are clustered around the Black Sea, 7 are in occupied Crimea, and 10 are clustered around the cities of Moscow, Kazan, and Yekaterinburg. Eleven of the camps are located over 500 miles from Ukraine's border with Russia, including two camps in Siberia and one in Russia's Far East. The exact number of facilities is likely significantly higher than the 43 identified in this report. Yale HRL identified two facilities associated with the deportation of orphans: a psychiatric hospital, and a family center.
Network of children's facilities stretches from Russia-occupied Crimea to Russia's eastern coast: The furthest camp this investigation identifies is in Magadan oblast in Russia's Far East near the Pacific Ocean, approximately 3,900 miles from Ukraine's border with the Russian Federation. The camp in Magadan is roughly three times closer to the United States than it is to the border of Ukraine.
Primary purpose of the camps appears to be political re-education: At least 32 (78%) of the camps identified by Yale HRL appear engaged in systematic re-education efforts that expose children from Ukraine to Russia-centric academic, cultural, patriotic, and/or military education. Multiple camps endorsed by the Russian Federation are advertised as "integration programs", with the apparent goal of integrating children from Ukraine into the Russian government's vision of national culture, history, and society.
Children from two of the camps have been placed with foster families in Russia: Yale HRL identified at least two camps that hosted children alleged to be orphans who were later placed with foster families in Russia. Twenty children from these camps were reported to have been placed with families in Moscow oblast and enrolled in local schools there.
Consent is collected under duress and routinely violated: Consent gathered from parents for their child to attend a camp included signing over power of attorney in some cases, including to an unnamed agent. Other parents allege that the specific elements of the consent they gave were violated, such as the term of stay and procedures for reuniting with their children. Still other parents allegedly refused to allow their children to go to camps, but were ignored by camp organizers who enrolled the children in camps regardless. In many cases, the ability of parents to provide meaningful consent may be considered doubtful, as the conditions of war and implicit threat from occupying forces represent conditions of duress.
Children's returns from at least four camps have been suspended: In approximately 10% of camps identified by Yale HRL, children's return to Ukraine was allegedly suspended. At two camps, Artek and Medvezhonok, children's returns were suspended indefinitely, according to parents. Medvezhonok is one of the largest camps identified, at one point hosting at least 300 children from Ukraine. Officials there originally told the children's parents they would return at the end of summer, but later rescinded the date of return. Hundreds of children from Ukraine from at least two other camps, Luchistyi and Orlyonok, have been or are being held past their scheduled date of return; Yale HRL has been unable to identify how many of these children have been reunited with their parents. Parents also described being unable to get information about their child's status or whereabouts after their return has been suspended. It is unknown how many of Ukraine's children Russia currently holds and how many have been released to their families.
All levels of Russia's government are involved: This operation is centrally coordinated by Russia's federal government and involves every level of government. Yale HRL has identified several dozen federal, regional, and local figures directly engaged in operating and politically justifying the program. Activities of officials allegedly implicated in the operation include logistical coordination (i.e., transporting children), raising funds, collecting supplies, direct camp management, and promoting the program within Russia and occupied areas of Ukraine. At least 12 of these individuals are not on U.S. and/or international sanction lists at the time of this report.
There is much, much more at the link. And the full pdf of the report can be found at this link.
Here's even more Russian war crimes:
Ukrainian authorities find 30 bodies in Snigurivka, a village in southern Mykolaiv oblast that was previously under Russian occupation. "All of them have signs of violent death." https://t.co/F0u6XzGf2S

— Mark MacKinnon (@markmackinnon) February 15, 2023
Here's the reporting from Ukrinform:
At Mykolayivshchyna in the deoccupied Snowman, police found the bodies of 27 civilian casualties.
This was stated during the briefing on February 15 by the head of the Nikolaev Regional Prosecutor's Office Dmitry Kazak, the correspondent Ukrinform said.

« 27 bodies of dead civilians were found in the deocupied Snowman. They all have signs of violence death, in particular, bullet wounds, explosive injuries, etc. Criminal proceedings have been launched, a number of people involved in these crimes have been established », Kazak said.

At the same time, he stressed that the places of mass burial of people here, as in Bucha in Kyiv region, were not found. All bodies were in separate graves.

The city of Snigurivka in Mykolayivshchyna was reportedly occupied by Russian troops for more than eight months.
There is a longer discussion to be had here about the Russian way of war. A way of war that may embrace technological improvements in weaponry, armaments, munitions, ordnance, material, and equipment, but that is also tethered to a through line of brutality as both strategy and tactic stretching back several hundred years. I don't have the bandwidth to write it tonight. Let alone the comments if/when I do. I may try to get to it this weekend.
That's enough for tonight.
Your daily Patron!
An update regarding last night's tweet:
The oldest PayPal account works for now 🤞🏻[email protected]

— Patron (@PatronDsns) February 14, 2023
Pets always look like their people? 😄Show if you are similar to yours (pets or people). pic.twitter.com/CptICtudG9

— Patron (@PatronDsns) February 15, 2023
Open thread!