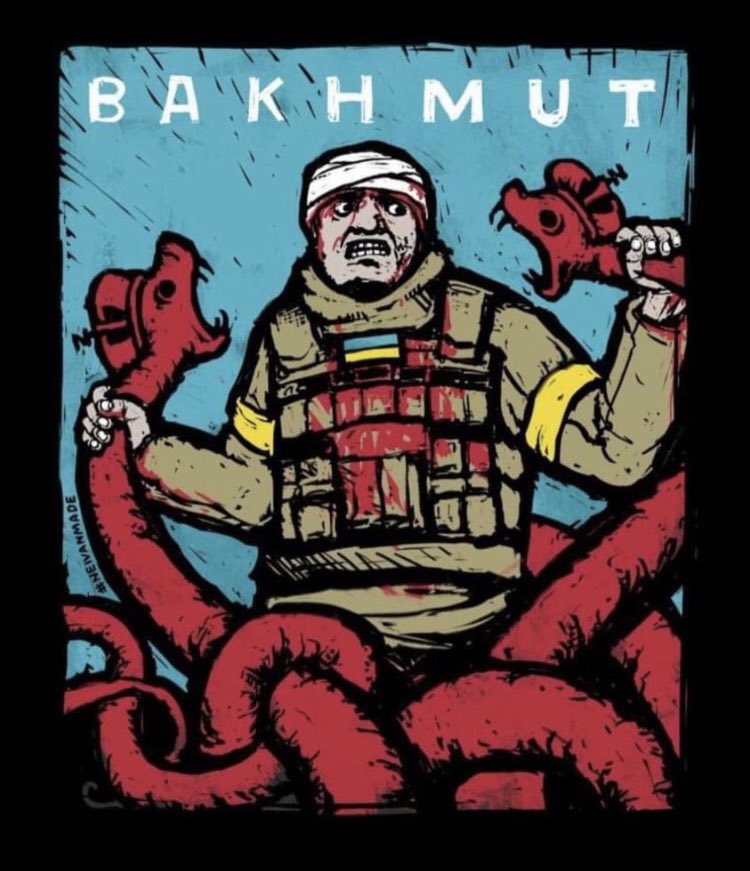 (Image by NEIVANMADE)
Last night we covered the new Yale Human Rights Lab report on how the Russians have stolen more than 6,000 Ukrainian children, which was published two days ago. Two days later…
Two days after the US published a report claiming Russia has abducted at least 6,000 Ukrainian children, children's rights commissioner Maria Lvova-Belova tells Putin she "adopted" a 15-year-old from Mariupol herself.

"All thanks to you, Vladimir Vladimirovich!" pic.twitter.com/rTAP8MEU1g

— max seddon (@maxseddon) February 16, 2023
Here's President Zelenskyy's address from earlier today. Video below, English transcript below:
Dear organizers, participants,

friend of Ukraine Sean,

and guests of the 73rd Berlin Film Festival!

Ladies and Gentlemen!

In preparing for this address, I remembered a phrase that you are all well familiar with. "Break the fourth wall."

An imaginary border between the one who is on the screen and a viewer.

At the same time, cinema is able to overcome other walls and barriers existing in the world. Both real and ideological.

It is enough to mention the story of the great German director Wim Wenders. In my opinion, in a certain sense of the word, he broke the Berlin Wall two years before its actual fall. In the outstanding film Der Himmel über Berlin, where the divided city is united by Angels flying freely over the wall. At that time, Wenders could not even imagine that one day, in basically the same place, he would open the 50th Berlinale.

Where once there was a wall and emptiness – now life is booming and the heart of the Berlinale beats.

And it seems very symbolic to me. For many years, Potsdam Square was "cut through" by the Berlin Wall. Formally, it divided West and East Berlin. It divided the free world and the totalitarian one. And it is not only about state borders on the map.

The wall divided different worldviews, philosophies, different values. Today, Russia wants to build the same wall in Ukraine. A wall between us and Europe.  To separate Ukraine from its own choice and its own future. A wall between freedom and slavery. Between the right to life and missile attacks. Between progress  and the ruins that Russia leaves behind. A wall between civilization and tyranny.

A logical question comes up:

On which side should culture and art be? Are they still out of politics?

Russia has been waging a full-scale war against us for almost a year. For almost a year it has been shelling and destroying peaceful cities, for almost a year it has been killing people, killing women and children, threatening the world with a nuclear attack, provoking food, energy, environmental, migration and other crises on all continents. Can art be outside of politics? Should cinema be out of politics?

This is an eternal question, but today it is again extremely relevant.

I think about it when I hear strange calls for representatives of Russian sports, read about strange invitations to perform for Russian musicians, discussions about scientists, cinema, and culture in general. I was thinking about this… last night when Russia launched yet another massive missile attack on Ukraine. 36 rockets and Iranian drones!

Culture and cinema can be outside politics. But not when it is a policy of aggression. Not when it is a policy of mass crimes, murders, terror, the desire to destroy other countries and other peoples. When it is a policy of total war. That is, the politics of today's Russia.

Under such circumstances and at such times, art cannot be neutral. Cannot be "out".

Culture makes choices in times like these. Culture chooses the side. Or speaks out in different ways fighting and standing against evil. Or – ovelooks and remains silent – and, in fact, helping the evil.

When art is indifferent and its voice is not heard, in this silence the loud speakers of evil sound stronger and more convincingly.

Of course, in a global sense, cinema cannot change the world. But it can influence and inspire people who can change the world.

A good movie evokes emotions. Cult cinema causes change. In humanity's struggle against any evil, there are always two voices – truth and propaganda.

For a while, propaganda can muzzle the truth. But it is not able to win completely. If art does not stop the struggle and understands that standing aside means being close to evil.

The Berlinale made its choice. And confirmed the truth of my statement. Professing the principles of openness, equality, dialogue without borders and the cinema from all over the world, the Berlinale made a choice. Institutions and persons supporting the Kremlin and films made with Russia's support are not admitted to this year's festival. We appreciate it and are grateful for it. This is really important.

This is not a formality. This is justice. We are grateful for Ukraine's support, attention to Ukraine, solidarity with Ukraine.

Proof of this is the official badge for participants and guests of the Berlinale – the Golden Bear, which this year has become blue and yellow. These are the colors of Ukraine. The colors of our flag. We will do everything to return him to his rightful place and free all our lands.

Your support in this is important and invaluable to us. Now there are thousands of kilometers between us. But we are side by side.

We speak different languages, but there is complete understanding between us. Only a virtual border separates us. But there is no wall between us.

Ladies and Gentlemen! 

In 1951, the first Berlin Film Festival took place. You all know the slogan and purpose of the first Berlinale. This is the Showcase of the free world.

Today, Ukraine is the Fortress of the free world. A fortress that has stood for almost a year. A fortress that protects itself, Europe and the world. A fortress that cannot fall. A fortress that will definitely stand. And will win.

I believe that you will all be convinced of this, after seeing our "Superpower" – the superpower of Ukraine.

Glory to Ukraine!
Another 100 Ukrainian POWs are coming home!
100 Ukrainian soldiers and one civilian are now coming home from Russian captivity pic.twitter.com/bJ79HJfgHG

— Illia Ponomarenko 🇺🇦 (@IAPonomarenko) February 16, 2023
Here's former NAVDEVGRU Squadron Leader Chuck Pfarrer's most recent assessments of the situations in Bakhmut and Kreminna:
BAKHMUT AXIS /1320 UTC 16 FEB/ RU forces are assessed to have functionally interdicted the M-03 HWY North of Krasna Hora. RU units appear to have been driven back from the H-32 HWY S of Chasiv Yar, with UKR troops in contact in the vicinity of Klischiivka. pic.twitter.com/5hJ8hbJyVE

— Chuck Pfarrer | Indications & Warnings | (@ChuckPfarrer) February 16, 2023
KREMINNA AXIS /1945 UTC 16 FEB/ The 1800 (local) briefing of the Gen'l Staff indicated UKR forces are counter attacking SW of Kreminna. UKR troops are in contact in the western limits of the urban area of Krimenna. RU efforts to maneuver west of Lysychansk have been broken up. pic.twitter.com/BTL012GU03

— Chuck Pfarrer | Indications & Warnings | (@ChuckPfarrer) February 16, 2023
Bakhmut (I reckon):
Wagner mercenaries begging the Russian Ministry of Defence for ammunition. pic.twitter.com/HHJw9ntd3s

— Dmitri (@wartranslated) February 16, 2023
Vuhledar:
🧵Vuhledar🇺🇦 16.02 – 9:30 AM Update

1/7 The situation in the Vuhledar area remains stable, however, the enemy doesn't seem to reduce the pressure despite losses. The tactics remain the same: advancing infantry groups covered by tank and artillery fire. pic.twitter.com/2BNsIObCTf

— Tatarigami_UA (@Tatarigami_UA) February 16, 2023
3/7 Alongside infantry reinforcements, the enemy continues to saturate the area with additional artillery. To improve their tactical situation, russian assault groups attempt to establish a foothold near the Vuhledar, albeit with no results.

— Tatarigami_UA (@Tatarigami_UA) February 16, 2023
5/7 Unlike the foe, Ukrainian soldiers and officers can make necessary changes and determine the best course of action on the battlefield based on judgment, initiative, and creativity. This is a far superior system that needs to be indoctrinated more.

— Tatarigami_UA (@Tatarigami_UA) February 16, 2023
7/7 In my next update, I will provide a few examples to demonstrate why this approach works better and how the combination of western weaponry and the western approach can ensure better outcomes for us in this war.

— Tatarigami_UA (@Tatarigami_UA) February 16, 2023
Kharkiv:
Eight air raid alerts in 24 hours in Kharkiv. S-300 attacks, airstrikes and artillery shelling along the border. Russian escalation on the map. pic.twitter.com/Mj8fxWfl4I

— Maria Avdeeva (@maria_avdv) February 16, 2023
Three explosions in Kharkiv. Russia launched S-300 from Belgorod. Video of a missile launch. pic.twitter.com/Oyz5Pao4SI

— Maria Avdeeva (@maria_avdv) February 16, 2023
Here is US Ambassador to the OSCE Michael Carpenter's response to the Yale Human Rights Lab report on Russia's theft of over 6,000 Ukrainian children:
Full statement: https://t.co/dyeccpMik1

New report by the Conflict Observatory on Russia's Systematic Program for the Re-Education and Adoption of Ukraine's Children here: https://t.co/JUOKHSuVam

— Michael Carpenter, U.S. Ambassador to the OSCE (@USAmbOSCE) February 16, 2023
The Russian Federation's Ongoing Aggression Against Ukraine

As delivered by Ambassador Michael Carpenter
to the Permanent Council, Vienna
February 16, 2023

As we approach the one-year mark of Russia's full-scale invasion of Ukraine, the Kremlin continues its brutal campaign of seeking to wipe out a sovereign Ukraine from the map of Europe. Last Friday, Russia fired over 100 drones, rockets, and missiles across the country, again targeting Ukraine's civilian infrastructure. And last night, Russia fired an additional 36 missiles into Ukraine. We've also seen reports Russia is deliberately draining the Kakhovka Reservoir which could have a profound impact on Ukraine's people and environment, posing risks to the safe operation of the Zaporizhzhya Nuclear Power Plant. We have and will continue to condemn Russia's actions like these. We also remain committed to sharing the experiences of Ukrainian civilians who have needlessly suffered, and continue to suffer, as a result of Russia's unconscionable war of choice.

These include the traumas of Ukraine's children, who are among the most vulnerable to Russia's brutality. The Ukrainian government has collected information on close to 15,000 Ukrainian children forcibly deported to Russia. The real number is likely much, much higher. Yale University's Humanitarian Research Lab has also documented how Russia is holding at least 6,000 children across Russia and Russian-occupied Ukraine in a far-flung system of political re-education camps. The large-scale network of at least 43 camps runs from Russian-occupied Crimea all the way to Magadan in Siberia and to Russia's Far East. Again, the real number of these camps is likely much larger than what has been documented thus far. These re-education camps hold children as young as four months old to teenagers. Teenagers at these facilities are reportedly given military training and indoctrinated into Russia's imperialistic view of the world. When children enter the camps, Russia's officials actively work to block communication with family members in Ukraine, prevent children from returning home, and attempt to brainwash them into being pro-Russian.

Medvezhonok is one of the largest camps that has been identified, at one point holding at least 300 children from Ukraine. Officials there originally told the children's parents they would come home at the end of summer, but later refused to specify a date of return. In the case of one boy from Ukraine, camp administrators said he would go home only if Russia's forces retook the town of Izium. Another boy was told he could not go home due to his "pro-Ukrainian views."

The evidence collected so far makes this appear to be yet another clear cut case of Russia choosing to violate its wartime responsibilities to protect civilians. This systematic effort of "re-homing" Ukrainian children reflects decisions made and actions taken at all levels of the Russian government. Again, Yale University's Humanitarian Research Center describes the operation as "centrally coordinated by Russia's federal government" and involving federal, regional, and local figures, many of whom were personally appointed by Russia's President Vladimir Putin, whose support for these efforts is a matter of the public record.

Mr. Chair, the unlawful transfer and deportation of children is a grave breach of the Fourth Geneva Convention on the protection of civilians, and as such, constitutes a war crime. Furthermore, the transfer of children for purposes of changing, altering or eliminating national identity can constitute a component act of the crime of genocide.

The harrowing experiences of Ukraine's children are not limited to those in Russia's re-education camp system. Take 16-year-old Vladyslav, who was forced into Russia's filtration system after soldiers found pro-Ukraine content on his phone while he was trying to escape to Zaporizhizya. He was held for 90 days in a police cell. After Russia's forces reportedly tortured other prisoners, Vladyslav – remember 16 years old – was forced to clean the blood and filth off the cell floors.

Let's also consider the case of 12-year-old Sasha. Sasha was injured by a missile attack during Russia's siege of Mariupol. Russia's forces captured Sasha and his mother when she tried to find medical treatment for him. Separating the mother from her crying son, the soldiers sent Sasha to Russia-occupied Donetsk where he was told he would be adopted by Russians because "he had no parents." Sasha was forced to speak Russian, was told that Ukraine was bad, and that Ukrainians were evil. Sasha knew he had to get back to his family, so he found a way to call his grandmother, Lyudmila. Lyudmila traveled from Ukraine to Poland, then to Lithuania, then to Latvia, and finally to Russia, and eventually made her way all the way back to Russia-occupied Donetsk to find her grandson. Lyudmila was lucky. She was able to bring Sasha home. Other families have not been so lucky.

I fully anticipate later today you'll hear Russia's representatives yet again attempt to mislead, distract, and justify what Russia is doing to the children of Ukraine. Let's see what sort of lies they come up with today. But please remember what Václav Havel said about authoritarian systems: "if the main pillar of the system is living a lie, then it is not surprising that the fundamental threat to it is living the truth." That's why it's vital we hear the truth about those who lived through, as well as those who died, in the course of Russia's neocolonial war against Ukraine. Their individual stories give us all a better understanding of the depths of Russia's deception, of the true nature of what it is trying to perpetrate in Ukraine. We must have no illusion: the only way Russia's abuses in occupied areas of Ukraine will end is when those areas are liberated and completely freed of every single Russian soldier.

Mr. Chair, Russia needs to provide the international community with the lists of children it has taken from Ukraine and allow these children to be reunited with their families in Ukraine. Unfortunately, we all know the likelihood of that happening, at least for the time being, is low. Because of this, we need to energize our activities here to protect Ukraine's children. We need to think creatively about ways we can help Ukraine record and track where Russia has taken Ukraine's children. History will not be kind to us if we choose to do nothing in the face of such systematic depravity.
That's enough for tonight.
Your daily Patron!
Here's a new video from Patron's official TikTok!
The caption machine translates as:
Are they similar?) #песпатрон
Open thread!