We face a choice: continue to ignore deaths from COVID-19 or prevent them. In collaboration with @RealOzSAGE, we call on the Australian government to act urgently to reduce transmission of COVID-19 by using the tools we have, instead of abandoning them. pic.twitter.com/vFt0iz57GY

— The John Snow Project (@JohnSnowProject) February 17, 2023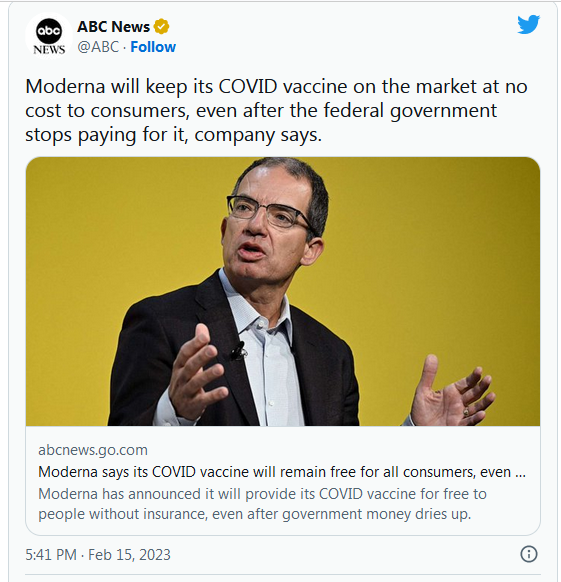 Credit where due:
… Last month, the vaccine maker was slammed for reportedly considering a dramatic price increase for the shot, which it had developed with the help of the federal government.

The proposal was also bad timing: The Biden administration was moving toward ending its designation of a public health emergency on May 11, which meant that federal funding for vaccines would soon dry up and uninsured Americans would have to pay out of pocket for their boosters.

Among the critics of Moderna's reported consideration of a price increase — from about $26 a shot to as much as $130 — was Sen. Bernie Sanders, who has long advocated for government-funded health care and alleged the move would result in deaths…

Now, Moderna will be the sole manufacturer of COVID vaccines offering its shot for free to the uninsured. Under federal regulation, insurance companies are already required to foot the bill for COVID vaccines.

"Moderna remains committed to ensuring that people in the United States will have access to our COVID-19 vaccines regardless of ability to pay," the company wrote in its statement.

"Moderna's COVID-19 vaccines will continue to be available at no cost for insured people whether they receive them at their doctors' offices or local pharmacies. For uninsured or underinsured people, Moderna's patient assistance program will provide COVID-19 vaccines at no cost" after the public health emergency expires…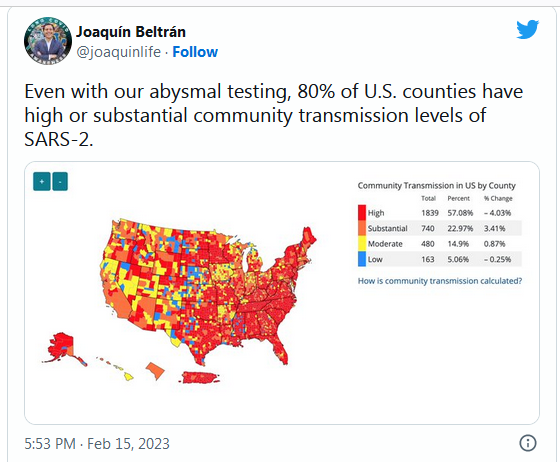 ======
Here's the press conf video of @DrTedros and Dr @mvankerkhove commenting on the incorrect @Nature piece on #COVID19 virus origins. Bottom line: @WHO & SAGO continue pushing to understand the origins & seek cooperation with China: pic.twitter.com/pxIDH8jWqw

— Gabby Stern (@gabbystern) February 15, 2023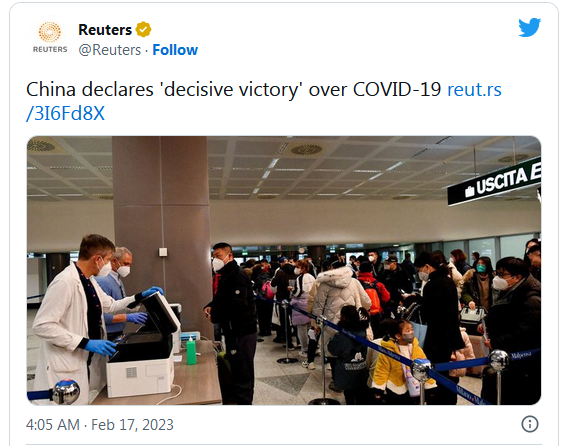 China's top leaders declared a "decisive victory" over COVID-19, claiming the world's lowest fatality rate, although experts have questioned Beijing's data as the coronovirus tore across the country after largely being kept at bay for three years.

China abruptly ended its zero-COVID policy in early December, with 80% of its 1.4 billion population becoming infected, a prominent government scientist said last month.

Though there were widespread reports of packed hospital wards and mortuaries, China recorded only about 80,000 COVID deaths in hospitals in the two months after dropping its curbs.

Some experts say the actual toll was far higher, as many patients die at home and doctors were widely reported to have been discouraged from reporting COVID as a cause of death…

However, leaders cautioned that while the situation is improving, the virus is still spreading globally and continues to mutate, according to state media.

The meeting stressed that China will increase the vaccination rate for the elderly, and strengthen the supply and production of medical goods. The PSC, China's most powerful leadership body, urged all localities and departments to strengthen the medical service system, according to the report from the official Xinhua news agency.

The statement did not say how many had died from COVID, and comes weeks before China holds its annual parliamentary session and as policymakers look to revive an economy battered by three years of COVID restrictions…
How Deadly Was China's Covid Wave?

Two months after China ended "zero Covid," rough estimates suggest that between 1 and 1.5 million people died — far more than the official count.https://t.co/LjwC8Bh8Pg pic.twitter.com/JD3O8qqqHN

— Marc Veldhoen (@Marc_Veld) February 15, 2023
The world needs to 'calm down' about risks of a new #SARSCoV2 variant emerging from China, the former head of China's CDC says. The country is still experiencing some of the darkest days of the pandemic w/ the largest surge since the virus emerged in 2019 https://t.co/zQGhbTnrH5

— delthia ricks 🔬 (@DelthiaRicks) February 15, 2023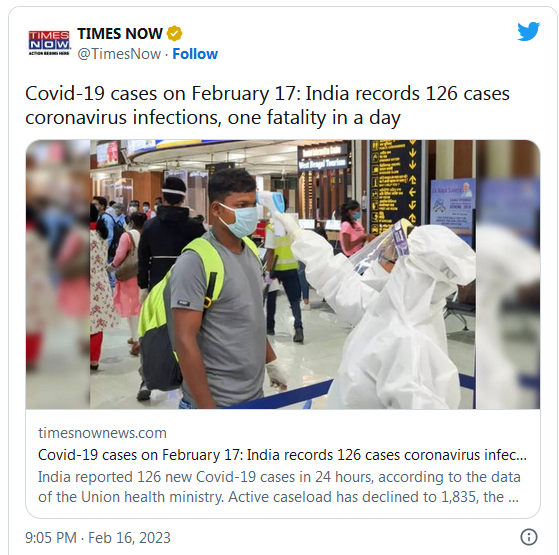 (link)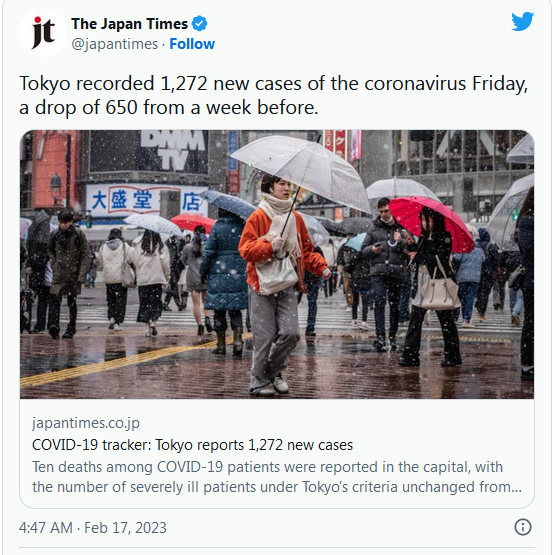 (link)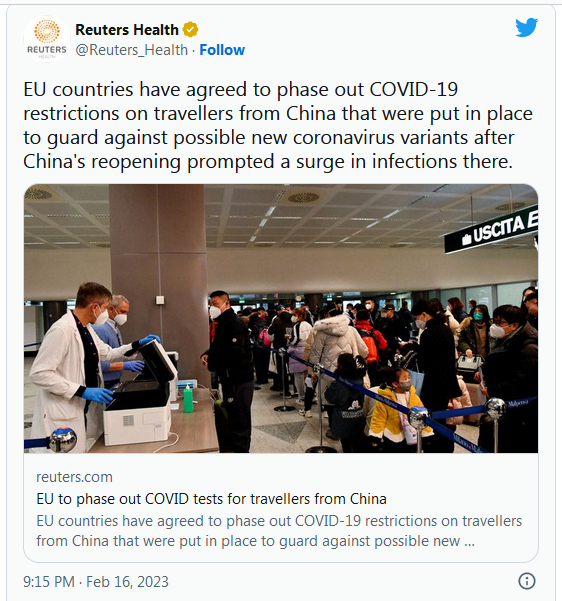 (link)
England covid update:
Hospitalisations with Covid still increasing but not that fast (10% over last week) – certainly nothing like the big increases we saw when Omicron first arrived. Zoe app has new infections flat or falling, so we'll see what happens next week! 1/3 pic.twitter.com/qP6xunGHaQ

— Prof. Christina Pagel 🇺🇦 (@chrischirp) February 16, 2023
In the long term, we need a better solution than just watching wave after wave of Covid roll by… even if individually they aren't causing massive disruption, they are constantly adding to ill health of pop'n & causing more short and long term workplace & education absence. 3/3

— Prof. Christina Pagel 🇺🇦 (@chrischirp) February 16, 2023
======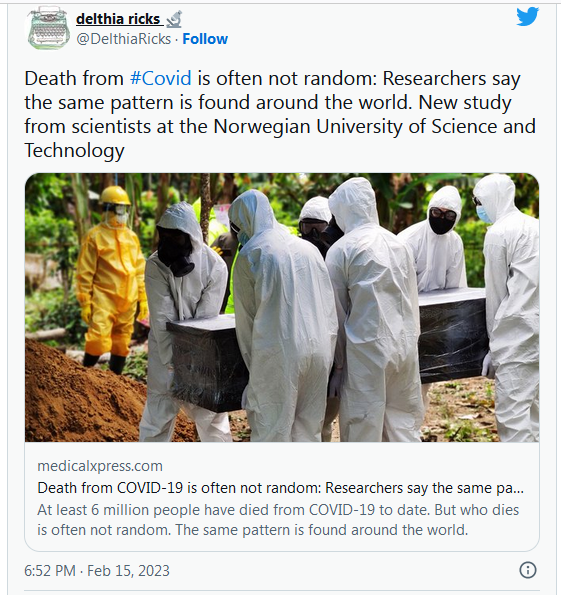 At least 6 million people have died from COVID-19 to date. But who dies is often not random. The same pattern is found around the world.

COVID-19 hit some countries harder than others. But the same groups of people were hit hardest everywhere.

The UN and the World Health Organization (WHO) have now established a working group to study who was the hardest hit, and why. The work is being led from Trondheim.

Who dies involves multiple factors, including where people live, where they were born, working conditions, education and how much they earn…

The UN and WHO commissioned NTNU's research center with the assignment. The work is so extensive that CHAIN asked the international research community for help in the WHO's Bulletin of the World Health Organization journal.

The response was not long in coming. More than 50 established researchers from all over the world are now going through 15,000 research articles that NTNU's university library has identified. Six employees from the University Library are involved in the work.

The results are not yet clear, but so far the pandemic appears to have made existing social differences more apparent, and even reinforced them. This seems to apply not only in countries with limited financial resources, but also in those with strong economies.

"COVID-19 has been a double burden for disadvantaged groups. They've been harder hit by the virus, and they also suffered the most from the consequences of the measures, such as loss of work and income, social isolation and reduced access to health services," says Eikemo…

The results of the study will be ready in the second half of 2023.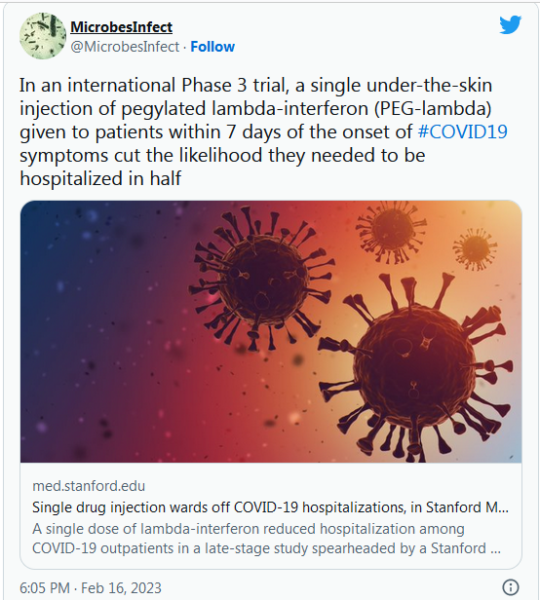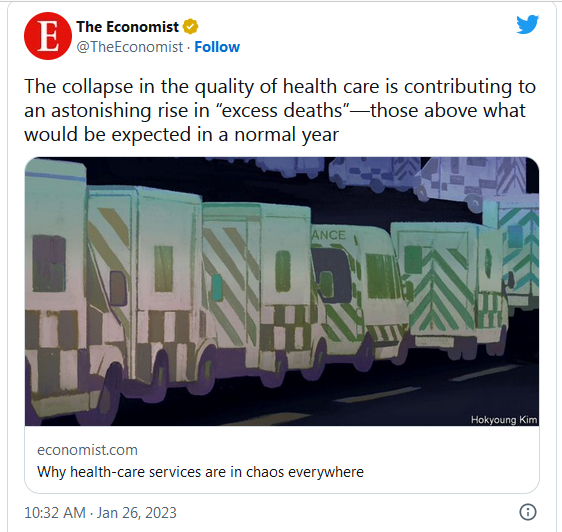 Worth reading the whole thing:
The imposition of lockdowns during the covid-19 pandemic had one overarching aim: to prevent hospitals from being overwhelmed. Governments hoped to space out infections, buying time to build capacity. In the end, however, much of this extra capacity went unused. England's seven "Nightingale" hospitals closed having received only a few patients, as did many of America's field hospitals. A study of Europe's experience in Health Policy, a journal, found only one example where there were more covid patients than intensive-care beds: in the Italian region of Lombardy on April 3rd 2020. Although there are now stories of overwhelmed Chinese hospitals, as the country confronts a great exit wave, it is too soon to know whether these are isolated examples or represent broader, systematic failure.

Outside China, covid weighs less heavily on people's minds these days. Yet health-care systems in much of the rich world are closer to collapse than at any point since the disease started to spread. Unlike for unemployment or gdp, there are few comparable, up-to-date figures on health-care performance across countries. So The Economist has trawled statistics produced by countries, regions and even individual hospitals to paint a picture of what is going on. The results suggest patients, doctors and nurses are experiencing the brutal after-effects of the pandemic.

Start with Britain, which produces high-quality data. The National Health Service (nhs), the country's state-run provider, is in dire straits. Just before the pandemic struck, someone with a medical issue requiring urgent but not immediate attention, a category that includes those suffering strokes and heart attacks, waited on average 20 minutes for an ambulance. Now they wait longer than an hour and a half (see chart). The number of lengthy "trolley waits"—the time between a decision to admit a patient and arriving at a hospital ward—has jumped.

Other countries have less comprehensive statistics, but equally miserable populations. In September Ipsos, a pollster, released a global survey that included a question on the quality of local health care. In almost all of the 20-odd rich countries surveyed, people were less likely than in 2021 to say that the service on offer to them was "good" or "very good". In Britain the share saying so fell by five percentage points. In Canada it fell by ten, in Italy by 12…

America is doing better than most countries, thanks to the vast amount of money it spends on health care and the excess capacity this funds. But it is not doing well. Average hospital-occupancy rates recently exceeded 80% for the first time. Even in the darkest days of the pandemic few states reported paediatric wards under stress (which we define as 90% or more beds being occupied). In early November fully 17 states were in this position, the result of a rise in all sorts of bugs in kids.

The collapse in the quality of health care is contributing to an astonishing rise in "excess deaths"—those above what would be expected in a normal year. In many rich-world countries 2022 proved deadlier even than 2021, a year of several big waves of covid. Monthly deaths across Europe are currently about 10% higher than expected. Germany is in the middle of a vast mortality wave: weekly deaths have been more than 10% above normal since September. In early December they were 23% higher.

What is going on? Politicians, at both a national and regional level, are taking the blame—and occasionally deserve it. But the forces creating the chaos are common across countries, and are linked to a shared experience of the pandemic. They may also, in the short term at least, be almost impossible for governments to overcome…
Organ damage for 59% of patients w/ #LongCovid continues 1 yr after initial symptoms. New comprehensive study of organ impairment in LongCovid shows organ damage for >1/2 of patients. 536 studied. Research in Royal Society of Medicine journal https://t.co/tdMKLVJsSZ

— delthia ricks 🔬 (@DelthiaRicks) February 15, 2023
Pfizer Inc and its German partner BioNTech SE are gearing up for a 2024 trial with Moderna Inc at London's High Court in competing patent lawsuits over their rival COVID-19 vaccines. https://t.co/Z4jAqcY9RS

— Reuters Health (@Reuters_Health) February 17, 2023
The @WHO has released a case definition for #LongCOVID in children & teens. Symptoms may be different from those in adults; must persist at least 2+ mos post-#COVID19 & feature fatigue, loss of smell, headaches &/or loss of appetite to meet the diagnosis.https://t.co/rGbueu5gAD pic.twitter.com/n4jkQNjsk4

— Laurie Garrett (@Laurie_Garrett) February 16, 2023
Muscle biopsy in-depth assessment in people with #LongCovid w/ exercise symptoms compared with 2 control groups shows microvascular abnormalities with reduced capillaries, immune cell dysregulation, distinct gene expression signaturehttps://t.co/ngv2vKhcLn @ChariteBerlin pic.twitter.com/ED8OJ2zNQ2

— Eric Topol (@EricTopol) February 16, 2023
Fixed it. @VirusesImmunity you're the best. Thanks for letting me help as we set the record straight on the pathophysiology of #LongCovid. Full read here: https://t.co/GO0blQMziA pic.twitter.com/sFOdAxgDcw

— Putrino Lab (@PutrinoLab) February 15, 2023
======
I'm used to being followed on Twitter, but this was the first time a reporter (@shawnchitnis @KPIXtv) followed me around – on my Saturday morning Noe Valley bagel/coffee/Farmer's Market routine – to see how I'm approaching masking in various settings.https://t.co/OVFpOYcNJl

— Bob Wachter (@Bob_Wachter) February 15, 2023
Two extremely stupid state legislators in Idaho have introduced legislation that would make it a misdemeanor to administer COVID vaccines in the state. https://t.co/JRboxfJIq8 via @TPM

— Josh Marshall (@joshtpm) February 16, 2023