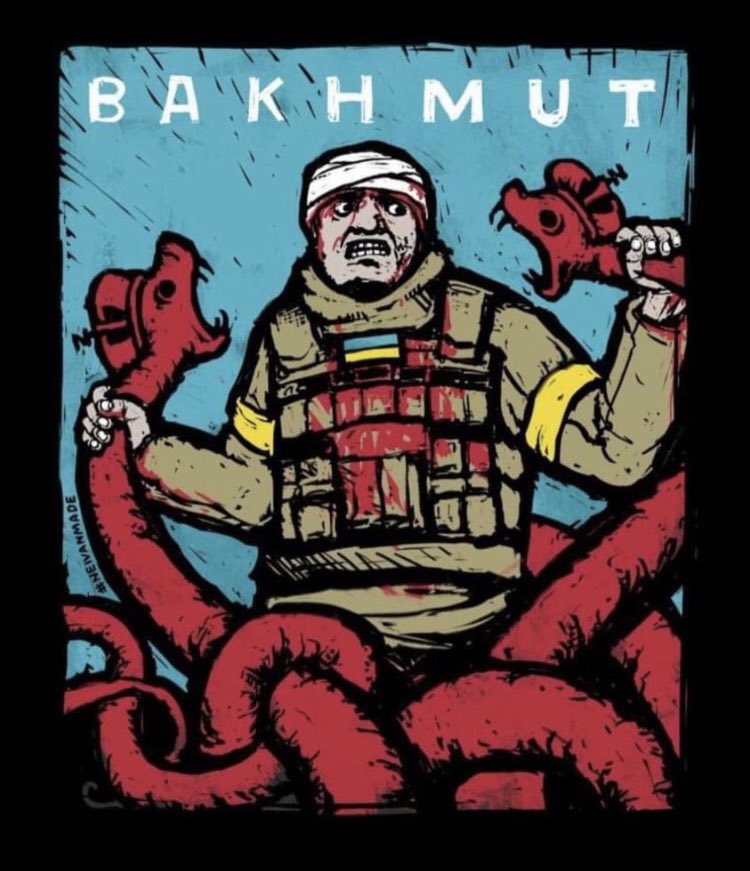 (Image by NEIVANMADE)
There was a question in last night's comments by Anonymous at Work:
I figured that much but aside from a drop in daily artillery fire, it's not stopping RU generals from launching human wave attacks UA forces and pushing them back in spots.  I'm a worrier, so I am worried that UA's window to have enough forces left to mount a decent offensive is closing.
Am I wrong?
Yes, you are wrong. Part of the Russian way of war is to use its enormous ability to mobilize bodies and throw them at their enemy. Basically generate a ton of mass and use that quantity to just bury the adversary. The problem with that is you have to have a lot of other stuff going right for it to work. I just so happened to have been emailing one of my former bosses about this the other day. Here's the part of his response that is relevant:
What separates us from most others is our NCO Corps, corporals with 3 to 4 years of service, sergeants with 5 to 6 years, SSG with 7 to 8 years and on up the line.  These personnel train soldiers in the training base as well as in units.  The russians have NONE of this, the Ukrainians have some of it and are gaining more as time passes.  So, the key isn't how many men can be thrown in the field but how many well trained and equipped men can be in the fight.  Institutionally the russians lost this war before they crossed the L/D and they have no way to recover.
This former boss, a retired Green Beret, was cross trained as an ORSA (military statistician) and assigned to Personnel Command for a broadening assignment. Everything I know about personnel management and force generation I learned from him. I know a lot and it's still a drop compared to him. Ukraine's defense against Russia's re-invasion may not be quick. And it may not be pretty. And it is surely far from over. But I think my former boss has the right take. Even more so when you consider that more and more NATO weaponry, munitions, ordnance, and material will be coming online just as more and more of the Ukrainian NCO Corps comes back from training in Britain and Poland and the US and a few other EU and NATO member states. The Ukrainians may have to stack the Russians like cordwood, and Crimea is going to be an exceedingly hard nut to crack and will likely be the last theater of this war, but overall the Russians invaded with a poorly trained, poorly equipped, poorly led military in pursuit of an objective that was much more delusional that it was strategic.
Here's President Zelenskyy's address from earlier today. Video below, English transcript after the jump:
Dear Ukrainians, I wish you health!

A brief report on this day.

Mark Rutte, the Prime Minister of the Netherlands, visited Kyiv.

A leader who greatly helps us protect freedom. The leader of the state helping us a lot to protect Ukraine and all of Europe.

The Netherlands is among Ukraine's leading partners. It is manifested in defense, political, and legal support.

Today, we had, as always, meaningful negotiations with Mark. There will be more weapons for our soldiers, more pressure on the terrorist state, and more opportunities to restore justice.

Together with the Netherlands, we are working to punish Russia for this aggression and to compensate for the damage caused by the war.

There is already a concrete solution – to place a register of damage in The Hague. It is the first important element of the future compensation mechanism.

I am sure we will reach other necessary solutions. Russia will be held fully responsible for everything it has done against Ukraine and the Ukrainians.

Today, I had the honor to present our people, our defenders at the opening of the Munich Security Conference.

It is one of the most important international gatherings, and this year's conference represents the significant powers of the modern world. Thanks to all of you, Ukrainian men and women, who defend our state, there is no Russia in Munich.

The key message of Ukraine at the security conference is obvious: we must do everything to ensure the collapse of Russian aggression already this year. It is possible. It is necessary. But it is possible if Ukraine gets the weapons necessary for this.

Therefore, our diplomatic marathon continues without a break – since my visit to Washington in December.

A tank coalition has already been created for Ukraine, the taboo on the supply of long-range missiles has already been lifted, there have already been new successes in strengthening our artillery, and the world has already heard how necessary the creation of an aviation coalition for Ukraine is for global security.

I talked about it today with Prime Minister Rutte, and during the week – with other leaders. I will continue these negotiations next week.

I will continue consolidating support for our country's initiatives in the UN General Assembly. Next week we will introduce an important resolution, and today I presented its essence, particularly to the heads of government of the Caribbean Commonwealth.

Ukraine always bases its foreign policy on respect for all participants in international relations. All nations are equal and deserve an independent life, and peaceful cooperation with other nations.

This principle of ours meets understanding in all parts of the world. And I thank every state, and every nation that supports Ukrainian efforts to stabilize international relations.

And the most important thing. Of course, today, like any other day, I am in constant contact with the commanders. I held a meeting with representatives of the defense sector.

We are doing everything to strengthen our soldiers on the front line – our heroes who inspire the world by how they bravely and steadfastly defend the freedom of Ukraine, our land, our values.

Again and again, I mention our fighters who defend Donetsk and Luhansk regions. 54th Separate Mechanized Brigade, 95th Separate Assault Brigade, 25th Separate Airborne Brigade – I thank you, soldiers! I thank you all who hold our positions at the front, who destroy the enemy, and who give us all faith in victory. The victory of Ukraine!

Glory to each and every one who is now in battle!

Thank you to everyone who helps our country!

Glory to Ukraine!
Here is former NAVDEVGRU Squadron Leader Chuck Pfarrer's most recent assessment of the situation in Bakhmut:
BAKHMUT AXIS /0010 18 FEB/ RU units appear to have finally taken Krasna Hora, and have advanced into the adjacent town of Paraskoviivka. A RU airstrike hit Berikhivka; this failed to dislodge UKR defenders, who continue hold the M-03 HWY and the Bakhmut urban area. pic.twitter.com/0D558C3BAM

— Chuck Pfarrer | Indications & Warnings | (@ChuckPfarrer) February 17, 2023
Bakhmut:
Update from Bakhmut, 17 February – Kiyanyn. pic.twitter.com/RVNSYzMJuU

— Dmitri (@wartranslated) February 17, 2023
I expect these Wagner asshats are somewhere in the vicinity of Bakhmut:
Wagner once again published a very graphic video begging to be provided with ammunition. In the video, hundreds of corpses of mercenaries are in a room, placed there to show they could have been alive if help had been given. pic.twitter.com/6kOG7cD8Gw

— Dmitri (@wartranslated) February 17, 2023
Here's the English translation as a screengrab: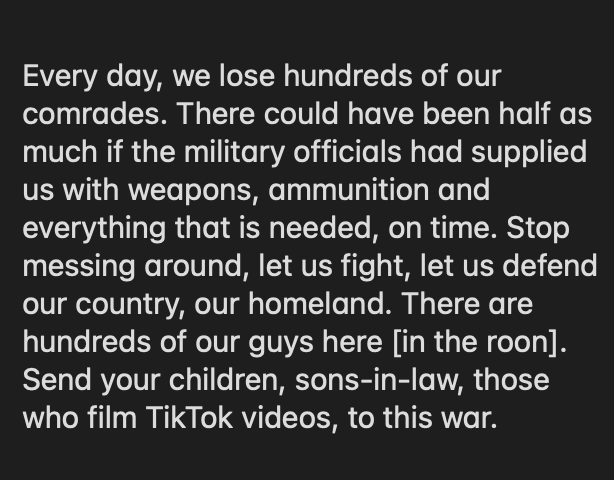 Here's a bit more on what seems to be going on here:
2/ Wagner may be able to provide the 'meat', but the MOD supplies the ammunition. Wagner's well-publicised efforts to get supplies from North Korea have evidently failed.

— ChrisO_wiki (@ChrisO_wiki) February 17, 2023
4/ 🔺 It's notable how different in tone the latest video is from an earlier one in December, when Wagner fighters who were short of ammunition then called Gerasimov "a faggot and a fucking jerk". They're much politer now. pic.twitter.com/kZawkuYwHH

— ChrisO_wiki (@ChrisO_wiki) February 17, 2023
6/ 🔺 Prigozhin will certainly be lobbying behind the scenes, so the video may represent an additional effort to put political pressure on the MOD via Russia's community of pro-war nationalist bloggers – they're already sceptical of Shoigu and Gerasimov's leadership. /end

— ChrisO_wiki (@ChrisO_wiki) February 17, 2023
One in five nuclear powers over the age of 45…
https://t.co/pqizAERASB pic.twitter.com/UJ9bUSjx0Q

— ChrisO_wiki (@ChrisO_wiki) February 15, 2023
The Guardian has reporting on the threat that the slim GOP majority in the House of Representatives is creating for Ukraine:
Vladimir Putin has proven adept at exploiting the US political divide, so the solid bipartisan consensus behind arming Ukraine over the past year may well have come as a surprise to him. The question one year into the war is: how long can that consensus last?

Two weeks before the first anniversary of the full-scale invasion on 24 February, a group of Trump-supporting Republicans led by Matt Gaetz introduced a "Ukraine fatigue" resolution that, if passed, would "express through the sense of the House of Representatives that the United States must end its military and financial aid to Ukraine, and urges all combatants to reach a peace agreement".

The resolution is sponsored by 11 Republican members of Congress on the far right Freedom Caucus faction, and is highly unlikely to pass. But it marks a shot across the bows of the leadership, which has mostly vowed to stay the course in supporting Ukraine.

Justifying the resolution, Gaetz pointed to the risks of escalation of the Ukraine war into a wider global conflict and to the economic cost to the US.

"President Joe Biden must have forgotten his prediction from March 2022, suggesting that arming Ukraine with military equipment will escalate the conflict to 'World War III'," the Florida Republican said. "America is in a state of managed decline, and it will exacerbate if we continue to haemorrhage taxpayer dollars toward a foreign war."

The influence of this faction is heightened by the fact that the Republicans have a slim nine-seat majority in the House, and the new speaker, Kevin McCarthy, only scraped into the job after 15 rounds of voting among Republican members, during which he gave promises to listen to the concerns of hard-right holdouts like Gaetz.

"I've been sounding the alarms on Republican opposition to Ukraine aid for the last 12 months," the Democratic senator Chris Murphy said. "Right now, there are enough Republicans in the Senate who support Ukraine aid along with all of the Democrats, so we can continue to deliver support, but I don't know what's going to happen in the House."

"I think there's going to be tremendous pressure on Speaker McCarthy to abandon Ukraine … and it's possible he could wilt under the pressure," Murphy said. "We know the Russians see this as a real opportunity."

European diplomats have been lobbying Republicans, underlining the importance of maintaining western solidarity in the face of Russian aggression and arguing that support for Ukraine is an extremely inexpensive way to degrade the military of a hostile power seen by the Pentagon as an "acute threat".

The diplomats report reassuring noises from the party leadership, but unwavering resistance from the rightwingers, many of whom follow the lead of the Trump camp, particularly the former president's son, Donald Trump Jr, who has railed against western backing for Ukraine, and ridiculed its president, Volodymyr Zelenskiy.

"The divide in the US is now more tangible than in Europe. The Republican leadership is absolutely adamant that there will be no lessening of support for Ukraine, but it's just words," one European diplomat said. "With such a narrow Republican majority in the House, the Freedom Caucus has a lot of influence. And you don't need to cut off help overnight. You just need to slow it down with procedure. That's the danger."

Murphy predicted that the House speaker, who has himself warned that there would no longer be a "blank cheque" for Ukraine with a Republican majority, might seek a compromise with the right of the party that could eventually prove devastating.

"I worry that McCarthy will try to split the baby and support funding for hard military infrastructure but not support economic and humanitarian aid," the Democratic senator said. "If that's the direction that US funding goes, it's a recipe for the slow death of Ukraine."
More at the link!
Col. (ret) Mike Pietrucha, a F4G Wild Weasal and F-15E Strike Eagle electronic warfare officer has a new piece up about the proposal to give F16s to the Ukrainian Air Force:
Ukraine is fighting for its existence and the war that began with unchecked Russian aggression in 2014 has become the most destructive conflict in Europe since World War II. Ukraine, ably defended by the strength of its people, has been strongly backed by the United States and NATO powers, receiving a steady stream of materiel. Ukraine's citizens have proven able to adapt Western military systems on the battlefield, making Ukraine a capable and lethal adversary, as the Russians discover daily. But not everything that NATO can provide can be sent immediately to the Ukrainian military or absorbed instantly by soldiers and airmen.

The Ukrainian government has been asking for fighter aircraft since the first week of the war, when aerial battles with Russian Aerospace Forces (the Vozdushno-kosmicheskiye sily, or VKS) took a terrible toll on Ukraine's much smaller air force. But the high profile of the request, and NATO's apparent resistance to provide Western fighters, hides a basic truth. The value of fighter aircraft provided in a hurry is questionable, as the fighter aviation enterprise cannot be bought off the shelf and training is paramount. The discussion over why Ukraine should have fighter aircraft and how quickly they can get them obscures the real nature of Ukraine's immediate requirement — ground-based long-range precision strike.

Airpower is not a magic wand to be waved across the battlefield. Fighter aircraft do not, by themselves, grant an instant and comprehensive airpower capability upon delivery. Because, as always, it's not about the airplane.

Revolution, Not Evolution

The foundation of an airpower capability is fundamentally people, not hardware. An aircraft, of whatever type, does not grant a capability unless it is flown by capable and trained individuals, competently maintained, and adequately supported. Ukraine's air force is not a fledgling air force; it operates fixed and rotary wing aircraft that perform airlift, counterair, and ground attack missions. It has a 30-year history of using and modifying legacy Soviet aircraft, and Ukraine has its own aviation industry. Ukraine has managed to maintain a force despite horrific losses in the early days, and has even managed to add new defense-suppression capabilities, enabled by MiG-29 Fulcrum carrying American-supplied AGM-88 High Speed Antiradiation Missiles. But it does not operate Western aircraft and it never has. By necessity, its training programs, tools, support equipment, and experience base are entirely based on three decades of independent operations with Soviet legacy aircraft, which were designed to support a Soviet style of airpower employment, not a Western one. The Soviets operated their airpower under centralized control, primarily in support of the ground component, while Western airpower embraces aviator initiative and utilizes airpower for a wide range of missions beyond just flying artillery.

Switching over to Western aircraft is possible, of course, and Ukraine is an excellent candidate for doing so. But the provision of Western fighters like the F-16 is not an evolutionary step; it is a revolutionary step that will require the Ukrainian air force to start from scratch. Ukraine has experience operating single-mission aircraft — their interceptors like the MiG-29 Fulcrum have only a rudimentary ground attack capability, and their Su-24 Fencer and Su-25 Frogfoot ground attack aircraft have no air to air capability at all.The F-16 has evolved into a capable multirole fighter that has no parallel in the ex-Soviet aviation enterprise.

The F-16 is a great example of an upgrade to a multirole fighter. It is a mature system, is easy to fly, reliable, flexible, and there is a large stock of expertise in all aspects of F-16 support in a variety of countries. The F-16 is often a reasonable choice for air arms wishing to transition to a more advanced capability. Poland, Iraq, Romania, and Egypt all made the F-16s the centerpiece of their modernization efforts when electing to purchase American-built fighters.None of these conversions resulted in an instant improvement in warfighting capability, and by most measures the Iraqi experiment has failed. Using the U.S. Air Force as a sample case, the F-16A went into production in August 1975, at a time when its predecessor, the Phantom II, was still in production and the F-15A had not yet entered operational service. The first F-16As were delivered in August 1978 (three months after the 5000th Phantom II rolled off the St Louis production line) and went directly into test.

Tactical Air Command's first jets arrived on January 6, 1979, at the 388th Tactical Fighter Wing at Hill Air Force Base. The first squadron to be declared operational was the 4th Tactical Fighter Squadron, which was declared IOC (Initial Operational Capability) almost two years later on October 25, 1980. In March of the next year the squadron deployed 12 aircraft to Flesland Air Station, Norway for Cornet Falcon, the F-16A's first overseas deployment; an event that lasted a month. The 4th tactical fighter squadron took 21 months to reach initial operational capability in 22 months in an Air Force that already had the maintenance, weapons, and training infrastructure necessary to do it. The F-16A was also an inexpensive day fighter that did two things — counterair missions within visual range, and accurate delivery of free-fall ordnance (including nuclear weapons). It did not deliver laser-guided ordnance, it did not do defense suppression, it possessed no beyond visual range air-to-air missiles, and it did not do close air support. As an indication of how the program progressed, the Fighter Weapons Instructor Course at Nellis Air Force Base graduated its first class in 1982, three and a half years after the delivery of the first operational jets. Notably, these units were not placed directly in combat, because the F-16 was years away from its U.S. Air Force combat debut.

It is unrealistic to assume that because Ukraine has a cadre of combat-experienced fighter aviators that they will be able to jump into F-16s and employ them anywhere near the potential of the aircraft. Fighter aircraft are not internationally standardized, and expertise in operating one does not grant expertise in operating another, particularly with respect to design and maintenance legacies as disparate as American and Soviet design bureaus. The U.S. Air Force entered the F-16 program with a substantial number of combat-experienced aviators from Vietnam, and an experienced cadre of aircraft maintainers backed by a robust logistical infrastructure that had been built around American-built aviation. Make no mistake, the initial cadre of a new aircraft is handpicked from some of the most capable aviators available, and the maintenance cadre is normally very heavy on both experience and skill with very similar aircraft, tools, processes and logistics support. The personnel assigned to the first F-16 squadrons were doing things that the Air Force had long been proficient at — they were just doing it in a new airplane. As the F-16 matured the squadrons added capabilities gradually, one at a time, as the F-16 received a beyond visual range capability with the AIM-120, integrated LANTIRN and the associated ability to deliver laser guided bombs, and incrementally added new sensors, new weapons, and new capabilities. Realistically, Allied Force in 1999 was the first combat operation in which the F-16 units combined to conduct every mission that the F-16 might realistically carry out — and no one unit did all of them.

Reality Basing

Any survey of the hundreds of articles written within the last year about providing F-16s to Ukraine will reveal that many have a common thread — they were not written by either a fighter aviator or by anyone with practical experience in a fighter aviation enterprise. Accordingly, the acquisition of a fighter aircraft is considered synonymous with the capabilities that a fighter aircraft brings in the service of air forces that are used to employing them. Acquisition of the F-16 does not automatically convey all of the capabilities that the aircraft has, all in one shot, because while the aircraft is potentially capable of a wide variety of missions, that requires aircrew capable of using those capabilities. And to start, even experienced aviators are put through a transition course. At the end of this course, the F-16 pilot is mostly safe, and qualified to be a wingman. This does not mean that the new aircrew is proficient in the mission(s) of the squadron to which they will be assigned — it means that they can fly the aircraft and work the systems in a relatively benign training environment — at least well enough to graduate. Upon arrival at a squadron, they will enter a mission qualification program to allow them to meet the minimum standards for mission readiness. A newly mission-ready wingman is only minimally useful and lacks experience with all of the aircraft capabilities. In short, they are qualified to hang on to a flight lead while being led through a mission that they do not yet know how to do well. As the United States learned in Vietnam, these are the aviators who are most likely to be killed in combat operations.

After Vietnam, the Air Force analyzed their losses carefully, and came to the conclusion that 90 percent of aircrew losses in Vietnam occurred within the first 10 combat missions. The 414th Combat Training Squadron and the Red Flag exercises were initiated in 1975 specifically to solve that problem — by putting aircrew in a realistic "combat" environment where they could make all of the mistakes they were going to make in those first ten missions in an environment that is usually nonfatal. My own experience in Red Flag suggests that the "mistake counter" resets to zero when an aviator changes aircraft. By the time I left the F-4G, I had 1,000 hours in the type, was an instructor, and by virtue of being stationed at Nellis had participated on more Red Flag exercises than most aviators do in a career. When I returned for a Red Flag in the F-15E, I had a bunch of new mistakes to make, because the capabilities of the new airplane offered me opportunities to make unwise decisions with a whole new set of hardware. This suggests, at least to me, that it might realistically be a requirement that Ukrainian pilots experience a Red Flag before any potential combat employment.

There is validity to the argument that Ukraine is being provided with enough equipment to not lose the war but not enough to win it. Appeasement dies hard, and both the United States and NATO have been skittish about providing assets that might "escalate" the war. Appeasement, in this context, involves treating the war as one that is inherently asymmetrical, where Russia's ability to strike deep inside Ukraine (at mostly civilian targets) is accepted as a necessary asymmetry and any capability for Ukraine to respond is "escalatory." And so, Russia is granted a priceless sanctuary from which to launch operations against Ukraine, while not only denying Ukraine the ability to strike inside Russia, but denying the ability to strike long-range targets inside occupied Ukraine. Russia should receive no such sanctuary, which is incompatible with both international law and with past U.S. practice; the United States first bombed and later invaded Cambodia precisely because of the presence of sanctuaries for Communist forces, echoing a long-running air operation in Laos with the same motivation.

Similarly, Ukraine is put at a major disadvantage with respect to Russian air-launched cruise missiles, which it must take on one at a time on the way to their targets. The obvious historical solution to this conundrum is to catch the bombers on the ground or in the air prior to launch. The United States and NATO lack any suitable long range anti-air munition, but strikes on bombers at their home base are both legitimate and practical — the U.S. considered the obliteration of a mere three IL-28 Beagle bombers in Vietnam as such a high priority that an insanely high-risk mission was launched against them. Ukraine tried such an attack with repurposed Tu-141 reconnaissance drones, damaging an aircraft or two at Engels airbase and forcing the Russians to relocate their valuable bombers further east. But while the new Russian locations are well out of range, the point remained — Russian airpower could and should be attacked at their airbases.

The airpower solution that could be brought into play immediately, and which could serve to both interdict Russian supply lines and devastate their short-range airpower, is obvious: long-range missiles. The United States and NATO have a variety of operational systems that could be provided, quite literally, overnight, ranging from the truck-launched variant of the RGM-109 Tomahawk (originally scheduled to field this year) missile through the air-launched Swedish KEPD-350 and the Anglo-French Storm Shadow, right up to the extended-range Guided Multiple Launch Rocket System or the U.S. Army's battlefield missile of choice, the MGM-140 Army Tactical Missile System (ATACMS), now in its 31st year of operational service. These systems would provide similar capabilities to missile systems that the Russians have been using in droves since March 2022, and both Tomahawk and ATACMS allow immediate use by Ukraine using methods that they have already employed and have shown that they can execute well and effectively. Air-launched weapons, as always, will require some integration work. As a bonus, as one-time-use air vehicles, the missiles require trivial maintenance support, and a logistical infrastructure that is an expansion of an ammunition supply effort that Ukraine already has.

Western support to Ukraine, assisting in their defense against unprovoked aggression by a neighboring power, is clearly in the national interest for the United States and its NATO partners. Airpower, of course, should be a critical part of the current support plan and modernization should begin as soon as possible, even though the results of the effort are unlikely to be realized for several years. The investment in modern airpower almost always pays off, because it acts as a seedling that allows the receiving air force to advance its entire airpower enterprise one element at a time, instead of putting off a modernization effort into the indefinite future. Even a small force of F-16s, for example, would serve to build the enterprise foundation and provide an experienced carder of operators and maintainers as a baseline for future growth. As long as the force is not squandered with a premature commitment to combat operations, the investment will pay off over the long term, and allow Ukraine to build out the human capital necessary for achieving desired mission capabilities over time.

In the meantime, the argument about providing Western fighter aircraft remains inappropriately focused on complex hardware and not the human elements necessary to make combat aviation what it is, while distracting from airpower applications that should be put into play immediately. The argument about the F-16 or any other Western fighter consumes time focusing on a capability that cannot be employed in the near term, at the expense of discussing airpower capabilities that could have an effect in short order. Ukrainian operation of a Western fighter is a challenge for a future Ukraine and a problem for a future Russia, while NATO glosses over the uncomfortable reality that there are missile systems that could have an immediate battlefield effect, if only Ukraine had them. Rather than focusing on an airplane type, supporters of Ukraine should focus on the battlefield effects that Ukraine needs to achieve, especially interdiction and the attrition of Russian strategic and tactical aviation, on the ground. Those effects can be gained without aircraft, illustrating the airpower truism that it is not about the airplane.
Much, much, much more at the link!
Mein Gut!
"The FSB instructed the BND agent, through the intermediary Arthur E., to siphon off and hand over GPS data from the US-supplied HIMARS multiple rocket launcher & the Iris-T air defense system…People familiar with the case say it's unlikely that such data was actually shared."

— Franz-Stefan Gady (@HoansSolo) February 17, 2023
CNN reports that the already begun and/or soon to begin Russian offensive is more aspirational than operational reality:
As Russia begins a new offensive in eastern Ukraine, the US and its allies are skeptical Moscow has amassed the manpower and resources to make significant gains, US, UK and Ukrainian officials tell CNN. "It's likely more aspirational than realistic," said a senior US military official.

Russia has been increasing the number of forces situated on its border and inside Russian-held territory in Ukraine, some of the forces drawn from a partial mobilization ordered in September last year. Despite the increased numbers, Western allies have not seen evidence of sufficient changes to those forces' ability to carry out combined arms operations needed to take and hold new territory.

"It's unlikely Russian forces will be particularly better organized and so unlikely they'll be particularly more successful, though they do seem willing to send more troops into the meat grinder," a senior British official told CNN.

The US military had assessed it would take as long as until May for the Russian military to regenerate enough power for a sustained offensive, but Russian leaders wanted action sooner. The US now sees it as likely that Russian forces are moving before they are ready due to political pressure from the Kremlin, the senior US military official told CNN.

Though Ukrainian officials have been sounding the alarm about new Russian attacks in the East, there is also skepticism on the Ukrainian side about Russian capabilities as those forces currently stand.

"They amassed enough manpower to take one or two small cities in Donbas, but that's it," a senior Ukrainian diplomat told CNN. "Underwhelming, compared to the sense of panic they were trying to build in Ukraine."

As the war approaches its first anniversary later this month, Ukraine has kept the pressure on Western leaders to provide more advanced and longer-range weaponry to defend and fight back against Russia. In January, the US, Britain, and Germany agreed to send modern battle tanks, but now Ukraine is pushing for fighter jets and long-range missiles.

Earlier this month Ukrainian President Volodymyr Zelensky warned that "Russia is now concentrating its forces and preparing for an attempt at revenge not only against Ukraine, but also against free Europe and the free world."

He has said he believed a new Russian offensive – predicted by his commanders in interviews in December – had already started.
More at the link!
That's enough for tonight.
Your daily Patron!
Dogs love cats! And I love my cat Tom even more. A short episode about Tom has already been released. Please follow the link and take a look (don't forget to enable subtitles). Likes, comments, and shares are very welcome 😍https://t.co/E25lHK0sQv pic.twitter.com/J1lU3pJEY7

— Patron (@PatronDsns) February 17, 2023
Here you go!
And a new video from Patron's official TikTok:
The caption machine translates as:
It's funny, but my followers draw me a hundred times better! 😌 #песпатрон
Open thread!