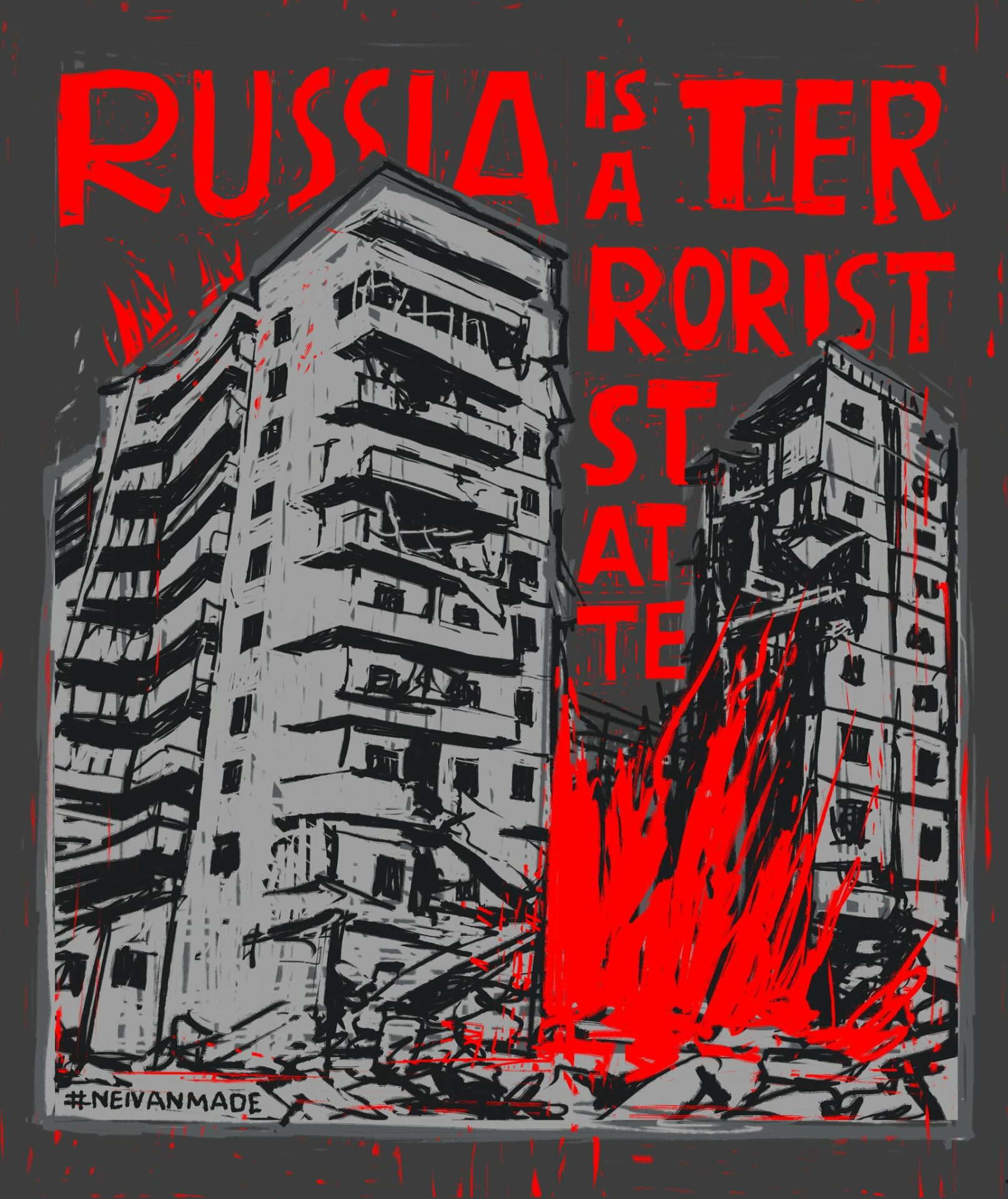 (Image by NEIVANMADE)
Here is President Zelenskyy's address from earlier today. Video below, English transcript after the jump:
Dear Ukrainians, I wish you health!

This day began with preventive power outages in some regions of our state. These outages were required to protect networks and generation facilities from another Russian missile attack.

And we end this Saturday without power outages in almost the entire territory of our state. Apart from Odesa, where the recovery continues after previous attacks and some areas where networks were damaged by wind gusts. Most of the territory of Ukraine has power. Most of our people have electricity.

And it is another confirmation of our resilience, the strength of Ukraine, and the colossal work that was and is being done by many people. By everyone who restores and protects energy. By all who work to strengthen our air defense. By all our partners who help. And, of course, by all our soldiers who defend Ukraine every day, every night as part of the Air Force and all our defense and security forces.

I thank everyone who contributed to the defense of the Ukrainian sky and the state's power system! It is a very important result for Ukraine. The result we achieved together.

We will continue doing everything possible and impossible to give Ukraine more air defense, more guarantees of stability, and more protection against any Russian strikes.

Today in Germany, in Munich, the security conference continued. It is the second day of the conference. Not just the Ukrainian topic, but the topic of Ukrainian victory, which we are approaching, obviously dominated the discussions at the conference today. There are important statements by world leaders in support of our state, and there are signals about strengthening weapons for our defense. It applies, in particular, to long-range missiles, other weapons, and the long-term support of Ukraine.

I am grateful to all the leaders for their support and for what happened yesterday. And for the signals that were in Munich today, which confirm that Russian aggression will have only one final, namely the defeat of the terrorist state. And we must do everything to hasten the Russian defeat. The pressure of the world should be such that Russia does not have time to find new forms of terror.

By the way, our diplomatic work next week will be devoted to exactly this – the acceleration of our movement. We expect important news for Ukraine, and for our security.

Traditionally, I want to thank all those, who are currently defending the state on the battlefield. I especially want to note everyone, who defends Donetsk region. The most brutal and principled fighting is going on there. Confrontation, which a lot of what we are preparing for the near future depends on.

I thank the paratroopers of the 79th Separate Assault Brigade, the Marines of the 35th Separate Marine Brigade, the infantrymen of the 72nd Separate Mechanized Brigade, the soldiers of the 55th Separate and 27th Rocket Artillery Brigades. Thanks to all of you, warriors!

Today, there is something to celebrate with the fighters who fight near Zaporizhzhia. The 128th Separate Brigade of the territorial defense forces – thank you, guys, for repelling the attacks!

I would also like to thank all our signalmen today for their excellent service! To everyone who efficiently and timely provides logistics for our troops, and to all the Support Forces of the Armed Forces of Ukraine! Thank you!

Thank you to everyone for whom the stability of Ukraine and our positions are an unconditional personal, official, and professional priority!

And one more.

This week, we received strong signals from our partners, and concrete agreements regarding the inevitability of holding Russia accountable for aggression, for terror against Ukraine and its people.

Every Russian attack on the city of Kharkiv and the region, Sumy region and Donetsk region, Khmelnytsky, our Nikopol, and every corner of our state will have concrete legal consequences for the terrorist state.

It applies not only to the evil that Russia has brought since February 24 but also since 2014. We remember everything. We remember Ilovaisk, we remember the Donetsk airport. We remember the battles for Debaltseve – especially today – and every attack on our people.

We have to restore justice. We will do it. Let's do it together with the whole world.

Glory to each and every one who is in battle today!

Eternal memory to all those, whose lives were taken by this war, this state – Russia – and its aggression!

Glory to Ukraine!
Here is former NAVDEVGRU Squadron Leader Chuck Pfarrer's most recent assessments of the situations in Bakhmut and Kreminna:
BAKHMUT AXIS /1450 UTC 18 FEB/ It is assessed that Russian units have effectively interdicted the M-03 HWY is between Berikhivka and Pidhorodne. With recent RU gains North of Bakhmut, the struggle for control of the M-03 HWY is entering a critical phase. pic.twitter.com/XnbiI5Fygi

— Chuck Pfarrer | Indications & Warnings | (@ChuckPfarrer) February 18, 2023
KREMINNA /2100 UTC 18 FEB/ RU operations in the Kreminna Area of Operations (AO) appear to have temporarily paused. Intel confirms that RU has concentrated forces N of the urban area of Kreminna: RU units can be assumed to be readying for combined arms operations. pic.twitter.com/LA7VwFSKKL

— Chuck Pfarrer | Indications & Warnings | (@ChuckPfarrer) February 18, 2023
Chaplynka:
Allegedly, video filmed by Russians themselves immediately after the strike on the Russian occupied Chaplynka, Kherson region, yesterday. pic.twitter.com/otO0Jdzkt1

— Special Kherson Cat 🐈🇺🇦 (@bayraktar_1love) February 17, 2023
Mariupol:
This photo was taken by P. Andryushchenko, and I think first posted online by @OlenaHalushka.

— Incunabula (@incunabula) February 18, 2023
Sometimes they even filming this! pic.twitter.com/dKGQA6cgO3

— Maksym Borodin (@adnashmyash) February 17, 2023
Yuzhnoukrainsk in Mykolaiv Oblast:
Energoatom recorded that this morning, during the russian terrorist attack, two missiles flew dangerously low over the Pivdennoukrayinska nuclear power plant. Right now, russian nuclear terrorism goes absolutely unpunished. A good beginning is to sanction rosatom

— Olena Halushka (@OlenaHalushka) February 18, 2023
One more act of 🇷🇺nuclear terrorism happened today:
Two missiles flew in a close proximity to nuclear reactors of South-Ukrainian NPP.

This is a clear red line and the world should respond and act fast!

F-16, ATACMS to Ukraine to hit launchers NOW!@OlenaHalushka @ICUVua pic.twitter.com/OEQ7BLFA4B

— VictoriaVoytsitska (@VVoytsitska) February 18, 2023
Not sure where this is, but it's somewhere in eastern Ukraine:
A Ukrainian Soldier 🇺🇦 hiding in a trench takes out a Russian BMP-1 pic.twitter.com/tpHijMZChy

— Ukraine Battle Map (@ukraine_map) February 17, 2023
Here's what it looked like from the Ukrainian Soldier's perspective:
Впечатляющий бой от первого лица. Вот так и проходит штурм позиций небольшими штурмовыми группами. Сегодня парень в окопе справился, завтра могут убить уже его — борьба идет буквально врукопашную за каждый метр. pic.twitter.com/5V8Z4Qg4r5

— IanMatveev (@ian_matveev) February 17, 2023
The tweet machine translates as:
Impressive first-person combat. This is how the assault on positions takes place in small assault groups. Today the guy in the trench did it, tomorrow they might kill him already – the fight is literally hand-to-hand for every meter.
Yes, he was replying to comments on his tiktok this morning

— Kenny_Blankenship (@Blank3nship89) February 18, 2023
Somewhere in Dontesk:
Another group of Russian mobiks lost in Ukraine. They trained for months to become artillerymen, but after arriving to the "DPR", were turned into assault infantry and ransomed by locals for fuel money, or else they'd be sent to the frontline. pic.twitter.com/SZQnneviTb

— Dmitri (@wartranslated) February 18, 2023
Britain: Weapons free!
The UK will supply longer-range missiles to Ukraine, @RishiSunak announced today. That is a very timely step which will hopefully unblock similar deliveries from other countries. #F16 should be next https://t.co/8ZjrNWMMdD

— Olena Halushka (@OlenaHalushka) February 18, 2023
Poland – Tallyho!
BREAKING: Poland announces that MIGs will go to Ukraine. Requires US lead, with allies on board. OP Wings of Freedom, phase 1, set conditions. @MriyaReport @general_ben @MalcolmNance @SpencerGuard @ChuckPfarrer @MarkHertling @inversefox @ZelenskyyUa @POTUS @RishiSunak pic.twitter.com/wWKPAyC1Cz

— Yehuda Amzallagh (@YAmzallagh) February 18, 2023
Another milestone:
On Feb 18, 2014, the scariest part of our Revolution of Dignity started: mass killings of peaceful protesters in Kyiv downtown. But people never ran away. They stood up and defended our freedom, at the highest cost. Just like now. That's why Ukraine will win
Photo M.Chernov pic.twitter.com/KAyryQIi4c

— Olena Halushka (@OlenaHalushka) February 18, 2023
Secretary of State Blinken has concluded that some Russian military personnel have committed war crimes and crimes against humanity in Ukraine:
Crimes Against Humanity in Ukraine

PRESS STATEMENT

ANTONY J. BLINKEN, SECRETARY OF STATE

FEBRUARY 18, 2023

Based on a careful analysis of the law and available facts, I have determined that members of Russia's forces and other Russian officials have committed crimes against humanity in Ukraine. Members of Russia's forces have committed execution-style killings of Ukrainian men, women, and children; torture of civilians in detention through beatings, electrocution, and mock executions; rape; and, alongside other Russian officials, have deported hundreds of thousands of Ukrainian civilians to Russia, including children who have been forcibly separated from their families. These acts are not random or spontaneous; they are part of the Kremlin's widespread and systematic attack against Ukraine's civilian population.

We reserve crimes against humanity determinations for the most egregious crimes. Today's determination underlines staggering extent of the human suffering inflicted by Moscow on the Ukrainian civilian population. This determination also reflects the deep commitment of the United States to holding members of Russia's forces and other Russian officials accountable for their atrocities against the people of Ukraine.

There can be no impunity for these crimes. All those responsible must be held accountable. As today's determination shows, the United States will pursue justice for the people of Ukraine for as long as it takes.
Ya think? What was your first clue?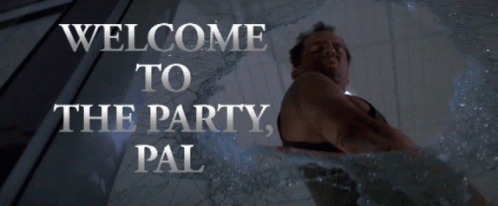 That's enough for tonight, largely because any more naivete like Secretary Blinken's and I'm liable to break something…
Your daily Patron:
A new video from Patron's official TikTok:
The caption machine translates as:
It's actually a joke! 🤭 #песпатрон
Open thread!