Leslie sent in this very sweet non-adoption adoption story, and since TaMara will be super busy for the next month or so, TaMara thought I should post it.
Woman finds a newborn kitten under her house and promises not to adopt her 💞 pic.twitter.com/9ddztpKrD2

— The Dodo (@dodo) February 18, 2023
TaMara said that was a lot like she got her first cat, so I told her the story of how I got my first cat. I ended my story with this:
So maybe we all have the same origin story with cats, and just the details are different?
And we both had the same thought – maybe a Kitty Origin Stories thread would be just the thing for Balloon Juice.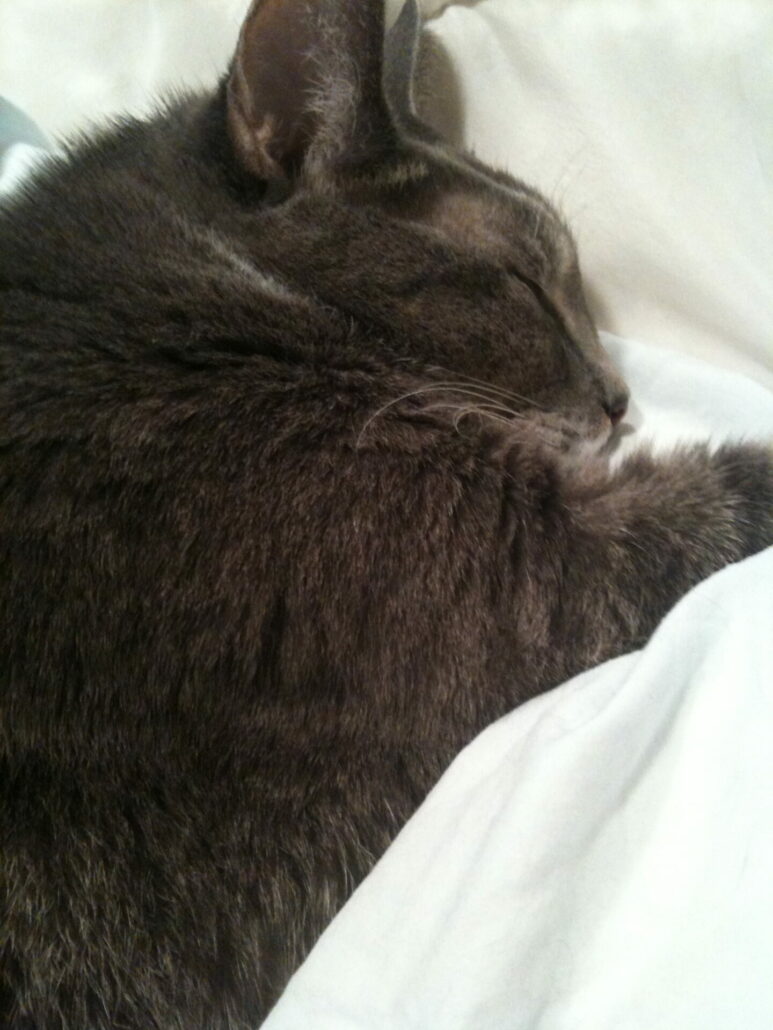 Here's mine:  My Kitty Soulmate, Quiver:
For me, it was the cat who wondered in when I worked at the University.  I was moved to a big warehouse building out in the country for a few months while they did some repairs to my office on campus.

I should start by saying that I had never been a cat person, though if I loved you, then of course I loved your cat.  But that was the extent of it.

I returned to work after a couple of days off, and there was a cat in the office.  They had named him Quiver, because of a funky thing he did with his tail.  It was fall, and he visited us every day for weeks.  In the week before Thanksgiving, I kept asking the top boss if we could bring him in for the 4-day weekend that was Thanksgiving – because it was getting really cold outside.  She finally relented!

All of us agreed we would share in the food, the feeding, the cost of the litter box, cleaning the litter box…  As soon as we put the litter box down, he used it, so we were in good shape.

But pretty soon I was the only one feeding him, the only one making sure he had fresh water in his bowl, the only one cleaning the litter box, the only one buying his food.  I didn't mind.

He started hanging out in my office most of the time, so of course I had to buy him a little cat bed for my "visitors" chair.  And he needed a toy, for sure.  And a brush, he had to be brushed!   For treats, I brought in some cream.

I was usually the first one into the office every morning, and I would say "where's Quiver" as I unlocked the door.  I knew how much I loved him the day I caught him absolutely racing down the long hallway to get to me in the morning.

Then one night there was a loud clap of thunder just as the night janitor opened the door to clean, and Quiver bolted out the door.  (The janitor felt terrible and left us a note.)  It was cold and rainy and he was nowhere to be found.  I was beside myself.  Inconsolable.  I drove around looking for him everywhere, in the rain, stopping at all the farms where I saw a human.  It rained for 2 days straight.

After a couple of days, I had all but given up on ever finding him.  Then one of the guys spotted him, soaking wet, hiding under a bush.  He snagged Quiver and immediately brought him to me.

At that point, it was obvious to everyone that he was my cat.  He was soaking wet and I'm wearing my good work clothes, but I couldn't care less. I hugged him and toweled him dry and hugged him some more and held him until he was dry.  And then held him some more!

When I finally got to move back to my office on campus, I asked if I could take Quiver home with me, and they all said yes.  I really don't know what I would have done if they had said no!

My sweet, beautiful boy.
So maybe we all have the same origin story with cats, and just the details are different?
Anyone else have a kitty origin story to share?