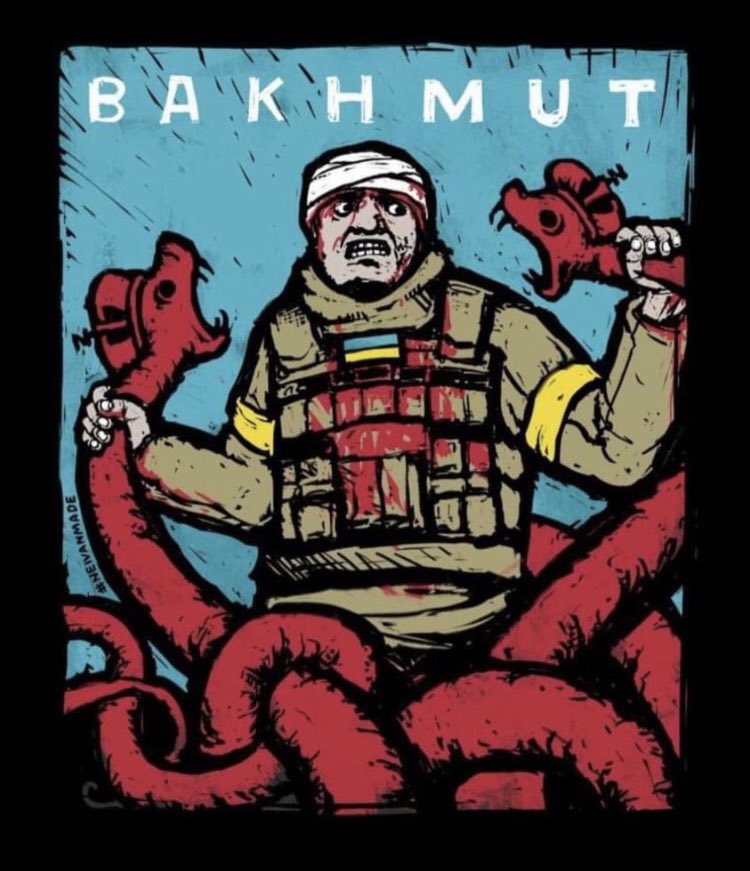 (Image by NEIVANMADE)
Here is President Zelenskyy's address from earlier today. Video below, English transcript after the jump:
Good health to you, fellow Ukrainians!

It's Sunday today, yet it is a very meaningful and, as always, a working day for the state.

I held a meeting of the Staff in a new format, an expanded one. Both the Commander-in-Chief and the commanders of directions reported, there were also reports directly from the frontline.

We are leveling the situation, doing everything to prepare our actions planned for the future, for the nearest future. And also what is being done now, these days, on the frontline.

The Commander-in-Chief reported on the overall situation at the front, with a special emphasis on mobilization, the specific situation, on how and what is being done.

I heard detailed reports at the Staff's meeting on each combat position, each hottest area.

General Syrskyi reported on the Bakhmut direction, Khortytsia operational and strategic group of troops. How we are defending our positions, how we are strengthening this particular direction and how much enemy forces we are eliminating.

General Sodol reported on the Vuhledar direction, Donetsk operational and tactical group. The situation is very difficult. We are fighting. We are breaking the invader and inflicting extremely tangible losses on Russia.

I repeat again and again: the more Russia loses there, in Donbas – Bakhmut, Vuhledar, Maryinka, Kreminna, the sooner we can end this war with Ukraine's victory.

I heard a report on the situation in the south. In particular, General Hnatov reported on the Odesa direction. The situation is unchanged, we are controlling all potential prospects.

General Tarnavsky reported on the specific results of the defense of Tavria operational and strategic group of troops. Thanks to all our warriors who are defending Zaporizhzhia and this entire area!

The northern direction, Kyiv, is a must. There was a report by General Nayev. The General reported that the situation is completely under control. As well as along the entire northern border.

The Minister of the Interior reported on forming new Offensive Guard brigades. There are great results. It is a very useful experience showing how people can and should be motivated.

I will continue this format of work both at the Staff and in informing on defense management. I want our people to know and understand what we prepare and control, and how we do that.

Of course, military issues, details of intelligence actions cannot be told in full. But I want our people to have predictability right now. And a feeling that Ukraine is moving towards its goals. Budanov, Malyuk and Lytvynenko delivered reports on that.

Today we have a new sanctions step by our state against all those who fuel Russian aggression. I have signed a decree enacting the NSDC decision on sanctions against Russian financial entities. These are Ukraine's sanctions. But each of our sanctions packages becomes the basis for working on sanctions with our partners.

The next EU sanctions package – the tenth one already – is now being prepared. We are working with our partners to strengthen it. But we are also working with other actors in global relations. Sanctions for terror are something where the efforts of every responsible state can push the global process forward. And it will be so.

Today I spoke with President of France Macron. We talked about further defense support, about protecting our people and the whole of Europe. I thank Mr. President for his understanding of our needs and for our shared feeling that we cannot waste a single opportunity and a single week in defending ourselves against Russian aggression. We discussed our joint diplomatic efforts with France, our cooperation on international platforms. We also discussed important decisions that we are preparing for this week – for the year of our invincibility.

Today I also held several meetings with government officials and with our international bloc – of the Office and the government. With representatives of the defense sector. There will be new initiatives, new results for Ukraine, new achievements in relations with partners.

I thank everyone who defends Ukraine! 

I am grateful to each and every one who is now in combat! 

I thank everyone who helps our country! 

Glory to Ukraine!
Here is former NAVDEVGRU Squadron Leader Chuck Pfarrer's most recent assessments of the situation in Bakhmut. Oldest first, then newest:
BAKHMUT /2045 UTC 19 FEB/ Wagner PMCs continue efforts against the critical M-03 / T-13-05 junction. On 19 FEB, UKR forces broke up a series of RU ground attacks on Dubovo-Vasylivka and Berikhivka, South of the M-03. RU casualties mount in a series ineffective infantry attacks. pic.twitter.com/xSNlZTWNGk

— Chuck Pfarrer | Indications & Warnings | (@ChuckPfarrer) February 19, 2023
BAKHMUT /UPDATE 19 FEB/ Wagner PMCs continue efforts against the critical M-03 / T-13-05 junction. On 19 FEB, UKR forces broke up a series of RU ground attacks on Dubovo-Vasylivka and Berikhivka, South of the M-03. RU casualties mount in a series ineffective infantry attacks.

— Chuck Pfarrer | Indications & Warnings | (@ChuckPfarrer) February 19, 2023
Bakhmut:
Bakhmut update, 19 Feb: the worms "announced" a sanitary day: they remove 200/300 in broad daylight, under artillery cover

Two signs: the current assault potential is exhausted; Wagner replaced by regular troops (Wagner did not care as much about wounded and killed) – Mad'ar pic.twitter.com/8uY4ngBJcC

— Dmitri (@wartranslated) February 19, 2023
🇺🇦Witch had a crazy idea in Bakhmut #Ukraine🥰 pic.twitter.com/HyjoV1yqHj

— Sofia Ukraini (@SlavaUk30722777) February 19, 2023
The BBC has reporting on the butcher's bill for the Wagner mercenaries in Bakhmut:
Over 30,000 mercenaries fighting for the Russian paramilitary Wagner Group have been killed or injured since the Ukraine war began, US officials say.

White House spokesman John Kirby said the group had suffered significant losses in recent weeks, with about 9,000 fighters killed in action.

Wagner has recruited heavily in Russian prisons, and Mr Kirby said most casualties were untrained convicts.

Despite the casualties, Wagner has made gains around the city of Bakhmut.

Some of the fiercest fighting of the war has taken place around the eastern city, with Wagner mercenaries heavily involved in Russian efforts to capture it.

Ukrainian troops say Wagner fighters had been sent into attacks in large numbers over open ground, and a Ukrainian army spokesperson said Moscow had failed to evacuate wounded and dead soldiers – leading to "places where their bodies are just piled up".

Capturing Bakhmut could allow Russia to make advances to bigger cities further west, like Kramatorsk and Slovyansk.

However, Mr Kirby – the US National Security Council spokesman – suggested further advances could prove difficult given the gains made in Bakhmut had taken months to achieve and come at a "devastating cost that is not sustainable".

He also questioned the military significance of the city.

"It is possible that they may end up being successful in Bakhmut, but it will prove of no real worth to them because it is of no real strategic value," Mr Kirby told reporters.

Elsewhere, UK intelligence officials have estimated that Russian regular forces and Wagner troops may have suffered between 175,000-200,000 casualties – including 40,000-60,000 deaths.

The high number of deaths was "almost certainly" due to "extremely rudimentary medical provision", the UK's defence ministry said.
Dmitri at War Translated has translated the most recent screed by Girkin. Girkin is the Black Sea Cossack who is one of the primary instigators of Russia's initial invasion of Ukraine in 2014. He made his bones helping Russia split Moldova into Moldova and the breakaway and internationally unrecognized statelet of Transnistria.
Pretty big update from Girkin on the frontline situation, but fundamentally without positive changes for the Russian forces. Girkin points at the crisis in Wagner and believes RF forces have just a few days left to start the offensive before the thaw. The original can be found here.

---

"Situation at the front.

Russian border – artillery and local tactical battles. In some areas, the RF Armed Forces again crossed the border and entered the territory of the Kharkiv region and within a few days occupied 1 or 2 border settlements. There's nothing on the offensive yet. Skirmishes intensified at the borders with the Sumy region. The enemy continues to regularly/daily shell the settlements of the Bryansk, Kursk and Belgorod regions, trying to "disperse" strikes (inflicted by mobile batteries and individual guns) on the largest possible number of settlements, in order to demoralise their population.

The front along the borders of the LPR (from the old border of the Russian Federation to the Siversky Donets) is generally unchanged. Local fights in Kuypansk and Lyman directions. Ukrainians are continuously being pushed in forests west of Kreminna.

Fierce fighting continues in the Bakhmut area. Apparently, the lack of forces and equipment caused by losses in previous battles is forcing Wagner to narrow the offensive zone. Over the past two days, there was no advance in the area of Chasiv Yar on the southern flank of the barely emerging "pincers". Frontal assault attacks continue in urban areas with little progress. On the "northern" flank, two days ago, PMC fighters managed to take another suburban area of ​​Bakhmut, the village of Paraskoveevka, and advance to the northern outskirts of the urban area directly.

Against the backdrop of the heart-rending calls of "Wagner bloggers" about the lack and non-delivery of ammunition from the RF Ministry of Defense, Prigozhin's meeting with the former deputy commander of the DPR People's Militia Basurin looks understandable, but silly. Apparently, they spoke about the possibility of "getting" ammunition and getting reinforcements for PMCs by recruiting servicemen "rejected" during re-certification in the RF Armed Forces. In any case, discussing such issues with Basurin (who, before the dissolution of the People's Militia, was nothing more than a "fool-ass", like a "mini-Konashenkov"), only testifies to the depth of Prigozhin's "personal crisis" as the leader of the "private army".

In this regard, the capture of Bakhmut, which was predicted (including by me) before the end of February, again seems problematic. Without replenishments and a sufficient amount of ammunition (or without a large-scale involvement of units and formations of the RF Armed Forces), it may not be possible to "put the squeeze on" the city.

South of Avdiivka, latest attempts to build on success and clear the outskirts of Vodyane, which remained behind the enemy, failed. For this, the former "corpsmen" of the DPR PM and volunteer units have too few people, military equipment, artillery and ammunition, and it is not possible to "support" them with units from the "mobiks" (it was here, in the rear, where the unit from Tuva rebelled and was safely recalled to native penates). 

The fighting in the area of Marinka and near Vuhledar moved into a positional stage. In Marinka, it happened due to the exhaustion of the forces of the already sparse Donetsk infantry, near Vuhledar – as a result of the defeat of two brigades (and not only) of the RF Armed Forces, exhausted to the point of losing offensive capabilities.

In other sectors of the front, the situation has not changed over the past two days.

Thaw in Donetsk. After a heavy snowfall. In case the RF Armed Forces decide go on the offensive, they have a maximum of a few days left to start it and 10-20 days (depending on the weather) to complete it before the start of the spring thaw. (As for me, it's already too late to do anything serious. Yes, and it's not necessary, since "Vuhledar showed" that with the current degree of training and combat readiness – it is extremely risky for our troops to attack on a large scale)."
Relatedly, Julia Ioffe at Puck's reporting includes an interview with Michael Kofman, the director of Russian Studies at the Center for Naval Analysis (CNA). Kofman's view is that the Russian offensive has begun:
"Defending every-square-inch is not necessarily to Ukraine's advantage," said Michael Kofman, a military analyst who heads Russian studies at the Center for Naval Analysis. "At Bakhmut, Russian prisoners have been grinding away at much better trained Ukrainian soldiers." There may not be a better alternative, Kofman said, but it overlooks a very basic Russian advantage: Russia has more people. "Bakhmut has taken on greater political significance than it deserves," he said. "Is there a good chance Ukraine will lose Bakhmut? Yes. Does that really change things? No."

So far, the offensive has been remarkably lackluster, which is in part why so many people keep warning that it's about to start: they don't realize that this series of sputtering pushes is the offensive. "The expectations that have been put out there of a grand Russian offensive will go unfulfilled," Kofman said. "This is the offensive. I'm sorry if it doesn't fit the media narrative that's been out there."

Mostly that's because it's hard to offset quality solely with quantity if you want to make a real offensive push. Russia has lost a lot of its best soldiers and officers in the war, and the poorly-trained, newly mobilized soldiers they're replacing them with are just not as good. "They can offer a stubborn defense but they have pretty limited offensive potential," explained Kofman. "On such short order, they can't replace quality with quantity. They can't replace the officers they lost, et cetera, and so many of these attacks have been unsuccessful or underwhelming. It's going about as expected."

Furthermore, after going hog wild with artillery through the summer and fall (in part to compensate for a manpower shortage), Russia has started to ration its artillery ammunition for fear of running out. That has also hampered Russian efforts to advance.

Ukraine, in the meantime, is gearing up for a spring offensive, when they will likely punch south and try to retake Melitopol, thereby slicing through Russia's ground lines of communications, and potentially allowing them to press toward the Azov Sea. If successful, this would jeopardize two things Putin holds dear: the land bridge to Crimea, which he's wanted since 2014, and Crimea itself, which would now be vulnerable to further attack. This, Putin has made clear, is a red line for him.

The question of Ukraine's success hinges on the delivery of advanced Western weapons—both how soon they can get to Ukraine and if they are provided in sufficient quantity—and on the training Ukrainian troops get abroad.

Regardless, even a successful Ukrainian offensive this spring will not end the war on the battlefield. There are more and more signals coming out of the Biden administration that they feel Ukraine is running out of time, both on the ground and in the halls of the U.S. Congress—signals that Moscow is eagerly picking up on and amplifying. But even that may be optimistic. Neither side seems willing to negotiate. A source familiar with the Russian stance described their opening position as "go fuck yourself," and another very well-placed source told me that's Kyiv's opener, too. ("I would be very surprised if [the Kremlin] would be prepared to accept compromise without regime change" in Kyiv, said an informed source in Moscow.)

"It's likely to be a long war and this has increasingly come to be accepted in Washington," said Kofman. "And that is for a particular reason. If you look at the historical patterns, these kinds of wars tend to cluster in two categories: they're either relatively short, lasting weeks or a few months, or more they tend to go on for several years. It's already too late to have a short war. It's already a long war. It's just a question now of how long a war it will be."

When I asked him how long he thinks the war in Ukraine will grind on, Kofman said, "I think it will likely go on well beyond 2023."
Much more at the link.
Conversely, Politico reports that the Biden administration does not think the Russian spring offensive has yet begun:
Biden leaves Monday for Poland to meet with President Andrzej Duda and other key NATO leaders. U.S. officials believe that Ukraine's defense is about to hit a critical phase with Russia launching its much-telegraphed offensive. The Biden administration has urgently pressed President Volodymyr Zelenskyy's administration to consolidate its gains — and perhaps launch its own counterstrike.

The White House has also told Zelenskyy's team, per multiple officials, to prepare for the offensive now, as weapons and aid from Washington and Europe flow freely, for fear that backing from Ukraine's European neighbors could be finite.

In Washington, support for Ukraine has remained largely bipartisan, though some in the administration fear that it may be harder to send additional aid to Kyiv amid mounting resistance from the new Republican-controlled House. For now, though, even some of Biden's fiercest critics salute the work he has done.

"He's been good about connecting our national interests to the fight and that it's good for the world for Russia not to be successful," Sen. Lindsey Graham (R-S.C.) said in an interview. "It's going to be one of the decisive moments of his presidency."
Much more at the link.
Now about those weapons… From The Sunday Times:
Less than a quarter of the modern battle tanks the West has promised to Ukraine are likely to arrive in time to counter an anticipated Russian spring offensive.

Kyiv is expecting its supporters to send up to 320 western tanks in total but estimates suggest barely 50 will reach the front lines by the start of April, prompting concerns they will not be enough to have a substantial impact on the fighting.

Olaf Scholz, the German chancellor, said his ministers would try over the course of the Munich Security Conference, which concludes today, to rally partners to hand over more of the 80 Leopard 2 tanks that are supposed to make up the backbone of the European contribution.
Hey Scholzy, maybe next time don't reenact Hamlet every day for six fucking months and you wouldn't suddenly need to run around like both your head and your ass are on fire!
What's up with the mobiks? From the Veterans Records Telegram page:
A catastrophic situation has developed with the monetary allowance of the participants of the NWO.
The scale of the problem is simply indecently huge. This problem exists in every military unit. In every battalion, in every company and every platoon.
Total non-payment of the promised and due monetary allowance.
Volunteer units such as BARS are particularly affected in this regard. People who volunteered for the front in the spring – in the summer of 2022 are simply marinated and strangled by bureaucracy. People wait half a year for a seal on a piece of paper to prove that they are combatants. Then the circles of hell begin in the military registration and enlistment offices for registration of the status of the WBD. The circles of hell lie in the fact that the bureaucratic machine in the warring units is simply disgusting.
But the most egregious case that I know is when a person was mobilized on September 22, 2022, and on September 26 he was already in Svatovo. We talked with him at the end of January and at that time he did not receive a penny from the MO! On the card he only received a salary from his previous place of work. But that's not all. In November, he was injured. There is a certificate in form 100. But they refuse to pay compensation, citing the fact that they consider the injury not severe enough!
It's just thrash. A man was called up for mobilization, he has been fighting for almost half a year, he was wounded and he is not paid!
And I personally know dozens of such stories. People grumble. Discontent and anger build up. If the situation does not change, it will lead to a social explosion in the veteran community. Do you need it!?
It is necessary to take tough measures to normalize the situation in this sector. It is necessary either to return the financiers in part, or to take other measures. But it can't go on like this. Next will be an explosion.
t.me/notes_veterans   /8049    914.3Kviews   Feb 18 at 02:36
Here's something interesting. Russian crypto scammers ripping off people trying to make charitable donations to Ukraine:
It started with a fundraising party by Russian opposition and punk rock group Pussy Riot marketing the sale of a Ukrainian flag.

People sharing, dancing and singing, 7 Million raised in the biggest NFT sale ever.

What could possibly go wrong?

This article promises to give you a comprehensive picture of what exactly the Ukraine-DAO is, who is behind it and why.

Also what it isn't and what was the Agenda behind it. Because it will become evidently clear there was and still is one.

SO, What is the "Ukraine-DAO"?

Here is what they say on their own website ukrainedao.love :

"Est. 21 Feb 2022, Ukraine-DAO is an online collective that harnesses the power of Web3 tech and community to defend Ukraine against the russian invasion."

Notice a few things, but first, what on god's green earth is an "online collective"? and How does "harnessing the Web3 tech to defend Ukraine" exactly work? More Importantly notice what it didn't say, No mention of Charity or even the word fundraising.

But that was not always the case, it only came to be in such manner after the fundraising was completed, watch this statement from Ukraine-DAO and Vitalik

Now the DAO Claims it was never a charity and was never meant to raise any money.

In essence it became retroactively something that was never advertised when the initial fundraising happened.

Now let's talk about who is behind the DAO and who will help "harnessing the Web3 tech to defend Ukraine"!

Vitalik Butirn

Vitalik is a Russian-Canadian national, and the founder of Ethereum.

Since Satochi Nakamoto is Unknown, Vitalik is considered the Crypto figure of authority.

Reputation

Although popular among a group that resembles a cult of NFT and CryptoCurrencies, when it comes to the real world it is no good, and to western institutions and banks it is HORRIBLE.

Why?

It was hypothesized that ETH was built in 2015 with the Russian government in mind (not just the currency, the whole platform). Later, in 2017, that hypothesis was confirmed when Mr. Vitalik started a joint venture with the Russian Government directly and with VEB Bank (occasionally coined "FSB Bank" for its close ties to FSB).

I asked a simple question to someone who would know, "Can you have a joint venture with a state-affiliated Russian bank that would later be used in a sanctions evasion scheme for Venezuelan oil called PETRO after meeting Vladimir Putin?" They answered, "Anything bigger than an ice cream stand will require you to get vetted, proportionally to the size and sensitivity of the venture." I replied, "What does vetting mean in Russian FSB language?" The answer was implied, that it's not simply knowing your background, "it is more active than that and it is also proportional to the size and sensitivity of the venture."

Vitalik, after meeting Vladimir Putin, also created "Ethereum Russia" with Russian state-owned VEB Bank. He attended a signing ceremony with its head Sergei Gorkov. VEB Bank is intertwined with Russian intelligence. And the Russian prime minister is, by law, the chairman of its supervisory board.

Vitalik is smart enough to know that if there is someone or some country to adopt Etherum, it would be Russia. While the US and EU already have stable, trusted and highly regulated massive financial systems, no one wants Russia's ruble.

It is also worth mentioning that Vitalik Buterin stated he donated to Ukraine via Tornado cash for Anonymity. Yet he stated this fact to global news agencies which negates the argument in his case. At least it was a clear bid to try to legitimize a use case for crypto mixers.

The WEB3 and ETH Network that was developed is Extremely complex. WEB3 and ETH are marketed with some unattainable fantasies while in reality, 95% of the time, the only use for such complexity is an endless amount of scams, money laundering, tax and sanction-evasion schemes.

Vitalik knows this. And hence, Vitalik embarked on a PR philanthropy campaign to try to fix the reputation problem for him and for Ethereum.

Part of that effort is the Ukraine-DAO

The PleasrDAO

Here is how they self-describe on Twitter @PleasrDAO

"PleasrDAO"

a cartel of $PEEPS who aim to plz. @ownthedoge"

How did they start? It was buying Edward Snowden Pentagon Papers NFT for 5.5 million dollars decrypt edward-snowden-will-auction-activism-nft-via-live-pleasrdao-show.

Edward Snowden is currently in Russia and allegedly cooperated with the Russians regarding his activities. businessinsider.com/ex-spies-say-snowden-is-working-with-russia.

The "collective" use certain terminology as part of their brand. For example, the CEO is called "pleaser in chief," the token they have is called $peeps and so forth.

The company that invested in them is A16z. Crypts Investment also made a similar investment in "Friends with Benefits" DAO.

Leonid Radvinsky

Owner of OnlyFans, the most Successful entrepreneur in the Adult entertainment industry in history. Ukrainian for a father who practiced the same trade that he passed on to his son in Odessa in the 90s taking advantage of Ukrainian women in the post-Soviet Union economic crisis, along with (His father) showing pro-Putin sentiments. For example:

"Oct 27, 2017

1:52PM ET

I told all of you Do not bet against Putin Oil is going up." investing.com/members/SavelyRadvinsky/comments

Reputation

Publicly almost None, meaning neither good or bad since publicly he does not exist, due to a reputation of suing and censoring any negative media written about him.

In reality his reputation is -100%. A few examples would be bribing Meta Officials to label female models on Instagram as terrorists in an effort to increase traffic to OnlyFans. (Notice he plays the long game and a great chess player, it also worked.)

How about selling fake passwords for pedophiles since he noticed a high unmet demand? Young Leonid would sell access to "illegal" and "hacked" passwords to secret underage porn websites and also celebrities' leaked porn. forbes.com/history-of-onlyfans-billionaire-owner

Of course the passwords he sold were fake. But the money he took was not, and no pedophile would ever report being scammed out of money after not receiving promised pedophile material.

Along with a long list of models waking up to disappearing account balances on OnlyFans and thousands of strike-down requests submitted to Google.com when they do complain so that he hides those complaints. forensicnews.net/onlyfans-faces-allegations-of-fraud-theft

insight.rpxcorp.com/litigation_documents

Generally not really a nice guy who is big on philanthropy. If Leonid pays a dollar it is only for a good reason that benefits Leonid.

His reputation needed a lot of work, so he saw donating a few million dollars to Ukraine-DAO through OnlyFans as a smart idea. But forget about the PR campaign, Leonid has more than one billion dollars in frozen fiat currency (billion with a b).

vice.com/onlyfans-suspicious-activity-reports-leo-radvinsky

Banks hate Leonid since charge backs when dealing with the porn industry are so common, along with other accusations regarding OnlyFans that I will not mention here. Leonid in turn hates banks back and is on a multi-pronged plan to undermine the whole banking system by increasing crypto adoption and backing Ethereum.

One aspect of this plan to free his empire from banks regulation and any regulation is his investment on Elixir.

lr.com/post/leo-radvinsky-an-elixir-evangelist

Elixir is an open source coding language that he also hopes can one day make him independent of tech giants.

Who knows, his plan might even involve developing his own internet or a dark web alternative that would allow him to produce, sell, market and profit from any content he wants with no regulation.

Ukraine-DAO helps him in his goals on many fronts and that's why out of hundreds of Charities this non-charity of questionable character was his favorite.

Doctor Bitcoin (Mark Alexander Hopkin)

justice.gov/doctor-bitcoin-pleads-guilty-illegal-cash-crypto-scheme

There are experts in every industry. When it comes to block chain money laundering, Dr. Bitcoin (yes he has a Ph.D. in bitcoin) is arguably the best mind in the world.

Although he did a really good job in his money laundering Scheme involving a Nigerian scam (not using the word "allegedly" since he is currently in prison after being convicted of that crime).

Now why is Dr. Bitcoin, one of the founders of the Ukraine-DAO, a leading expert in money laundering? I will leave that to your imagination.

Free Ross-DAO

Most of the above founders are connected already on many levels, but it is safe to say FreeRoss-DAO is the parent of the Ukraine-DAO.

Ross Albright is currently serving 2 life-sentences for many activities around his Silk Road website on the dark web.

A website that changed the way drug trafficking is done. Other than that Ross Paid for an assassin to kill someone and asked for footage to confirm the murder (luckily the murder didn't happen although he thought it did).

For this reason Ross is the champion of all the groups above. After all, they are involved in one business or another that is either illegal or highly scrutinized by banks. In all cases they all hate the establishment.

If the argument of good uses for block chain is to be made it wouldn't make sense to make the above party the champions of such an idea since they have proven otherwise by their own actions.

Ray Pax Youssef

Cofounder of Paxful.com and Free RossDAO (and by proxy Ukraine-DAO.)

It is no secret what Ray Youssef business model at Paxful is.

Paxful's (a crypto exchange) Main revenue stream was selling bitcoin vouchers and coupons to Adult performers at Backpage.com after it (again) got kicked out of Visa and Master Card and switched to a crypto-only model and Pax filled that void.

Ray was arrested with his cofounders for pointing an Ar15 at his neighbors in Florida. When law enforcement arrived they confiscated 500 rounds of Ammunition, a box of hashish, and another box of cocaine.

wsvn.com/news/local/police-arrest-3-accused-of-wielding-assault-rifle-atop-south-beach-condo

Allegedly Ray Pays any entity in order to take any article about this incident down and he personally blocked me after I did so before (no he didn't pay me) .

After listing the Founders above, I would love to input some of my own experience.

I witnessed the beginning of a cult-like organization that rose out of the Ukraine cyber war scene. It is led by Alona Shevchenko, a Ukrainian Russian speaker who later adopted a brand of far-right extremism. She went on to siphon donations away from multiple Ukraine aid charities while embarking on a crusade to discredit all Ukraine supporters, dox fighters, send death threats, operate an espionage operation to monitor anyone who discredits her, and all of that raised a lot of question marks about her true intentions.

Back to Ray Paxful. Out of all the parties involved he is the most anti-establishment, the one with closest ties to Russian entities with some of his Favorite books, "The Secrets of the Federal Reserve" by Eustace Mullins and "THE CROWD: A Study of the Popular Mind" by Gustave Le Bon to name a few. He also operates a big branch of Paxful in Russia.

www.wsj.com/articles/as-calls-to-leave-russia-continue-some-u-s-tech-firms-opt-to-stay

Interestingly, Ray from Paxful traveled from NYC to London to meet Alona. The meeting happened on 20th Feb 2022. Ray represented FreeRossDAO.

Hours later after meeting him Alona Shevchenko published an open letter on FreeRossDAO on Feb 21 2022, calling the group to action. The letter was Russian-friendly and called for peace in general with a moderate tone.

48 hours pre invasion, actors involved in FreeRossDAO came together fast. Since no one knew Alona Shevchenko, Pussy Riot was key to helping her.

Pussy Riot did the marketing, and the Ukrainian flag NFT sold for almost 7 million dollars. But the bulk came not from the general public but mainly from Leonid Radvinsky and Vitalik Buterin, and for a good reason.

More background on Alona Shevchenko:
Alona Victorovna Shevchenko was born in 1993 in a small village in eastern Ukraine. Grew Up with Russian as her native language to a family who owned a trucking business. She graduated from Dnepropetrovsk university in English and Russian studies. Around 2015 she moved to the UK where she worked as a translator for legal documents written in Russian.

According to Alona, around 2020 she suddenly quit her job due to them labeling her "anti-establishment" and a "poor performer." Shortly after leaving her job she gets into Pussy Riot's circle with Nadia which was not surprising given that Alona lived in Brighton and spoke Russian. Soon Pussy Riot may have introduced her to FreeRossDAO where she became a spokesperson. She then moved to a very expensive flat in central London although she claimed her salary was 1300$ per month according to one block chain transaction that was later recorded.

No one knows how she exactly made a living for those two years. But what is publicly available is her involvement with a crypto org called GRO protocol DAO. It was a startup that raised 7 million dollars in venture capital. The idea was to leverage stable coins through some sort of fractional banking. The GRO protocol issued a crypto currency called $GRO. It spiked at more that 100 million$ before crashing by 99.9%. Allegations of pump and dump abound, although that is not uncommon in crypto.

In February 2022 she claimed to have been informed by intelligence services that Ukraine will be invaded. On 15 February 2022 she creates a new wallet that will later be her official wallet and received 1325$ from FreeRossDAO. The transaction was sent by an affiliate of the pleasrDAO.

On 20 February 2022 Alona met Mohamed Azab Youseff, the founder of Paxful the crypto exchange peer to peer marketplace along with being the key figure in FreeRossDAO.

Youssef is a very interesting character, having voiced support for Russia, refused to pull out from Russian markets and still holds a very large footprint on the Russian crypto scene. On February 12th he tweeted a tweet suggesting that if Russia was cut from swift, bitcoin adoption will increase, he also tweeted that Russia posed no threat to Ukraine, on his timeline he has pictures in Russia with a Russian flag around his neck in russia's world cup.

Conclusion

What do all the actors have in common ?

Is it clear what the goals of this group is now? It has everything to do with Crypto adoption, white washing a questionable reputation (being generous) and dark illegal activities focusing mostly on payment processing and very little to do with having a positive impact on Ukraine.

In essense Alona Shevchenko disinformation campain againt hundreds of Ukrainian supporters led to the creation of Hundreds of enemies that in turn started to investigate her behavior and uncovered all this Scheme.

If it wasn't for the damage caused to Ukraine reputation by her campaign, Ukraine-DAO creation would have been a net positive since her attacks and enemy creation brought enough attention to all the criminal activity above.

Like Putin's war of aggression that backfired in every way possible, the Campaign launched by the Ukraine-DAO crypto anarchists syndicate to clean up their reputation ended up hurting their reputation 10 fold.

A Request for Authorities and Ukrainian Government officials

I hereby request the Ukrainian government and the ministry of digital transformation to cut all ties with this suspicious entity, Ukraine-DAO. It is nothing more than a cartel of dark web crypto anarchists involved in a whole spectrum of criminality. It is trying to wash its dirty reputation with the blood of Ukrainians all while doing more harm in the information space and tarnish the good will of Ukraine.

I am confident that the Ukrainian government will make this attempt unsuccessful.

Ukraine with its heroes and great people deserve better than this, such is our faith and love for you and your people.

I also call for an open investigation of Leonid Radvistky activities listed above.

I request the investigation of Ray Pax for defrauding consumers and his role aiding BackPage.com and other illegal activities.

I urge the investigation of Vitalik Butrin for his role in breaking previous sanctions and his ties to the FSB.

The investigation of Alona Shevchenko for her ties to all the above parties, Vitalik Buterin, financial misconduct and spread of misinformation in coordination with her associates—notably Walter Lekh, Jr. from Lviv—for his role embezzling money from a Ukrainian Charity and aiding Alona in other ways.

NOTE FROM AUTHOR

This Investigation lasted for 6 months. I had hundreds of other Ukraine supporters' help through sharing their findings and experiences. None of Us worked or works for a professional investigation organization and all the Information above is already public. But this Investigation ties all the pieces together.

If you appreciate such work please subscribe to support this channel and cover any potential legal fees as a result.

сла́ва Украї́ні!
There is much, much, much more at the link!
Why is this important to note? Because I'd seen Alona Shevchenko's name before. Bellingcat has been doing what they do best and have found some concerning things. Mryiyaaid, which was founded by a Jewish Canadian Soldier, has also been involved in pulling this thread:
Did you reply to this question yet? I'm sure lots of people would love to hear your answer? https://t.co/BaPwGLr7x6

— Eliot Higgins (@EliotHiggins) February 11, 2023
I wonder why everyone is now talking about @bellingcat instead of discussing @cryptodrftng and @Ukraine_DAO ACTUAL connections with figurehead neo-nazis and russians that support the genocidal war against Ukraine. 🤔 These images don't lie. pic.twitter.com/rffqqZfp3w

— Luís Da Cruz (@morphiaz) February 15, 2023
But no one said it was exclusive to Ukraine. The far right exists all over the 🌎. But we should definitely call out organizations with nazi boundaries that are actually taking our donations. This is what it's all about. @Ukraine_DAO was requested to make a statement about this.

— Luís Da Cruz (@morphiaz) February 15, 2023
So let's tie a few of the strands together. First, Higgins is the founding director of Bellingcat. Second, da Cruz is with Mriyaaid. Third, Schevchenko appears to be both a crypto scammer and connected to Olena Semanyanka. Fourth, Semanyanka is the woman posing with the flag with the swastika on it and in a picture with Dugin. Fifth, the crypto charity Schevchenko is allegedly part of is now alleged to have been involved with a Russian scam to steal donations, made through crypto, intended to help Ukraine.
I just want to make one thing very clear: just because this woman appears to be connected to an actual neo-NAZI, it is not an implication of all Ukrainians. Nor should it be taken to reopen the now thoroughly debunked "Azov are NAZIs" garbage the Russians have been pushing despite Azov having worked very hard to purge itself of those elements.
Speaking of neo-NAZIs
Neo-Nazis Who Organized Deadly 'Unite The Right' Rally Claim They're In "Communication" With 'Anti-War' Rage Against the War Machine Protest Leaders In DC https://t.co/k8sgXNG3zd

— Eliot Higgins (@EliotHiggins) February 19, 2023
Thread on the anti-Ukraine Rage Against the War Machine rally, which appears to be taking place at the ends of the horseshoe: https://t.co/UIfIy8Rhsl

— Eliot Higgins (@EliotHiggins) February 19, 2023
Imagine that!
This wound up being longer than I intended tonight. So the material on Ukrainian rye bread that commenter lurker Yarrow – peek around from behind that ever growing hillock of Baud's discarded trousers and wave hi! – sent across will have to wait until tomorrow.
Your daily Patron!
There are no new Patron tweets or videos tonight. So here's some Patron adjacent material:
Hello#Ukraine #UkraineRussiaWar #UkraineWar #Leopard #CatsOfTwitter #CatsOnTwitter #RussiaisATerroistState #UkraineWarNews #UAarmy #ukrainecounteroffensive #Zelensky #UkraineRussiaWar️ pic.twitter.com/S8rjWqNjHW

— UkrARMY cats & dogs (@UAarmy_animals) February 19, 2023
☺️#Ukraine #UkraineRussiaWar #UkraineWar #Leopard #CatsOfTwitter #CatsOnTwitter #RussiaisATerroistState #UkraineWarNews #UAarmy #ukrainecounteroffensive #Zelensky #UkraineRussiaWar️ pic.twitter.com/BbQUYa1iX4

— UkrARMY cats & dogs (@UAarmy_animals) February 19, 2023
Today we fed the animals in Borodyanka, which suffered from Russian occupation in the spring pic.twitter.com/vwHb8bUPhd

— UkrARMY cats & dogs (@UAarmy_animals) February 19, 2023
Look a kitty!
Not only strong#Ukraine #UkraineRussiaWar #UkraineWar #Leopard #CatsOfTwitter #CatsOnTwitter #RussiaisATerroistState #UkraineWarNews #UAarmy #ukrainecounteroffensive #Zelensky #UkraineRussiaWar️ pic.twitter.com/2TbebBm8WP

— UkrARMY cats & dogs (@UAarmy_animals) February 17, 2023
He also has a doggo:
Relax)#Ukraine #UkraineRussiaWar #UkraineWar #Leopard #CatsOfTwitter #CatsOnTwitter #RussiaisATerroistState #UkraineWarNews #UAarmy #ukrainecounteroffensive #Zelensky #UkraineRussiaWar️ pic.twitter.com/iJGuCBN9GY

— UkrARMY cats & dogs (@UAarmy_animals) February 17, 2023
Driver #Ukraine #UkraineRussiaWar #UkraineWar #Leopard #CatsOfTwitter #CatsOnTwitter #RussiaisATerroistState #UkraineWarNews #UAarmy #ukrainecounteroffensive #Zelensky #UkraineRussiaWar️ pic.twitter.com/57divoaJq4

— UkrARMY cats & dogs (@UAarmy_animals) February 19, 2023
Ukrainian military after the exchange of prisoners.#Ukraine #UkraineRussiaWar #UkraineWar #Leopard #CatsOfTwitter #CatsOnTwitter #RussiaisATerroistState #UkraineWarNews #UAarmy #ukrainecounteroffensive #Zelensky #UkraineRussiaWar️ pic.twitter.com/btOaS8hSiI

— UkrARMY cats & dogs (@UAarmy_animals) February 16, 2023
Borodianka now pic.twitter.com/siItblwnxt

— UkrARMY cats & dogs (@UAarmy_animals) February 19, 2023
If you're interested, the donation info is in the bio of the UkrArmy Cats and Dogs.
Open thread!