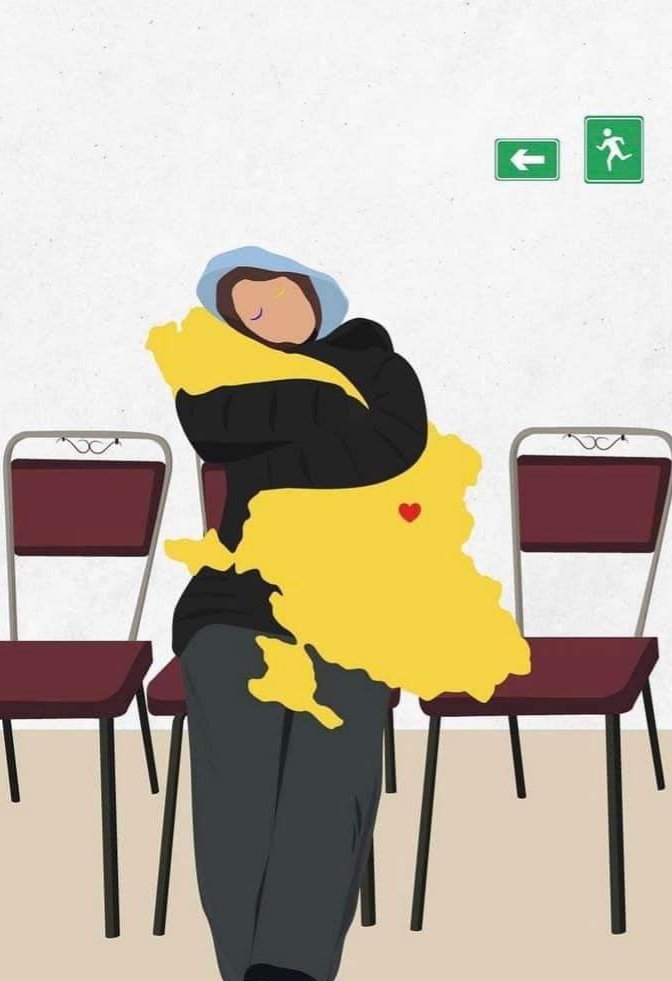 Biden has gone to Kyiv.
Historic. Timely. Brave. I welcomed @POTUS in Kyiv as Russian full-scale aggression approaches its one-year mark. I am thankful to the U.S. for standing with Ukraine and for our strong partnership. We are determined to work together to ensure Ukraine's victory. pic.twitter.com/EPtH3fLWWD

— Володимир Зеленський (@ZelenskyyUa) February 20, 2023
Pres Joe Biden and Pres Volodymyr Zelensky visited St Michael's Cathedral and then placed flowers at the memorial of the thousands of Ukrainian service members who have died since the Russian invasion began in 2014. https://t.co/dGTnAm1VdW pic.twitter.com/oviCcAYNUW

— Jason Jay Smart (@officejjsmart) February 20, 2023
One year later, Kyiv stands. Ukraine stands. Democracy stands. America — and the world — stands with Ukraine.

Рік потому Київ стоїть. Україна стоїть. Демократія стоїть. Америка – і світ – стоїть з Україною. pic.twitter.com/6i02u3aFgd

— President Biden (@POTUS) February 20, 2023
We'll start with President Zelenskyy's joint press conference with President Biden. Video with English subtitles below, write up from the President of Ukraine's website after the jump:
Volodymyr Zelenskyy met with the President of the United States in Kyiv
20 February 2023 – 12:16

President of Ukraine Volodymyr Zelenskyy met with President of the United States Joseph Biden, who arrived in Ukraine for the first time since the beginning of the full-scale Russian invasion.

The Head of State met the distinguished guest at the entrance to the Mariyinsky Palace in the capital's downtown.

After the introduction of the members of the Ukrainian and American delegations, the Presidents of Ukraine and the United States had a face-to-face conversation.

Volodymyr Zelenskyy noted that Joseph Biden's visit was an extremely important signal of support for Ukraine and Ukrainians.

"Thank you very much, Mr. President. This is a significant moment of support for Ukraine," he said.

The Head of State emphasized that Joseph Biden personally and the entire American society had been with Ukraine from the very beginning of the full-scale war unleashed by Russia.

"The first phone call supporting Ukraine came from the White House. Thank you for your leadership. I also thank you for the bipartisan support, for the support of the Congress," Volodymyr Zelenskyy said.

The President of Ukraine noted that he would talk to the President of the United States about the situation on the frontline and about the Ukrainian people facing ordeals.

"What we have to do to stop the war, to succeed in this war, to make Ukraine even stronger, and how to gain victory this year," he said.

For his part, Joseph Biden noted the importance of his presence in Ukraine today, which demonstrates the U.S. support for the independence, sovereignty and territorial integrity of the Ukrainian state.

"I think it would be critically important to leave no doubt that the United States supports Ukraine in its war against brutal aggression," the U.S. President said.

The U.S. President said he was glad to visit Kyiv again.

"Much has changed since my last trip. Terrible things have happened, an invasion, but at the same time, the Ukrainian people have stepped up in a way that very few people have ever had in their defense. And they helped us embrace the notion of democracy," Joseph Biden said.

He also conveyed greetings from members of Congress. According to Joseph Biden, they were very impressed by Volodymyr Zelenskyy's recent address to Congress.

The U.S. President spoke about his intention to discuss how the United States and its allies can best help Ukraine in its fight for freedom and independence.
Here's some details of how this was organized:
Sullivan said the Biden trip was"unprecedented in modern times" on the grounds that it was the first time a US president had visited "the capital of the country at war where the US military does not control the critical infrastructure". (ie not like Afghanistan or Iraq)

— Julian Borger (@julianborger) February 20, 2023
Here is The Kyiv Independent's Illia Ponomarenko's take:
A gargantuan middle finger in Putin's face.
And what the Kremlin psychopath is going to do?
Give another 2-hour speech full of delusional conspiracy theories? Send a missile to destroy a residential building?
Russia has lost this war.

— Illia Ponomarenko 🇺🇦 (@IAPonomarenko) February 20, 2023
Another interesting remark from Jake Sullivan on Biden's aims, in particular how the president was focused on how he and Zelenskiy "were really going to look out over the course of 2023, and try to come to a common understanding of what the objectives are."

— Julian Borger (@julianborger) February 20, 2023
This is what historic figures do.
In hard times, they take the leadership and overcome, instead of just drifting with the tide and rolling over.
That's what makes them different from generic and mediocre managers.

— Illia Ponomarenko 🇺🇦 (@IAPonomarenko) February 20, 2023
From his most recent reporting at The Kyiv Independent:
Feb. 24, 2022, was supposed to bring the existence of a 40-million European nation to an end.

Long before the dawn of light, Ukrainian cities were set alight in blazes of burning airfields and the scattering of artillery impacts.

Endless armored convoys broke into highways, and helicopters roared over the woods of north Ukraine.

Every hour, more towns and cities across the country were being captured by advancing Russian armies. CNN was showing Russian paratroopers, their elbows marked with white stripes, at the Antonov Airport just outside Kyiv.

Russian dictator Vladimir Putin declared the end of Ukraine as it was.

Fast forward one year, and on Feb. 20, 2023, U.S. President Joe Biden pays a surprise visit to Kyiv – a triumphant nod at Russia's failed plans to conquer the Ukrainian capital.

"One year later, Kyiv stands. And Ukraine stands. Democracy stands," Biden said in Kyiv.
Much, much, much more at the link!
Here is President Zelenskyy's address from earlier today. Video with English subtitles followed by the English transcript:
The fate of the world order based on rules, humanity, and predictability is now being decided in Ukraine – address by President Volodymyr Zelenskyy
20 February 2023 – 22:34

Good health to you, fellow Ukrainians!

Today was a symbolic day. The 362nd day of a full-scale war, and we, in our free capital of our free country, are hosting a visit from our powerful ally, the President of the United States of America, and talking to him about the future of Ukraine, our relations, the whole of Europe and global democracy. This is an indicator of how resilient Ukraine is. And how important Ukraine is to the world.

The ninth anniversary of the most horrific days of Maidan, the anniversary of the beginning of Russian aggression against our country, when there was very little time left before the occupation of our Crimea. And now, nine years later, we are more confident than ever that justice will be served.

The aggressor state, which has consistently been moving towards becoming a terrorist state, will be held accountable for its crimes. It will be held accountable thanks to the efforts of Ukraine and all our partners, the entire free world, and all those who are now helping us to defend our independence, freedom, and international law and order. We will prevail in this historic confrontation.

When President Biden – then Vice President – addressed the Verkhovna Rada of Ukraine in December 2015, he emphasized a very important point: it is no exaggeration to say that the hopes of all freedom-loving people around the world are with us, with Ukrainians, because so much depends on the success of our fragile experiment with democracy. For our country, for the whole of Europe – free and peaceful. For the whole world, where democracy is under threat.

We are now absolutely certain that there is nothing that can undermine our democracy. No element of Ukrainian life is fragile anymore and will never be fragile. And our resilience is a powerful contribution to the resilience of all freedom-loving nations in the world.

It is now and in Ukraine that the fate of the world order, which is based on rules, on humanity, on predictability, is being decided. And today, President Biden and I talked, in particular, about how to do everything to ensure our common victory this year in the war that Russia unleashed.

Unleashed nine years ago. The full-scale war has been ongoing since last February. We have to do everything to put an end to Russian aggression this year, to liberate our still occupied territories and to guarantee reliable security for our country and for all the peoples of Europe who want to live in freedom and peace.

The specific steps for this are known. Our defense needs for this are known. The active actions required for this – the actions of our warriors at the front first of all – are also well known to our partners. All we need is determination.

Today I saw such determination of President Biden and the United States of America. And I want to thank Mr. President for this visit and for the talks – really useful talks – that actually continued our conversation that we started in Washington during my visit in December.

We are working on the supply of long-range weapons and other types of weapons that were not previously included in the support packages. And I am grateful for another package that will definitely strengthen our guys on the frontline.

I am also thankful, on behalf of all Ukrainians, to all Americans – ordinary people and community leaders, members of Congress from both parties, and all members of President Biden's team – for bringing our relationship – between Ukraine and America – to a historically most meaningful level. We can be called true allies, and our alliance with America truly strengthens the world.

This week we will continue our diplomatic work with representatives of the United States. There will also be significant developments in relations with our other partners both in Europe and around the world.

A year of full-scale war, a year of our invincibility, which was a response to the Kremlin's illusion of "three days for Kyiv"… A year! And we are organizing a truly Ukrainian global week.

Today I held talks with the IMF Managing Director who arrived in Kyiv.

I was very pleased to hear a positive assessment of the resilience of our institutions, the efficiency and effectiveness of our country in the face of such brutal and total aggression. There are situations when states fail even in much easier conditions. The Ukrainian state has passed terrible challenges and retained its full functionality. This is another achievement of our people – all those who work for the state. An achievement that is worth commending right now – on these days, on the eve of the anniversary of the invasion. Ukrainians are capable of very significant things, and every day we see new evidence of this.

Today I would like to praise our heroes on the frontline traditionally. Those who demonstrate extraordinary courage, incredible resilience and the efficiency Ukraine needs in destroying the enemy every day.

Paratroopers of the 79th separate air assault brigade. Infantrymen of the 72nd and the 110th separate mechanized brigades. Units and maintenance forces of these brigades. Gunners of the 55th separate artillery brigade. Thank you, guys, for your bravery and precision in the Donetsk region!

Also, the 128th separate mountain assault brigade and the 1st artillery division of the 44th separate artillery brigade. Thank you guys for the worthy response to the enemy's attacks against our Zaporizhzhia!

The 66th and the 92nd separate mechanized brigades, the 81st separate airmobile brigade, and the 95th separate air assault brigade. Thank you, guys, for not only inflicting significant losses on the enemy in the Luhansk region, but also for giving faith in our movement to liberate our land.

Glory to all who fight for Ukraine!

Thank you to everyone who helps!

May the memory of everyone who gave life for the freedom of Ukraine live forever!

Glory to Ukraine!
Here is former NAVDEVGRU Squadron Leader Chuck Pfarrer's most recent assessment of the situation in Bakhmut:
BAKHMUT /2245 UTC 20 FEB/ There has been no briefing by the UKR Gen'l Staff for the last 24 hours. RU forces are reported to have crossed the M-03 HWY north of Bakhmut, and captured the important M-03/T-05-13 HWY junction. pic.twitter.com/4Bzkq4tR1G

— Chuck Pfarrer | Indications & Warnings | (@ChuckPfarrer) February 20, 2023
Bakhmut:
Update on Bakhmut from Kiyanyn, appears to be for 19 February, but posted only this morning. pic.twitter.com/GgiTAH0p5y

— Dmitri (@wartranslated) February 20, 2023
Update from Bakhmut, 20 February – Magyar pic.twitter.com/MntP6z6uhe

— Dmitri (@wartranslated) February 20, 2023
Bucha:
In my Bucha, all street lights are finally on.
After some three months in the dark, which was very uncomfortable, the city has enough energy. And Putin may put his missiles up his ass. pic.twitter.com/3lF3wkHvXe

— Illia Ponomarenko 🇺🇦 (@IAPonomarenko) February 20, 2023
Here is a long thread of analysis on where things stand with Russia's winter offensive by the Center for Naval Analysis's Michael Kofman. First tweet below, followed by the rest from the Thread Reader App:
A few thoughts on the Russian winter offensive, which began 3+ weeks ago, and has so far yielded little progress for RU forces. Poor force quality, loss of junior officers, ammunition, and equipment constraints limit Russian offensive potential. Thread. 1/

— Michael Kofman (@KofmanMichael) February 19, 2023
The RU offensive consists of about 5-6 axes of attack focused on the Donbas. Rather than a major push along one part of the front, it is instead a series of distributed battles running north-south from Luhansk, to Bakhmut, and southern Donetsk. 

2/

 

Russian forces are attacking at Vuhledar, Marinka, Adviivka, Bakhmut (and Bilohorivka), Kreminna -> Lyman, with attempts to advance near Kupyansk. The offensive began in the last week of January with a Russian assault on Vuhledar. 

3/

 

The battle for Vuhledar involves two NI brigades (155th, 40th), and has not gone well for the Russian military. RU units refilled with mobilized personnel seem to have lost a fair bit of their offensive edge, but I'm not sure this is a 'failure to learn.' 

4/

 

The terrain outside of Vuhledar is very open, heavily mined, and covered by UA ATGM teams. It leaves RU forces few options for an assault. I also wonder if the Russian military may be short on specialized equipment for tasks like mine clearing. 

5/

 

At Kreminna RU VDV seems to have made some incremental gains against UA positions. Depending on how that battle plays out it may force UA to abandon the Kreminna campaign or lead to see-saw battles in the forest west of the city. 

6/

 

There's a growing likelihood that UA will withdraw from Bakhmut to another defensive line east of Slovyansk/Kramatorsk. The Russian military may then turn north and try to consolidate control up to the Donets river (including Bilohorivka). 

7/

 

RU forces have not had much success at Avdiivka or Marinka. This is another area that's seen months of fighting. The Russian offensive doesn't look like much of an offensive because it is playing out in areas that have previously seen unsuccessful Russian attacks. 

8/

 

At this stage it doesn't seem that RU has employed reserves, and is likely using those units to replace casualties, or perhaps waiting for a breakthrough to exploit. That said, there's not much evidence of a larger additional RU force in the waiting. 

9/

 

I've been skeptical that there is an additional 'spring offensive' looming. To conduct such an operation RU would likely need a second mobilization wave, in advance, which never took place. Predictions that 500k troops would be mobilized mid-January proved incorrect. 

10/

 

Senior US and NATO military officials have begun saying much the same in recent days. There's a relative consensus that the Russian offensive to take the Donbas began some time ago, and its going about as expected given the state of the force. 11/ 

defense.gov/News/Transcrip…

My best guess is Moscow will wait to see what comes of this offensive before proceeding with a second mobilization wave. I would not discount anything, but right now the RU offensive looks to yield mostly incremental gains that come at the expense of equipment and ammunition. 

12/

 

One possibility is that after UA launches an offensive in the spring, RU will then choose to mobilize in the summer, an attempt another operation later. Given UA no longer enjoys a manpower advantage, RU strategy in 2023 could be to grind away at UA manpower. 

13/

 

Russian forces are expending artillery ammunition in this offensive which they will miss in the spring. The coming months will reveal the real situation in RU artillery ammo availability, which I expect is quite problematic, forcing them to ration. 

14/

 

That said, Ukrainian forces may also have issues with artillery ammo and barrels. This remains a near to medium term challenge. Rosy assessments of Western ammo production potential over the long-term might not align well with UA requirements for the coming 6-12 months. 

15/

 

UA is better served absorbing the RU attack & exhausting RU offensive potential, then taking the initiative later this spring. Having expended ammunition, better troops, and equipment it could leave RU defense overall weaker. 

16/

 

My impression is that Surovkin, who stabilized RU lines, preferred a defensive strategy, rebuilding the force, and preferring to defend against a Ukrainian offensive in the south. Then have RU forces launch an offensive later in the summer to try and capture the Donbas. 

17/

 

Instead, Gerasimov is exhausting the Russian armed forces with a feckless series of offensive operations, which may yield some gains, like Bakhmut, but unlikely to change the strategic picture. The second battle for the Donbas may once again leave RU forces vulnerable. 

18/

 

A spring offensive will still prove a difficult operation for UA. Russian mil now has enough manpower & reserves to avoid a depleted frontline as in Kharkiv. Kherson is an imperfect, but probably a better guide for how a future UA offensive may unfold. 

19/

 

Whether Western AFVs make much of a difference depends on employment and the timing of the UA offensive. Its possible, if UA waits for the force to absorb it in quantity, but I suspect this equipment will mostly serve to backfill losses from the next operation. 

20/

 

For a bit more on this I would suggest tuning into this WOTR podcast from yesterday. We talk about the Russian offensive, key battles to watch, and how it could shape Ukraine's plans for the spring.
In case you were wondering what was going on with Prigozhin/Wagner:
Bombshell audio recording indicates Prigozhin is unable to solve any issues with ammunition for Wagner.

This morning, Prigozhin's mouthpiece channel posted a 7-minute recording of him saying that he is forced to "apologise and obey" to get ammunition. pic.twitter.com/FjaQxVB9eu

— Dmitri (@wartranslated) February 20, 2023
That's enough for tonight.
Your daily Patron!
Welcome to Kyiv @POTUS ❤️

— Patron (@PatronDsns) February 20, 2023
And a new video from Patron's official TikTok:
The caption machine translates as:
These cats… 🙄 #песпатрон
Open thread!