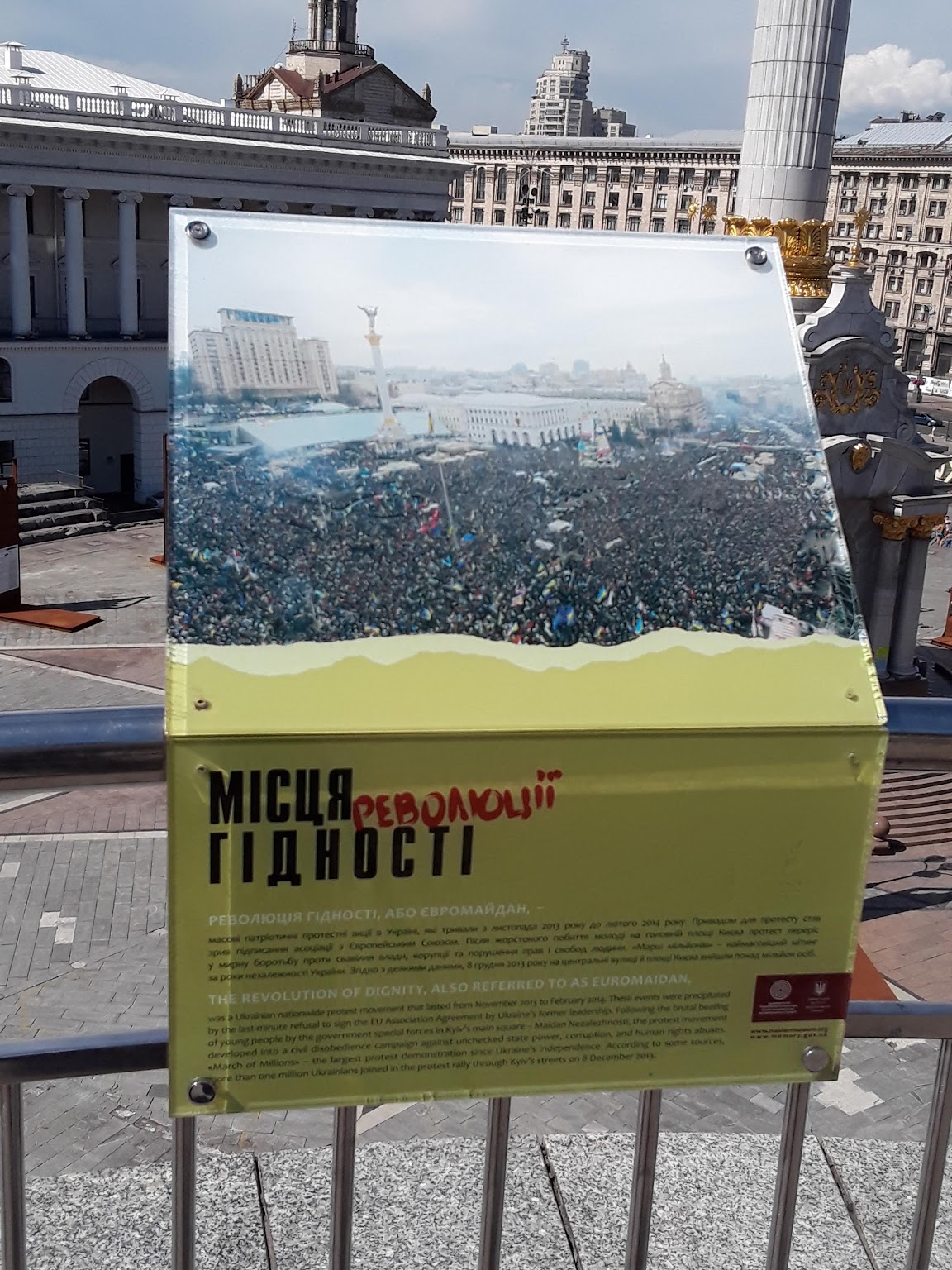 (Revolution of Dignity Marker – Photo courtesy of commenter Nelle)
My plan for yesterday's post, which went out the window once President Biden showed up in Kyiv, was to focus last night's post on the Revolution of Dignity (EuroMaidan) and, specifically, on the anniversary of the massacre of the heavenly hundred. So I'm going to cover President Zelenskyy's address very quickly and then, as soon as we get past the transcript go right into the Heavenly Hundred.
Our fight for freedom and independence began not a year ago, not even nine years ago.
It lasts for centuries. And this time we want to win, we must win, we will win.
Glory to the Heavenly Hundred! Glory to Ukraine!#Maidan pic.twitter.com/BTucXjOu2W

— Defense of Ukraine (@DefenceU) February 20, 2023
Presidents @POTUS and @ZelenskyyUa are headed to honor the memory of the Heroes from the Heavenly Hundred – who died nine years ago for Ukrainian freedom and democracy.

The day when it all began. pic.twitter.com/IdfpIdLEjt

— Anton Gerashchenko (@Gerashchenko_en) February 20, 2023
Zelensky marking 9 years since the Heavenly Hundred were cut down by Yanukovych's forces during the revolution. "Ukrainians know what it means to fight for their freedom & defend it. In difficult & pivotal moments of history we never give up & always show bravery & selflessness." pic.twitter.com/KDxawTOJaI

— Christopher Miller (@ChristopherJM) February 20, 2023
Here is President Zelenskyy's address from earlier today. Video below, English transcript after the jump:
Good health to you, fellow Ukrainians!

I started this day with an extended and detailed meeting of the Staff. Including reports from the frontline from our commanders in the hottest directions.

Commander-in-Chief Zaluzhny reported on the overall frontline situation and enemy missile attacks on our positions.

Of course, the reports on the Donetsk and Luhansk regions evoke particular emotions. We are doing our best to deter enemy attacks there – constant intense assaults, which Russia does not stop, even though it suffers huge losses there.

General Syrskyi reported on the Bakhmut and Lyman directions. Fierce battles are taking place. Principled battles. We are doing everything to support our guys. General Tarnavskyi reported on the fighting in the Avdiivka and other directions. The invaders are using the entire range of weapons against our guys there, including CS gas grenades.

But very importantly, despite all the pressure on our forces, the frontline has not changed. I am grateful for this to all our warriors, all soldiers and sergeants, officers and generals who are defending the respective frontline areas.

Other commanders of our Defense and Security Forces also reported to the Staff. Nayev, North, and Odesa operational and strategic group of troops, Moskalyov – I heard their reports, the situation has not changed significantly.

Intelligence – Chief of the Main Intelligence Directorate Budanov – on the real essence of Russia's trifle with rhetoric about strategic weapons. Foreign intelligence. The Security Service of Ukraine. Forces of the Ministry of Internal Affairs and the National Guard, the Border Guard Service. The Minister of Defense. Other representatives of the government.

We pay full attention to every detail of our Defense Plan and the enemy's ambitions.

There was also a report by Prime Minister of Ukraine Denys Shmyhal on the situation in the energy sector and the process of restoring our energy system after the Russian strikes. I would like to note that we have good news, good results, and this is the achievement of all our power engineers, repairmen, central and local authorities who have been performing the relevant tasks. We meet the energy needs of people and businesses in most of Ukraine.

We continue our diplomatic marathon to strengthen Ukrainian warriors and our entire country. Today I met with the Italian delegation headed by Prime Minister Mrs. Giorgia Meloni.

Italy has been supporting us in our struggle for independence in a principled and powerful way. There is a new package of defense support, including air defense. Italy is ready to work with us to implement the Peace Formula. And this includes such an important point as justice. This means a tribunal for the aggressor and a compensation mechanism for Ukraine. Today we also discussed new sanctions against Russia.

I am grateful to all Italians for their historic support of Ukraine on its way to the European Union. When we were applying for the candidacy, Italy's position gave a very important impetus to the position of the entire European Union. This year, I believe we will be able to make even more progress and do everything we can to start negotiations on Ukraine's membership.

Today I also met with a delegation of the U.S. Congress. This is a very important signal for our country, the entire region and the world. Yesterday, President Biden was in Kyiv. Today – representatives of the Congress, namely members of the Republican Party.

Our cooperation with America does not stop for a single day or a single minute. Together we are effectively strengthening global security. And, by the way, the bewildered complaints coming from Moscow are just another proof of our effectiveness – of Ukraine, the United States, and the entire free world.

One more thing.

The Russian army has once again brutally shelled Kherson today. There are wounded and dead. My condolences to all those who have lost their loved ones…

This Russian shelling did not and could not have any military purpose. As well as thousands of similar Russian attacks, which are a real message from Russia to the world. The terrorist state is trying to tell the world by firing missiles at city streets, at residential buildings, at schools, at pharmacies and hospitals, at churches, at bus stops, at markets, at power plants that terror is allegedly something to be reckoned with…

I am confident that we will put the terrorist state in its place. All together: Ukrainians and the world.

Our army, our intelligence, our Security Service and other Ukrainian forces will find and destroy those who are carrying out these brutal attacks on Kherson, on our other cities and regions. And more broadly, we will prove that only humanity, only the UN Charter, and only the right of every nation to live freely and securely from terror and insane aggressions like Russia's are to be reckoned with.

I thank everyone who defends our country! I thank everyone who is fighting for Ukraine on the frontline right now, who protects our borders, who protects our skies and our sea, who produces and supplies equipment and ammunition for our soldiers, and who provides us with high-quality intelligence information!

Glory to our warriors! 

Eternal memory to all those whose lives were taken by Russia and this war!

Glory to Ukraine!
Here is former NAVDEVGRU Squadron Leader Chuck Pfarrer's most recent assessments of the situations in Bakhmut, Kherson, and Kreminna, with a SWAG on Mariupol:
BAKHMUT AXIS /1230 UTC 21 FEB/ N of Bakhmut, RU units are attempting to expand control of the M-03 HWY. UKR units were in contact at Berkhivka, Pidhorodne and south of the T-13-02/M-03 jct. RU pressed attacks in the E Bakhmut suburbs, along the Patrice Lumumba Blvd /H32 axis. pic.twitter.com/rIg0Q69QTC

— Chuck Pfarrer | Indications & Warnings | (@ChuckPfarrer) February 21, 2023
KHERSON AXIS /1320 UTC 21 FEB/ RU continues the indiscriminate shelling of towns and villages along the N bank of the Dnipro River. On the Dnipro, UKR SOF identified and sank several indigenous craft used by RU to conduct insertion operations. RU S-300 air defense site hit. pic.twitter.com/l8jKFqsZU2

— Chuck Pfarrer | Indications & Warnings | (@ChuckPfarrer) February 21, 2023
KREMINNA AXIS /2320 UTC 21 FEB/ Reports indicate that UKR has engaged elements of the RU 55th Motor Rifle Brig and the 331st Reg of the 98th Division (Airborne) east of Yampolivka. RU forces also launched attacks toward Dibrova, south of Kuzmyne and again at Bilohorvika. pic.twitter.com/eNB74UpQta

— Chuck Pfarrer | Indications & Warnings | (@ChuckPfarrer) February 21, 2023
SUNDAY PUNCHES: A series of powerful explosions rippled through the RU occupied city of Mariupol– outside the likely range of Ukrainian HIMARS. It's possible that the strike was the combat debut of the GBU-39 Ground Launched Small Diameter Bomb. pic.twitter.com/bwFLkRDLYs

— Chuck Pfarrer | Indications & Warnings | (@ChuckPfarrer) February 21, 2023
Back to the Heavenly Hundred:
I honor the courage and sacrifice of the Heavenly Hundred who, nine years ago, gave their lives fighting for a better future for Ukraine. In the midst of Russia's horrific war, the United States stands with you in support of a future worthy of them and so many Ukrainian heroes. pic.twitter.com/sgBxdU2l49

— Ambassador Bridget A. Brink (@USAmbKyiv) February 20, 2023
From The Kyiv Independent:
The uprising started when the government of pro-Kremlin President Viktor Yanukovych suspended preparations for the signing of the Ukraine-EU association agreement on Nov. 21, 2013. pic.twitter.com/kYPlI4W0mK

— The Kyiv Independent (@KyivIndependent) February 20, 2023
On Nov. 30, the protesters were brutally beaten by riot police, sparking a nationwide uprising against Yanukovych's rule. pic.twitter.com/n9JV14JZVQ

— The Kyiv Independent (@KyivIndependent) February 20, 2023
Then, law enforcement fired at crowds of unarmed protesters, killing about a hundred of them. They became known as the Heavenly Hundred. pic.twitter.com/w7b3L76Wqj

— The Kyiv Independent (@KyivIndependent) February 20, 2023
Read more about the EuroMaidan Revolution by link: https://t.co/AphNtow4nz

— The Kyiv Independent (@KyivIndependent) February 20, 2023
One of the reasons now that we've gotten the basic stuff we cover every night out of the way that I want to focus solely tonight on the Heavenly Hundred is because of their bravery and the bravery of those protesting with them and who kept protesting despite it being made very clear that protesting could get you killed. But there is also another reason. Specifically, that at the time that the Revolution of Dignity was taking place almost all the news coverage, including and especially by the mainstream American and European print, TV, and cable news, was dominated by Russia's framing. Russia's ability to set the information environment, to have its frames of influence adopted without question, is still a major problem today. Nine years after these brave men and women risked and sacrificed their lives for their own and Ukraine's freedom to chart their own future.
The framing issue was so pervasive that I actually self tasked myself with doing an assessment of what was going on in Ukraine, as well as what Putin's intentions regarding Ukraine, for the commanding general, command group, and senior staff at US Army Europe. At that time I was temporarily assigned as the Cultural Advisor/Senior Civilian Advisor to the US Army Europe commander and it had become very clear to me that we were discussing what was going on at the Maidan and throughout Ukraine within Russia's framing. So I set to work because I wanted to make sure that the Old Man and the senior staff had timely, accurate information to work from as we moved forward in our discussion.
Here is an excerpt of that unclassified assessment from the section on the EuroMaidan movement:
The Maidan Movement and the Interim Ukrainian Government

Russia has done a good job leveraging both its formal state based an informal informational power.9 It has also done a good job exploiting an all too credulous American news media, to assert that the popular uprising in Ukraine is almost exclusively the work of Ukrainian neo-fascists and neo-NAZIs. Russia has also asserted that the protests were fomented by the United States and intended to destabilize Russia in its own near abroad. The actual human geography of the Maidan movement is, however, much more diverse. The Maidan movement actually begins with an unlikely protagonist – an ethnic Afghan reporter named Mustafa Nayem.10 Nayem took to social media asking for support after he was racially profiled for his reporting by the Yanukovych government. Ukrainians of all ages responded by coming to the Maidan, the central square in Kyiv, and beginning to protest.11 These Ukrainians protestors were diverse – there were young Ukrainians from a variety of backgrounds, as well as the Ukrainian Afghans – the Ukrainian veterans of the Soviet Union's Afghan war and occupation. Many of the protestors at the Maidan were from the left of the political spectrum, some from the rightist party of Svoboda – though it is very important that the political frames of left and right mean different things in different places than in the US, so that they are relative to the state, society, group, and time period12. There were also Jewish Ukrainians, both Orthodox Christian and Catholic Ukrainians, ethnically Russian and Russian speaking Ukrainians, and Crimean Tatars who had not relocated back to Crimea after Ukrainian independence involved in the Maidan protests. There were even homosexual Ukrainians involved. This provided the truth to Russia's strategic communication lie that the Maidan protests were being driven by a gay cabal and were really directed at Russia, which has cracked down on homosexuals and homosexuality since Putin's return to the Russian presidency. The diversity of the Maidan protest movement is also represented in the over 100 casualties of the government crack down.

The diversity of the Maidan protest movement is far too politically, ethnically, linguistically, religiously, and ideologically broad to be encapsulated within Russia's description of neo-fascist and neo-NAZI. The broad inclusivity of the Maidan protest movement is reflected, though imperfectly, within the Ukrainian interim government established in mid February after Ukrainian President Yanukovych fled Kyiv and ultimately Ukraine for safety in Russia.13 The interim Ukrainian government is a cross section of the political parties and different socio-cultural movements that made up the Maidan protest movement. The new Prime Minister, Arseniy Yatsenyuk, and several others are members of Yulia Tymeshenko's Fatherland Party. The new First Deputy Prime Minister, Vitaly Yarema, was the Kyiv Police Chief who was highly critical of the Interior Ministry's violent and heavy-handed response to the Maidan protests. The interim government also includes several senior diplomats, as well as members from the ultra-nationalist Svoboda Party. It also includes members of Vitaly Klitschko's UDAR Party, several ethnic Russians, a naturalized Ukrainian citizen born in Baku, Azerbaijan, several investigative reporters, and an ethnically Russian, Jewish Ukrainian oligarch.14

The actual diversity of both the Maidan protest movement and the interim government it helped to create belie Russia's claims of an American instigated, neo-fascist/neo-NAZI, homosexual takeover of Ukraine. That is not to say that there has not been American involvement. USAID has worked with a variety of Ukrainian opposition and civil society groups since the mid 2000s in regards to political and economic development. Additionally, Pierre Omidyar, the recent founder of the new media startup First Look Media and the Internet publication The Intercept, has been providing private funding and support for the Ukrainian opposition.15 It is both this diversity and the trail of the funding that shows the connection both to the earlier and failed Orange Revolution. This has allowed Russia to sow confusion via propaganda and take advantage of the almost uniformly execrable American news media coverage to negatively frame who is actually who in the Maidan protest movement zoo. Whether left or right of Ukraine's political center, the protestors and the members of the interim government are all, almost, uniformly neo-liberal in their economic outlook.16 It is this neo-liberal economic approach, especially among the members of the interim government and the Ukrainian elites that demonstrates exactly where the divisions and dispute between Ukraine and Russia lie.

9 This includes the almost completely captured Russian media. The revelations by former RT (Russia Today) reporters, including an on air denunciation of RT's news practices, coverage, and control by the Russian government momentarily broke the illusion. However, the Putin government has been able to maintain ruthless message control.
10 Timothy Snyder, "Ukraine: The Haze of Propoganda", The New York Review of Books, 1 MAR 2014, http://www.nybooks.com/blogs/nyrblog/2014/mar/01/ukraine-haze-propaganda/.
11 Timothy Snyder, "Fascism, Russia, and Ukraine", The New York Review of Books, 20 MAR 2014, http://www.nybooks.com/articles/archives/2014/mar/20/fascism-russia-and-ukraine/.

15 This is especially important as the terms have basically become conjuring words in American politics and our own American frame of reference often prohibits us from understanding this important contextual caveat. Few of the left of center movements and actors in Ukraine are hard left as a result of a socio-political reaction to the Communism of the formerly Soviet Ukraine. The right of center groups do run the gamut of center right all the way to the reactionary descendants of the Ukrainian fascists and pro-NAZIs of World War II.
13 Daisy Sindelar, "Who's Who in Ukraine's Kamikaze Cabinet", Radio Free Europe/Radio Liberty, 18 MAR 2014, http://www.rferl.org/content/ukraine-whos-who-cabinet/25279592.html.
14 Mark Hirschberg, "Ukrainian Jewish Billionaire Appointed as District Governor", JP Updates, 3 MAR 2014, http://jpupdates.com/2014/03/03/ukrainian-jewish-billionaire-appointed-district- governor/.

15 Mark Ames, "Pierre Omidyar Co-funded Ukraine Revolution Groups with US Government, Documents Show", Pando Daily, 28 FEB 2014, http://pando.com/2014/02/28/pierre-omidyar- co-funded-ukraine-revolution-groups-with-us-government-documents-show/.
16 Mark Ames, "Everything You Know About Ukraine is Wrong", Pando Daily, 24 FEB 2014, http://pando.com/2014/02/24/everything-you-know-about-ukraine-is-wrong/.
I think that holds up pretty well.
You'll also notice some persistent themes from the Russians. Themes that we heard once again today emanating from Moscow.
Yesterday was the ninth anniversary of the Heavenly Hundred. I apologize that other news interfered with giving them their due. So take a moment and think about what they did and what they've inspired nine years plus one day on.
Oh and some dudes gave speeches in Warsaw and Moscow today.
That's enough for tonight.
Your daily Patron!
A year ago, when the president of a terrorist state spoke, we were horrified because of the unknown. Time passed, and most of us haven't even watched his speech today. We just don't care. We're not afraid anymore. Glory to Ukraine 🇺🇦 pic.twitter.com/aRZoivdBNn

— Patron (@PatronDsns) February 21, 2023
And a new video from Patron's official TikTok:
The caption machine translates as:
Attention, an important test! 🤭 #песпатрон
Open thread!