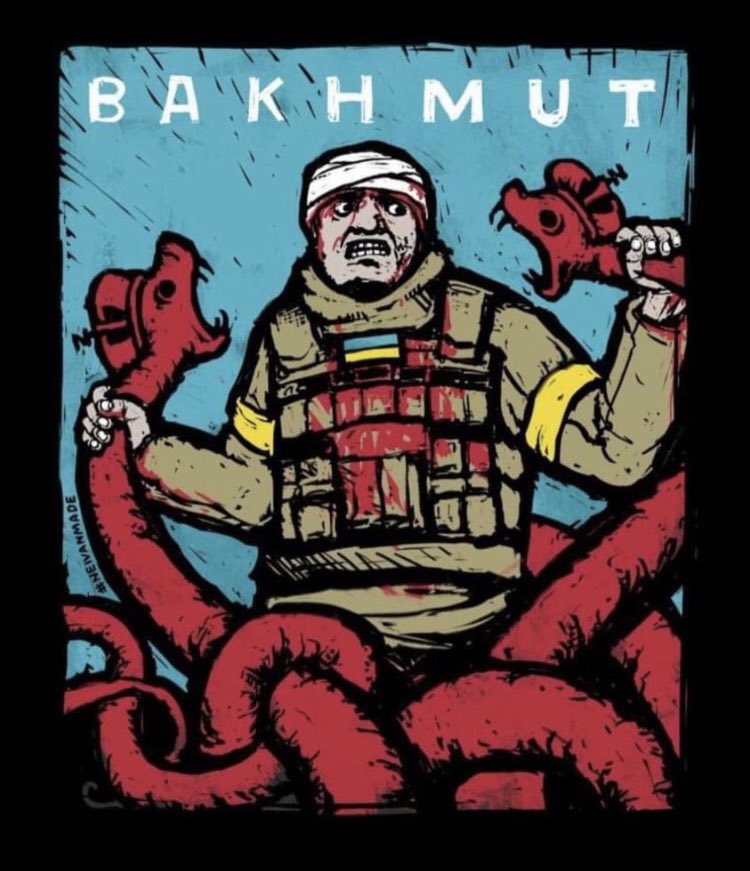 (Image by NEIVANMADE)
Long day today so let's get started.
Here is President Zelenskyy's address from earlier. Video below, English transcript after the jump:
We will not reduce the pressure on the enemy – both external and internal – address by the President of Ukraine

22 February 2023 – 22:50

Good health to you, fellow Ukrainians!

A report on this day.

I had the honor to address the graduates of our military academies in Lviv and Odesa. The young officers who will soon go to the active army. To the combat brigades fighting for our country and to the new brigades that are being formed.

It is a special mission to receive military education right now and to know that tomorrow this education will be needed directly on the battlefield to protect the state and to lead soldiers and units.

I am happy that Ukraine's higher military educational institutions have no shortage of those who really want to be a Ukrainian officer, who want to be an educated and effective Ukrainian officer, who want to make the story of the Ukrainian victory in this war their own life story.

I wished our young officers to be worthy of the heroism that our warriors are already demonstrating on the battlefield and that Ukrainians have always demonstrated in their struggle for freedom. I wished victory to the graduates of our military universities and I am confident that this victory will come.

Today, we continued our diplomatic marathon to strengthen Ukraine and protect international law, which gives our country more security. I spoke with four leaders of states.

In a conversation with the President of Pakistan, we emphasized the absolute importance of maintaining full force and respect for the UN Charter, the independence of nations and the territorial integrity of states. We discussed our efforts to ensure food security and the existing threats to such security.

By the way, our grain export initiative has been operating for seven months already. Over this time, 43 countries have already received more than 22 million tons of food through our sea exports. This is a significant Ukrainian contribution to global food security and stabilization of the global food market.

If it was not for this initiative of ours, unfortunately, there would be political and social chaos in some countries in Africa and Asia, and the cost of living crisis that various nations experienced last year would be much more acute. But if this initiative of ours had worked at full capacity, if Russia had not tried to slow it down, we would have been able to export more food products. That is, there would be significantly more guarantees of food security in the world.

Our partners know exactly what Russia's deliberate actions are undermining food security. Still we are working to provide the necessary stability.

We must understand that this is not only a contribution to global security.

Our seaborne food exports benefit Ukraine. About a million Ukrainians work in industries related to agricultural production. And for them, the fact that we unblocked maritime exports last year is a guarantee of personal and family social security.

Today I spoke with the President of Estonia. I thanked him for the unwavering support for Ukraine at all levels. This includes support with weapons and sanctions against Russia, as well as political support, in particular in European and Euro-Atlantic structures. Today we discussed the upcoming NATO Summit in Vilnius and our expectations in the context of Ukraine's integration. We are already preparing for these upcoming events.

We also had the first conversation in the history of bilateral relations with the President of Uganda. I informed him about our peace initiatives, which we are promoting at the UN, and about our principled position on the protection of international law. We discussed the potential of bilateral cooperation.

In the evening I spoke with the Prime Minister of the United Kingdom. We are working in a very powerful manner together with the UK to strengthen our warriors, to bring our common victory closer, to implement our defense agreements reached during my visit to London. And it would be great if all our partners, like the UK, understood how the speed of defense supplies affects concrete successes on the battlefield.

We also discussed important political issues that need to be resolved this week.

The second half of the week will be even more active in terms of international relations. We are maintaining our diplomatic pace.

As always, I received reports from our military, defense and security sector leaders throughout the day. In particular, today, Minister of Internal Affairs Ihor Klymenko reported on the formation of new brigades of the "Offensive Guard". The results are good.

I have held several preparatory meetings in the context of further sanctions steps by our country. We will not reduce pressure on the enemy – both external and internal. I'll share the details.

Of course, I was in touch with the commanders and our intelligence throughout the day.

Today I would like to praise the warriors of the 15th regiment of the National Guard who are defending the Luhansk region and not only defending our positions, but also destroying the enemy in such a way that they are really limiting the offensive capabilities of the invaders in a particular direction. Thank you, guys!

In the area of Maryinka in the Donetsk region, the warriors of the 79th separate air assault brigade are particularly effective, holding off enemy attacks every day and night. Almost half of all attacks in this area take place in that area. Our warriors stand strong. Thank you!

Over the past day, the 5th separate assault regiment and the 80th separate air assault brigade have achieved results, bravely destroying the enemy south of Bakhmut. Thank you, warriors!

I thank everyone who is now defending Ukraine in battles! 

Thank you to all those who are holding all our northern, eastern and southern directions! Glory to the Ukrainian warriors! 

Glory to all who strengthen our state! 

Glory to our beautiful people! 

Glory to Ukraine!
Here is former NAVDEVGRU Squadron Leader Chuck Pfarrer's most recent assessments of the situations in Kreminna and Bakhmut:
KREMINNA /2120 UTC 22 FEB/ RU units attempted to advance W of Kreminna; they are reported to have been defeated in heavy fighting, losing armored vehicles as they retreated. UKR counter-battery fire destroyed RU guns at Stara Krasnyanka. pic.twitter.com/S7EDO113MB

— Chuck Pfarrer | Indications & Warnings | (@ChuckPfarrer) February 22, 2023
BAKMUT /1400 UTC 22 FEB/ RU forces continue operations against UKR Lines of Communication and Supply (LOCS). UKR forces are in contact in the eastern suburbs of Bakhmut, north and south of the H-32 HWY. pic.twitter.com/uHChKNaweD

— Chuck Pfarrer | Indications & Warnings | (@ChuckPfarrer) February 22, 2023
Bakhmut:
Magyar, the mastermind behind "Magyar's birds" goes into detail about how his air reconnaissance group operates, and what his specific responsibilities in the unit are. It works like taxi – whoever accepts the enemy destruction order first, gets to hit it. pic.twitter.com/NRVqVjNyRc

— Dmitri (@wartranslated) February 23, 2023
Artillerymen of the 2S3 Akatsiya battery of the 93rd brigade protect the infantry in the Bakhmut direction. While in other areas like Soledar, their main target was equipment – BMPs and tanks, in Bakhmut they mainly work against infantry. pic.twitter.com/GIXcV1jEJB

— Dmitri (@wartranslated) February 22, 2023
WARNING!!!! GRAPHIC CONTENT!!!! WARNING!!!!
Dead Wagner militants near Bakhmut.
For the sake of fucking what?
Please tell me. pic.twitter.com/oLlrTgUAbX

— Illia Ponomarenko 🇺🇦 (@IAPonomarenko) February 22, 2023
Vuldehar:
🧵1/17 You don't hear as much about the advancement of regular russian brigades, but you see reports about Wagner advancing in certain areas. While it's true that it's achieved due to extrajudicial executions and irrational losses, the situation is a little bit more complex pic.twitter.com/KbGhX85DIQ

— Tatarigami_UA (@Tatarigami_UA) February 22, 2023
3/17 Let's imagine a situation where a Ukrainian squad, possibly 9 people, is tasked with securing a tree line in trenches – a quite common occurrence in this war. pic.twitter.com/KORjikYvHn

— Tatarigami_UA (@Tatarigami_UA) February 22, 2023
5/17 Once targets are determined, the enemy artillery or mortars shell trenches, sometimes for a few days, suppressing the ability of defenders to fight or observe. Covered by this fire, the assault teams start moving closer to the trenches without any significant resistance. pic.twitter.com/U6SJuizaGT

— Tatarigami_UA (@Tatarigami_UA) February 22, 2023
7/17 At the same time, they are usually also covered by the "support" team, armed either with mortar, or automatic grenade launchers such as AGS-17 or AGS-30. Given that not every assault group has one, they can be replaced with a few soldiers armed with RPG-7s instead. pic.twitter.com/p1eWl1KNfI

— Tatarigami_UA (@Tatarigami_UA) February 22, 2023
9/17 Once close enough to the trenches, the enemy uses hand grenades to cause damage and then assaults the trenches.
I would like to emphasize that this is a generalization, because situations may vary, so treat this just as a general summary.

— Tatarigami_UA (@Tatarigami_UA) February 22, 2023
11/17 Since I haven't been to the Bakhmut area myself, I spoke to multiple people from a soldier to a lieutenant colonel instead. To exclude personal anecdotes, I included only the most commonly mentioned issues that hinder the ability of units to defend positions effectively:

— Tatarigami_UA (@Tatarigami_UA) February 22, 2023
13/17 Insufficient freedom to select defensive positions. Positions are selected by officers in a remote command center, rather than by units on the ground. Officers might avoid challenging ridiculous orders from the CC, fearing repercussions, resulting in a lack of initiative.

— Tatarigami_UA (@Tatarigami_UA) February 22, 2023
15/17 Immobile units limited in weapons, tied to specific positions, deprived of maneuver, and having little leeway in actions are much easier targets for wagnerite cannon-fodder assaults, which are designed to fight against such soviet-styled defenses.

— Tatarigami_UA (@Tatarigami_UA) February 22, 2023
17/17 As Bakhmut experience shows, the system needs to be less top-to-bottom but bottom-to-top. The initiative should be encouraged. Centralized, soviet-style management should be replaced with a NATO-style leadership. To win, we need to be flexible, and adapt soon as possible

— Tatarigami_UA (@Tatarigami_UA) February 22, 2023
The problem with training/teaching is that we focus on sergeants, lieutenants, captains, majors when we talk about training. But if you have one incompetent senior officer in an army-level headquarters who plans operation exactly like russians do, then it all goes down the toilet

— Tatarigami_UA (@Tatarigami_UA) February 22, 2023
One of the Mariupol defenders has fallen!
The man has died of a heart failure https://t.co/P0NwGYd7Wd

— Illia Ponomarenko 🇺🇦 (@IAPonomarenko) February 22, 2023
Forbes Ukraine has published a very long interview with Major General Kyrylo Budanov the commander of Ukrainian Military Intelligence. Dmitri's crew at War Translated has an English translation by Volodymyr Tretyak. So thoughtful!
(Interviewer): Russia is currently on the offensive along almost the entire eastern front. Is this the big offensive that has been talked about for the last two months, or should we expect something else from Russia in March?

(Budanov): The big Russian offensive they are aiming for is already underway. But it's going on so well that not everyone even sees it – this is the quality of this offensive. They have a strategic objective – to reach the administrative borders of Donetsk and Luhansk regions by March 31.

(I): Do you think this is the maximum they can announce now? The announcements are usually more ambitious than the real possibilities.

(B): I don't think so. I know so. This is what they dream about, they will not be able to do it.

(I): Western media actively wrote that mass mobilization would begin in Russia in late January or early February. They predicted numbers of up to 500,000 people. Now it doesn't look like it has started.

(B): Who told you that it hasn't? It is hidden.

(I): Is it possible to recruit that many people in secret?

(B): In a country with a population of over 100 million, what's the problem with recruiting 500,000?

(I): What do we know about mobilization in Russia now, since the numbers vary?

(B): During the first open wave of mobilization, they recruited just over 316,000. The question here is: if everything is fine in Russia and they have drafted another 316,000, then why continue the mobilization? It means that everything is not good. This leads us to a simple conclusion: how many casualties are there in the Russian Federation? This figure is sky-high.

(I): Out of these 316,000, how many are already at the front?

(B): More than 90% were immediately sent. No one trained them – they were sent straight to the front.

(I): No conditional reserve?

(B): A small percentage went to form new units, but the majority went to restore the units that suffered losses, they are all at the front.

(I): There is an assumption that we need to look very closely at the news about mobilization. If Russia succeeds in recruiting 300,000 or 500,000 people, the frontline will become too short for that many people on their side, and then we can expect an offensive on Kyiv. What do you think about this?

(B): This is questionable logic, I do not share this opinion. An offensive in one direction or another is not limited by the number of people you want or can deploy somewhere.

(I): But this increases Russia's capabilities.

(B): We are in an open war. What is so surprising about this possibility? In addition to the possibility, there is also the reality. The reality is that they are aiming to reach the administrative borders of Donetsk and Luhansk regions by March 31. You can feel the difference between taking Kyiv in three days and reaching these borders someday.

(I): Is there an understanding of how many people they can call up, not in terms of the number of people, but how many assault rifles, armored vehicles, tanks they can issue?

(B): There are enough assault rifles for any number of people, and there are not enough armored vehicles now, but this does not bother them at all. Many units are being formed from scratch. They are going without equipment, in Ural trucks and Kamaz trucks. They no longer have BMPs or armored personnel carriers. All the equipment is being removed from long-term storage, they have already removed more than 60%, leaving about 35% that can be quickly restored. The production is single, and it does not cover the needs.

(I): What about Medvedev's statement about 800 tanks a year?

(B): They are not able to produce 800 tanks a year, not only in wartime but in their best years.

(I): This is not the first time foreign media have published materials advising us to reduce our presence in Bakhmut to preserve our forces for a possible counteroffensive in the South. They say that the city's importance is not as strategic as political.

(B): I would like to see such a proposal made to the President of France. To say that, "you have a problem, leave the city of Marseille, it is not so strategic".

(I): Is there more political or military expediency in holding Bakhmut now?

(B): Can you imagine the US president being told: "Let's temporarily surrender New York, that's what we must do"?

(I): If we recall the Second World War, Stalin was told that he had to retreat from Kyiv. He also said: "How can you retreat from the mother of Russian cities?" We know where this led.

(B): If we follow your logic, it led to the victory of the Soviet Union.

(I): But 400,000 people were killed and captured in that operation.

(B): As a patriot and a military man, surrendering even a millimeter of the territory is a disaster. This is my personal logic. You can agree with it or not. From a military point of view, holding Bakhmut allows us to deter the Russians in that area and inflict catastrophic losses on them.

(I): Are we exhausting them in this way?

(B): We are exhausting them and defending our territory, which cannot be assessed in the context of whether it is advisable or inexpedient to leave.

(I): We are talking about redistributing forces, not just surrendering the city. Perhaps it would be more efficient to use people in other areas?

(B): I do not agree with this logic.

(I): You mentioned earlier that Russia is significantly depleting its stockpile of equipment and shells, including 152-caliber ones. That they have about 30% of the total number of shells left. How can they go on the offensive with that amount of shells and such equipment?

(B): They can't. That's why not everyone even notices this "huge offensive". As for the weapons stockpile, they are now setting up mass production of artillery shells. This once again confirms that there are no stockpiles of shells, there are not enough.

For two months now, the Russian groups operating in our country have been living in a mode of maximum ammunition saving. More or less normally, ammunition is now being used exclusively in Bakhmut and the Liman sector. They tried to storm Vuhledar several times and will continue to try, so we could add this location. In all other areas, ammunition is being saved.

(I): How many of them are produced in Russia now?

(B): They produce much less than they use.

(I): When and if they can deploy a production sufficient for artillery warfare?

(B): They will never be able to. Russia is not the Soviet Union. They have already felt and realized this, it is a fact.

(I): But a projectile is not a drone, no electronics import is needed.

(B): It's not that easy, it requires a lot of production facilities that have been destroyed in 30 years. For 30 years, Russia, like many other post-Soviet countries, has been selling stockpiles.

(I): Do they have a chance to find these shells in North Korea?

(B): Theoretically, there is a possibility. Do they bring shells from there? There are no confirmed cases in North Korea. A test batch was brought in from Iran, and now they are trying to bring another batch, not a test batch, which is about 20,000 shells. This is nothing compared to the numbers that are being used.

(I): Our partners and we also have a shortage of these shells.

(B): Of course, we do. It is impossible to compare the defense industry of the Soviet Union, ours, and most Western countries with the capacities that existed during the Cold War.

(I): What does this mean? Will the war shift from artillery to other tactics?

(B): Everyone sees the transition to a different tactic in Bakhmut. Vuhledar was a vivid example of this. In Bakhmut, it's just infantry coming in wave after wave. Their artillery is only supporting them, and there are very few armored vehicles. In Vuhledar, armored vehicles were used, but they were destroyed in the first hours, and everything turned into small arms fighting.

(I): Earlier you said that Russia had enough missiles for three or four attacks, and then it would have to fire from the assembly line. Has this moment come?

(B): There are small percentages of the total number left. Less is produced than they use in one salvo, and production is not keeping up. Russia is not the Soviet Union.

(I): You mentioned their conditional maximum of producing 50 missiles a month.

(B): Less. In total, they sometimes produce 20 or 22 Kalibr missiles per month. These are the ones that are launched from the sea. About 15, sometimes up to 20, are X-101 missiles. That is why the number of missiles in each salvo is decreasing. The intensity of the shelling is decreasing. Initially, massive rocket attacks were on Mondays, then once every eight days, and now once every ten days, two weeks. They are reducing the number of missiles and increasing the time interval.

(I): What prevents the Russians from increasing missile production?

(B): There is no capacity, it's a bubble. If you have not done anything for 30 years, you cannot do what you want in one day, during the war and sanctions.

(I): Electronics imports from China increased by 500%, six times over the past year. There are components there that are needed to make missiles. Are we doing anything on our part, or can we do anything to prevent these components from reaching Russia?

(B): These are exclusively civilian goods and microcircuits that can have dual use. This is a problem. If you import a vacuum cleaner, it is a vacuum cleaner. Based on the realities in which Russia lives, they have to buy millions of such equipment and disassemble it into microchips.

This is a great shame even for Russian ideology. They have reached the point where they buy washing machines and vacuum cleaners and disassemble them into microchips that they will then insert into missiles.

(I): The media announced the construction of an Iranian-Russian plant to produce Shaheds in Tatarstan.

(B): Who announced it?

(I): The Financial Times, the New York Times, reputable media.

(B): If I start criticizing reputable media, I will be criticized myself. I have nothing to say. Maybe I just don't know the answer.

(I): Do you have any such information now?

(B): I don't have any confirmed information that a "shahed" has been assembled in Tatarstan and exists somewhere. Perhaps I just haven't seen it yet.

(I): In an interview, you said that you use many sources to draw your conclusions. Can you rank the top five sources used by Ukrainian intelligence in the twenty-first century?

(B): This is standard. Like any special service in the world, they work in much the same way. These are technical means of intelligence, technical penetration, penetration into cyberspace, phones, and computers. But the most important thing is agent work. Only agent work can provide answers to complex questions.

(I): Your deputy said they have sources among oligarchs, business people, and Putin's inner circle. If we have them, why do we need to talk about them?

(B): Did he mention any names or anything that might lead to an answer? Russia has more than 100 oligarchs with different degrees of closeness. Some are close to Patrushev, some are close to Bortnikov, some are close to the conditional president, some are close to Kiriyenko. So who are we talking about?

(I): Is this our information tactic?

(B): Let them check all 100 of them (laughs). Do you know what they will find? I will give a real answer to the question.

2.5 years ago, we made a controlled leak on one issue, outlining the circle where such information could have come from. Do you know what the reaction of the Russians was? They began to scrutinize everyone who fell into this circle. They narrowed it down to about 30 people. After that, they concluded that one of these 30 people had to be there. They began to check everyone with polygraphs and look for family ties.

As a result, all 30 people were selected-a certain number were fired, and a certain number went to jail. Because each of them had family ties that led them to Ukraine, and it so happened that our countries are closely connected. If they follow the same logic, the whole world will applaud.

(I): Russia seems to be waging this war online, almost announcing military action. It seems that even Russia has never fought like this before.

(B): This is information warfare. What has Russia been doing all this time? Even take the example of Bakhmut. If you read the official sources of the Russian Federation, not to mention the unofficial ones, they have taken it ten times since June. It's February, and they say: just a little more.

(I): It looks strange, announcing their offensives.

(B): If we're talking about the other side, we have to remember that there is no limit to Russian stupidity. In addition, don't forget that although Russia is the very vertically oriented structure, it can hardly be called a state. It still has two towers. Two towers of the Kremlin clash with each other and who will win is announced in advance.

(I): Is it the FSB and the military?

(B): It's not just the FSB and the military. Everyone there is divided into two towers. Conditional hawks and conditional liberals, both of which are very conditional. They care more about money than about what they claim.

(I): At the end of last year, the OSINT agency Molfar calculated that in November-December 2022 alone, the statistics of fires and major incidents in Russia doubled. How much of this are coincidence and how much is a consequence of the war?

(B): Much of this is not a coincidence. Something is always burning. Signaling equipment on the railroads burns several times a day, on different highways constantly for two or three hours, sometimes for five or six hours, and traffic is suspended along the entire section. It is clear that it is burning for a reason.

(I): Are Ukrainians helping in Russia?

(B): Why only Ukrainians? I would say this: money make wonders.

(I): In Ukraine, you have a reputation as the main and good prognosticator. A person whose predictions come true more often than not.

(B): I am not a prognosticator and have never been one. We make conclusions, not forecasts. They are different things.

(I): What are your conclusions about the fighting by the end of spring and by the end of the year?

(B): Nothing has changed, and there will be decisive battles from mid to late spring.

(I): Will they decide the fate of the war?

(B): Yes, this is a turning point.

(I): If you apply a football analogy to the 12 months of the great war. What is the score, and what is the minute of the match?

(B): The score is 1-1, and the minute is 70. This is a subjective vision.

(I): Three reasons why we managed to survive:

(B): If I say God is with us, will you accept the answer? [Laughs, hinting at the Russian propaganda narrative] The second is that we are defending our land, which helps. It's easier to play on your field. The third reason is that the entire civilized world is fighting with us. We are not alone.

(I): And if we take the three biggest victories and defeats?

(B): I will speak subjectively. The first major defeat was Ukraine's temporary defeat in the area of Sievierodonetsk. The second is the first period of the war, when the line was broken in the area of Volnovakha. And the third, and this will be a general answer, is that we allowed the temporary occupation of Donetsk and Luhansk regions and the Autonomous Republic of Crimea in 2014. These are our three biggest failures, but they are all correctable.

(I): And what about victories?

(B): The victories are the pushing back of the enemy from the Kyiv direction, the actions in the Kharkiv direction and the regaining of control over the city of Kherson.

(I): Let's talk about the future. Let's imagine that in the near future we will liberate the de-occupied territories, manage to liberate Crimea, and reach the border with Russia. Will we go further?

(B): This is a question exclusively for the Supreme Commander-in-Chief, not for me. In my vision, we must create conditions for a security zone around our border. There are many ways to achieve this. For example, a 100-kilometer zone is justified, but 40 kilometers will be more or less normal.

So that you understand my logic correctly. Whether we should go further is not a question for me, but creating a security zone around the border is a necessity. There are many options to achieve this goal.

(I): What should this zone look like?

(B): A demilitarized zone, without any weapons, with normal control. So that we always have time to respond.

(I): We have reached the borders of 1991, and there is a feeling in society that this is the end of the war. But this is not a fact. What will make Russia end the war?

(B): You're right, it may or may not mean the end. It is possible to transfer the war to a completely different format. It is possible to move to a permanent defense operation. A good example is Israel, which lives in a constant state of war, conducting a defense operation along its borders. Most likely, this will lead us to solve internal problems in the previously occupied territories, which is a huge set of issues.

(I): What can end the war? What are the conditions for this on both sides?

(B): We have only one condition – to reach the administrative borders of 1991, and we will decide everything else later.

(I): It's a simplistic question, but Ukraine is waiting for an answer. When will the war end?

(B): I can only answer you when it ends. For us, it will end with the first phase – reaching the administrative border. But since we've discussed how it's 1:1 and the 70th minute of the match, make a timing parallel.
The Kyiv Independent's Illia Ponomarenko published a guest column in The New Statesman. Here are some excerpts:
It's astounding how things that seem rock solid can suddenly change. On 20 February, I woke up in my tiny apartment in Bucha outside Kyiv – the quiet town in the woods that has become a symbol of Russian atrocities and mass graves. The whole of Kyiv and the region were swearing on social media: the four million people living in the capital city had turned into one giant traffic jam. The main avenue, as well as with key downtown passages, was closed to all movement. Many had to text their bosses to apologise for being late to morning meetings!

For the sake of whose visit was the city paralysed on a Monday morning? The US president, Joe Biden. He was accompanied by the Ukrainian leader Volodymyr Zelensky, and their entourage. Biden was paying his respects to the portraits of killed Ukrainian soldiers displayed on Mykhailivska Square – the heart of ancient Kyiv. Biden came to declare, against all expectations, that Ukraine was winning the war. The timing couldn't have been more perfect. He arrived on the day when Ukraine commemorates those killed in the 2014 Euromaidan Revolution. And on the day, a year ago, when I finally admitted to myself that doomsday was inevitable – and we were falling into the abyss.

When hope abandoned Kyiv

Hope always wants to have another chance, no matter what. But on 20 February 2022, four days before the Russian invasion, there was very little hope left.

Life in Ukraine continued as usual. But the news headlines told a different story: "Russian commanders have orders to proceed with Ukraine invasion." "Airlines cancel Ukraine flights as threat of war grows." "Russian invasion of Ukraine 'inevitable and imminent'." Reason tells you this can't be happening; the Russians just can't be that delusional. There seem to be a hundred compelling arguments why their troop build-ups are a bluff, and everything is going to be alright. But one had to admit – this was going to happen. And it became clear that we must forget about sound judgements and rationality: they no longer belong here.

Has there ever been a group of people reckless enough to try to establish a media outlet from scratch, without any starting budget, and during a war? That's us, the Kyiv Independent. On November 2021, four months before the Russian invasion, some 30 writers were sacked from the Kyiv Post because we refused to compromise on our editorial independence. There was a very strong feeling of dedication and resolve – screw this, we're not going down just like that. This country is hanging by a string, two steps away from war, and we, the team, need to recover our role as Ukraine's top English-language voice.

Western leaders were saying the worst was coming, Russian tanks were amassing a few hours drive from Kyiv, and we at the Kyiv Independent covered the horrific transition to war sitting behind laptops in a café. We had just moved into our first, very simple office in the Kyiv neighbourhood of Podil, but we had to interrupt the house-warming party because Biden announced that the war would erupt within days. We had to have a plan for how we survive the attack and keep the Kyiv Independent running online, in case the country was cut off from the rest of the world. We knew our friends in North America would be there for us.

The Kyiv Independent became much more than a job. Wartime is about dedication, especially when it comes to journalism. Several of us took care of our loved ones – and stayed in the besieged city, living in apartments a few kilometres away from Russian lines. We work while we can – nothing else matters.

On 20 February 2022, it was clear we didn't have much time left.

It's hard to accept, but everyone has to decide what they are going to do when this moment comes. Everyone has to make a moral choice. And if one's choice is to stay until the bitter end, it makes sense to get up, close the laptop and go to the nearest supermarket to stock up on food and basic survival supplies. It is also important to take care of loved ones. To talk softly, and optimistically. "Honey, I'm sure nothing bad is going to happen, but it will be great if you go to your parents for the next several days. Just to be safe."

After that, one could spend the last night of peace sipping whisky alone in front of a laptop. If they are going to tear this country apart, and raze this city to the ground, it wouldn't hurt to relax before doomsday. Then there is Vladimir Putin's face, twisted with sick anger live on Russian TV at 5am, and the rolling thunder of missile attacks come through the windows.

But here we are, a year on, waking up to see fellow Kyivans complaining about enormous traffic jams. That anniversary, 20 February 2023, was a beautiful, sunny day in Kyiv: a great setting for making history. As Biden and Zelensky walked together in the heart of the city, an air-raid siren roared – Russian missile-carrying jets had again taken off from Belarus.

By this time we were all supposed to be lying in a mass grave. And those historic streets were supposed to be charred ruins under the Russian flag. But events took a very different turn, because people in Ukraine and beyond made a moral choice to say no to the seemingly inevitable triumph of evil. History is full of surprises.
Much more at the link!
Novosibirsk:
Dozens of coffins coming back to Novosibirsk from the "special military operation."

What a stupid waste this war is. https://t.co/HEoUCjUUYD

— Julia Ioffe (@juliaioffe) February 21, 2023
Germany:
>На марше в поддержку россии в Германии кто-то выставил колонки из окна с цирковой музыкой

ВГОЛОС pic.twitter.com/AMJHmtjzIv

— Your Kotek Gganbu (@justkotekmeme) February 22, 2023
The tweet machine translates as:
On a march in support of Russia in Germany, someone put speakers out of the window with circus music
Well done!
That's enough for tonight.
Your daily Patron!
A new video from Patron's official TikTok:
Open thread!