We all know how OzarkHillbilly felt about his beloved Woofmeister, and now we get the story of BillieJean joining the family! ~WG
The Story of BillieJean
by Ozark Hillbilly
Woof had a long slow decline with congestive heart disease. When he stopped eating, I knew he was ready to go. My wife wasn't quite ready to let go until the eve of his 2nd day of fasting. She had taken him out for his evening walk-a-bout and came in crying that Woof had laid down in the snow and would not get back up. I went out with visions of trying to carry this 100+# lump of love into the house and worried that my ever aging back would balk at the chore and then what would I do? Fortunately, I was able to coax him to his feet and walk him back into the house.
"Honey? It's time."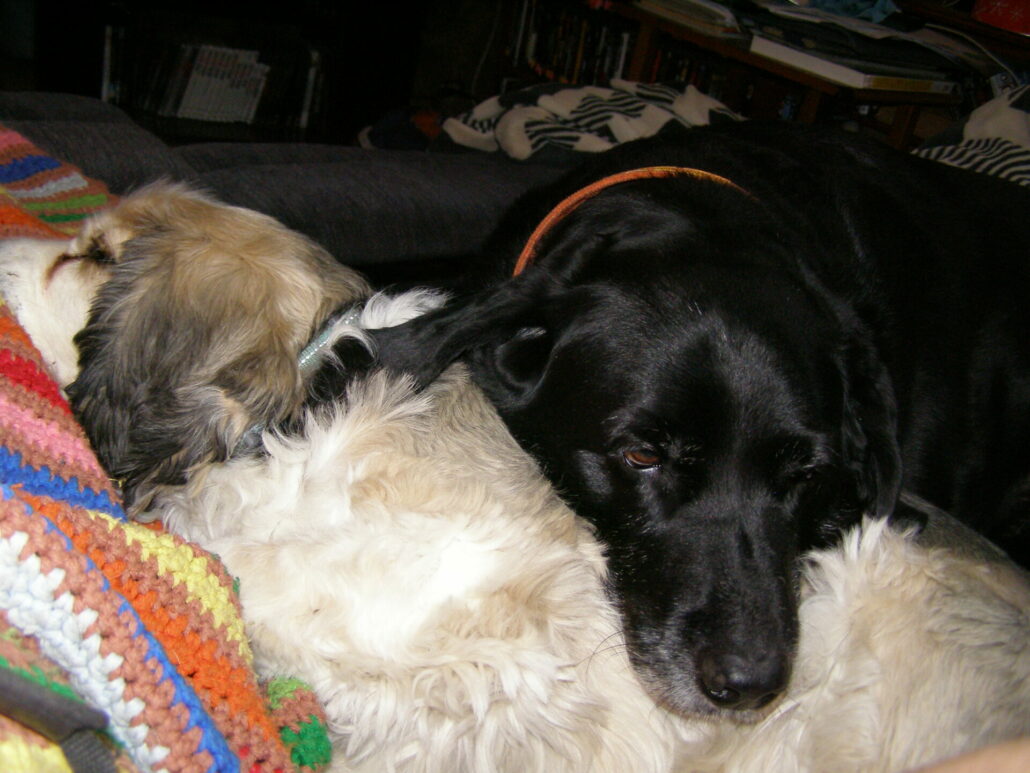 I'm not very good at dealing with grief and loss anymore. Mostly I just shut down. But watching my wife deal with it just tears me up, because I can't take the pain away. After Woof was gone, my wife said it was going to be a long while before she'd be ready for another.
Within 2 weeks I was surreptitiously surfing the web for Labs, Lab/mixes in need of rescue. I thought, "If I find a good 'un, she won't be able to resist." Little did I know, she was doing the same. When it came out that we were both cheating on the other searching for another lover boy/girl, we came up with a system: My wife would search the internets and I would go to meet the dogs she thought would fit us. The main thing was they would have to have the proper "Labittude": Lovers, snuggle bunnies… A couple times she found dogs that she thought would fit, and by the time I got to the agencies, they were already gone.
When she found "Harley" at the APA in STL, I made a mad dash to their facility on Hampton Ave praying that Harley would still be there. She was. My first sight of her was in the office managers office. She was hiding behind the desk, a quivering pup with extended teats that was absolutely terrified and traumatized. (the story I got was she had come out of an Arkansas puppy mill) They put me into a "meeting" room. It had a metal bench bolted against one wall and the door on the opposite wall. I've known holding cells that were more welcoming than that room. I sat on the bench and waited for her. When they brought Harley in, she refused to come to me, just lay down by the door and shivered. I sat down on the floor and called to her. Nope. I scooted over to her. Nope. Very slowly I reached out and pet her. After a bit, I grabbed her by the collar and dragged her to my lap. She didn't growl, she didn't pull away, but she never stopped quivering. I thought long and hard about it. Was I really up to dealing with such a damaged pup? Who knew what I was getting us into? I had brought Percy along to meet her before I'd adopt but after 15 or 20 mins, there was no way I was leaving her there, so why bother?
During the hour+ drive home from STL she spent most of it huddled against the door while Percy claimed my lap and eyed her with great suspicion, wondering wtf was this dog doing in his truck?
When we got home, I had to pull/drag Harley to the house. Once inside she climbed up onto the couch, where from she did not move to pee or drink or eat (that I saw) for 3 days.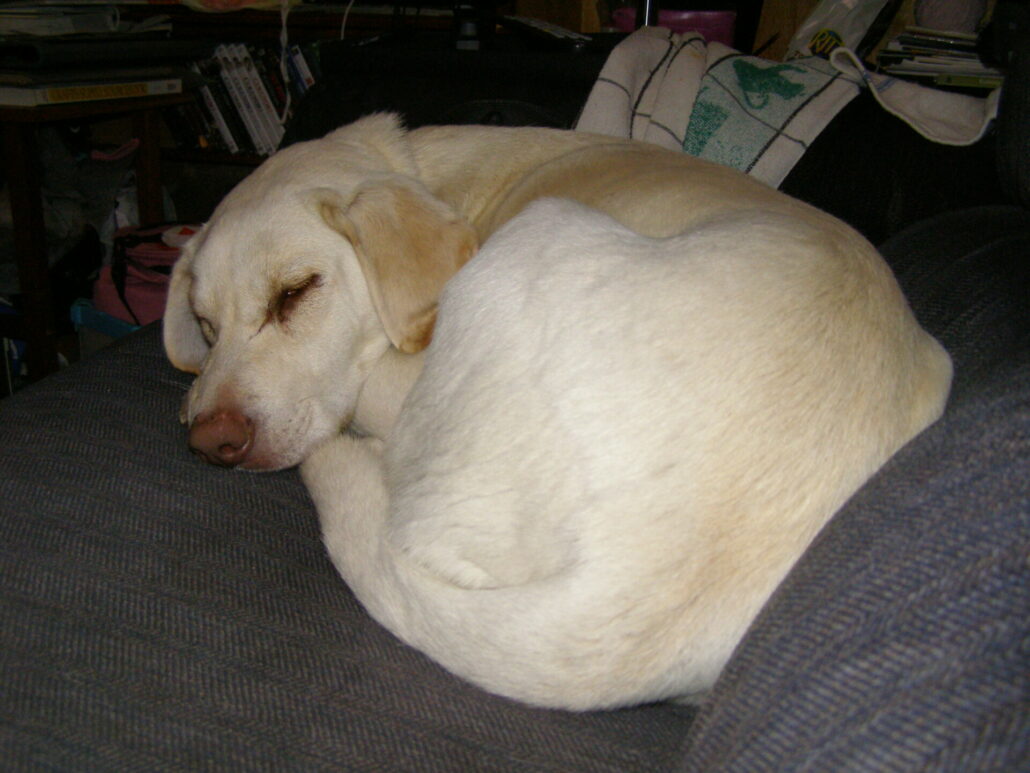 My wife and I both made sure to give her skritchins at every pass and to snuggle with her on the couch as much as she would allow. By the time she finally left the couch, to drink and go pee we were both thoroughly smitten. It did not take us long to settle on BillieJean as her new name. Scarface might have been more fitting but BillieJean felt right.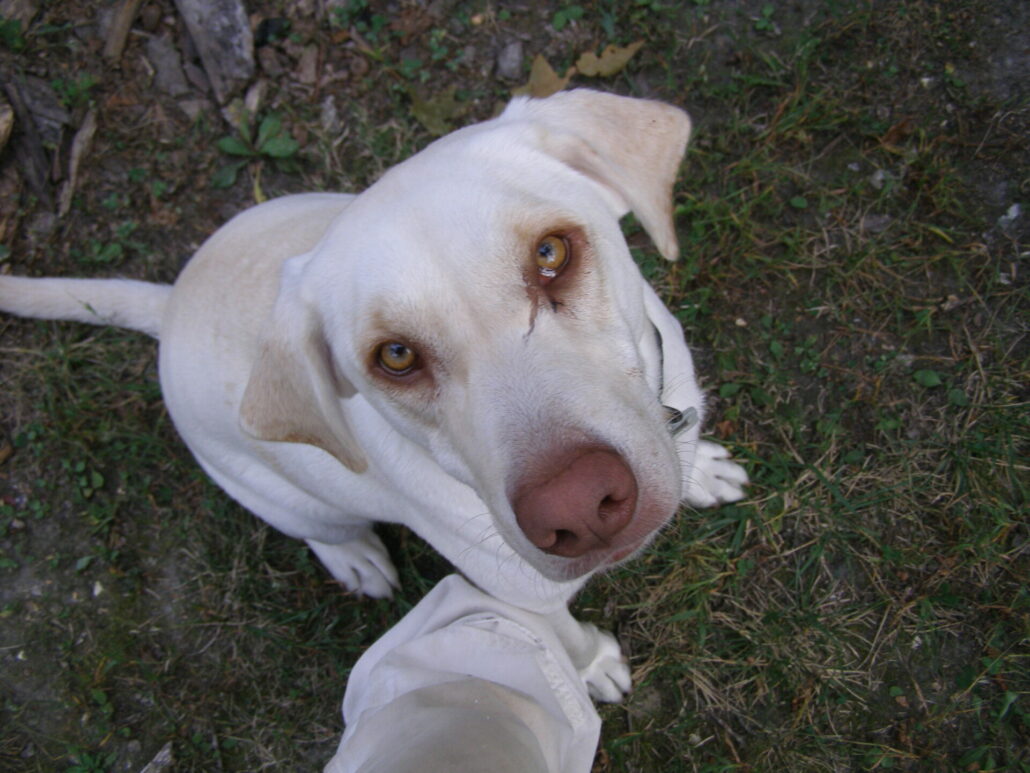 She has the most beautiful eyes I have ever seen on a dog.
Once she finally did get off the couch, it wasn't long before she was running rampant about the place. I learned pretty quickly that I didn't dare take my eyes off of her for more than a minute or 2 or else she'd disappear. As often as not Billie would go down the holler to swim in my neighbor's pond. Inevitably coming back a muddy mess. The first time she came back covered in mud she was very happy and proud of herself right up to the moment I turned the hose on her. After that, whenever she returned covered in mud she would tuck her tail between her legs and keep her head down, "Please oh please Daddy, not the hose…"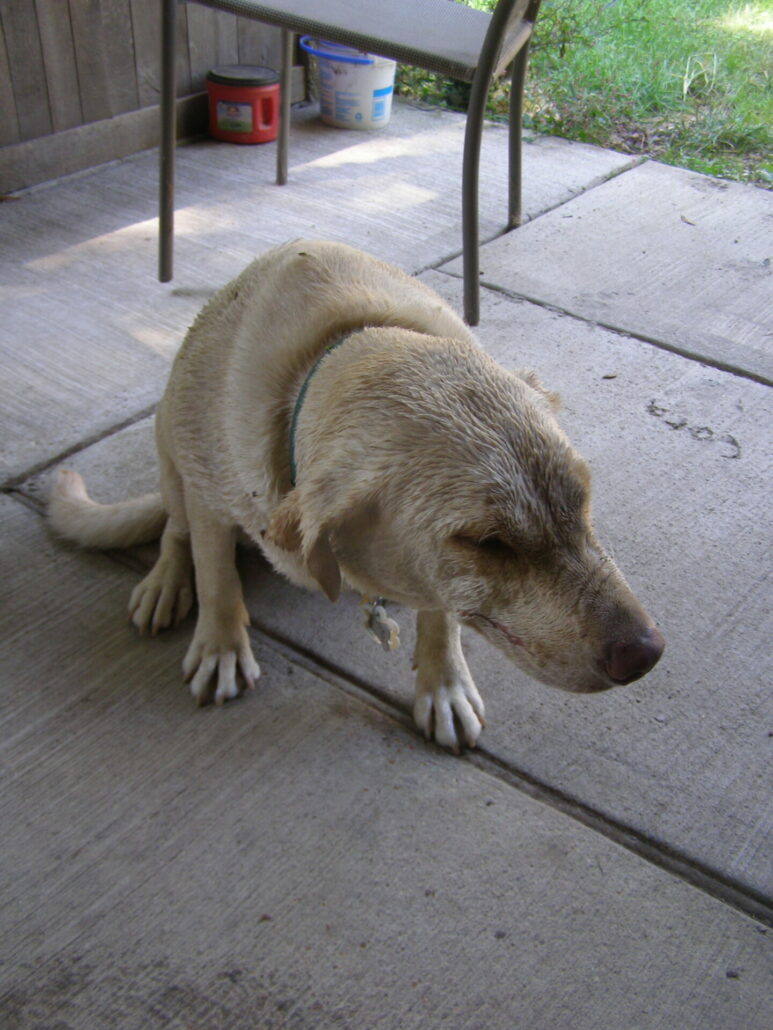 Knowing she was gonna get it anyway and afterwards getting the zoomies and running as tho if she ran fast enough the water in her coat wouldn't be able to keep up.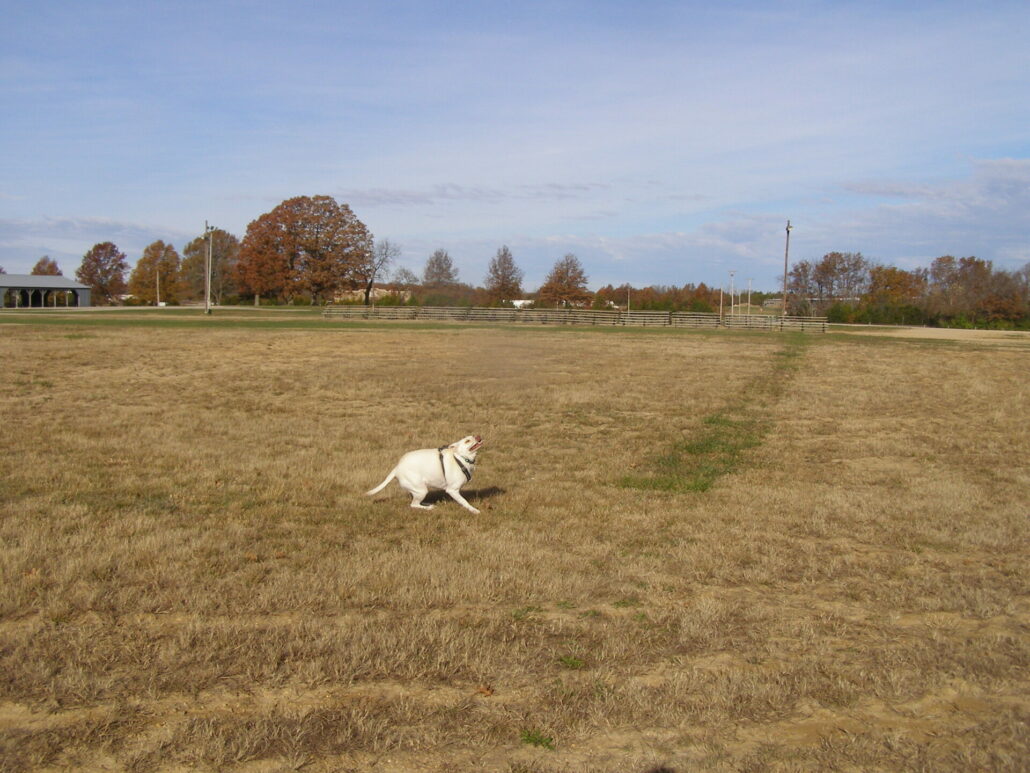 I soon learned she was half goat, climbing anything and everything she could.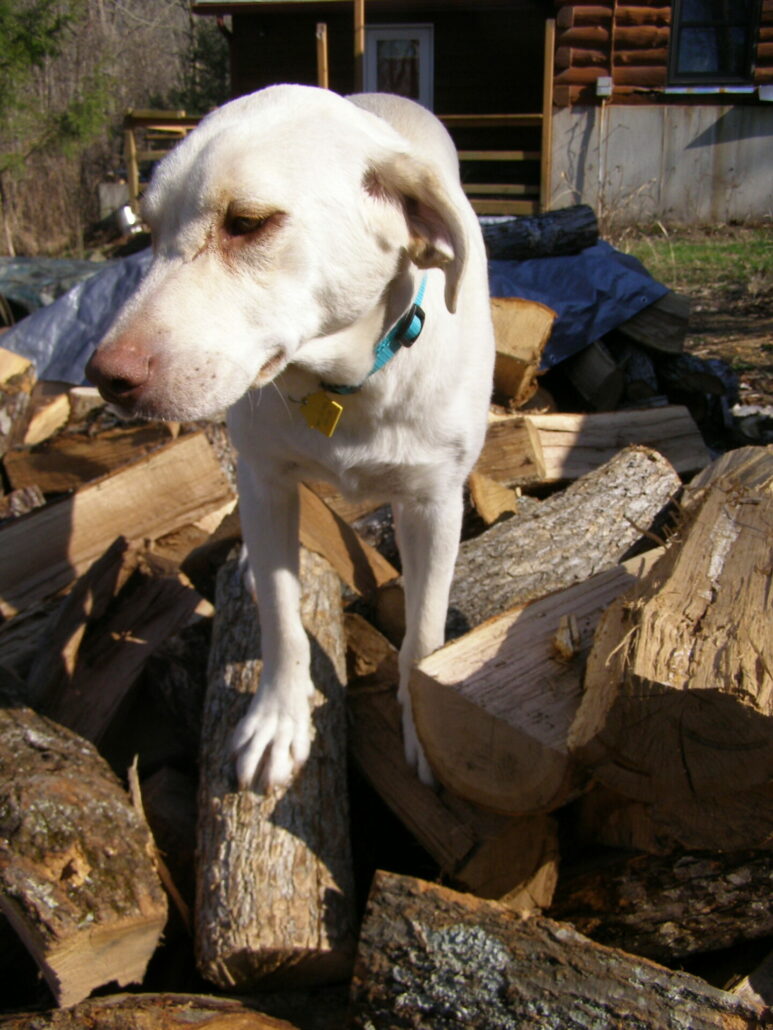 Percy was a wee bit jealous at first but eventually realized there were bonuses to having an autonomous throw rug.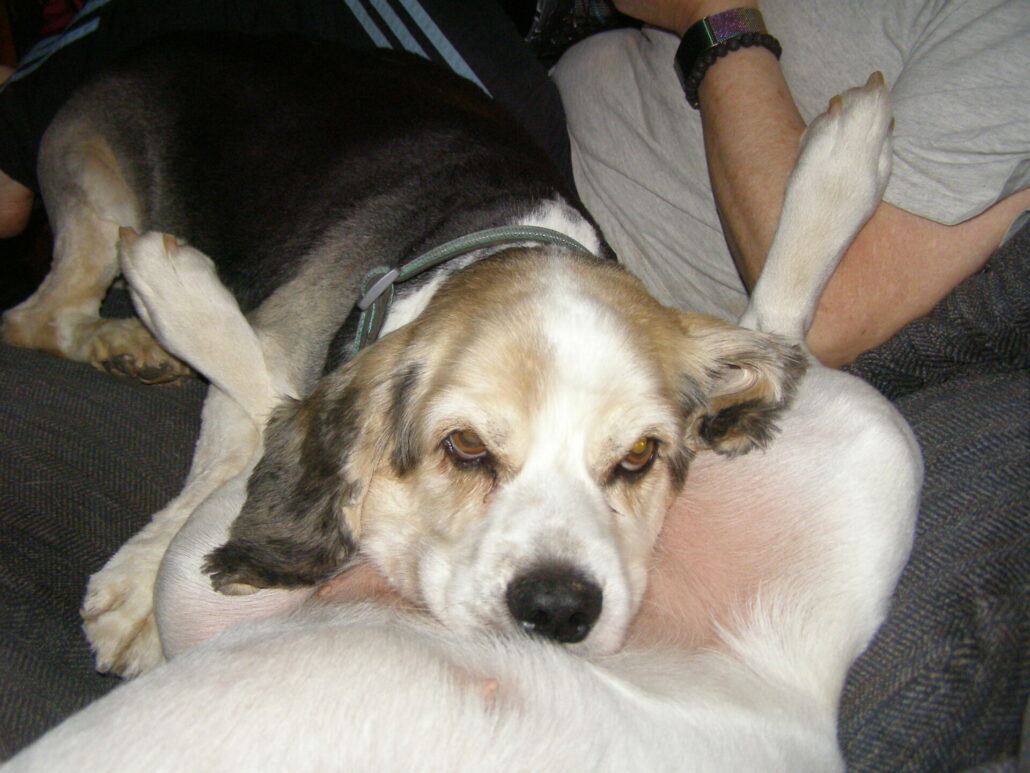 Billie was soon quite comfortable with her new found home.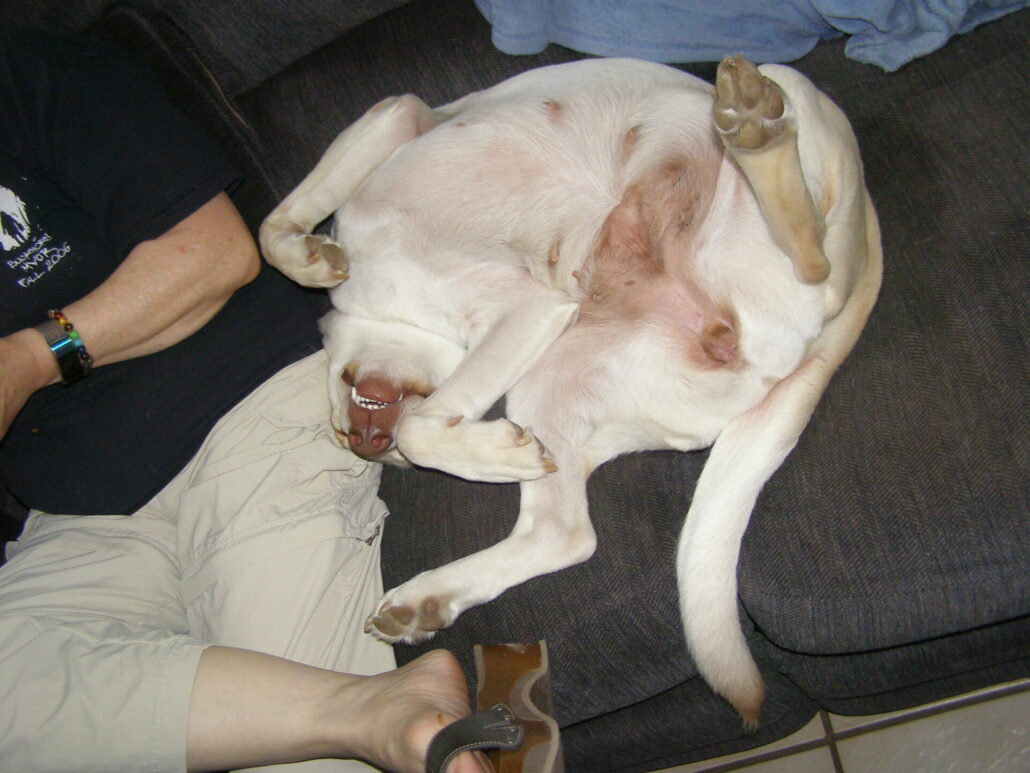 Then came the night of the copperhead. One thing is for sure, Billie is no Miss Kitty. My wife had taken the dogs out for their private bizzness and came back in very worried that Billie had been bitten by a snake. I poo poohed it. Just because a dog leaps up in tall grass doesn't mean she got bit by a snake. Turns out in this case it did. Her muzzle soon swelled up.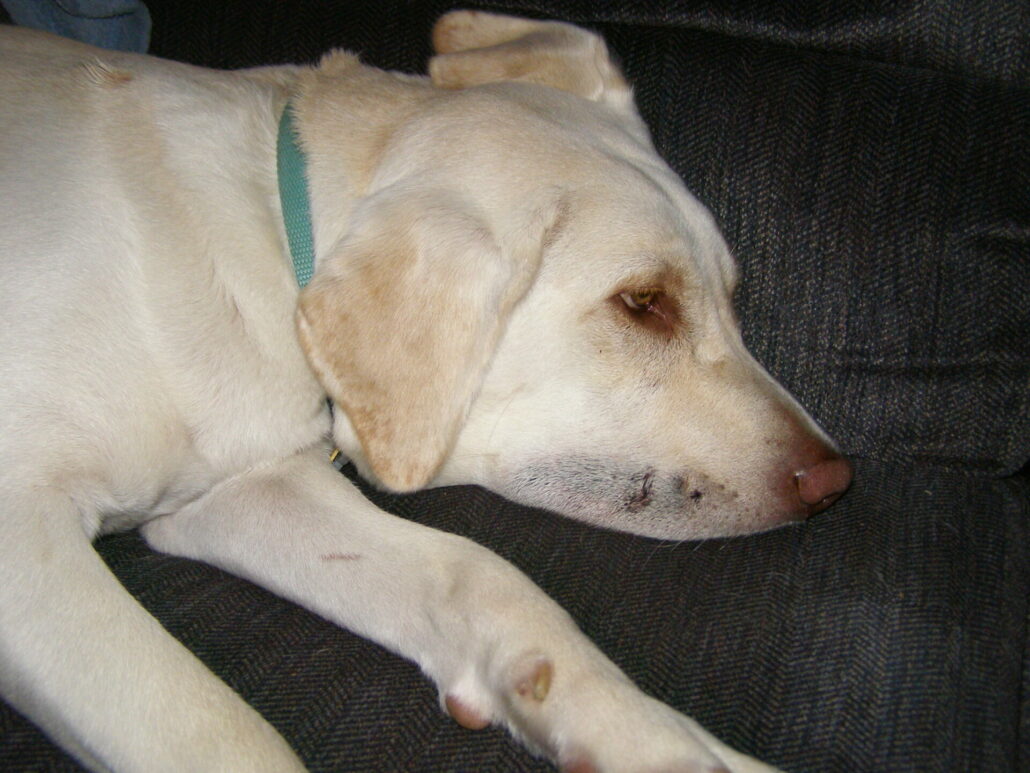 My wife wanted to take her to the emergency vet. I said she'd be good till morning and took her in the next day. They gave her a bunch of meds and while she had some miserable days she came out the other side OK, and with one more war wound.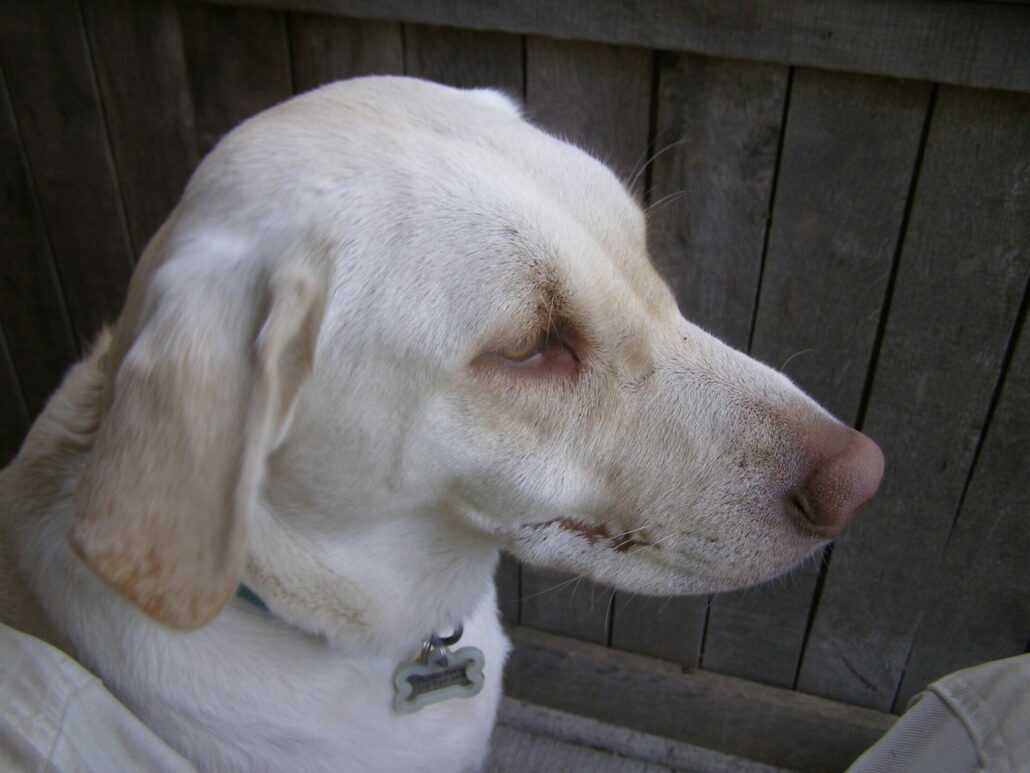 These days BillieJean has her own security blanky…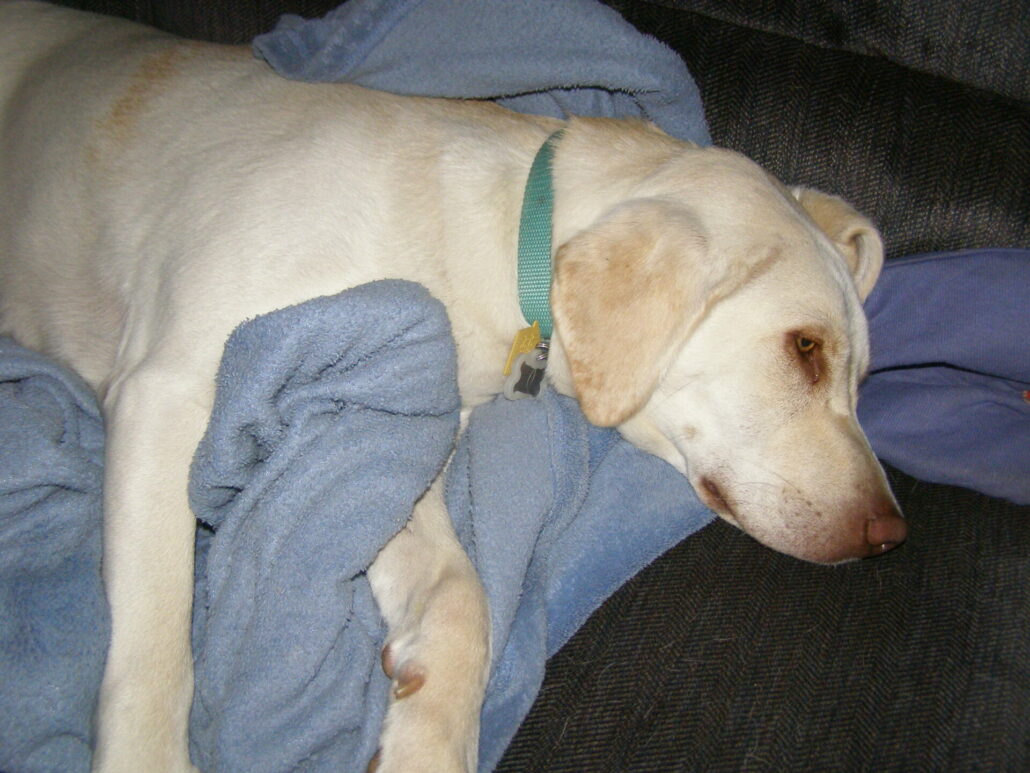 …unfortunately it is whichever one I am using at that moment. I really wouldn't mind if it wasn't for the fact that it doubles as a pacifier.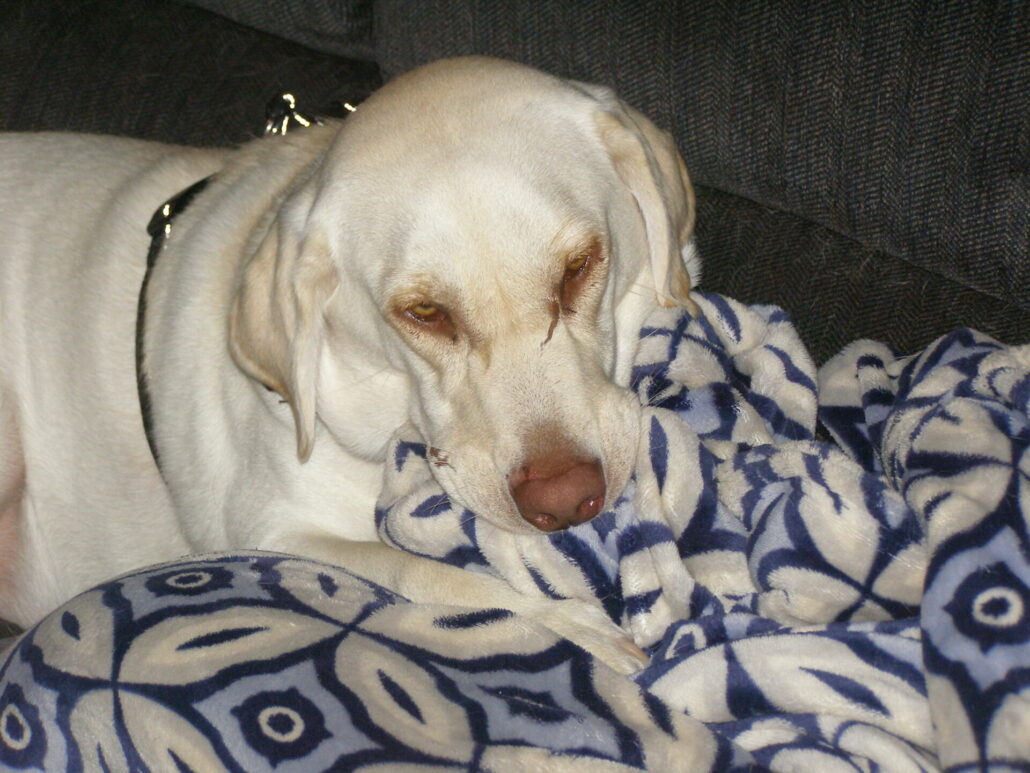 All in all, she has fairly settled in here…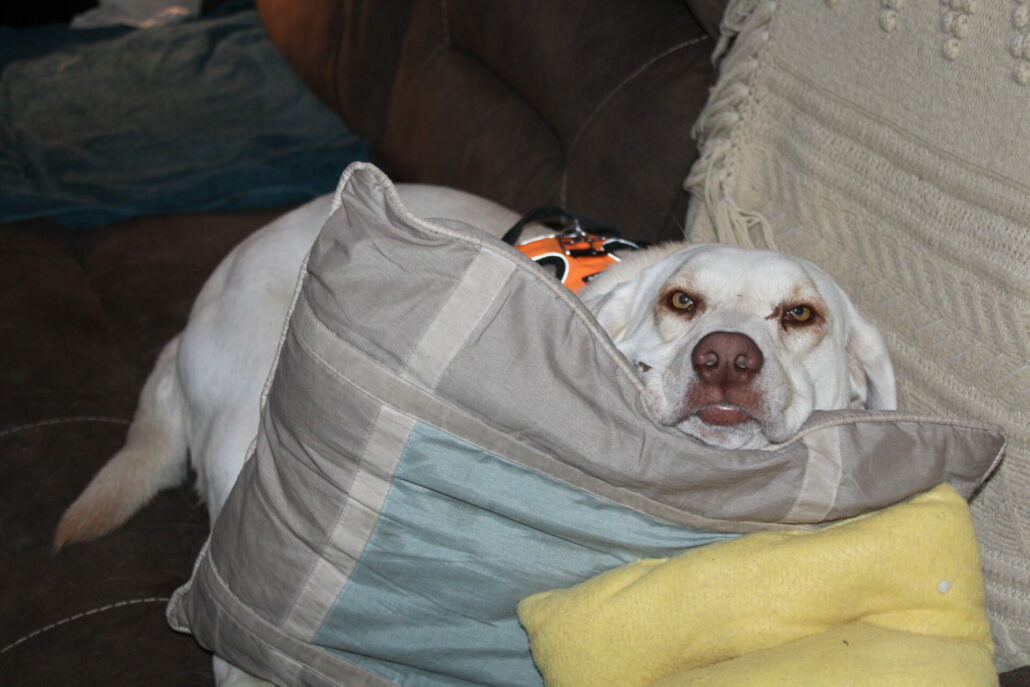 … and Percy has accepted her, but not without complaint at times.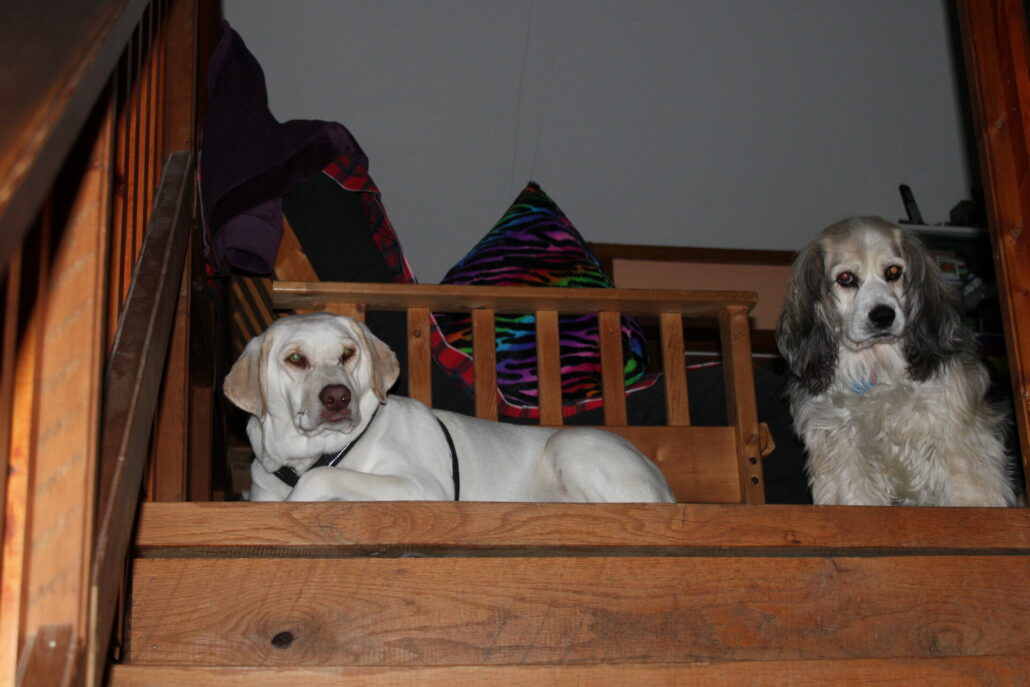 The Percy and Billie pic is a bonus just because I love how patient they are when I am in physical therapy.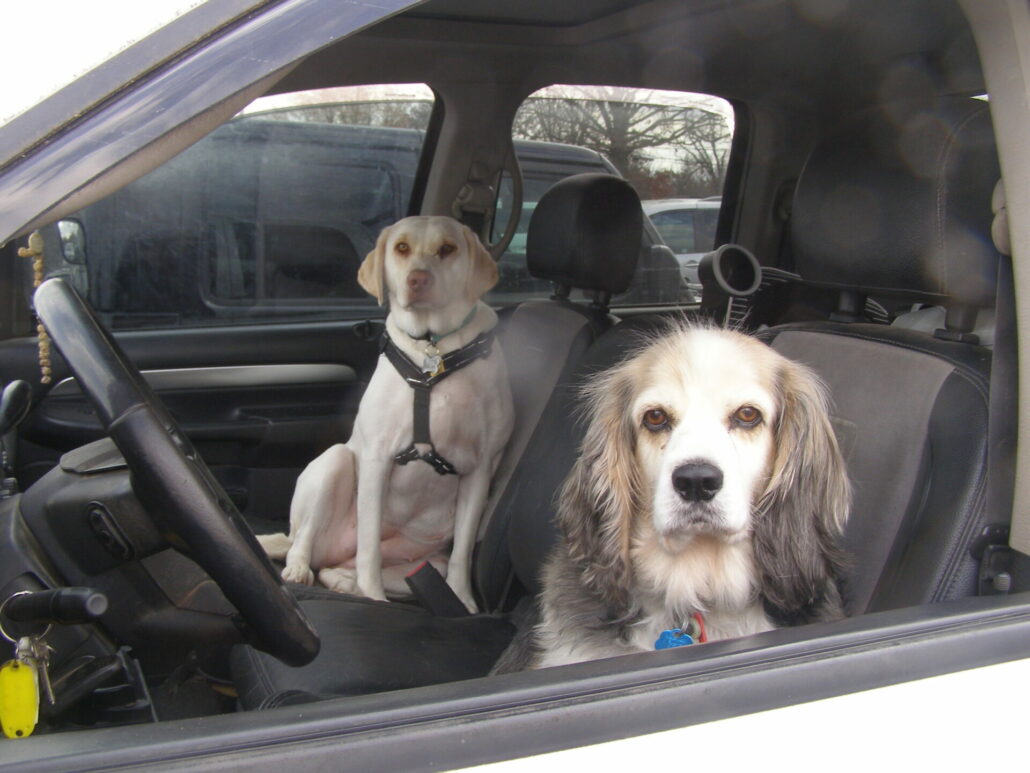 And that's the story of BillieJean.