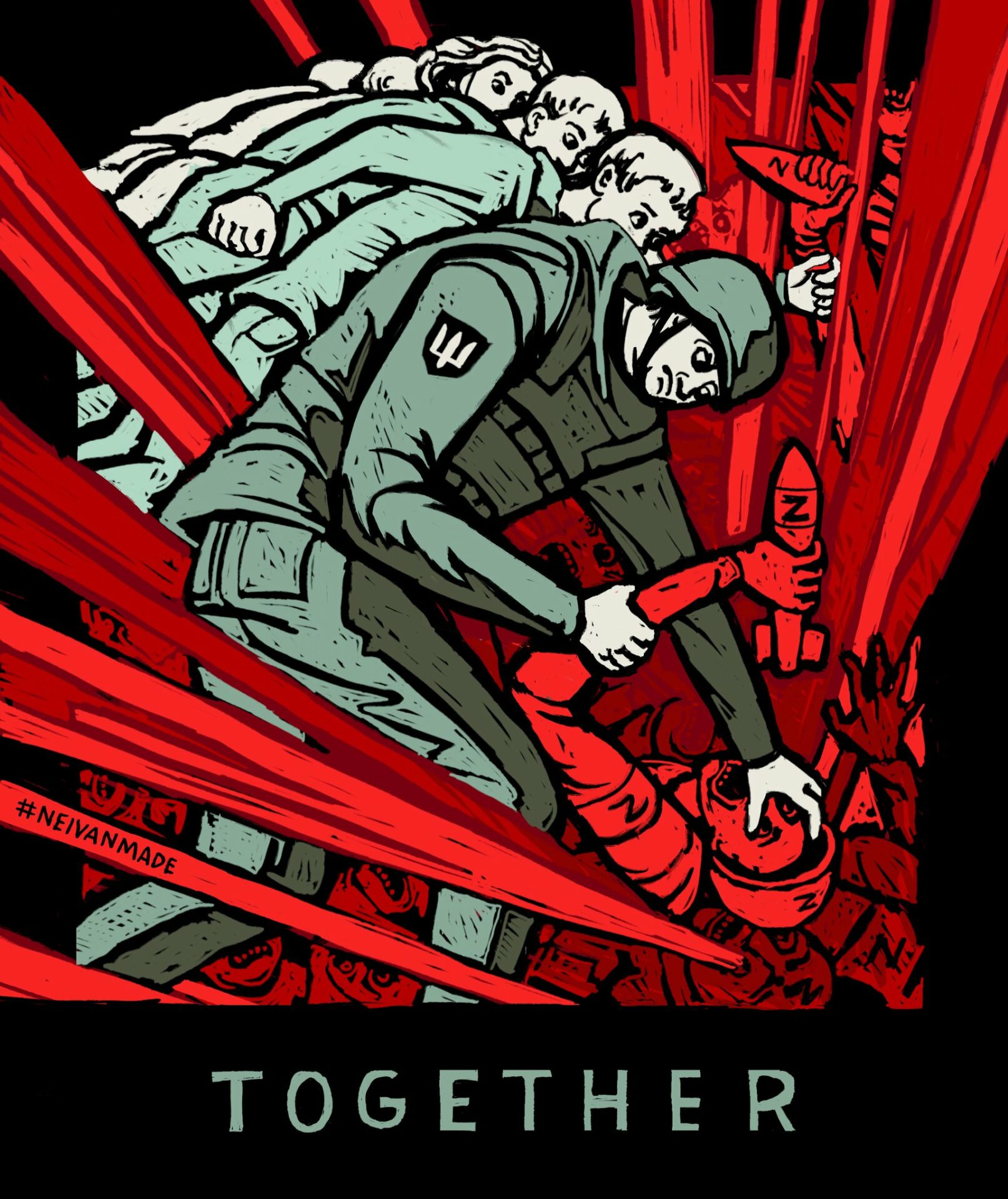 (Image by NEIVANMADE)
Tonight is one year since Putin gave the order to re-invade Ukraine. This part of the war is now one year old. Of course we're also 8 years and just about 11 months into the longer war that this past year has been a part of. It is important to remember that Putin moved on Donbas in April 2014.
Tonight is the night we can have some restful sleep.
No need to stay up again!
Ukraine is on guard 🇺🇦
Goodnight, the world. pic.twitter.com/CvQYYSq56X

— Illia Ponomarenko 🇺🇦 (@IAPonomarenko) February 23, 2023
Here is President Zelenskyy's address from earlier today. Video below, English transcript after the jump:
Good health to you, fellow Ukrainians!

Today was a very eventful day.

First – the Staff. Extended format, detailed reports. Zaluzhny, Syrskyi, Tarnavskyi, Moskalyov, Nayev. The situation in the key directions.

The east – very difficult. Hurtful. But we are doing everything to endure.

The south – in some areas the situation is quite dangerous, but our warriors have means of response to the occupier.

Odesa and the Black Sea area – the situation is under control.

North – all our warriors in this area can see every intention of the enemy. We are reinforcing where necessary.

There was a report by Chief of the Main Intelligence Directorate Budanov on the current intentions of the occupier. There are decisions on our counteraction.

Separately and in great detail, we addressed the issue of production and supply of ammunition and weapons. Of course, I cannot publicly disclose the details of this. But this is meaningful work. And I am glad to hear at the meeting of the Staff that even in such conditions we have the appropriate potential.

During the evening I've been receiving detailed reports on the situation in Kherson. Another Russian strike damaged the main pipeline that provided heating to about six hundred houses – more than forty thousand people! Repair work will continue without pause until the heating supply is restored.

And we will restore it! No matter what these Russian terrorists and bastards do, we will restore everything.

Today I held talks with the Prime Minister of Spain, who arrived in Kyiv. I thanked him for the very important Spanish defense and political support. For the fact that during a year of full-scale war, Spain has stood with us in defense against Russian terror.

This is a very valuable and value-based cooperation. It is here, on our land, that we are protecting the very values that underpin the life of not only our people, but also the vast majority of European nations.

Of course, the life of Spain is based on these values too. That is why we understand each other very well. Spain has become part of our tank coalition. Spain helped us to protect our skies. There are many other parameters of support, both already provided and planned by us.

Today I also met with a delegation of the global parliamentary network "United for Ukraine". These are representatives of 13 parliaments of European countries and the European Parliament. The topic of the meeting is quite clear: weapons for our warriors, sanctions against the terrorist state, and the implementation of our peace initiatives, including the Peace Formula.

I spoke with the President of Egypt, including about the defense of international law, our work to restore food security, and some aspects of bilateral relations. It was a good conversation.

I devoted a significant part of this day to preparing for tomorrow's diplomatic events. We must do everything to make them fruitful for Ukraine. Really significant not only in terms of symbolism, because it will be February 24. But also in terms of real benefits for our defense.

Glory to our warriors! 

Glory to each and everyone who is now in combat! 

Thank you to everyone who helps us!

Glory to Ukraine!
Friends.
You remember that night a year ago? The longest night ever. We were up, in front of our laptops, sipping whiskey in the silence. The last night of peace in Kyiv. We knew what was coming. Before the night is over… The dark was deepening. pic.twitter.com/ggcIcp3Xch

— Illia Ponomarenko 🇺🇦 (@IAPonomarenko) February 23, 2023
But one year later… we're still around.
We've seen things that were impossible to imagine. Valor, horror, death, smoke, the smell of rotting flesh, pride, joy, tears.
There'll be more.
I'm lighting a candle in the memory of the fallen tonight.
Glory to Ukraine 🇺🇦

— Illia Ponomarenko 🇺🇦 (@IAPonomarenko) February 23, 2023
Here is former NAVDEVGRU Squadron Leader Chuck Pfarrer's most recent assessments of the situations in Vuhledar, Kreminna, and Bakhmut:
VUHLEDAR /1320 UTC 23 FEB/ Two RU probes toward the T-05-24 HWY at Vuhledar were broken up. UKR reports that elements of the Cossack Detachment (Volunteers) assigned to RU 155th Brigade of Marine Infantry (Pacific Fleet), have refused orders to engage in offensive operations. pic.twitter.com/hWNI6IyxOF

— Chuck Pfarrer | Indications & Warnings | (@ChuckPfarrer) February 23, 2023
KREMINNA AXIS /2250 UTC 23 FEB/ After being repulsed yesterday west of Kreminna, RU units limited ground combat today to a single attack in the vicinity of Kuzmyne. UKR carried out 14 aviation strike missions against RU forces and four strikes against enemy air defense targets. pic.twitter.com/92ekNycUPU

— Chuck Pfarrer | Indications & Warnings | (@ChuckPfarrer) February 23, 2023
BAKHMUT /1400 UTC 23 FEB/ RU continues ops against UKR Lines of Communication & Supply (LOCS). UKR forces are in contact south of the M-03. RU has redoubled efforts to capture the villages of Dubovo-Vasylivka, Berikhivka and Yahidne on the northern limits of Bakhmut. pic.twitter.com/pjG7Ydkajl

— Chuck Pfarrer | Indications & Warnings | (@ChuckPfarrer) February 23, 2023
Bakhmut:
Update on Bakhmut, 23 Feb – Kiyanyn pic.twitter.com/Z7G6uQj23M

— Dmitri (@wartranslated) February 23, 2023
🇺🇦Witch tells the story of the Bakhmut Asphalt Plant❤️ pic.twitter.com/UC3y0NsDjQ

— Sofia Ukraini (@SlavaUk30722777) February 22, 2023
Reposting as I neglected to include scare quotes for "Artemovsk" – that language is interesting here because Prigozhin is shifting to use it more frequently and MoD describes WG units as "volunteers assault units Artemovsk"

— Jack Margolin (@Jack_Mrgln) February 23, 2023
Crimea:
In a number of districts of the occupied Crimea, local radio stations broadcasted the anthem of Ukraine, as well as an address by the head of the Main Intelligence Directorate of the Ministry of Defense of Ukraine Kyrylo Budanov, the Crimean Wind channel reported. pic.twitter.com/8MswgBOQM1

— Hromadske Int. (@Hromadske) February 23, 2023
A day after hackers blasted false air-raid sirens in cities across Russia, radio airwaves in Crimea suddenly broadcast a message from the head of Ukraine's mil intelligence vowing that all occupied lands will return to Ukraine. "We'll find every traitor wherever he's hiding." pic.twitter.com/kZTMAmFQQY

— Kevin Rothrock (@KevinRothrock) February 23, 2023
Kupiansk:
Double tap attack in Dvorichna near Kupiansk. When the rescuers arrived, Russians opened fire on them in a series of repeated attacks. First responders are the real heroes. Every day Russia shells up to 30 settlements around Kharkiv. pic.twitter.com/DiCBbrJeD9

— Maria Avdeeva (@maria_avdv) February 23, 2023
Mariupol via The Guardian's reporting:
For more than 80 days, the Russians bombarded Mariupol, determined to take the port city even if they had to raze it to the ground first.

After Russian forces finally crushed Ukrainian resistance last May, they set about putting their stamp on Mariupol, erasing evidence of the recent atrocities and of past Ukrainian history in the city.

A year on from the invasion of Ukraine, the Guardian tells the story of Mariupol – perhaps the bloodiest and most shocking chapter of Russia's brutal war.

Mariupol greets the new year, 2022, in a relaxed mood. When a strong gust of wind blows over the city Christmas tree, sending its vast illuminated branches crashing to the ground, a few suspicious types whisper that it could be a bad omen for the year ahead.

But most people pay little heed to the crescendo of chatter about Vladimir Putin's nefarious plans for Ukraine.

They are used to the idea of war here, after the events of 2014 when Russian proxies seized neighbouring Donetsk and briefly controlled Mariupol, too. The frontline, just outside the city, has hardly moved for years. Occasional military skirmishes are a fact of life, but the idea of a full-scale invasion seems fanciful.

So for the first seven weeks of the year, life goes on more or less as normal. People huddle in cafes smoking shisha on cold evenings; teenagers giggle as they slip on the ice rink behind the drama theatre. At a nearby restaurant one Saturday night, a group of women dance to a vocalist singing in Russian and English; their husbands remain seated, nursing beers.

A few people do become uneasy and clean out their basements, equipping them as bomb shelters. They stock up on tinned food. Often, their friends tease them for such eccentric behaviour.

And then, in the early hours of 24 February, it begins.

Around 5am, calls go out to the chiefs of police and other municipal services, announcing that military hostilities have begun and ordering them into their offices. Most of them are already awake, roused by the sound of Russian artillery.

At 11 in the morning, the mayor, Vadym Boychenko, convenes a press conference. Already, three civilians are dead and six injured, he says. The mood in the room is tense, but Boychenko assures the few journalists present that officials and key infrastructure workers are still working, and life will carry on.

"Don't panic. We are ready to fight for Mariupol and Ukraine," says the mayor.

He and most of his team will flee the city three days later.

On those first few days, the fighting is limited to the outskirts of the city. Wounded soldiers arrive at the hospitals from the front, and hundreds of volunteers show up to donate blood.

There are long queues at ATMs and petrol stations, but public transport is still running, and some people stoically continue as if everything is normal, heading for work.

At the train station, a young couple hurries along the platform dragging suitcases and cradling a cat. Tearful parents bundle their children on to evacuation trains heading for Kyiv. But the trains leave half empty. By the time most people realise what is coming, it will be too late to leave.

The city is well defended from the east, where everyone expected the Russians to launch an attack. But there has been no preparation for an invasion from the west. Russian troops pour across the narrow isthmus from Crimea towards Mariupol, and within a few days, the city is encircled.

Almost immediately, the Russians hit the electricity, water and gas supplies. People melt snow for water, and cook outside over open flames. Phone reception disappears, creating an information vacuum. The last shops close their doors, soon to be looted by people desperate for food.

As the fighting becomes more intense, people drag mattresses into the stairwells of their apartment blocks, or move into their dark and freezing basements. Some people are too old or too frail to move. Most of them will not survive.

At Hospital Number One, on the eastern side of the city, Serhiy Mudryi, a traumatologist, arrives for a two-day shift on 28 February. It is too dangerous to move around the city, so Mudryi sleeps at the hospital. His shift will end up lasting 40 days; he leaves only once, to collect his family and bring them back to the hospital, giving them beds in an empty ward.

Most of the other doctors flee, and soon there is just a skeleton team remaining at the hospital: Mudryi, two surgeons, an anaesthesiologist and a couple of nurses.

Arrivals are frequent, both soldiers and civilians. Before long, the ambulances stop running and patients arrive in private cars, driven by relatives frantic with worry. It takes a lot to shock a traumatologist with two decades of experience, but the minced flesh and crushed bodies Mudryi is seeing every day turn his stomach.

The doctors do not have the time for the complicated operations required to save limbs. "Post-operation, wounds require lots of care, there is a huge risk of infection and gangrene, and then dying from it," Mudryi explains to patients. Now, whenever there is a serious injury, the doctors amputate. The patient will lose an arm or a leg but have more chance of staying alive.

As the fighting shifts into the suburbs and more buildings come under fire, many people who live close to the hospital arrive and move into the hospital basements. One 92-year-old woman tells Mudryi she has come because she remembers hiding in the same place during the second world war.
Much, much, much more, including photos and maps, at the link!
The Financial Times reports about how Putin blundered his way into the re-invasion:
At about 1am on February 24 last year, Sergei Lavrov, Russia's foreign minister, received a troubling phone call.

After spending months building up a more than 100,000-strong invasion force on the border with Ukraine, Vladimir Putin had given the go-ahead to invade.

The decision caught Lavrov completely by surprise. Just days earlier, the Russian president had polled his security council for their opinions on recognising two separatist statelets in the Donbas, an industrial border region in Ukraine, at an excruciatingly awkward televised session — but had left them none the wiser about his true intentions.

Keeping Lavrov in the dark was not unusual for Putin, who tended to concentrate his foreign policy decision-making among a handful of close confidants, even when it undermined Russia's diplomatic efforts.

On this occasion, the phone call made Lavrov one of the very few people who had any knowledge of the plan ahead of time. The Kremlin's senior leadership all found out about the invasion only when they saw Putin declare a "special military operation" on television that morning.

Later that day, several dozen oligarchs gathered at the Kremlin for a meeting arranged only the day before, aware that the invasion would trigger western sanctions that could destroy their empires. "Everyone was completely losing it," says a person who attended the event.

While they waited, one of the oligarchs spied Lavrov exiting another meeting and pressed him for an explanation about why Putin had decided to invade. Lavrov had no answer: the officials he was there to see in the Kremlin had known less about it than he did.

Stunned, the oligarch asked Lavrov how Putin could have planned such an enormous invasion in such a tiny circle — so much so that most of the senior officials at the Kremlin, Russia's economic cabinet and its business elite had not believed it was even possible.

"He has three advisers," Lavrov replied, according to the oligarch. "Ivan the Terrible. Peter the Great. And Catherine the Great."

Under Putin's invasion plan, Russia's troops were to seize Kyiv within a matter of days in a brilliant, comparatively bloodless blitzkrieg.

Instead, the war has proved to be a quagmire of historic proportions for Russia. A year on, Putin's invasion has claimed well over 200,000 dead and injured among Russia's armed forces, according to US and European officials; depleted its stock of tanks, artillery and cruise missiles; and cut the country off from global financial markets and western supply chains.

Nor has the fighting in Ukraine brought Putin any closer to his vaguely defined goals of "demilitarising" and "de-Nazifying" Kyiv. Though Russia now controls 17 per cent of Ukraine's internationally recognised territory, it has abandoned half of the land it seized in the war's early weeks — including a humiliating retreat from Kherson, the only provincial capital under its control, just weeks after Putin attempted to annex it.

But as the war rumbles on with no end in sight, Putin has given no indication he intends to back down on his war efforts.

At his state-of-the-union address on Tuesday, Putin insisted the war was "about the very existence of our country" and said the west had forced him to invade Ukraine. "They're the ones who started the war. We are using force to stop it," he said.

Even as the huge cost of the invasion to Russia becomes apparent to him, Putin is more determined than ever to see it through, people who know him say.

"The idea was never for hundreds of thousands of people to die. It's all gone horribly wrong," a former senior Russian official says. With the initial plan in tatters, Putin is searching for new rationales to justify the war effort, insisting he had no choice but to pursue the invasion by any means necessary, current and former officials say.

"He tells people close to him, 'It turns out we were completely unprepared. The army is a mess. Our industry is a mess. But it's good that we found out about it this way, rather than when Nato invades us,'" the former official adds.

The Financial Times spoke to six longtime Putin confidants as well as people involved in Russia's war effort, and current and former senior officials in the west and Ukraine for this account of how Putin blundered his way into the invasion — then doubled down rather than admit his mistake. All of them spoke on the condition of anonymity to discuss sensitive matters.

The people who know Putin describe a leader who has become even more isolated since the start of the war. "Stalin was a villain, but a good manager, because he couldn't be lied to. But nobody can tell Putin the truth," says one. "People who don't trust anyone start trusting a very small number of people who lie to them."

Last year was not the first time Putin had withheld plans of an invasion from close advisers. When Russia seized Crimea from Ukraine in 2014, he did not inform his own security council — instead on one occasion gaming out the peninsula's annexation with his defence minister, Sergei Shoigu, and three top security officials all night until 7am.

Initially, the advisers urged Putin against sending troops into Crimea, according to a former senior Russian official and a former senior US official. "Putin said, 'This is a historic moment. If you don't agree with it, you can leave,'" the former Russian official recalls.

When the west, fearful of escalating tensions to a point of no return and jeopardising Europe's economic ties with Russia, responded with only a slap on the wrist, Putin was convinced he had made the right decision, according to several people who know the president.

"He really believes all the stuff he says about sacrality and Peter the Great. He thinks he will be remembered like Peter," a former senior official says.

Prewar predictions that Ukraine's army would collapse had largely been based on the assumption Russia's air force would quickly establish control of Ukraine's skies.

Instead, amid widespread disarray among the invaders, Russia's army shot down a number of its own aircraft in the early days of the invasion. As a result, it ran out of pilots with experience of combat operations involving ground forces who were also prepared to fly, according to two western officials and a Ukrainian official.

"It may not have been double digits, but it's more than one or two" Russian aircraft shot down by friendly fire, says the former senior US official. "There was a lot of fratricide."

He adds: "They may not have had pilots with combat experience who were willing to fly over Ukraine and risk their necks in that crazy environment."

Vadym Skibitsky, deputy head of Ukrainian military intelligence, adds: "It happened. From artillery units, from tanks, and we even saw it from our intercepts of their conversations. They shot down their own helicopters and they shot down their own planes."
Much, much, much more at the link!
Ukrainska Pravda provides us with an English language version of their interview with Major General Budanov:
Over the years, Kyrylo Budanov, who assumed his office in August 2020, has been the most media-friendly Chief of the Defence Intelligence of Ukraine (DIU).

His interviews are quoted in the news, and his forecasts are heeded.

Ukrainska Pravda met with Budanov on the day when Russian President Vladimir Putin was giving a two-hour speech to the Federal Assembly [Upper Chamber of Russian Parliament].

In an interview with UP, Kyrylo Budanov explained what Putin's announcement regarding suspending Russia's participation in the Strategic Arms Reduction Treaty means, shared why Russia is willing to end the war as soon as possible, what is happening to their offensive, and stated when to expect a Ukrainian counteroffensive.

Budanov also answered questions on conflicts in the Russian military leadership, the training of Wagnerites, Medvedchuk's [Ukrainian businessman and pro-Russian politician to whose daughter Putin is godfather – ed.] role in Moscow, and the cooperation of Putin's entourage with the DIU.

And, of course, we tried to figure out how the Chief of the DIU nearly became the Minister of Defence in January 2023.

"Russia cannot meet the needs of its armed forces with conventional weapons. Where is there room for high-tech ones?"

We are conducting this interview afterVladimir Putin's speech to the Federal Assembly. In your opinion, what was the ultimate goal of this address?

As we say, I will answer you with another question: what is the ultimate goal of everything they are doing now? Does it have a goal at all?

Look, is there an ultimate goal in their minds? Does it even exist in their heads? This is a purely rhetorical question.

This event had been announced in advance, so they couldn't avoid it.

They had to say something to their society on the anniversary of the great war [full-scale invasion of Ukraine]. By 'they' I mean a hypothetical Putin and his hypothetical associates addressing a hypothetical people in a hypothetical Russia. It had to be.

Since they did not find much reason to talk about anything specific, they had to just say something for the sake of saying it.

It was a two-hour historical tour to influence the perceptions of the Russian people. Wasn't it?

What did the lecture lead to? You see, a lecture should always lead the audience to something. And what did it lead to? Well, nothing. Here is the war, it is ongoing, and that's it. This is just a statement of fact.

– How do you understand Putin's statements thatRussia is suspending its participation in the Strategic Arms Reduction Treaty? What does this mean?

This is yet another attempt to manipulate and, unfortunately, to blackmail the world with nuclear weapons. I emphasise: not [only] Ukraine, but an effort to blackmail the world with nuclear weapons.

In the current situation, what may this mean? It means nothing. As the military-industrial complex of the Russian Federation is currently unable to produce advanced types of missile weapons in sufficient quantities, especially for strategic and tactical purposes.

So, if such a statement had been made somewhere even before 24 February 2022, then yes, one could seriously think about it.

However, this year of full-scale war has completely destroyed all of the international community's beliefs in the power of the military-industrial complex of the Russian Federation.

Can they produce, let's say, a prototype of something? For instance, a tactical missile weapon or a medium-range strategic one? After all, when they mention such things, it is usually about ballistic missiles with a range of 5,000 kilometres. Well, theoretically, they are capable of producing one or two.

What's next? If Russia engages in this kind of arms race, it has no theoretical chance of competing with the West. Russia cannot meet the needs of its armed forces with conventional weapons. Where is there room for high-tech ones?

"The Wagnerites act more decisively, although they mainly involve convicts"

Very often, society speaks of the Russian army in a derogatory way. However, people who fight on the front say that our enemy is quite fierce. What is your assessment of the Russian forces?

There can be no unanimous answer here, because it varies.

How do you compare a unit of Territorial Defence Forces drawn from conscripts with, for instance, an elite unit of airborne troops or a unit of the Wagner private military company?

Let's distinguish between the two. How does the Wagner Group fight and how do conscripts fight?

They are worlds apart. The Wagner Group is a head above in everything. Unfortunately, it is true.

Yes, their assault units are usually formed from convicts but they are commanded by professional enough former soldiers. And they act decisively enough, powerfully enough.

Despite their losses, they are advancing metre by metre.

And they are, in fact, the only ones who manage to do that.

What keeps them motivated?

A certain category of them which is not very big – those are the people who have been in the private military company for many years. They are even intrinsically motivated, they have a certain code, so to speak.

And 90% are convicts who are driven solely by fear. They have an order to advance – they advance. If a convict does not advance, he will simply be executed.

They do such things relatively publicly.

Unfortunately, it does work for them by these or other methods.

– How many Wagnerites are fighting against us at the moment?

Up to 10,000 are participating in ongoing combat actions.

Russia conscripted hundreds of thousands of people in the autumn…

They conscripted 316,000 people. And they have not stopped the mobilisation, I would like to point this out again. Covert mobilisation is going on as of now.

How do conscripts fight in comparison with the Wagner Group?

Without any specific training, with what they have been given, with what they have found somewhere. The outcome reflects this.

"Russia plans a small missile strike"

Do you know what is happening in the Kremlin on the eve of 24 February? Roughly speaking, is Putin shouting at everyone that he needs a quick result?

You know, he used to shout. It is more of a statement now: "I need at least something, at least to reach the administrative borders of Donetsk and Luhansk oblasts".

We are aware of the Russian Federation's love for symbolism when it comes to dates. And, obviously, a lot of Ukrainians are worried that Russia can perform some large-scale provocation on 24 February. Are they planning something unexpected?

Let's put it like this – there will be nothing extraordinary. Their usual efforts… They are planning a small missile strike.

Exactly on 24 February?

23 and 24, they have two dates. Believe me, we have already survived this more than 20 times.

They do combine their attacks differently now. They launch Shahed kamikaze drones from one direction, missiles fly from a different one, and then so-called reconnaissance balloons distract our air defence units…

Those are already pretty old methods. What new things can they have?

Then, I will ask about 14 January 2023. There were strikes in several districts of Kyiv that day. An air-raid alarm was activated only after missiles hit the city. Do I understand correctly that the Russians used some new weapons then?  

It was an experimental missile launch. As far as I remember, it was a 48N6DM from a S-300 [a missile that can hit targets up to 250 kilometres away and has the speed of 2.5 km/h – ed.].

They were deployed in Bryansk Oblast, and it was one of the first detected test launches. I am highlighting that these were test launches.

Can there be many such launches?

As of now, no. This is a problem of the Russian Federation, they are not capable of manufacturing many weapons at once, like a lot of other post-Soviet countries. One-offs – sure. But mass production is difficult for them.

In fact, things that are Russian-made there are only a body, an explosive, a piece of software. Everything else is definitely not made in Russia.

They have one programme – parallel imports. It is essentially legalised smuggling.

Relatively speaking, via Africa?

Yes. Most often, when you hold a chip, it is just a chip. When you install it in a single system, it becomes a weapon system. That is, controlling such elements is a hard task for the entire world.

You cannot control the fact that, for instance, company X bought some Japanese-made controllers in the Czech Republic and then sold them to a fourth country through some third one, and then they entered Russia from there without going through customs control. But all these processes were significantly complicated for them [Russia – ed.]. Therefore, they cannot produce weapons in sufficient numbers.

"The Russian Federation understands that the longer it goes on for, the bigger and faster the complete destruction will be"
Before recording the interview, we started talking about Russia's offensive. And you are somehow very calm when you are talking about this, as you do not see them having enough potential for a major offensive. Nevertheless, you said earlier that there would be fierce battles taking place in the spring. Well, what will happen in the spring, to be precise?

There will be a lot of events in the spring that will possibly be remarkable in this war.

Let's break down the story. What is Russia preparing for in the spring?

For carrying out task number one. That is, to reach the administrative borders of Donetsk and Luhansk oblasts by 31 March 2023 – it is another deadline of theirs.

Things are very hot now in Bakhmut. They are trying to enter the city from the east and north. What is the situation there now?

At the moment, [they are trying to enter] more from the north. I would rather call it suburban fighting. But in reality it is taking place more in private residential areas.

Do we have the strength to hold Bakhmut?

Well, as you can see, Bakhmut is still standing.

In Bakhmut, we are losing huge resources, primarily human ones. Can you explain to our readers why Bakhmut is strategically important for us?

(Getting annoyed) You know I was recently asked this question by a journalist. I interrupted the recording and told him what I thought. And I don't think it will violate any ethics.

Let's talk hypothetically, without reference to the country. For example, imagine that I am in this same position in France. And now someone's troops are storming, for example, the city of Marseille.

And you would say to me: "Why are we doing this? Let's just surrender the city, because many people have been killed there?"…

I am sorry, but I didn't ask why we were doing this. Please explain why Bakhmut is strategically important in this battle.

Every millimetre of our homeland is strategically important and this must be understood.

I have said it many times, and I am repeating to you again, that every metre of ground lost may save the lives of one or two soldiers. But you may lose ten soldiers trying to regain that one metre of ground.

So do we need to hold on to it because it will be much more difficult to regain it?

Classical tactics say that those who advance should have at least a three–fold advantage of forces and a seven-fold advantage in breakthrough areas.

Do I understand correctly that Russia is still trying to drag out the war for years?

No, absolutely not. Exactly the opposite. Russia is trying in every possible way to end the war as quickly as possible. But their military bloc is still trying to prove that "we can do it, let's limit ourselves to the Donetsk and Luhansk oblasts, but we will definitely do it and stop the war."

There are a certain number of people who believe that delaying the conflict plays into Russia's hands. And there are a certain number of people who believe that this benefits Ukraine.

The problem is that, in fact, although I hate all these muscovites, there are also some not-so-dumb guys and girls there. And they clearly understand that no one has time. The longer this goes on, the more and faster the complete destruction of the armed forces and the economy will come.

Every day Western partners agree to supply us with more and more new weapons: tanks, infantry fighting vehicles, artillery, and so on. Are these deliveries already underway?

Yes, they really are.

From what is already here and what is to come to Ukraine, do we have enough for a counteroffensive?

(Smiles) A provocative question. This is exactly what we need for successful actions against the invader. Do we need more weapons? Yes, we do.

Everyone understands this, and actually, they talk about it quite frankly.

You said earlier that the counteroffensive is planned for the spring. Is everything going according to plan?

Give or take, yes.

"I'm prepared to assist Prigozhin and Shoigu to destroy each other"
We were just talking about Wagner mercenaries. A public conflict between Yevgeny Prigozhin, the owner of the Wagner Group, and the Russian Minister of Defence Sergey Shoigu has been unfolding over the last couple of weeks. What does this conflict mean for us?

This is definitely to our advantage, let's just say, in any case. The more quarrels and serious conflicts they have within the system, the faster our victory will come.

So let them fight?

Absolutely. And I am ready to help both at the same time. Only for them to destroy each other (smiles).

In a previous interview, we talked in detail about Surovikin. He was responsible for the heavy bombardment of our power grid, and you described him as a very violent man. But it so happened that he was ousted, and Gerasimov took Surovikin's place. What happened there?

This is another such example of their internal struggle.

This process started in the autumn. Then Gerasimov was actually ousted, although he was second in command after Shoigu. Gerasimov began to look for ways to push Surovikin out.

And closer to winter, he began, I am not afraid to use such an expression, a "special operation" against him.

This included: conducting checks and inspections, setting up commissions and communicating these results in the correct form to the top leadership of the Russian Federation.

They painted a picture that Kherson was lost solely because of Mr Surovikin. It was solely because of Mr Surovikin that the Russian Federation suffered terrible losses. Solely because of him, there were problems of drug addiction and alcoholism in the army.

Well, there were many such examples. In my opinion, the only thing that they really correctly charged him with was an abnormal consumption of missile stocks.

In fact, these were brought to almost zero in all categories of missile weapons. In short, this is how Gerasimov regained his position.
Much, much, much more at the link!
One year ago I wrote the following:
This appears to be a full scale invasion, not merely a reinforcement of the occupation of eastern Ukraine. Unlike 2014, the Ukrainians are far better prepared. They have far better capabilities. They have 8 years of combat experience in holding off further Russian incursions. I do not know, however, if they can withstand a full fledged Russian invasion that intends to take and hold Ukraine. I am in complete agreement with the assessment that without significantly more assistance, the Ukrainians need to adopt an Unconventional Warfare approach rather than meet the Russians head on. They need to draw the Russians into the cities and turn this into a three block at a time war. To do that, the Ukrainians will have to be willing to absorb significant casualties.

Putin seems to have decided to go all in. The discussion of whether he is physically and/or mentally ill are irrelevant at this point. I think it is far more likely that he has simply spent every day for the past 30 years being consumed by his belief that the fall of the Soviet Union and the diminution of Russia was solely the fault of the US and its lackeys in the EU and NATO. And that after forty years of stewing over this belief it has finally consumed him.

So now we wait. We wait to see what Putin does. We wait to see what the coming dawn in Ukraine brings. We wait to see what President Biden and our EU and NATO allies are willing to do and able to do in response.

If you're the religious type, say a prayer for the Ukrainians tonight. If you're not just keep good thoughts. This is going to get far, far, far worse before it gets better.
Two nights later, when I told Cole I'd do a nightly update for as long as it takes, I wrote:
The positive signs I'm seeing are:

The Ukrainians appear to be very motivated, for obvious reasons.
Zelenskyy has risen to the occasion. As have the Klitschko brothers and other Ukrainian leaders, elites, and notables.
The Ukrainian military is performing well so far.
The Snake Island defenders and the retaking of the airport outside of Kyiv are going to be huge for military and civilian morale.
As is the MiG 29 pilot or pilots flying sorties over Kyiv and now known as The Ghost of Kyiv.
As of now, based on numbers from the Ukrainian Ministry of Defense, the Ukrainians are inflicting almost 8 killed in action (KIA) on the Russians for every Ukrainian KIA. This too will be a big morale booster for the Ukrainians.
Russian troops, including at least one whole unit, are surrendering. Again a major morale booster.

My concerns:

Putin has committed only half of his forces so far. He still has plenty of reserves to throw at Ukraine.
He has also been much more restrained than expected in use of AirPower, his missiles, and cyber warfare.
I would very much like to know why he has held back.
Fortunately the positives have held up for the Ukrainians and the Russian negatives have gotten more negative as each day goes by.
Washington, DC:
White House fact sheet: US has committed more than $30.4 billion in security assistance to Ukraine under Biden, including about $29.8 billion since the start of Russia's all-out invasion on February 24, 2022.

Here's a comprehensive list of US security assistance sent to Kyiv: pic.twitter.com/y0iwxIaWJO

— Christopher Miller (@ChristopherJM) February 23, 2023
Vienna – This is how it's done:
Finally someone at the OSCE parliamentary assembly in Vienna speaks up on the presence of delegates from #Russia. Kudos to the delegate from #Latvia, Rihards Kols. #Ukraine pic.twitter.com/a95vAxsN6y

— Rikard Jozwiak (@RikardJozwiak) February 23, 2023
That's enough for tonight.
Your daily Patron!
During the past year, the 🇷🇺 launched almost 5,000 missiles and 3,500 air strikes. "Kyiv in 3 days", "Let's go to Berlin like our grandfathers", "Everyone will respect and fear us". But it's been a year since they became a laughingstock. So cruel and angry but a laughingstock. pic.twitter.com/cEi61yOodW

— Patron (@PatronDsns) February 23, 2023
If Ukraine had to choose one song to sing this night… « I'm still standing after all this time
Picking up the pieces of my life without you on my mind…
I'M STILL STANDING! Yeah-yeah-yeah » 🎶 @eltonofficial thank you for this song.

— Patron (@PatronDsns) February 23, 2023
And a new video from Patron's official TikTok:
The caption machine translates as:
One more thing and that's it 🤭 #песпатрон
Open thread!