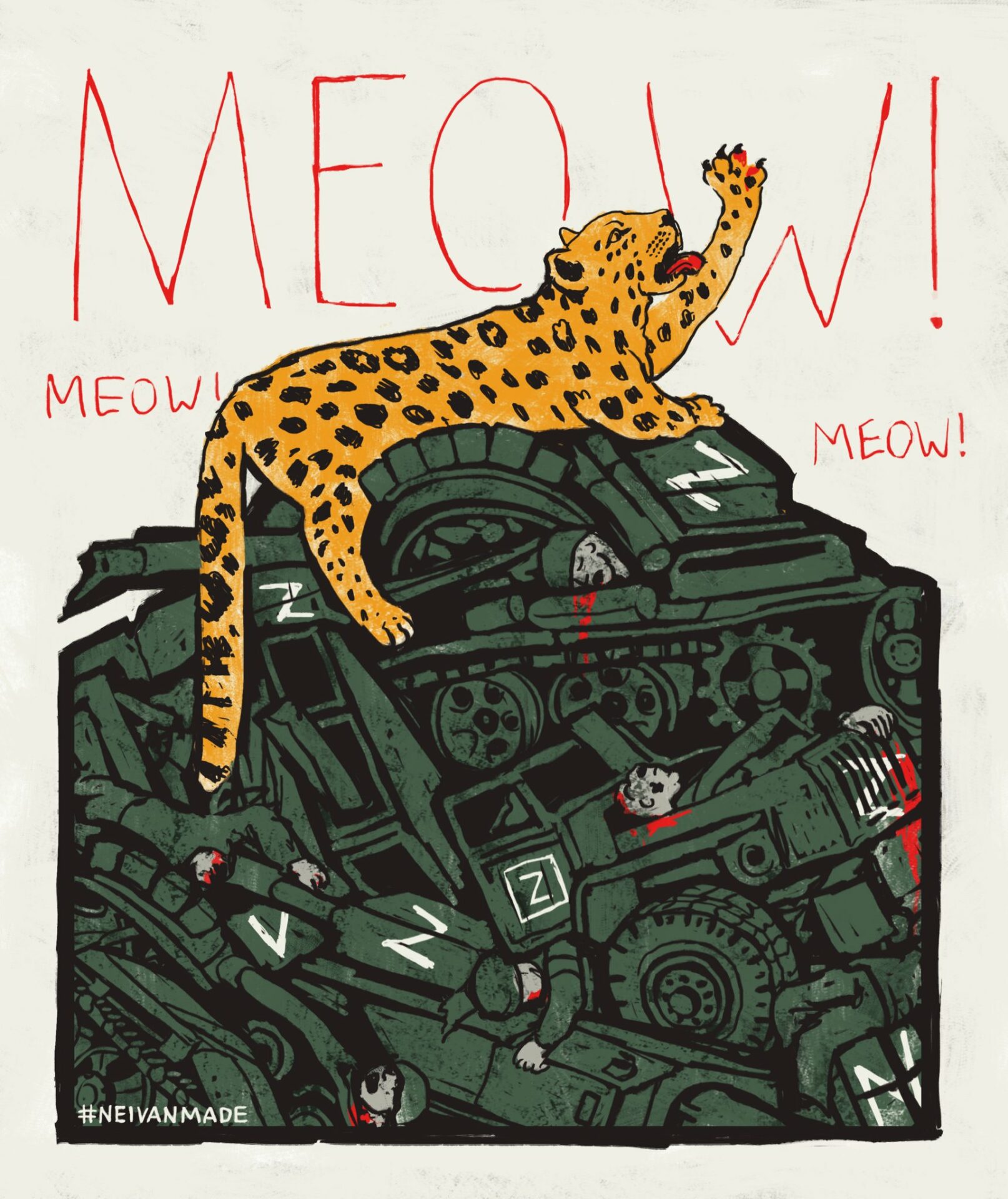 (Image by NEIVANMADE)
Here is President Zelenskyy's address from earlier today. Video below, English transcript after the jump:
Address by President of Ukraine Volodymyr Zelenskyy "February. The year of invincibility"

24 February 2023 – 08:03

Great People of Great Ukraine!

A year ago, on this day, from this very place, at about seven in the morning, I addressed you with a short statement. It lasted only 67 seconds. It contained the two most important things, then and now. That Russia started a full-scale war against us. And that we are strong. We are ready for anything. We will defeat everyone. Because we are Ukraine!

That is how February 24, 2022 began. The longest day of our lives. The hardest day of our modern history. We woke up early and haven't fallen asleep since.

Some people were afraid, some were shocked, some did not know what to say, but everyone felt what to do. There were traffic jams on the roads, but many people were going to get weapons. Queues were forming. Some people stood at the borders, but many went to military registration and enlistment offices, and territorial defense units.

We did not raise the white flag, and began to defend the blue and yellow. We were not afraid, we did not break down, we did not surrender. The symbol of this was the border guards of Zmiinyi Island and the route they told the Russian warship.

Our faith has grown stronger. Our morale has been reinforced. We endured the first day of a full-scale war. We didn't know what would happen tomorrow, but we realized for sure: every tomorrow is worth fighting for!

And we fought. And we fiercely fought for every day. And we endured the second day. And then – the third. Three days that we were predicted to last. They threatened that in 72 hours we would not exist. But we survived the fourth day. And then the fifth. And today we have been standing for exactly one year. And we still know: every tomorrow is worth fighting for!

I am grateful to all those who make our resistance possible. These are all our defenders. The Armed Forces of Ukraine. Ground Forces, our infantry and tank-men. Air and Naval Forces. Artillery, air defense, paratroopers, intelligence, border guards. The Special Operations Forces, the Security Service, the National Guard, the police, the territorial defense units – all our security and defense forces. Thanks to you, Ukraine stands. And we endured the furious month and the furious beginning of the war.

And then came spring. New attacks, new wounds, new pain. Everyone saw the true nature of our enemy. The shelling of the maternity hospital, the drama theater in Mariupol, Mykolaiv Regional State Administration, Svobody Square in Kharkiv, the train station in Kramatorsk. We saw Bucha, Irpin, Borodyanka. The whole world clearly realized what the Russian world really means. What Russia is capable of.

At the same time, the world saw what Ukraine is capable of. These are the new heroes. Defenders of Kyiv, defenders of Azovstal. New feats performed by entire cities. Kharkiv, Chernihiv, Mariupol, Kherson, Mykolaiv, Hostomel, Volnovakha, Bucha, Irpin, Okhtyrka. Hero Cities. The capitals of invincibility. New symbols. And with that, new assessments and forecasts for Ukraine.

The first month of the war. And the first turning point in the war. The first changes in the world's perception of Ukraine. It did not fall in three days. It stopped the second army of the world.

We took new hits every day, learned about new tragedies every day, but we endured thanks to those who gave it all they got every day. For the sake of others.

These are our medics who rescue wounded soldiers on the frontline, perform surgeries under fire, deliver babies in bomb shelters, and stay on duty for days and weeks. Like our rescuers and firefighters who pull people out of the rubble and fire 24 hours a day, 7 days a week. And our railroad workers who have been evacuating hundreds of thousands of Ukrainians since the beginning of the war without sleep or rest.

And then there were the first offensives, the first achievements, the first liberated territories. The first and not the last Chornobaivka. Expulsion of the occupiers from the Kyiv, Sumy, and Chernihiv regions. Our Stuhna. Vilkha. Our Neptune and the sinking Moskva cruiser. The first Ramstein. And the second ever Lend-Lease.

Ukraine has surprised the world. Ukraine has inspired the world. Ukraine has united the world. There are thousands of words to prove it, but a few will suffice. HIMARS, Patriot, Abrams, IRIS-T, Challenger, NASAMS, Leopard.

I thank all of our partners, allies and friends who have stood side by side with us throughout the year. I am glad that the international anti-Putin coalition has grown so much that it requires a separate address. I will deliver it shortly. Definitely.

I also thank our foreign policy army. Divisions of our diplomats, ambassadors, representatives in international organizations and institutions. All those who are fighting the occupiers with fire and sword of international law, achieving new sanctions and recognition of the terrorist state as a terrorist state.

The war changed the fate of many families. It rewrote the history of our families. It changed our customs and traditions. Grandfathers used to tell their grandchildren how they beat the Nazis. Now grandchildren tell their grandfathers how they beat the Rashists. Mothers and grandmothers used to knit scarves, now they weave camouflage nets. Children used to ask Santa for smartphones and gadgets, but now they give pocket money and raise money for our soldiers.

In fact, every Ukrainian has lost someone in the past year. A father, a son, a brother, a mother, a daughter, a sister. A loved one. A close friend, colleague, neighbor, acquaintance. My condolences.

Almost everyone has at least one contact in their phone who will never pick up the phone again. Will never answer a text message "How are you?". These simple words have acquired a new meaning during the year of war. Every day, millions of Ukrainians have written or spoken this question to their loved ones millions of times. Every day, someone did not receive an answer. Every day, the occupiers killed our relatives and friends.

We will not erase their names from the phone or from our own memory. We will never forget them. We will never forgive that. We will never rest until the Russian murderers face deserved punishment. The punishment of the International Tribunal. The judgment of God. Of our warriors. Or all of them together.

The verdict is obvious. 9 years ago, the neighbor became an aggressor. A year ago, the aggressor became an executioner, looter and terrorist. We have no doubt that they will be held accountable. We have no doubt that we will win.

In the summer we felt it. We passed 100 days of war. We received EU candidate status, returned Zmiinyi Island, heard the first "Bavovna" in Crimea, saw fireworks at the occupier's warehouses and Antonivskyi Bridge.

August was the first month when the occupiers did not take a single Ukrainian city. Threats and ultimata about denazification were replaced by gestures of goodwill. And we felt then that our victory was inevitable. It is close. It will come.

And then came the autumn. And our counteroffensive. The liberation of Izyum, Balakliya, Kupyansk, Lyman, the Kherson region and the city of Kherson. We saw how people there met our military. How they cherished the Ukrainian flag. How they were waiting and returned to Ukraine.

I want to address those who are still waiting. Our citizens who are now under temporary occupation. Ukraine has not abandoned you, has not forgotten about you, has not given up on you. One way or another, we will liberate all our lands. We will do everything for Ukraine to return. And to all those who are now forced to stay abroad, we will do everything for you to return to Ukraine. We will do everything to make it possible.

We will fight and bring back every single one of our captive soldiers. Only all this together will be a victory.

We can see it even in the dark. Despite the constant massive missile attacks and power outages. We see the light of this victory.

In their memories of their first feelings on February 24, 2022, people mention shock, pain, and uncertainty. A year after the full-scale invasion, the faith in victory is 95%. The main emotion we feel when we think about Ukraine is pride.

For every Ukrainian man, every Ukrainian woman. Pride for us. We have become one big army. We have become a team where someone finds, someone packs, someone brings, but everyone donates.

I am grateful to our people, grateful to our multi-million army of volunteers and citizens who do care, who can collect and get everything necessary.

We have become one. Our journalists and media are a united front fighting against lies and panic.

We have become one family. There are no more strangers among us. Ukrainians today are all fellows. Ukrainians have sheltered Ukrainians, opened their homes and hearts to those who were forced to flee the war.

We withstand all threats, shelling, cluster bombs, cruise missiles, kamikaze drones, blackouts, and cold. We are stronger than that.

It was a year of resilience. A year of care. A year of bravery. A year of pain. A year of hope. A year of endurance. A year of unity.

The year of invincibility. The furious year of invincibility.

Its main result is that we endured. We were not defeated. And we will do everything to gain victory this year!

Glory to Ukraine!
Here is former NAVDEVGRU Squadron Leader Chuck Pfarrer's most recent assessments of the situations in Bakhmut (newest first), Kreminna, and
BAKHMUT /2320 UTC 24 FEB/ Heavy fighting is ongoing S of the M-03 HWY between Dubovo-Vasylivka and Pidhorodne. RU advances on this axis have been made at the expense of heavy losses of men and equipment. UKR air defense reports downing a Russian Mi-24 attack helicopter. pic.twitter.com/1Mln9I0BNB

— Chuck Pfarrer | Indications & Warnings | (@ChuckPfarrer) February 24, 2023
BAKHMUT /1630 UTC 24 FEB/ RU has captured the village of Berkhivka at the critical junction of the M-03 and T-05-13 HWYs N of Bakhmut. Incremental but steady progress is being made by RU forces against Bakhmut's Lines of Communication and Supply (LOCS). pic.twitter.com/DAkbiyiCB4

— Chuck Pfarrer | Indications & Warnings | (@ChuckPfarrer) February 24, 2023
KREMINNA /1600 UTC 24 FEB/ After a day of calm [23 FEB], RU forces resumed offensive ops in the Kerson area. UKR repelled an attack at Dibrova. RU conducted an airstrike against Serebryansk Forestry, and at Bilohorvika in support of an offensive: this attack was repelled. pic.twitter.com/1YRWwucZB0

— Chuck Pfarrer | Indications & Warnings | (@ChuckPfarrer) February 24, 2023
Bakhmut:
Make it hot!
Ну гарно ж😍

Бійці 93-ої ОМБр «Холодний Яр» насипають окупантам у Бахмуті. І з допомогою БМП-2 легесенько пояснюють вагнерівцям, які ховалися у будівлі, що для них ліпше було би залишатися у в'язницях на росії🤣

Відео: 93-тя ОМБр pic.twitter.com/vxTIr3yUUg

— Повернись живим (@BackAndAlive) February 23, 2023
The tweet translates as:
Well, good Fighters of the 93rd OMBr "Kholodniy Yar" attack the occupiers in Bakhmut. And with the help of BMP-2, they lightly explain to the Wagnerites, who were hiding in the building, that it would be better for them to stay in prisons in Russia Video: 93rd OMBr
Here's a longer version:
💀☠
Orc hunting continues in #Bakhmut🔥🔥 pic.twitter.com/MoVM1xhk2y

— АЗОВ South (@Azovsouth) February 19, 2023
Update from Bakhmut, 24 February – Kiyanyn. pic.twitter.com/htCYCCCNzs

— Dmitri (@wartranslated) February 24, 2023
Les Echos's correspondent in Ukraine, Guillaume Ptak, has published some video reporting via his twitter feed. Here's a bit of it:
Both Soledar (which has since been captured by the Russians) and the nearby town of Siversk were already subjected to constant shelling as early as last summer. In this June clip, @brycewilsonAU and I are leaving the town after narrowly escaping a volley of GRAD rockets. pic.twitter.com/wr0Cx1s4J3

— Guillaume Ptak (@guillaume_ptak) February 21, 2023
After narrowly avoiding an incoming artillery shell, we headed towards Borova, which had been abandoned by the Russians on October, 3rd. There, we met Kanzler, a Ukrainian soldier manning a Polish-made tank, who shared his feelings about the situation in the area. pic.twitter.com/HVvsg8aosl

— Guillaume Ptak (@guillaume_ptak) February 21, 2023
The small town of Bakhmut, in the oblast of Donetsk, has become a focal point of the fighting. When @francisjfarrell, @PDocumentarians, @madeleinetkelly and I came to the city in late December, small arms fire and shelling could be heard from the center. pic.twitter.com/iwoRPfDXCw

— Guillaume Ptak (@guillaume_ptak) February 21, 2023
In recent weeks, Russian missile strikes on cities further from the frontline have been intensifying, killing and maiming civilians. Here, the aftermath of a strike on the center of Kramatorsk that – thankfully – didn't kill anyone, but damaged residential buildings. pic.twitter.com/Q6TehSAsIQ

— Guillaume Ptak (@guillaume_ptak) February 21, 2023
More at the link!
Touch not a cat bot a glove!
The first Leopards already in Ukraine
🇵🇱🇵🇱🇵🇱

— Illia Ponomarenko 🇺🇦 (@IAPonomarenko) February 24, 2023
Leopard 2 tanks are already in #Ukraine. Together with Prime Minister @MorawieckiM, we met the first tanks provided by partners. We are grateful to Poland 🇵🇱 for the decisive steps that bring 🇺🇦 closer to victory. We are waiting for the expansion of the tank coalition. pic.twitter.com/Brs2iuNelt

— Denys Shmyhal (@Denys_Shmyhal) February 24, 2023
Estonia:
Happy Independence Day to our Ally Estonia 🇪🇪!

🇪🇪 is a key🗝️ Ally & major contributor to #NATO's collective security.

Watch the video📽️to learn more about🇪🇪⤵️#StrongerTogether #WeAreNATO@estNATO @MoD_Estonia @MFAestonia pic.twitter.com/J0ncQPPhX0

— NATO Joint Force Command Brunssum – JFCBS (@NATOJFCBS) February 24, 2023
This may provide some clarity to the whisperings about the PRC providing military support in the form of weaponry or other military material to Russia:
In a further step, Bingo reportedly plans to deliver components and know-how to Russia so that the country can produce around 100 ZT-180 drones a month on its own

— Dmitri Alperovitch (@DAlperovitch) February 23, 2023
Plans had apparently already been made by Chinese companies to falsify shipping documents to make the parts for military aircraft appear to be replacement parts for civilian aviation

— Dmitri Alperovitch (@DAlperovitch) February 23, 2023
Speaking of the PRC:
Source: https://t.co/vhlGLbLG8z

— Tatarigami_UA (@Tatarigami_UA) February 24, 2023
China's Position on the Political Settlement of the Ukraine Crisis

2023-02-24 09:00

1. Respecting the sovereignty of all countries. Universally recognized international law, including the purposes and principles of the United Nations Charter, must be strictly observed. The sovereignty, independence and territorial integrity of all countries must be effectively upheld. All countries, big or small, strong or weak, rich or poor, are equal members of the international community. All parties should jointly uphold the basic norms governing international relations and defend international fairness and justice. Equal and uniform application of international law should be promoted, while double standards must be rejected.

2. Abandoning the Cold War mentality. The security of a country should not be pursued at the expense of others. The security of a region should not be achieved by strengthening or expanding military blocs. The legitimate security interests and concerns of all countries must be taken seriously and addressed properly. There is no simple solution to a complex issue. All parties should, following the vision of common, comprehensive, cooperative and sustainable security and bearing in mind the long-term peace and stability of the world, help forge a balanced, effective and sustainable European security architecture. All parties should oppose the pursuit of one's own security at the cost of others' security, prevent bloc confrontation, and work together for peace and stability on the Eurasian Continent.

3. Ceasing hostilities. Conflict and war benefit no one. All parties must stay rational and exercise restraint, avoid fanning the flames and aggravating tensions, and prevent the crisis from deteriorating further or even spiraling out of control. All parties should support Russia and Ukraine in working in the same direction and resuming direct dialogue as quickly as possible, so as to gradually deescalate the situation and ultimately reach a comprehensive ceasefire.

4. Resuming peace talks. Dialogue and negotiation are the only viable solution to the Ukraine crisis. All efforts conducive to the peaceful settlement of the crisis must be encouraged and supported. The international community should stay committed to the right approach of promoting talks for peace, help parties to the conflict open the door to a political settlement as soon as possible, and create conditions and platforms for the resumption of negotiation. China will continue to play a constructive role in this regard.

5. Resolving the humanitarian crisis. All measures conducive to easing the humanitarian crisis must be encouraged and supported. Humanitarian operations should follow the principles of neutrality and impartiality, and humanitarian issues should not be politicized. The safety of civilians must be effectively protected, and humanitarian corridors should be set up for the evacuation of civilians from conflict zones. Efforts are needed to increase humanitarian assistance to relevant areas, improve humanitarian conditions, and provide rapid, safe and unimpeded humanitarian access, with a view to preventing a humanitarian crisis on a larger scale. The UN should be supported in playing a coordinating role in channeling humanitarian aid to conflict zones.

6. Protecting civilians and prisoners of war (POWs). Parties to the conflict should strictly abide by international humanitarian law, avoid attacking civilians or civilian facilities, protect women, children and other victims of the conflict, and respect the basic rights of POWs. China supports the exchange of POWs between Russia and Ukraine, and calls on all parties to create more favorable conditions for this purpose.

7. Keeping nuclear power plants safe. China opposes armed attacks against nuclear power plants or other peaceful nuclear facilities, and calls on all parties to comply with international law including the Convention on Nuclear Safety (CNS) and resolutely avoid man-made nuclear accidents. China supports the International Atomic Energy Agency (IAEA) in playing a constructive role in promoting the safety and security of peaceful nuclear facilities.

8. Reducing strategic risks. Nuclear weapons must not be used and nuclear wars must not be fought. The threat or use of nuclear weapons should be opposed. Nuclear proliferation must be prevented and nuclear crisis avoided. China opposes the research, development and use of chemical and biological weapons by any country under any circumstances.

9. Facilitating grain exports. All parties need to implement the Black Sea Grain Initiative signed by Russia, Türkiye, Ukraine and the UN fully and effectively in a balanced manner, and support the UN in playing an important role in this regard. The cooperation initiative on global food security proposed by China provides a feasible solution to the global food crisis.

10. Stopping unilateral sanctions. Unilateral sanctions and maximum pressure cannot solve the issue; they only create new problems. China opposes unilateral sanctions unauthorized by the UN Security Council. Relevant countries should stop abusing unilateral sanctions and "long-arm jurisdiction" against other countries, so as to do their share in deescalating the Ukraine crisis and create conditions for developing countries to grow their economies and better the lives of their people.

11. Keeping industrial and supply chains stable. All parties should earnestly maintain the existing world economic system and oppose using the world economy as a tool or weapon for political purposes. Joint efforts are needed to mitigate the spillovers of the crisis and prevent it from disrupting international cooperation in energy, finance, food trade and transportation and undermining the global economic recovery.

12. Promoting post-conflict reconstruction. The international community needs to take measures to support post-conflict reconstruction in conflict zones. China stands ready to provide assistance and play a constructive role in this endeavor.
This is all playing out as the US and its allies and partners are leveling new sanctions on this aiding Russia. The Financial Times has the details:
Ukraine's western allies have warned of "severe costs" for countries helping Russia evade sanctions as concern mounts about China's role in Moscow's war economy and the conflict enters its second year.

Washington announced fresh sanctions on Friday against more than 200 entities "across Europe, Asia and the Middle East that are supporting Russia's war effort" and banned five Chinese groups from acquiring US technology.

In co-ordinated steps ahead of a virtual G7 meeting with Ukraine's president Volodymyr Zelenskyy, the UK also unveiled sanctions, while the EU and Japan finalised their own trade bans.

"We call on third countries or other international actors who seek to evade or undermine our measures to cease providing material support to Russia's war, or face severe costs," the G7 leaders said after the summit.

"To deter this activity around the world, we are taking actions against third-country actors materially supporting Russia's war in Ukraine."
Much more at the link!
Meduza has some new reporting on Prigozhin:
Evgeny Prigozhin, the ex-convict who founded Russia's now-infamous Wagner Group back in 2014, spent much of the last week publicly blasting Russia's Defense Ministry for failing to provide ammunition to his mercenary company. Then, on Thursday, he reported that his outbursts had worked. Despite Prigozhin's claims that the issue had life-or-death consequences for Russian fighters, Russia's state-controlled news outlets devoted almost no coverage to the dispute. According to a new report, that was no accident: citing sources from the Kremlin-controlled media and the Russian Defense Ministry, the independent outlet Verstka reported Thursday that state journalists have been ordered not to quote Prigozhin unless absolutely necessary — and that the Putin administration has a smear campaign against the Wagner boss ready to launch if needed.

A number of Russian state-backed media outlets have been instructed not to quote statements made by Wagner mercenary group founder Evgeny Prigozhin concerning "non-neutral topics," the independent media outlet Verstka reported on Thursday, citing a source from one of the agencies. In addition, according to a source close to the Russian Defense Ministry, the Russian authorities have prepared a "media smear campaign" against Prigozhin, but have decided not to launch it for the time being.

An analysis by Verstka's journalists found that the Kremlin-controlled news agencies RIA Novosti, TASS, and Interfax have indeed stopped quoting Prigozhin's statements in recent weeks, with the exception of statements directly related to Wagner Group's battlefield activity.

"In a meeting this week, the higher-ups repeated to us that the block on Prigozhin that we put in place in January remains in effect," said the source from one state outlet. "We're banned from mentioning him unless it's absolutely necessary, we're banned from quoting him, except in cases where he's the first person to report news about successes on the front line. For example, if they captured Soledar or reached the outskirts of Bakhmut." The source close to the Defense Ministry confirmed that the ban was imposed in mid-January.
More at the link.
And speaking of Prigozhin, The Financial Times reports that he's got big troubles:
The Russian mercenary boss Yevgeny Prigozhin often brags about his supposedly fearless exploits on Ukraine's battlefields, but his most reckless manoeuvre may have been at home: flying too high in the Kremlin.

For months, the founder of the Wagner Group has been sparring with Russia's military over a series of calamitous defeats in Ukraine, in what has become an epic Moscow power struggle over the war.

But in recent days Prigozhin has resorted to increasingly angry rants, a sign of what Kremlin watchers see as his waning clout in Vladimir Putin's inner circle as the defence establishment closes ranks and reasserts its dominance.

Prigozhin this week was left to cry "treason" over the military allegedly starving his men of ammunition, ending his prison recruitment campaign and stifling praise of Wagner in state media. "There's a risk he could end up like Icarus," a person close to Prigozhin said.

His notoriety has in large part arisen out of the ham-fisted execution of Russia's invasion by Valery Gerasimov, chief of Russia's general staff, and defence minister Sergei Shoigu.

When rare victories came — such as capturing the town of Soledar — Prigozhin crowed that it was the achievement of Wagner recruits, much to the annoyance of the military leadership.

Among the hardliners, Prigozhin was a natural leader. His longstanding ties to Putin date back to when the then deputy mayor of St Petersburg spent evenings at his restaurant in the 1990s. It had earned Prigozhin a direct line to the Russian president, according to two people who know them.

His ascent within the Kremlin came with Putin's personal approval after the president realised the scale of the army's disastrous performance in Ukraine under defence minister Shoigu, said the person close to Prigozhin.

The limelight emboldened Prigozhin so much that he set his sights on ousting Shoigu, one of Putin's oldest allies, according to the Wagner leader's associate and two senior western officials.

"Putin started doubting victory because he realised the generals can't be trusted. So he started seeking out other opinions," the person close to Prigozhin said. "If Shoigu goes, we win. Shoigu is our biggest enemy, not the Ukrainians."

"Prigozhin had become his own centre of power. It wasn't clear who he or Wagner reports to. And Prigozhin can call Putin directly, which most Russian generals cannot do. That was always a strength he had," said Rob Lee, a senior fellow at the Foreign Policy Research Institute, who studies the Russian armed forces. Prigozhin's willingness to take on Russia's top brass won him allies among leaders of other irregular forces who shared his hatred of Shoigu and Gerasimov, the architect of the army's failed blitzkrieg on Kyiv last February, according to two people who know him and two western officials.

But when Putin put Gerasimov in sole charge of operations in January, the balance of power changed.
More at the link!
That's enough for tonight.
Your daily Patron!
There's no new Patron tweets or TikTok videos tonight, so here's some adjacent material to close things out:
The head of the Ukrainian Secret Intelligence, Kyrylo Budanov, about the cat Gunter, who survived a Russian missile attack. Gunter lives on a intelligence base.

This cat that knows all state secrets. pic.twitter.com/NCg44tMcLx

— UkrARMY cats & dogs (@UAarmy_animals) February 24, 2023
Main medic#Ukraine #UkraineRussiaWar #UkraineWar #Leopard #CatsOfTwitter #CatsOnTwitter #RussiaisATerroistState #UkraineWarNews #UAarmy #ukrainecounteroffensive #Zelensky #UkraineRussiaWar️ pic.twitter.com/jmgUqWihPE

— UkrARMY cats & dogs (@UAarmy_animals) February 24, 2023
Relax ☺️#Ukraine #UkraineRussiaWar #UkraineWar #Leopard #CatsOfTwitter #CatsOnTwitter #RussiaisATerroistState #UkraineWarNews #UAarmy #ukrainecounteroffensive #Zelensky #UkraineRussiaWar️ pic.twitter.com/i9JuYCwJO6

— UkrARMY cats & dogs (@UAarmy_animals) February 23, 2023
Ukrainian soldier about cat: I found love.#Ukraine #UkraineRussiaWar #UkraineWar #Leopard #CatsOfTwitter #CatsOnTwitter #RussiaisATerroistState #UkraineWarNews #UAarmy #ukrainecounteroffensive #Zelensky #UkraineRussiaWar️ pic.twitter.com/pqXveROjB5

— UkrARMY cats & dogs (@UAarmy_animals) February 21, 2023
Dear friends, I constantly feed abandoned animals, and I also distribute feed to my friends – soldiers, so that they feed animals in the front-line territory in Donbas.

If you want to donate for food: PayPal: [email protected]

And: https://t.co/zVitdvVelp pic.twitter.com/tAsw9yrpsn

— UkrARMY cats & dogs (@UAarmy_animals) February 22, 2023
Open thread!