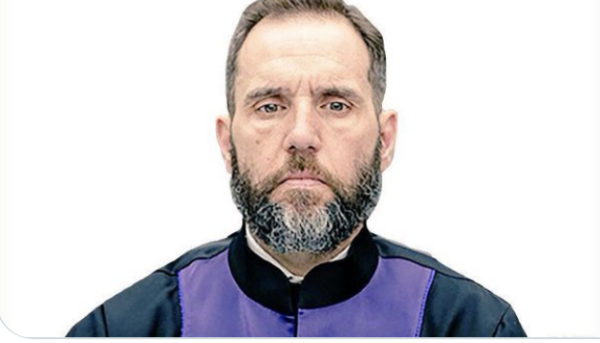 Friday came a day late this week.  Or, to be more precise, the hoped-for news dump came today instead of yesterday.  Okay, several hours late, at least – this was apparently unveiled at some point on Friday night.
🚨🚨🚨BREAKING: EXTRAORDINARY STORY. Judge Beryl Howell has released her December 28th ruling in the Scott Perry speech or debate clause case. It had been under seal until tonight. https://t.co/Ta51UYh5sK

— Mueller, She Wrote (@MuellerSheWrote) February 25, 2023
In December, Chief Judge Beryl Howell rejected Perry's bid to shield thousands of emails from Jan. 6 investigators  (Politico)
The chief judge of the federal district court in Washington, D.C., secretly rejected Rep. Scott Perry's bid to shield more than 2,000 messages relevant to Justice Department investigators probing efforts by Donald Trump to subvert the 2020 election, according to newly unsealed court filings.

U.S. District Court Chief Judge Beryl Howell unsealed her extraordinary Dec. 28 decision on Friday evening, determining that the "powerful public interest" in seeing the previously secret opinion outweighed the need for continued secrecy.

Perry, a Republican lawmaker from Pennsylvania, had urged Howell to block the Justice Department from accessing 2,219 documents stored on his phone, which was seized and imaged by the FBI last August as part of the 2020 election investigation.
He claimed that the records reflected his efforts to research potential legislative decisions — like whether to vote to challenge election results on Jan. 6, 2021 — and therefore should be protected from disclosure by the Constitution's speech or debate clause, a provision meant to safeguard lawmakers from pressure or intimidation by the executive branch.

But Howell said Perry had taken an "astonishing view" of his immunity that would effectively put members of Congress above the law and free of political consequences for their actions. She ordered him to disclose 2,055 of the documents he sought to withhold — including all 960 of his contacts with members of the executive branch, which she said are entitled to no constitutional protection at all. Some 161 items, she said, were proper to withhold.

"What is plain is the clause does not shield Rep. Perry's random musings with private individuals touting an expertise in cybersecurity or political discussions with attorneys from a presidential campaign, or with state legislators concerning hearings before them about possible local election fraud or actions they could take to challenge election results in Pennsylvania," Howell wrote in her 51-page December opinion.
Why was that unsealed on Friday night?  I have no idea.  Maybe because there was a hearing on Thursday?
But it's not all great news; it's just a peak behind the curtain,
Thus far, however, investigators have not had access to any of the records because, last month, a three-judge panel of the D.C. Circuit Court of Appeals agreed to stay Howell's ruling. On Thursday, those judges heard both public and private arguments about the dispute. The stay remains in place as the appeals court considers whether to leave Howell's ruling in place, set it aside or modify it in some way.

The judges — Karen Henderson, Gregory Katsas and Neomi Rao — appeared skeptical of the Justice Department's position and the breadth of Howell's ruling, although they discussed her stance only in broad strokes and the details of her opinions remained under seal until Friday.

But the appeals panel's ultimate leanings remained unclear at the conclusion of the public argument session Thursday. The appeals judges seemed most concerned by Howell's determination that Perry's outreach about Jan. 6 was not protected by the speech or debate clause because he was not acting with formal House approval.

That determination was a centerpiece of Howell's ruling, which she said was rooted in longstanding precedent.
It's not clear to me that the 3-judge panel has ruled, and it's not clear to me when they will issue a ruling.  Even when they do, it could go to the D.C. Circuit or possibly go straight to the so-called Supreme Court.
The three-judge appeals court panel decision on Perry's bid for speech-or-debate protection for his communications may not be the final word. Either the Justice Department or Perry could ask the full bench of the D.C. Circuit to take up the issue or seek to get the Supreme Court to intervene.
The wheels of justice grind so fucking slowly.  Let's hope that they do indeed, grind exceedingly fine.
This is the rejection that led to Perry appealing. The appellate court heard arguments yesterday – and during that hearing it was revealed the reason Howell denied Perry's Speech or Debate privilege was because his outreach was not part of an official legislative inquiry! https://t.co/iwfF8EL39f

— Mueller, She Wrote (@MuellerSheWrote) February 25, 2023
I keep hearing that Chief Judge Beryl Howell will rotate out soon, and that some other judge will pick up in her place, at least for these cases.  If someone can shed some light on that process, I would greatly appreciate it.
Surely if we had more judges at every level, the slow-walking of time-sensitive cases would not be quite so rewarding to the people who want things to move as slowly as possible?