🧵this is a fascinating defense of the Hays Code to me, a person who has thought extensively about how the Hays Code changed the texture of life in America across multiple decades

(preface: I am not in favor of the Hays Code and these ppl are nuts) 1/ https://t.co/GcY1rtpNGa

— Katharine Coldiron 🌟 (@ferrifrigida) February 13, 2023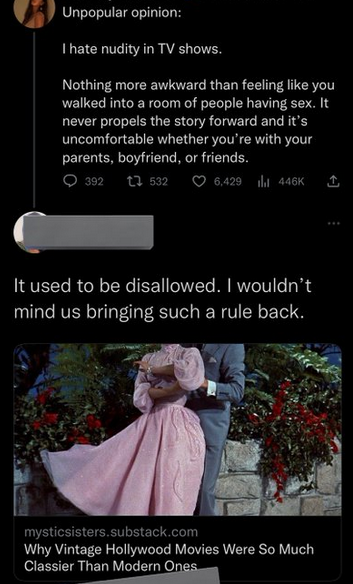 As I understand it, there's a subset of young people on line who, having grown up between the market-pornification of everything and the explosion of #MeToo moments showing the ever-present risk of exploitation, would just as soon never see anything remotely sexual in their public media, ever. (Some of the examples online are pretty bizarre, but that's the nature of Very Online discourse.) And because every twitch in the zeitgeist can be twisted for profit, the individual quoted in the above tweet calling for a return to the Motion Picture Production Code of 1930, aka the Hays Code, has a glossy expensive website and print magazine funded by… well-known moral arbiter Peter 'I suck blood from young men to preserve my own youth, but in a sterile and strictly medical fashion' Thiel.
This is absolutely one of the weirder timelines. On the other hand, Katherine Coldiron's discussion is quite interesting, IMO:
pre-Code movies demonstrate that life and people in America really have not changed much; we're motivated by sex and money, we make bad decisions, we like to laugh, we work equal parts bc we have to and for the satisfaction of working 2/

in pre-Code movies, women work and have sex, people are cruel and weak, and things don't always work out okay at the end of the story. Sometimes they do. The stories make you think, and feel kinship with these long-dead actors, bc their struggles are not different 3/

There aren't many of these movies compared to the number of movies produced under the Hays Code and they're not easy to get hold of, but it's worth it, even when the movies aren't objectively good. This one changed my entire mindset, & set off years of thinking about the Code 4/ pic.twitter.com/6l4NiHry0W

— Katharine Coldiron 🌟 (@ferrifrigida) February 13, 2023

In brief, the Code set back the liberation of American thought for three decades at least. The point was to make movies acceptable to *everybody* – and the floor was naive housewives in the Midwest. by which I mean – the current floor for acceptability goes as low as 5/

the linoleum that covers pornography and snuff, so the *most* sophisticated viewers. the Code made the floor for acceptability the *least* sophisticated viewers. 6/

People who'd never seen a Black person in real life, for example. Or people who could not have explained the anatomy of the opposite sex. These are the viewers the Code was invented for – to keep them safe from anything on screen that would make them uncomfortable & 7/

keep them from going to the movies.

The homogenization of the movies over the next 30 years was a deliberate conservative/reactionary move; it was not a simulation of how life was really lived in America during those years. It was a fantasy. 8/
The ppl who invented & enforced the Hays Code either didn't think or didn't care about the mirror effect of cinema: what we see in the movies influences how we live our lives. That means American culture began to try & live the fantasy. 9/

Movies portrayed a repressed version of real life, and real life consequently aped that repression. That's (part of) why the 50s were so deeply repressed: 15 years of conditioning by the movies about The Way Life Should Be. 10/…

If you want only sanitized media, it's possible to live your life that way. But the full context of the Code is not about style or wholesomeness; it's about repression, for the *entire* audience, to the detriment of almost everyone, including the innocents. 12/

Just because distasteful things (and perfectly normal things [like suicide or divorce or, I dunno, interracial relationships]) were not allowed on screen under the Code doesn't mean they didn't happen. They did. And life was fucking difficult for the people who 13/

went through them, because there was no visible corollary in American media to make them feel less alone. The lack of diversity in film that persisted through the 1990s is a legacy of the Hays Code, as is widespread bigotry against LBGTQ+ people. 14/

I'm not exaggerating. The 30 years that the Hays Code was in place kept us, as a society, from recognizing that being gay was a normal, existing thing, that a percentage of society was gonna be gay no matter how we tried to pretend they didn't exist. 15/

Representation matters, as we all know (now), and the fact that representation of nearly anything but a fantasy of repressed straight white American life didn't appear on the screen for 30 damn years explains, somewhat, why we're only untangling basic human rights now. 17/

Apply that analysis to other elements the Code boxed in: people of color, independent women, "proper" morality…we ended up devaluing all but a narrow band of life. For decades.

Cinema is a mirror, not a window. Distort the mirror & you wind up with a distorted society. 18/

So yeah. I'm disgusted by anyone hankering for a return to the Hays Code. For a fantasy of "wholesome" life, you can watch Code movies, anytime. But don't hold that mirror up to me; I won't see myself in it. /end