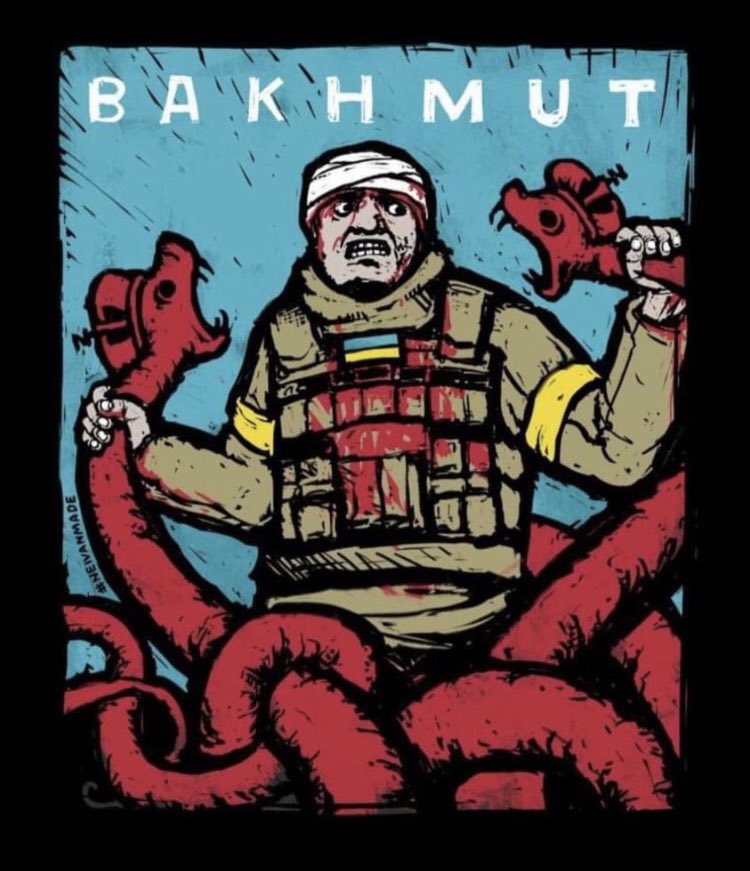 (Image by NEIVANMADE)
Here is President Zelenskyy's full press conference/interview with English subtitles from yesterday:
Here is President Zelenskyy's address from earlier today. Video below, English transcript after the jump:
Dear Ukrainians, I wish you health!

The tenth package of EU sanctions against Russia for starting the war was approved today.

The tenth and obviously not the last package.

Sanctions will continue to be introduced so that nothing remains of the potential of Russian aggression.

Now, new sanctions steps are in the tenth package, powerful, against the defense industry and the financial sector of the terrorist state and against the propagandists who drowned Russian society in lies and are trying to spread their lies to the whole world. They definitely won't succeed.

Our diplomats and the entire state are working to extend global and, in particular, European sanctions to the Russian nuclear industry, Rosatom, all those involved in the missile program and nuclear blackmail of the terrorist state. The partners – the United States, the UK – have already made relevant steps. We expect the appropriate steps from the European Union.

Of course, we will continue working on Ukraine's sanctions against Russian entities and all those who help them. The appropriate decisions will be made.

Our resolution, adopted at the UN General Assembly, gave a very good diplomatic impetus this week. The resolution on peace for Ukraine, on the territorial integrity of our state, and protection of international law against Russian aggression. In fact, we see that the essence of our Peace Formula is becoming the basis of specific international political and legal decisions, and the world majority supports them.

I thank each of the 141 states that supported our resolution. I thank every leader of the states and every nation who value freedom and international order equally with Ukraine.

Of course, every success of our diplomats, every foreign policy opportunity for our state, and every manifestation of world attention to Ukrainians is based on the resilience of the people of Ukraine, the resilience of our soldiers.

On the fact that Ukraine is strong and constantly getting stronger. The world loves the strong. And helps the brave.

The global center of strength and courage is now right here, in Ukraine, right in our people who defend our state. Who defend our land, our Donetsk region, our Luhansk region, all our lands, where very tough and painful battles continue. I thank each of our soldier, everyone who steadfastly, strongly, and bravely defends our positions in Donbas, destroys the enemy, and I thank you for such a powerful result in the east.

The result in the east, so that, consequently, we have the result in all other directions as well.

Today, I will honor the fighters of the 56th Separate Motorized Infantry Brigade and the 77th Separate Mobile Airborne Brigade for their heroism and effectiveness in the battles near Bakhmut. Well done, guys!

Gunners of the 55th Zaporizhzhia Sich brigade, marines of the 35th Separate Brigade named after Rear-Admiral Ostrogradsky, infantrymen of the 59th Separate Motorized Infantry Brigade named after Handziuk, and the 72nd Separate Brigade named after Black Zaporozhians, as well as paratroopers of the 79th Air Assault Brigade – all in Donbas – I thank you, guys, for the worthy repulse of the enemy!

I especially would like to thank today all servicemen of the Engineering and Aviation Service of the Air Force of the Armed Forces of Ukraine. All those who work on the ground, so that Ukraine wins in the sky.

Today is a professional holiday of our military aviation engineers.

These are people, whose expertise and reliability fully confirmed our ability to defend the sky. I thank everyone who makes this engineering aviation contribution to the approach of our victory!

Glory to everyone who is now in battle!

Thank you to everyone who helps defend Ukraine from Russian aggression!

Bright memory to all the heroes who gave their lives for us, for Ukraine!

Glory to Ukraine!
Here is former NAVDEVGRU Squadron Leader Chuck Pfarrer's most recent assessment of the situations in Kreminna, Vuhledar, and Bakhmut:
KREMINNA /1610 UTC 25 FEB/ UKR forces broke up a large RU assault south of Kreminna. 70 RU dead were left on the battlefield after the attacking force was defeated. UKR carried out 20 aviation strike missions & artillery/missile forces targeted RU troop concentrations. pic.twitter.com/g1ycTXLAcX

— Chuck Pfarrer | Indications & Warnings | (@ChuckPfarrer) February 25, 2023
VUHLEDAR /1650 UTC 25 FEB/ During 23-25 FEB, RU 155th Naval Infantry Brigade resumed probes against Vuhledar. These once again came to grief in the extensive minefields south of the urban area. Morale in the Russian unit is abysmal; a mutiny was reported earlier this week. pic.twitter.com/NsAejkOB5r

— Chuck Pfarrer | Indications & Warnings | (@ChuckPfarrer) February 25, 2023
BAKHMUT /1450 UTC 25 FEB/ RU has cut the M-03 HWY between Dubovo-Vasylivka & Pidhorodne. RU continues to sustain heavy losses in attacks S of the HWY. UKR air defense reports downing a RU Mi-24 helicopter [24 FEB], 2 'Lancet' loitering munitions and an 'Orlan-10' recon UAV. pic.twitter.com/UslEl7XqgT

— Chuck Pfarrer | Indications & Warnings | (@ChuckPfarrer) February 25, 2023
Vuhledar:
In Vuhledar Russians continue to use the same insane and useless "tactic" of rushing over open field against Ukrainian defense lines and minefields, just to trash their remaining vehicles and to crawl back to their lines. They don't learn.#Vuhledar #Donetsk #Ukraine pic.twitter.com/YBQ7MOTNB3

— (((Tendar))) (@Tendar) February 25, 2023
The Telegraph has reporting of one family trapped behind the lines in Russian occupied Mariupol. Here are some excerpts:
Vitaly Chechelyuk excuses himself and picks up the phone: another telemarketing call. His daughter Alina is annoyed: 'Dad, why do you even answer calls from unlisted numbers?' Vitaly stares at the phone: 'What if it's Maryana?'

Vitaly is a father of two. His youngest daughter Alina, 16, lives with him and his wife Natalya, but their eldest, Maryana, who turned 23 last month, is missing. He hasn't seen her since April.

His mobile phone screensaver is a picture of her: she is petite and pretty, her straight blonde hair falls to her waist. She was a good student, he says, a kind soul.

Maryana, a police detective, was caught up in the siege of Mariupol's steel works last year and survived, only to be arrested by Russian intelligence afterwards and held in detention. That was nine months ago – they have no idea where she is today.

She is one of an estimated 20,000 Ukrainian civilians who have gone missing after they were abducted or detained following interrogations at Russia's notorious 'filtration' camps. The camps were set up to screen every Ukrainian leaving the country and weed out soldiers and government officials, and yet most of those now missing are ordinary civilians.

These are the invisible victims of Russia's war with Ukraine: they do not face any charges. Nor are they prisoners of war. There is no paper trail for them in the Russian justice system.

'It was so cramped and uncomfortable,' recalls Alina. 'And it was too cold to take off your trousers fully [at bedtime]. You'd go to sleep and it'd be all quiet – then the bangs would go off again.' She pushes her hair behind her ears. It is long and blonde, identical to her elder sister's.

During that first week, an eerie sense of normalness pervaded. Grocery shops in Mariupol remained open, residents who hadn't fled crept out of their shelters and dashed for supplies. Vitaly would hurry across the street to the family's apartment for lard and tinned vegetables.

But Russian forces were gaining. By 2 March, the city was encircled. As food supplies dried up and shops shut, desperate locals began looting closed businesses for whatever they could find: tinned vegetables, flour, fruit juice, grain.

Vitaly found a warehouse stocked with frozen food. 'The locks were picked or smashed and inside were industrial freezers, tall as a one-storey house, shelves full with frozen meat and fish.' Desperate, and increasingly hungry, they stocked up.

On 6 March, the bombing appeared to have stopped. It was, Alina recalls, finally quiet. She asked her father if she could go to their apartment with him for clean clothes, but as they crossed the yard, more shelling began. They dived inside, sheltering in a corridor.

'It was so loud, I'll never forget it,' Alina says. 'We stood there shaking: It's like you're on a moving train, everything is wobbly.'

What she remembers most is the Orthodox cross, nailed to a nearby door. After a while, she started to pray.

It would be 30 minutes before the shelling stopped and they returned to the shelter, broken glass from smashed windows cracking under foot.

The same evening, the community centre roof caught fire. Most people there sought shelter in a municipal building nearby but, believing it was too exposed, Vitaly took his family to a different basement. It was a squalid, damp space, there was no light and the cement walls were punctured with rusty beams.

Determined to make the best of it, Vitaly found rolls of electricity cable and wooden planks and fashioned them into beds.

Days soon took on a new routine: Vitaly woke at 5am or 6am, and lit a campfire just outside the building, improvising by stacking bricks and placing a barbecue grill on top, and used it to boil water for tea and coffee.

The family mostly subsisted on porridge and tinned vegetables, or grilled meat from the warehouse. Maryana and Alina passed days reading novels or chatting to neighbours. If someone managed to ascertain what date it was, they'd make a note. Otherwise, they had no sense of time. Days blurred into one.

By late March, the weather had warmed. Fearing their shelter was an artillery target, the Chechelyuks decided to find a new one but, as they ventured outside, they had no idea what to expect. It was their first time outside in a month. The road was littered with fallen power lines and debris, buildings were scorched or destroyed by bombs. Charred carcasses of tanks lay around and on the pavements were dead bodies of locals, some covered with pieces of cloth or wood.

The city's water supply was, by now, dangerously low. Shops had long been emptied, radiators drained of water, even toilet cisterns had run dry. The Azovstal steel works, home to underground cisterns of water built for emergencies, was the only lifeline.

Travelling there was a Russian roulette of a journey, as the area was often shelled. Even so, the spot by the cisterns was often busy, as locals turned up with plastic bottles. The Chechelyuks decided to take their chances.

Natalya waited in the basement while Vitaly and the girls went. 'There were lots of dead bodies near the cover of the cisterns,' recalls Alina. 'We closed our eyes and walked like this.' She covers them with her palms.

Vitaly began lowering five-litre bottles into a well, while Maryana and Alina went to find phone signal. Maryana had, since the start of the invasion, kept an unused SIM-card for emergencies; she decided to call a family friend to ask if they knew of any safe evacuation routes.

The sisters found their way to the steel works' factory workshops, and had just begun climbing a ladder in hope that they'd find signal higher up, when they heard screams. Next came a thud: Russian jets started dropping bombs on the factory.

'People started running in all directions,' Alina says. 'We ran too – we had no idea to where, we just followed those in front of us. We couldn't even look back for Dad because there was a crowd.'

Maryana and Alina ended up in the maze of bunkers beneath the steel works, where Ukrainian soldiers from the Azov battalion, the last of the Ukrainian resistance, were hiding out. Meanwhile, Vitaly, by now distraught, was scouring the mammoth factory for them.

Hours later, desperately hoping they'd gone home, Vitaly returned to his wife. 'When I saw it was just Natalya, we started panicking.'

The day after the family were separated, Donetsk separatists climbed into the basement where Vitaly and Natalya were sheltering, and ordered everyone there to evacuate the city ahead of a Russian 'cleansing operation,' aimed to crush the last pockets of resistance.

'We were told we'd be shot if we stayed,' says Vitaly. 'But we knew we'd go back as soon as we could to look for the girls.'

For hours they queued for 'filtration' security screening, a humiliating process involving body searches and interrogations, from where they were to be sent to a Russia-controlled part of the Donetsk region. But instead Vitaly and Natalya decided to drive back to Mariupol and see what happened to their house, hoping it was intact.

When they arrived, Natalya's heart sank. A bomb dissected the block: half was intact while the other half, including their old apartment, was destroyed. In the charred rubble they could just make out the next-door flat. The neighbour, an elderly woman, had been buried alive in bed. Slabs of concrete and bricks piled on top of her and mattress springs lay all around.

To this day, Vitaly struggles to articulate how he felt by what he saw.

Among the pile of black bricks and cement, Natalya recognised a few mauve tiles, as well as a familiar kitchen chair. 'My lovely house, my lovely kitchen… I loved it so much,' she says. 'We worked so hard for this house. [Russians] just trampled on the life we built.'

Suddenly shelling rang out in the distance and Tafik, their chihuahua, ran away. 'We were upset beyond words,' Vitaly says.

The couple returned to Mariupol twice to search for the dog, facing death threats at checkpoints. 'We were almost killed because of Tafik.'

But on the second search, as Vitaly walked into the apartment block, there was a familiar whimper. Tafik, terrified and covered in soot, ran over.

'We were so glad he was alive.' Vitaly smiles. 'We thought, things have to get better now.'

Vitaly and Natalya settled in a village near the Russian filtration camp. Desperate for news of their missing daughters, they scoured the internet, using a neighbour's wi-fi, for news, and were delighted to discover that Maryana had logged into a messaging app an hour earlier.

'We were going crazy,' he says. '[So] it was such a relief. Maryana replied that they were both alive and well, I was so happy.'

Still sheltering in the freezing bunkers at Azovstal, Maryana and Alina were compulsively scrolling the mobile phone for news of an evacuation. 'We were so exhausted. We couldn't wait for it to be over,' says Alina.

One day, they finally received good news: an Azov soldier told them that the UN and the International Red Cross had brokered a deal to extract civilians from the steel works and escort them to Kyiv-controlled territory.

On 1 May, Alina, Maryana, and a few dozen others, left their bunker and walked out of the plant. It was a bright day and they were elated to see sunshine after a month underground, but when they reached the factory gate, something felt wrong.

'There was no one there except us. Not a soul,' Alina says. 'All we saw were cars smashed into the fence, ammunition, shells on the ground and massive craters from aerial bombs.'

They walked for a kilometre along a deserted road, boiling hot in their heavy winter clothes, until they reached some buses, which were supposed to evacuate them. Suddenly, a group of Russian soldiers with white armbands emerged from the buses and ran towards them.

'It was the scariest moment,' recalls Alina. 'It was as if we were taken to an execution.'

Maryana begged her sister to pretend she was crying. 'Either they were going to shoot us or take pity on us,' Alina says. 'So I started crying.'

The soldiers reached for their rifles: 'I thought: That's it. This really is it. It is over.'

But the Russian soldiers only wanted to warn them about landmines in the area.

Ushered onto the buses, Alina and Maryana were told they were being taken to Zaporizhzhia, a city in central Ukraine under government control where they expected to reunite with their parents. 'I thought we'd get there, have a nice bath, lots of food and go for a walk,' Alina says.

She remembers looking back at her city one last time, as the bus drove away: the steel works were shrouded by explosions and fires, and black smoke rose over Mariupol but beneath it, the first greenery of spring was just visible.

It was early afternoon when the bus stopped. Rather than Zaporizhzhia, it deposited them 160 miles away at a Russian filtration camp in Bezimenne where the officers, Ukrainian separatists, told them to strip off so that they could check if they had bruises from machine guns. Alina tried to protest. 'I said: "I'm 15." But they didn't care.'

Ushered into a camping tent, a makeshift interrogation room, the sisters were questioned about their allegiance to Ukraine. When the interrogator found out that Maryana was a police detective, things took a turn.

'They kept asking, "Do you know where your sister worked, what, where, how and why…?" I started yelling, "I'm a minor".

'Maryana was so nervous she started shaking, and I got so mad.'

The interrogation lasted for hours. Eventually they were sent to wait in an old Soviet bus, then Maryana was called back to the tent alone. That was the last time Alina saw her.

When Alina realised her sister had been taken away, she rushed to the tent and shouted at some officers, who were outside it, smoking. They told her Maryana had been taken to Donetsk. 'I started crying, I kept saying, "Give me my sister back".'

Meanwhile, Vitaly and Natalya were on their way to Belarus, in search of safety. Desperately worried about their daughters, they'd look online for news of them. Then, one day, they received a call from a Russian official. 'We'll give you 24 hours to make it here [to the Bezimenne camp or] your daughter [Alina] will be sent to an orphanage.'

They were more than 600 miles away but they set off immediately. Their car had broken down so they took trains and hitchhiked. It would be 36 hours before they reached the camp and were reunited with Alina.

Maryana, they were told, had gone for additional checks. 'We thought we would have her back [soon],' says Natalya. 'But we never got her back: not in the next few days, not next month, not even now.'

The office of the Ukrainian ombudsman for human rights has logged at least 20,000 Ukrainian civilians who are currently held in Russian facilities, having been detained in Russia-controlled parts of Ukraine.

At a meeting last month, Dmytro Lubinets, Ukraine's Parliament Commissioner for Human Rights, pressed his Russian counterpart for information about the whereabouts of these civilians. 'The Russian side agreed to find out where they are, in what condition and why they are being held,' Lubinets said. There have been no updates since.

Human Rights Watch has accused Russia of forcibly moving and interning civilians, calling it a war crime, in a report published in September. Just 132 Ukrainians of the estimated 20,000 held were released in prisoner swaps.

'People like Maryana are at great risk: no one knows for sure where they are. They have no clear legal status,' says Yulia Gorbunova, senior researcher at Human Rights Watch. 'This is an illegal practice.'

Maryana's parents have spent months petitioning government offices in Russia and Ukraine for information about her detention. They still don't have a definitive answer. The Russian government has told them in official letters that they have no information about Maryana's whereabouts.

At their new home in Switzerland, the Chechelyuks have tried to recreate a sense of their old life. In the kitchen, traditional meat jelly is cooling and Natalya is stirring gravy on the stove to serve with boiled beetroot and cabbage rolls, typical Ukrainian dishes.

Vitaly explains that he had no idea whether his eldest daughter was alive until last summer when his phone rang. It was Maryana.

'Where is Alina?' was the first thing she said.

In the 30-second call Maryana sounded nervous and upset. Vitaly told her that they were all ok and Maryana started sobbing; then the line went dead. Six months on, there have been no more calls.

All the family has to go by is word-of-mouth news from former prisoners. In October, a woman phoned them to say she had been held in the same cell as Maryana in Donetsk. A month later, a Ukrainian marine, released in a prisoner swap, contacted Vitaly on social media to tell him Maryana had been in a cell near his at a facility in Russia's Volgograd region. Both said that Maryana was in high spirits and trying to help other prisoners.

But last month, Vitaly's lawyer received an official letter from prison authorities in Volgograd saying Maryana was not there.

The Ukrainian government has added Maryana's name to the list of POWs but every time a prisoner swap is negotiated, her name is not included for the exchange. The Chechelyuks struggle to understand why a 23-year-old junior police detective would be important enough to be held hostage for so long.

'She's just a young girl. I don't know what they want from her.' Natalya breaks into tears at the kitchen table. 'Why can't we get an answer to where my child is and why she is behind bars? I just don't know who to turn to. We're at a dead end.'

They try to recreate a semblance of normality. When they were offered annual passes for the local swimming pool last year, they gratefully accepted, asking for four: one for Maryana too. They haven't used them yet – they won't until all four are reunited.

'We're not here to have fun,' says Vitaly. 'Things will change as soon as Maryana returns: then we can get our lives back again.

'[But until then] I just don't allow myself any breaks or rest. We are always waiting.'
Much, much more at the link!
In every war there is always partisan underground resistance. Basically you can look at the different types or levels of war – interstate, revolution, rebellion, insurgency, and terrorist campaign – as nesting dolls. Interstate war, which is high intensity warfare (among a bunch of other things) will often contain within it attempted revolts, rebellions, insurgencies, and/or terrorist campaigns. All of which are low intensity warfare. We've been covering the partisan underground low intensity warfare being waged by Ukrainian SOF and Ukrainian partisan underground in Russian occupied Ukraine for months. However, one of the things I've been watching for for a year now, but not seeing much if any reporting or information on was anti-Putin Russian partisan underground activity. Some of the reasons for that are obvious: any news of these activities will get people killed. So it is in everyone's, including Ukraine's, interests to not talk about it even if it is going on and you know it is going on. Part of it is that given the nature of Putin's Russia this activity is limited because undertaking it can and will get you imprisoned or killed. So when I see reporting on it, I pay attention.
"Volunteers interviewed for this article said they felt helpless when the war began, and assisting Ukrainians in Russia was their only way of dealing with fear, guilt, despair and anger." https://t.co/aorHGvyapD

— Shashank Joshi (@shashj) February 25, 2023
Here's The Washington Post reporting that Joshi is referencing:
The independent volunteers do all kinds of things. Some work from home processing help requests. Others help care for pets, gather food, clothing and medicine, or deliver to makeshift warehouses. Hosts who open their doors to Ukrainians or drivers who transport them across the Russian border face the steepest risk as they are ones interacting directly with refugees and the authorities.

None of the volunteers' activities are illegal but amid Russia's wartime laws anything that involves Ukraine and does not fit with the current pro-war patriotic fervor is sensitive and regarded unfavorably by the security services.

"In our country, any volunteer organization or any kind of attempt to self-organize is like a red rag for a bull," a Ukrainian-born volunteer in her late 50s, who has lived in Russia for most of her life and has a Russian passport, said. She was at a stop along the snowy highway on her way to bring nine Ukrainians to the Finnish border from St. Petersburg.

The Ukrainian-born volunteer said she makes the trip about five times a month, each time a gamble. A lot could go wrong: the car might swerve on the snow-covered road, its battery could die in the bitter cold, a tire could burst. The Russian border guard might be in a bad mood, a refugee might carry too much money through customs or do something else to attract undue attention.

The volunteer recalled one passenger, an older man, getting so drunk during the wait at the border that he tried to bum a cigarette from a Federal Security Service (FSB) guard, risking the whole operation.

"As long as you are here in my car and we have not reached the Finnish border, you listen only to me," the volunteer strictly admonished her passengers as a family boarded her minivan at St Petersburg train station.

Whether refugees make it across the border in many ways depends on the volunteer.

At the same time it launched the war in Ukraine, Moscow tightened the few loose screws across civil society, demonstrating through dismantling opposition and human rights groups that it will not tolerate any dissent.

The Kremlin's desire for total control in a wartime setting has targeted official volunteer movements, forcing some to work in exile or shut down completely.

Those now aiding Ukrainians are split into two contrasting camps: "official" groups, like the one run by the governing United Russia party, and "unofficial" networks with no hierarchy or affiliation.

The "official" groups help Russian authorities place Ukrainians in temporary shelters, where they are insistently offered Russian passports that make subsequent travel to the European Union nearly impossible. These groups deliver aid to occupied areas of eastern Ukrainian territories that the Kremlin now refers to as "liberated."

Having passed the ideological check, they have no issue fundraising or talking publicly about their work.

The "unofficial" volunteers materialized primarily to close the gaps left by official aid groups: They bring phones to replace those seized by Russia at the border, find veterinarians for sick pets, obtain hard-to-find medicines, and do myriad other tasks, some mundane, others lifesaving. They also offer a lifeline for those seeking shelter in a country that invaded their own. They charter buses, buy train tickets or drive Ukrainian families to the border.

In some towns, the "unofficial volunteers'" were forced to halt their activities after pressure from local law enforcement. Last May, police came to a temporary shelter in Tver, northwest of Moscow. They questioned Ukrainians about an independent Russian volunteer, Veronika Timakina, 20, asking if she was "engaged in campaigning activities," took photos of them or invited them to join any political party, Russian news outlets Verstka and Mediazona reported.
And here is The Economist's video reporting on the same topic. Description first, video after:
The invasion of Ukraine left Russians with a stark choice: carry on as normal or make a stand against the war. But speaking out in Russia carries huge risks. How is the opposition managing to resist the regime – and at what personal cost?
That's enough for tonight.
Your daily Patron!
There's no new tweets from Patron tonight, but here's some dolphins in Kharkiv:
Covering the war sometimes gives the chance to experience precious moments. Like meeting these dolphins in Kharkiv. The family could not be evacuated because baby dolphin Mriya (Hope) was born on April 15 and they stayed in the city during the most brutal Russian attacks. pic.twitter.com/qVjOedRgbu

— Maria Avdeeva (@maria_avdv) February 25, 2023
But there is a new video at Patron's official TikTok:
The caption machine translates as:
Uh, oops. 🫢 #песпатрон
Open thread!