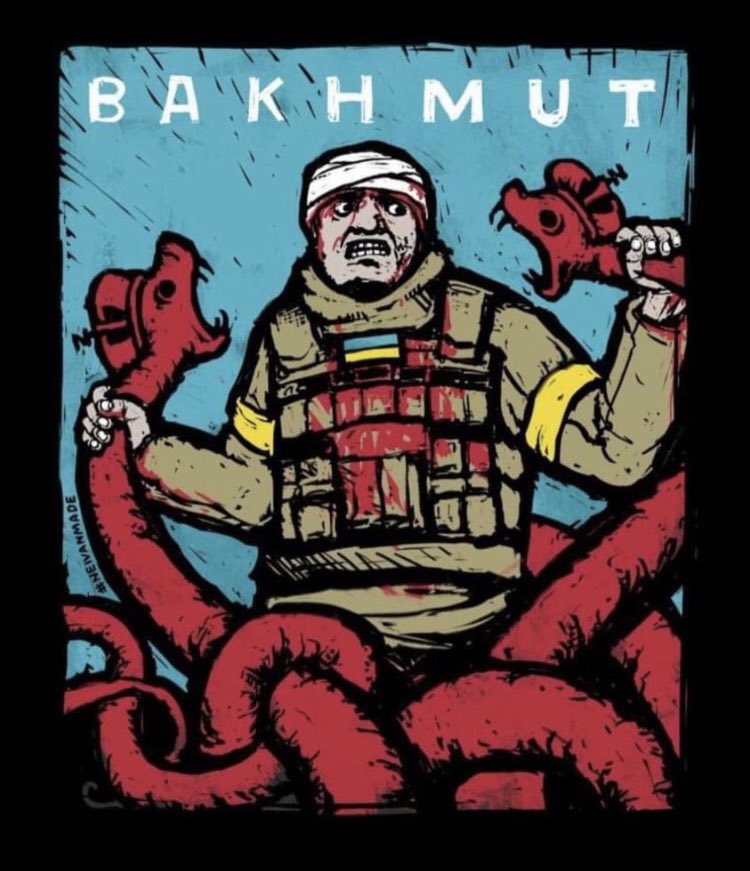 (Image by NEIVANMADE)
About an hour after I posted last night's update, this came in:
BAKHMUT /FLASH TRAFFIC/ On 26 FEB, UKR forces launched a combined arms counter-attack SE along the M-03 HWY axis. Timely reporting by Jarosław Wolski @wolski_jaros indicates that RU forces have been flanked and driven SE down the M-03 HWY toward Berkhivka. pic.twitter.com/qZwyPtvnvR

— Chuck Pfarrer | Indications & Warnings | (@ChuckPfarrer) February 27, 2023
I'd been waiting and wondering when the Ukrainians were going to get to the Russian salient in Bakhmut and, apparently, it was early this morning! We'll have more on that after the jump.
Here is President Zelenskyy's address from earlier today. Video below, English transcript after the jump:
We need modern combat aircraft to protect the entire territory of Ukraine from Russian terror – address by President Volodymyr Zelenskyy

27 February 2023 – 22:07

Good health to you, fellow Ukrainians!

A brief report on this day.

The day began with an attack by Iranian drones. Most of them were shot down. Eleven out of fourteen.

Unfortunately, there were also hits. Three employees of the State Emergency Service in Khmelnytskyi were wounded, two were killed. My condolences to the families. The second drone hit just as the fire was being extinguished after the first hit.

In fact, that is why we need the aviation component of air defense – modern combat aircraft – to protect the entire territory of our country from Russian terror. Air defense is complete only when it is backed by aviation. Modern aviation.

Our pilots, together with our anti-aircraft gunners, together with all the warriors and specialists of our Air Forces, are already doing a great job. But we will be able to fully protect the sky when the aviation taboo in relations with our partners is lifted.

The elimination of consequences of the power grid accident in Odesa and the Odesa region lasted all day. There was a large-scale power outage, but the power supply was restored within a day.

As of this evening, all critical infrastructure and the vast majority of consumers have electricity. I am grateful to all power engineers and repair crews who ensured a quick result.

Ukraine demonstrated and will continue to demonstrate that our resilience is higher than anyone's expectations.

Today, I held several meetings with representatives of the government and security agencies. In particular, a meeting with Head of the Security Service of Ukraine Vasyl Malyuk. We discussed current issues and our steps to protect the state in the near future.

We will not leave any chance to any internal threats, just as we don't leave it to external ones.

Of course, I am constantly in touch with our commanders. Special attention to the situation in the east, of course, in the Donetsk region.

Bakhmut direction – the situation is getting more and more difficult. The enemy is constantly destroying everything that can be used to protect our positions, to gain a foothold and ensure defense.

Our warriors defending the Bakhmut sector are real heroes.

I am grateful to each and every person who is heroically holding this direction and other directions in Donbas. I thank each and every one who helps our warriors and does everything to ensure that our defenders have as many weapons, long-range weapons, powerful weapons as possible.

Today, the U.S. Secretary of the Treasury paid a visit to Kyiv.

I thanked her for the vital financial support for our country. We discussed our current cooperation both at the level between Ukraine and the United States and at the level of global financial institutions, including the IMF. We discussed the needs for reconstruction in Ukraine and the restoration of justice for our people and the entire free world, which means launching a real mechanism of compensation for the damage caused by this war… compensation at the cost of Russian assets.

This is not an easy task. But fulfilling it and directing Russian assets to compensate for the war damage will be one of the most powerful hits of the free world against this aggressor and against any aggression in general.

I think a format for compensation will be found and Russia will pay for its war. In every sense.

Glory to each and every one who is now fighting for Ukraine! Thank you to everyone who helps!

May the memory of all those whose lives were taken by Russian terror be eternal!

Glory to Ukraine!
The Russians did the strike, wait for the first responders, then strike again tactic:
Two firefighters died while working at the scene of Russian drone attack at night in Khmelnytskyi. Three more are wounded. Another deliberate double tap attack on unarmed rescuers. pic.twitter.com/EbnjoUcgSF

— Maria Avdeeva (@maria_avdv) February 27, 2023
I just want to take a quick moment and post this tweet reply regarding what American Air Power has meant to people in dire straits:
As an Albanian from Kosovo no one will know what F-15 are to us….we call them the angels on the sky! When there was no hope at all when it looked like the world and god forgot about us the angels of the sky appeared from 🇺🇸 and justice was done!

— Shkelqim Hadri 🇺🇸 🇦🇱 🇽🇰 🇺🇦 (@ShkelqimHadri) February 27, 2023
As I wrote here a long time ago regarding immigration, despite all our flaws and faults – and we definitely have them – and the often inability to live up to our national ideals, for people in desperate situations everywhere the American flag means hope and safety. Getting Ukraine advanced air platforms and the Ukrainian pilots trained on them, even though they'll be wearing Ukrainian livery and heraldry, should be a priority.
Here is former NAVDEVGRU Squadron Leader Chuck Pfarrer's most recent assessment of the situations in Vuhledar, Kreminna, and Bakhmut:
VUHLEDAR /1545 UTC 27 FEB/ Following their defeat on 10 FEB, elements of the Russian 155th Brigade of Naval Infantry have continued platoon-sized assaults on Vuhledar. Intel sources indicate that RU has deployed reinforcements from the occupation garrison at Melitopol. pic.twitter.com/SqG7l38fzE

— Chuck Pfarrer | Indications & Warnings | (@ChuckPfarrer) February 27, 2023
KREMINNA AXIS /2250 UTC 27 FEB/ RU assaults on Ploschanka Novoliubivka & Dibrova were repelled. South of Kreminna, RU attacks on Serebryansk Forestry & Bilohorvika also failed. UKR forces are reported to be in contact within the Kreminna urban area south of the C-130514 road. pic.twitter.com/o8nrftqWIj

— Chuck Pfarrer | Indications & Warnings | (@ChuckPfarrer) February 27, 2023
BAKHMUT /1210 UTC 27 FEB/ 0600 brief of the UKR Gen'l Staff did not clarify initial reports of UKR offensive progress N of Bakhmut. UKR forces were confirmed to have broken up RU attacks in the vicinity of Dubovo-Vasylivka and Yahidne, as well as enemy attacks on the urban area. pic.twitter.com/7npQCJCSN1

— Chuck Pfarrer | Indications & Warnings | (@ChuckPfarrer) February 27, 2023
Bakhmut:
Update from Bakhmut, 27 February – Kiyanyn. pic.twitter.com/eTCCagCraf

— Dmitri (@wartranslated) February 27, 2023
more from Bakhmut by @MaryanKushnir (with some amusing soldier theatrics at the beginning). In Ukrainian. pic.twitter.com/4XpfXYCOlr

— Mike Eckel (@Mike_Eckel) February 27, 2023
Another video of Bakhmut. This is the east side of the city, across the Bakhmutka river where the Russians have been based. It was a quiet district. There were several churches and the sparkling wine factory. Russia has reduced it to ruins. pic.twitter.com/FimkehYLtk

— Christopher Miller (@ChristopherJM) February 27, 2023
We love #Khinkali, they have meat inside pic.twitter.com/gWxUkwaZix

— Georgian Legion (@georgian_legion) February 27, 2023
That funny looking white line under the khinkali that has been superimposed on the map is the Russian salient in Bakhmut. More specifically it is the Wagner salient. The lines actually look like this (and I don't remember where I snagged the map this AM):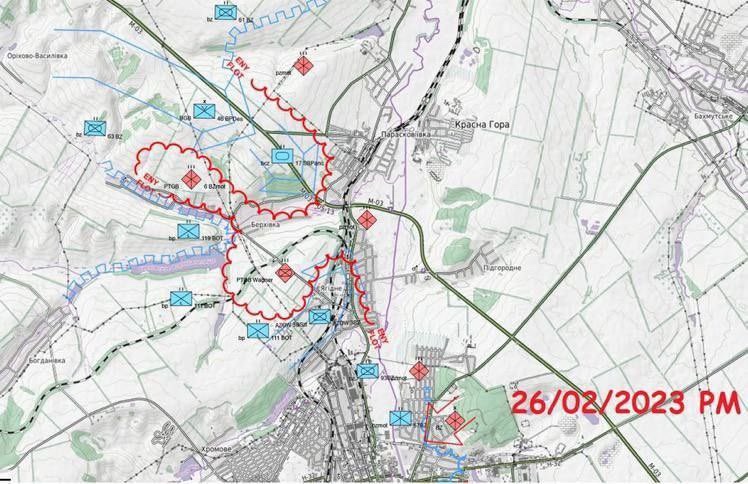 There's two ways to look at this. One is that Wagner has almost completely encircled Bakhmut, meaning they've almost taken it. The others are that Wagner is now stuck in that pocket and exposed on multiple sides. It is this latter view that the Ukrainians are trying to act on and exploit.
Marinka:
This is #Mariinka in Donetsk oblast after Russian world has come here…

🎥AP pic.twitter.com/YkenvWARCr

— UkraineWorld (@ukraine_world) February 27, 2023
Send!
Improvised 🇺🇦 MLRS based on pickup trucks firing at Russian positionshttps://t.co/ATSE21e6hr pic.twitter.com/QWw1I7OsYN

— Special Kherson Cat 🐈🇺🇦 (@bayraktar_1love) February 27, 2023
Some things never change:
Biden's at the 1997 Atlantic Council:

"And the russians tell me: "If you expand NATO, we will make friends with China." I could hardly contain my emotions and replied: good luck to you guys. If it doesn't work out with China, try Iran."

Well…not much really changed since then pic.twitter.com/gtd1meUWk9

— Maria Drutska 🇺🇦 (@maria_drutska) February 27, 2023
I think that's enough for a Monday night.
Your daily Patron!
Here's a new video from Patron's official TikTok:
The caption machine translates as:
I have no doubt in my mind ❤️ #славаукраїні
Open thread!