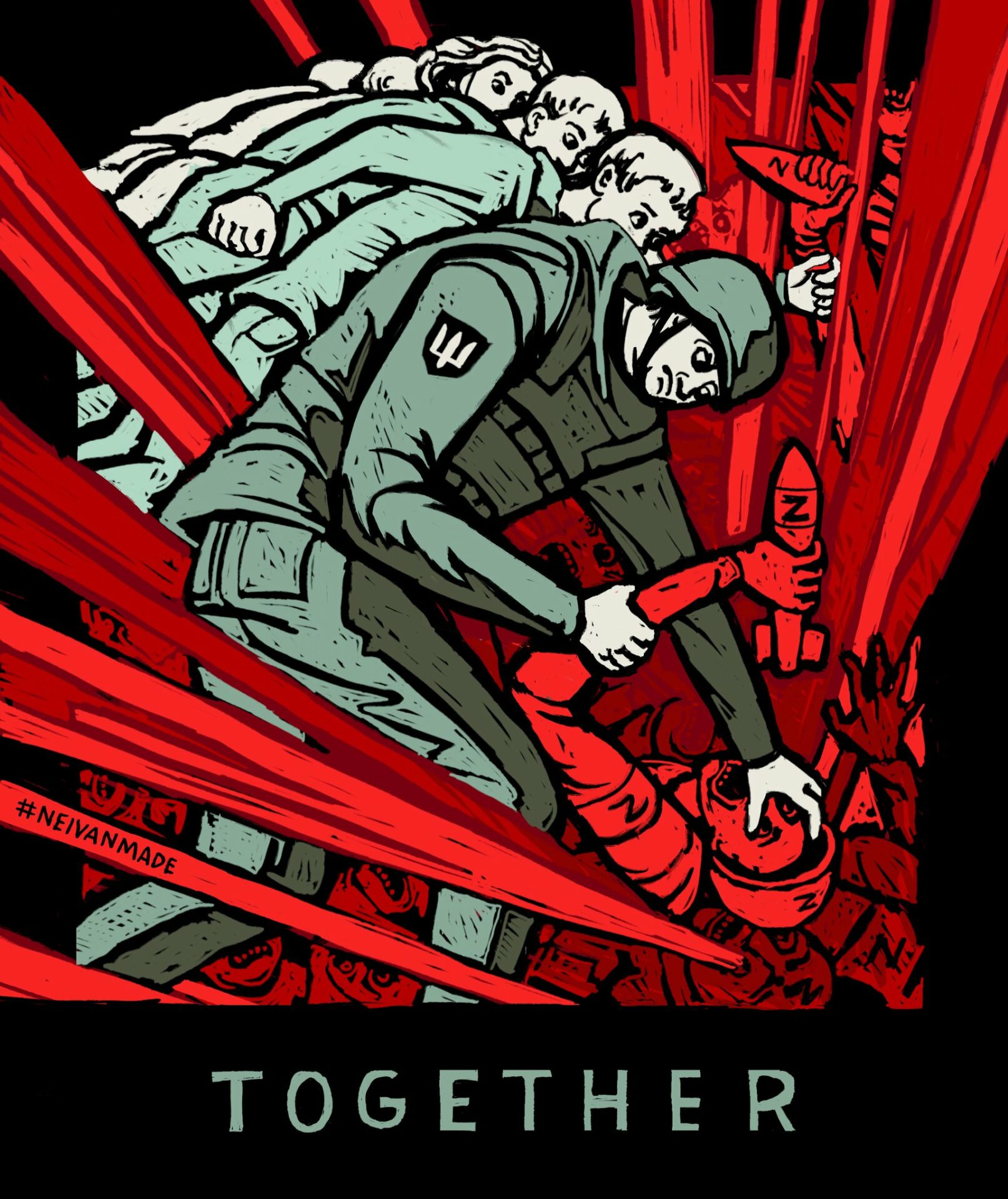 (Image by NEIVANMADE)
I have had a very busy, very draining couple of days. Nothing bad, but I'm worn out. So we're just going to run through the basics so I can go eat and rack out.
Here is President Zelenskyy's address from earlier today. Video below, English transcript after the jump.
We are preparing the return of our warriors to actions for the liberation of our land – address by the President of Ukraine

28 February 2023 – 22:48

Good health to you, fellow Ukrainians!

Today is the day when, in various formats, we worked for justice for Ukraine and Ukrainians in one way or another.

Prosecutor of the International Criminal Court Karim Khan is on a visit to Ukraine. These are an institution and a person who undoubtedly play a historic role in bringing Russian criminals to justice.

Russia's genocidal policy against our people will definitely have inevitable legal consequences for all those who conceived, approved and implement such a policy. And I want to emphasize: this isn't only about the executors, but also about the top political and military leadership of the terrorist state. Today we discussed this with Karim Khan during a meeting in Kyiv.

Of course, this is not an easy job. But responding to Russian crimes in the face of this aggression exactly in terms of the rule of law and exactly with the power of an international court is what will serve as one of the guarantees of the long-term future security of both Ukrainians and other nations. We will ensure this.

We are approaching the opening of the Ukrainian office of the International Criminal Court. There is already effective cooperation in Ukraine between the International Criminal Court and the Office of the Prosecutor General. We pay special attention to such Russian crimes as the deportation of our people and the deportation of Ukrainian children. We will dismantle this entire Russian genocidal system, from the cogs to the architects, and bring them to legal verdicts.

Today, I held a regular meeting of the Staff. Again in an expanded format. The Main Intelligence Directorate, the Ministry of Defense, the Commander-in-Chief, and the commanders of directions delivered reports. We are dealing in detail with the situation on each of the frontline directions.

The most difficult situation is still Bakhmut and the battles that are important for the defense of the city.

I'll give you just one example. Nowadays, the meetings of the Staff are held quite often – at least twice a week. The last meeting was on Thursday. And today, General Syrskyi reported that since the last meeting, about 800 enemies have been killed in his direction alone.

Russia does not count people at all, sending them to constantly storm our positions. The intensity of fighting is only increasing.

I thank all Ukrainian warriors who, despite this insane pressure from the occupier, are defending our positions and destroying the Russian army! I thank each and every one who supports our warriors!

Of course, we also considered other areas in Donbas, as well as the areas of responsibility of the Tavria and Odesa groups. General Moskalyov reported on the situation around Kherson and the region. This day there were more than 30 Russian shelling occasions in the Kherson region! They were shelling just streets, just people. My condolences to all those who have lost their loved ones. Today we have already lost four people. We will do everything to suppress the terrorists.

General Nayev reported on the situation in the north and along the border – our forces are in control of the situation.

As always, we reviewed in detail the logistics for the frontline and the coverage of deficits.

We are preparing for the return of our warriors to actions for the liberation of our land. We keep in mind this just goal of ours, and every day we are getting closer to its fulfillment. Ukraine will be free. All of Ukraine.

Today I met with the Secretary-General of the Organization for Economic Cooperation and Development. This is one of the most powerful global organizations that brings together the world's leading countries. Those countries where people really want to live.

Our goal is for Ukraine to fully join the organization and to use the OECD experience to modernize our country. Tomorrow we are opening the OECD Office in Kyiv.

Today we talked, in particular, about a fair tax system for Ukrainians – transparent, simple, and one that will strike a balance between stimulating business and economic growth and ensuring social justice.

I also offered the Organization for Economic Cooperation and Development to join the work on directing Russia's assets to compensate for the damage caused by Russian aggression.

If someone thinks that this is an unrealistic task, today, on February 28, we have very concrete evidence that there are no unrealistic tasks for Ukraine.

A year ago, on the fifth day of the full-scale invasion, Ukraine applied to join the European Union. This was the first step in obtaining the candidacy. We have done a tremendous and tremendously fast job and have secured candidate status for Ukraine. This year, we should reach a decision on membership negotiations for Ukraine.

Another example. Today, there was no shortage in our energy system. There were no power outages across the country. Thousands of people have been working every day to achieve this result. They restored what could be restored after the Russian strikes. They protected the energy system. They helped cities, communities, and people.

Of course, the threat still remains. Of course, we will fight and defend ourselves. We will definitely endure, no matter what the enemy does.

I thank each and every one who contributed to this task!

One more thing.

Today is the Day of Air Navigation Service of the Armed Forces of Ukraine. It is the day of those specialists of our defense forces on whom the effectiveness of Ukrainian combat aviation directly depends. Thousands of successful sorties and successful air strikes on enemy positions are their merit, the merit of our navigators.

I congratulate you, warriors, on your holiday, and wish you complete dominance of the Ukrainian Air Force in the Ukrainian sky! Absolutely fair dominance.

Glory to each and every one who is now fighting for Ukraine!

Thank you to everyone who helps!

Glory to Ukraine!
I meant to post this yesterday and got side tracked:
President @ZelenskyyUa was asked at the press-conference on Friday how has the war changed his relationship with his family.

His answer is very touching. pic.twitter.com/xqz7Uv899a

— Anton Gerashchenko (@Gerashchenko_en) February 26, 2023
Here is former NAVDEVGRU Squadron Leader Chuck Pfarrer's most recent assessment of the situations in Kreminna, Vuhledar, and Bakhmut:
KREMINNA /1940 UTC 28 FEB/ Despite RU operations S and W of Kreminna, UKR forces have maintained contact within the Kreminna urban area along the C-130514 HWY. In the last 24 hrs, RU units were reported in contact at Dibrova, SW of Kuzmyne and in the Serebryansk Forestry Area. pic.twitter.com/5wUzVBCDet

— Chuck Pfarrer | Indications & Warnings | (@ChuckPfarrer) February 28, 2023
VUHLEDAR /2220 UTC 28 FEB/ RU is reported to have deployed reinforcements from Melitopol to bolster the battered 155th Naval Infantry Brigade. An attempt to flank Vuhledar is considered likely, possibly by an RU offensive based out of Mykilske and Volodymvrivka. pic.twitter.com/wtUH8yToZM

— Chuck Pfarrer | Indications & Warnings | (@ChuckPfarrer) February 28, 2023
BAKHMUT /1450 UTC 28 FEB/ RU forces are in contact in the urban areas of Bakhmut. UKR is holding along the N-S rail right-of-way between Yahidne & Khromove. RU forces are increasing their operational tempo with the objective of taking urban space & severing Ukrainian LOCS. pic.twitter.com/s39fhncTe9

— Chuck Pfarrer | Indications & Warnings | (@ChuckPfarrer) February 28, 2023
Bakhmut:
Update from Bakhmut pic.twitter.com/sJ0eDjFyVO

— Максим (@kms_d4k) February 28, 2023
For haters it's incredible, but even in Bakhmut we have napkins #bakhmut #BakhmutHolds pic.twitter.com/gbaTPfYLXR

— Roman Trokhymets (@RomanTrokhymets) February 27, 2023
Kadiivka:
Russian ammunition detonation reported in Kadiivka ~45km from the front line #ASMR pic.twitter.com/VlfvV727U3

— Special Kherson Cat 🐈🇺🇦 (@bayraktar_1love) February 28, 2023
Kherson:
KHERSON REGION: A Ukrainian long range precision strike hit a major Russian ammunition depot in occupied Kherson today. The explosion, numerous secondary blasts, and the resulting pillar of smoke could be seen for miles. pic.twitter.com/MKACINTi4E

— Chuck Pfarrer | Indications & Warnings | (@ChuckPfarrer) February 28, 2023
Mariupol:
Russia created from prosperous Mariupol – GHOST TOWN…
This is center of historical part of city down the Drama theater. #RussiaisATerroistState pic.twitter.com/XOkOWUfnZV

— Maksym Borodin (@adnashmyash) February 28, 2023
I hope he likes kachipuri!
A Japanese joining a Georgian formation combating Russia in Ukraine.
Talk about geography!

— Illia Ponomarenko 🇺🇦 (@IAPonomarenko) February 28, 2023
Recruitment to our Japanese unit is open.

DM @the_reshet to enroll

Hirohito drip intensifies. pic.twitter.com/Ff2YluLvcw

— Georgian Legion (@georgian_legion) February 28, 2023
BREAKING: Kuril islands' referendum votes a staggering 99% to become an autonomous republic of Georgia.

As a gesture of goodwill, we are giving the islands back to Japan

🇯🇵 🤝 🇬🇪 https://t.co/EbXga8EflZ

— Georgian Legion (@georgian_legion) February 28, 2023
Just so everyone is aware, that's Yakuza ink.
Tuapse, Krosnador, Russia:
At the Russian Black Sea coast in Tuaps, Krasnodar Region, the oil refinery of Rosneft has been hit.

Source: https://t.co/A789atWnhw#Russia #Tuaps #Krasnodar pic.twitter.com/DrlKTmDZzP

— (((Tendar))) (@Tendar) February 28, 2023
Well, whatever hit Tuapse was a bit bigger and faster than a Mavic drone. And it had a jet propulsion engine.#Tuapse #Russia #Krasnodarpic.twitter.com/3zrEXAPKMh

— (((Tendar))) (@Tendar) February 28, 2023
The consequences of the explosion at the oil depot in #Tuapse. pic.twitter.com/mEIA83Z3gx

— NEXTA (@nexta_tv) February 28, 2023
Krasnodar:
Russian media report explosion sounds and fire at Russian military airfield in Yeysk, Krasnodar region.

Aircraft carrying rockets to strike Ukraine is located at that airfield.

Active day in Russia. pic.twitter.com/6Bw8BqsuH3

— Anton Gerashchenko (@Gerashchenko_en) February 28, 2023
Courtesy of erstwhile commenter and current lurker Yarrow, here's a thread on Ukrainian rye bread:
The Ukraine we think of today sits in a lucky climactic and geographic region, where domesticated grain grows really really well. It's commonly referred to as "the bread basket of Europe," and as such, historically every asshole in the region, has looked to take it for their own. pic.twitter.com/awlf2jRqtH

— Seamus Blackley (@SeamusBlackley) March 13, 2022
Given this history, Ukrainians and their neighbors are not in any way surprised that in times of strife every able bodied citizen turns out to be inherently ready and able to kill invaders. Many believe the fuel for that power is somehow in that beautiful Ukrainian grain itself… pic.twitter.com/f3AulDTWJu

— Seamus Blackley (@SeamusBlackley) March 13, 2022
Now look. Rye has no gluten. It's a fantastic but ornery grain. The loaf we will make today will not be an Instagram fluffy humblebrag. It will be an accurate ancient peasant bread. But it will be fantastically delicious and it will transport you back in time. OK? Let's go: pic.twitter.com/wfYpuSsz6O

— Seamus Blackley (@SeamusBlackley) March 13, 2022
You will also need Rye flour, and I'd get at least 1kg. I'm milling my own, as I want to have 100% of the stuff in it that's usually extracted. Try to get whole grain; peasants aren't fancy, and you want the nutrition.

(I'm a geek ancient baking nerd, in case that's not clear.) pic.twitter.com/oLjRUAqEut

— Seamus Blackley (@SeamusBlackley) March 13, 2022
There's too many tweets with too many video embeds for me to include them all and not crash the site, so click across and enjoy some refined carbs for me (they are verboten on my eating plan…).
That's enough for today.
Your daily Patron!
The new episode of my animated series « Patron The Dog »! I appreciate you watching, liking, and commenting. This is how I feel your support. Maybe you will like this episode too? If you don't see it, you won't know it☺️😄 Please, go to https://t.co/1Dn7IcQT7U pic.twitter.com/wD3hpEELYR

— Patron (@PatronDsns) February 28, 2023
The new video at Patron's official TikTok is a teaser for the new video:
@patron__dsns

Друуузі! 3 серія мультсеріалу вже на моєму YouTube каналі! Лінк, як завжди, у шапці профілю👅🤗
The caption machine translates as:
Druuuzi! Episode 3 of the animated series is already on my YouTube channel! The link, as always, is in the profile header 👅🤗
And here's the video:
Open thread!