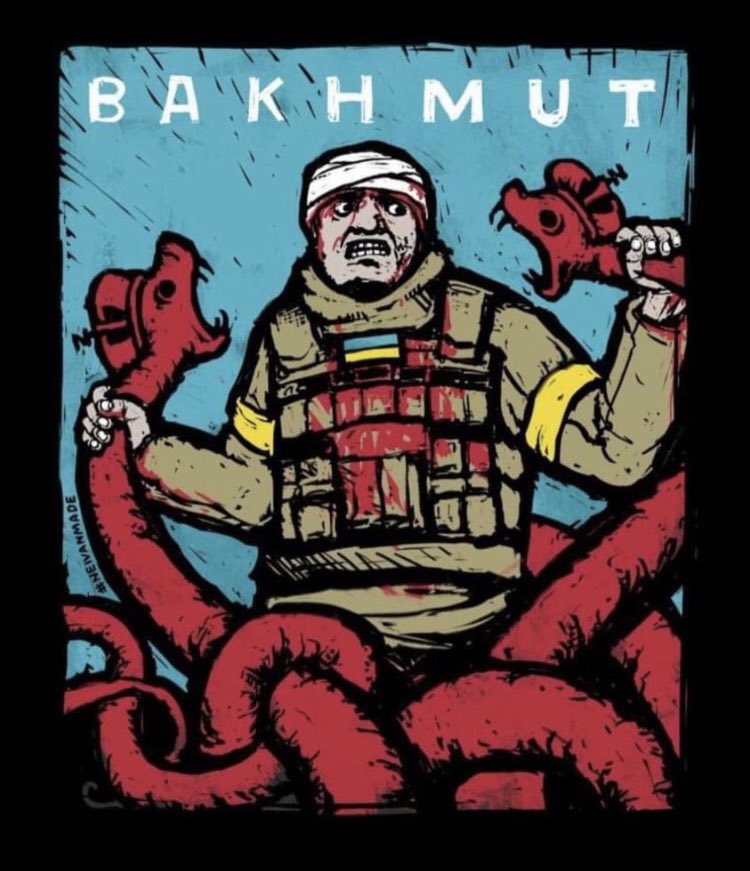 (Image by NEIVANMADE)
The situation in Bakhmut is serious. The Ukrainians are putting up a stout effort, but the Russians just keeping pouring bodies in. Right now it's a race. Can the quality of Ukrainian forces hold and repulse the quantity that Russia is just throwing at them long enough to get sufficient reinforcements in place to not just hold, but to chew up the Russian pocket. We're going to get to that just as soon as I post President Zelenskyy's address from earlier today. Video below, English transcript after the jump:
This winter was very difficult, but we managed to provide Ukraine with energy and heat – address by President Volodymyr Zelenskyy

1 March 2023 – 21:44

Good health to you, fellow Ukrainians!

Today I held several fundamentally important meetings.

The meeting on the energy sector was attended by everyone who is responsible for the stability of our energy system. It was a long meeting – three hours.

Energy companies: Naftogaz, Energoatom, Ukrenergo, Ukrhydroenergo, and others. The Government. The Office. The head of the relevant committee of the Verkhovna Rada. Military. Intelligence.

This winter is over. It was very difficult, and every Ukrainian without exaggeration felt this difficulty. But we still managed to provide Ukraine with energy and heat.

Yes, the threat to the energy system remains. But the work for the sake of the energy system is also continued.

At the energy meeting, we have set the current tasks to ensure that this heating season is completed properly. And we have already started preparing for the next season – each of the meeting participants has received their part of the work in this regard. We see risks, we will find a response.

Today, I also held a long, detailed conference call with all those who are in charge of various areas of state defense. The military, the Security Service, the Main Intelligence Directorate, foreign intelligence, the MIA, other government officials, the Office.

We keep each frontline direction under control. Khortytsia, Tavria, Odesa, North – there were reports on the situation over the past day.

In addition to the frontline directions, we are also paying attention to the frontline areas. Those cities and districts that are subjected to Russian shelling every day and night. To a deliberate terror. Nikopol and other communities of the Dnipropetrovsk region, Zaporizhzhia, Kherson and the region, the frontline part of Donbas, Kharkiv and the region, Sumy and Chernihiv regions.

Now, in most of the territory of our country, where we have managed to provide relative security, you may not feel what life is like for those of our people who live in the border areas with Russia, who live in the south of our country. Where there are shelling occasions. Where people are not at the front, but still directly at war. Where Russia is constantly trying to destroy everything that people have. Constantly – and this is no exaggeration.

When we are preparing the actions of our military, all our defense and security forces, we also mean that such actions will gradually return security to those who are now in the frontline zone.

Every movement of our flag forward will mean the safety of our people. In the territories that will be liberated from the occupier. In those territories that will become a deeper rear. And in those border areas where the defeat of the invader will finally bring peace.

I am grateful to everyone who is ready to help our country in further active actions! I thank each and every one of our defense and security forces who is already preparing!

And I thank those who, despite all the threats, despite all the dangers, are doing everything possible to ensure that normal life is maintained in the frontline areas of Ukraine, in cities and communities that are subjected to Russian attacks! These are the State Emergency Service of Ukraine, police forces, our social and administrative services, local authorities, conscientious businesses, and of course, volunteers who help people and the state.

Special thanks to our border guards and all other warriors who are holding back the enemy! And particular gratitude to our warriors who are destroying the occupiers' firing points, destroying the enemy's logistics and accurately leading Russia to defeat.

To inevitable defeat.

Glory to all those who are now fighting for Ukraine!

Eternal memory and honor to each and every one who gave their lives for the independence of our country!

Glory to Ukraine!
Here is former NAVDEVGRU Squadron Leader Chuck Pfarrer's most recent assessment of the situations in Kreminna and Bakhmut:
KREMINNA /1840 UTC 1 MAR/ RU offensive operations were renewed across the P-66 HWY north of Kreminna. Within the last 24 hours, UKR broke up RU attacks west of Holykove, and east of Makiivka and Novosadove. RU has again failed to reach the Zherebets River estuary. pic.twitter.com/5w8goKkKCF

— Chuck Pfarrer | Indications & Warnings | (@ChuckPfarrer) March 1, 2023
BAKHMUT /1415 UTC 1 MAR/ The situation is assessed as deteriorating. RU units are in contact in the N & E urban areas of Bakhmut city. UKR missile/artillery forces targeted nine RU troop concentrations and two air defense complexes. Heavy fighting along M-03 and H-32 HWYs. pic.twitter.com/DDa4LdG3yK

— Chuck Pfarrer | Indications & Warnings | (@ChuckPfarrer) March 1, 2023
From The Kyiv Independent today:
Despite ongoing heavy battles in Bakhmut, Donetsk Oblast, the Ukrainian forces have not made the decision to withdraw from the city, Serhii Cherevaty, spokesman of the Eastern Operational Command, told CNN on March 1.

"If we see that the threat to our personnel and our operational situation is greater than the need to hold the territory, we do it (withdraw troops), but we do it in an organized manner, without panic," Cherevaty said.

On Feb. 28, Deputy Defense Minister Hanna Maliar reported that additional troops would be sent to Bakhmut.

On Feb. 15, Yevgeny Prigozhin, the founder of Russia's Wagner mercenary group, said that Bakhmut could be surrounded in March or April. Prigozhin added, though, that it is "hard to predict," and Russia's success in surrounding the town partially depends on the amount of Western weaponry supplied to Ukraine.

Ukraine continues to hold Bakhmut despite the seven-month-long Russian attempt to capture the city as Moscow tries to increase its grip over the entirety of the eastern Donetsk Oblast, around half of which it currently occupies.

At the same time, according to the U.K. Defense Ministry's intelligence update published on Feb. 24, Russia has likely changed its approach from seizing extensive territory in Ukraine to exhausting the resources of the Ukrainian military.
Colonel General Oleksandr Syrskyi, commander of Ukraine's Land Forces and Eastern Operational Command, ordered to send more troops to Bakhmut following his trip to the front line on Feb. 25.

Deputy Defense Minister Hanna Maliar reported this on Feb. 28 during a TV news marathon.

"Bakhmut has been the epicenter of hostilities for several months now," Maliar said. "The enemy has concentrated its key efforts there because it aims to reach the borders of Donetsk Oblast."

During his visit on Feb. 25, Syrskyi evaluated the condition of combat units in the region and heard concerns and appeals presented by their commanders.

Ukraine continues to hold Bakhmut despite the seven-month-long Russian attempt to capture the city. Approximately 380 clashes have been recorded in the area since the beginning of February, General Oleksiy Hromov said on Feb. 23.

According to Hromov, Russia's objective may be to capture the "critical towns" of Donetsk Oblast soon and take control of the Donbas – a key industrial region consisting of Donetsk and Luhansk oblasts – before summer.
The Ukrainian leadership does not appear to be panicking and does appear to have a plan. But the decision may ultimately come down to the question of risk versus reward. Just how much will it cost Ukraine in resources to continue to contest for Bakhmut versus pulling back to a more defensible position.
And from The Washington Post:
"Our military is obviously going to weigh all of the options. So far, they've held the city, but if need be, they will strategically pull back," Alexander Rodnyansky, an economic adviser to Ukrainian President Volodymyr Zelenskyy, told CNN. "We're not going to sacrifice all of our people just for nothing."

Analysts say the fall of Bakhmut would be a blow for Ukraine and offer tactical advantages to Russia, but would not prove decisive to the war's outcome.

Rodnyansky noted that Russia was using the Wagner Group's best troops to try to encircle the city. The private military company known for brutal tactics is led by Yevgeny Prigozhin, a rogue millionaire with longtime links to Russian President Vladimir Putin.

Prigozhin said Wednesday that he had seen no signs of a Ukrainian withdrawal and that Kyiv has, in fact, been reinforcing its positions.

"The Ukrainian army is deploying additional troops and is doing what it can to retain control of the city," Prigozhin said. "Tens of thousands of Ukrainian soldiers are offering fierce resistance, and the fighting is getting increasingly bloody by day."

Ukraine's deputy defense minister, Hanna Maliar, said earlier this week that reinforcements had been dispatched to Bakhmut.

Ukrainian military analyst Oleh Zhdanov told The Associated Press that the reinforcements may have been sent "to gain time" for strengthening Ukrainian firing lines on a hill in Chasiv Yar, 15 kilometers (9.3 miles) west of Bakhmut.

Zhdanov said the possible withdrawal of Ukrainian forces from Bakhmut "will not affect the course of the war in any way" because of the firing positions in Chasiv Yar.

Bakhmut is now partly encircled, and all roads, including the main supply route, are within range of Russian fire, Zhdanov said. The city lies in ruins and "no longer has strategic or operational significance."

"In Bakhmut, the Russians lost so many forces — soldiers and equipment — that this city has already fulfilled its function," Zhdanov said.
Which supports what I've been saying about holding until it no longer makes theater strategic sense. This also fits with an update on Bakhmut from some time in January where the Ukrainian officials interviewed had spoken about fall back positions that were being prepared if necessary.
Here's an English subtitled video update from this morning from the Ukrainian Soldier Kyianian:
Update from Bakhmut, 1 March – Kyianyn. pic.twitter.com/xLyMuxTKdM

— Dmitri (@wartranslated) March 1, 2023
And Motolife's:
Update from Bakhmut, 1 March – MotoLife. pic.twitter.com/m4jkajTz3T

— Dmitri (@wartranslated) March 1, 2023
Just remember these are hours old by the time I do the updates.
Take the following update for what it's worth given the source, though WaPo did quote this as well. But given that he's the guy bankrolling the Russian operations in Bakhmut, he may have some idea what's going on:
Prigozhin this morning denied claims in Russian media that the Ukrainian army is withdrawing from Bakhmut. According to him, tens of thousands of Ukrainian fighters are there, and new reserves are being brought up. pic.twitter.com/tW0FVh6Y0o

— Dmitri (@wartranslated) March 1, 2023
Vuhledar:
Ukrainian positions in Vuhledar – battalion "Sarmat" of the 56th Motorized Brigade. pic.twitter.com/FTBzjlOZUm

— Dmitri (@wartranslated) March 1, 2023
From Channel 4 News yesterday:
As Ukraine's biting winter begins to turn into spring, the war in the east is exacting a heavy toll on both sides.

In Bakhmut, Russian forces appear to have the advantage, having laid waste to the town but as yet failing fully to control it.

While in Vuhledar, a rail and road hub 100 miles to the south, the Ukrainians retain the upper hand for now.

Our International Editor Lindsey Hilsum spent the day with the 68th Brigade on the front lines close to Vuhledar and sent this report.
This 17 FEB report from Radio Free Europe/Radio Liberty gives you some idea of the Russian strategy, tactics – frankly I'm not sure either of those terms really apply – in Vuhledar. Which also seem to be the same ones being used in Bakhmut:
By one account, nearly three dozen Russian tanks and armored vehicles were reduced to smoldering rubble. By another, as many as 500 Russian troops may have been killed. Relatives of soldiers from one unit are frantically trading text messages and social-media posts trying to locate their loved ones.

More than two weeks after a major clash between Russian and Ukrainian forces, details are slowly emerging as to what exactly happened in Vuhledar earlier this month.

According to Ukrainian and Western intelligence officials, Russian and Ukrainian military bloggers, satellite photographs, and other open sources, a collection of Russian marine infantry and other units suffered catastrophic losses in an effort to capture the Donetsk region town — for the second time since November.

"If this is not a war crime, then what is a war crime?" one Russian Telegram channel known for its ties to the Wagner mercenary group said in scathing post that featured aerial photographs of the devastation, apparently captured by Ukraine.

The naval units suffered such major losses that a group of marines released an open letter addressed to the governor of the Primorye region in the Russian Far East, where the unit is based. The letter, published on a well-known Russian military Telegram channel ripped into the commanders, saying 300 soldiers were killed, wounded, or went missing in four days, and half of the brigade's equipment was destroyed.

Beginning in the last week of January, after weeks of a rumored buildup of Russian forces in the district, Russian units again attacked Vuhledar — units from the 155th brigade as well as the 40th Naval Infantry Brigade, based on the Pacific peninsula of Kamchatka. A unit of mobilized soldiers from the Tatarstan region was also part of the assault.

It didn't go well.

By the end of the first week of February, the Russian offensive apparently stalled.

According to Rybar, a Telegram channel believed to have close links to the Russian Defense Ministry, Russian commanders then tried a flanking assault from the north, but that failed in the face of fierce Ukrainian artillery and drone strikes from higher ground, and heavily land-mined approaches to the town.

Estimates by Ukraine's General Staff said Russia lost at least 130 armored vehicles, including 36 tanks, though some observers said those figures were likely exaggerated.

But anecdotal reports circulating on Telegram, plus aerial video and still photos from fields near Vuhledar, showed major losses of equipment for Russian units, estimated at between 20 and 40 tanks and other vehicles.

In an interview with the Russian website 7×7 published on February 13, a man identified as a member of the 3rd Company of the 155th Brigade said that only eight members of the unit survived the assault, and up to 500 soldiers in total may have been killed.

"Those who survived are being called deserters," the unnamed soldier said. "It would have been better if I had been captured and just never returned. Moods are the worst. They wasted 500 people already, maybe more."

Further evidence of a potential major loss came on February 8, when а post was published on a VK social-media page titled Alga, which was dedicated to the Tatarstan battalion and means "Forward" in Tatar.

"We express our sincere sympathies to the families of those Alga Battalion members who were killed on February 6, 2023, in the course of battle," the post said. "Details of casualties are still being clarified."

"Something bad happened on February 6 at the front with the Tatar battalion Alga," said Ukrainian blogger Denys Kazanskiy, who highlighted the post on his Telegram channel. "They write that as a result of an unsuccessful attack on Ukrainian positions, several dozen people died at once. The exact number is still not known, since the corpses lie in the fields and cannot be taken away."
There's much, much more at the link, but you get the idea.
In case anyone was curious how the different amounts of support for Ukraine compare, the graphic below should provide your answers.
— Business Ukraine mag (@Biz_Ukraine_Mag) March 1, 2023
We're that 5.9% block below the Netherlands, to the right of Slovenia and the UK, above Finland, and to the left of Belgium.
One last item before we finish out, but there's a reason I indicated that the new Japanese member of the Georgian Legion fighting on behalf of Ukraine was yakuza. Because he is yakuza. Machine translated from Yahoo News Japan:
Looking at the appearance of children and elderly victims… " Former Yakuza Japanese Yoshito " speaks 「 Reason to fight in Ukraine

2/26 ( Day ) 9:00

I was watching the press and at first I was only wondering if the war had begun. However, I was moved by the fact that the Russian army was harming civilians. Is it all right to look at the elderly and the victims of children 『 just bystander? 』I feel like…」

I say that, Mr. Haru, who works as a hero in Ukraine, (49, and the pseudonym ). His life so far is full of turbulence.

「 My father was a gangster captain and was in and out of prison. As a result, I was discriminated against by the surroundings. I was lonely, so I started playing with children of similar treatment and left on the path of the polar road as it flowed 」

Haru went on the same path with the desire to cross his father. But after entering the group, the hard work continued.

「 I put it in a position when I entered a good set, but I was doing something like a captain's swearing stick if I was unlucky. There were work patterns and life-related events, but nothing more than a battlefield. However, I always had trouble with cancers because I have no cypress 」

Mr. Haru was accused of violent protests with religious groups and related groups, and was imprisoned in a prison in West Japan for 10 years.

After the source, he repented of his way of life and engaged in forestry in Shikoku, but in the second year he was forced to hit and damaged the meniscus of his knees. I was shocked to see news of the Russian invasion of Ukraine while looking for a job. Hearing President Zelensky calling for the righteous to the world, he looked back on his life so far and thought that he would regret it while he died if he saw it and shook it. It was.

「 I thought I would act first rather than regret it, because of the atonement of the sins I have committed so far 」

One of the reasons was that he was a Catholic Christian himself. I got my passport for the first time I was born and left Japan on March 29, last year. I'm surprised that this was the first overseas life.

At the Warsaw Airport in Poland, a transit point, I happened to get acquainted with Americans and British volunteers for the sake of courage. Haru, who decided to work with them, crossed the border on April 1 to reach a recruitment center in Libiu, western Ukraine. Ever from an interviewerIt is said that enlistment cannot be allowed unless there is a military history and no words can be spoken.

「 The British who were with him at that time 『 He has no experience but a heart. Look at his body for proof! 』I took off my clothes and made a gesture, so if I took it off as told, the interviewer would 『 Oh! Yakuza! 』I was surprised that ( lol ) 」

His passion and tattoo were successful and the British decided to take care of him. First, he went to Keeu, where he had been shooting trained for about a week, and then received full-scale military training at Gitomir, where he went west to about 130 ㎞. Wasn't it difficult for Haru in his late 40s to train with young people in his 20s and 30s.
Everyone, including me, gets things wrong from time to time, but give me a little credit.
That's enough for tonight.
Your daily Patron!
Our four-legged friends side by side with their human companions, are defusing landmines, rescuing people from the rubble and searching for fallen soldiers.

Support – https://t.co/fyEyZ5hP0h@PatronDsns@UAarmy_animals@Dogs4Rescue#DogsHero #Ukraine️ #dogswar #doglove pic.twitter.com/enqOhB2BXD

— ₩AW: War Against War (@WAW_AgainstWar) February 28, 2023
And a new video from Patron's official TikTok:
The caption machine translates as:
Did you recognize everyone? 😊 #песпатрон
Open thread!