Some of you may know long-time friend of the blog, Larime, from his pet portraits.
Larime & Sylv have been going through a tough time from late last year to now. The great news is that Sylv is out the hospital after her surgery and recuperating back at home.
As a quad, Larime can't go completely on his own, and they burned through about $4k in that month paying for aid care, deliveries for every meal and necessity, and even with that, Larime didn't get the level of care he needed.
---
Hello all – earlier this week ruemara put up a thread talking about Larime and his spouse Sylv, and the difficulties they are going through.
Larime has been a friend of the blog for as long as I can remember, and they have just gone through the absolute worst months that I can recall.  Despite all of that, he has remained a good man, always working towards making his own way.
He produces quality artwork, even as he faces numerous challenges, including the Las Vegas bureaucracy, fickle landlords, and unpredictable health crises.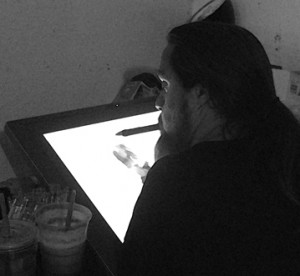 All of this was exacerbated by the pandemic.  And then by one health issue after another.
The great news is two-fold. Sylv is out the hospital after her surgery and recuperating back at home. And Larime wrote a kick-ass comic book – Sex on Wheels.  WaterGirl tells me she can only get to the Larime's website using Chrome, because it doesn't load in Safari.  So if you're interested in getting to the website, and it doesn't work in your browser, try another browser!
So the good news is that Sylv is back home, but the bad news is that they in a big hole financially.  In Larime's own words:
Now we're just trying to recover and rebuild. Sylv isn't able to help me load up and unload all my gear I need to go draw caricatures on the Strip, my normal gig I support us with. We burned through everything we had getting to this point, and without regular work, we're in a bad spot. Anything and everything is appreciated.
I personally have had enough sitting on the sidelines and would like to try to help Larime and Sylv dig out of the hole and even get a little bit ahead – to provide them with some cushion so that it feels like they are moving forward rather than just treading water.
What we'd like to do is raise enough money to cover rent, utilities and prescriptions to get Larime & Sylv through March and April, until caricature work starts to pick up in May, and to raise enough to pay for 8 months of rent in advance so they have some stability in case things start to go wonky again.  If we can raise $15,000, we can help get them to solid ground.
So we created this GoFundMe with a starting goal of $15,000.  If you are in a position to be able to help, I hope you can join to help get Larime and Sylv out of a bad spot.
Additionally, I would highly recommend, if you are in the market, to commission some of his work.  l personally will be having a portrait of Thurston Howell made.  You can see some of of his artwork at the Sex on Wheels link above.
Thank you all in advance.