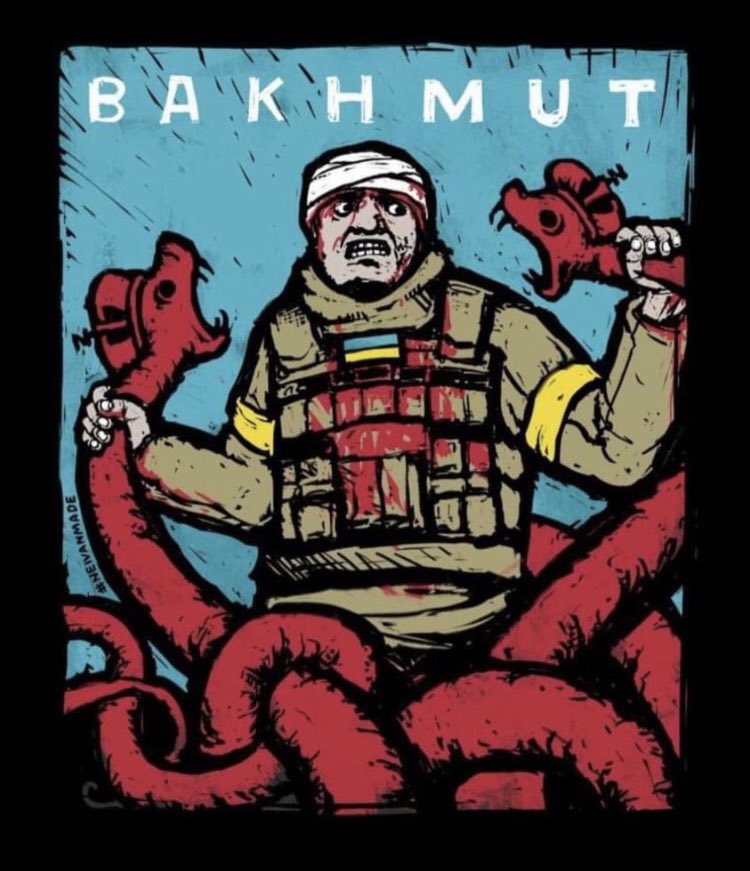 (Image by NEIVANMADE)
I've been offline most of the day, so just the basics tonight.
Here is President Zelenskyy's address from earlier today. Video below, English transcript after the jump:
The Cabinet of Ministers in March will prepare the decisions our communities need for budget sustainability – address of the President of Ukraine

4 March 2023 – 17:29

Dear Ukrainians, I wish you health!

The meeting of the Congress of Local and Regional Authorities of Ukraine has just ended in Lviv. It was a very representative gathering today. There were heads of central and local authorities, representatives of government authorities and local communities. From all over our country – all regions, all parts.

The main issues are security, energy, social protection, financial issues. Anti-corruption. All that is needed for greater strength of our institutions and for greater security of our people – in every sense of the word "security."

It was agreed today that already in March the Cabinet of Ministers will prepare the decisions our communities need for budget sustainability. Relevant changes to the law on the state budget of Ukraine will be proposed to the Verkhovna Rada.

Today, the Cabinet of Ministers approved the State Anti-Corruption Program at its meeting, which was actually combined with the Congress meeting. These are systemic steps that will give the state more transparency, and society – more opportunities to interact with the state.

The United for Justice conference, which started yesterday, continues here in Lviv. Several panel discussions took place today, including the investigation, punishment of the occupiers for abuse of people, rape, and other violent crimes committed in the occupied territory. The world is already helping us with these investigations. But, of course, much, much more needs to be done. Not only to identify all criminals, not only to punish them but also to help people who have been abused to overcome this blow and return to a normal life.

The First Lady of Ukraine, President of the European Parliament Roberta Metsola, the First Lady of Latvia, the special representative of the UN Secretary-General, and our government officials took part in the relevant part of the conference. A very meaningful discussion.
Together with Ms. Metsola, today we met with Ukrainian students from six Lviv universities.

I also held talks with the President of the European Parliament. It is obvious that this year our cooperation with European institutions will be even more meaningful than last year. The task is to actively prepare everything for our country's EU membership, increase the supply of weapons to Ukraine, and strengthen sanctions against Russia. And I thank Mrs. Roberta Metsola, and all our friends in Europe, who help Ukraine on the integration path.

Thank you to everyone who helps enhance the security of Ukraine and strengthen our soldiers! Thank you to everyone who fights for Ukraine, who defends our border and who establishes justice for Ukraine with their accuracy on the battlefield, who responds to the occupier's terror with active fire.

Today morning, I was in touch with the commanders: the front is the first priority.

I will especially note the fighters who defend Bakhmut. In particular, soldiers of the 56th separate motorized infantry brigade, the 67th and 93rd separate mechanized brigades, and the 77th separate airborne brigade. Thank you, guys! Glory to all Ukrainian heroes!

Thank you to Lviv for this fruitful time in the city. Thanks to the Lviv Polytechnic, where we are now and where we held our Congress.

Thanks to Franko University, where a meeting with the students took place. I am grateful to everyone.

Glory to Ukraine!
And here are First Lady Zelenska's remarks at the United for Justice Conference. Video followed by English write up:
Olena Zelenska at United for Justice conference: The victim is never responsible for the crime, only the offender is responsible

4 March 2023 – 23:31

First Lady of Ukraine Olena Zelenska spoke at the United for Justice conference held in Lviv.

Such an event is being held in Ukraine for the first time. The conference was attended by leading lawyers from around the world, experts in the field of international law, attorneys general, representatives of the legislative and executive authorities, and diplomats. The event is expected to become a legal "Ramstein" that will help unite efforts to bring all those guilty of international crimes in Ukraine to justice.

The President's wife took part in the panel "Combating Sexual Violence as a Weapon of War." First Lady of Latvia Andra Levite, President of the European Parliament Roberta Metsola, Deputy Prime Minister for European and Euro-Atlantic Integration Olha Stefanishyna, and Special Representative of the UN Secretary-General on Sexual Violence in Conflict Pramila Patten also spoke during the panel.

Zelenska cited examples of violent crimes committed by the Russian military against Ukrainians.

"In Kherson region, a Russian soldier repeatedly raped a 62-year-old woman by threatening to use weapons. Psychologists are working with her now. In Kyiv region, the invaders raped a girl and her mother, beat the father and forced him to watch. They are now also provided with psychological support. Another family in Kyiv region – mother, daughter and granddaughter – suffered violence from the occupiers for two weeks. Now, they are constantly provided with psychological support. These are just some of the cases of sexual violence committed by the Russian invaders that are being investigated by the Prosecutor General's Office. And in total, the PGO has currently recorded 171 such facts. Not only women behind this figure. Among the victims are 39 men and 13 minors, including a boy," the First Lady said.

The President's wife said that the victim is never responsible for the crime – only the offender is responsible.

"Here's what victims should know. They should know that the state is always on their side. And the entire international law, the entire free world is on their side. We must guarantee support and psychological assistance to everyone. But the main thing is that we all have to guarantee them the most important thing – justice, punishment for their offenders," the First Lady said, calling on the world to punish Russian war criminals.

Zelenska held a separate meeting with Special Representative of the UN Secretary-General on Sexual Violence in Conflict Pramila Patten. The President's wife thanked her for her active position.

"She actively testifies to the use of sexual violence as a weapon by the Russian army in Ukraine. Because of this, Ms. Patten is being pressured by Russia and its accomplices, who are sending threats to her email address. I thanked Pramila Patten for her courage and principles," the First Lady said.

Zelenska said that cooperation with the UN continues: on March 7, the "Experience of Ukraine and the UN in prevention and response to conflict-related sexual violence and the role of women's civil society organization" event will be held at the headquarters of the United Nations within the framework of the 67th session of the Commission on the Status of Women. The "Sexual crimes of the Russian army in Ukraine" video project, based on real stories and testimonies of those who suffered from sexual violence committed by the Russian military, and eyewitnesses of these crimes, will also be presented.

"On a human level, we must bring this knowledge and information about violent crimes to as many people as possible. Unfortunately, there are still people in the world who have not decided who is the aggressor and who is defending," the President's wife said.

"I highly appreciate the work of the First Lady. Your leadership in this topic and the fact that you pay a lot of attention to it, talk about it on various international platforms, are very important. We talk a lot about justice and know how important it is for victims, their families, and society. But there will be no justice if the cases of violence are not known if these cases are not referred for further investigation," Patten said.

In Lviv, Zelenska also visited the Medical and Psychological Assistance center, which works at the railway station to meet and coordinate forced migrants arriving in the city. Within the scope of the project, around-the-clock support is provided by doctors, psychologists, and volunteers, including Lviv residents and internally displaced persons. The oldest volunteer is 73 years old.
Here is former NAVDEVGRU Squadron Leader Chuck Pfarrer's most recent assessment of the situations in Kreminna and Bakhmut (newest first for Bakhmut):
KREMINNA AXIS /1400 UTC 4 MAR/ RU carried out 4 fire missions targeting the SW corner of Kreminna, indicating that UKR forces have maintained a lodgment south of the O-130514 HWY. UKR conducted out 16 aviation strike missions targeting RU troop concentrations. pic.twitter.com/xOiVumGEpw

— Chuck Pfarrer | Indications & Warnings | (@ChuckPfarrer) March 4, 2023
BAKMUT AXIS /0010 UTC 5 MAR/ Street-fighting continues within Bakhmut: the situation remains fluid and serious. UKR forces repelled RU attacks N and S of the city and counter-attacks SW of Ivanivske have driven RU units back to Klischiivka. pic.twitter.com/xNWWN8DHPT

— Chuck Pfarrer | Indications & Warnings | (@ChuckPfarrer) March 5, 2023
BAKHMUT MAP: #Bakhmut pic.twitter.com/yMc2k4nu5p

— Chuck Pfarrer | Indications & Warnings | (@ChuckPfarrer) March 4, 2023
Bakhmut:
Update on Bakhmut, 4 March – Kyianyn. pic.twitter.com/L9jP3jOTHX

— Dmitri (@wartranslated) March 4, 2023
Bakhmut looks really hellish. Any signs of life are driven underground. Soldiers are fighting and civilians are trying to survive. @VsevolodKozhem1 just from Bakhmut speaking to @MelissaBellCNN pic.twitter.com/w4NDEHsRLw

— Maria Avdeeva (@maria_avdv) March 4, 2023
Well this is an interesting data point:
Prigozhin today is once again seen explaining how invaluable Wagner is for Russia, and how retreating from Bakhmut will lead to the collapse of the whole Russian front.

Also appears to be hinting at the fact that his mercenaries might find it rather unpleasant if they suspect… https://t.co/olPW7qtL3Z pic.twitter.com/2rKdR1nD1b

— Dmitri (@wartranslated) March 4, 2023
And I agree with Dmitri, why suddenly bring up retreating if, as was the case yesterday, you were just bragging about having taken Bakhmut.
Vuhledar:
2/4 Notably, Shoigu was present with General Muradov, who is infamous for his failures in Vuhledar, and Deputy Defense Minister of Russia, Mikhail Mizintsev, known for managing the siege of Mariupol. pic.twitter.com/koN29s6ZNU

— Tatarigami_UA (@Tatarigami_UA) March 4, 2023
4/4 Despite a series of defeats near Vuhledar, it would be unwise to assume that the enemy is completely destroyed and poses no threat. It's important to remain level-headed and take potential threats seriously rather than dismissing them. Making this mistake can lead to failures

— Tatarigami_UA (@Tatarigami_UA) March 4, 2023
Krasnodar:
Another portion of "consumables" (as they describe themselves) i.e. Russian mobilised soldiers from Krasnodar Krai asking Putin to stop sending them into "senseless" assaults. They explain how in a recent failed assault mission, without any artillery support, their wounded were… https://t.co/ixpCTUmlUi pic.twitter.com/8By2v9bAEJ

— Dmitri (@wartranslated) March 5, 2023
This is surely a new low for Russian "patriotic" culture

At a festival in Krasnodar Territory, some cadets performed a song about flying home as Cargo 200 (Russian military code for the transport of troops killed in action) https://t.co/d2whpAWHkU pic.twitter.com/V57Xybg0kO

— Francis Scarr (@francis_scarr) March 4, 2023
The New York Times has reporting on Ukraine's rotary wing fighters:
On a snowbound field, three Soviet-era helicopters were being readied for battle. Pilots and crew checked the flight plan for their next target, while technicians loaded slim gray rockets into launcher pods and stacked flares into racks behind the exhaust.

One year into the war, against all the odds, Ukraine's helicopter brigades are still operational. Every day of the week, multiple times a day, they go into battle against enemy forces, launching rocket attacks along the front lines in support of ground troops and occasionally slipping under Russian air defenses to fly covert missions into enemy territory.

Far from being knocked out in the first days of the invasion, Ukraine's helicopters and jets have kept flying, remaining an inspiring and useful element of the war effort.

In a rare opportunity, the 18th Sikorsky Brigade, the foremost of Ukraine's four helicopter brigades, gave reporters access to a combat unit for two days recently. Officers and pilots described how the Ukrainian brigades moved their aircraft at the onset of the war to evade Russian strikes, and how they adapted their tactics to fighting a much more powerful and better equipped adversary.

"We go where we should not go," said Oleksiy, 38, a colonel and deputy commander of the brigade. He gave only his first name in keeping with military protocol. "The main task is to destroy the enemy by fire."

Compared with the well-documented ground war in Ukraine, where destroyed tanks and armor have been so visible, much less is known about the aerial war, partly because there is less photographic and video evidence. But Russian jets attacked targets intensively in the first weeks of the war, and Ukrainian and Russian jets battled each other numerous times in the skies above.

Both sides also used helicopters for critical tasks because of their mobility. Russia landed troops in the first days in at least two locations, and Ukraine flew rescue missions into the besieged Azovstal plant in Mariupol. Yet helicopters have also proved vulnerable as the fighting primarily turned into an artillery war on the open plains of eastern Ukraine, and tasks were limited to firing rockets from Ukrainian lines.

The Ukrainians fly aging Russian-made helicopters — mainly the Mi-8 and the Mi-24, both used as attack helicopters — that were designed in the Soviet Union in the 1960s and 1970s.

"These are helicopters from the last century," said Oleksiy, who has eight years of combat experience, five of those spent on peacekeeping missions in Africa, holding off guerrilla groups. Their weapons, unguided, Soviet-era rockets, "are very outdated and don't meet the requirements of modern combat."

One consolation for the Ukrainians is that their Russian adversaries are flying similar machines whose design has not advanced much in recent decades, but Russia has a big advantage in the volume of helicopters and ammunition. "Most of their weapons are also from Soviet times," Oleksiy said, "but you can't underestimate the fact they have a lot of this Soviet metal."

Russia's overwhelming firepower has forced the Ukrainians to find other ways to fight.

"We are smaller, so we should use a smart approach," said Roman, 34, one of the most experienced pilots from the 16th brigade, who has been seconded to the 18th, in an interview between combat flights. "We do the best we can."

That has entailed retraining, constantly adapting to conditions and also some daring in their operations. The brigade keeps its helicopters in plain sight, on the wide, snow-swept steppe of eastern Ukraine, using temporary airfields, moving frequently for security.

They have developed a method of attack flying below the tree line, less than 30 feet from the ground, hugging the contours of the land at up to 150 miles per hour. The low altitude is treacherous, but avoids radar detection.

Then right at the front line they make a sudden ascent to fire a burst of 30 to 40 rockets before veering away, back the way they came.

They attack in pairs, sometimes in a pack of four. They can fire on Russian positions without flying too close to them, but it tests pilots and machines to their limits, and for dangerous seconds on the ascent exposes them to Russian anti-air defense systems.

Approaching enemy lines, Ukrainian jets and helicopters run the gamut of Russian attacks, from radio-electronic interference to antiaircraft missiles fired from jets and from the ground.

"Every operation, every sortie is a heroic flight," Oleksiy said. "Many of the militaries of other countries would not undertake these flights in the face of such countermeasures."

A pilot from the 18th Brigade, Ivan, 31, was hit by Russian air defense just as he unleashed his payload of rockets in June last year. He recalls everything turning black, but managed to turn the helicopter.

"You have thoughts, but you feel nothing and see nothing," he said as he recounted his ordeal in an interview. "You understand that something is happening. I realized that, most likely, I was hit."

He crashed in a forest that was pockmarked with craters and smoking from shell fire. His co-pilot was killed, but Ivan and the engineer were thrown through the front of the cockpit as the machine burst into flames, he said.

Badly concussed, with his head sliced open, a fractured spine and a broken leg, he managed to crawl to check on his engineer, who complained of broken collarbones. Swimming in and out of consciousness, he sent their coordinates to his brigade. Under shellfire just yards from Russian positions, they lay motionless when a reconnaissance drone passed overhead, unsure whose it was, until Ukrainian medics rescued them.

The Ukrainian helicopter brigades have all lost men and machines, although how many remains a military secret. But their survival and continued operations a year into the war is a major success, military analysts said.

When the invasion came, the aviation brigades were prepared. They had heeded Western warnings of the pending Russian invasion and were ready to evacuate their main bases and disperse their helicopters and engineering crews for safety, the deputy commander Oleksiy said.

"We had a defined plan of action in case of a missile strike, a ground offensive, where to go, which sites, where our logistics units would meet us," he said. "There was no panic. Everything was rehearsed."

Nevertheless, pilots recalled the first days of the war as chaotic and dangerous, plagued by cases of friendly fire. Civilians were calling in sightings of Russian troops, and helicopters were sent to attack multiple locations. One of the biggest battles was for the Hostomel airport, just north of Kyiv, the capital, where Ukrainian forces aided by attack helicopters repulsed a Russian attempt to seize the airfield.

Critically for Ukrainian aviation, the Russians never secured air superiority over Ukraine thanks to its effective air-defense systems. Both sides have continued to fly jets and helicopters, although they have come to avoid venturing deep into each other's territory for fear of being shot down.

One of the striking exceptions was a run of daring flights that Ukrainian helicopters made into the Azovstal steel plant, a last holdout of Ukrainian troops in the besieged city of Mariupol.

"It's impossible," Oleksiy said, recalling his first reaction to the Azovstal plan. But pilots volunteered, and they succeeded in flying undetected across 70 miles of Russian-held territory into the steel plant, ferrying in ammunition and evacuating the wounded.
More at the link!
That's enough for a Saturday night.
Your daily Patron!
1 month of war = 1 year of demining. We discussed with colleagues how we would clear Ukraine of mines and ammunition. I am grateful to have the opportunity to bark my opinion at the All-Ukrainian meeting. Слава Україні! pic.twitter.com/ugakEXB3xq

— Patron (@PatronDsns) March 4, 2023
And a new video from Patron's official TikTok:
The caption machine translates as:
Time passes, but habits remain 😁 #песпатрон
Open thread!