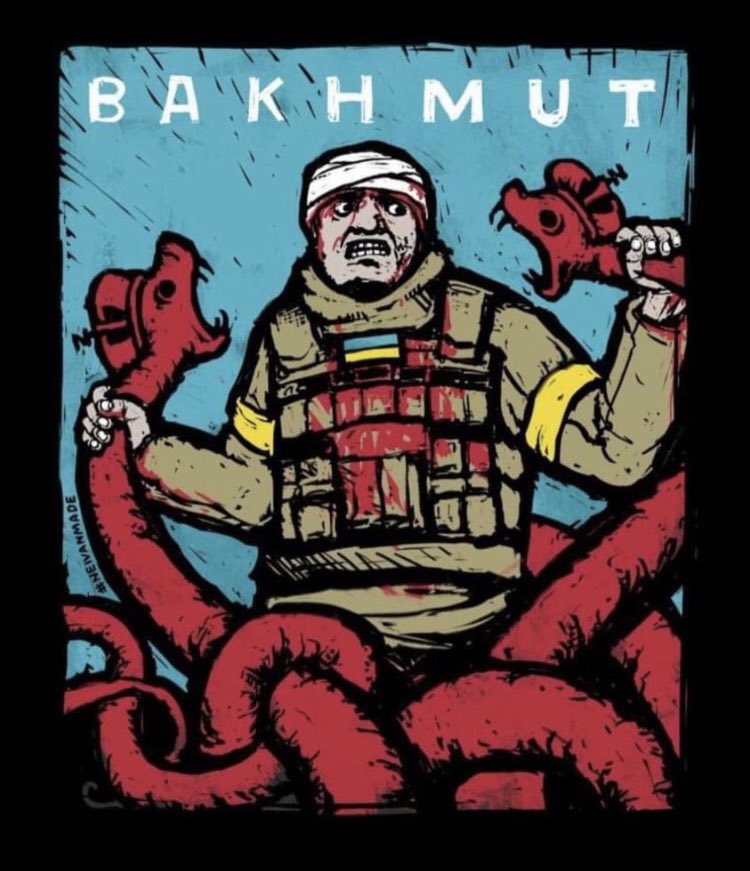 (Image by NEIVANMADE)
The Ukrainians continue to bleed the Russians, primarily Prigozhin's mercenaries, at Bakhmut. We'll get to that after the jump.
First, a quick note about Lucky. First, I want to thank everyone who expressed interest in adopting her, as well as those of you that offered to help get her to wherever her new home would be. I cannot thank you all enough. Second, just to reiterate, the process here was those of you interested in adopting sending me an email, then I sent them to Sheryl, then Sheryl reached out to some or all of you. And based on that Sheryl made her decision. I was just facilitating. Also, I know that several of you were really looking to give Lucky not just a forever home, but the best forever home possible. Sheryl has decided that grandmabear is the right person for Lucky and in two weeks Sheryl and her partner will drive Lucky north and meet grandmabear who will drive south and meet them halfway. I have no doubt that those of you who really wanted to do right by Lucky feel let down, because you're great folks with big hearts, but at the end of the day there was one cat and five of you who offered to take her. I've known Sheryl for over a decade. I also know that having to give Lucky up was not easy and, as a result, the decision was made solely on what she thought would be best for Lucky. That doesn't mean anyone wrote or did anything wrong. I was not involved in making the decision at all and didn't find out until Sheryl told me this afternoon when I got my hair cut. Again, I want to thank everyone who offered to provide Lucky with a forever home and those who offered to help with transportation and costs. You are all the best bunch of commenters, lurkers, and readers. And I cannot thank you enough.
Here is President Zelenskyy's address from earlier today. Video below, English transcript after the jump:
The world is strong enough to punish Russia for the war, and we will provide courage and tools to make it happen – address by the President of Ukraine

5 March 2023 – 20:25

Good health to you, fellow Ukrainians!

Today marks the end of the first week of the new spring, and it is important to make a few meaningful points about what we have managed to accomplish this week. Accomplish for Ukraine.

A large-scale conference was held with the participation of many of our partners – lawyers from Ukraine, Europe and the world. United for Justice. Step by step, we are moving towards ensuring that the terrorist state is held fully accountable for what it has done to our country and our people.

All Russian murderers, every organizer of this aggression, everyone who in any way sustains the war against our country and terror against our people must be punished. And this is not just a dream of justice. This is work that is already underway. These are agreements that we are already reaching. These are institutions that are already working and will work even harder to restore justice, to punish those responsible for aggression.

The world is strong enough to punish Russia for the war. And we will provide the world enough courage and tools to make the punishment happen. Our confidence in this matter grows stronger with every passing week. And I thank all our partners who help build a network of legal cooperation to ensure that the relevant verdicts are delivered and implemented.

The second important result of this week is the energy sector, the start of preparations for the next heating season. It is already underway. We are working on all scenarios and will do everything to be ready to face any threat next winter.

In six months, our energy sector, government officials, the security and defense sector, and all those involved in the implementation of the relevant tasks must do very specific things. Strengthening the protection of energy facilities, restoring the infrastructure that has been destroyed by Russian strikes over the past six months, and giving our people more opportunities as part of the energy system decentralization project so that they can generate and supply electricity on their private territory, at their private facilities. This is a big undertaking, and it has already begun.

The third result I would like to point out. International relations. Contacts at the highest level with Brazil have been resumed. I spoke with the new President of Switzerland. There were also contacts with the Netherlands, Latvia, Estonia, the European Parliament and other EU institutions. Over the past week, we have reached new agreements with all of them, new movement towards our common goals, and new potential for cooperation.

And, of course, this week is another week when our warriors and everyone who helps defend the state made Ukraine's victory even closer. They repelled assaults, destroyed the occupier, undermined enemy positions and logistics, and protected our borders and cities. I am grateful to all those who are currently in combat! I thank everyone whose life saves the life of Ukraine!

Today I would like to pay special tribute to the bravery, strength, and invincibility of the warriors fighting in Donbas. It is one of the toughest battles. Painful and challenging. The 93rd separate mechanized brigade "Kholodnyi Yar", the 77th separate airmobile brigade, the 56th separate motorized infantry brigade, and the 5th separate assault regiment. Our National Guard and border guards are also there. The 3rd operational brigade of the National Guard. Donetsk, Luhansk, Kramatorsk border guard detachments and consolidated detachments "Dozor", "Volyn", "Chernihiv". Thank you, guys! I thank all the soldiers, guardsmen and border guards who are defending our country in the Bakhmut, Vuhledar, Avdiivka, Siversk, Svatove, Lyman and Zaporizhzhia directions.

I am also grateful to every volunteer who helps our guys keep their resilience! I am thankful to all our medics and nurses who save the lives and health of our fighters!

We are already preparing for the next week, and there will be new results for Ukraine.

We will endure, drive out the invaders, and bring them to justice. Ukraine will emerge victorious!

Glory to Ukraine!
Here is former NAVDEVGRU Squadron Leader Chuck Pfarrer's most recent assessment of the situations in Kreminna and Bakhmut (newest of the two Bakhmut updates first):
KREMINNA AXIS /2000 UTC 5 MAR/ RU resumed offensive operations across the P-66 HWY north of Kreminna. A RU probe at Novoliubivka was repelled by UKR forces; a RU attack on Chervonopopivka was also rebuffed. UKR launched 10 aviation strike missions. pic.twitter.com/MyVtnrFcaI

— Chuck Pfarrer | Indications & Warnings | (@ChuckPfarrer) March 5, 2023
BAKHMUT CITY /1510 UTC 5 MAR/ Simplified TACMAP of lines of contact in Bakhmut urban area. Based on 0600 (Local) briefing of UKR Gen'l Staff. #Bakhmut #BakhmutHolds #BakhmutDefenders pic.twitter.com/3ekuA4SXdc

— Chuck Pfarrer | Indications & Warnings | (@ChuckPfarrer) March 5, 2023
BAKHMUT AXIS /1215 UTC 5 MAR/ RU renewed unsuccessful attacks across the M-04 HWY. UKR carried out 18 aviation strike missions, targeting RU troop concentrations, air defense sites and a bridge. Missile/ artillery units hit RU troops, EW stations and air defense complexes. pic.twitter.com/qykjRCoYBD

— Chuck Pfarrer | Indications & Warnings | (@ChuckPfarrer) March 5, 2023
Basically the Russians have not been able to close around Bakhmut. And in doing so they've created a pair of salients for themselves. One to the north and one to the south. As you can see on the map immediately above, the toute from Bakhmut to the prepared fall back position at Chasiv Yar is under Ukrainian control.
Bakhmut:
The animals of Bakhmut.

📹- Volunteer Home/Instagram pic.twitter.com/1UAOkAsqLb

— Anton Gerashchenko (@Gerashchenko_en) March 5, 2023
This is #Bakhmut today

Watch to the end🇺🇦 pic.twitter.com/fNBYwjlwbt

— АЗОВ South (@Azovsouth) March 5, 2023
.@AP reporting from a hospital in Bakhmut pic.twitter.com/ssM8SvS7mN

— Defense of Ukraine (@DefenceU) March 3, 2023
Yana (Yara) Rykhlitska, 29, volunteer and paramedic of 93rd brigade, died near Bakhmut.

Yana was killed while evacuating the wounded – the ambulance she was in was shelled.

Eternal memory to Hero! pic.twitter.com/73tmqIW1V0

— Anton Gerashchenko (@Gerashchenko_en) March 5, 2023
Many have met this young and charismatic combat medic Yana Rykhlitska, who worked near Bakhmut. Now you won't see her again. Russia killed her. Yana and another medic were killed during the evacuation of the wounded near Bakhmut. Rest In Glory, Hero. pic.twitter.com/xQPKlWbSx7

— Maria Avdeeva (@maria_avdv) March 5, 2023
Girkin and Prigozhin have decided to get into a pissing match. Black Sea Cossack versus convict (Rooster/offended):
Girkin claims the video with Prigozhin that surfaced yesterday was actually made at the peak of the shell conflict two weeks ago. Despite that, Girkin suggests Prigozhin must be immediately removed from Wagner's leadership due to his psychopathy, https://t.co/kP6areI2bE… https://t.co/8Ddcscb8jI pic.twitter.com/5onV7H4tEq

— Dmitri (@wartranslated) March 5, 2023
Prigozhin fires back feces at Girkin pic.twitter.com/4mVAcPbjj3

— Dmitri (@wartranslated) March 5, 2023
Here's the translations as screengrabs: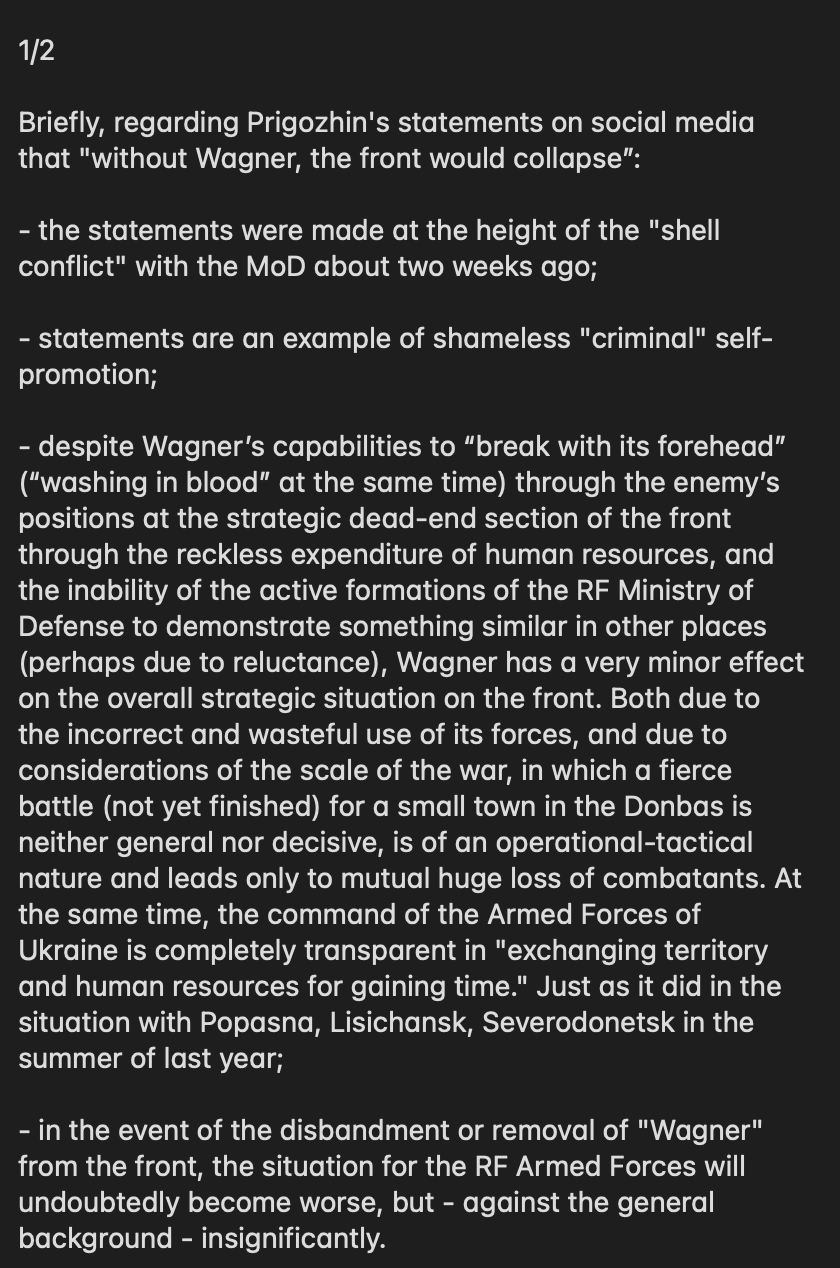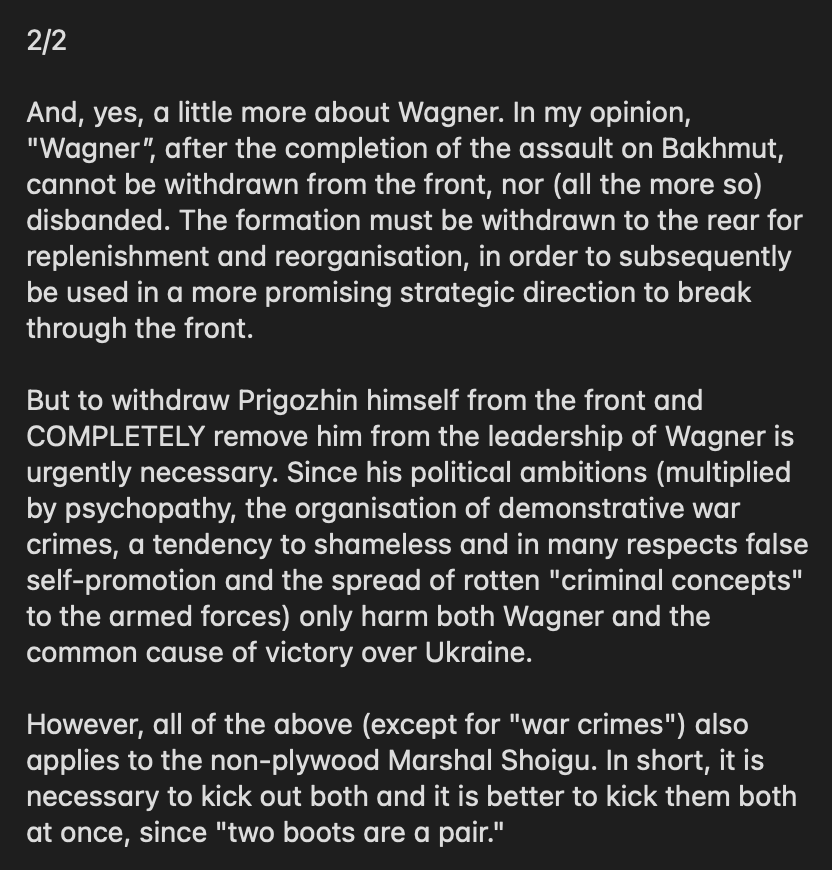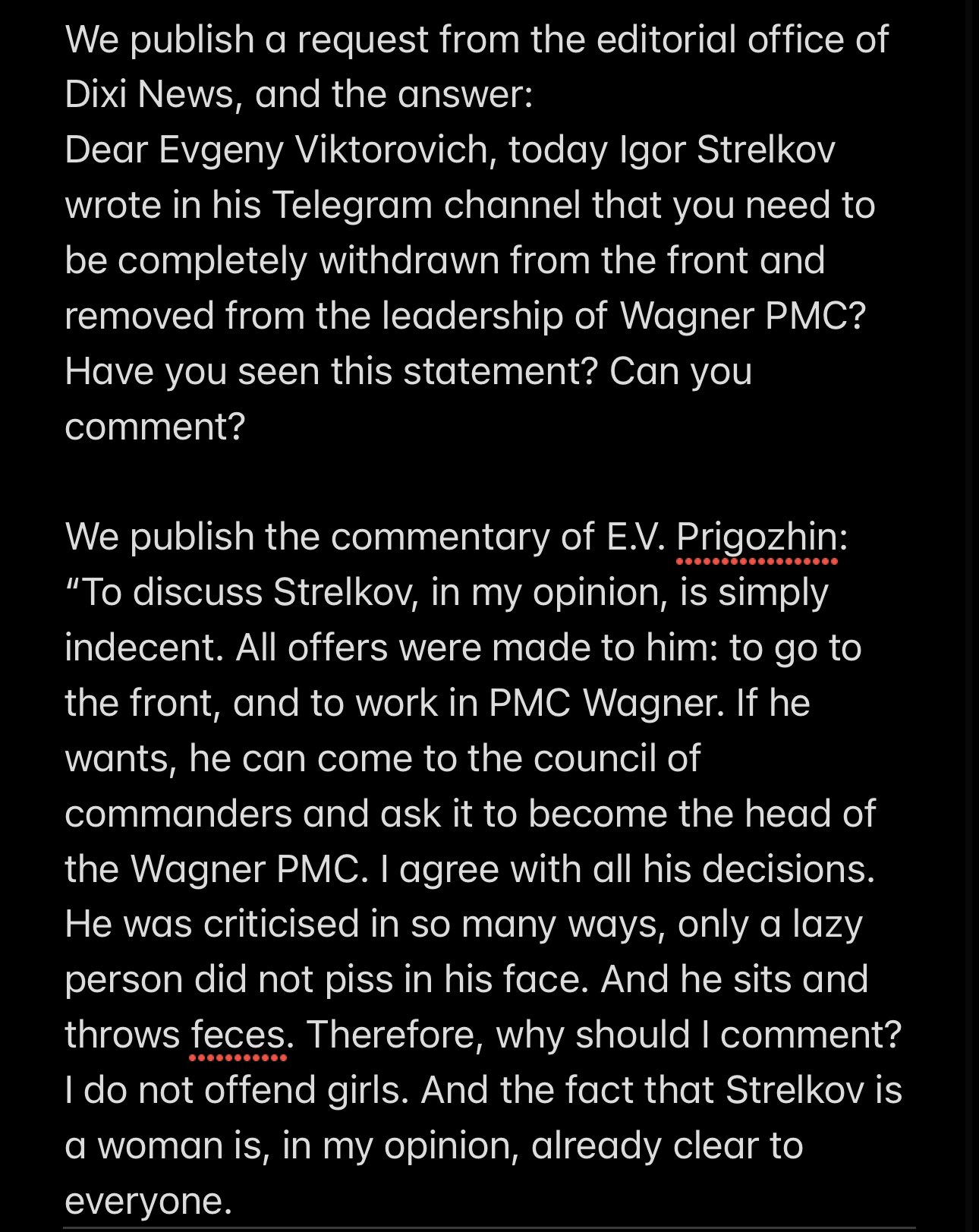 Vuhledar:
Vladimir Solovyov has posted a video of what he says is him coming under artillery fire during his latest visit to Ukraine

He was ostensibly with the 155th naval infantry brigade, which Ukraine claims has been getting absolutely hammered near Vuhledar https://t.co/NxAny7KlHo pic.twitter.com/vz7Mz1OICy

— Francis Scarr (@francis_scarr) March 5, 2023
Russian propagandist Solovyev says he was shelled while visiting Russian troops near Vuhledar.

He said there was an information leak about his location. pic.twitter.com/hvO3C8TGi5

— Anton Gerashchenko (@Gerashchenko_en) March 5, 2023
I hope he wore his brown pants!
Zaporizhzhia:
The number of people killed as a result of a russian missile attack on a residential building in Zaporizhzhia has increased to 13.
Rescuers recovered from under the rubble the body of an 8-month-old girl who died with her family.
11 people were rescued.#russiaisaterroriststate pic.twitter.com/MCWdt8GPpR

— Defense of Ukraine (@DefenceU) March 5, 2023
The body of 8 months old girl was found in Zaporizhzhia under the rubble of the residential building hit by the Russian rocket.

Baby girl died with her parents.

Death toll of the strike is currently 11 people. Search&rescue operation continues, there are still people missing. pic.twitter.com/KGbmSNXwmi

— Anton Gerashchenko (@Gerashchenko_en) March 4, 2023
Liza the cat was saved from the rubble in Zaporizhzhia after the Russian rocket strike.

Her owner, thankfully safe and sound, was waiting for Liza. pic.twitter.com/LMZqoRbobx

— Anton Gerashchenko (@Gerashchenko_en) March 4, 2023
Marinka:
Left: Hiroshima, Japan
Right Mariinka, Ukraine pic.twitter.com/9D1LVJuB2O

— Julian Röpcke🇺🇦 (@JulianRoepcke) March 5, 2023
Gdynia, Poland:
Equipment of the 3rd Armored Brigade Combat Team, 1st Cavalry Division at the Port of Gdynia, Poland. 🇵🇱🇺🇸

— Visegrád 24 (@visegrad24) March 5, 2023
Just to be clear, this 3ABCT/1CAV's equipment. It is not being sent to Ukraine as some videos seem to be suggesting by not mentioning who this belongs to.
The Russian way of war:
This video was filmed by the BBC in 1994, some time after Russia attacked Chechnya and started the First Chechen War.

Nothing's changed since then. pic.twitter.com/n8W4TwFTMm

— Pekka Kallioniemi (@P_Kallioniemi) February 13, 2023
That's enough for tonight.
Your daily Patron!
A new video from Patron's official TikTok:
@patron__dsns

Ловив дрижаки сьогодні! Може весна забула, що вже настав її час?🤭
The caption machine translates as:
I caught shivers today! Maybe spring has forgotten that its time has come? 🤭
Open thread!